15 of the Best College Websites (And Why They're So Great)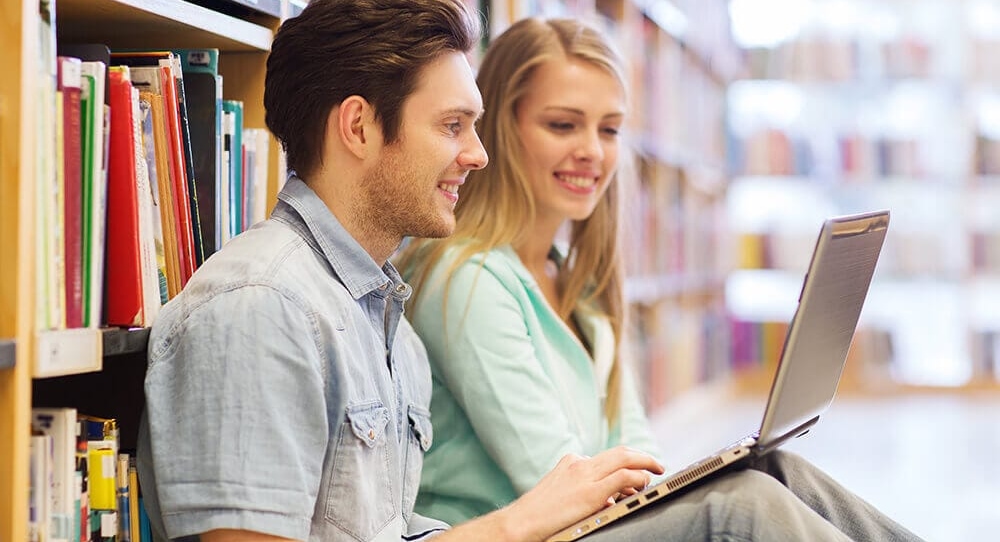 Considering that online users spend about 2.5 minutes and visit 2-3 pages per session, it's important to make sure your college's website stands out from your rivals online. Today, a well-planned digital strategy plays a vital role in an institution's marketing strategies — especially considering younger generations' growing dependence on technology.
Put simply, a well-designed website will help you engage current students, connect with prospective ones, and inform parents all at once. It gives you the opportunity to market school events, display course offerings, and showcase campus life. Your university's website is your ultimate online brand statement and can be the defining factor for whether someone applies to your school.
At Morweb, we understand that there are a lot of elements that go into effective web design for higher ed institutions, sometimes complicating the design process. Through our industry-leading CMS, we help schools build stunning websites designed to connect with prospects and drive higher registration numbers. In turn, we know how to help colleges and universities create websites that stand out from their rivals, which is why we've pulled together a list of beautiful college websites.
In this guide, we'll review 15 of the best college websites, including:
While exploring these examples, take note of which elements stand out to you so that you can incorporate them into your own design. Once you've developed an idea of how you'd like your design to look, make sure you have a sector-specific CMS like Morweb to simplify the development process and bring your vision to life.
Ready to gain inspiration for your college website? Let's get started.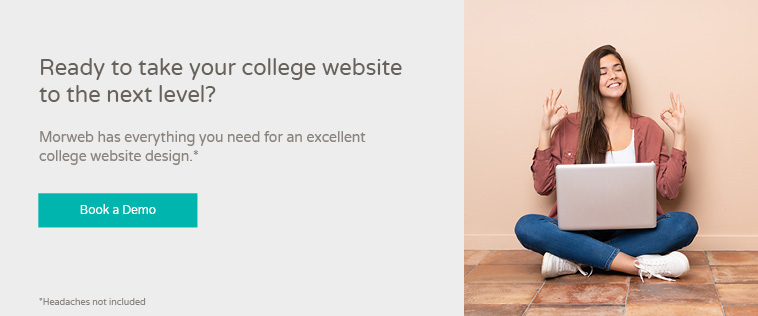 ---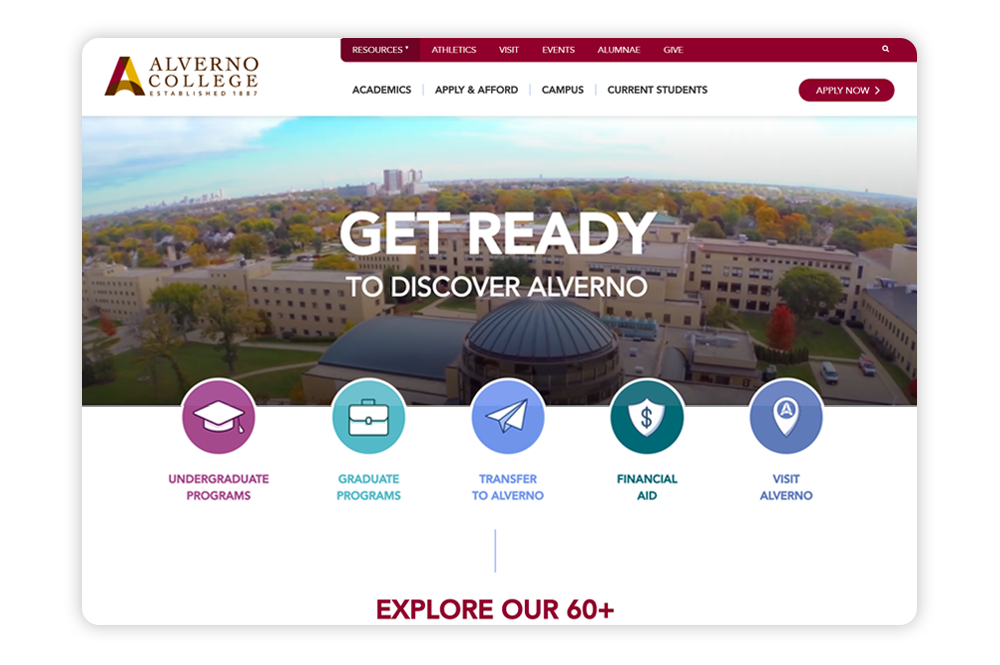 Located in Milwaukee, Alverno College is a Catholic, Franciscan college that has provided well-rounded liberal arts education for more than 130 years. With nearly 1,700 students and faculty members, this small college has developed a powerful website that effectively showcases its academics as well as its campus and student life.
Here are just a few of the most notable features on this college website:
Colorful button CTAs: On their homepage, visitors are met with a handful of colorful buttons that encourage them to explore undergraduate programs, graduate programs, transfer instructions, financial aid details, and virtual tours. This way, users know exactly what actions to take to address their needs.


Well-organized navigation: The navigation bar on this site makes it easy for users to find the information they need regardless of what page they're on. It's divided into four primary groups; Academics, Apply & Afford, Campus, and Current Students. When you scroll over each, you're met with several page recommendations relevant to each category.


Awards and statistics: Your homepage is prime real estate for displaying accomplishments. Alverno College uses this opportunity to position itself as a well-respected institution by displaying prestigious awards (like 'Most Inspirational School' from Wall Street Journal) and insightful statistics (like '30+ student organizations' and '93% of undergraduate students receive financial assistance').
Alverno College's development team brought its vision to life with Morweb. Schools like this one rely on Morweb's simple (yet powerful) website builder to expand their online presence and connect with more students.
Alverno College's site perfectly reflects the school's brand and communicates its offerings to new students. Powered by Morweb, they're able to display images of hardworking students, promote course offerings, drive more prospects to their application form, and pique visitors' interest.
---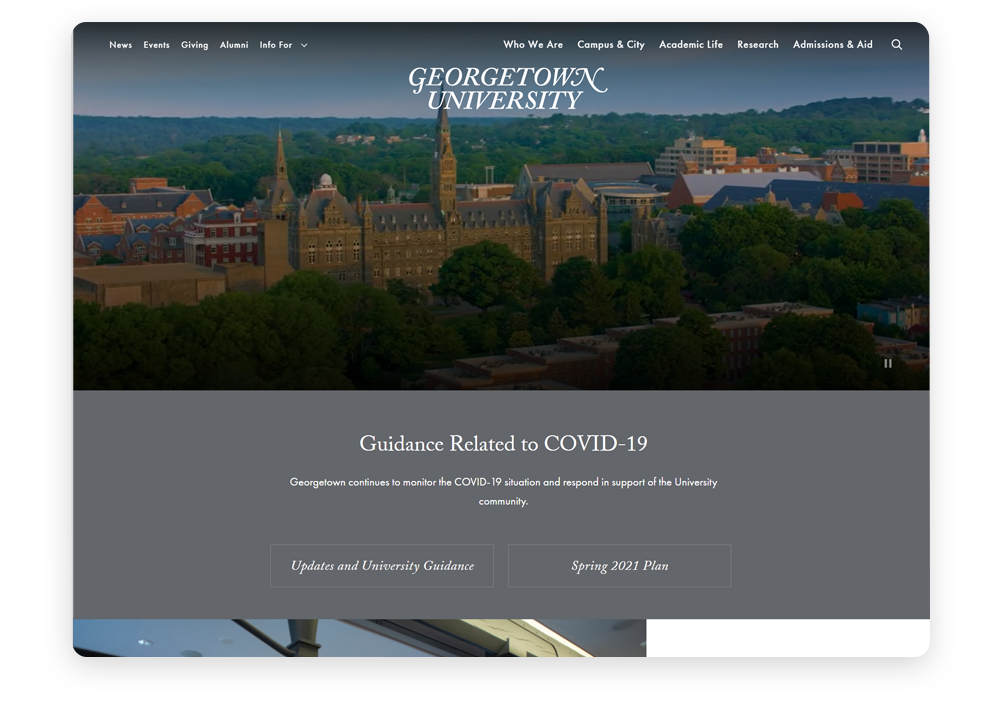 Established in 1789, Georgetown is the oldest Catholic and Jesuit university in the United States. Georgetown is an international research university with nine schools, an affiliated hospital and multiple campuses.
On this university's website, visitors can get a feel for campus life, explore education opportunities, learn about the school's rich history, apply, and much more. Two of the most notable elements of this college's website are:
Plenty of background information. Like many higher ed institutions, Georgetown has a rich history and conveys its story on its website. The university's website features impressive statistics, a page devoted to discussing the school's heritage, and information on the research programs.


Information that caters to different audiences. This university's marketing team made sure to present information that's relevant to each type of visitor. They feature stories from "Students", "Faculty" and "Alumni" with information relevant to those individuals' interests. Plus, these pages are quickly accessible within the navigation bar across the university's website.

Georgetown University's website is a prime example of an educational website that puts the user first. By pairing sufficient details with smooth navigation, readers can easily find whatever information they need without aimlessly clicking through the site.
---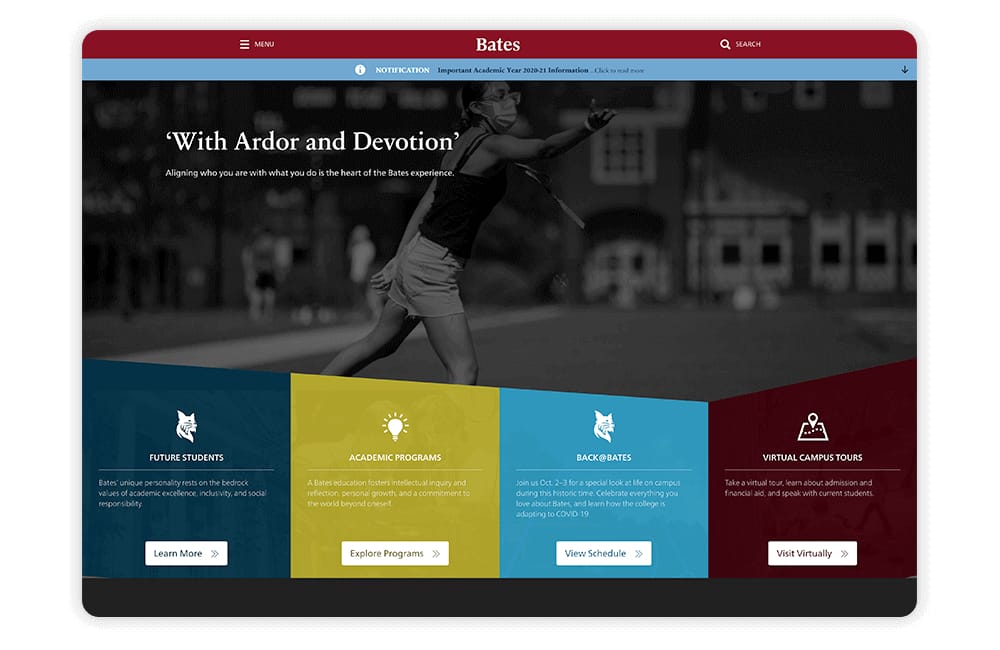 Located in Maine, Bates College is a renowned institution that focuses on providing an engaging learning experience in a vibrant, dynamic, and accessible community. This college website fully captures the essence of their inclusivity from the moment a user lands on the homepage.
Bates College takes a similar approach to their college website as the University of Nebraska–Lincoln by keeping it simple and embracing white space, as well as using minimal navigation options to direct visitors to important content. They go beyond visual consistency and streamlined navigation with features like:
Involvement information: This stunning college website uses its homepage to feature four primary involvement opportunities. Each has a button CTA to drive action, whether it's learning more about campus life, exploring academic programs, participating in their digital homecoming activities, or scheduling a virtual visit. Plus, there's a brief description for each so that users know exactly what they're being asked to do.


Fundraisers: Colleges and universities can only expand their offerings if they have sufficient funding, which is why Bates College has featured a major fundraising campaign directly on their homepage. The eye-catching graphic inspires visitors to check it out with a fundraising thermometer and features a line that simply says '$245M of $300M is already raised!' A nonprofit-specific CMS like Morweb comes equipped with tools like a fundraising thermometer to help you drive donations through your college website.


Virtual tour: Immerse yourself in the college experience by setting up a virtual tour using their scheduling tools. With a feature like this, you can limit the number of prospective students who can come on each tour so that things don't get overcrowded. This feature is great for prospective students who are looking to keep a safe social distance while still exploring their potential home for the next four years or so.

Bates College recognizes the importance of a strong college website and wastes no time getting down to business. With sufficient information regarding current school activities and helpful features to learn more about the campus, they provide value to prospective students and current ones alike.
---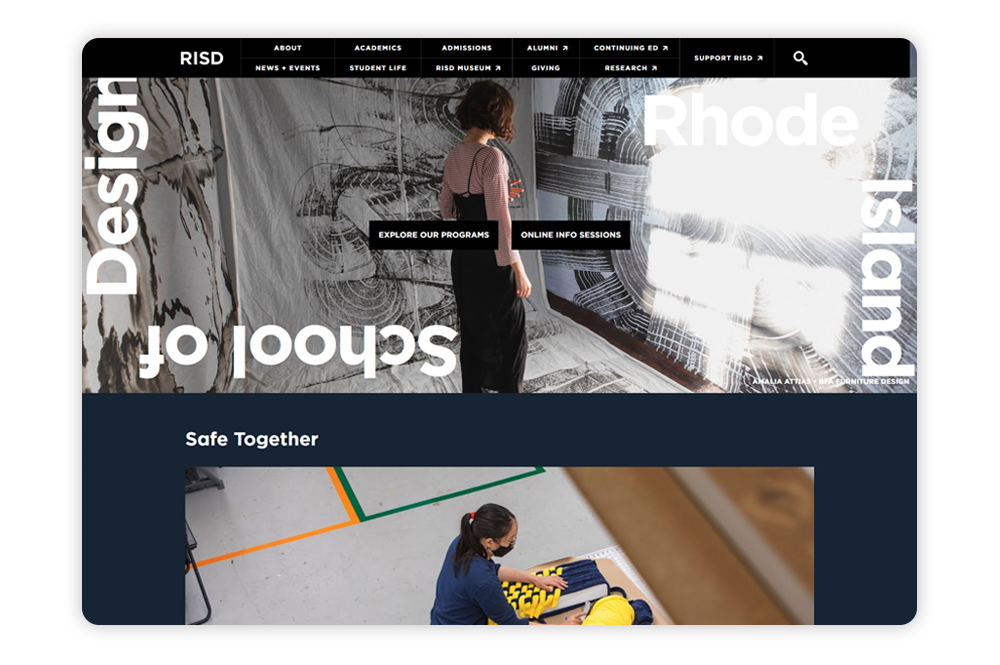 Established in 1877, the Rhode Island School of Design (RISD) is a private, nonprofit fine arts and design college that's based in Providence, RI. Approximately 2,200 students from around the world are enrolled and engaged in the school's liberal arts offerings and studio-based learning.
Rhode Island School of Design's mission is to educate and inspire the next generation of artists and designers, and its college website exemplifies this goal perfectly with elements such as:
Images of students' work: Considering that RISD focuses on empowering students to fulfill their creative potential, it makes perfect sense that they would feature students' work throughout the website. This adds a personal touch and leads to an overall more impactful design that sticks with web visitors.


Minimalist design: RISD leverages white space throughout the entire site, using this as a tactic for emphasizing important information. From giving campus news and events to providing information for donors, this college website does a fantastic job of featuring the essentials while not overwhelming visitors with too much information or imagery.


This college website was redesigned in-house and launched in 2011, and it was immediately recognized by some major players in the web design space. Just one year after being relaunched, RISD's college website was named as a Webby Award honoree in the School/University category.
---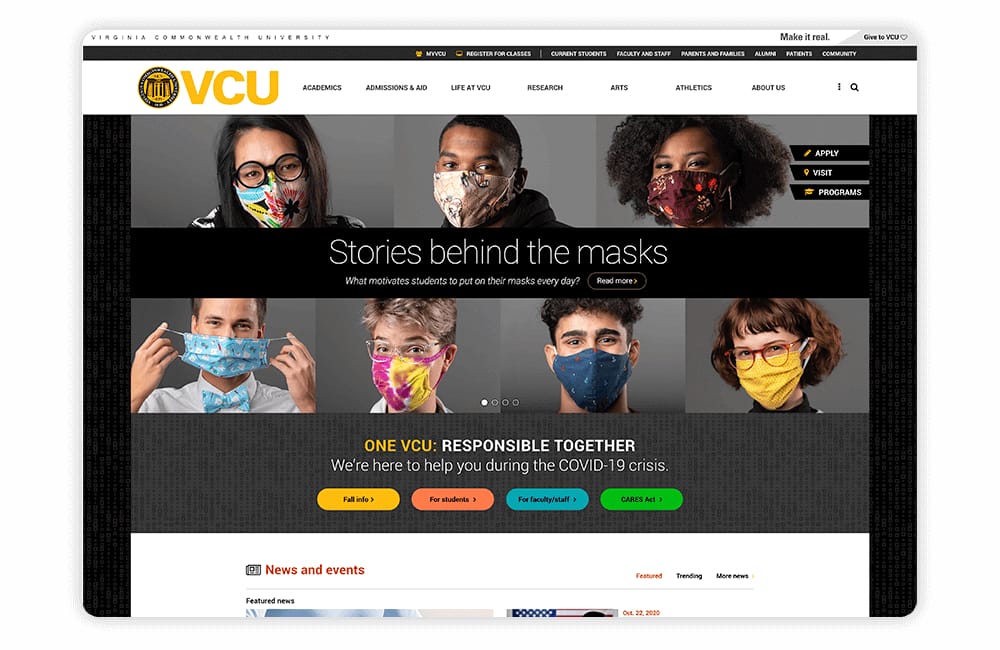 Established in 1938, Virginia Commonwealth University has a rich history that drives the community to be diverse, engaged, and ambitious. The university is located in Richmond, VA, and serves as a public research institution that's dedicated to the success and well-being of its students, patients, faculty, staff, and community.
With more than 200 programs, this social work institution works to expand the boundaries of new knowledge and creative expression, further civic engagement, and ultimately solve society's most complex challenges. The most effective elements of this college's web design include:
Colorful, well-positioned CTAs: A study conducted by Hanover Research found that directly calling students to apply on your college website is the third-best recruitment tactic. VCU leverages this tactic by featuring an eye-catching 'Apply' call-to-action (CTA) on its homepage in addition to two other CTAs labeled 'Visit' and 'Programs' that compel visitors to dig deeper. With clear CTAs, VCU's homepage transforms into a conversion engine, not a digital brochure like so many other sites.


Image carousels: While imagery is certainly important for showing off your university, it's important to limit the number of images you include. VCU makes use of image carousels paired with stunning graphics throughout its site to make it visually compelling and ensure the most important information sticks out.
As one of the leading schools for social work, VCU has developed a beautiful college website that matches up to its prestige. Filled with information about programs and the university's rich history, it's not hard to see why more than 30,000 students and nearly 200,000 alumni have chosen this university to call home.
---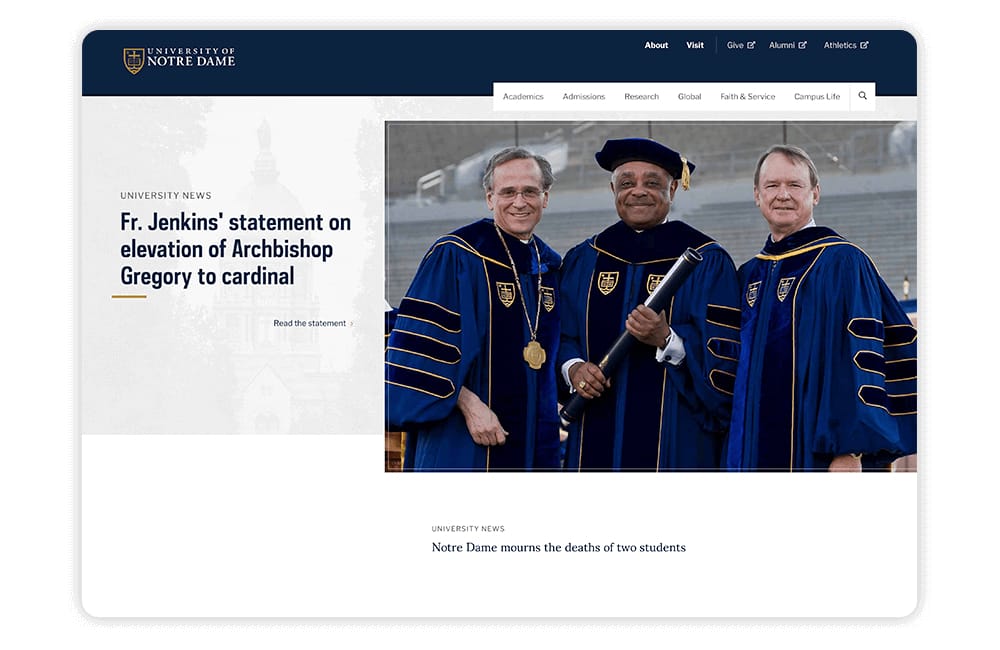 Located in Indiana, the University of Notre Dame is a prestigious institution that offers nearly 50 international study programs for undergraduate and graduate students. This leading research university offers students a chance to pursue their academic endeavors in a unique scholarly community by pursuing a variety of majors and minors from Engineering to Global Affairs.
This school has historically sought to enrich Catholic intellectual and culture traditions and conveys this through its website. Here are a few ways Notre Dame's university website connects with its visitors:
Strong branding: Notre Dame effectively instills school spirit by using consistent branding throughout the site. They have strict brand guidelines in place to ensure every part of their university's website matches up to its standards. Starting with a predetermined theme, Notre Dame's web developers must stick to school colors and official university fonts among other requirements as they develop new content. Maintaining branding standards allows schools to establish credibility and brand recognition within the higher ed space.


Responsive design: Notre Dame's website is beautiful on desktops with high-definition images, interactive elements, and easy navigation. Plus, those elements adjust to look great on mobile devices. This element of excellent responsive design makes this university website even more special. Now that Google's algorithm uses mobile responsiveness as a ranking factor, it's important for schools to optimize their websites for visitors using desktops, tablets, and smartphones. A CMS like Morweb simplifies the development process for you with automatic mobile responsiveness.
Launched in April 2012, this college website was designed by an in-house team. The fast-scrolling navigation and attention-grabbing photography give the site an elegant feel and develop a positive user experience, ultimately encouraging visitors to dive deeper and explore the website content.
---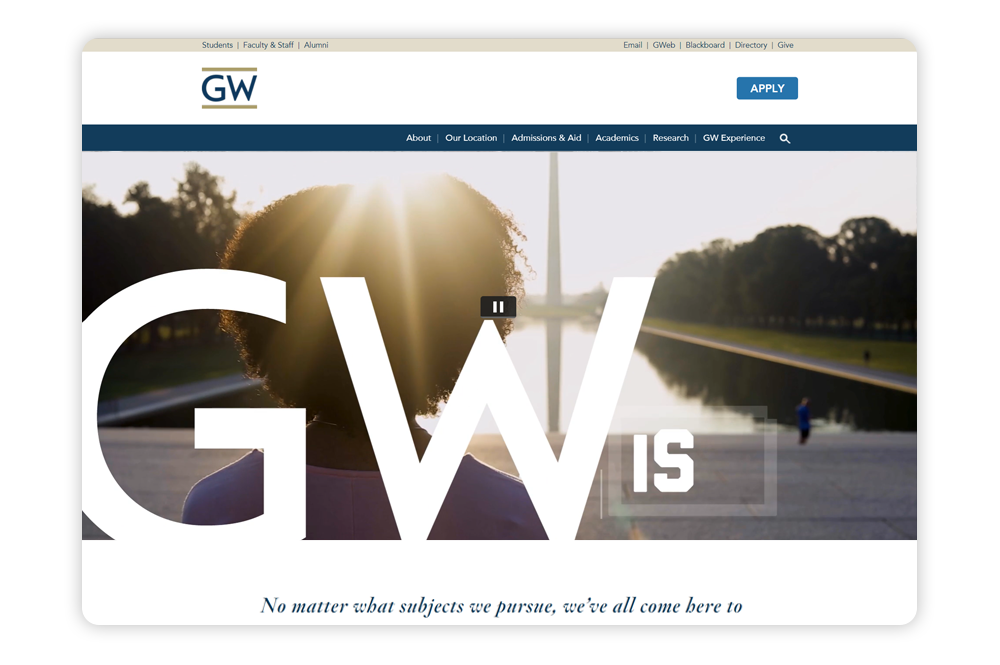 Founded in 1821, the George Washington School of Design (GW) is located in historic Washington, D.C. Today, more than 26,000 undergraduate and graduate students from all 50 states and 130 countries call this university home. They attend the school for the passionate faculty, diverse student groups, Division I athletics, once-in-a-lifetime internships, and inspiring service opportunities.
This college website displays all of this and more with an abundance of information aimed at prospective students. Plus, they feature several elements that foster a spirit of inclusivity and drive deeper engagement. Two of these elements include:
An up-to-date interactive map. Ask any admissions office: being able to perceive a college campus through a current student's eyes is fundamental to convey day-to-day life to prospective students. Visitors can immerse themselves in the campus experience using an intuitive map that's regularly updated with new images and building locations for both campuses.
Adherence to accessibility standards. To get in front of more prospective students, your college's website must be accessible to all visitors. GW complies with web accessibility guidelines so that people with disabilities or impairments can still interact seamlessly with content. In turn, this effectively conveys their commitment to providing an inclusive environment. A CMS like Morweb comes equipped with accessibility tools that enable users to adjust the text size, change the font type, change web pages to greyscale, and more.
From academics and research to admissions and campus life, this university website houses all pertinent information that prospective students need to know in order to get started.
---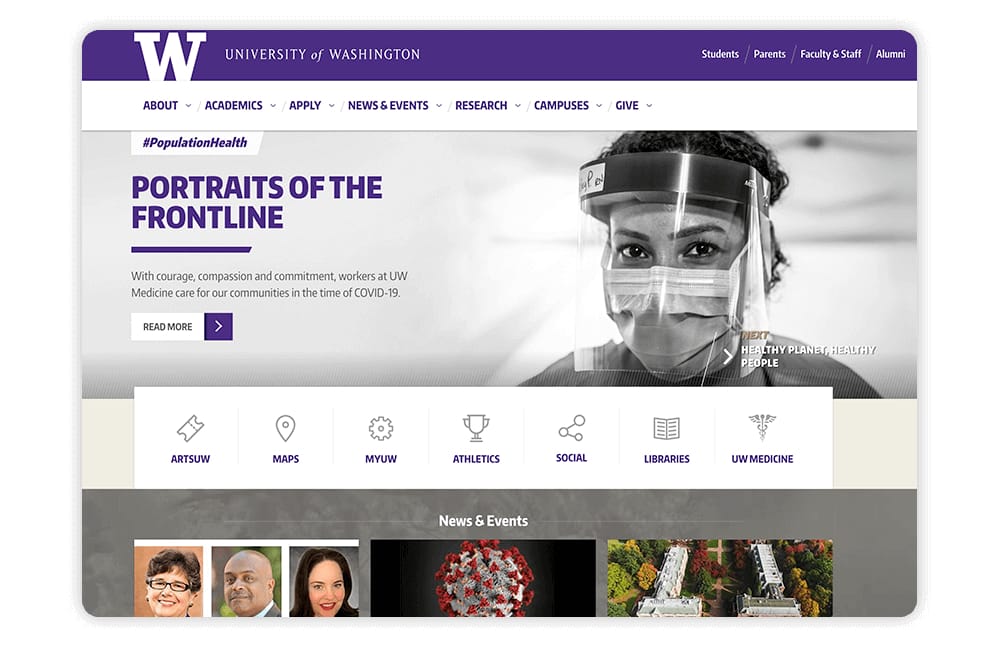 Ranked No. 14 on the 2018 Academic Ranking of World Universities, the University of Washington educates more than 54,000 students each year. Its mission is to turn ideas into positive impact, an ideology that's rooted in deep optimism and a hunger to pursue progress.
UW offers a well-designed college website that houses plenty of information relating to its core mission. While they offer value through several elements on their site, two that stand out include:
Well-designed donation page. When alumni and other supporters want to express their support for the school, they often turn to the institution's donation page. UW leverages this opportunity with a well-designed donation page, broken into three easy steps: selecting a suggested donation amount, entering contact details, and submitting payment information. A CMS like Morweb simplifies the form creation process by offering numerous customization options and allowing you to collect payment directly through your site.


Prominent icons. On the homepage, visitors are immediately drawn to the icons that are designed to direct users to important parts of the website. There's an engagement opportunity for a range of visitors who land on the site, whether they're looking to engage with the school on social media, explore a map of the main campus, or get an inside look at the school's athletic teams and schedules.
Whether you're an alumnus looking to support your alma mater or a high school student athlete deciding which school you'll take your talent to, the UW makes sure you have all the information you need on their college website.
---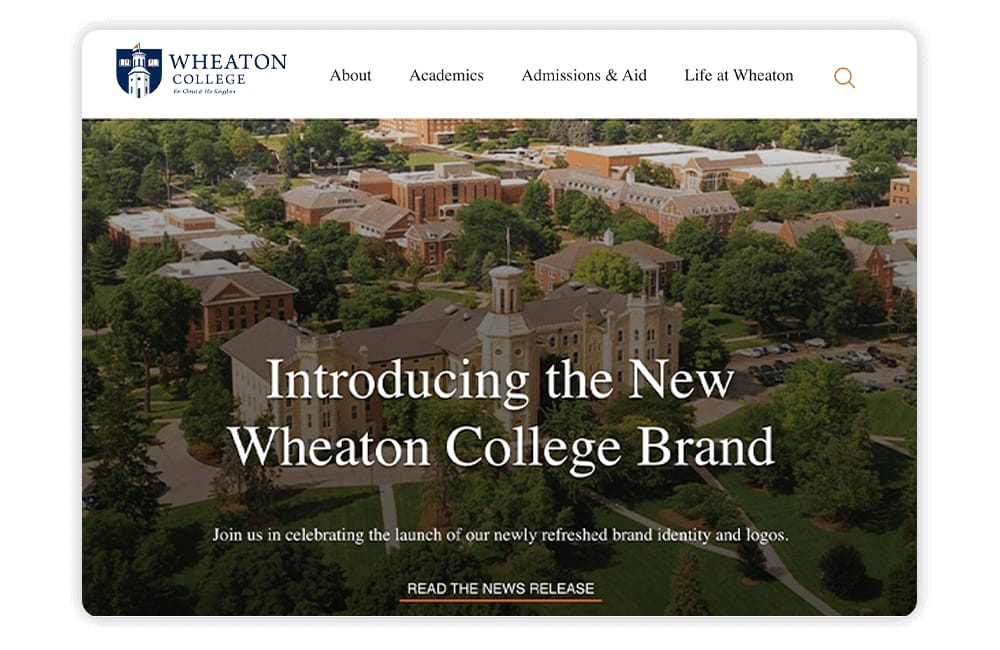 Located 25 miles west of Chicago, Wheaton College is an explicitly Christian, academically rigorous, and fully residential liberal arts college and graduate school. Established in 1860, this school aspires to provide excellence in Christian higher education. Today, this college offers more than 40 undergraduate degrees in the liberal arts and sciences as well as 18 graduate degrees in various other fields of study.
Through its site, Wheaton College puts students at the forefront by dedicating part of the site to athletics, displaying student recitals on an events calendar, and embedding social media feeds to showcase their stunning campus and stand-out students. There are several other notable elements on this college website, two of which are:
A blog dedicated to students. Nearly 40% of marketers say content marketing is a very important part of their overall marketing strategy. Wheaton College leverages this opportunity by featuring a blog that highlights ambitious students, campus news, and much more. Make sure your CMS makes blogging easy with built-in blogging tools, like Morweb.


Testimonials. Nothing speaks louder than well-worded testimonials from students—both past and present! The school features a section titled 'Meet Our Students' where individuals talk about their experiences at the institution, discussing topics such as internships, extracurricular activities, and day-to-day academics.
With students from more than 90 countries, Wheaton takes pride in its student body, and this is apparent on its website.
---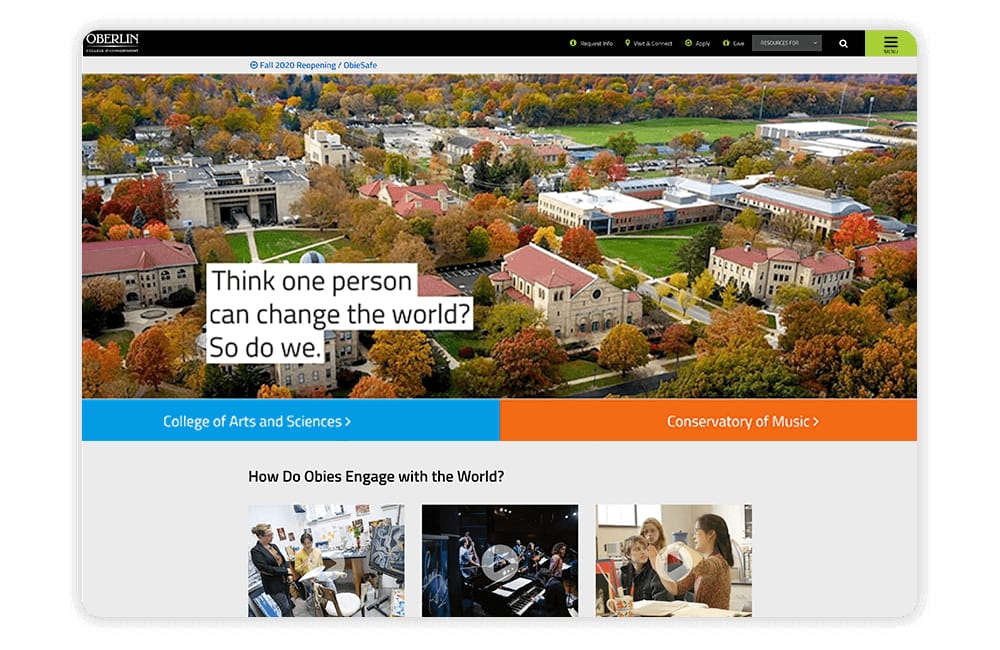 Oberlin College & Conservatory is a top-ranking liberal arts college that's home to a world-class conservatory and a first-rate art museum. Built on a foundation of academic, artistic, and musical excellence, this institution offers the ideal place for students to express their artistic creativity.
On Oberlin College's website, they make sure they showcase their dedication and commitment to those three categories with features such as:
Eye-catching buttons. Starting with the homepage, the school emphasizes its main academic areas: "College of Arts & Sciences" and "Conservatory of Music." When clicked, each button provides a description of the school or conservatory, and when users click through, they're taken to a separate part of the site that goes into details about its offerings.


Captivating multimedia elements. Throughout Oberlin's site, users are met with images and videos of hardworking students engaging in a variety of academic and artistic activities. Not to mention, there's plenty of imagery that showcases the stunning campus. This is a fantastic way to showcase campus life, helping prospects envision themselves at the school.


Even with the extensive details, there's a prospective student inquiry form for visitors who find that they still have questions after exploring the site. The Oberlin development team made sure to conveniently place a CTA leading to this contact page in the navigation bar. This way, prospective students have everything they need to determine if Oberlin is the right fit for them.
---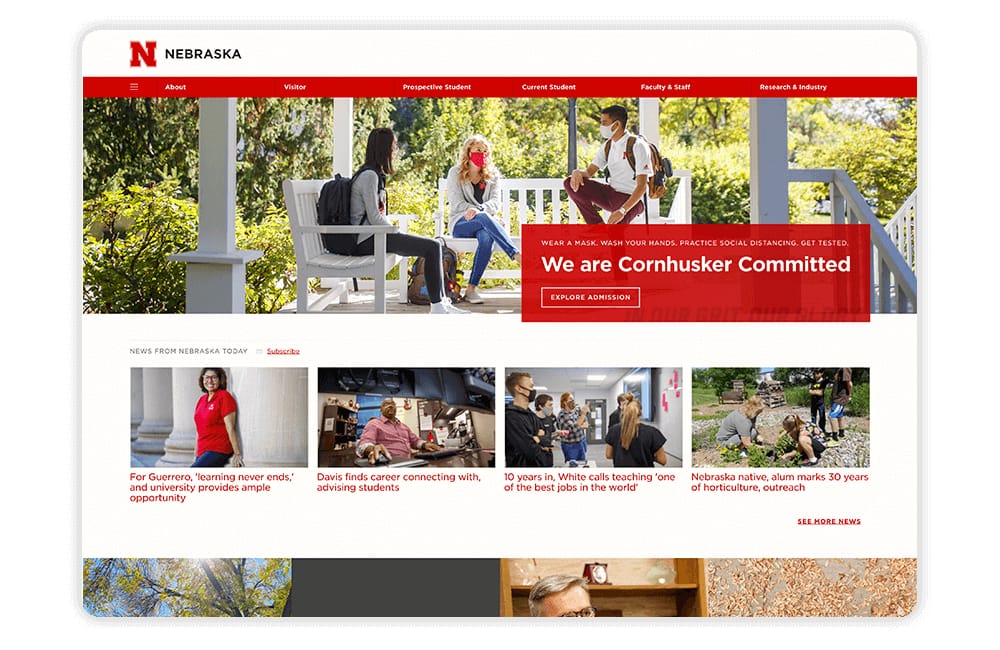 Founded in 1869, the University of Nebraska–Lincoln is an educational institution of international stature. This university is a member of the Big Ten Conference and is accredited by the Higher Learning Commission of the North Central Association of Colleges. Today, the University of Nebraska–Lincoln consistently ranks in the top tier of national research universities as they seek to broaden knowledge in science and the humanities.
University of Nebraska's website is a prime example of a powerful yet simple design. It effectively showcases elements such as:
Straightforward navigation: The navigation bar guides users to important content and is divided into a handful of categories based on the type of user (i.e. visitor, prospective student, current student,' and faculty & staff) and areas of interest ('About' and 'Research and Industry'). Plus, there's a search tool to help users find any other information they might need.



White space: While content is certainly important, this college website limits copy and visuals to embrace negative space. This strategy effectively emphasizes the actions they want visitors to take, such as applying and donating.
The University of Nebraska-Lincoln's website stands out from other colleges and effectively displays the school's prominence within the higher ed space. Instead of cramming a ton of visuals and text into a small space, their simple design gives users space to breathe. Ultimately, the design elements come together to create a cohesive, positive user experience.
---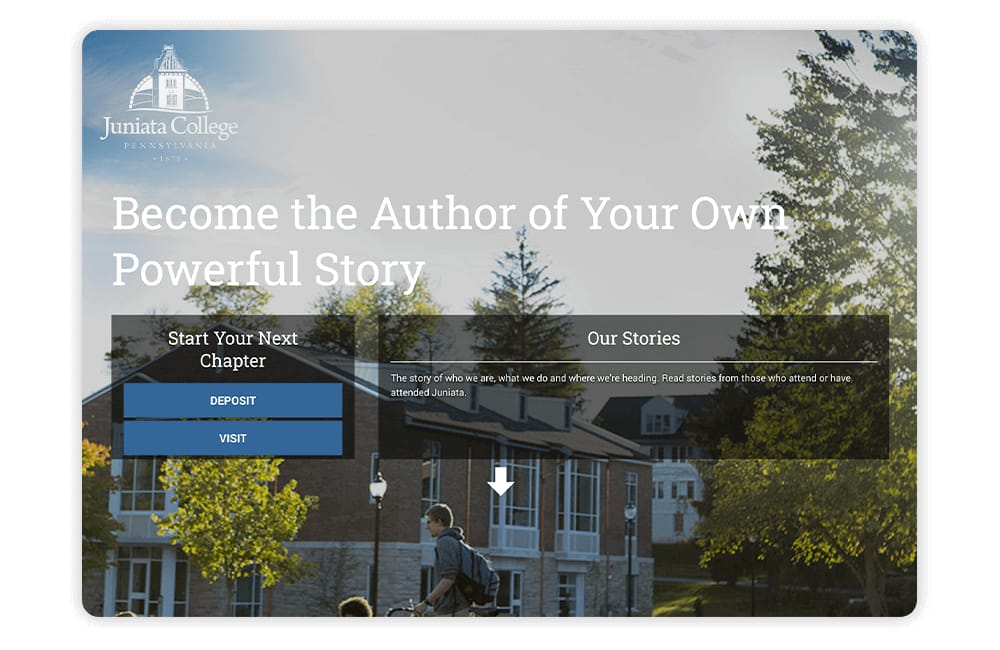 Rooted in its mission to create an inclusive and hardworking community, Juniata College focuses on empowering students to discover their passions and develop their intelligence to take their academic understanding to new heights. This liberal arts college is dedicated to providing an academically rigorous and personally enriching experience to its students.
Juniata College website reflects this enriching experience with the following standout features:
Storytelling. Juniata College takes a slightly different approach with its site than other institutions. Its marketing team has mastered the art of storytelling, making use of a conversational tone that visitors can relate to as well as highlighting current students' stories about their experiences at the college.


Calling the reader to action. One thing this site does exceptionally well is inspire the visitor to take action. The homepage speaks directly to the reader, telling them to "Become the Author of Your Own Powerful Story." Readers are then encouraged to explore alumni's personal stories, visit the campus, and start their journey at the school.


Overall, this college's website taps into readers' emotions, connecting with them on a more personal level to inspire and drive them to take action. In turn, it effectively depicts a welcoming campus that potential students feel a part of even when online.
---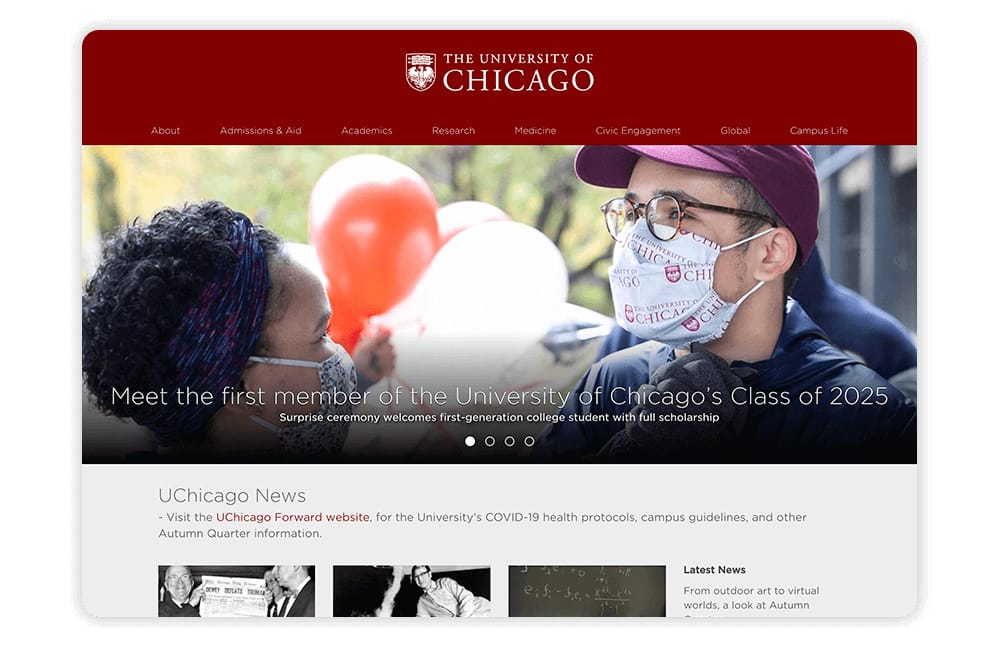 What began as a vision of an English-style undergraduate college and a German-style graduate research institute is now a prestigious university known as the University of Chicago. Since 1890, this school has worked to expand students' knowledge and enrich human life.
Through its website, the University of Chicago showcases its ambition through detailed information paired with features like:
Image sliders. Across this university's website, they've placed image sliders that showcase campus life. Take the homepage for example, where they've combined stunning imagery with text displaying campus news to catch visitors' eyes and keep them informed. A CMS like Morweb allows administrators to compile multiple images into a slider to showcase without visually overloading the page.


Clear navigation. Like many other college websites, the University of Chicago defines its audience by including a navigation bar that's divided into types of visitors (i.e. students, faculty, staff, alumni, parents, visitors). Taking this approach ensures that everyone can easily find their way around no matter their relation to the university. Otherwise, they might abandon the site altogether if they can't find what they need.
Originally launched in 2012, this college website was created in-house by the university's IT and communication departments. Since then, the site has received recognition for its excellent designs, including two prestigious Webby Awards for the best overall school website and the Webby People's Voice Award. This level of recognition has helped position The University of Chicago as an authority in the higher ed space.
---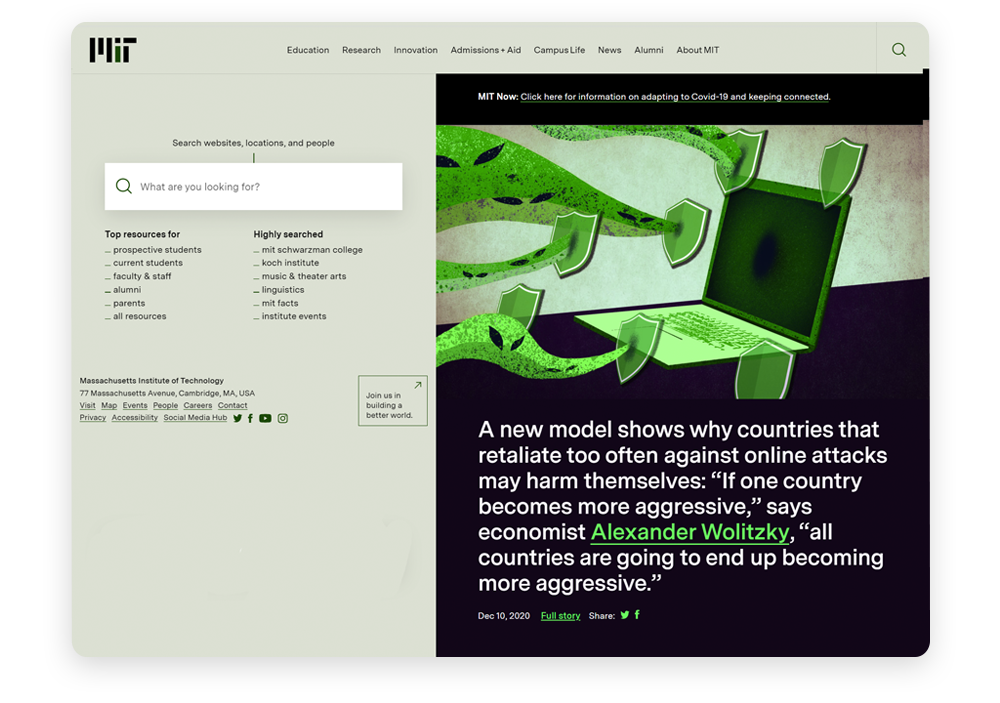 From its proud history of teaching and research, the Massachusetts Institute of Technology (MIT) has emerged as one of the most highly-regarded technical colleges in the United States. The mission of MIT is to advance knowledge and educate students in science, technology, and other areas of scholarship that will best serve the nation and the world in the 21st century.
The college developed a website that expresses that uniqueness with standout features like:
A unique approach to navigation. On the homepage, the navigation menu is featured in a static column on the left, on the right is a scrolling feature of recent news and stories. While this approach certainly stands out, be wary of usability for mobile users and accessibility for those relying on screen reader technology. A homepage like this one makes it difficult for mobile users to click through content and for those using screen readers to understand the content on the page.


Quality content. Picking a college can be an emotional decision for students and parents alike. The more a school can tap into that emotion, the stronger their chances of increasing registration numbers are. MIT recognizes this and taps into that emotion with high-quality content such as compelling visuals, information regarding student life, quick facts and more.
Since its founding in 1861, MIT has sought to develop a distinct identity within the higher ed sector. With modern technology and a careful approach to web design, they've managed to effectively carry this identity over to the digital space.
---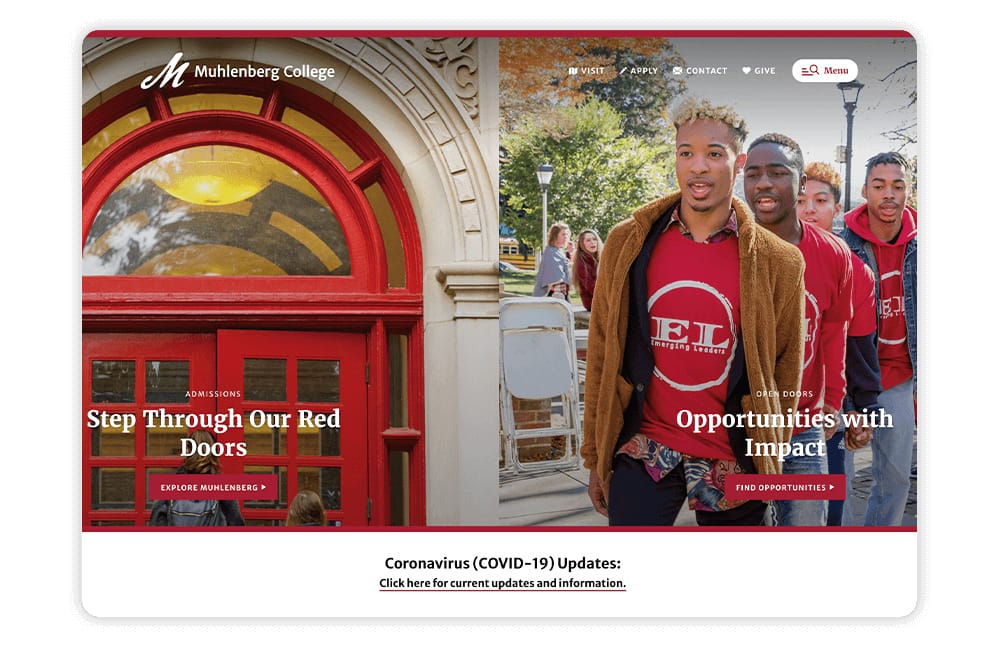 Located in eastern Pennsylvania, Muhlenberg College is a liberal arts school that aims to develop independent critical thinkers who are intellectually agile. The school's commitment to intellectual growth dates back to its founding in 1848.
Muhlenberg College strives for simplicity, which the marketing team effectively showcases through its web design. Here are a couple of the features that stand out on this college's website:
Simplistic menus. Instead of piling all pages into the navigation, this school has opted for a minimalist design by featuring five main categories that expand into their most important pages. These categories pertain to the school's values, admissions information, academics, student life, and community impact. Plus, colleges can use a CMS like Morweb to feature a search bar for those who have a very specific page they need to locate quickly.


Strategic multimedia usage. Muhlenberg College heavily focuses on a combination of static and moving imagery that accurately reflects dorm life, sporting events, and classroom environments. In addition to a few impactful photos and videos at the top of their homepage, they feature an interactive collection of images that allows users to toggle between student life and various learning environments to accurately portray day-to-day life at the school.
By prioritizing simplicity and displaying compelling imagery, this school's impactful design leaves a lasting impression on visitors, so when it comes time to choosing a college or generally supporting a university, Muhlenberg will immediately come to mind.
---
The Gist
More than ever, a university's website is its primary calling card. Most students start their search for schools online, and your college's website is likely the first place they'll come into contact with your institution. Make a lasting first impression by developing a highly-engaging, informative website that connects with students, prospects, families, and staff alike.
Gain inspiration from well-designed college websites like the ones in this article, so you can model your own after one that sticks out to you. Remember, a school-specific CMS like Morweb will eliminate a lot of the guesswork from the development process, because you can ensure you have access to all of the features that you need. That way, you can focus on producing content that appeals to your visitors.
Make sure to spend sufficient time selecting a college website builder that offers complete customization as well as any tools you need to set your school apart from the competition. In turn, you'll make the most of your marketing dollars and reach more prospective students.
Now that you've successfully kicked off your college web design research, start mapping out your design. If you'd like to continue exploring best practices, explore these great resources that we've pulled together: