10 Best Association Websites + Tips For Building Your Own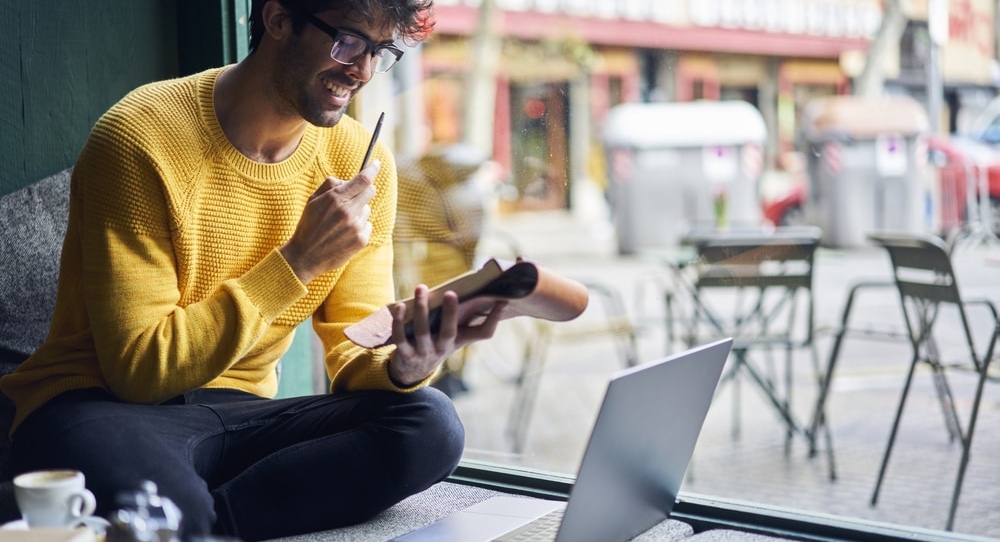 At the center of your association's online presence is an engaging and useful member website. Your website is a critical tool for facilitating interactions between members and other members, members and your organization, and members and outside opportunities (such as jobs or volunteer positions).
It isn't enough, however, to quickly throw together a website you hope will be helpful to your members. Instead, the design of your association website will take careful and deliberate planning to get right. And when you take the time to truly think through the design of your website, you'll create a functional and beautiful resource that can benefit your members for years to come.
A great place to start when designing (or redesigning!) your association's website is looking at other organizations' websites. Getting inspired by what is possible with thoughtful and creative website design will help you choose a unique and effective direction for your own website.
In this post, we'll help you get started by first exploring the best association websites out there that are created with different types of website builders. Then, we'll walk through some tips for building your own website:
Are you ready to deliver more value to your members by creating a dynamic, engaging association website? Let's jump right in!
---

Best Association Websites Built With an Association-Specific Website Builder
The website builder you use to create your association's website matters. With a website builder that is specific to associations, you'll have access to easy-to-use tools and be able to leverage association-specific resources like private member pages and donation tools. In this section, we'll show you seven of the best association websites built with Morweb, one of the top association-specific website builders on the market.
1. International Association of Fairs and Expositions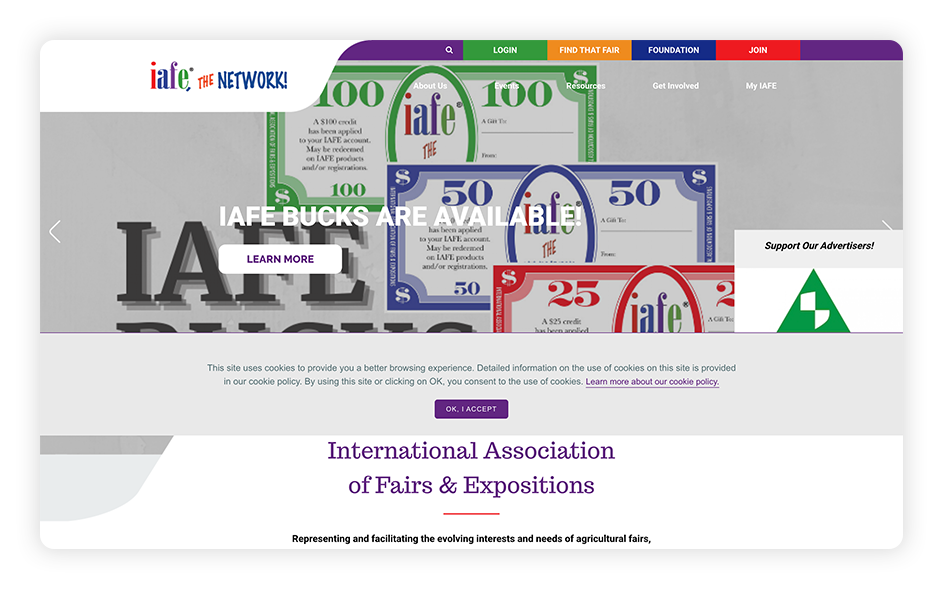 Why This Association Website Is One of the Best
The International Association of Fairs and Expositions (IAFE) uses funky shapes and page animations to engage site visitors and capture the essence of the fun events they represent. Their website has the perfect balance of creative design and informative content, answering visitors' top questions like, "Who should join?" and "What are the benefits of an IAFE membership?"
The site has a strong visual identity with bright colors, stunning image banners, and unique fonts to match the association's branding. Memberships are prioritized in the web design through colorful buttons in the navigation menu and attractive call-to-action banners on key pages.
Our favorite feature? The website offers an online library with over 1,500 downloadable files. Members can filter by category and download everything from toolkits, document templates, and photos to industry reports.
Takeaways From This Best Association Website
IAFE designed its website with Morweb. The layout of the website is a completely custom design to match the uniqueness of the association. All of the content is easily editable through Morweb's live drag-and-drop editor.
The association chose the Morweb platform for its member-specific functionality such as member logins, private pages, online forms, and events pages. Their website makes provides clear information on how to join the association, find an upcoming fair, or log in to the members portal by highlighting these pages in the top menu.
Other associations can use this website as inspiration to create a website that best serves the needs of their members.
2. Poultry Science Association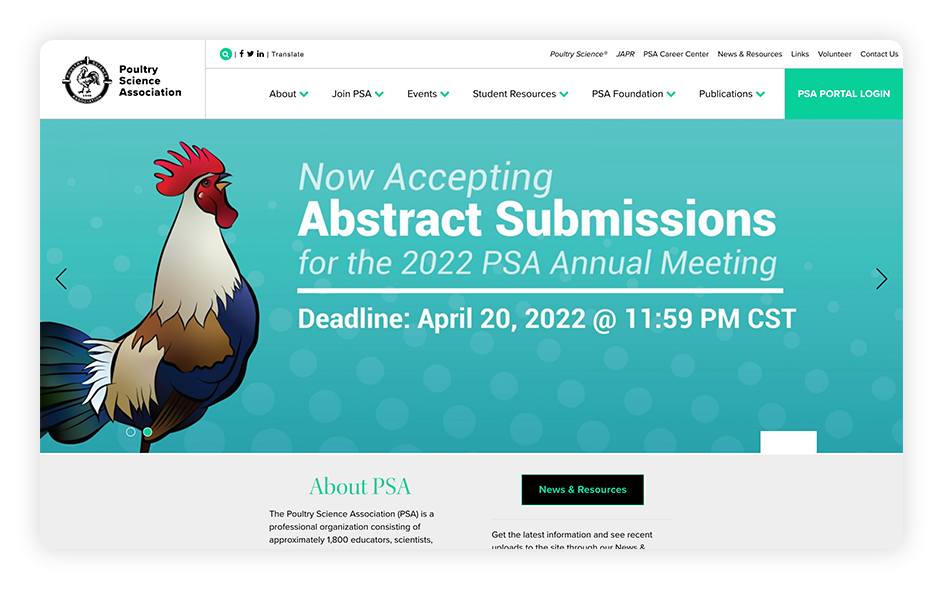 Why This Association Website Is One of the Best
The Poultry Science Association (PSA) website is clean and minimalistic with just the right pop of color. Their homepage features recent news and resources to download as well as custom icons to guide you through the membership process.
This association's website has a unique navigation menu featuring a mix of dropdown menus and quick links. Best of all, the large "PSA Portal Login" button in the top right corner makes it easy for site visitors to quickly access members-only resources and tools.
Our favorite feature? The member directory has an interactive map to show the global impact of their organization.
Takeaways From This Best Association Website
From the outset, it is clear that the PSA website is membership-focused. The homepage highlights an introduction about the association's members and the "Join" section shows the various membership types and how to become a member.
The PSA designed its website by partnering with Morweb. The custom design does a great job of highlighting membership benefits and encouraging site visitors to get involved, whether that's by joining, attending a meeting, reading publications, or donating to their foundation. Each of these actions is supported by Morweb's built-in website features.
3. Albuquerque International Balloon Fiesta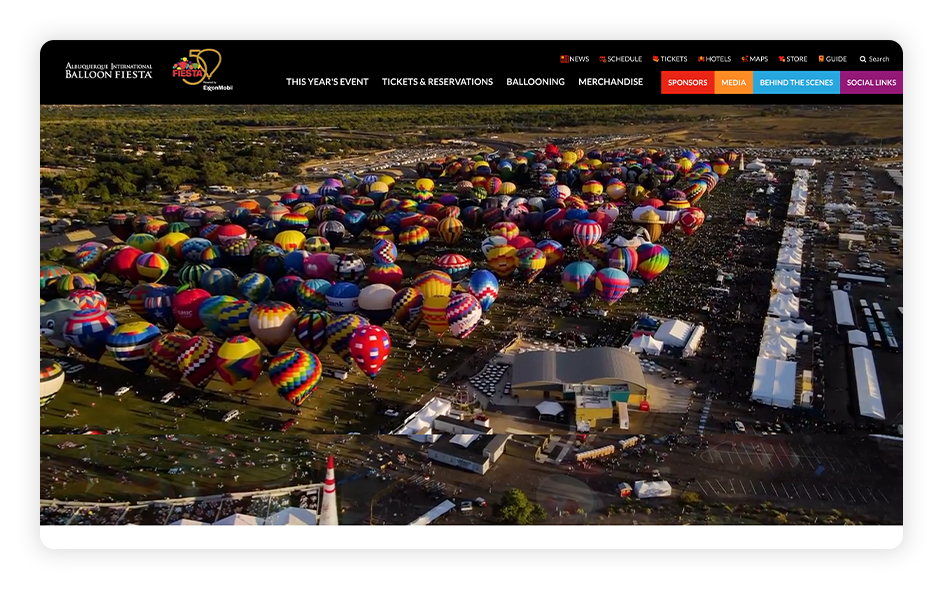 Why This Association Website Is One of the Best
The Albuquerque International Balloon Fiesta is a balloon festival that takes place every October in Albuquerque, New Mexico. While this is not a traditional association website per se, the complexity of the festival requires the registration of hundreds of hot air balloon pilots.
Balloon Fiesta's website design offers a unique web experience through the use of page animations and a live countdown timer. This organization also takes what makes it unique (hot air balloons) and highlights it with colorful imagery, showcasing balloons floating through the sky.
Other design elements, including bright call-to-action buttons and upcoming event announcements, build anticipation for website visitors. The site also features easy-to-use quick links and a drop-down navigation menu.
Our favorite feature? Balloon Fiesta provides a live weather tracker in the footer of the website for pilots and attendees to plan accordingly.
Takeaways From This Best Association Website
Given the immense size of this festival and the legal requirements of piloting a hot air balloon, a members portal for pilots is essential. The organization's website was designed on the Morweb platform making use of great association features like private pages, members logins, and custom forms for a complex pilot application.
By choosing a website design platform specifically for associations, Balloon Fiesta was able to create a compelling website design backed by powerful functionality to serve a wide member base.
4. International WAGR Syndrome Association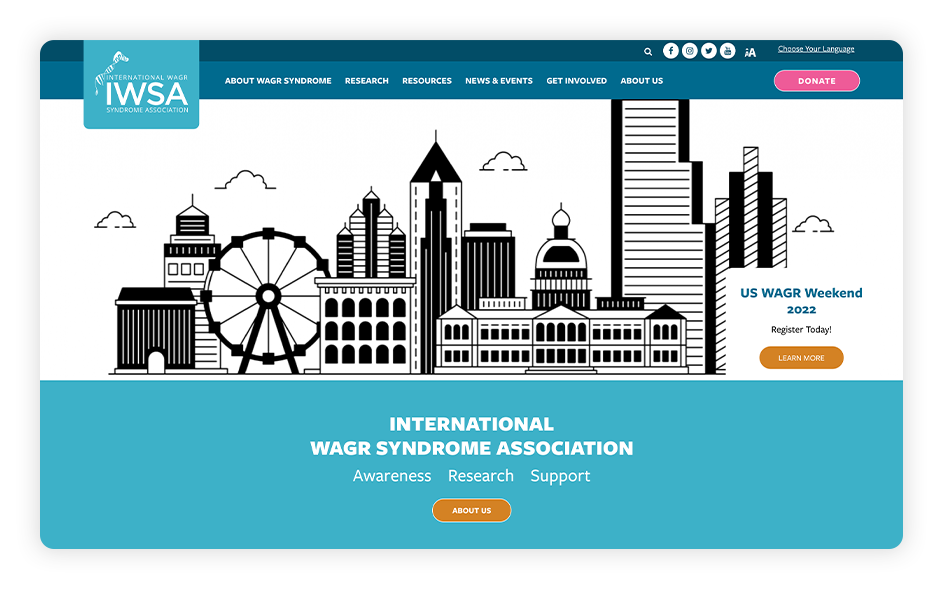 Why This Association Website Is One of the Best
The International WAGR Syndrome Association (IWSA) is a global nonprofit with a mission to further awareness, research, and support for individuals and families affected by WAGR syndrome.
IWSA's website is highly informative and makes use of engaging graphics to explain the disorder and encourage site visitors to get involved in the organization's various programs and initiatives.
The association's website offers resources for families, physicians, teachers, and researchers to learn more about WAGR syndrome and features stories from individuals and families affected by the disorder.
Our favorite feature? IWSA's website is compliant with Level A Web Content Accessibility Guidelines (WCAG) 2.1. The website is fully navigable by keyboard and screen reader technology, and it offers unique web accessibility features which allow users to increase text size, highlight links, and convert the website to greyscale.
Takeaways From This Best Association Website
IWSA designed and developed its nonprofit website with Morweb's design agency and CMS services. Morweb created a custom website design and integrated nonprofit-specific features to bring the association's vision to life.
Morweb specializes in web accessibility for nonprofits and outfitted the website with essential accessibility options to allow people with disabilities to access its content.
5. Association of Controls Professionals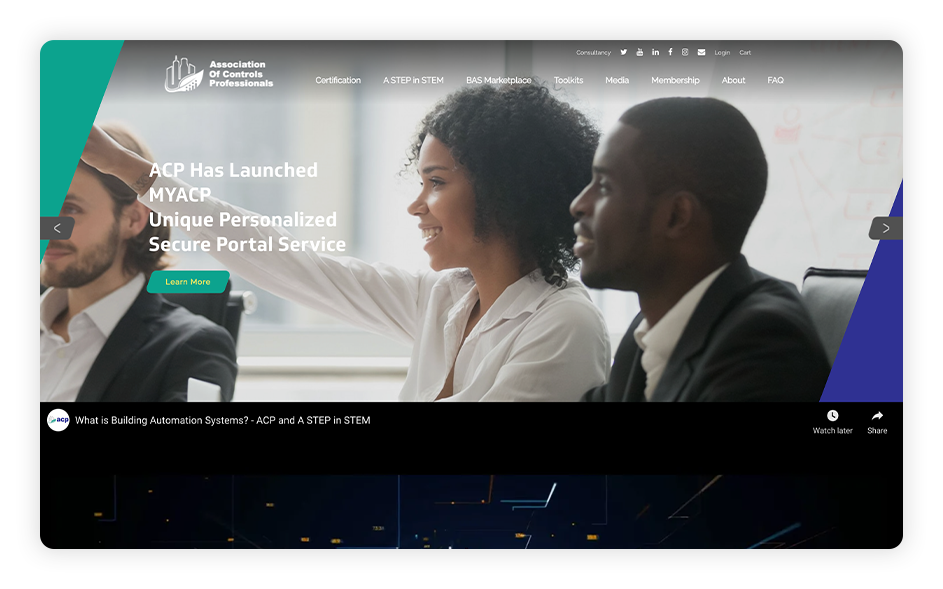 Why This Association Website Is One of the Best
The Association of Controls Professionals (ACP) is a member-based organization for building automation professionals. Its website is both stylish and professional with engaging page animations, custom icons, and informative content.
The website theme strongly reflects the organization's branding. The font choice, color accents, and slanted shapes nicely complement the association's logo. Memberships are a clear priority on the website with a bright "Membership" button in the navigation menu and clear calls-to-action throughout the homepage.
Our favorite feature? The BAS Marketplace page offers statistics about careers in building automation systems and features a live counter of weekly mean BAS vacancies.
Takeaways From This Best Association Website
Given that ACP is made up of professionals from a highly-specialized field, its website does a great job of communicating its mission to the general public while guiding its target audience of controls professionals to member-specific content.
The association's website was built on the Morweb platform with a custom design. All elements of the website are editable with Morweb's drag-and-drop editor. The homepage slider, content blocks, post lists, and embedded videos can all be updated on the front end of the website without the help of a developer. News stories and event posts use Morweb's blog engine, so it is extremely easy to add new content and keep site visitors coming back for more.
6. National Council for History Education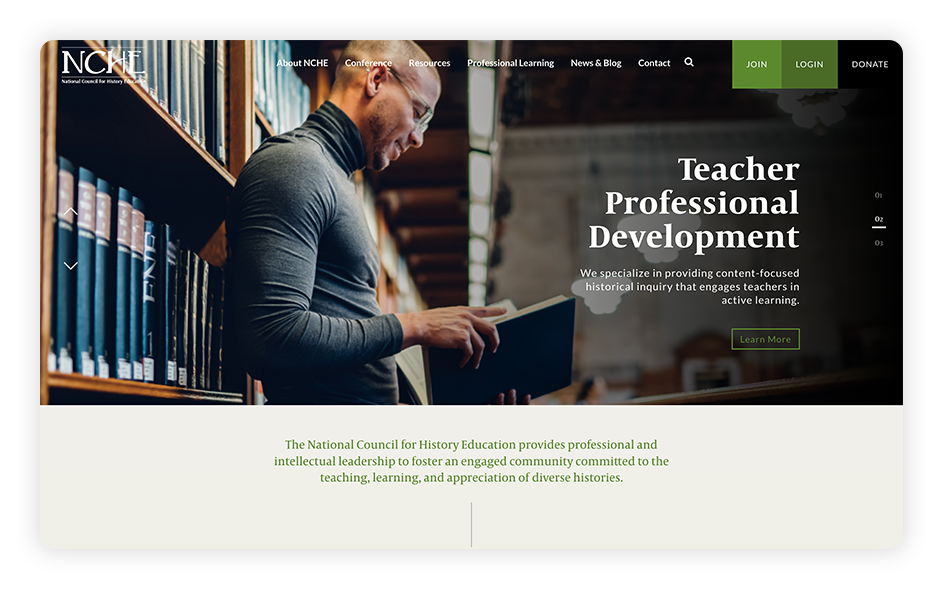 Why This Association Website Is One of the Best
The National Council for History Education (NCHE) is an organization focused on creating a community of history educators who are committed to teaching, learning, and appreciating diverse histories. This organization's website is not only functional but also presents a strong professional brand.
The website's homepage has a rotating banner that showcases three different images, making the site engaging as soon as you land on it. As you scroll down the page, you have easy access to different resources and learning materials, as well as a showcase of upcoming events and new blog posts.
Our favorite feature? The website's "Join," "Login," and "Donate" buttons in the top right corner provide quick and easy access to the organization's most important online resources.
Takeaways From This Best Association Website
NCHE's website was built using Morweb, which offers the themes and templates you need to create a website look that reflects your organization's brand. The NCHE brand is clearly displayed through the website's color scheme, photos, and resources, establishing it as an education-focused, professional organization that is committed to helping students of history shape the future.
7. National Association of Postal Supervisors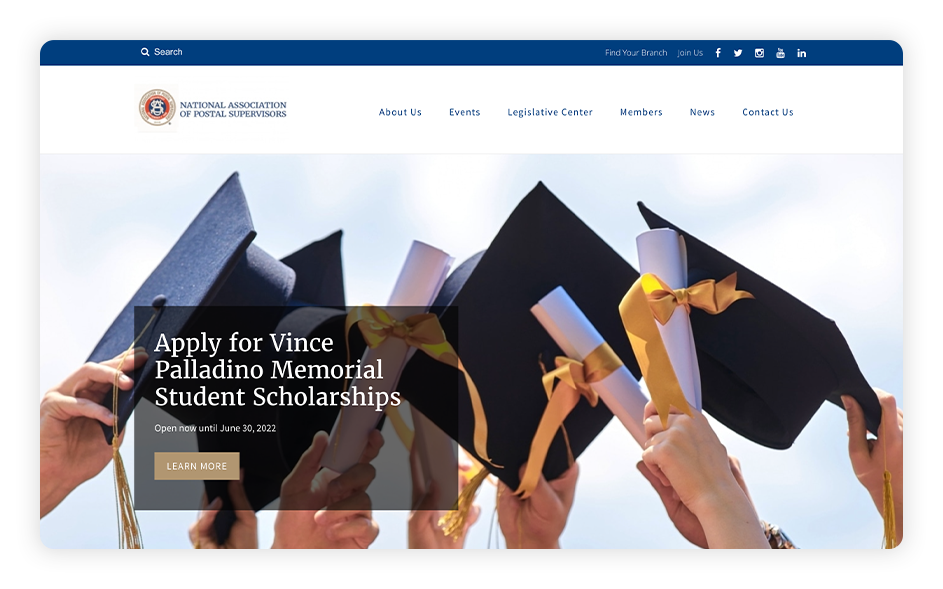 Why This Association Website Is One of the Best
The National Association of Postal Supervisors (NAPS) is another great example of a highly-specialized member-based organization. The homepage does an excellent job of communicating the association's purpose to the general public while encouraging potential members to join.
The NAPS website is very information-intensive, with tons of resources, external links, news stories, and online forms. The association does a great job of organizing its massive amount of content into an easily-digestible format through the use of side menus, subheadings, and accordions.
Our favorite feature? The Find Your Branch page has a custom search option to help you find information about member branches.
Takeaways From This Best Association Website
Associations that serve a very specific vocation can learn from NAPS' member focus. Their website is frequently updated with upcoming events, breaking news, and additional resources. The association is also active on social media, which is reflected on the homepage's live Facebook feed.
NAPS built its website on the Morweb platform by customizing an association website theme. This makes it easy to edit pages and add new content.

Best Association Websites Built With Generic Website Builders
Some organizations opt to go with a generic website builder such as WordPress or Squarespace. This usually comes with some challenges, as these website builders weren't created with associations' needs in mind. However, you can still create a beautiful website with these tools, as long as you have some technical know-how. Let's look at three of the best websites built with Drupal, WordPress, and Squarespace.
1. Rotary International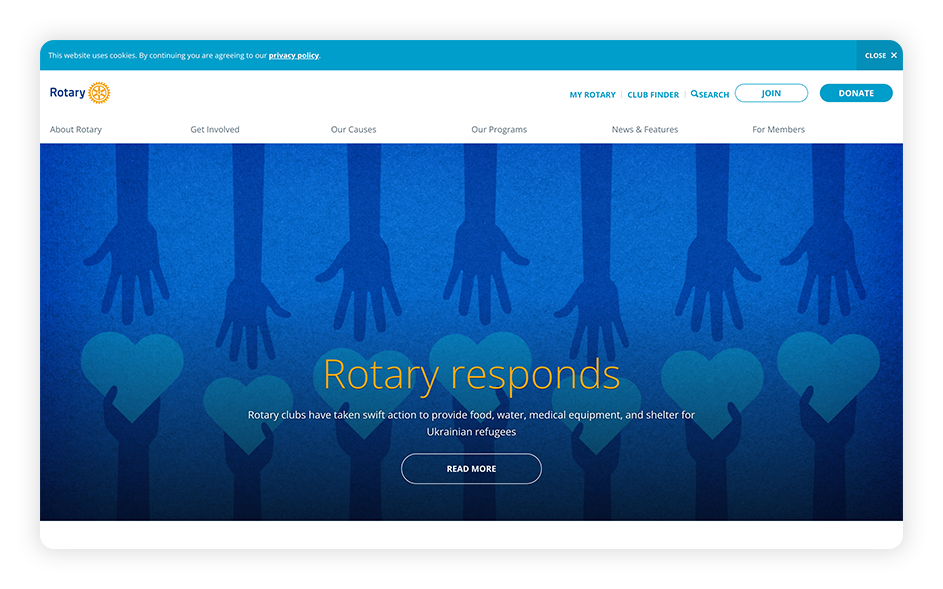 Why This Association Website Is One of the Best
Rotary is a global network of members and clubs working together to support a number of humanitarian causes. The organization's site is visually stunning throughout. The homepage features an engaging banner, and page animations help bring the content to life as you scroll down the page.
This website is quite large, which Rotary manages well through a mass dropdown menu that lists each page link under different subheadings. The "Join" and "Donate" pages are highlighted above the menu so they are easily accessible from any page.
Our favorite feature? Rotary's individual cause pages do a great job of explaining each cause, outlining goals to combat the crisis, and offering ways to help.
Takeaways From This Best Association Website
Rotary's website does an excellent job of telling its story. The association makes use of colorful imagery and animated graphics to convey its mission and suggest ways to get involved.
Rotary developed its website on Drupal for its powerful functionality. Drupal is a robust CMS platform with tons of modules and website themes to choose from. However, users be warned: This is no platform for beginners. The complexity of the platform makes it difficult to edit your website or alter the design without the help of a developer.
2. Elementary Teachers of Toronto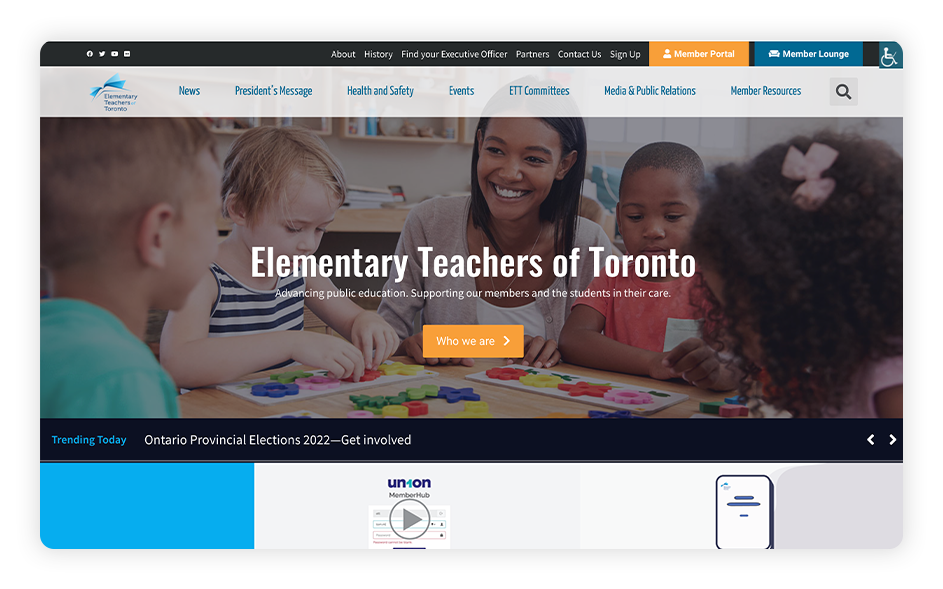 Why This Association Website Is One of the Best
The Elementary Teachers of Toronto is an attractive union website with tasteful color pops and subtle animations. The homepage uses custom icons to highlight important links and shows previews of recent news and event posts.
Furthermore, the association encourages fellow teachers to get involved in the conversation online by showing a live feed of their Twitter account, with links in the footer to their other social media channels.
Our favorite feature? The built-in registration forms make it easy for new teachers to join the association and connect with other members through an online portal.
Takeaways From This Best Association Website
The Elementary Teachers of Toronto's website was designed by Simplistics on the WordPress platform. WordPress's blog engine is great for this organization's news and events sections. Through a mix of third-party plugins, the association can offer diverse functionality to serve their members.
The main drawback of WordPress for association web design is that it can be difficult for non-technical users to make edits to the content and design. Because the plugins are developed by third parties, you will have to contact the individual developer if you run into any issues. If your team is using WordPress and does not have a developer on hand, we recommend hiring a consultant for general website support.
3. Active Schools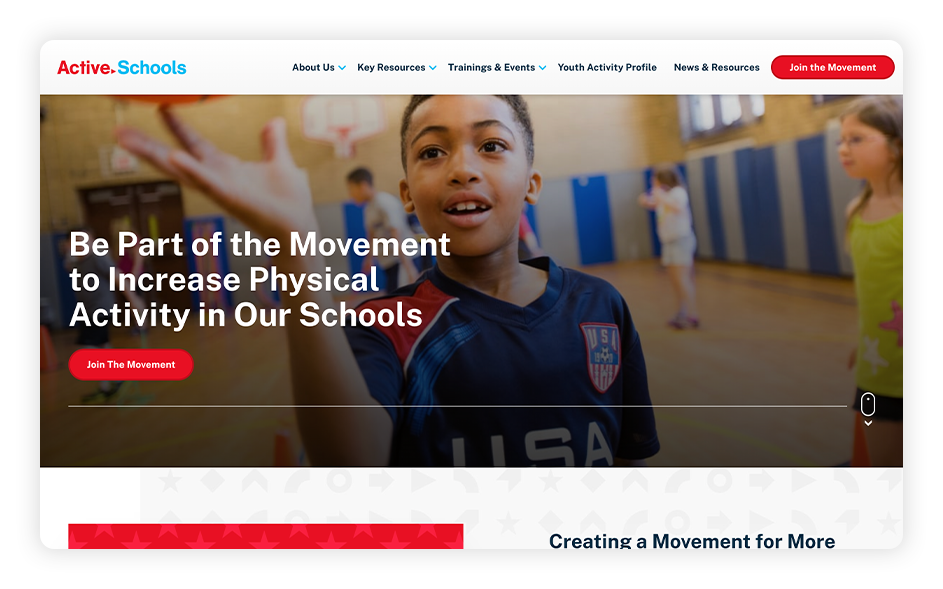 Why This Association Website Is One of the Best
Active Schools is a movement that encourages parents and teachers to join together in the mission to increase physical activity in schools. The website is highly visual with high-resolution images, colorful graphics, and embedded videos.
Active Schools has a clear membership focus with a "Join the Movement" button and dedicated sections for parents and teachers to learn more about the movement and how they can get involved.
Our favorite feature? The "About Us" page offers an in-depth overview of the association's cause and highlights the impact of their ambassadors and partners.
Takeaways From This Best Association Website
Other associations looking to create a visually appealing website can learn from Active Schools' attention to detail. Their website design has great consistency with the text and imagery.
Active Schools' website was built on Squarespace. This CMS is a great platform for creating visually engaging sites, but it may lack some association-specific features like event registration and ticketing. In addition, many templates are tightly locked down, requiring you to add your own code if you want to change the styling. The purpose of these restrictions is to prevent inexperienced web designers from messing up the templates. However, associations with strict brand guidelines may struggle to adjust the template to match without the help of a developer.
---

5 Quick Tips For Building Your Own Association Website
Now that you've been inspired by our roundup of the 10 best association websites out there, you're likely ready to jump into designing your own organization's website. If you're starting out at square one and want to know how to implement some of the great design strategies you've seen in the websites above, this is the section for you!
1. Choose the right website builder.
In the list above, you've seen the best association websites built with an association-specific website builder and with generic website builders. Both can help you create a beautiful website. But which should you choose when designing your own website?
An association-specific website builder like Morweb is the perfect pick for association leaders who are new to web design. Because our platform offers easy-to-use, intuitive tools, you won't have to scramble to learn about the ins and outs of coding or try to become a webmaster overnight. You can simply create a website that reflects your brand and offers your members useful resources.
2. Design with your brand in mind.
Your association's website should reflect the branding you use in your everyday operations and marketing materials. To properly brand your website, you'll need to rely on key elements such as:
Colors
Logos and Slogans
Imagery
Fonts
Branding your website will not only make it a recognizable online resource but will also help boost your organization's professionalism as your members see the consistency in your organization across all your operations. Consistency builds trust, which is key to maintaining relationships within your organization and strengthening your efforts to drive connections between everyone involved.
3. Create members-only resources.
When someone joins your association, they're expecting to get something in return. One of the best ways to provide value to your members is to provide members-only resources. You might offer a member directory, job board, or online forum. You could also offer members-only event pages or a library of industry-specific resources.
With the right website builder, you can put these members-only resources behind a password-protected network. The exclusivity of these resources will encourage prospective members to join in order to gain access to them.
4. Optimize for accessibility.
Your association's website should be accessible to all people, regardless of ability. By optimizing your website for accessibility, you're communicating that inclusivity is something that your organization values and strives for.
Optimizing for accessibility takes a little extra time, but is certainly worth it. Here are some quick tips for making sure your website is accessible:
Make sure your website loads correctly on all types of devices.
Use images and page elements that have high contrast ratio.
Include captions and transcripts on multimedia elements.
Add alt text to all images so that they're "readable" for screen readers.
Use easy-to-read fonts and font colors.
Add an accessibility widget to your website that allows users to customize their experience on your site.
Check out our article about web accessibility to learn more!
5. Integrate your website with social media.
If your organization has a strong presence on social media, you can leverage your social platforms to generate more traffic to your website!
Simply add a live social media feed on your website's homepage or include links to your profile in an easily-seen spot on your web pages. This will get website visitors moving back and forth between your social media platforms and your website, encourage members to share your association's resources and blog posts on their own social profiles, and help establish your organization as present and active online.
---
The Gist
Now that you have inspiration from the best association websites on the Internet, recommendations for the right tools, and some quick tips, you're ready to start designing an association website of your own.
As you design, consider your specific members' needs and expectations. Your association and your members are unique, and that should be reflected in the design and the resources you implement on your website!
Want to delve a little deeper into association management and association web design tips? Check out these resources: