OUR SOLUTIONS

School & Higher Education Website Design

Beautiful and User-Friendly School Website Designs
With Morweb, you can take control of your school website design by having the tools you need to streamline the set-up process. Engage students, parents, and faculty with a mobile-responsive website that is easy to update, even if you're not tech-savvy.
What Your School Website Design Needs
Your school website design should be accessible and mobile-optimized so people can easily navigate to your website anytime, anywhere. Use school-specific features to make your website more user-friendly for your organization and your audience:
Teacher Profile Page
School Blog
Streamlined Registration Forms
And More with Morweb's Website Builder.
See what else is possible for your beautiful school or higher education website design with Morweb.
Morweb's Website Builder Works for Schools of Any Size
Whether you're a school district with several sites to manage, a charter school that needs to communicate its uniqueness, or a university that requires a non-technical platform for departments to manage their content easily, Morweb is built just for you.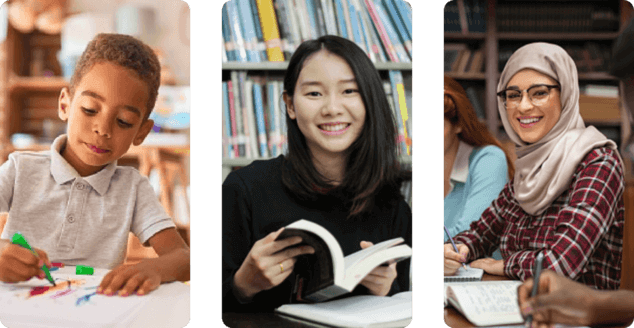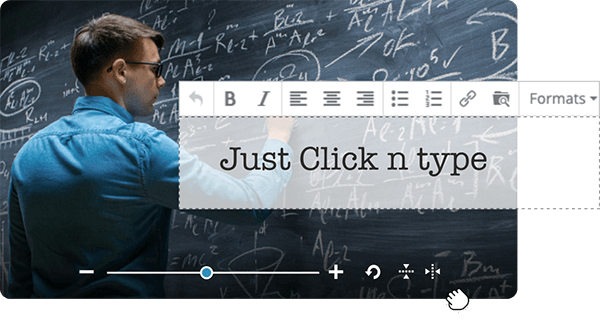 Use Morweb's Live-Editor for an Effortless School Website Design
With Morweb's content management system (CMS) and Live-Editor, non-technical users like administrators and teachers can quickly update any part of your website without contacting a developer. No coding or photoshopping is required to make your school website design ideas come to life.
Add a Teachers Directory Module to Your School Website Design
With Morweb's Teachers Directory Module, we've focused on creating beautifully-designed teacher profile pages that will take your website design to the next level. Users can simply search by keyword, department, school, or any custom search you require. Teachers can also login to update their own profile pages by adding documents, links, images, and other content for students and parents.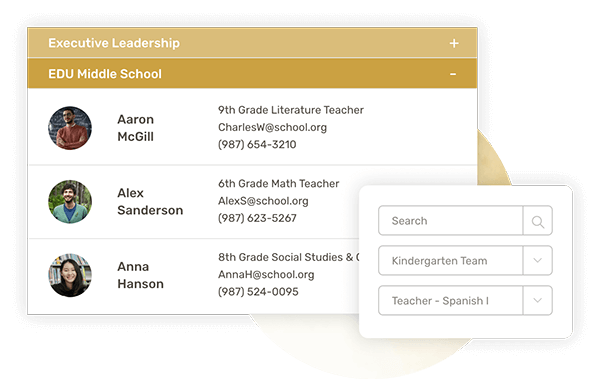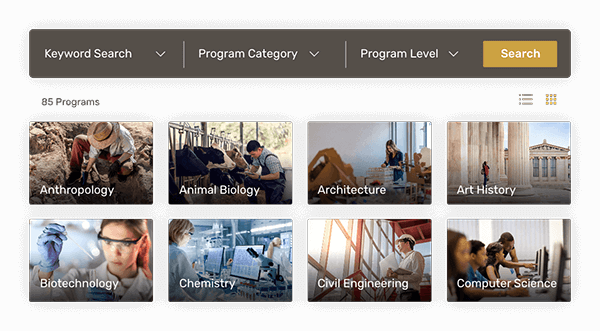 Improve Your School Website Design With an Engaging Online Catalog
Morweb's catalog feature is ideal for school websites that need to showcase a medium to large catalog of programs online. Create new program pages and add in content like images, videos, faculty information, and more. Our Program List Module provides an intuitive user experience with a powerful search filter, SEO-friendly URLs, social media integration, and custom call-to-action buttons to drive leads. Best of all, program pages can be highly customized according to your school website design ideas.
Leverage Morweb's Web Design Platform to Manage Multiple School Sites
Morweb offers different sets of templates, meaning you can have a custom school website design for your main site and a different layout and color scheme on another site. This is great for school districts that have multiple schools under their umbrella. Everything can be managed under one domain and one Morweb platform.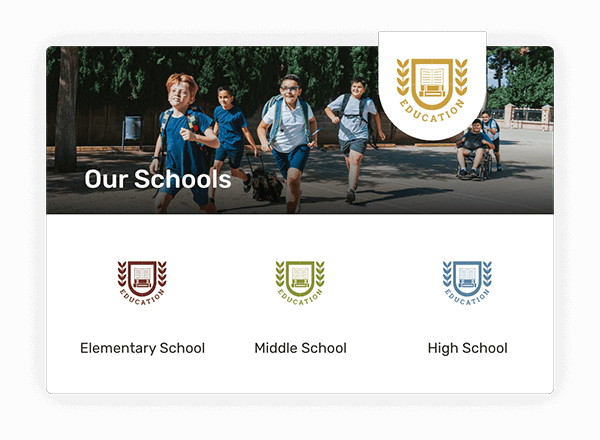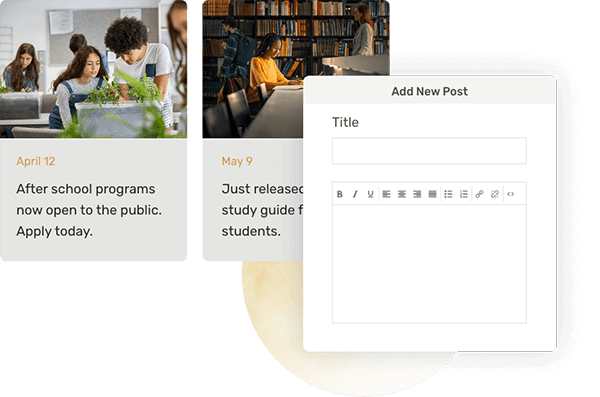 Boost Your School's Communication Strategy with Morweb's Blog Module
Morweb's robust blog module offers features to help you easily manage posts for your school or higher education website. These innovative tools include category & tag management, scheduled published dates, social media integration, instant image optimization, video embedding, auto-saving, and post search.
Employ Morweb's Accessibility Widget to Create User-Friendly School Web Designs
Morweb has accessibility options built right in, such as alt tags, descriptions, custom URLs, and more throughout our platform. With our own intuitive accessibility widget, users can increase font size, change site colors to grayscale, highlight links, and more. We use third party tools to audit, optimize, and remediate any issues to ensure your school or higher education website design is WCAG 2.1 Level A or AA compliant.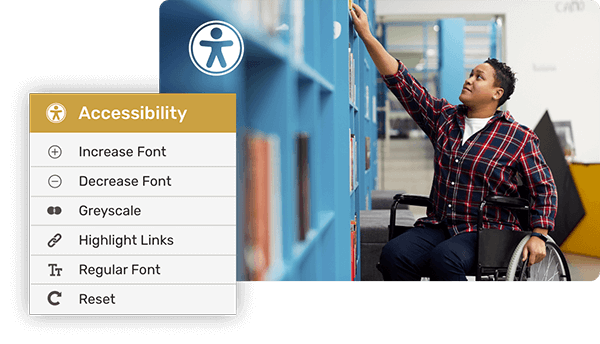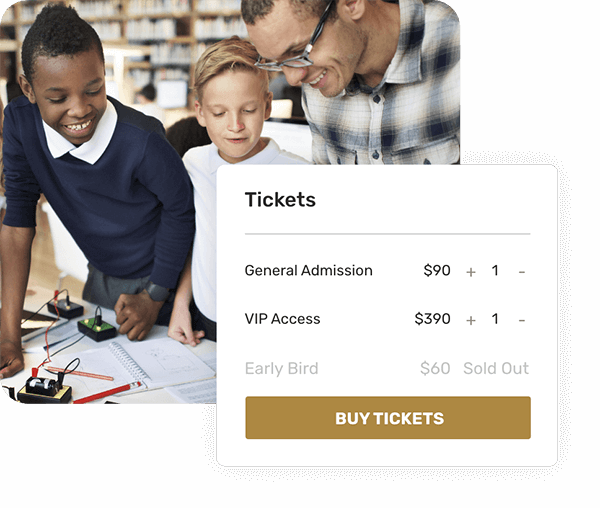 Strengthen Your School's Web Design with Morweb's Easy Event Registration Tools
Add Morweb's beautifully-designed event pages to your school website design. Sell tickets, collect RSVPs, and drive traffic to your events to maximize success. Users will appreciate this streamlined online registration process, making event management easier on your end, too.
Other Benefits of Morweb's School Website Design
Custom Web Design Tailored to Your School Culture
Instead of offering schools average, preset cookie-cutter website themes, Morweb creates custom web designs tailored to your school's culture and goals.
Streamlined School Website Data with Google & Microsoft Integration
Morweb provides single-sign-on, active directory synchronization, Google Classroom, Google Calendar integration, and more to make your school website design more intuitive.
Alert Bars & Pop-up Notifications
Alert or pop-up notifications allow you to post important updates quickly to any school webpage.
Other Available Features Your School's Site Design Needs:
Events Calendars
Powerful Site Search
Enterprise User Roles & Permissions
Website Translation
SHOWCASE
Latest Education Showcases
RESOURCES
Education Top Resources
When prospective students navigate to your college's website, what type of experience are they met with? Do the…
Whether you're a school, college, or private tutor, educators need a well-designed website to reach students, p…
Just like any nonprofit or association, schools are expected to have a website that accurately communicates their vis…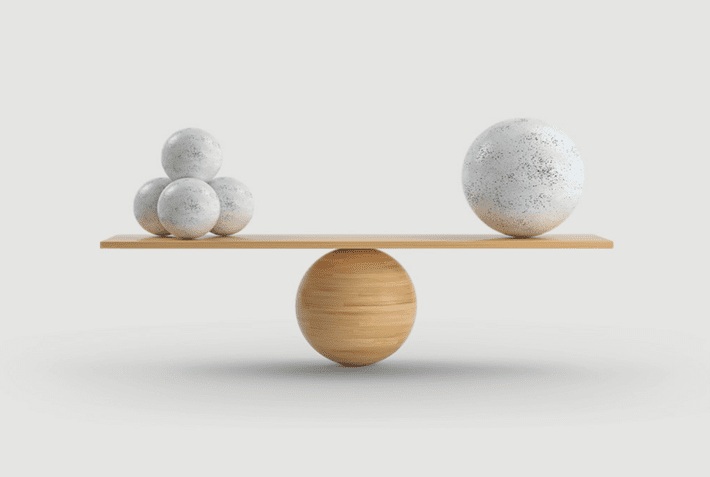 Request a demo
Morweb provides the right mix of strategy, design, non-technical software, and customer support to manage and grow not just a website, but an engaging online presence.