Top 12 Nonprofit Website Templates Any Organization Can Use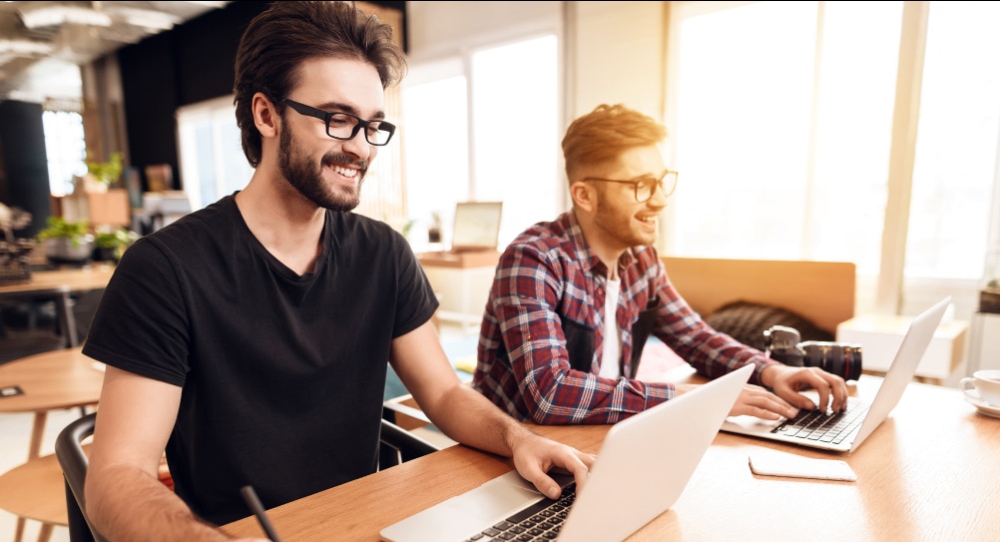 Your nonprofit organization needs an accessible and visually appealing website to grab people's attention. But, like many nonprofits, you probably have a lot on your plate. Between managing your programming and hosting fundraisers, you're juggling a lot to boost your nonprofit's success. While these tasks are necessary, it's equally important to have a strong marketing strategy, including an engaging website design.
Putting together a website might seem like a lot of work, but it's actually a breeze when you use a nonprofit website template. By choosing the right website template, you won't have to worry about any of the confusing, technical logistics of website design. Instead, you'll simply brainstorm ideas and plug your text and visuals into an easy-to-use template.
In this article, we'll show off 12 of the best nonprofit website templates, along with top insights into picking the right one for your organization. Specifically, we'll go over:
With a great-looking and functional website, you'll be able to expand your nonprofit's reach and maximize support for your organization. The right website template can help you get there. Let's begin.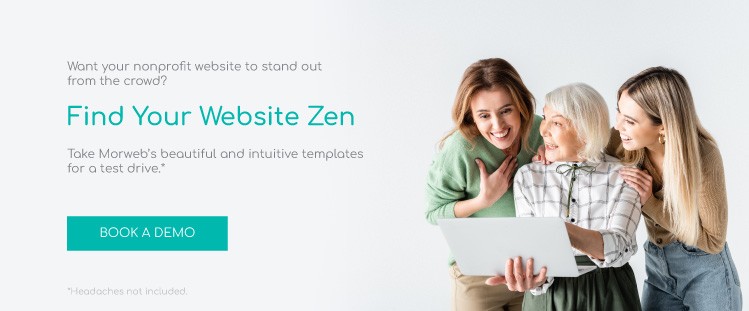 Nonprofit Website Template Basics
A nonprofit website template is a pre-designed layout that lets you fill in and arrange content. When you use a template, your only job is to have a good idea of what type of content you want your website to feature. Your website should have engaging graphic design, an overview of your mission, regularly-updated blog content, and pictures of your organization in action. All of this will intrigue your audience and encourage them to support your cause.
Once you've planned out what you'll feature on your website, the next step is to load it into a charity website template. You can paste your content into the template and even customize features like color and font so your website aligns with your branding strategy. Our favorite part of using a nonprofit website template? No coding required! All the heavy lifting is taken care of by your template.
As you look through our picks of the best nonprofit website templates, keep in mind your nonprofit's larger goals. There are many templates that can serve unique purposes and may benefit your nonprofit's outreach, such as a blog page. Pick a template that is tailored to your audience and makes sense for your organization's marketing strategy.

Healthcare-Centered Nonprofit Website Templates
1. Family Friends Health Center
When it comes to creating a website for your health-centered nonprofit, this template has some of the best features to expand your reach.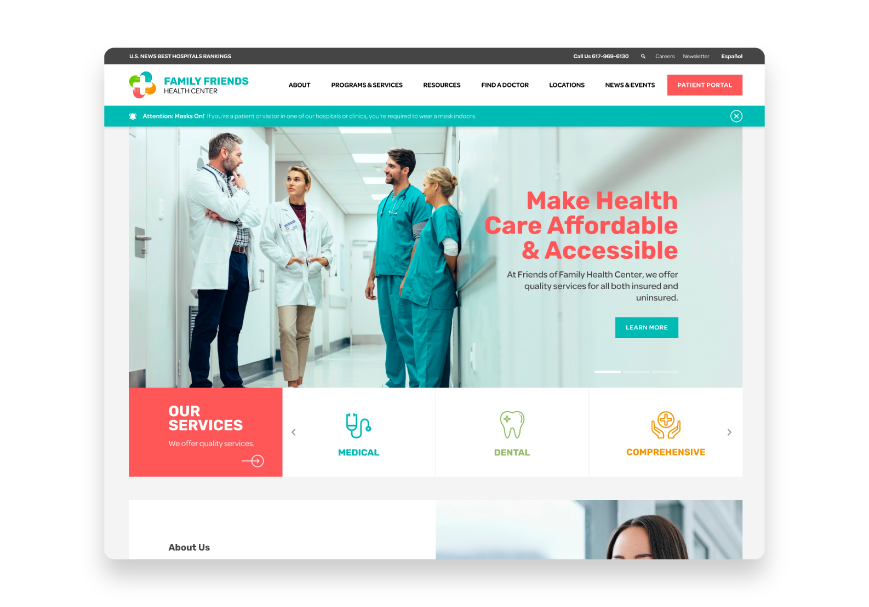 The Family Friends Health Center template features bold text overlaid an image of your choice on the home screen, welcoming viewers to learn more about your nonprofit right away. Users can click through this prominent image slideshow to explore the different goals of your organization.
Your healthcare website needs to be both informative and visually appealing, and this template checks both boxes with the opportunity to insert impactful visuals that have corresponding "Learn More" buttons. Take this opportunity to highlight images of medical professionals at work or patients your organization has positively impacted.
Above and below the image slideshow users can easily navigate to different tabs of your organization's website. The menu bar on top of the website features your logo plus bold menu tabs that are easy-to-read. You can even customize the highlighted "Patient Portal" button to say "Donate," helping supporters to easily find your online giving page.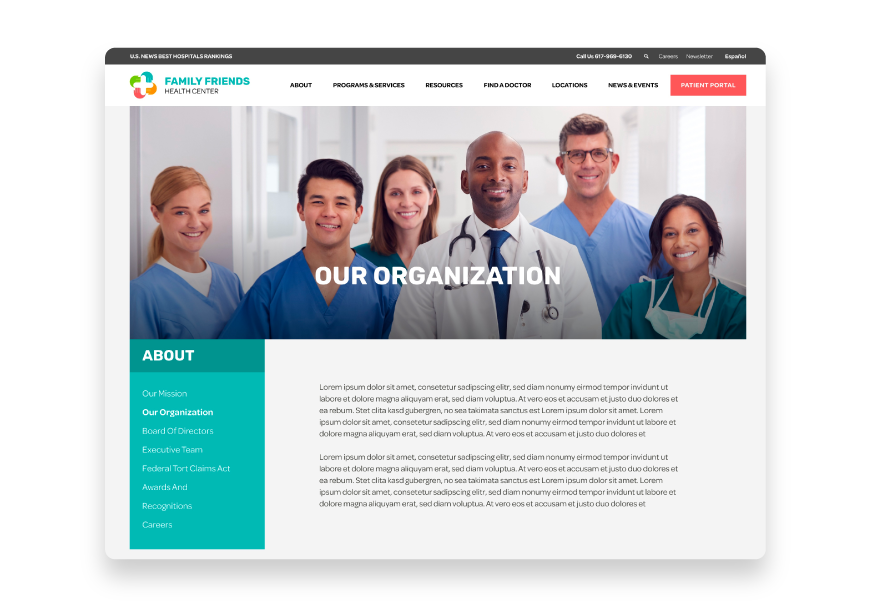 Our favorite feature? This website template also offers a comprehensive "About" page with the option to include several different sections, giving your nonprofit plenty of opportunities to add in your personalized content. Plus, your supporters will appreciate being able to learn more about your organization's values, team members, and impactful work done over the years.
2. Trust Hospitals
With a variety of features, from a video background to a "Recent Posts" section, the Trust Hospitals template has an optimal layout for your health-centered nonprofit.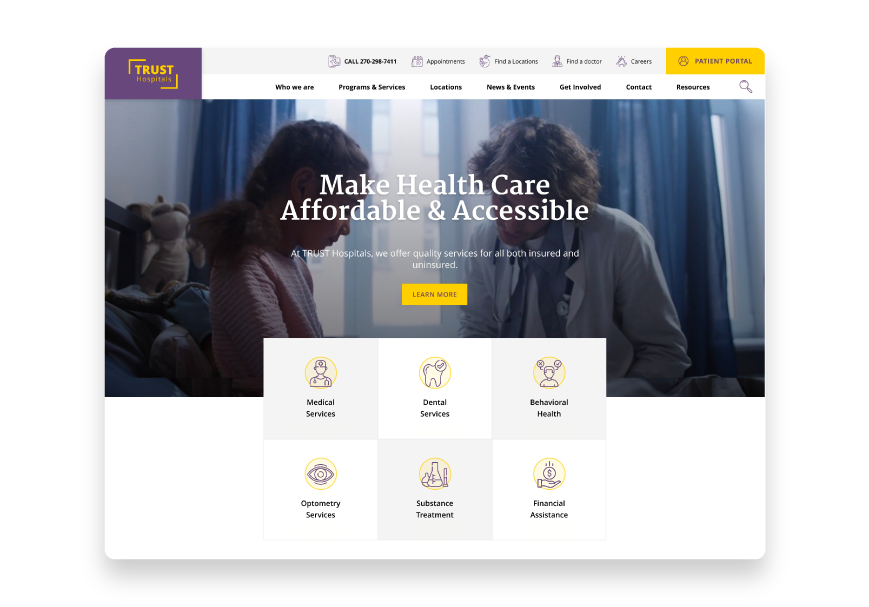 You can show off the impact your nonprofit has made on the homepage with illustrative icons and bold statistics to grab people's attention. This helps site visitors appreciate the hard work your organization has done, making it more likely that they'll want to support you. Customize the font, image color, and text color based on your nonprofit's brand.
Utilize the "Services" box to highlight the different services your nonprofit offers to its community. Its intuitive scroll-over design reveals a "Learn More" button that will take users to a different tab to learn more information about each service.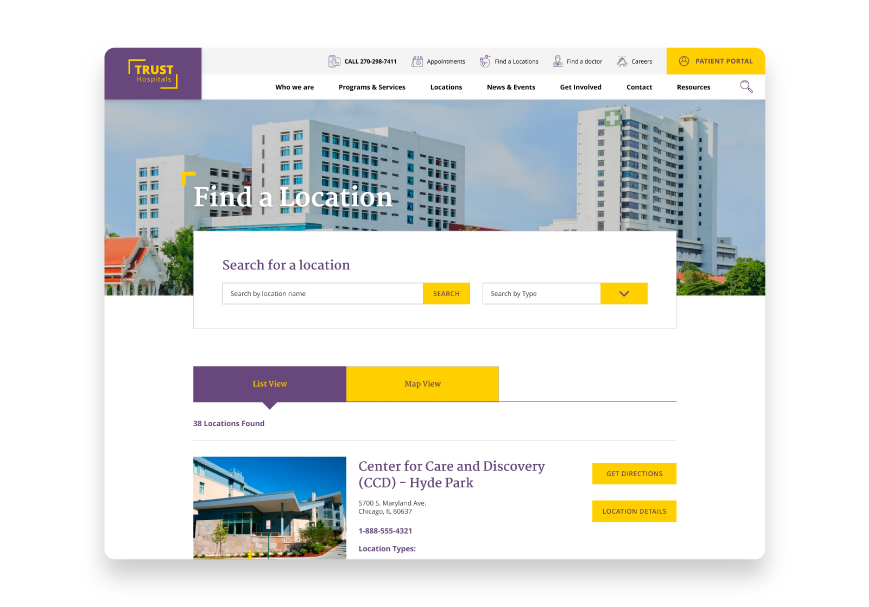 Our favorite feature? A streamlined location search bar to locate your organization's facilities if you're based in multiple areas. This way, users can easily find out where they can receive your services without having to navigate to an external website. The "Get Directions" and "Location Details" buttons are especially handy for users ready to make the trip to your location(s).
3. General Hospital
This nonprofit website template is ideal for any health-centered organization with an active WordPress site and a wide range of offerings.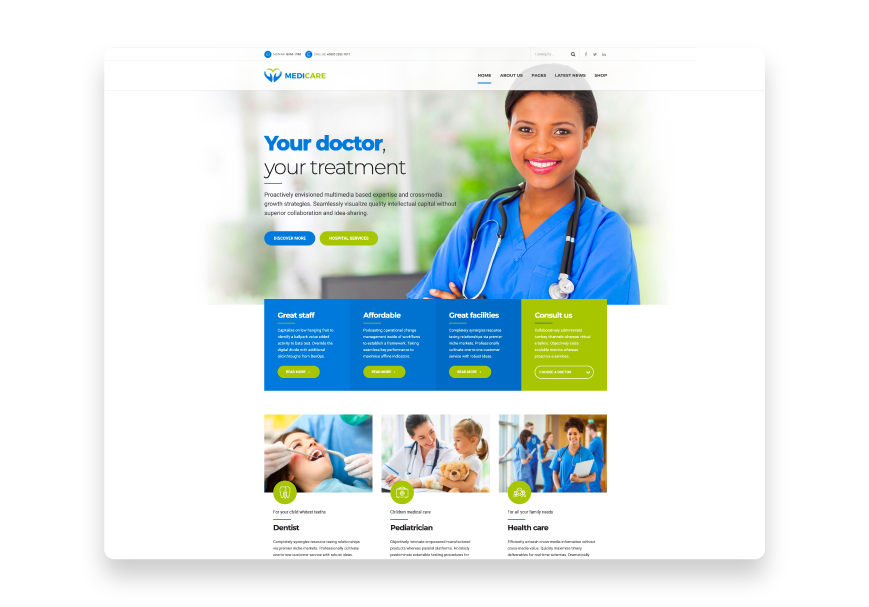 General Hospital's seamless layout gives a variety of opportunities to incorporate your brand colors and images of your team at work. Just below the opening image, there's a section dedicated to staff/volunteers and their biographies. This helps humanize your nonprofit; after all, people love human connection, so getting to know the amazing staff working behind the scenes can help strengthen supporter relations.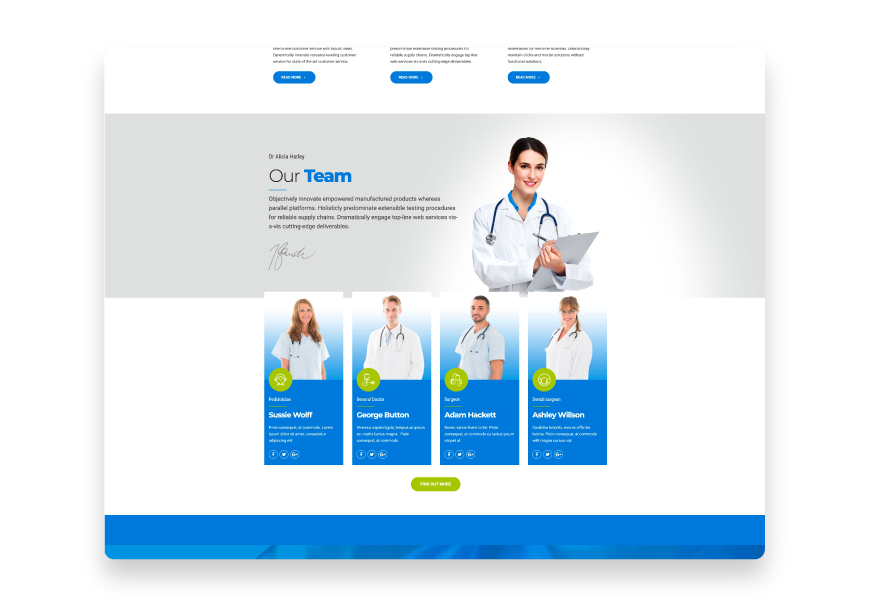 At the top of the homepage, users can easily find out the times your organization can be reached and how to contact you. Plus, there are clickable links to your social media to improve donor engagement and increase excitement over your mission.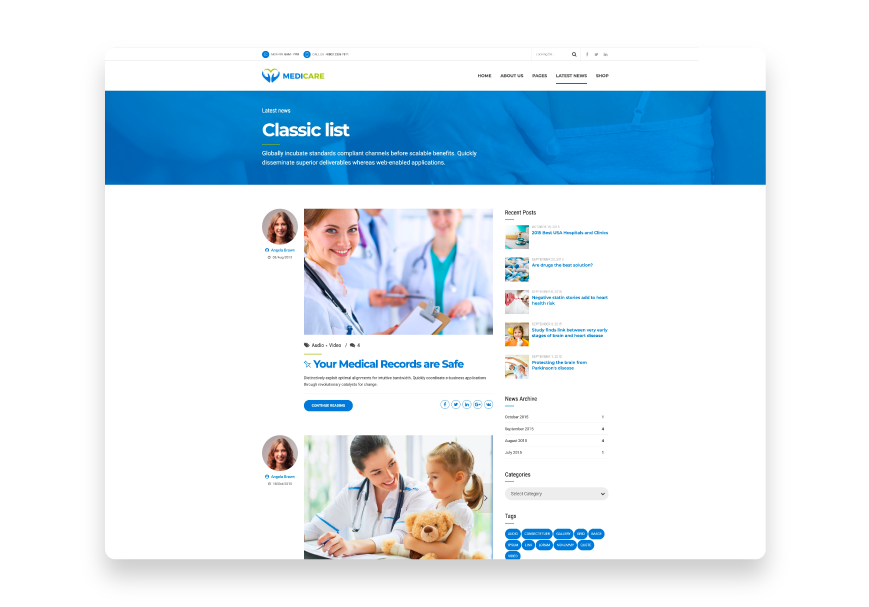 With a designated tab about your nonprofit's news, users can easily stay up-to-date with your organization. This is an ideal option if you use blog posts to advertise your programs or even to discuss topics relevant to your nonprofit's cause.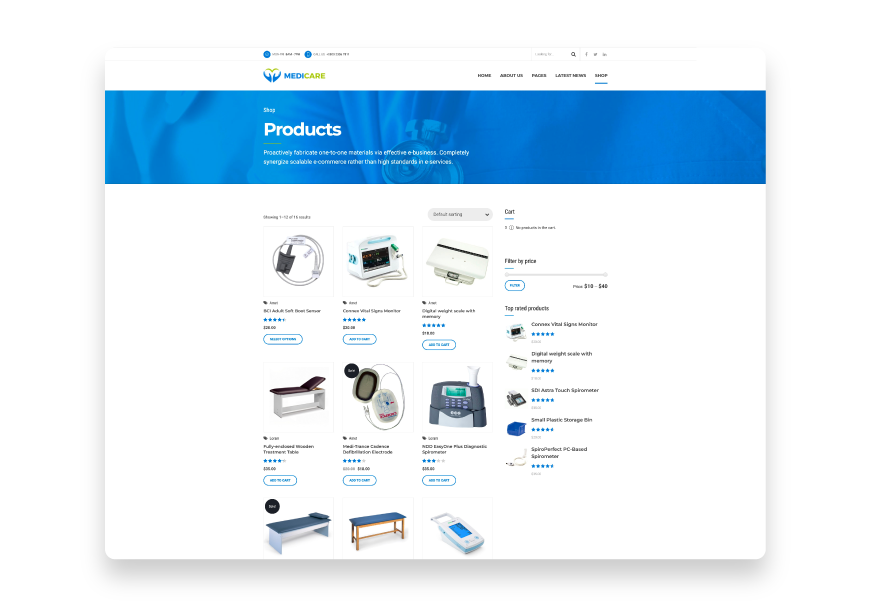 Our favorite feature? An accessible "Shop" tab. If you're selling medical supplies or even holding a product fundraiser, this charity website template can streamline the purchase process for you and your supporters. Users can easily locate the product they're looking for with a price filter and sorting options.

School-Centered Nonprofit Website Templates
1. Kampus
Kampus is a great website template for your school-centered nonprofit, especially if you're targeting K-12 students and educators.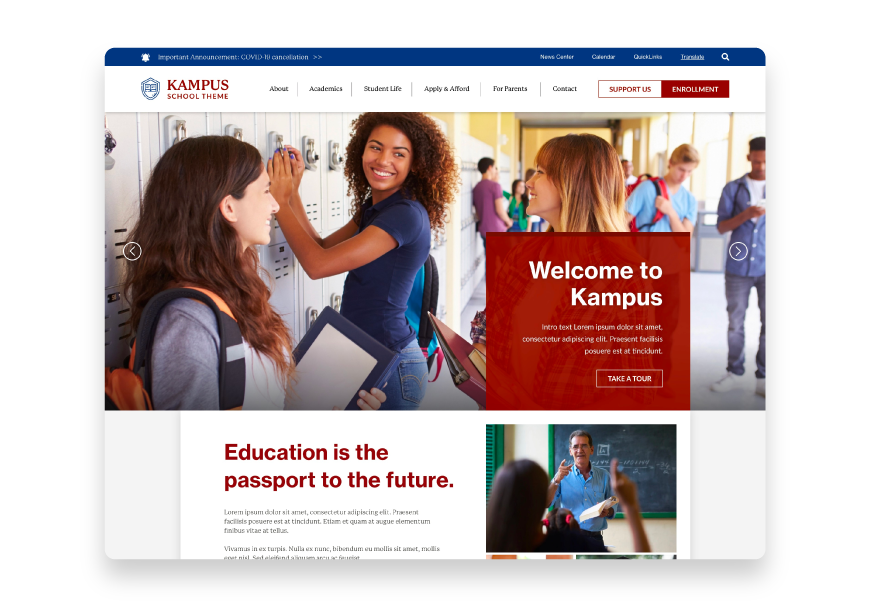 This template has a clean and sophisticated feel, perfect for adding to your nonprofit's sense of professionalism. There is ample white spacing that allows users to easily absorb the information without feeling distracted. Several opportunities to feature images of students, parents, and educators will make your organization or school's purpose clear to visitors.
Two prominent buttons in the top right corner can help your nonprofit bring attention to important embedded forms or links, like your donation page. Feel free to customize the colors to be consistent with your other marketing materials.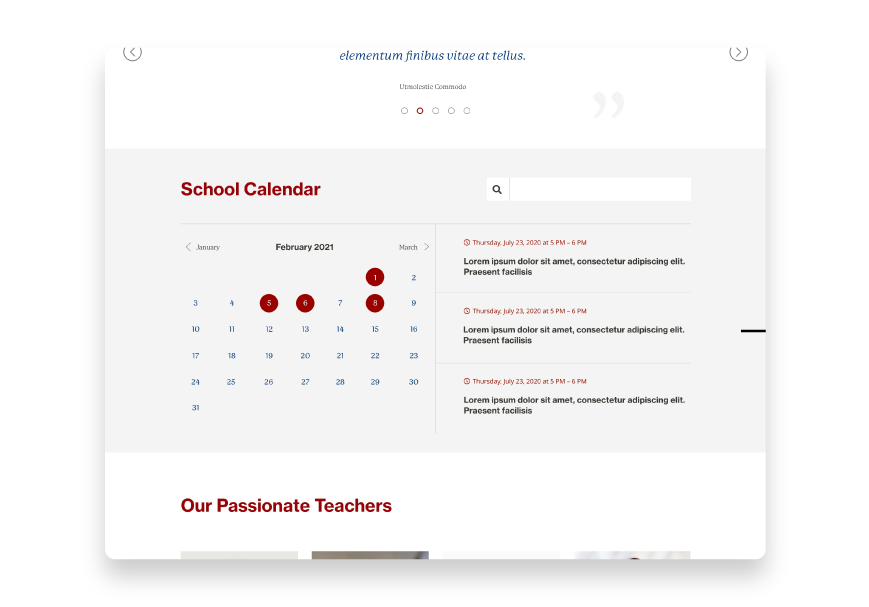 With an interactive calendar on the homepage, you can feature your organization or school's upcoming events so supporters can stay in-the-know. This is perfect for supporters looking to get more involved or even site visitors curious to see what your organization offers.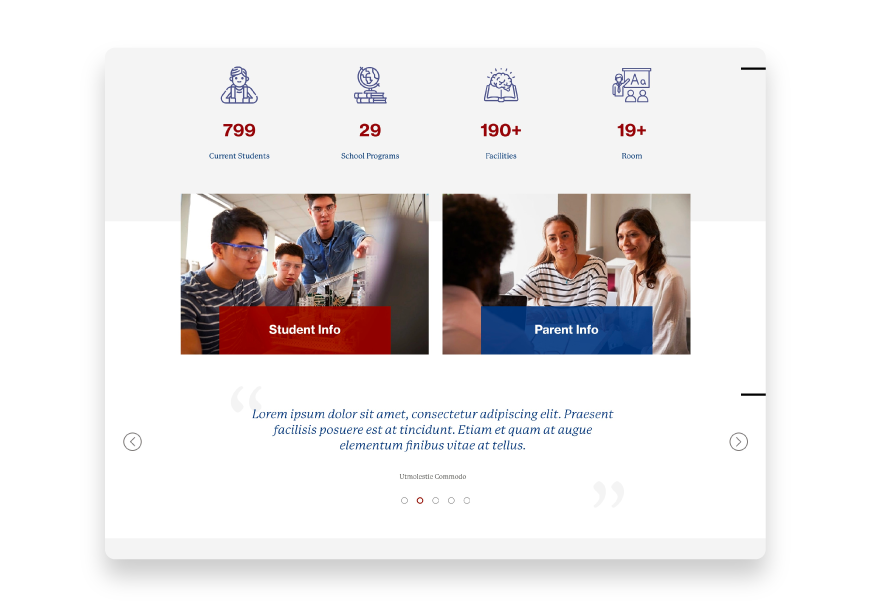 Our favorite feature? Special sections that are unique to the site visitor and will help them easily get the information they're looking for (no digging required!). These divided sections cater to the different audiences your organization is trying to reach, and supporters will value this level of organization.
2. Smarty
If your nonprofit organization focuses on STEM (science, technology, education, and math) education, this is the website template for you.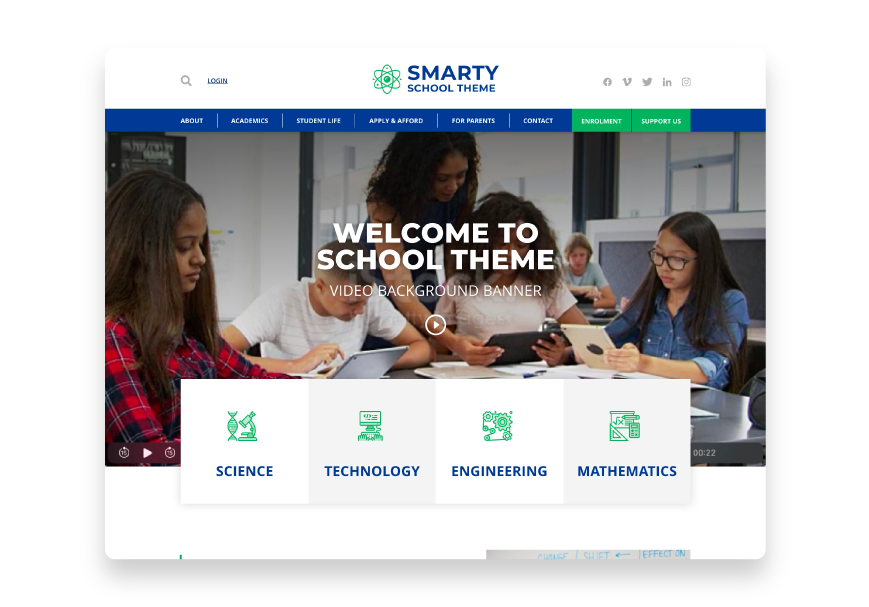 Fully dedicated to creating a positive user experience, Smarty offers your organization an easy way to consolidate important resources and programs. This website template welcomes visitors with a video background banner of your organization in action, highlighting its impact. Here, you can bring attention to your organization's volunteers, inspirational stories, and more to appeal to people's emotions.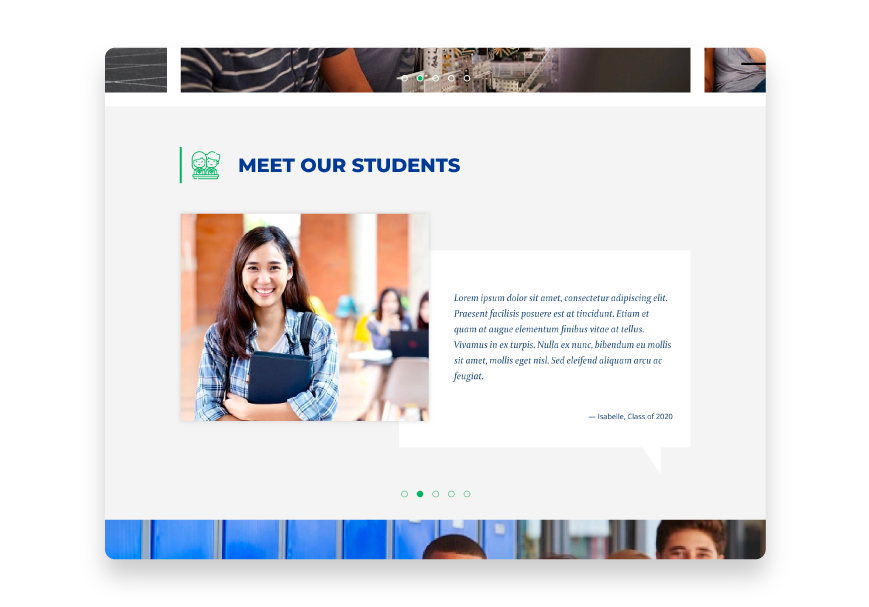 With a customizable "Meet our Students" section, you can introduce your nonprofit or school's staff or even people who have benefitted from your work. Visuals help people establish a connection, so include clear headshots or images of students learning. Add quotes that show just how special your nonprofit really is.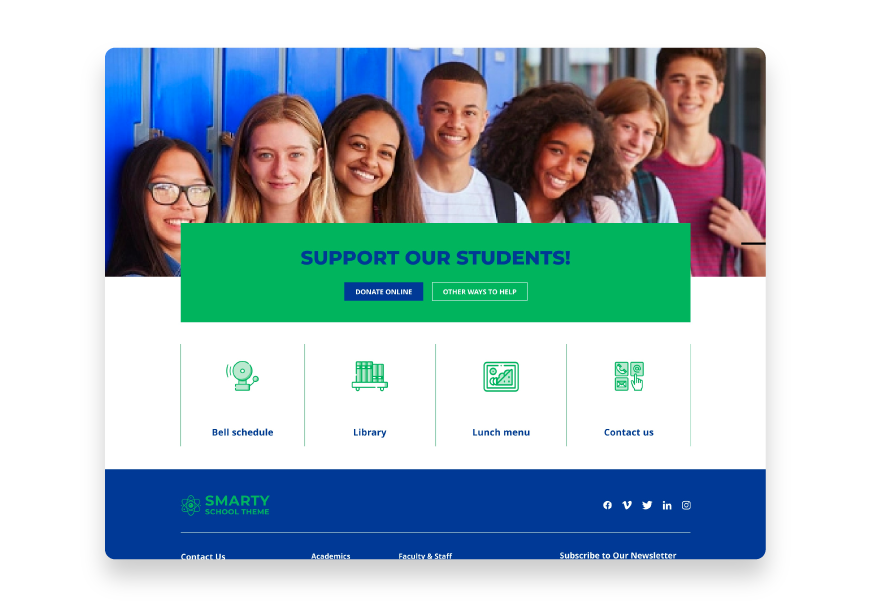 Our favorite feature? This template makes it easy for visitors to find out how they can support your nonprofit. On the homepage, there is a bold "Support Our Students" section where you can direct people to your donation page or lay out alternative ways they can support your organization (in-kind donations, volunteer opportunities, etc.)
3. UniAlumni
UniAlumni neatly organizes each section of your website and makes it bold with different-colored backgrounds.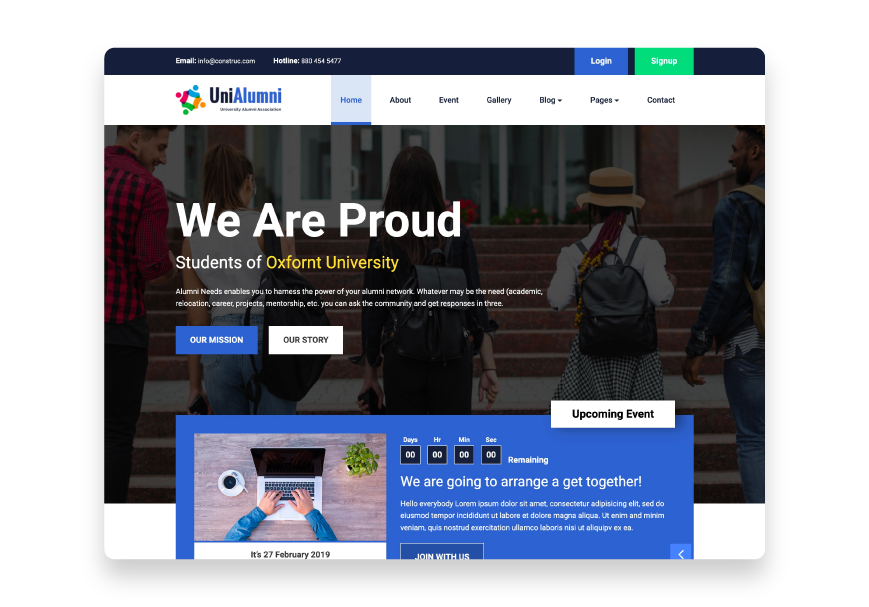 This stylish website has a modern feel, perfect for any nonprofit or educational institution that wants to appeal widely to different audiences. There is ample spacing between sections so your audience can easily navigate through important information.
Plug in an inviting image that tells your nonprofit's story (an image is worth a thousand words!). You can even feature embedded social media links right on your opening image. This is a great way to strengthen your organization's marketing strategy and engage audiences.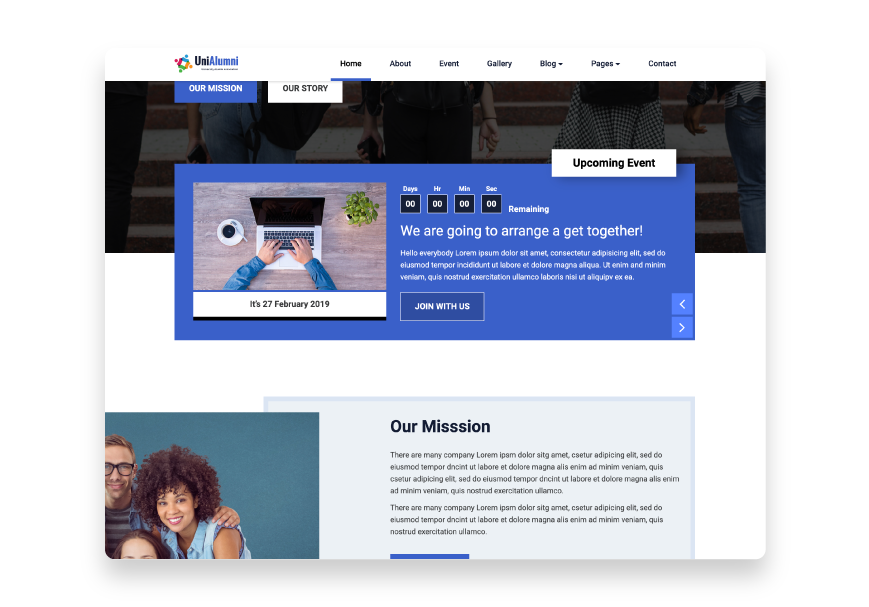 Our favorite feature? We especially love the ability to prominently display your upcoming event with an engaging countdown clock. This helps get the word out about your nonprofit or school's programs and boosts excitement over events. As a result, you'll see increased engagement and support.

Association-Centered Nonprofit Website Templates
1. Members
Need a clean and straightforward layout for easy navigation? This association website template is for you.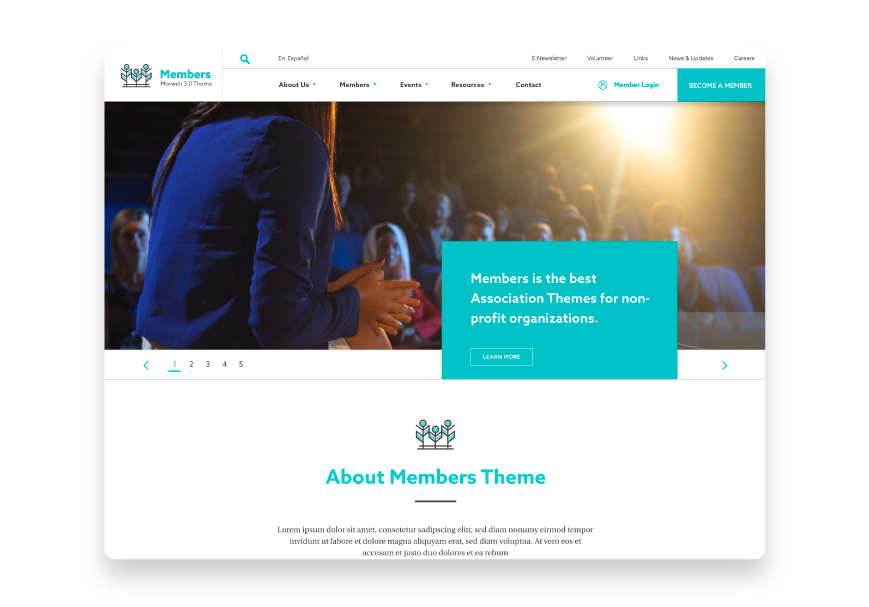 Members prioritizes user experience through a simple design that lets the information speak for itself. Each section is spaced out carefully in a grid format, giving a minimalistic feel. This way, your visitors can learn about your organization's goals and programs without getting distracted.
At the top of the page, the bolded "Become a Member" button streamlines the registration experience for users. Right next to it, your current members can easily locate the login button.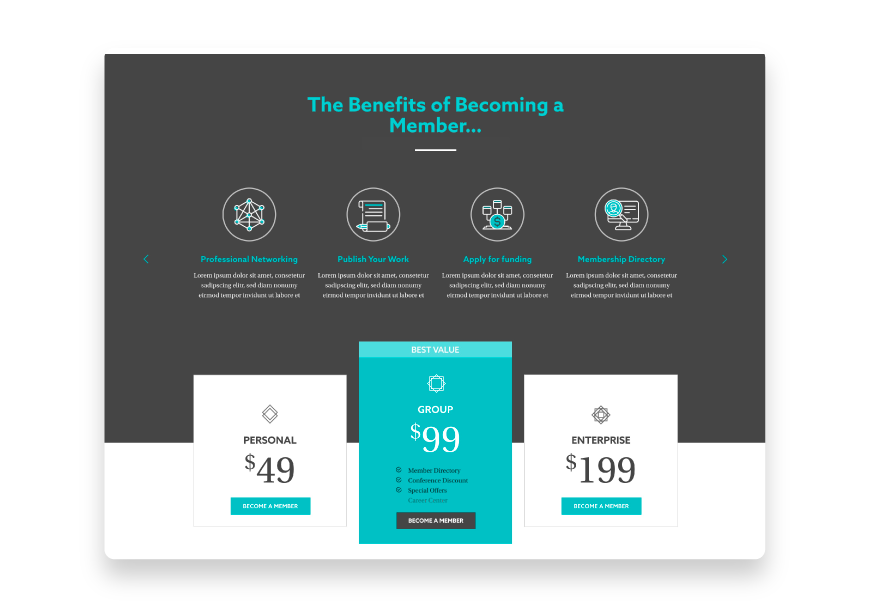 You'll want your association to reach as many potential members as possible and effectively convert site visitors to members. With a "Benefits of Becoming a Member" section on the homepage, you can clearly list out reasons people should join your organization and pair this text with engaging graphics. This section is also a great opportunity to bring attention to member pricing so users can find this without difficulty.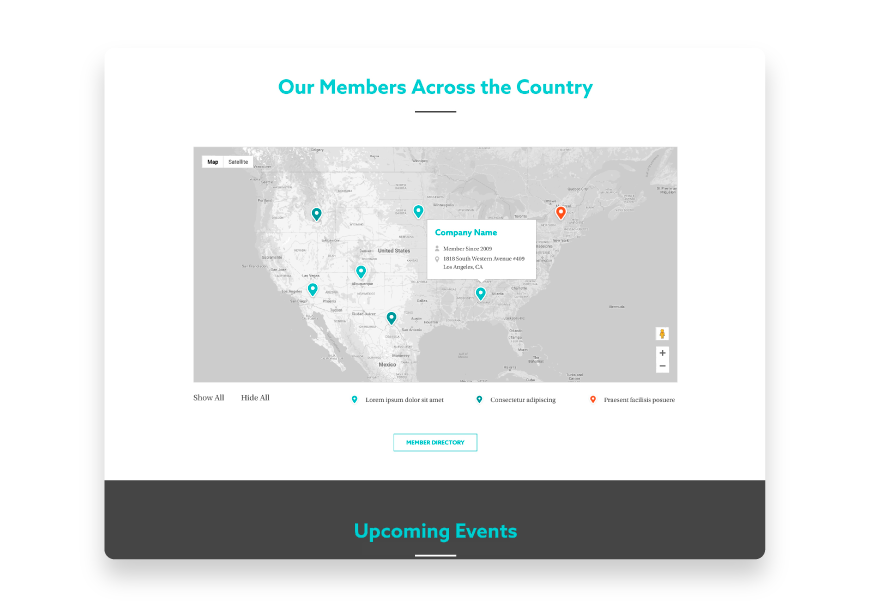 Our favorite feature? On the homepage, you can customize a map that lets visitors see where members are located all across the United States. By showing where some of your members are located and how many people belong to your association, you'll add credibility to your organization. Whether your organization connects people from all over or is centered in one specific region, potential members will see that there is value in becoming a member because of the opportunities to build their network!
2. Unity
Want to make a bold statement? This association website template has a professional and industrial style, perfect for an association that wants their values to come through clearly on their website.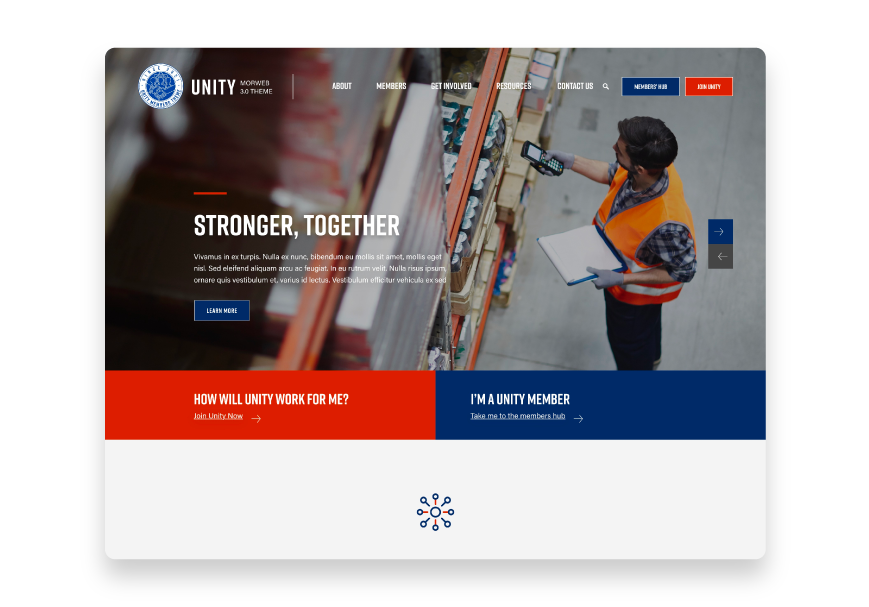 Unity takes a straightforward approach that helps potential members find out how they can get involved quickly (and for current members to find out important information).
Right below a banner image of your choice, there's two bolded sections that cater to interested members and registered members. This way, your website is tailored to both audiences so members stay content and potential members can learn more without digging around your website.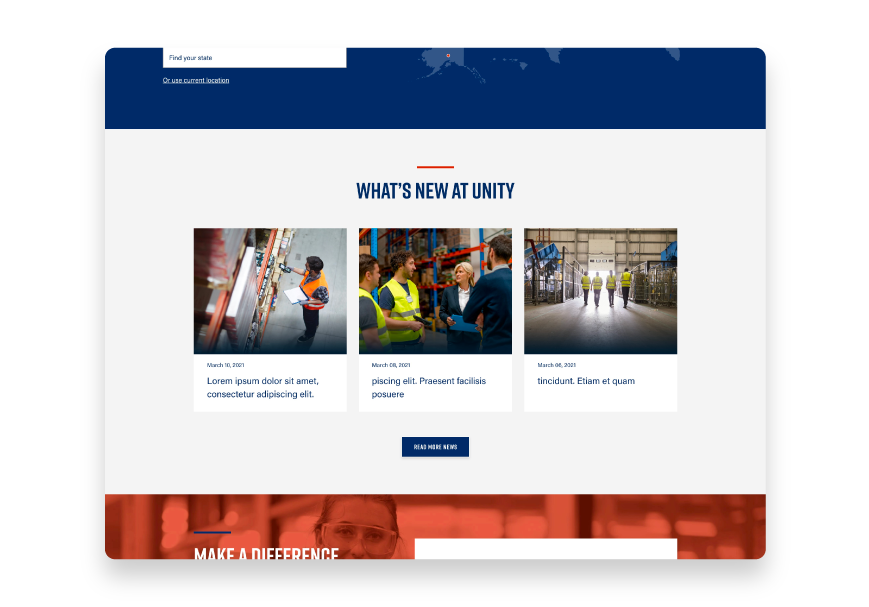 Have an active blog you want your audience to know about? There's a designated section on this template where you can show off news about your organization like upcoming events or even blog posts about the value of being a member. The visual display of images helps attract users' attention and will make them more likely to click on your posts.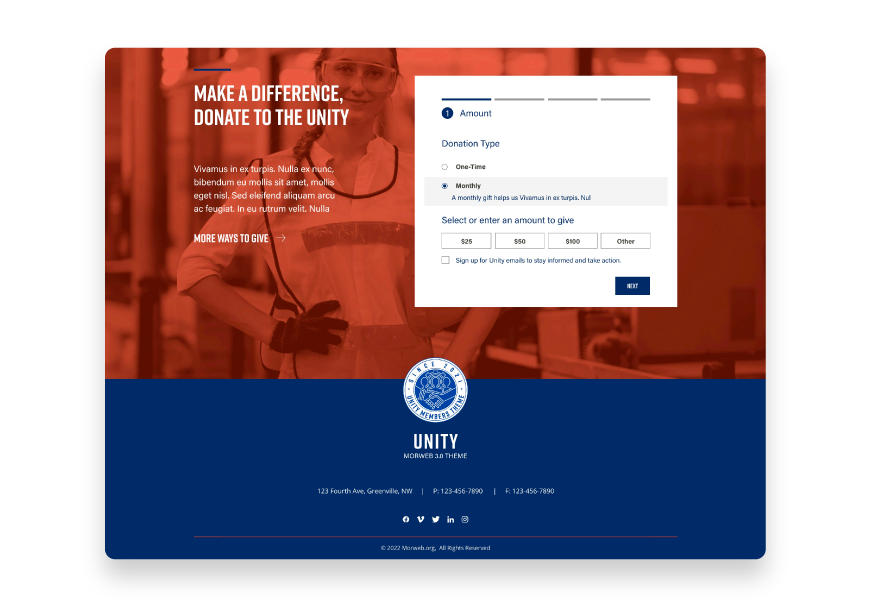 Our favorite feature? Unity also features a donation section already embedded into your website. This streamlines the donation process and makes it simple to find. Behind the donation section, you can feature a large banner image of your organization at work. This helps donors feel more connected to your association and confident that they're giving to a worthy cause.
3. Association
Association, a template created for WordPress, is the website template for you if you want a friendly, clean space for users to explore your organization's content.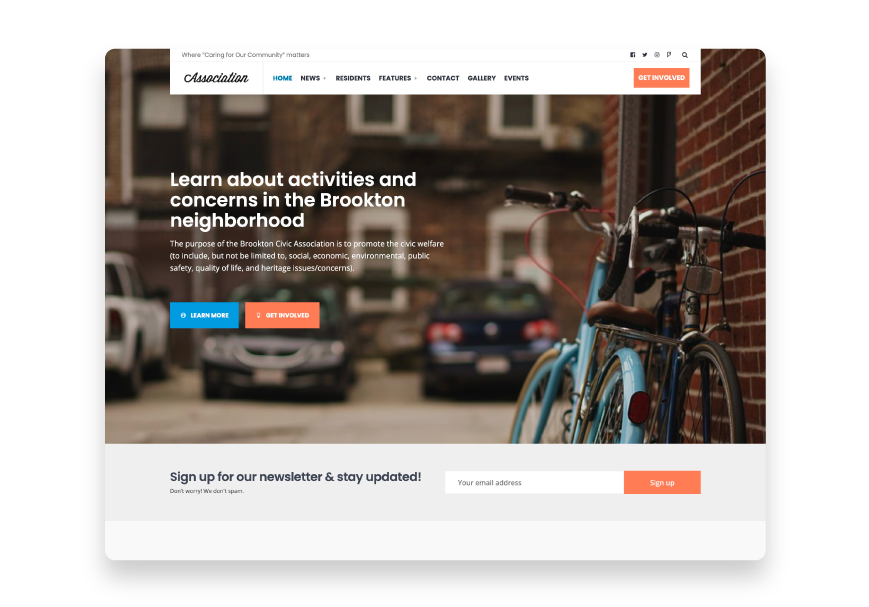 This website template has an intimate feeling, helping users to already recognize the value of joining your nonprofit. Its casual and spacious layout with several visuals will help potential members connect with your community and want to join. Plus, there are easy-to-find buttons labeled "Learn More" and "Get Involved" right over the central opening image to streamline the navigation process.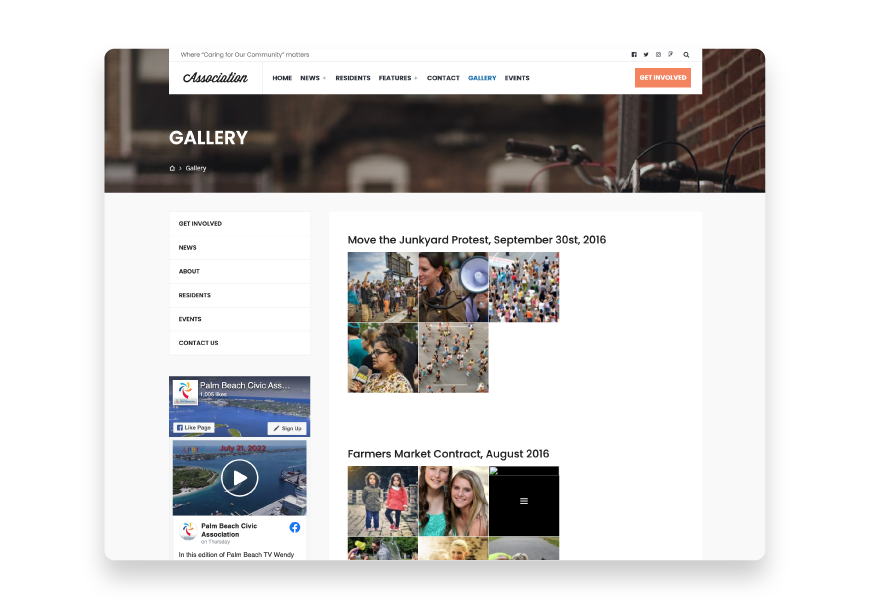 The gallery tab gives your association an opportunity to showcase hundreds of images, from members posing together at events to photos that highlight the impact your members are having in their communities. You can organize these photos in albums for improved accessibility.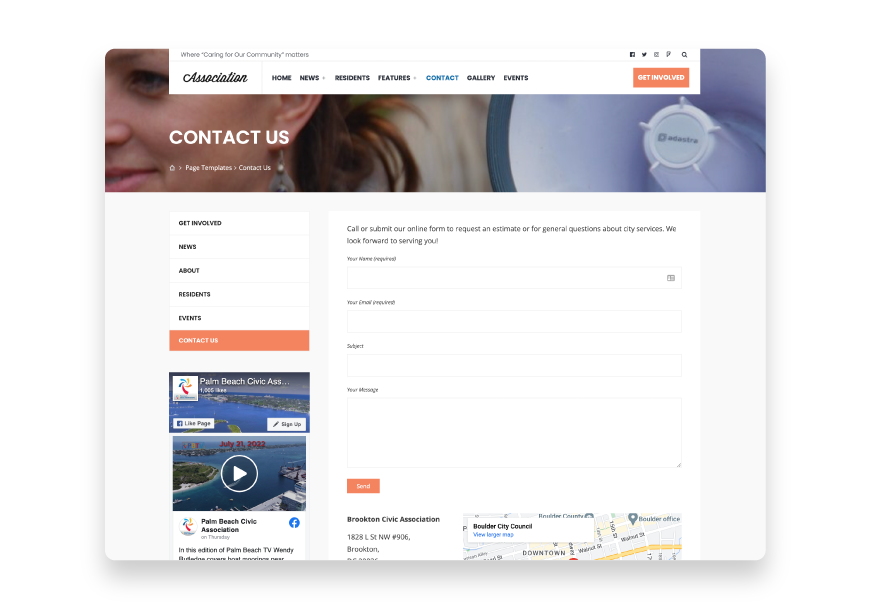 Our favorite feature? With a section dedicated to getting in contact with your organization, potential members can easily ask questions and request more information if needed. In this section, you can list out your phone number, hours you are open, and mailing address. And if someone wants to contact you with a pressing question outside staff office hours, no sweat! Your potential members (and current members!) can fill out this template's embedded contact form that takes just a few moments to complete.

Animal-Centered Nonprofit Website Templates
1. Humane Society #1
This nonprofit website template is sure to capture any animal lover's attention.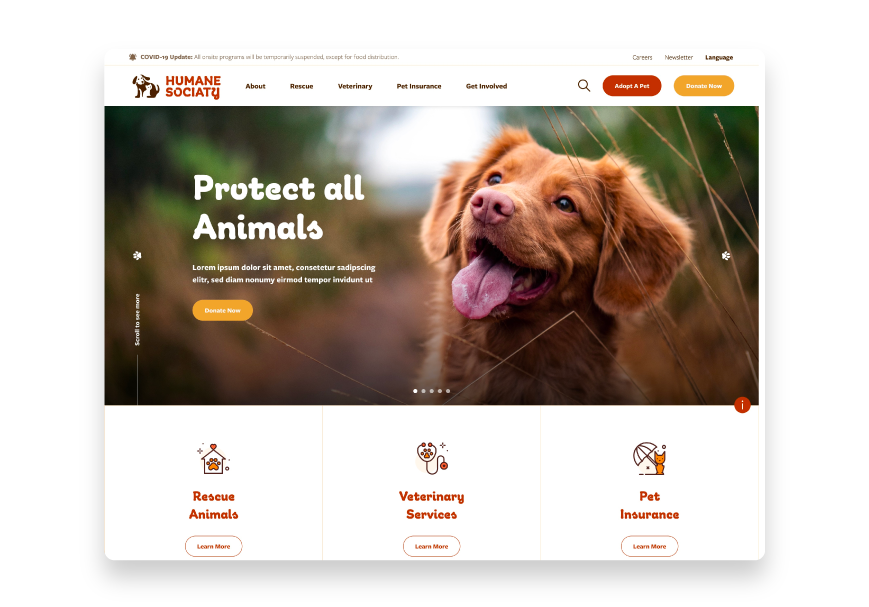 Humane Society #1 highlights your organization's devotion to animal welfare with a sweeping homepage image of a dog, cat, or any animal relevant to your nonprofit. It features an earthy color palette of browns and oranges, giving your website a relaxed and peaceful vibe. While the template can be fully customized to match your brand, its current aesthetic can easily fit any animal-focused nonprofit.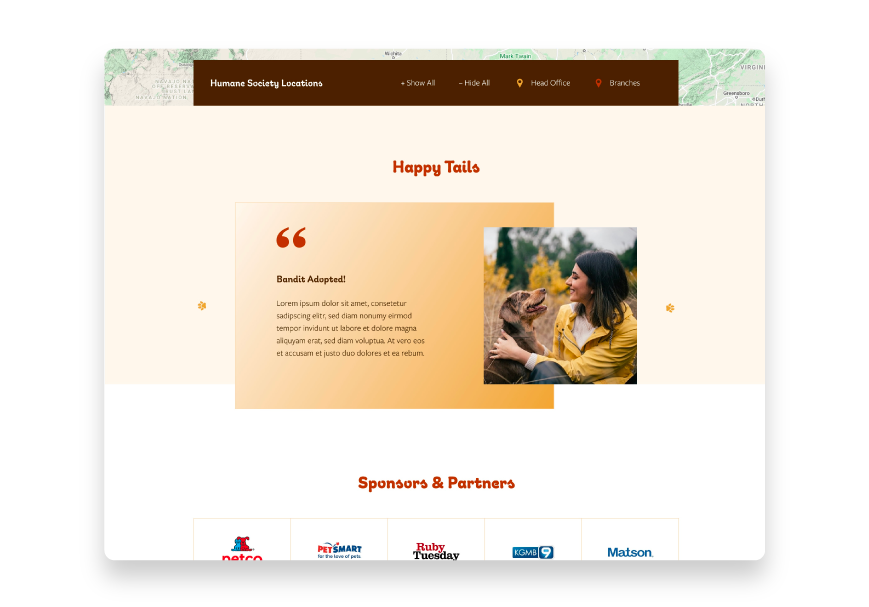 Share stories of impact in this designated section on your homepage to tug at people's heartstrings. If you're an animal rescue or conservation nonprofit, this is a great place to spotlight animals your organization has adopted out. Or, highlight animals that your organization is helping to emphasize why you need support. People will feel more connected to your nonprofit's cause and want to get involved.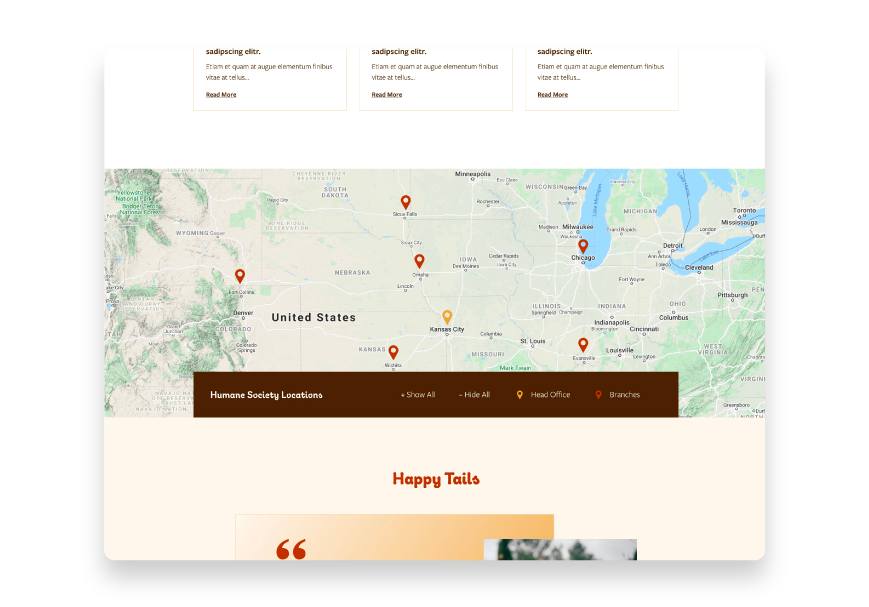 Our favorite feature? A customizable map that allows you to pinpoint your organization's location(s). This way, people interested in supporting your nonprofit can easily find your address and make the trip without any difficulty.
2. Humane Society #2
Using a variety of visuals and colors that pop, this website template speaks its message loud and clear.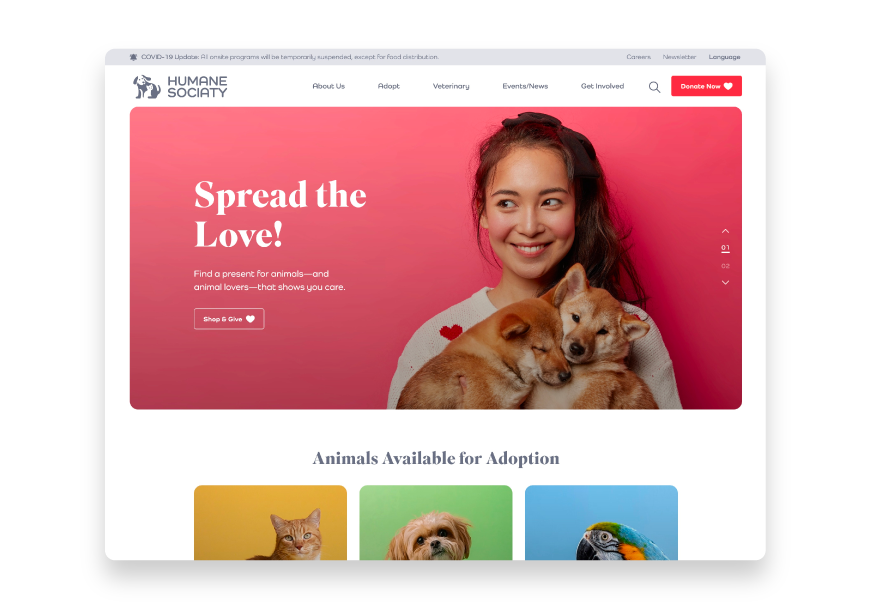 Humane Society #2 has a creative layout with multiple spots to add in engaging graphics and photos. It has a modern feel with ample white space, giving readers the opportunity to digest the information. Donors can easily find the "Donate Now" button (featuring a heart icon that's perfect for animal lovers!) in the upper righthand corner.
Its slideshow banner image lets your nonprofit fill in several images that speak to your organization's values. Plus, you can even follow the template's strategy of using colorful photo backdrops to really make your images stand out.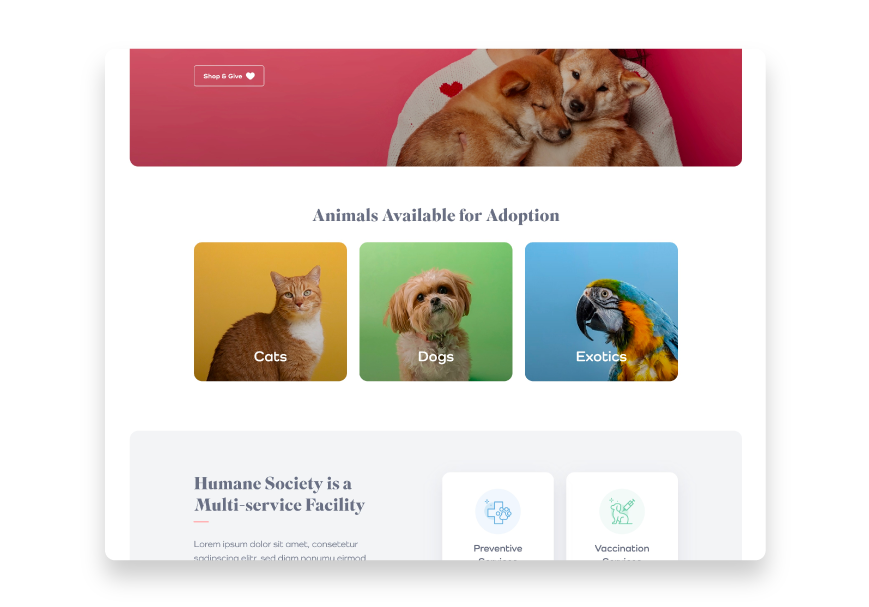 Our favorite feature? These unique image boxes have a curved outline, making the page feel more playful and welcoming. Use these image boxes to showcase animals that are up for adoption. Users can simply roll their mouse over the images, revealing a "Learn More" button to take visitors to another webpage on your website with more information. This way, they won't have a hard time finding a furry friend to bring home.
3. Pet Rescue
This dynamic WordPress template is full of opportunities to compel site visitors to support your animal-related cause.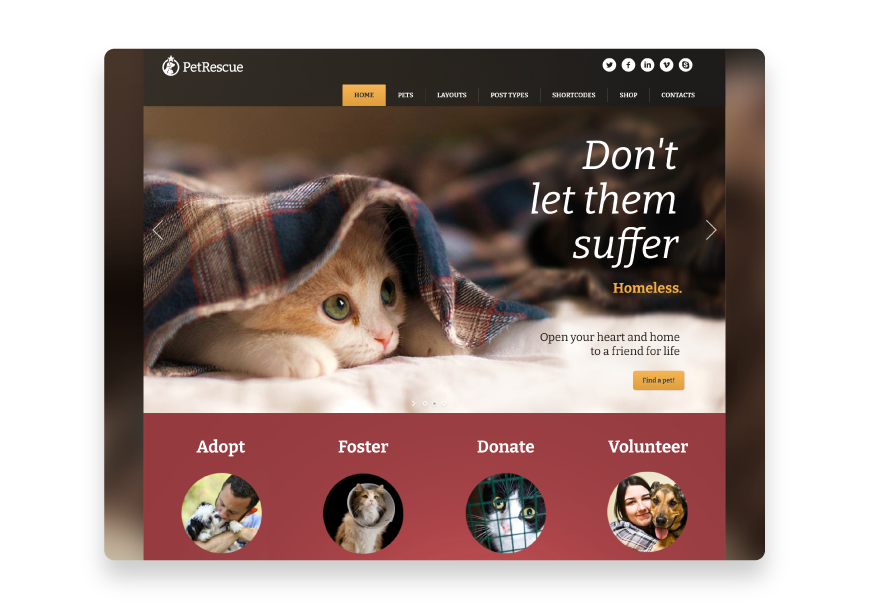 Pet Rescue features powerful text over your banner images that appeal to people's emotions, from bold text saying "Do you care? We do." and "Don't let them suffer…Open your heart and home to a friend for life." While this text can be customized, it's a great way to get people passionate about your cause.
At the top of the menu bar, users can navigate to your social media, increasing engagement and helping supporters learn more about your nonprofit. Social media is a great way to improve your nonprofit marketing plan, so why not give people an easy way to find it on your website, maximizing your reach?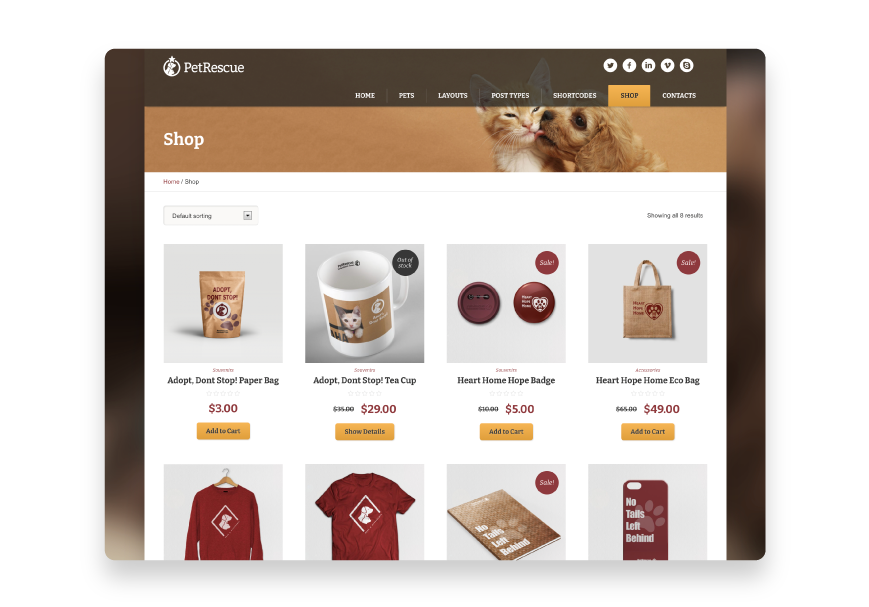 Our favorite feature? If your animal-focused nonprofit sells pet products or branded merchandise, this template has a great section dedicated to boosting revenue. The "shop" section offers users a streamlined filtering process to find the items most relevant to their needs. You can include images of all your products, which will be appropriately spaced on the page to preserve the clean feel of the page.
The Gist
Now that you've seen the best website templates, you're ready to create your own engaging website!
Start by picking a template best suited to your needs. To do this, keep in mind the purpose you want your website to serve. If your website is going to primarily act as a communication hub, you'll want a website template with a built-in blog. Or, if you want your website to attract as many members as possible, having an interactive map that displays current members all over the country is helpful.
Whichever template you choose, note that you can always make adjustments! Customize your website to your organization's branding by changing the colors and fonts. With an engaging new website, your supporters will feel more connected to your cause.
Interested to learn more about website design? Check out these additional resources to guide your search: