MORWEB FEATURES

A ridiculously easy CMS platform to manage and grow a nonprofit website.

Morweb provides an all-in-one solution to maximize the benefits and functionality of your nonprofit website. Our software empowers NON-TECHNICAL PEOPLE to easily update and grow any part of their website in just minutes without the need to contact a developer.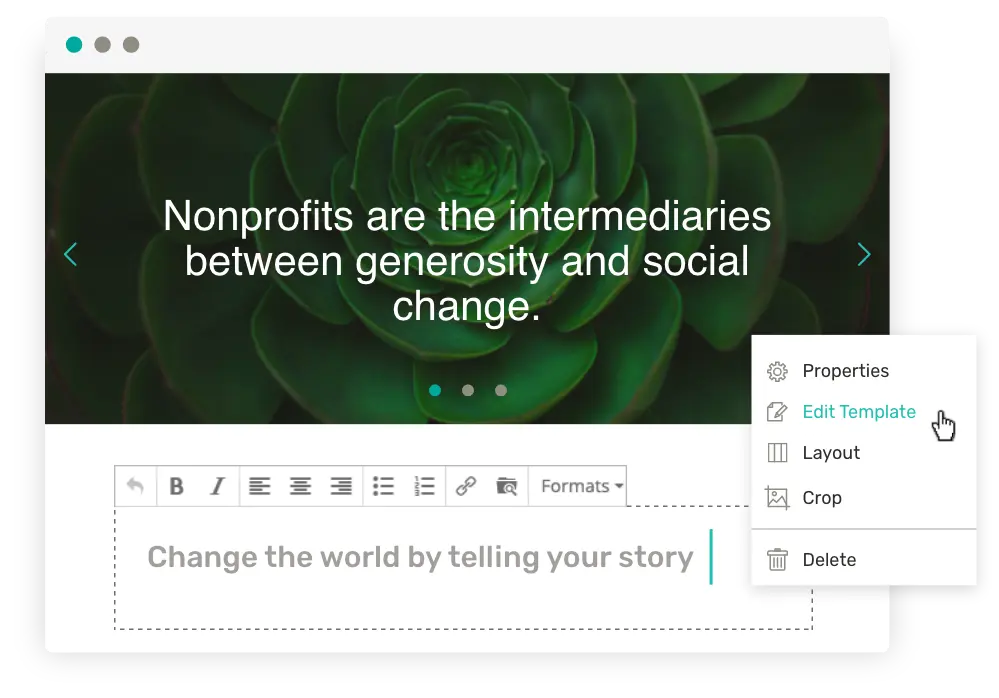 Morweb's intuitive Live-Editor
With Morweb's Live-Editor, we've made editing content and page layouts easier than ever. Simply click and type or drag and drop to edit elements on a page without coding. With multiple working modes, a smooth drag and drop experience, 50+ useful widgets, instant page save and more, Live-Editor provides you with the flexibility to keep your website fresh and beautiful.
Scalable navigation
With Morweb's Menu Manager, you'll be able to add, edit, and reorganize your primary, secondary and other navigation menus on your website quickly and easily without any coding. Simple.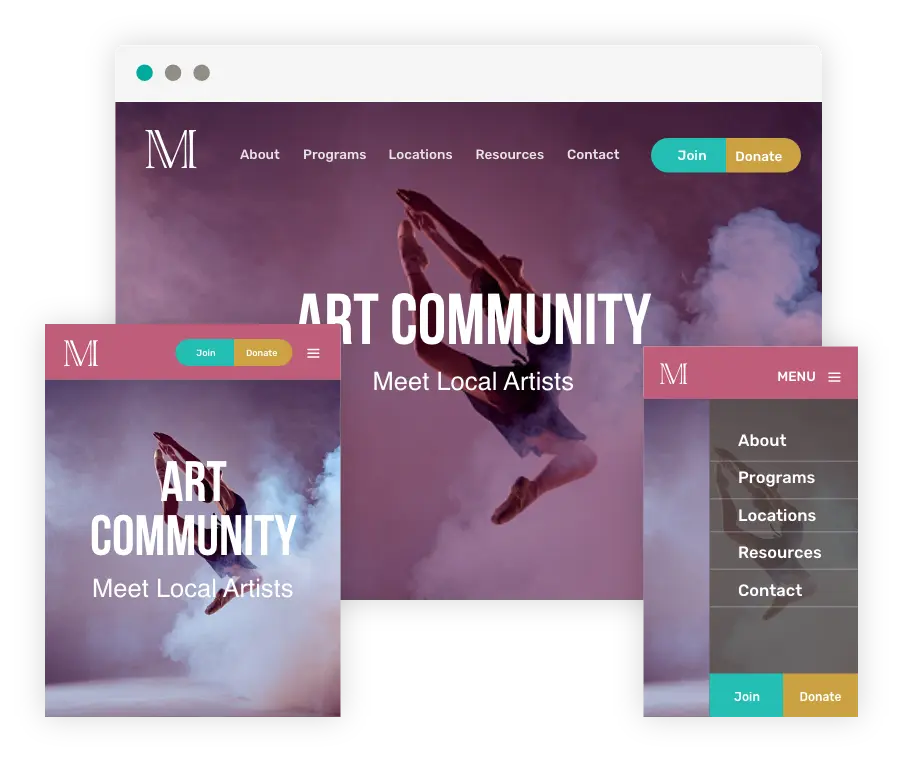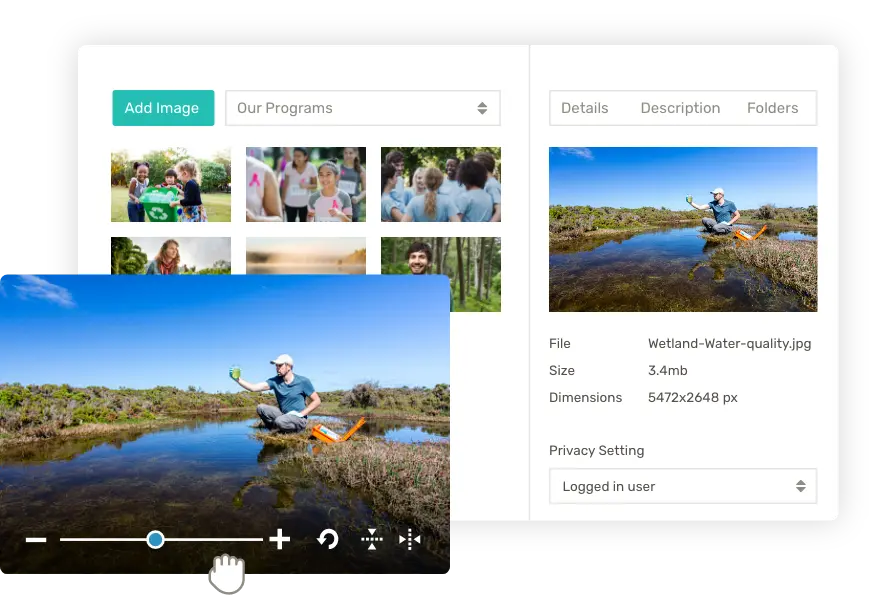 Adding images has never been easier
Morweb will automatically optimize image file sizes and dimensions to load fast and look crisp across every screen resolution instantly. Plus, crop and change the focus of images on the fly, making your images beautiful and engaging.
Know your traffic with our Google Analytics Dashboard
It's critical to know if your website is trending in the right direction, if users are engaged with your content and where your traffic is coming from. That's why we've built our analytics dashboard with vital website analytics specific for nonprofit users. Pulled directly from Google Analytics in real-time.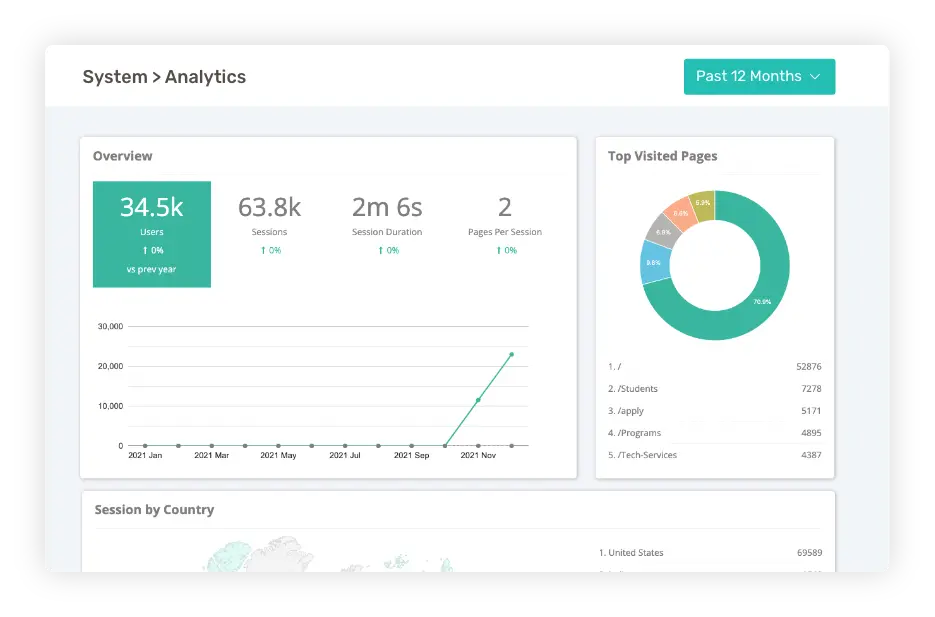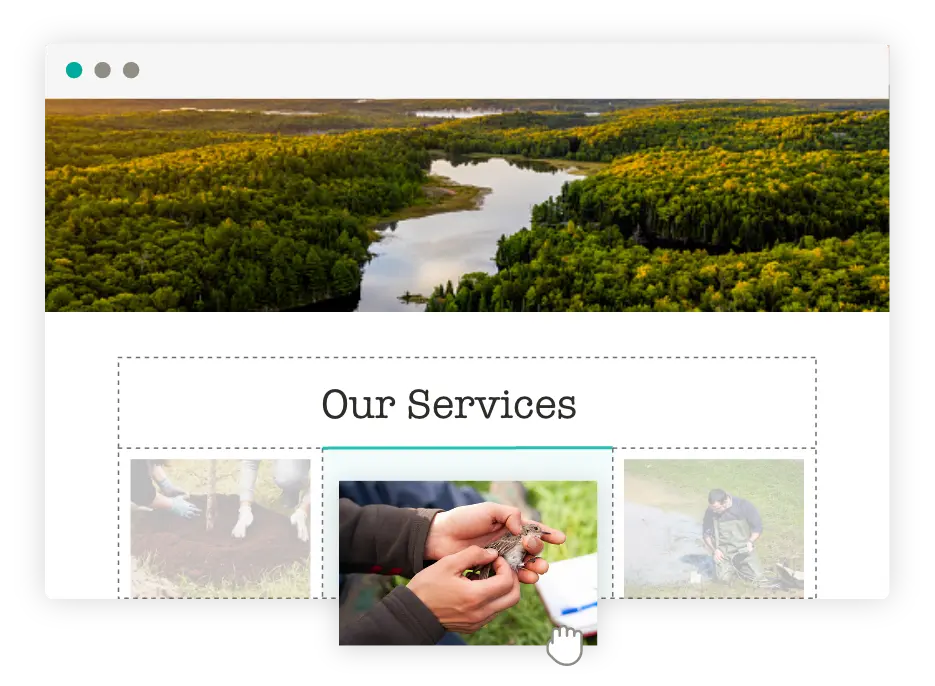 Edit page layouts with silky smooth drag & drop
Making changes on the website is extremely intuitive since you know exactly what your change will look like instead of the back end of the platform. Simply click to edit existing page elements or use our widget palette to drag-and-drop widgets to further enhance your web page layouts. No coding is required.
Over 20+ premium widgets and page layouts
Morweb comes with dozens of handy widgets for you to customize your website pages with Live-Editor. Things like adding a FAQ accordion, content tabs, logo or image carousels, image galleries, streaming video banners, and many more cool widgets are at your fingertips. Just select the widget and drag and drop on onto a page. Next, add content, and you're done.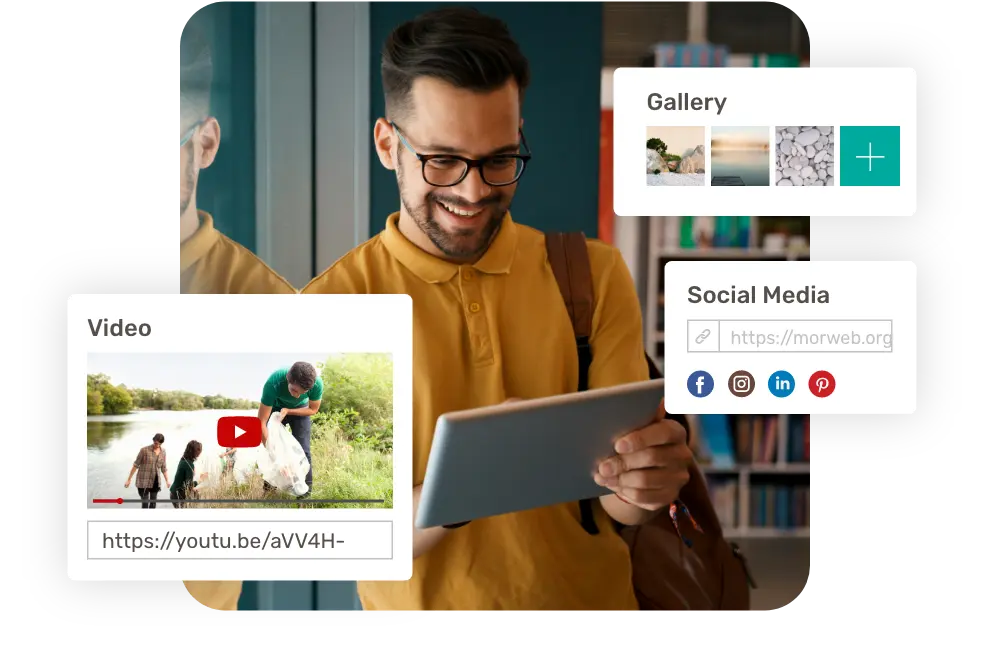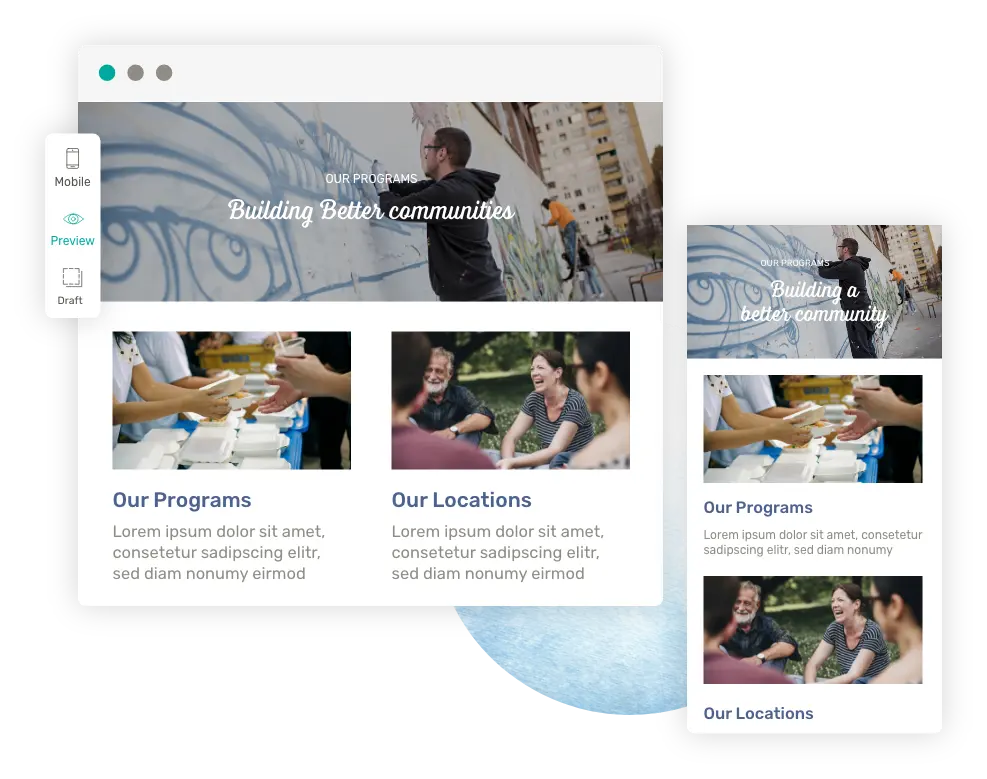 Instantly mobile responsive
You don't need to manage a secondary mobile site anymore. Any change that you make on Morweb, will automatically optimize to load quickly and look crisp across every screen size. Morweb also has a mobile preview toggle to see your website as it appears on various mobile or tablet devices.
User roles & permissions
with 2-factor authorization
Control editing permissions and access level to Morweb pages, posts and other sections with the user roles and permissions feature. View the history of each user's logins and activities, giving you a deeper insight into modifications on your website. Enable 2FA at any time for specific users.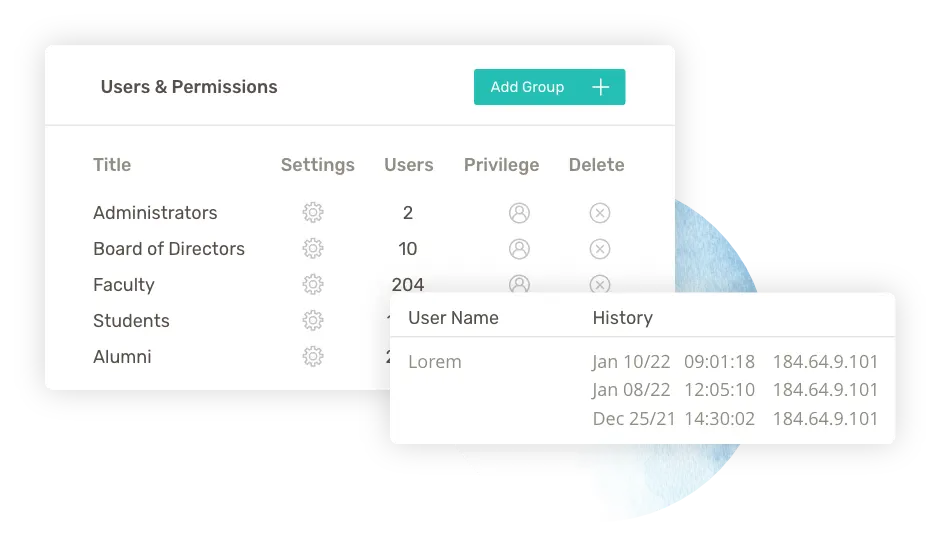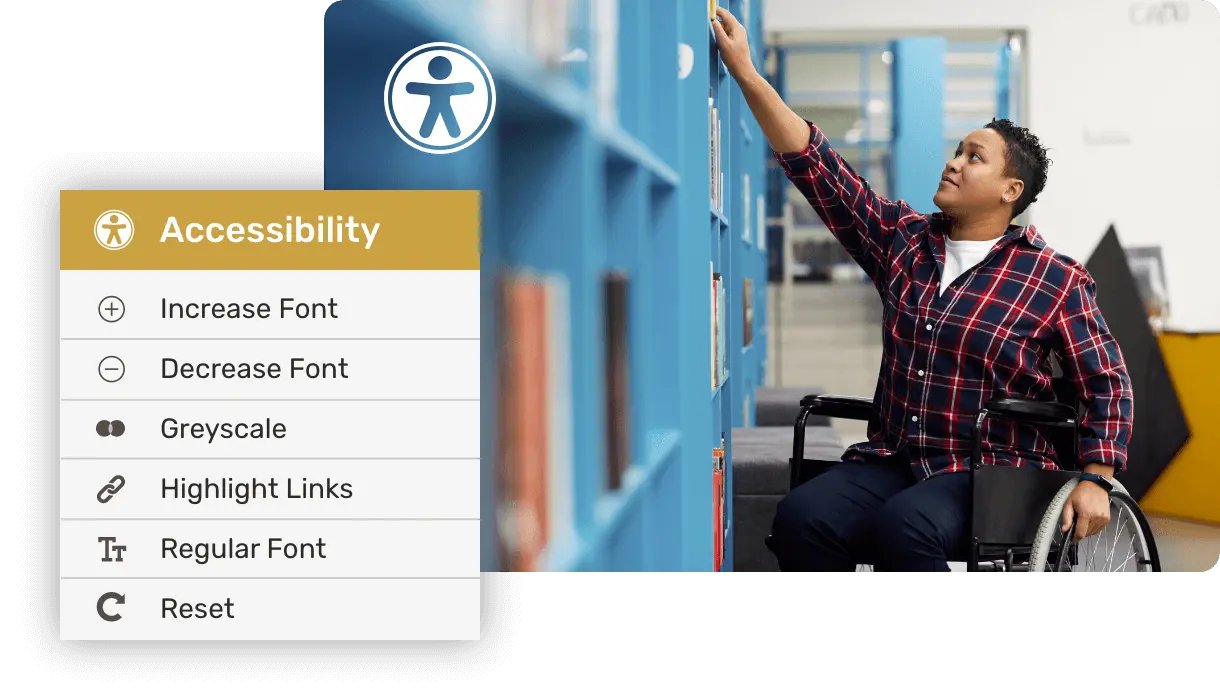 Accessibility tools & widgets
Stay ahead of accessibility compliance. Morweb has accessibility tools built right in, such as ALT tags, descriptions, custom URLs and more throughout our platform. Plus, Morweb has its own accessibility widget that allows users to increase the font size, change colors, highlight links and more.
SEO tools built-in
Morweb has built-in SEO tools that allow you to quickly add meta titles, meta descriptions, and custom URLs to pages and blogs. Morweb instantly generates an XML sitemap of your entire site and keeps it up to date as you grow your website.
Social media integration
Users can easily share any post, page or image from your website directly to Facebook, Twitter, and Linkedin. Plus, have social media feeds on your website, so visitors can see your recent social activity and like or follow your channels.
Full suite of nonprofit modules at your fingertips
Morweb comes with a full suite of nonprofit modules 100% made in-house by our team that has a deep understanding of the nonprofit industry. From donations, events, membership, resource library, directories and more. Our modules will provide the right functionality without sacrificing the user experience.
Powerful search made simple
Providing users with a quick and easy way to search your site is critical for an optimal user experience. Morweb has a powerful search tool to search for content throughout your website pages and posts quickly. Morweb comes with site-wide searches or can be tailored to search only specific sections. Have complex search needs? Morweb's site search accommodates complex requirements with custom filters and sorting options.
Request a demo
Morweb provides the right mix of strategy, design, non-technical software, and customer support to manage and grow not just a website, but an engaging online presence.