10 Best School Website Designs [And How They Did It!]
Just like any nonprofit or association, schools are expected to have a website that accurately communicates their vision. Designing a beautiful and engaging school website starts with choosing the right content management system (CMS). A CMS that is catered towards meeting the unique needs of a school will have the right functionality and design elements for a truly engaging website.
When choosing a CMS for your school, look for a website platform with mobile-responsive website themes and a web design portfolio that includes organizations similar to your own. This will give you a good idea of what results you can expect from using that CMS platform.
Ready to feel inspired? Find out how these leading schools and academies designed exceptional websites: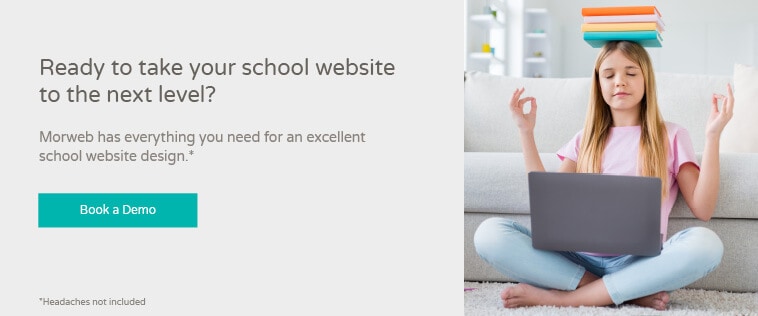 ---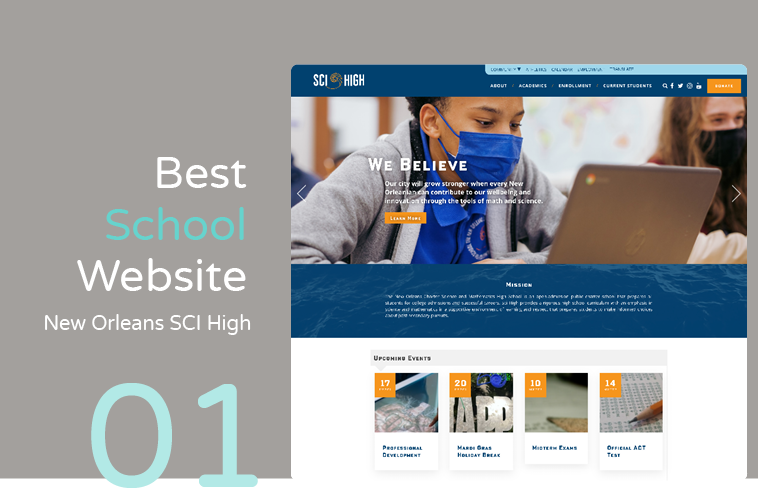 Founded in 1993, The New Orleans Charter Science and Mathematics High School or "Sci High" is an open-admission public charter school that prepares all students for college admissions and successful careers. As stated in the name, they specialize in science, math and technology. Donations are a high priority for this school to supplement state/local funding for their students.
Why We Love Sci High's Web Design
Sci High's unique branding is evident throughout their website. Their brand colors and distinct font is nicely incorporated into the web design. Their mission is displayed upfront on the homepage along with stunning imagery and video footage to help paint a picture of what it is like to attend this school.
Sci High's website has dedicated pages for news and events in an easily digestible blog format. Site visitors can scroll through the news page to see recent stories or click through their events calendar to find out about upcoming events.
A Twitter live feed on the homepage and social media icons linked in the site's navigation menu encourages students and supporters to join in the conversation online.
Our favorite feature? Sci High's website offers dedicated sections for students, parents, and teachers. Students can find quick links to check their grades, join clubs or request tutoring. Their parents can easily find information about the school's policies, class schedules, and bus routes. Teachers have their own classroom pages where they can upload course materials or post updates for the class.
How They Built This School Website
Sci High recently redesigned their website with Morweb.org. Their website is built on the Morweb platform with a custom-designed school website theme.
The school makes use of Morweb's robust website features including events management, on-site donation page, blog engine and rotating image sliders.
Morweb's user-friendly content management system (CMS) enables organizations like Sci High to keep their website constantly updated with drag-and-drop editing tools. Schools can easily add new content and adjust the layout on the front end of their website without any coding knowledge.

---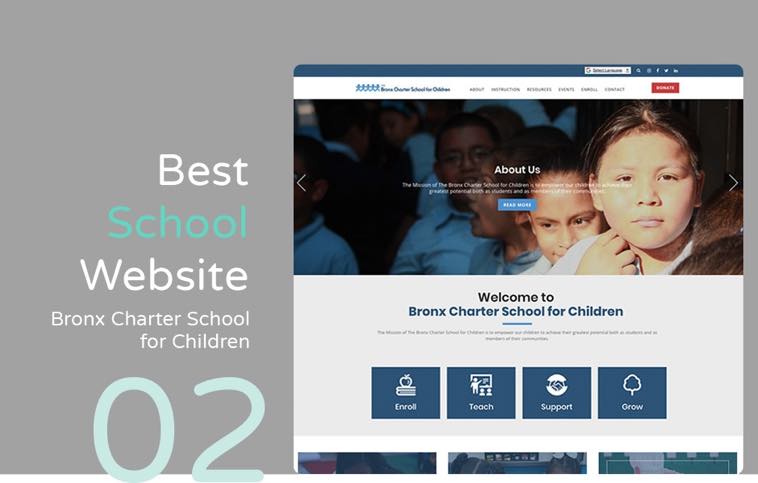 The Bronx Charter School for Children (TBCSC) is a charter school in the South Bronx with a mission to empower children to achieve their greatest potential both as students and as members of their communities.
Why We Love TBCSC's Web Design
TBCSC's website is visually stunning and easy to navigate. The first thing visitors see on the website's homepage is the rotating image banners of the students that attend the school with links to other page content.
Slick mouse over effects give the school's site an interactive feel and the web design is fully responsive meaning the layout adjusts to fit whatever device you're on. The site's mobile view is equally as engaging as the desktop view.
TBCSC's homepage encourages visitor engagement by displaying upcoming events with one-click registration, and an Instagram live feed.
Our favorite feature? The donation page features recommended donation amounts and outlines how your contributions will be used to make a difference. Not only is the donation form extremely easy to fill out, it also allows you to make your donation recurring or dedicate your gift.
How They Built This School Website
TBCSC partnered with Morweb to design their website on a platform that helps nonprofits manage all aspects of their online presence from website design to donations to events.
The website was designed by customizing one of Morweb's premium website themes. Their chosen theme has a built-in 'donate' button in the navigation menu so that it's easy for supporters to find.
Morweb's drag-and-drop editing makes the site easy to update and allows TBCSC's staff to have complete control over their website content. They can even create new pages and add them to the navigation menu without needing to contact a developer.
Adding new events is as simple as creating a blog post. Using Morweb's event page templates, schools can easily create an event by inputting a title, date, description, ticket price and photo. All events are automatically generated on the events page by date and several are featured on the homepage for quick registration.
---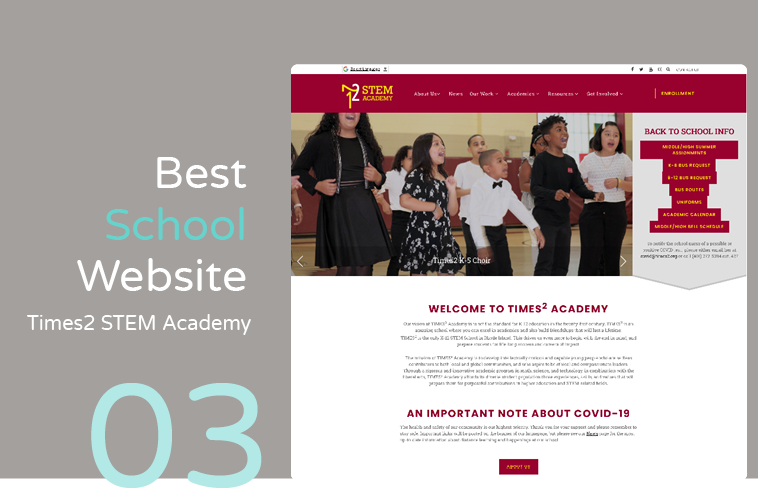 Times 2 STEM Academy is a charter school located in Rhode Island serving grades kindergarten to twelve. The school focuses on STEM education (Science, Technology, Engineering and Mathematics).
Why We Love Times 2 STEM Academy's Web Design
The academy's STEM focus is evident on their website from the outset. The header image text and intro paragraph state the school's vision and make it clear what they hope to accomplish with their education programs.
Times 2 STEM Academy's award for Best High School in the US News & World Report is built into the website layout to highlight this great accomplishment. By fixing it next to the rotating image banner, this award is always visible no matter what image is showing.
Page animations and mouse-over effects bring the homepage to life as you scroll through the site. Daily news stories are featured in a blog format and the events page uses an attractive calendar layout with engaging images.
Our favorite feature? The navigation menu is very straightforward and features call-to-action (CTA) buttons 'Donate' and 'Apply' to encourage site visitors to take action.
How They Built This School Website
Times 2 STEM Academy's website was built on the Morweb platform by customizing a premium website theme for schools. Because the school has such an active online presence, Morweb is a great fit because it allows them to make updates and add new content on the front of the website so they can see their changes in real-time. All content created within Morweb is automatically mobile-optimized.
News stories and event pages are created through Morweb's blog engine so even non-technical people can create new posts. Morweb's page previews allow you to see your content before it is published.
---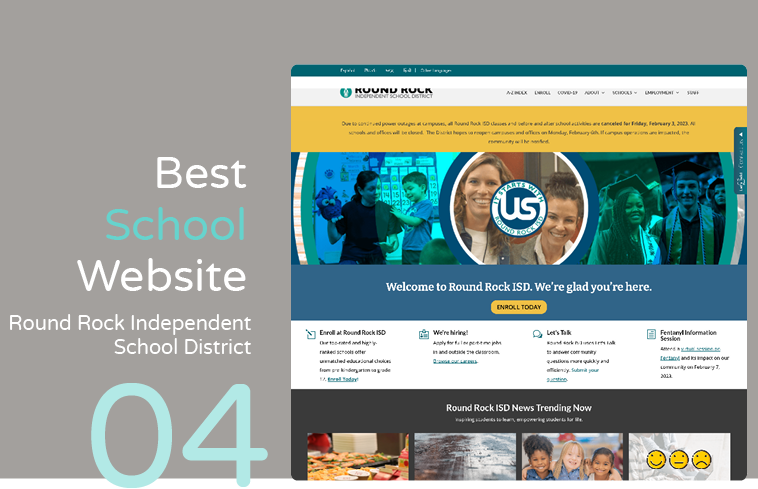 The Round Rock Independent School District is located in the city of Round Rock, Texas. The district's mission is to prepare students to contribute to society, continue to learn and confidently embrace the challenges of a competitive and ever-changing world.
Why We Love Round Rock's Web Design
Round Rock ISD has a student-centric web design with photos of students displayed in the header images and throughout the layout. Their homepage features a Trending Now section that highlights news stories and another section with quick links to help site visitors jump to popular content.
Because the website is SO large, they make use of an expanded drop-down menu with different sections to organize their page content.
The news section is a main feature of the school district's website. News posts generate in a blog format making it easy for site visitors to read through the different articles.
Our favorite feature? Round Rock's commitment to accessibility is evident throughout their web design. In an Accessibility Statement, the school district outlines the ways in which they have optimized their website for users with disabilities or impairments.
How They Built This School Website
Round Rock uses WordPress to build and power their website. WordPress is best known as a blogging platform which is great for the school's news section.
WordPress is an open source CMS platform meaning its code is freely available online. Because it is open source, thousands of web designers and developers can contribute their website layouts or third-party plugins. The main benefit is the number of choices available for web designs and features. The drawback however, is that there is less quality control and some poorly written third-party plugins can leave your website vulnerable to security threats.
---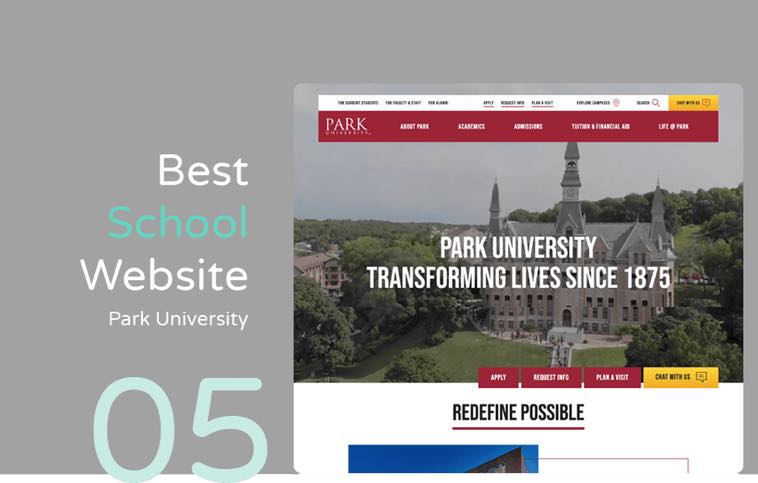 Park University is a private, nonprofit, institution of higher learning in Parkville, Missouri. The university offers undergraduate and graduate degrees with some programs offered online.
Why We Love Park University's Web Design
Park University's homepage is very powerful. The video banner immediately draws you in and the featured stories gallery is very unique. This site hits all the marks with featured posts, a prospective student sign-up form, interactive campus map and social media live feed. The school's virtual tour is a nice touch especially while the campus is closed to visitors.
Our favorite feature? The site's program finder tool allows prospective students to sort by location, field of study, and program level to find the courses they're interested in.
How They Built This School Website
Park University redesigned their website on WordPress with the help of a web design agency. The website's theme was custom-developed for the university so it matches its branding seamlessly. WordPress makes it easier for the school's administrators to update content, however, design changes will still require the help of a web developer.
---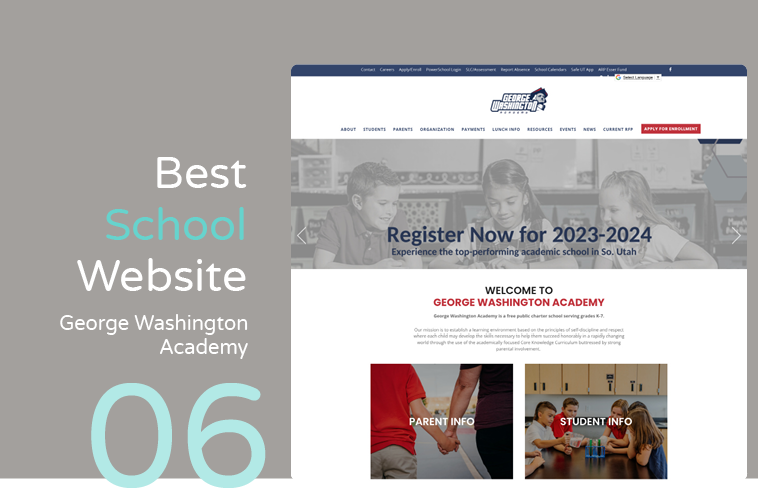 George Washington Academy is a public charter school for grades kindergarten to 7th grade located in St. George, Utah. The academy's objective is to communicate effectively, build strong character and social responsibility, and use high levels of thinking skills.
Why We Love George Washington Academy's Web Design
George Washington Academy's website design is very straightforward and refined. The structure of the site is easy to follow and the visual elements lend to a great user experience. From the moment you land on the site, it's easy to find what you're looking for. The navigation menu is broken up into different sections for students, parents and faculty with other important links in the site's secondary menus.
Our favorite feature? The web accessibility widget located in the top right corner of the navigation menu. Users can adjust the settings on the website to increase/decrease font, highlight links, convert content to black and white or change the font so it's easier to read. This feature is important for people who rely on screen reader technology or have visual impairments.
How They Built This School Website
George Washington Academy built their website on the Morweb platform. Morweb's unique school functionality made the platform an easy choice for a website provider. The academy customized one of Morweb's education themes and took advantage of powerful features including blogs, event pages, career listings and web accessibility options.
With the Morweb platform's drag-and-drop editor, keeping the site updated is easy for the faculty and administrators to manage on their own.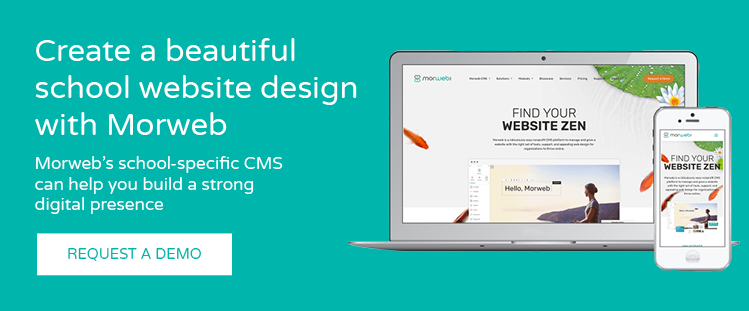 ---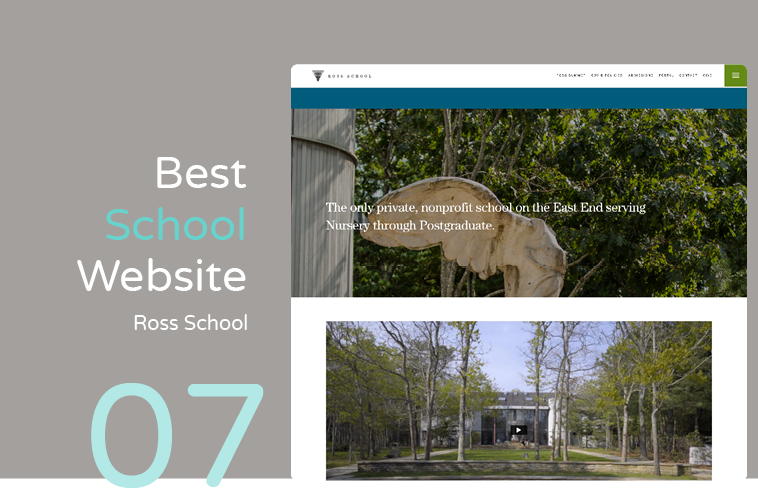 7. Top School Website: Ross School
Ross School is a private boarding school located in the town of East Hampton in New York. The school's curriculum is based on world cultural history and the evolution of consciousness based on the work of its two founders; mathematician Ralph Abraham and cultural historian William Irwin Thompson.
Why We Love Ross School's Web Design
The imagery of the website is stunning and the bright colors further add to an engaging design. If you scroll further down the homepage, you can see aerial footage of the campus and an embedded Facebook feed featuring the students in action.
There are three ways to navigate the site; through quick links on the homepage, the top navigation menu, or using the collapsible menu in the top right for more in-depth information about the school.
For those looking to lend their support to the school, there is an embedded donation form with specific categories to give to. The giving page is compelling because it offers in-depth descriptions of how the different funds will be used.
How They Built This School Website
Ross School built their website using Squarespace. Squarespace is known for its stunning website designs and highly visual layouts.
The CMS platform's editor is great for non-technical people because it allows users to make edits and add new content with a drag-and-drop interface. While Squarespace's editor isn't quite as easy to use as Morweb or Weebly it doesn't require the extensive coding knowledge of CMS platforms like Drupal.
One drawback of using Squarespace for nonprofit websites is that it lacks functionality for on-site donations and event registration. Ross School makes use of an embedded donation form which offers a better user experience than externally linked pages, however, embedded forms don't have options to customize the design to match the rest of the site.
---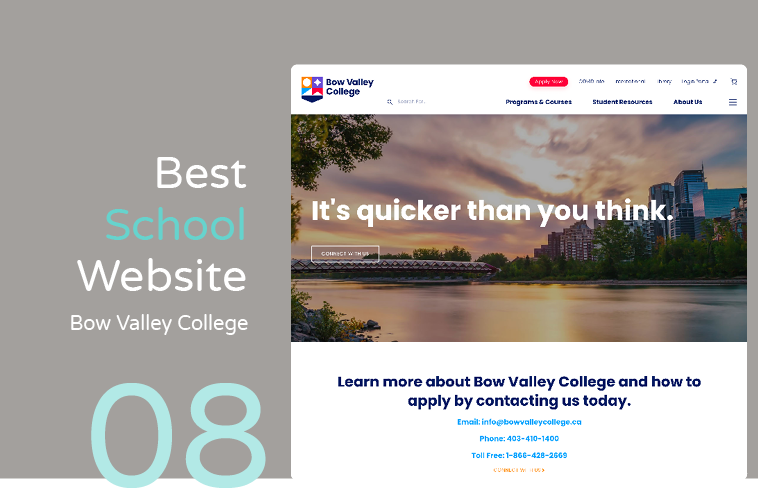 Bow Valley College is a post-secondary school located in Calgary, Alberta. The college has a variety of programs for academic upgrading, English language learning, continuing education and post-diplomas.
Why We Love Bow Valley College's Web Design
Bow Valley College has a great storytelling focus in its website design. The homepage features recent stories covering student experiences, campus events and teacher spotlights. But what's really great about this website is the photography featuring real students and the various campuses. They do a great job of balancing the site's text and imagery to convey their message.
The site's mega menu is well-organized making it easy to find the program you're interested in. Bow Valley College's website also has powerful functionality with a blog engine and a cart to pay for certain courses online.
How They Built This School Website
Bow Valley College designed their website using Sitecore. Sitecore is a powerful CMS which is great for larger websites but it is not very user-friendly for the general public. The backend can be quite confusing for the non-developer so you'll likely need someone on staff to help with site maintenance if you choose to go with this platform. Sitecore has a variety of attractive website designs but there is limited flexibility in the design if you aren't experienced with coding.
---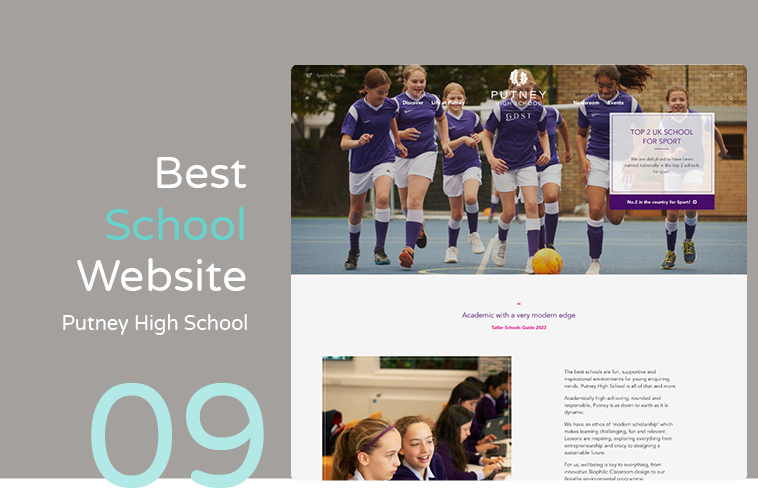 Putney High School is an all girls' school in London, UK. The high school is part of the Girls' Day School Trust, a network of 25 independent schools and academies. The mission of the school is to build confident, creative thinkers and deliver an education that is truly relevant to their future.
Why We Love Putney High School's Web Design
Putney High School's web design has very slick animations with a unique navigation menu that drops down when you hover over the main categories. The homepage features multiple news stories and photos that animate as you scroll down the page. The high school's online donation page and parents portal link to external platforms to handle the added functionality.
Our favorite feature? The interior pages have unique typography and colorful images of the students to capture your attention.
How They Built This School Website
Putney High School used WordPress to design their website. WordPress' blog engine is user friendly for posting new content regularly so the school can keep their site's homepage fresh. The theme looks like a custom design that was created to fit the high school's branding. The main drawback of a custom WordPress theme is that it's difficult to make changes to the design without the help of a developer.
---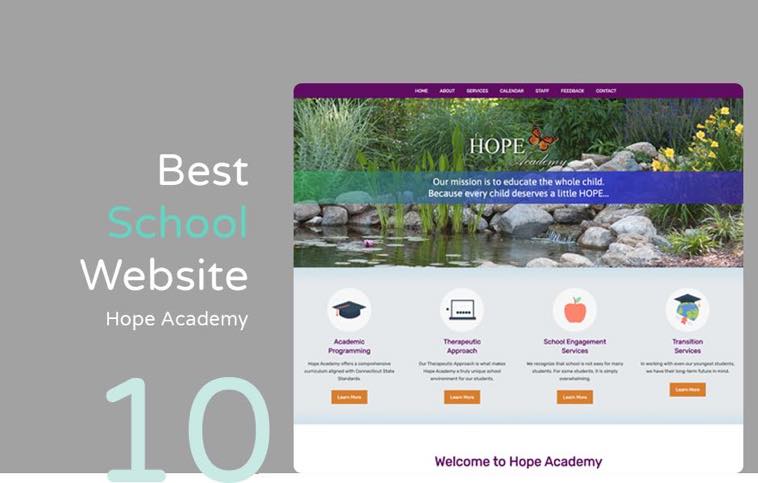 Hope Academy is a private special education school in Connecticut for students in grades one to twelve. The school also offers transition services for students between the ages of 18 to 21 to help prepare them for post-secondary education, career opportunities, and independent living.
Why We Love Hope Academy's Web Design
The first thing that catches your eye on Hope Academy's homepage is the color-changing banner that highlights the school's mission "to educate the whole child. Because every child deserves a little HOPE."
What's great about Hope Academy's web design is that it's simple and accessible to a wide audience from the children they serve to their parents to the broader community.
Our favorite feature? The website uses colorful icons to illustrate the academy's different services with quick links. Website visitors can easily jump to main sections or use the navigation menu to quickly find what they're looking for.
How They Built This School Website
Hope Academy's website is designed and powered by Morweb. Morweb's website builder is a great choice for schools with a limited technical background because it is easy to edit and update content on your website.
Using Morweb's live site editor, Hope Academy's staff can add new content and see how it looks on the front end of their website, essentially taking the guesswork out of web design.
---
The Gist
Building a strong online presence for your school shouldn't seem like it's out of reach. With the right website platform and inspiration from your peers, your school's website can go above and beyond to engage students, parents, teachers and your community.
---
Looking to dive a bit deeper into the world of school web design? Check out our favorite web design resources for institutions just like yours: