Best Website Builders for Nonprofits: Compare Your Options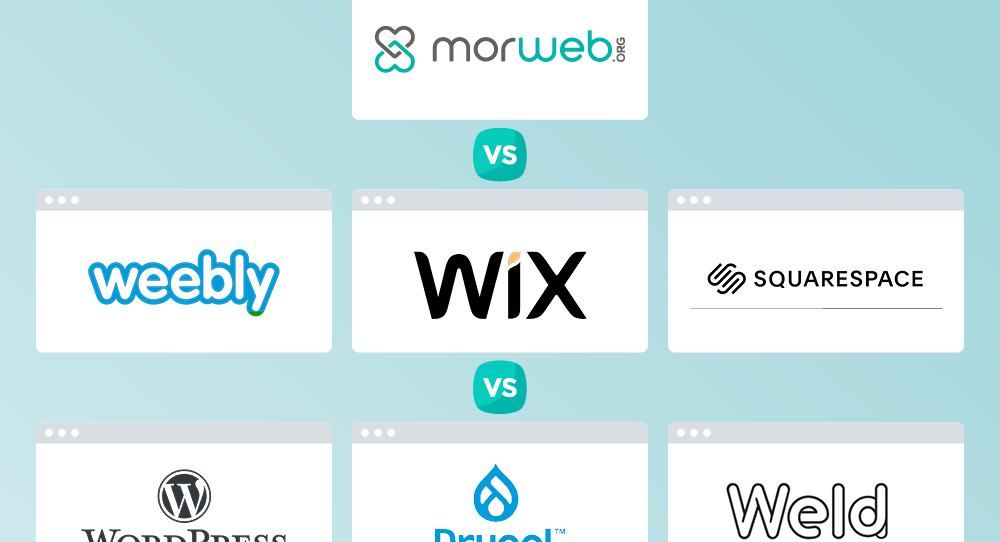 These days, having a stylish, user-friendly website is a requirement for nonprofits looking to build trust and brand awareness. Your site can determine whether someone commits to supporting your nonprofit or takes their support elsewhere. In fact, The Millennial Impact Report found that an astounding 90% of millennials would stop donating to a nonprofit they distrusted. That means a well-designed website that highlights your nonprofit's trustworthiness and impact is more important than ever, and that all starts with the right nonprofit website builder.
The right nonprofit website builder will provide all the tools you need to stand out online and make a name for yourself among your target audience at an affordable cost.
However, many nonprofits struggle with choosing the best website builder for their needs. Most nonprofit professionals are not coding experts, so they rely on a simplified website builder to manage their website. Generic solutions are also not the way to go when it comes to nonprofit web development. These often lack the functionality that nonprofits need to operate, like the ability to accept donations. To help, we'll run through what features to prioritize before diving into some of the best nonprofit website builders on the market.
---
Nonprofit Website Builder FAQ
What should a nonprofit website builder include?
Your website builder should offer nonprofit-specific features to support your programming and fundraising efforts. You should also be able to increase fundraising dollars and supporter engagement with on-site donations, eCommerce, events ticketing, and events registration. To grow your audience, look for blogging tools, social media integrations, and responsive design. Finally, ensure your site is fully protected with features like private pages and user permissions.
A final priority should be affordability and ease of use. As a nonprofit professional, you know all too well that time and money are hard to come by. You don't have a ton of either, so why waste your hard-earned fundraising dollars on a complicated and expensive website builder that can't deliver the functionality your team needs?
What are the top nonprofit website builders?
To launch your search, we've narrowed available choices down to the best website builders for nonprofits, so you can choose the right solution for your team. We've researched each of these platforms' features so that you don't have to. These are the top nonprofit website builders that we'll explore: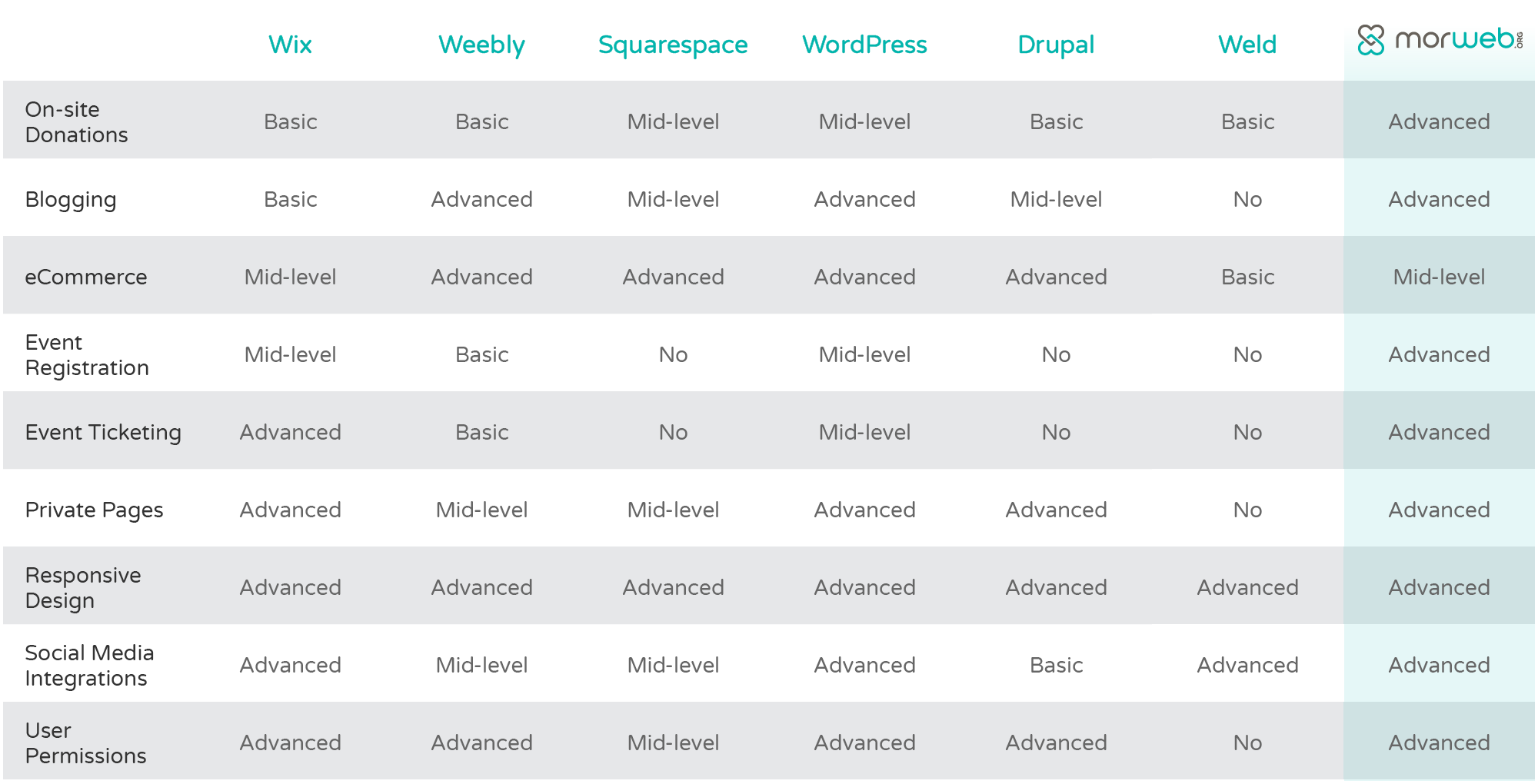 Can't see this image on mobile? Click here to view.
---

The Best Nonprofit Website Builder: Morweb
Overview of this platform
Morweb is a website builder specifically for nonprofits and associations. This content management system (CMS) comes packed with essential features that nonprofits need to build a strong online presence. Choosing from one of Morweb's nonprofit website themes, you can customize your website using an intuitive drag-and-drop editor. Morweb's themes have built-in design elements for nonprofits like a donate button in the navigation, impact numbers, a member map, and upcoming event previews.
Morweb is unique in that it takes an agency approach to nonprofit web design. Rather than just purchasing a plan and building your website on your own, Morweb will work with you to develop a content strategy and take care of the initial set-up and customization. This is great for nonprofits who want more of a hands-off approach to website design.
Morweb will customize your website to match your branding, migrate your content and ensure your vision is communicated effectively. Your team will get full training on how to use the Morweb platform to maximize the benefits of your website. You'll also get live support by chat, email and phone with Morweb's team of experienced web designers and developers to assist with the continual maintenance of your website.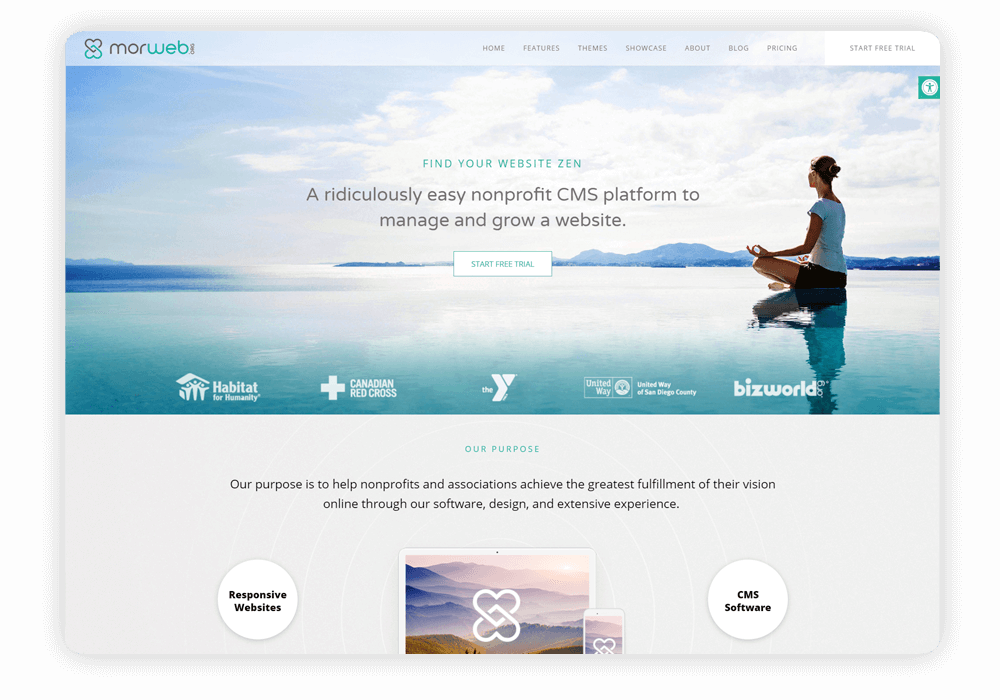 Top nonprofit website builder features
Morweb offers dozens of useful features for nonprofits. Here are a few that set us apart from other nonprofit website builders:
On-site donation form: Collect donations directly through your nonprofit's website using Morweb's user-friendly and mobile responsive donation page templates. Customize your donation form to add suggested donation amounts, recurring donations, tribute gifts, and allocate to designated funds. Morweb's donation forms integrate with popular payment providers like Stripe for secure payment processing. Once donations are made, customized thank you emails with a receipt are sent automatically to your donors.
Events management: Sell tickets and accept registrations to your nonprofit's events. Create attractive event pages using Morweb's templates and set dates, ticket prices, seat count, and coupons.
Private pages (Intranet): Make any page or section of your website password protected. Manage user logins and share private information with your staff, members, or board.
Website accessibility: Make your website ADA compliant with Morweb's accessibility features. Users can adjust settings on your website to increase the font size, highlight links, adjust contrast or change the font.
Drawbacks of this software
While Morweb's nonprofit website builder is highly intuitive, there are a few drawbacks to be aware of before you buy:
No domain purchasing: You're responsible for registering your own domain name. You can buy your domain through a domain registrar like GoDaddy. If you already have a website, you'll just have to point your domain to Morweb's servers.
Manual theme switching: If you decide later on that you want to use a different theme for your website, you will need to request Morweb to change it for you. However, Morweb's themes are extremely customizable so if you want to add a design element or new feature, it is easy to do.
Nonprofit website builder pricing
Morweb offers pricing for every budget. Work at a smaller nonprofit? Get started with our starter package for $99/month. Growing organizations can benefit from the $149/month pricing plan or the $199/month option that offers extensive functionality. Request a demo today.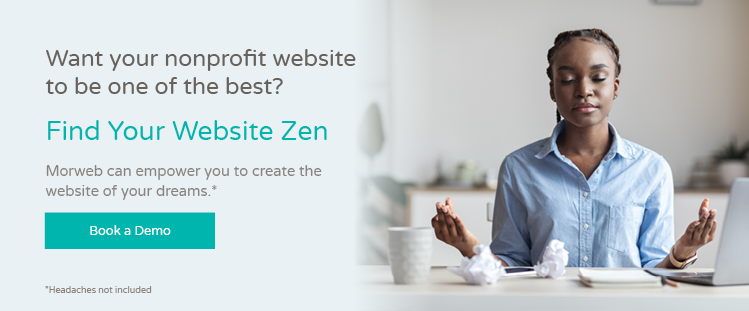 ---

Wix: Top Nonprofit Website Builder for Experienced Designers
Overview of this website builder
Wix is a website builder that has gained popularity for its simple interface and easily customizable templates. With 250+ add-on features available on the Wix App Market, Wix can transform into a capable nonprofit website builder. This platform offers a wide range of templates and website apps to build and grow your brand online. It's a great option for beginners because it is so easy to use.
However, many say their editor has a bit too much flexibility. Without any guidelines or restrictions, you need to have an eye for design to create a professional-looking nonprofit website. Because of this extreme customizability, Wix has evolved into a web design tool for many experienced designers.
Wix plans allow you to get your site up and running quickly without any technical knowledge required. You can even buy your domain name through Wix.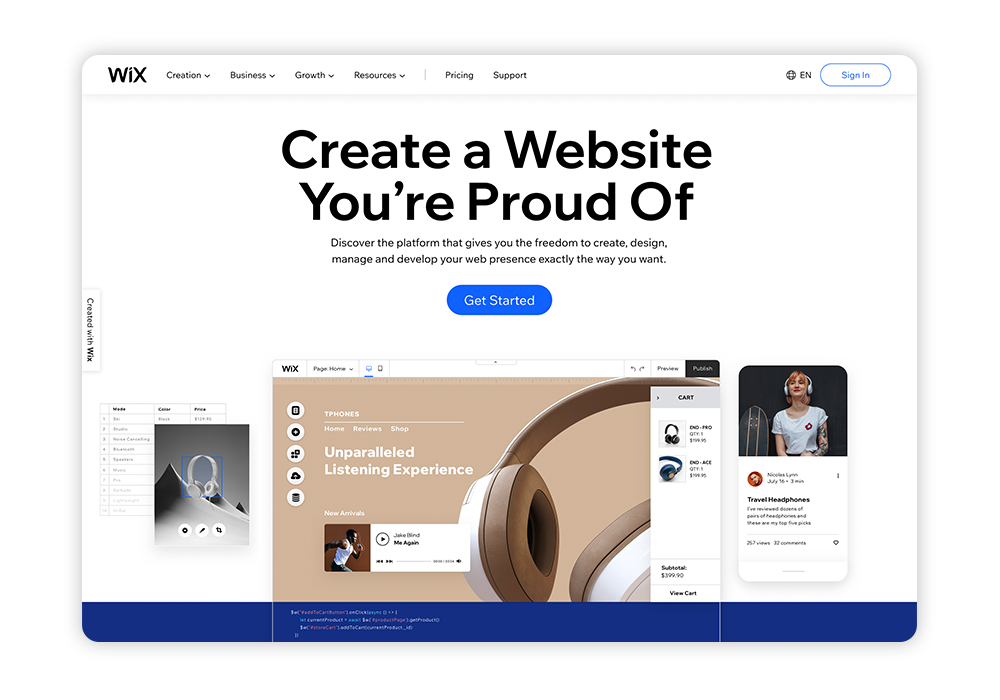 Top nonprofit website platform features
This nonprofit website builder gives you the freedom to create, design, and manage your web presence exactly the way you want with features like:
Private pages: A members' area lets visitors sign up and gain access to members-only pages on your website. After signing up, members can log in and out using the login button. You can decide whether new members get approved automatically or manually.
Events management: Create and display multiple events on your site, sell tickets, collect RSVPs, send invitations, enable email reminders, create waitlists, and manage your guest list.
Donation app: If you want to accept donations through your website, you can add the Get Funding Wix app to your website. The downside of this feature is that it requires the user to register for a Paypal account, and it has limited customization options. Alternatively, you can embed a Donorbox form, add a Paypal button on your site, or add a button to link to a third-party fundraising platform.
Drawbacks of this builder
As with any piece of technology, Wix's nonprofit website builder has a few drawbacks, such as:
Difficult to switch platforms: While drawing you in with the free version of their platform, Wix makes it impossible to migrate your website elsewhere. If you decide later that you have outgrown the platform, there is no way to export your data. The same goes for switching Wix templates; you have to manually copy your content over.
Technical limitations: While the Wix App Market offers tons of apps to suit the needs of the majority of users, if you require a feature that is extremely custom, you may be out of luck. Additional code is difficult to add and may require the help of a developer.
Limited navigation menu: Wix isn't ideal for large nonprofit websites because it only allows for two levels of navigation. This makes it difficult for organizations to feature the valuable content necessary to inform visitors and secure support.
Nonprofit website builder pricing
Wix's paid plans start at $14 per month (billed annually). Their Unlimited plan costs $18 per month and is ideal for larger sites, and their Pro plan is $23 per month. VIP at $39 per month adds priority support.
---


Weebly: Top Nonprofit Website Builder for eCommerce
Overview of this software
Weebly makes it easy for anyone to build an attractive website, blog, or online store. Choosing from one of their responsive website themes, you can customize your website using their simple drag-and-drop editor. Weebly's themes are more structured, offering basic guidelines to follow when building your nonprofit's website.
Weebly offers a wide range of built-in features and an App Center for added functionality. Weebly has more of an eCommerce focus than some of the other nonprofit website builders. They offer multiple themes for many different types of websites but only have one theme for nonprofits.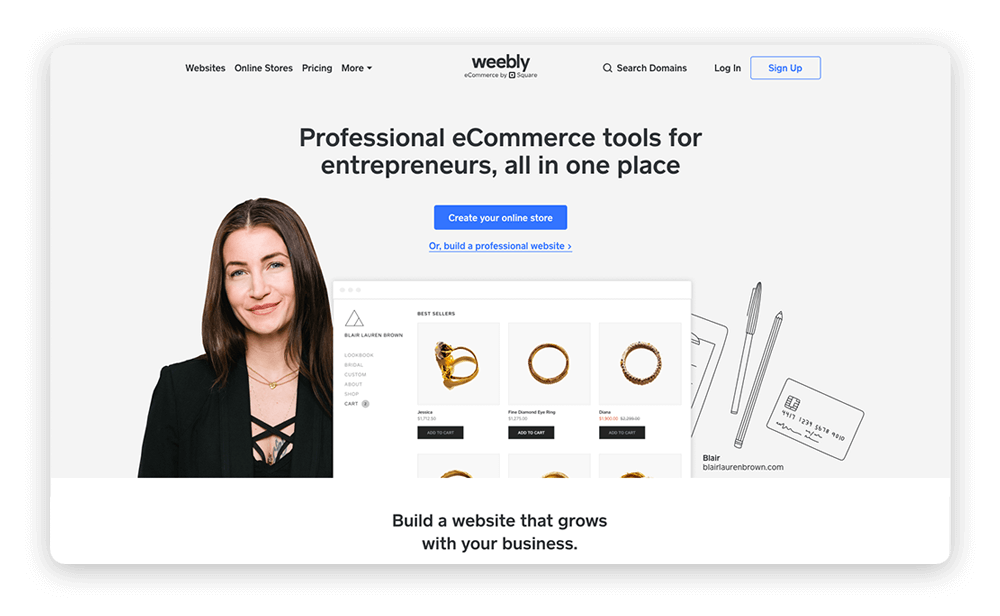 Top nonprofit website platform features
By investing in Weebly, you'll gain access to these helpful nonprofit website software features:
eCommerce: Weebly's eCommerce platform allows you to manage and track your inventory, track coupon stats and performance, and sell physical or digital products and services. Their shopping cart feature is very user-friendly and gives users the option to purchase online or pick up in store.
User registration: Add members by entering their information manually or uploading a CSV. You can allow anyone to become a member by signing up on your website. You can approve new sign-ups automatically or manually and segment users into groups.
Email marketing: Weebly's Promote feature offers pre-made templates for different types of emails including newsletters, promotions, product announcements and events. This feature allows you to upload your email lists or sync with member groups. It also gives you detailed email stats.
Mobile app editing: Weebly's mobile app allows you to edit your site, publish blogs, and get detailed stats right from your smartphone. Maintain your website and stay on top of your digital presence no matter where you are.
Drawbacks of this builder
Despite having plenty of functionality, Weebly's nonprofit website builder does have a few pitfalls to be aware of before you buy:
No donation forms: Weebly doesn't have built-in donation pages. If you want to accept donations through your website, you can create donations as product options, download the Weebly Donorbox app, or add a button to link to a third-party fundraising platform.
Poor events management: Weebly's events management isn't as sophisticated as some of the other website builders. If you want to offer events on your nonprofit website, you can download or purchase an app from the Weebly App Center.
Less range of customization: Weebly templates are more restrictive than other website builders. If you want to change things like column width or background design, you may need the help of a developer to add code through the HTML/CSS editor.
Nonprofit website platform pricing
Weebly offers a free basic plan that provides what you need to get your website off the ground. However, you'll likely need to upgrade to one of their paid plans to receive the functionality you need. Their paid plans range from $6 to $26 per month.
---

Squarespace: Best Nonprofit Website Software for Donor Data
Overview of this platform
Squarespace is a website platform with beautiful website designs and templates for a professional-looking website, portfolio, or online store. Their attractive website templates and stunning use of imagery are great for showcasing your brand in a good light. Squarespace offers a wide variety of features that nonprofits can use to engage supporters.
Squarespace's drag-and-drop editor offers many options for customization. Nonprofits can build upon stylish templates to create an appealing website for their cause using this nonprofit website builder. However, it's not as straightforward to use as some of its competitors.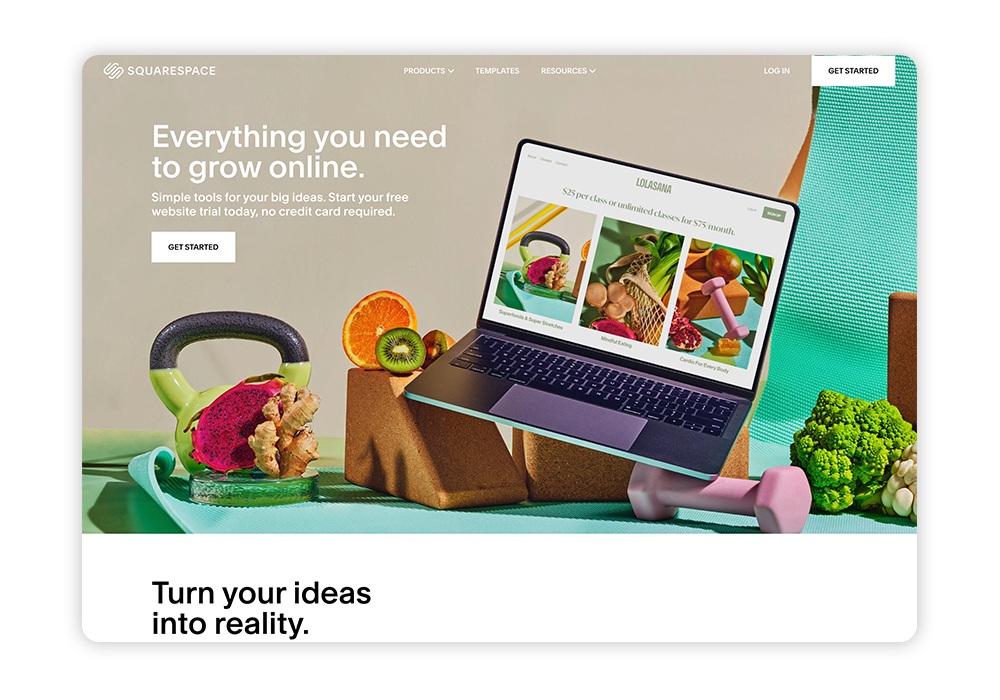 Top nonprofit website builder features
When using Squarespace as your nonprofit website builder, you'll benefit from these standout features:
Donation blocks: Squarespace's donation blocks appear as 'donate' buttons on the page. When a visitor clicks the button, they will be taken to a checkout page where they can enter and submit their donation. You can customize the button text, add suggested donation amounts, and change the button design. Donation blocks work through Squarespace's eCommerce platform using Stripe or Paypal to accept payments.
Events calendar: Add a calendar or list of events to your nonprofit's website. Set event times, a description of your event, and social media sharing buttons. Unfortunately, the events page doesn't support registration or ticket purchasing.
User data collection: Squarespace supports over 15 different data types, such as addresses, currency, and emails from your site visitors. Collect newsletter sign-ups and build your mailing list on Mailchimp.
Drawbacks of this software
Squarespace does have a few drawbacks that could limit your fundraising and marketing efforts, including:
No recurring donations: Squarespace's donation blocks don't currently allow for recurring donations. If you want to offer this option for your donors (and you probably do!), you can embed a Donorbox form on your Squarespace website.
Fewer SEO options: Squarespace's SEO options are more limited than other nonprofit website builders. For example, you can't edit your meta descriptions on blog posts. If you want to add an alt tag to an image (which is crucial for accessibility), you have to add a caption to your image, then select an option not to display captions.
Limited template customization: Many templates are tightly locked down, requiring you to add your own CSS if you want to change the styling. If you do choose to add custom CSS, the Squarespace support team reserves the right to limit the amount of support they give you.
Nonprofit website builder pricing
Paid plans range from $12 to $40 per month. They also offer a free trial so you can try before you buy.
---

WordPress: Top Nonprofit Website Platform for Customization
Overview of this platform
WordPress is one of the most popular CMS's available and is entrusted by all types of organizations—both for-profit and nonprofit. First launched in 2003, WordPress now powers 40% of all the websites on the Internet. While not exclusively for nonprofits, WordPress offers dozens of nonprofit website themes that can make your website beautiful and plugins that allow you to add powerful features for better fundraising.
Thanks to its universal appeal, there's a vast community behind WordPress of hundreds of thousands of developers around the world, as well as millions of users. Many website creators rely on WordPress to build their digital brand, so there are countless resources online, making it easy to learn how to use the CMS and produce a beautiful nonprofit website.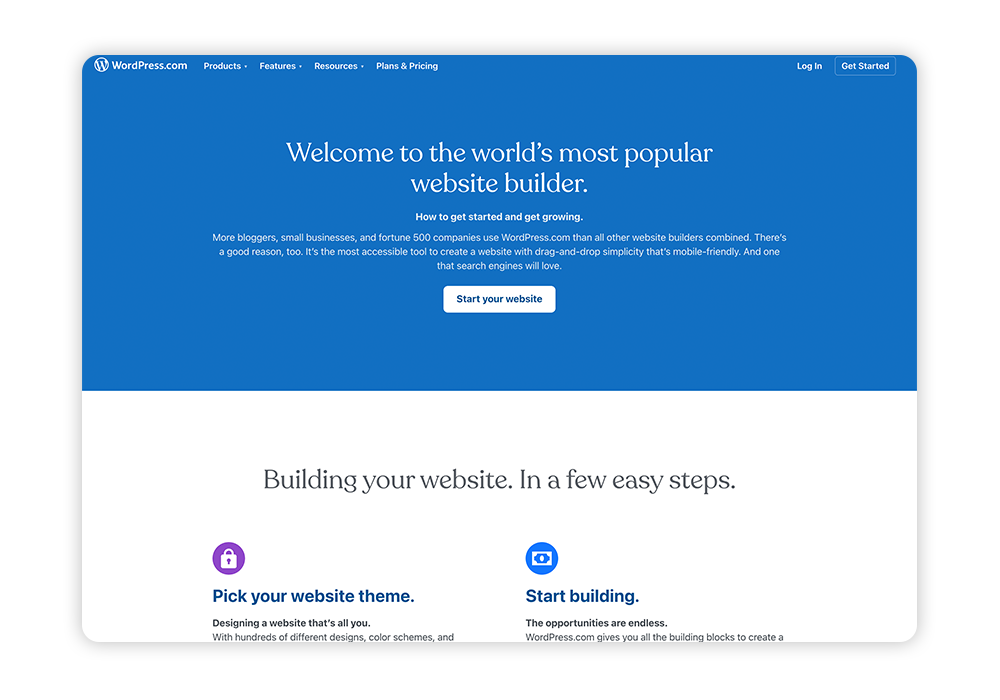 Top nonprofit website builder features
WordPress' nonprofit website builder brings a ton of great features to the table, including:
Website themes. Get a jump start on your site's design with thousands of free theme templates. Each theme varies in style and functionality, and you can fully customize your nonprofit's website to make your cause stand out.
Extensive collection of plugins. WordPress boasts hundreds of integrable plugins. These plugins, many of which are free, include everything you need to build out your site's functionality. Some of the most popular include Yoast SEO (great for boosting your visibility on search engines), Swoop (great for website authentication), and WooCommerce (great for fundraising).
Intuitive editing. WordPress offers several options for editing. Use the Block Editor to drag and drop page elements, customize font sizes, and adjust color schemes. For more advanced customizations, WordPress makes it easy to flip to the code view and edit HTML elements.
Drawbacks of this software
Even with its wide-ranging functionality, WordPress has a few drawbacks. Two common areas of frustration include:
Security. WordPress is an open-source platform, meaning that programmers can access the page's source code, adapt it based on their needs, and share their code with others. While this is a great way to save time, this structure can leave your website vulnerable to being compromised. By having all your systems code available online, it's easier for hackers to find security holes in your code.
Updates. To counteract some of the security issues, WordPress regularly rolls out updates. While helpful and necessary for keeping your information safe, they can also become a huge headache to keep up with. Updating your system can also cause certain plugins (even those that aren't malicious) to become incompatible with your website, which risks breaking your nonprofit's site.
Nonprofit website builder pricing
The most basic WordPress package is free. However, the recommended package for nonprofits is around $25/month, billed annually.
---

Drupal: Best Nonprofit Website Builder for Content Management
Overview of this platform
Drupal is a popular and robust content management system that is great for managing complex and expansive websites. With a solution designed for nonprofits, Drupal is a plausible choice and is trusted by some of the world's most influential nonprofits to amplify their missions online.
Drupal provides plenty of out-of-the-box functionality to help you get up and running. The platform makes it easy to manage, collect, and disseminate content to your constituents from the get-go. With an extensive plugin API, Drupal is a highly scalable solution that grows with you. As your nonprofit expands its offerings, you'll be able to connect your main website, fundraising campaigns, and any other microsites that you decide to launch.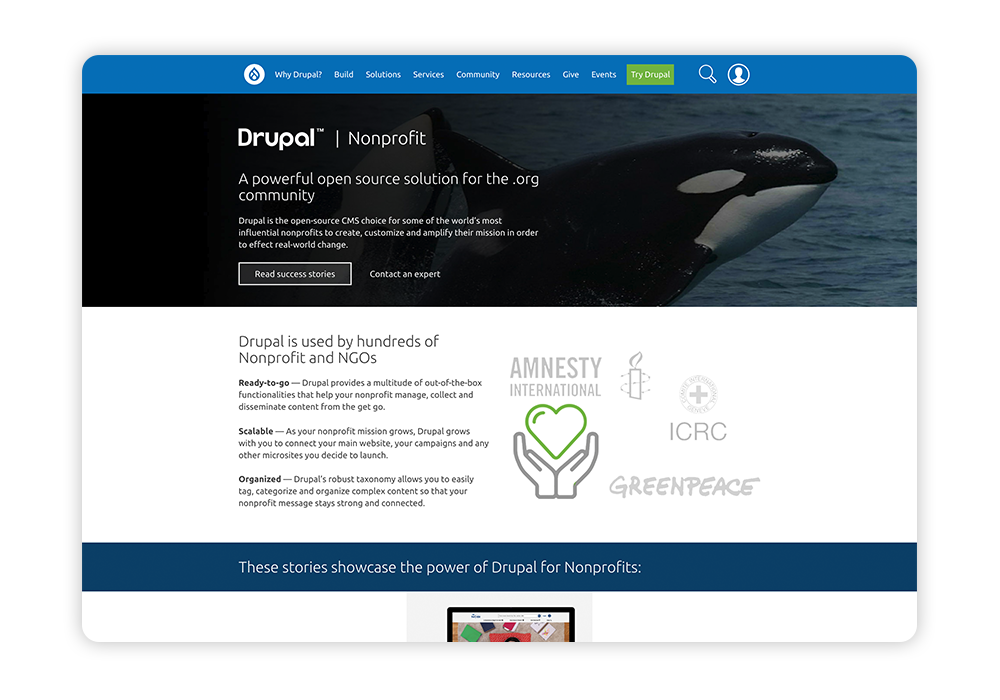 Top nonprofit website builder features
These are some of the features that landed Drupal on our list of best nonprofit website builders:
Content management. Drupal supports a range of content types (including videos, podcasts, blogs, and polls). Integrate a diverse ecosystem of content marketing tools and technology to create personalized, branded content. Build and manage your site, multichannel digital experiences, eCommerce experiences, tailored mobile Web browsers, and native mobile apps. Drupal will ensure your content is mobile-ready, so supporters can interact on any device.
Loading speed. Poor load speed can negatively impact the user experience, steering people away from your content. Drupal uses a cache feature that allows previously-viewed content to load quickly, thus increasing your nonprofit website's load speed.
Accessibility. Much like Morweb, Drupal emphasizes accessibility, so you can reduce friction and reach 100% of your audience with your content. You'll be able to use structured data that's readable by screen readers, manage color contrast and intensity, use skip navigation within core themes, remove duplicate or null tags, improve form labeling, and more.
Drawbacks of this software
Some common critiques of this nonprofit website builder include:
Developer knowledge required. This nonprofit website builder is a little more technical than others, so it's not recommended for beginners. Drupal is better suited for people with a background in coding. For those who aren't well-versed in coding, Drupal offers copies of demo websites used in its instructional videos. You can download instructions, set the sites up, and follow along to gain a better grasp on coding.
Hands-on implementation. With Drupal being more technically advanced, you need a strong vision of what you need to accomplish with your site and need to know how to use Drupal's modules to get there. In many cases, you'll have to code, and it can take some time to get up and running.
Nonprofit website builder pricing
Drupal is open-source and free for anyone to use. Website themes and hosting are sold separately.
---

Weld: Top Nonprofit Website Platform for International Organizations
Overview of this platform
Weld is a cloud-based website creation and content management solution that's designed to help marketers create, publish, analyze, and manage content and landing pages. It's a unique content creation tool in that it heavily focuses on interactivity.
Your nonprofit can create animated content that encourages supporters to stay on your website longer. Launch new campaigns and content within minutes. You're even able to design and build apps without any coding and publish content to multiple platforms beyond your website (like banner ads, emails, and social media posts).
When you're ready to launch your site, either purchase a domain from Weld, get a free domain from the platform, or add all your content to your existing nonprofit website within minutes. It integrates seamlessly with popular CMS and eCommerce platforms, like some of the other nonprofit website builders we've covered.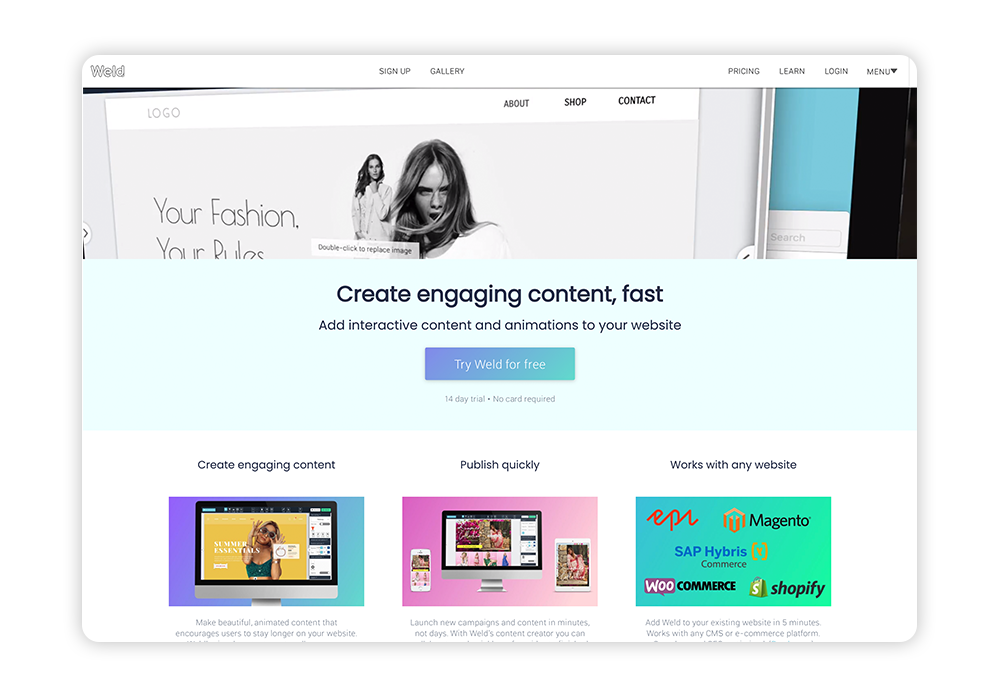 Top nonprofit website builder features
Here are a few features that make Weld's tools stand out:
Customizable content creation. Weld makes it easy to get creative when designing your content. You're not locked into templates and can use your own branding, fonts, and graphics. Their animations and widgets will bring your creations to life.
An extensive knowledge base. If you run into any roadblocks when designing your content, head over to Weld's knowledge base, where they feature several tutorials to guide you through their tools. They also offer helpful tips for making your organization stand out online.
Numerous integrations. Weld integrates with several third-party applications, so you can make the most of your nonprofit's website. Leverage integrations with other leading providers like WordPress, HubSpot, Pardot, Marketo, WooCommerce, and more. The interactive content solution is SEO optimized and neither Google nor your visitors will be able to tell the content apart from the rest of your website.
Drawbacks of this software
While Weld can help design a beautiful nonprofit website, there are a few negative aspects to consider:
No coding options for editing. In a time when "learning to code" is all the rage, Weld is pursuing a different path. Their content creation tool uses a frontend, drag-and-drop editor, and working with these types of editors can limit how much you're able to customize website elements.
Pricing. Compared to similar tools, some users consider this platform's pricing to be a bit steep, which isn't ideal for organizations with tighter budgets. Instead, Weld is better suited for larger organizations with more funding.
Nonprofit website builder pricing
Get a free trial, or go with a paid plan right off the bat. The Personal plan (for one user) starts at €100 (around $121) per month, while the Team plan starts at €350 (around $423) per month and is based on the number of users.
---

The Verdict: Best Nonprofit Website Builder
When it comes to building a strong online presence for your nonprofit, Morweb has the most advanced features for your website. Morweb is the only website builder on this list that was built specifically for nonprofits.
While the other website builders offer many features that are useful for nonprofits, these platforms are mostly catered to individuals and small businesses. With Morweb, you get more than just the software—you get a dedicated team of experts to help you build and grow your nonprofit's website.
Beyond those more generic solutions, open-source CMS platforms like WordPress and Drupal are often too challenging for nonprofits to use without the help of a developer. Many nonprofits opt for proprietary CMS platforms with drag-and-drop functionality so they can make edits on the front end of their website.
Between engaging supporters, hosting events, and being financially responsible, there's a lot to handle when it comes to running a nonprofit, and maintaining a website is too often swept under the rug. It shouldn't be, though. Morweb's nonprofit website builder simplifies building and maintaining your site, so you can reinvest your time into the rest of your daily priorities.
Now that you know more about the best nonprofit website builders available, take a deeper dive into some best practices with these resources: