9 Best Medical Website Builders for the Healthcare Sector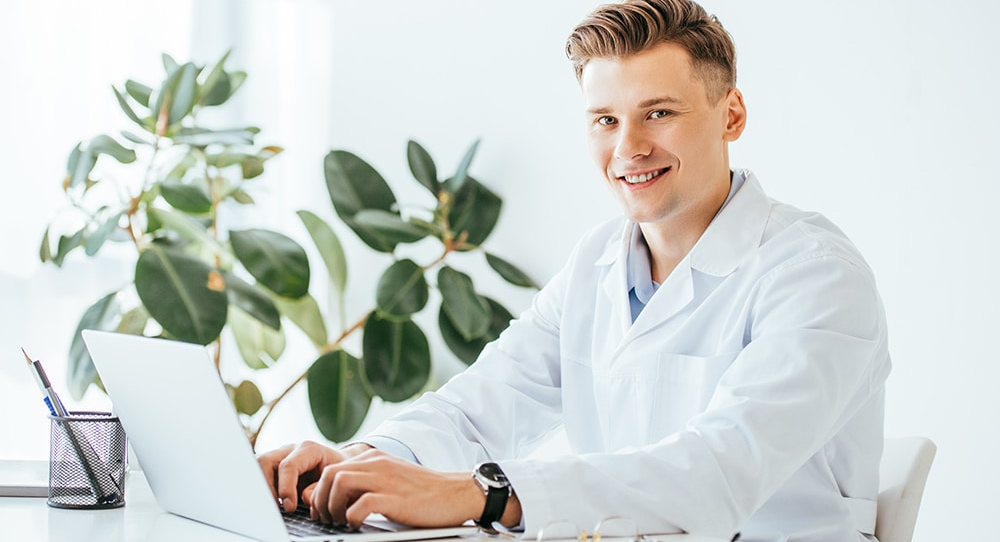 For the healthcare industry, online marketing has quickly become an even greater priority. In most healthcare verticals, more than 60% of consumers run a search before scheduling an appointment, and search is by far the preferred way for patients to find healthcare providers, according to Dialogtech. As such, you need to spend time developing a website that effectively showcases your medical services and connects with patients.
Luckily, you don't need to be an expert developer in order to build an engaging medical website thanks to today's technological advancements. There are plenty of easy-to-use, affordable content management system (CMS) options built specifically for your industry. All it takes is a bit of research, and we're here to help!
At Morweb, we understand the nuances of effective medical web design and aim to make it possible for organizations like yours, regardless of your design knowledge and technical skills. Through our award-winning design agency and our industry-leading CMS, we help healthcare professionals build stunning medical websites, so they can connect with patients and focus on providing the best care possible.
Based on our experience within the industry, we've pulled together a list of reliable medical website builders that any healthcare professional can use, including:
Beautiful web design doesn't have to be difficult so long as you have an effective tech stack. If you're ready to locate the right medical website for your practice, let's dive in with our top choice: Morweb!
---

Best Medical Website Builder #1: Morweb
Overview of this Medical Website Builder
Morweb's healthcare website builder equips organizations with the necessary tools for engaging clients and their greater communities. With resources from our leading design agency and CMS platform, we provide our clients with creative and technical services paired with cutting edge technology.
With more than 1,800 projects under our belt, we have ample experience within the nonprofit and healthcare sectors. Designed specifically for nonprofit and medical use, Morweb provides professionals like you with a mobile-friendly website, CMS software for non-technical users, and training to develop a strong online presence.
Backed by state-of-the-art cloud servers, your team can rest assured that your data and your patients' information is well-protected. Whether you're creating a website as an individual practitioner or for an entire hospital, our easy-to-use medical website builder will empower you to showcase your services in a visually appealing and intuitive layout. And if you do run into any technical challenges, our support team is here to help!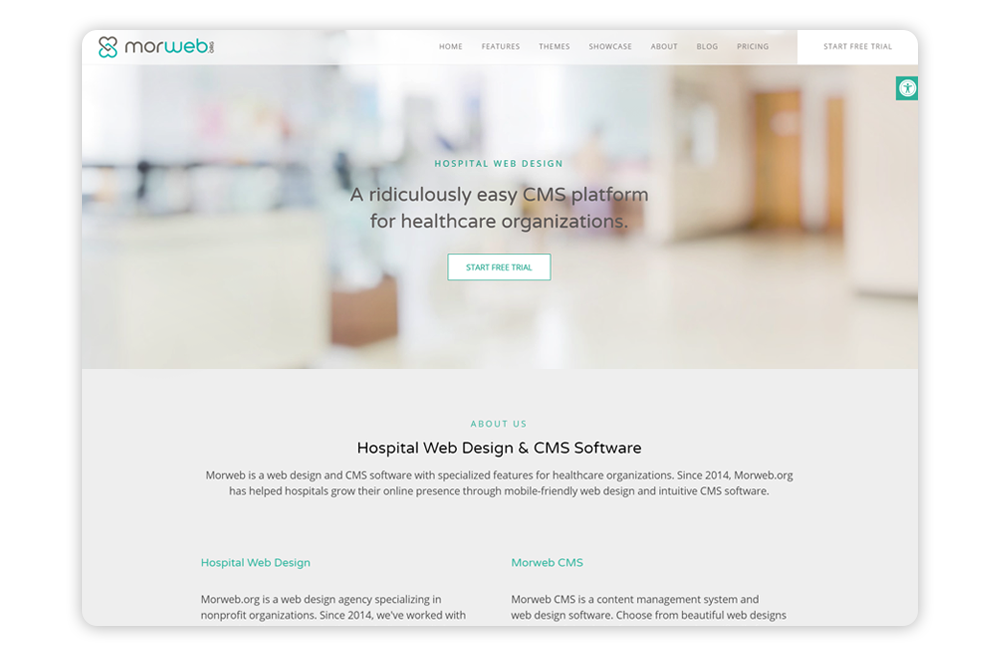 Features of The Best Medical Website Builder
Morweb provides unique features designed specifically for healthcare use, so you don't have to rely on the generic design tools other website builders provide. By investing in Morweb's medical website builder, you'll gain access to helpful features, such as:
Web accessibility tools. Accessible design is pertinent to getting in front of more potential patients, especially if you serve individuals with disabilities. To account for this, Morweb offers an accessibility widget that allows visitors to customize their viewing experience. When you enable this tool, users can adjust the text size, change the font type, highlight links, and change web pages to greyscale in order to make it legible for their needs.


Customizable layouts. Choose from plenty of healthcare-inspired themes to kickstart the design process. Each theme is fully customizable, giving you complete control over creativity. Plus, every one of them is mobile-responsive, so smartphone users can easily navigate your website. After all, nearly half of mobile users will switch to a competitor if they have a bad experience with your site.


Career listings. Share open positions on your medical website's career pages. With easy-to-use form capabilities, applicants will be able to fill out employment applications and upload supporting documents, so you'll be able to quickly fill any staff openings as they come up.


Intranet and private pages. By setting page permissions, you can share password-protected pages among your staff members. You may also choose to provide a patient portal where users can edit personal details. This way, patients won't have to contact your office's receptionist each time they want to update their information. Changing contact information, updating medical insurance details, and monitoring health will be a breeze! Plus, your organization can count on your data being up-to-date.
Through these intuitive features, you'll be fully equipped to build an effective medical website. Plus, the above features are only the tip of the iceberg. Discover Morweb's full range of tools and take this powerful healthcare website for a spin by signing up for a free trial!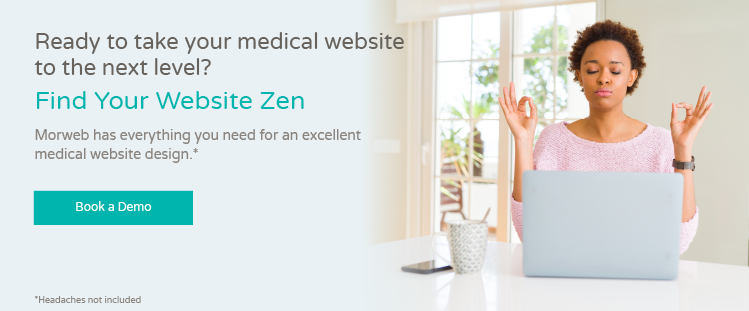 ---

Best Medical Website Builder #2: VEVS
Overview of this Medical Website Builder
VEVS is a leading medical website builder that empowers healthcare professionals to develop an online presence without spending countless hours configuring difficult code. With a paid plan, you'll gain access to integrated appointment scheduling software and a host of other essential features.
For those who are looking for a low-cost option, VEVS allows organizations to create a free website with up to 30 bookings per month. Although, you won't gain access to in-depth features that may be necessary to smoothly run your operations. Overall, this is a great option for small medical practices such as therapists, dentists, vets, and other independent practitioners.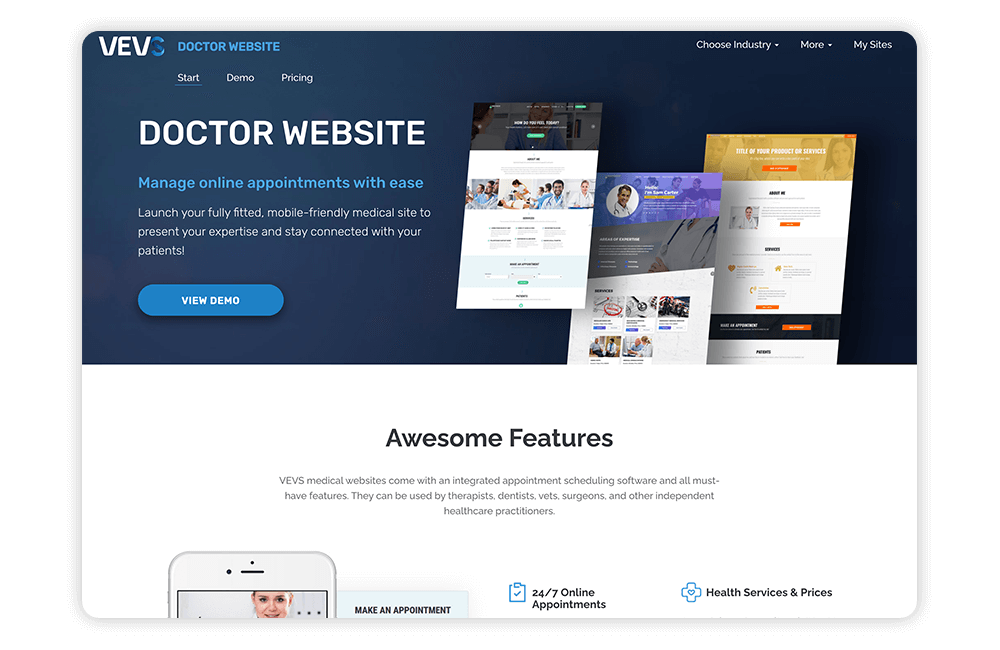 Top Features of this Healthcare Website Builder
By investing in VEVS medical website builder, your healthcare team will gain access to healthcare-specific features, such as:
Patient profiles. Stay up-to-date on your patients with detailed profiles. You'll be able to add key information like contact details, appointment history, and other essential notes.
24/7 online appointment scheduling. Create customized booking forms and email confirmations that allow patients to schedule appointments from the comfort of their own homes. Plus, VEVS won't charge booking fees.
---

Best Medical Website Builder #3: Dr. Leonardo
Overview of this Medical Website Builder
Dr. Leonardo was created to serve professionals looking for a convenient, easy-to-use medical website builder. This site builder's functionality is the result of 21 years of direct experience with healthcare professionals. Over the years, it's been developed to manage tens of thousands of websites, used widely within the healthcare sector.
With affordable package deals, you'll gain access to helpful features that combine to create a seamless online experience for your patients. It comes equipped with a set of customization features and mobile-responsive templates, so you can be up and running with a modern, professional-looking site in no time.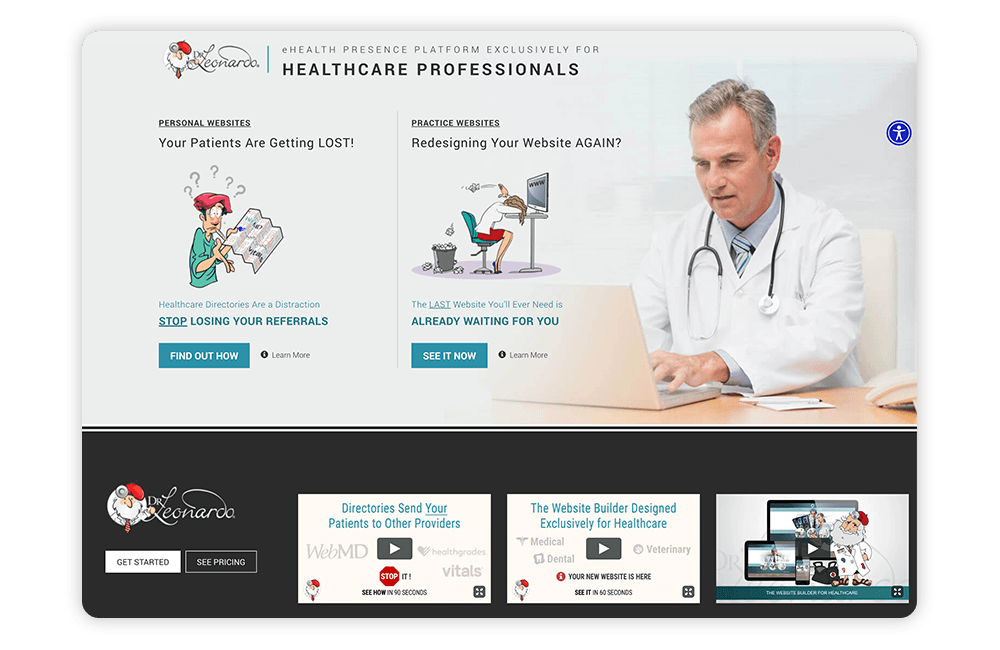 Top Features of this Healthcare Website Builder
So you have a better understanding of medical website builder's functionality, let's dive into its top features:
Patient reviews and five-star ratings from third-party integrations like Doctor.com, Google, and Demandforce. Keep in mind that 94% of patients turn to online reviews when deciding which practice or doctor to visit, according to Dialogtech.
Use your Virtual Telephone Number (VTN) to forward calls to your front desk for your office. If you change your place of employment, stay connected with your patients by simply redirecting your VTN to forward calls to your new location.
Choose from a library of healthcare content to educate your patients. With more than 8,800 educational topics to choose from, you can provide quality information that your patients will enjoy reading. After all, 66% of all internet users look online for specific medical problems, making it a prime opportunity for you to demonstrate your expertise.
---

Best Medical Website Builder #4: Wix
Overview of this Medical Website Builder
Wix is a widely-used website builder that offers a range of versatility and flexibility. Although not sector-specific, it does offer a number of useful features and medical-related templates. The platform comes equipped with a broad range of tools, which can notably enhance your practice's reputation and popularity online.
Built with security in mind, Wix is HIPAA compliant, which means it ensures the maximum protection of personal data. This level of security is essential for any medical website as the Health Insurance Portability and Accountability Act (HIPAA) sets the standards for reliable protection of patient data. This system is a secure choice for private medical clinics or family doctors who are looking to build a quality, trustworthy web presence.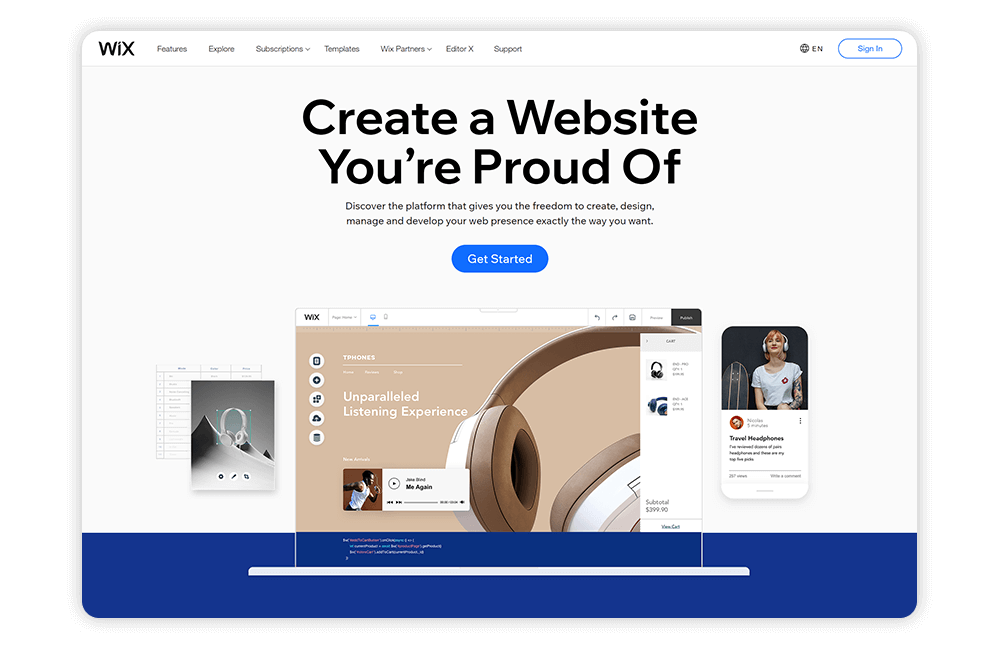 Top Features of this Healthcare Website Builder
There's no need for any extensive web design skills when it comes to mastering the Wix medical website builder. Start using it to fulfill your web design needs with the following helpful features:
Medical templates and themes. Wix boasts a wide collection of free and highly customizable templates suited for medical clinics, private medical practices, specialists, and more. Simply add your business info, location, branding, and other relevant information.
Forum capabilities. Boost patient interaction with an easy-to-use forum. Create multiple topics, branches, and sections related to the healthcare sphere and your practice, so you can get the most out of your medical website performance.
---

Best Medical Website Builder #5: Heek
Overview of this Medical Website Builder
Health professionals across the globe rely on Heek's medical website builder to connect with patients and deliver a seamless user experience. Heek is highly versatile, catering to dozens of specializations within the medical field. From dentistry to cardiology, this healthcare website builder's got you covered.
With templates for every style preference, you'll be able to design a modern, sleek web design that's optimized for all devices. Plus, it leverages artificial intelligence software that recommends the best designs according to your business activity and provides daily advice for reaching your web design goals.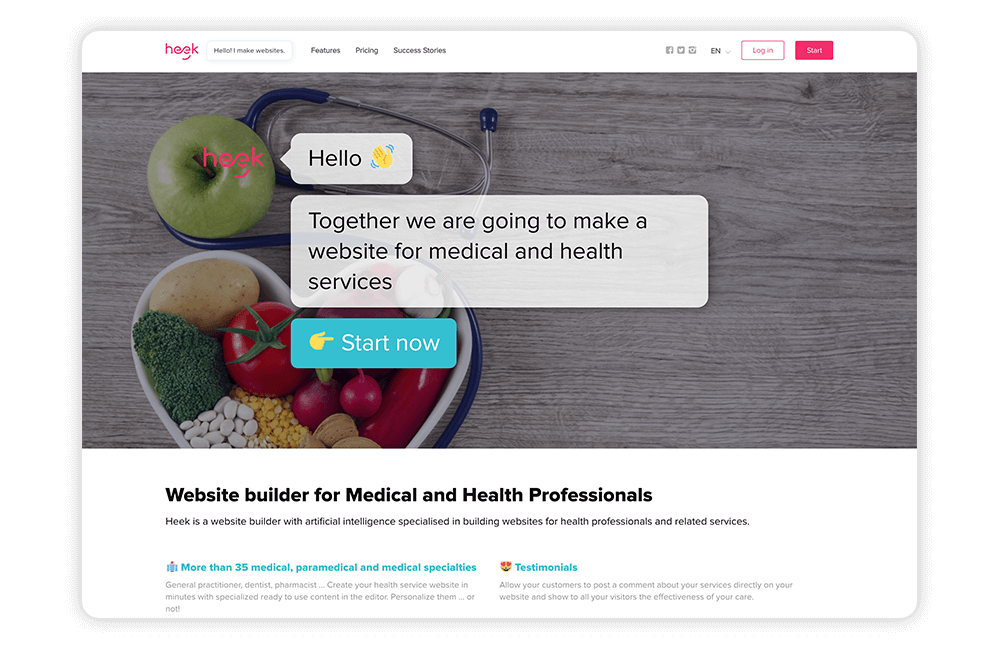 Top Features of this Healthcare Website Builder
Heek comes equipped with a number of features that help you portray your products, services, and team in a positive light. Some of these include:
Scheduling tools. Create an online schedule for consultations and set your availability, so your patients stay fully informed.
Testimonials. Empower patients to post comments about your services directly on your site and share the effectiveness of your care.
Personalized forms. Create a number of personalized forms, from brief contact forms to email newsletter sign-ups.
---

Best Medical Website Builder #6: WordPress
Overview of this Medical Website Builder
If you've spent any time in the web design space, you've likely encountered WordPress, a CMS that's used across a wide range of industries. This popular CMS now offers functionality within the medical field.
This platform has distinguished itself due to its advanced customization tools and plugins for growth and success. However, keep in mind that WordPress is an open-source CMS. For reference, open-source CMS platforms like WordPress require regular updates to prevent cybersecurity threats, whereas a medical website builder like Morweb takes care of the security and maintenance for you.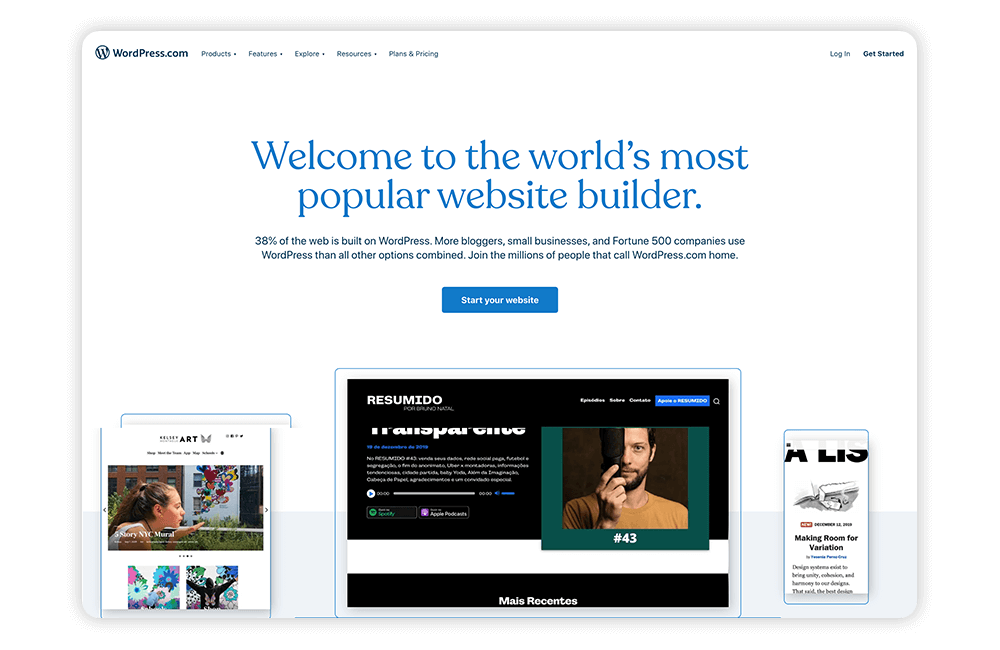 Top Features of this Healthcare Website Builder
WordPress offers a wide range of features, but let's take a look at a few that are specific to healthcare professionals:
Customer interaction tools. WordPress offers a number of integrable tools. For instance, you may choose Easy Social Share Buttons, Request Callback Plugin, Client Portal Plugin, or WP Customer Area.
Blogging tools. This way, you can post niche articles and enable user comments, so you can ultimately position yourself as a trustworthy authority in the healthcare industry.
Extensive collection of plugins to choose from. This medical website builder boasts hundreds of integrable plugins. Some are free to your organization while others require purchasing. Some of the most notable plugins include TrendMD, Booking Calendar, Gravity Forms, and DICOM.
---

Best Medical Website Builder #7: uKit
Overview of this Medical Website Builder
For practicing doctors and small private clinics, uKit is a worthy and simple solution. Its no-coding tools empower less-tech-savvy individuals to establish a notable online presence. Even though the solution makes web design simple for users, you'll be equipped to build a contemporary, functional medical site.
Built for a number of industries, uKit works as an effective medical website builder. However, you'll need to invest in the builder's PRO version in order to gain access to its full suite of tools. Otherwise, you may be restricted to actions that weren't envisaged by professional developers, resulting in a less customizable website.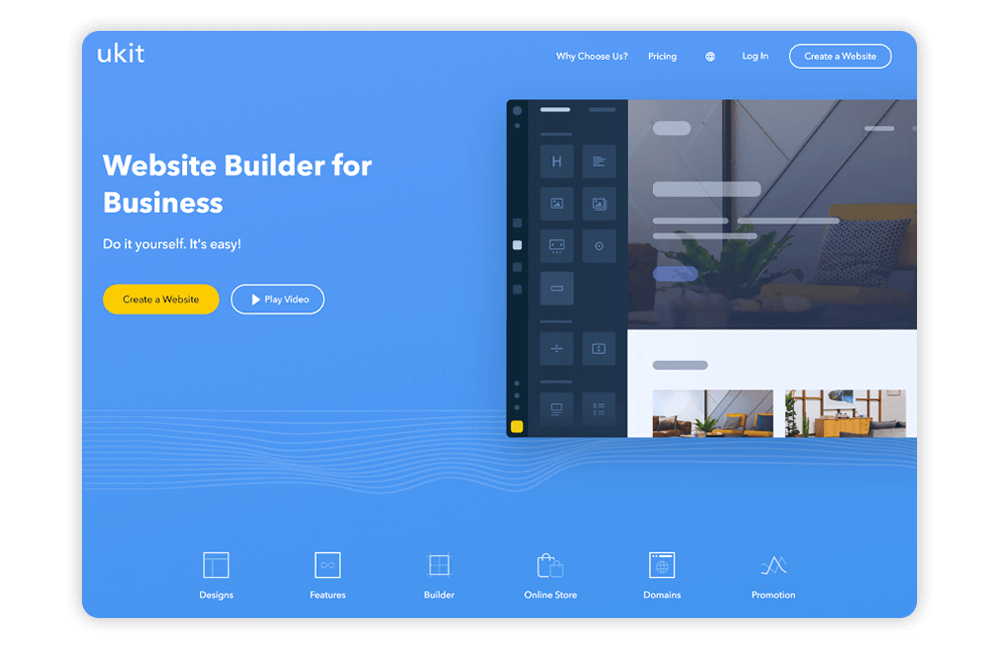 Top Features of this Healthcare Website Builder
Set up a powerful medical site to suit your exact specifications with features such as:
Extensive widget collection. uKit offers a rich selection of widgets to choose from. Pick the apps and extensions to enhance your website's performance, including ones like User Comments, Service Calculator, and Social Networking Buttons.
Live chat. Stay connected with patients and promptly answer any of their questions with the live chat tool. Not only is this a convenient tool for visitors, but it'll also free up your secretary's time by not having to answer as many calls.
---

Best Medical Website Builder #8: Ucraft
Overview of this Medical Website Builder
Ucraft is a DIY website builder that's feature-laden with tools to develop and manage websites for doctors and other medical practices. By utilizing its wide range of features, tools, and options, you'll get the most out of its integrated performance.
With drag-and-drop functionality, this medical website builder makes it easy to present your brand in the best possible light. Best of all, uKit offers a completely free subscription to let first-time users test out its functionality with a limited number of pages and tools. Although, you'll need to upgrade to one of its affordable paid plans eventually to gain access to its complete customizability.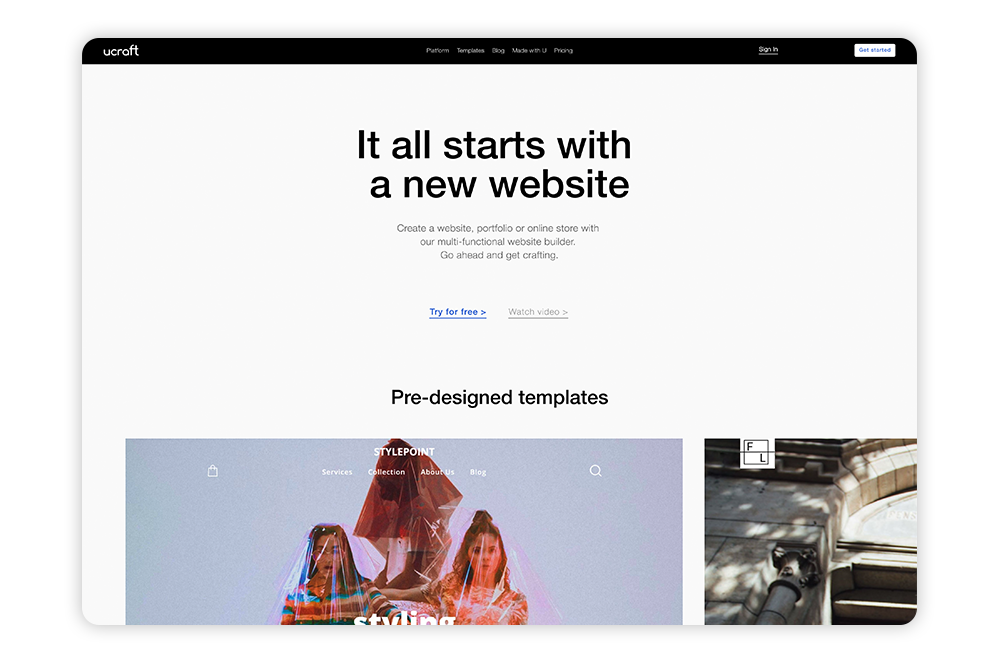 Top Features of this Healthcare Website Builder
By investing in this medical website builder, you'll be able to fully customize a mobile-responsive website that engages your current patients and any prospective ones. Here are some of its primary features:
Landing page creator. Get in front of more prospects with Ucraft's free landing page creator. Whether you're promoting your medical services or asking users to submit a form, the tools you'll have access to will empower you to convert more leads into customers.
Multilingual support. One of Ucraft's more unique features is that it allows for the development of multilingual websites. Present your content in more than one language so that patients and doctors who speak a different first language can easily get in touch with you.
Intuitive editing.

Like

Morweb

, Ucraft offers drag-and-drop editing tools, so you can design your medical site from the front end. You can make changes directly to your web pages and immediately watch your vision come to life.
---

Best Medical Website Builder #9: SITE123
Overview of this Medical Website Builder
SITE123 is another great option for anyone looking to develop a medical website. With this medical website builder, you'll gain access to helpful SEO tools and social media tools for expanding your web presence. There's no coding or design knowledge necessary, making it a great option for beginners.
SITE123 follows a 3-step model for helping organizations get up and running. All you need to do is select your website type, upload your own content, and publish your site to start driving business online in as little as an hour.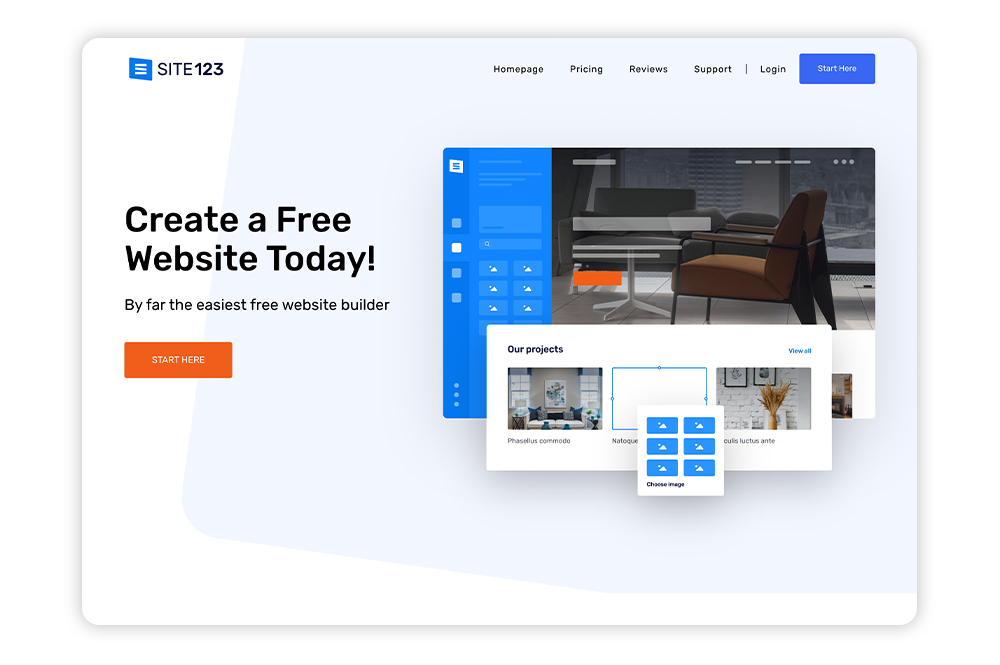 Top Features of this Healthcare Website Builder
Once you invest in this medical website builder, you'll be able to:
Design your own logo. Easily upload your logo on your medical site with pride. Display it front-and-center and adjust its size to stand out on your site. Even if you don't have a logo already, SITE123 offers hundreds of free icons to edit and use.
Integrate with social media. Expand your reach and connect with more social media users by leveraging SITE123's social media tools. Easily add your social network links directly to your website.
Provide users with multilingual support. Similar to Ucraft, you'll be able to launch a medical website in several language versions. All it takes is a few clicks, and you'll be able to connect with more prospective patients.
---
The Gist
With the online world ingrained in today's culture, a well-designed and engaging website isn't something your medical practice can afford to miss out on. Now that you've explored some of the best medical website builders available, you're much more equipped to select one that suits your needs.
While each one has its own benefits, we recommend checking out Morweb CMS for its healthcare-specific tools and ease-of-use. Its intuitive interface will do the heavy lifting, so you can focus on engaging with patients and improving your practice.
Now that you're one step closer to selecting your medical website builder, it's time to dive a bit deeper into the medical web design space. Feel free to explore the resources below so that you can provide the best online experience possible: