Top 15 Membership Website Builders for Associations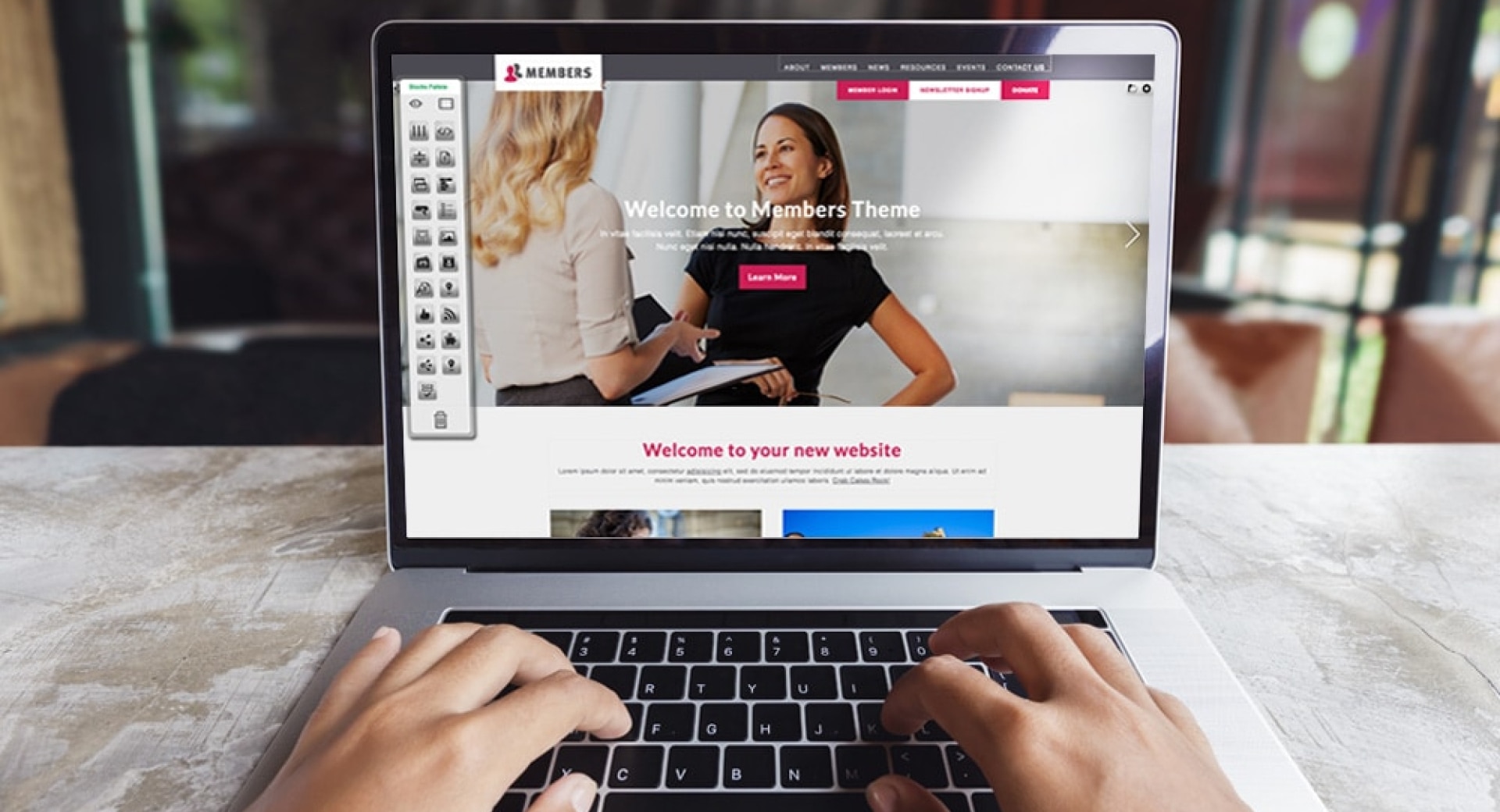 Membership organizations include any entity that serves member groups, from schools to nonprofits to associations to HOAs and unions. Each of these different organizations needs a website to serve its members and communicate with key stakeholders.
How do I create an online membership website?
When redesigning or creating your association's website from scratch, there are many different aspects to take into consideration. One of the most important considerations is your choice of website platform or content management system (CMS). A website builder that is designed for associations will have the right tools to help you grow your web presence and engage with your membership base.
We've compiled a list of the top website builders for associations. Each association is unique, so keep in mind which specific features you need to make your decision about which website builder to use.
The top membership website platforms are:
Ready to find the membership website builder that is best for your association? Let's dive into our top choices!
---

The Top Membership Website Builder: Morweb
Overview of Morweb
At Morweb, we understand that not all associations have coding experts on their team, so we created a CMS that's easy for anyone to use. The sector-specificity of this website builder enables your association to build its online presence with ease.
We built out our website platform to include all of the essential features an association needs to stand out online and grow its member base. Leverage an events module, Intranet portal, online forms, member directories and maps, and API integrations for popular association management systems (AMS).
Why is Morweb one of the top membership website builders?
Morweb's user-friendly design and fully customizable templates make it easy for your association to make your website your own. With the drag-and-drop elements, you have the ability to create new pages, copy old pages, change the layout, add elements or graphics, and much more with a single click of the mouse (no coding or development experience required!)
What really sets Morweb apart is our agency background, which leads to a holistic approach to content strategy. Our team will hold an initial "discovery meeting" with each new client to help them effectively communicate their vision online. Our approach to content strategy includes an in-depth review of your website page structure and navigation to align with the needs of the different types of users that visit your membership website.
With open source CMS platforms, you need to update the system and plugins on a regular basis to prevent cybersecurity threats. Morweb takes care of security and maintenance for you, so you just have to worry about creating great content! Plus, our support team is always willing and eager to help you along the way through phone calls, emails, and live chat support at no additional cost.
Best Membership Site Software Features
Morweb's membership website builder offers tons of great features that will help your organization stand out. Here's just a glimpse into our platform's robust functionality:
Intranet portal. Associations have the flexibility to create password-protected pages where members can share internal information, participate in forums, register for private events and even post RFPs or job openings.
Member directory. Through Morweb-designed sites, your association can add, edit, and categorize members into a member directory (and on an interactive map!) so that members can easily search for others to connect with.
API Integration with AMS's. Morweb has built-in single sign-on (SSO) and deeper integration that will seamlessly pass data between your website and your association management system (AMS). With flexible templating, Morweb can build out your member portal to best serve your members.
Course module. Morweb has an online courses module that allows member organizations to post video courses for free or charge a fee. It also comes with a quiz module to create online tests.
Morweb Pricing
Morweb offers affordable pricing for every budget. Start using our membership website builder with our Starter plan, which is just $99/month. Upgrade to one of our other plans to gain access to even more features.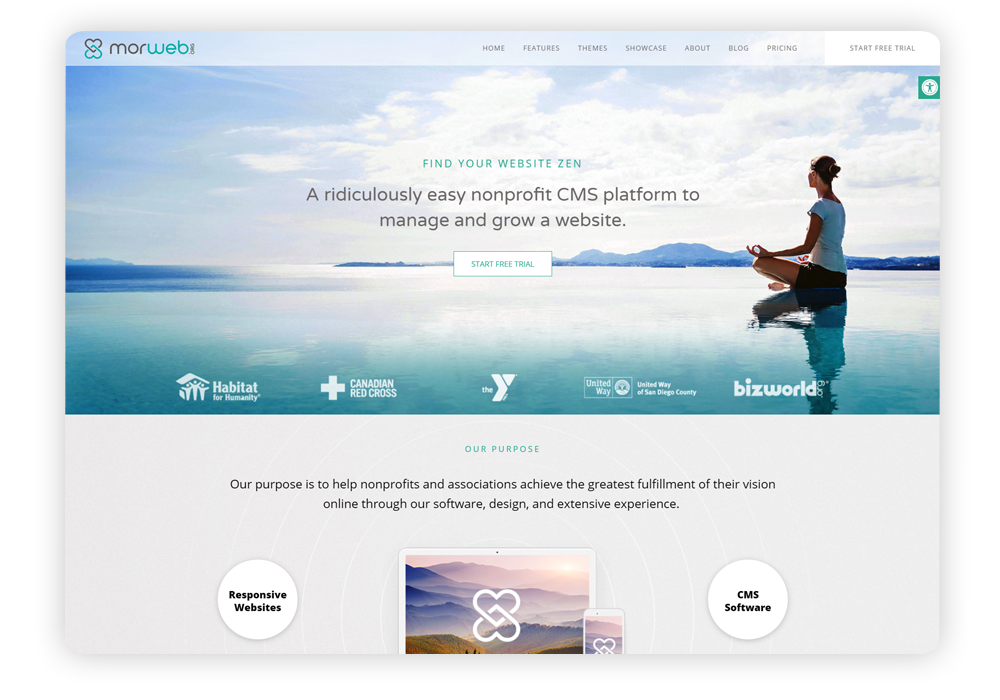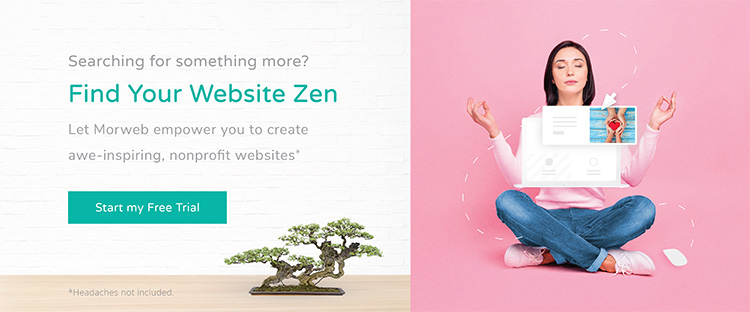 ---

2. Top Membership Website Builder for Nonprofit News: WordPress
Overview of this Membership Website Builder
WordPress is one of the oldest and most popular blog platforms on the internet and is used by organizations of all shapes and sizes. While WordPress is not known as a website builder, it has thousands of plugins that make website building possible. It is mostly used by web designers to create everything from membership websites to hobby blogs to news sites.
Because this website builder is used as a resource for so many website creators around the world, there are countless resources online. If you're unsure how to do something in WordPress, you can type your question into a search engine to find an online forum.
Why WordPress is One of the Top Membership Website Builders
The universal uses of WordPress make it an appealing platform for a wide variety of associations. WordPress offers various economical plans depending on the features you want on your association's site. There is a free version to get you started, a premium option that is advertised as best for bloggers, and a business option best for small businesses or associations.
Best Membership Site Software Features
Website themes. WordPress offers thousands of website themes to choose from. Each theme varies in style and functionality; you can check out this list of popular themes for membership-specific websites. Association specific themes are not the most popular but there are still a few decent out there. You'll most likely need a web designer to customize a standard business theme for your needs.

Tons of plugins. Not only do WordPress themes make it easy to create your website, but you also have access to thousands of plugins to continue improving your website's SEO, visualization, and other elements. These plugins, many of which are free, include top downloadables such as Yoast SEO, Swoop, WooCommerce, and Polylang to further customize your association's website.

Integration with AMS's. Due to its popularity, quite a few AMS platforms have built plugins specifically for WordPress.

Code view. If you have a background in coding, WordPress makes it easy to flip to the code view and edit HTML elements.
WordPress Pricing
WordPress is open-source and free for anyone to use. Website themes and hosting are sold separately.
---
3. The Top Membership Website Builders for Building Custom Apps: Drupal
Overview of Drupal
Drupal is an open-source content management system (CMS) with a large community of developers who work together to support each other in building engaging websites. It is the third most popular CMS on the market, behind WordPress and Joomla. This is due to its extreme flexibility and scalability.
Why is Drupal one of the top membership website builders?
Drupal is a vast and complex platform with a wide variety of features and design elements for building a membership website. The CMS platform is a great option for enterprise-level organizations that require highly- customized web applications.
While Drupal is a favorite among web developers, the CMS can be challenging for coding newbies. If your membership organization doesn't have a developer on-hand, you may want to hire an agency or contractor to manage ongoing updates and website maintenance.
Best Membership Site Software Features
Here are just a few features that landed Drupal on our list of top membership website builders:
API integration. Drupal makes it easy to integrate your website with third-party applications. The RESTful Web Services API feature supports communication between native mobile iOS/Android apps and a Drupal site.
Responsive design. Drupal websites automatically scale to fit the user's screen size, offering a great user experience on every device.
Loading speed. This membership website builder uses a cache feature which allows previously viewed content to load quickly, thus increasing the website load speed.
SEO tools. Drupal offers multiple options for SEO in the form of modules. Users can edit URLs and download modules to add meta tags.
Drupal Pricing
Drupal is open-source and free to use. Website themes and hosting are sold separately.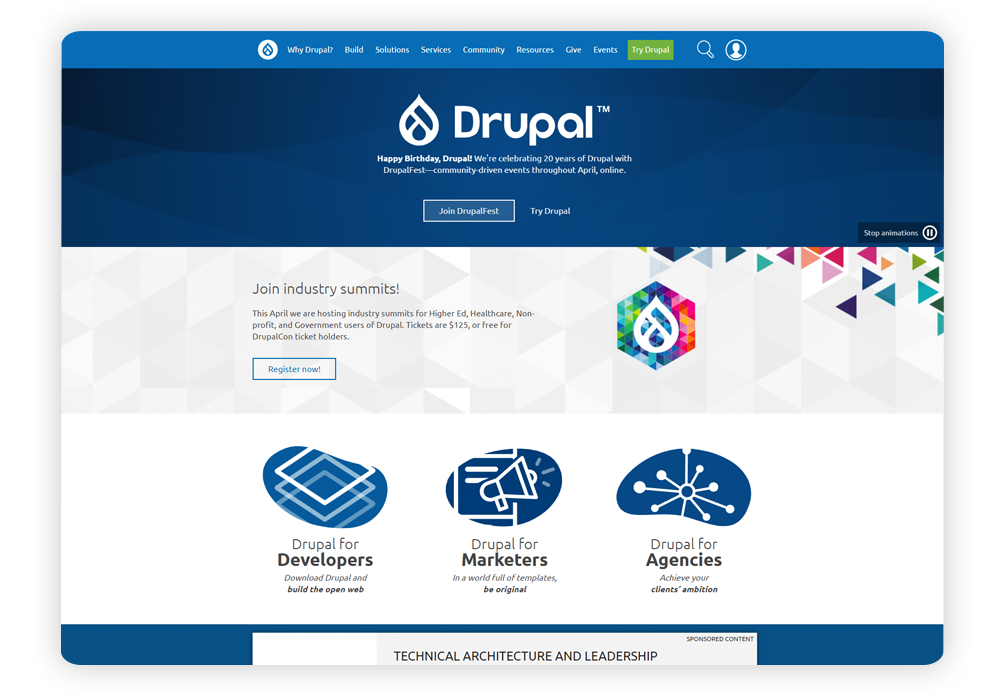 ---

4. Top Membership Website Builder for Events: ePly
Overview of this Membership Website Builder
ePly is a powerful, completely configurable event planning software that can help your organization plan and manage any type of event. While ePly is not primarily marketed as a website builder, this software platform comes fully equipped with the ability to custom make a webpage for your organization's event.
ePly's robust event planning tools, coupled with its ability to construct custom webpages and mobile applications, ensure that this software platform is useful for a variety of event hosts, with specific solutions for universities, business, and associations.
Why ePly is One of the Top Membership Website Builders
The web building tools provided by ePly take into account the complexities of hosting events and ensure that any organization that uses its event planning software is completely prepared to tackle the task at hand.
Their page-building tools ensure that all members of an organization have access to the same information and can make coordinated decisions. Meanwhile, their mobile app completely streamlines the entire event management process with its unique features.
Best Membership Site Software Features
Building an effective webpage for your organization is no easy feat. ePly, however, knows what organizations like yours rely on successful events and can help you expertly craft a webpage that directs your organization members to important information, such as:
How to start an event for their own chapter or locality.
How to reach out to your organization's ePly expert for support.
Forms pertaining to your particular organization.
But, ePly's web design expertise doesn't stop there. The mobile application feature from ePly is completely customizable and branded to your organization—ensuring the app looks like a seamless extension of your organization's existing web presence. They will create the app to satisfy any of your event planning needs, with tools designed for:
Mobile check-in.
E-ticketing.
Managing the event calendar.
PCI compliant payment processing.
ePly is aware of the obstacles your organization faces as you plan your event. Its webpage and mobile app building technology is designed to exceed your organization's expectations and guarantee a more efficient event planning experience.
ePly Pricing
ePly costs $500 - $800 per year for a website. Additional event applications for conferences and virtual venues cost up to $30,000 annually.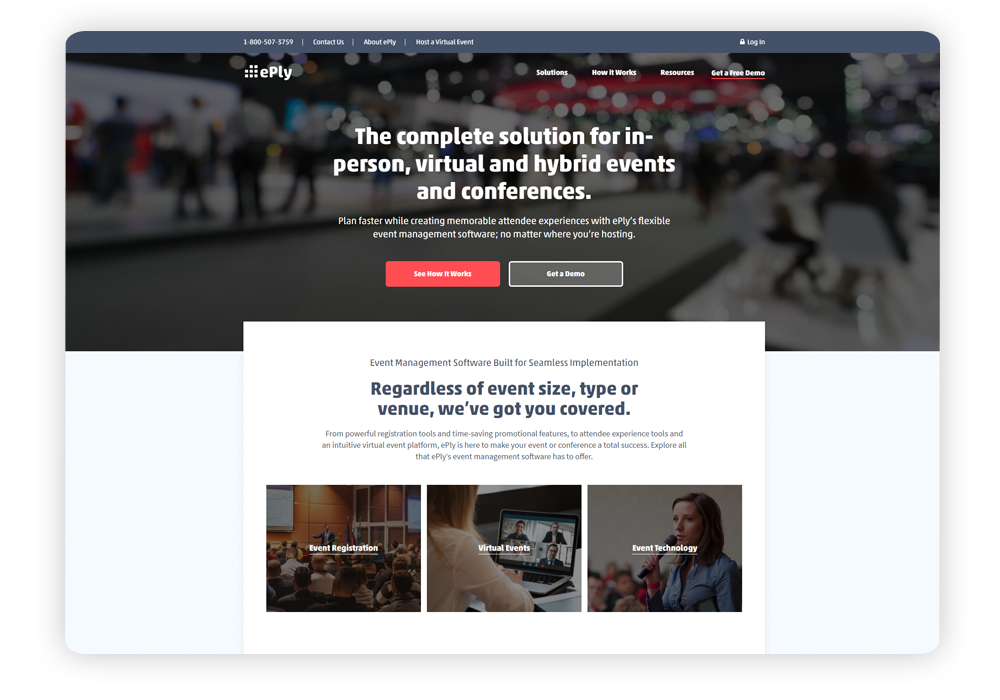 ---

5. Top Membership Website Builder for School Communication: Blackbaud
Overview of Blackbaud
Blackbaud is a cloud software company with a variety of solutions for nonprofit organizations including financial management, fundraising, marketing, payment services, and learning management.
Blackbaud's learning management system (LMS) facilitates communication between school administrators, teachers, and students. While not a traditional membership website, the platform makes it easy to manage and engage members of your student body and educational staff.
The platform offers an array of tools for managing courses, athletic teams, academic advising, and other activities. In turn, schools can help your team support the entire student journey and drive exemplary educational outcomes. Hundreds of K-12 private schools and higher education institutions rely on this platform to promote academic excellence, making it a trustworthy choice for your school.
Why is Blackbaud one of the top membership website builders?
Blackbaud is an excellent learning management platform, because it has integrated data flow from the enrollment management system and a wide range of communication tools for students, teachers, and advisors. Its mobile-friendly communication tools encourage student engagement and collaboration., resulting in a much more engaging learning environment.
Best Membership Site Software Features
Set your students and educators up for success with these great features from Blackbaud's LMS:
Course management. Blackbaud's course management system enables teachers to manage assignments and assessments from any device, including smartphones and tablets.
Activity pages. With Blackbaud's platform, teacher and student groups are able to create club pages and forums to share news, events, and announcements.
Mobile editor. Editing tools are accessible from every device size, allowing busy teachers and administrators to manage learning activities on the go.
Online assessments. With Blackbaud's assessment features, teachers can create tests and automatically upload grades to the learner portal.
Blackbaud Pricing
Blackbaud's pricing for its LMS varies between K-12 schools and higher ed. Contact the company for pricing details.
---

6. Top Membership Website Builder for Security: GoCentral
Overview of this Membership Website Builder
GoDaddy's membership website builder, GoCentral, focuses on speedy website development. They advertise that you can create your site in under an hour from their platform.
GoCentral is a straightforward site builder that is great for small organizations and associations. While the capabilities might be more limited than a more expansive platform, it makes it easy to create a hassle-free membership site.
Why GoDaddy is One of the Top Membership Website Builders
GoCentral offers website templates specifically tailored for membership platforms. Many of these templates are targeted toward museums because museums gain the majority of their revenue through their members.
These templates offer features such as the ability to sell tickets, view event calendars, and add an online merchandise store. This lightweight management system as a part of your association website helps to keep members engaged.
Best Membership Site Software Features
Security backups. If you've ever spent a long time looking for lost or corrupted files, this backup can really save you a lot of time. GoDaddy offers a service to save your website files once a day to the cloud.

Website experts. GoCentral offers your organization the option to hire experts in web design, eCommerce, and logo design. With this platform, even if you aren't a designer, you can easily find one to help your association make a top-notch website.
GoDaddy Pricing
GoDaddy's website plans range from $12.99 per month for the most basic plan to $39.99 for an eCommerce website.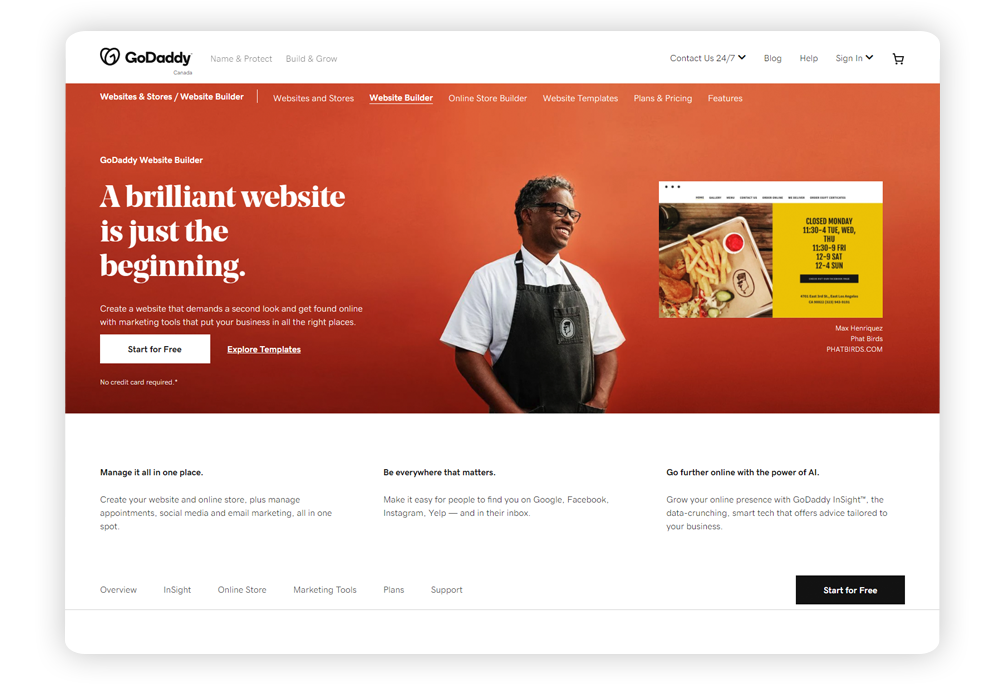 ---

7. Top Membership Website Builder for eCommerce: Weebly
Overview of this Membership Website Builder
Weebly is a website builder that focuses on making attractive websites for professionals, especially those who want eCommerce capabilities. If your association is looking to set up a prominent eCommerce store, Weebly could be the right CMS platform for you.
Why Weebly is One of the Top Membership Website Builders
Weebly has one of the most intuitive interfaces for website editing. Using their drag-and-drop editor, you can customize your association's website content to suit your specific needs.
The mobile expertise of Weebly is really what sets it apart from other web platforms. Not only is your website mobile-responsive, but Weebly also makes it easy to work on your site while you're on the go with their mobile app.
Best Membership Site Software Features
eCommerce capabilities. Not only can Weebly handle the payment processing associated with your membership website online store, but it can also help track your inventory and showcase your products. Slideshows and videos make it easy to show off the association swag you wish to sell to your members. Then, you can easily ship the product using their shipping tool.

SEO tools. Powerful SEO tools can help ensure your website is found by Google and other search engines. Instead of installing a bunch of plugins, the tools are available to you right there from the membership website builder. They even have a guide to show you how to follow these SEO guidelines and optimize your meta descriptions, meta titles, images, etc.

Mobile app. Weebly's mobile app offers site integration, meaning you can edit your website or check important stats like your site's rankings directly from your phone!
Weebly Pricing
Weebly's business plans cost $15 or $30 monthly. Websites can be hosted through Weebly or a third party.
---

8. Top Membership Website Builder for Easy Designing: WebStarts
Overview of this Membership Website Builder
WebStarts is a membership website builder that focuses on a one-stop-shop for all your website needs. The comprehensive system hosts your website in the cloud so you never need to worry about configuring web servers.
This CMS platform works on a what-you-see-is-what-you-get tool for designing your website. This solution is ideal if you are unsure how to best configure a template on a CMS platform. All you need to do is drag and drop different elements where you want them to appear on your site. There is no code to worry about or template customization restrictions.
Why WebStarts is One of the Top Membership Website Builders
WebStarts also has design features such as over 700 fonts to choose from, anchor links, image editing, and an icon library. All of these design options make it easy to personalize and adjust your website according to your design preferences.
This platform offers different pricing tables for different types of organizations. A free version is available to get you used to the platform, meanwhile Pro is perfect for individuals, Pro Plus for clubs, and Business for businesses or associations looking to grow.
Best Membership Site Software Features
Sitemap. WebStarts enables your organization to upload a sitemap for your site. With a sitemap available, search engines have a much easier time finding your web content. This aspect of SEO can help your site do better in its rankings through search engines like Google.

eCommerce capabilities. Your association can easily set up an online store and begin selling merchandise from your website immediately. It has the capability to accept credit card payments directly from your website.

Free graphics. Webstarts give you access to hundreds of free fonts and icons to help you build an attractive membership site.
WebStarts Pricing
WebStarts Pro Plus plan costs $14.32 per month and its Business plan costs $39.98 per month. Discount may be available.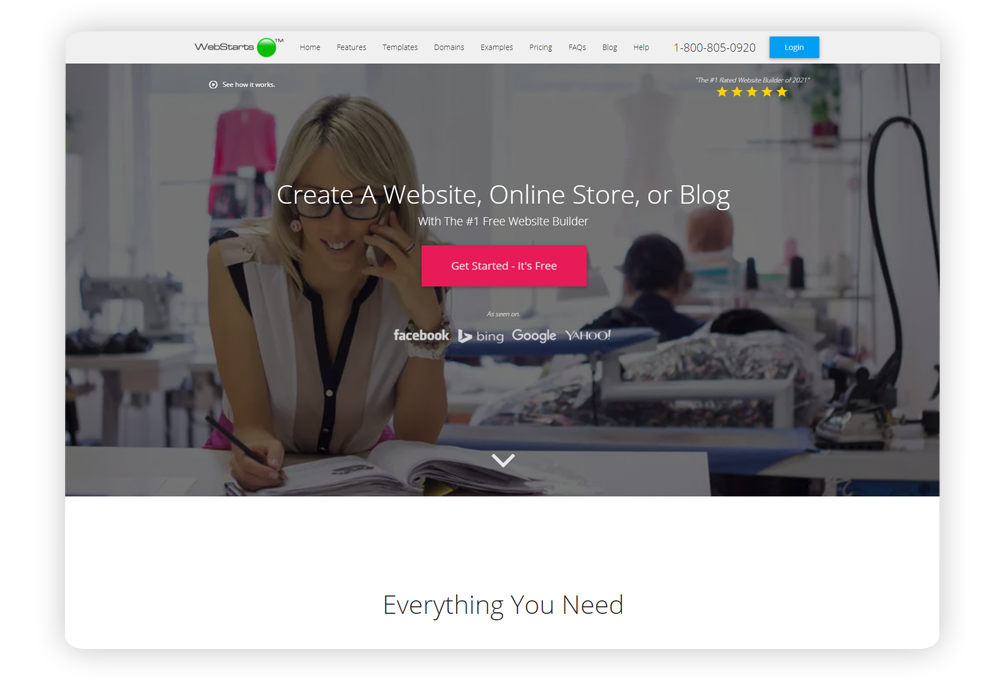 ---

9. Top Membership Website Builder for a Holistic Business Approach: Simbla
Overview of this Membership Website Builder
Simbla's website builder is developed specifically for businesses, offering responsive templates and photos to incorporate into your association membership website. It's built on Bootstrap3, a collection of web application tools that includes coded templates for forms, buttons, navigation, and other useful website elements.
The Boostrap3 base for Simbla makes it easy to use their drag-and-drop building interface. You won't need a web designer or coding proficiency because these pre-made elements are all available through the CMS.
Why Simbla is One of the Top Membership Website Builders
Simbla's services are described as a "holistic solution" for businesses. Your website is stored on their server farm. They use a third-party audit for security testing so you can be sure that your site is secure for you and your members.
Best Membership Site Software Features
Online database builder. Simbla offers a database builder to help your organization to create and manage an online cloud-based database for all of your association's actions.

Web application builder. You can create web applications that communicate directly with your database. This streamlines processes between the premade widgets on Simbla's platform and your online database.

Domain purchasing. When you create a website through Simbla, you can purchase your domain right there through the site. This eliminates the headache of connecting to other outside domain purchasing sources.
Simbla Pricing
Simbla's basic plan costs $12 per month and its pro plan is $48 per month.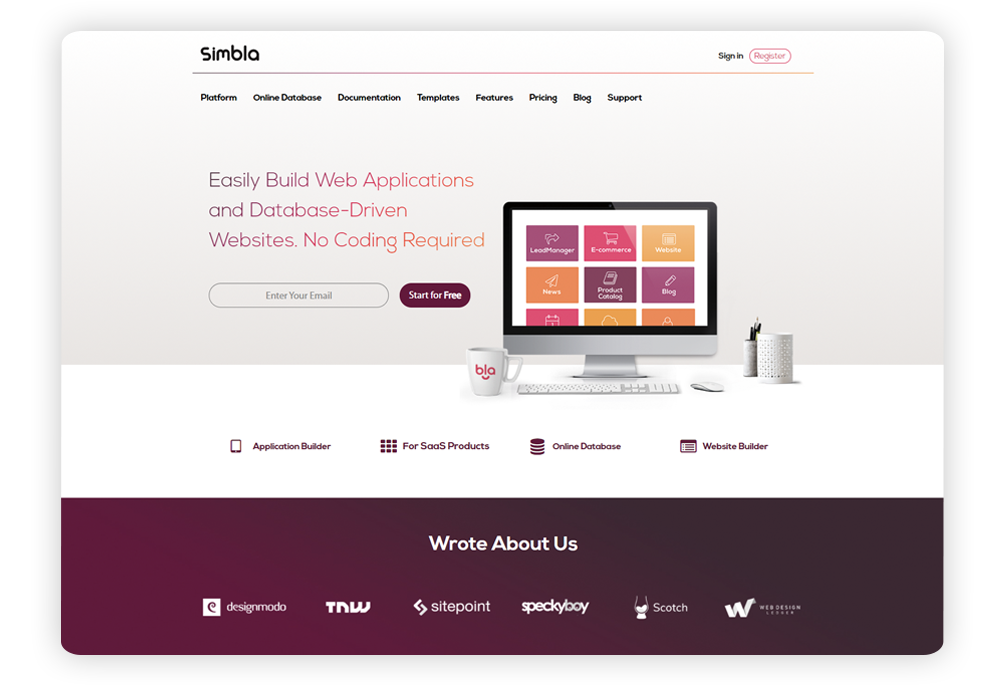 ---

10. Top Membership Website Builder for Working Offline: TemplateToaster
Overview of this Membership Website Builder
TemplateToaster is a unique membership website builder because it is not a theme, plugin, or web app that you may be expecting. Instead, it's a software designed for Windows that helps your association to build an attractive website offline through your favorite content management systems.
It has plenty of templates for your chosen CMS, (as suggested by the name TemplateToaster); but it also has so many more features to help your association create an attractive website.
Why TemplateToaster is One of the Top Membership Website Builders
TemplateToaster enables you to add all the design elements you want with no hassle. These elements include popular website features such as a menu builder, WYSIWYG editor (enabling customization of text and tables as well as image browsing), and slideshow capabilities.
Best Membership Site Software Features
Offline editing. Because this is a software that you download, it is not necessary that you have an immediate internet connection in order to work on your website design.

Mobile-responsive. TemplateToaster recognizes the need for mobile-responsive sites in today's increasingly mobile world. Sites built through this software are all mobile responsive and Bootstrap compatible, meaning you can renew or improve your theme without hindering the responsiveness of the live site.
TemplateToaster Pricing
TemplateToaster's Standard Edition costs $49 and its Professional Edition costs $99.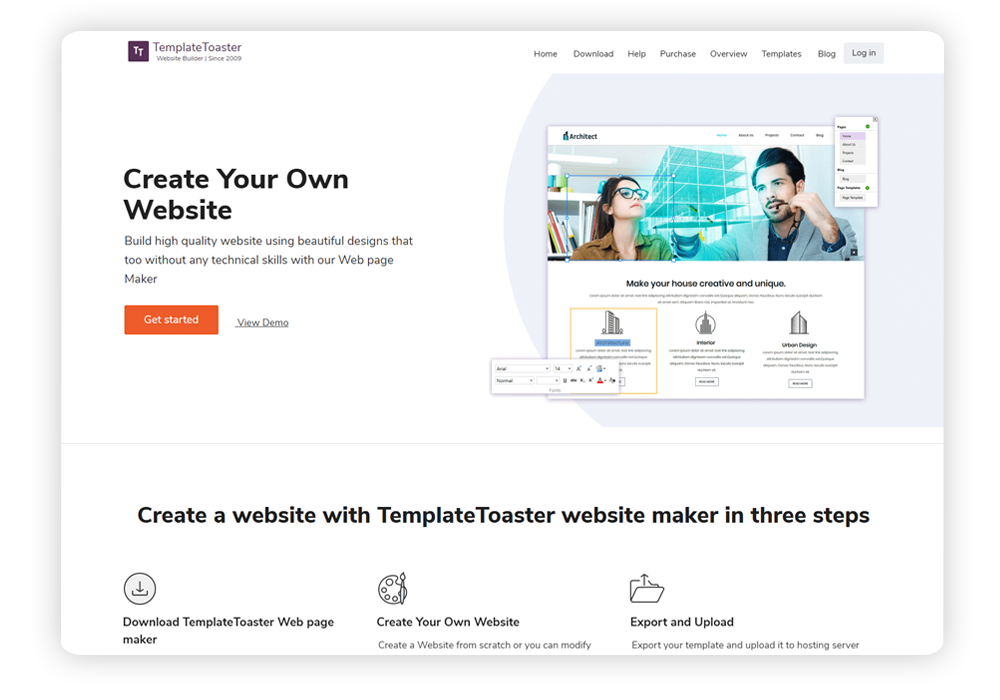 ---

11. Top Membership Website Builder for Automation: Wild Apricot
Overview of this Membership Website Builder:
When it comes to membership website builders, Wild Apricot is at the top of its league. Their platform was built specifically for membership organizations and in fact isn't solely a website builder, but an all-in-one platform that includes many additional features like registration forms, event calendars, a mobile app, and an online store.
Why Wild Apricot is One of the Top Membership Website Builders
Their editor is flexible for all kinds of users; the interface is extremely easy to use for beginners, but you can also tweak CSS settings or modify an existing site if you already have one. What's more, your website comes ready with a robust membership database and emailing system so you can analyze your members and communicate with them at ease. Plus, they have six plans to choose from that can fit your needs and budget — whether your group is just growing, or if you already have an established member count running into the thousands.
Best Membership Site Software Features
Subscription-level Options: Wild Apricot allows users to create multiple membership levels with subscription fees, periods, and benefits customized to each level. That means you'll be able to restrict content and web pages to certain members while giving access to applicable members.
Admin & Member Apps: Wild Apricot has released apps for both members and admins on all IOS and Android systems. These apps can be used to view member data, check attendees into events, and facilitate payments all on a portable device.
Website Templates: Each free Wild Apricot trial comes with access to their professionally designed membership website templates to get your site up as soon as possible. You can customize each template to your liking and have a professional website up in just a matter of hours.
Wild Apricot Pricing
Wild Apricot offers a wide range of plans for different sized organizations. The Group plan starts at $50 per month, the Professional plan costs $160 per month and the Enterprise plan costs $350 per month.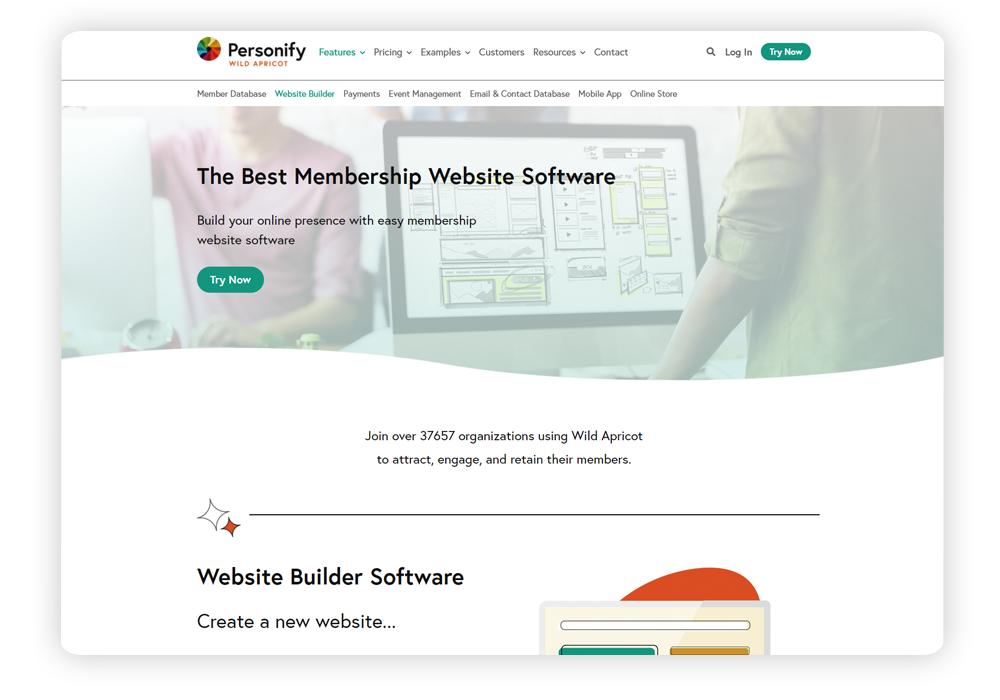 ---

12. Top Membership Website Builder for Organizations Using Quickbooks: Novi AMS
Overview of this Membership Website Builder
Novi AMS is an association management system that features a CMS dedicated to the needs of associations. While not primarily marketed as a CMS, having the AMS and CMS functionalities work together means you won't have to figure out a way to make the two communicate seamlessly.
This membership website builder will help you create a hub for all of the information your members may want to access, as well as allow you to create an effective member directory. If you're already using QuickBooks as your accounting software, you'll also be able to sync your financial information between the two platforms.
Why Novi AMS is One of the Top Membership Website Builders
The websites you can create with Novi AMS are fully customizable to your organization, so it's easy to create an engaging website with familiar branding for your members. The websites are also mobile responsive, so they can be viewed on any device without issue. In addition, you can edit your site on the go using your smartphone.
Best Membership Site Software Features
Responsive design. Create an association website that functions equally well on any type of device, including desktop, mobile, and tablets. This way, members can easily access important links such as their member portal login.
Functionality. Easily update your association website with little to no coding experience necessary. Novi AMS's click-to-edit capabilities allow your team members to edit the front end of your website without needing to access the source code.
Member portals. Allow members to visit your website so they can log into their portals, access communications, and update their information.
Member directories. Novi AMS's CMS offers a directory in which members can promote their products and services to other member companies.
Google Analytics tracking and SEO tools. Learn more about your web traffic through Google Analytics and take advantage of automated search engine optimization (SEO) tools that will improve your website's visibility on popular search engines.
Novi AMS Pricing
Novi AMS pricing is done on a quote basis. Call the business for a quote.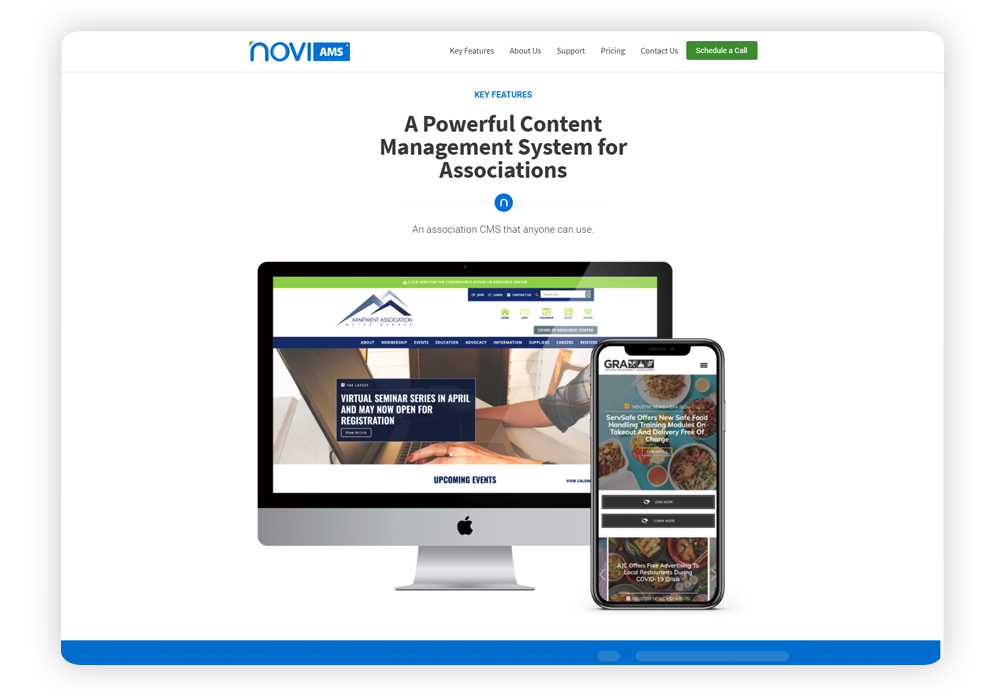 ---

13. The Top Membership Site Platform for Higher Ed Institutes: Modern Campus
Overview of Modern Campus
Modern Campus is a membership website platform for higher education institutions that helps to create a positive student experience from enrollment to graduation. The platform's content management system, Omni CMS, offers diverse features including to build a strong educational community online.
Transform your digital brand by taking advantage of image galleries, forms, surveys, polls, and more. In turn, you'll develop a tight-knit learning community. Empower your team to easily deliver the highly personalized web experience that modern learners expect and that modern higher education providers need to thrive.
Why is Modern Campus one of the top membership website builders?
Modern Campus is a great website builder for educational institutions due to its specialized features and student-first approach. The CMS allows colleges and universities to prioritize the student experience with a platform that is easy for school administrators to use. Today's students recognize the difference between mediocre and modern, which is why Modern Campus gives you everything you need to curate a personalized branded experience without struggle.
Best Membership Site Software Features
Modern Campus empowers institutions with these carefully designed membership site features:
Drag-and-drop editor. Omni CMS has easy drag-and-drop features for building pages and keeping content frequently updated.
Student enrollment. Modern Campus offers student enrollment features, allowing you to create course curriculums and accept registrations through an intuitive interface.
Intranet portals. Create user portals to serve different higher ed groups such as teachers, staff, students, and alumni. Users can communicate with each other and share private files through a password-protected portal.
Marketing features. Modern Campus' features allow you to push web pages to your school's social media accounts and engage audiences with blogs and photos.
Modern Campus Pricing
Contact Modern Campus to line up a demo and receive pricing information for their membership website builder.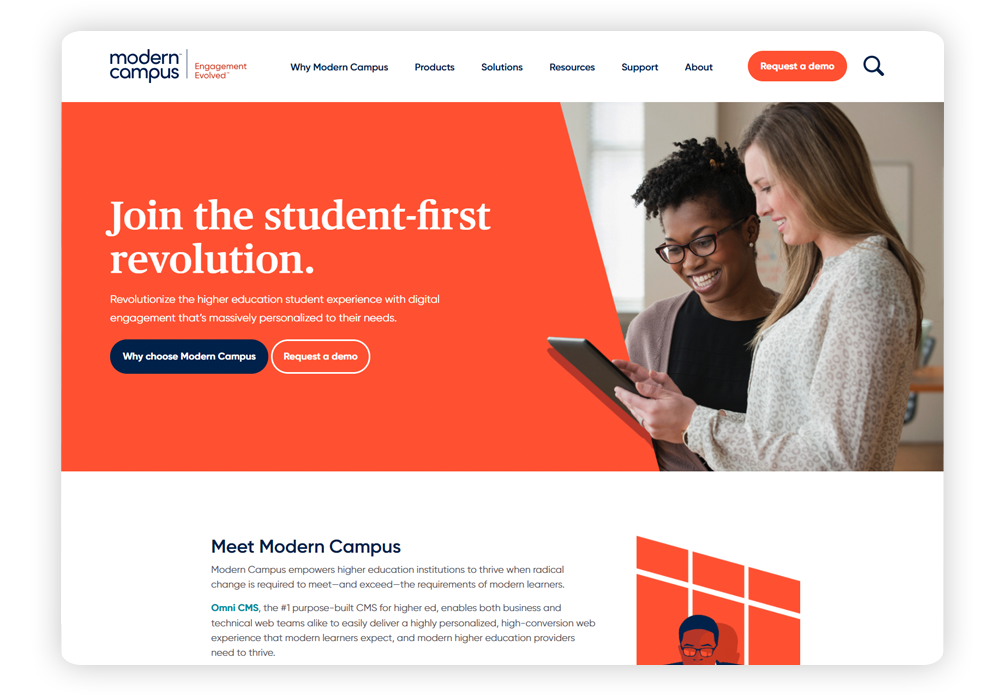 ---

14. The Top Membership Website Software for Built-In Analytics: Squarespace
Overview of Squarespace
Squarespace is a website builder with beautiful designs and built-in tools for tracking website traffic. With plenty of features, this generic solution can transform into a functional membership website builder, providing everything you need to grow your online presence and connect with members.
The platform simplifies the website building process with pre-designed themes and optional extensions to add functionality to your membership website. Squarespace's analytics features are similar to Google Analytics and offer important metrics on website visitors and user engagement. That way, you can stay up-to-date on your site's performance with built-in analytics that help you pinpoint areas for improvement.
Why is Squarespace one of the top membership website builders?
Squarespace is known for its attractive website themes and user-friendly interface. Membership organizations are able to build a website themselves and add new content without help from a professional web developer. For data-driven organizations, its analytics features allow you to track important metrics about your website in a simple dashboard.
Best Membership Site Software Features
Make the most of your organization's online presence with these Squarespace features:
API integration. Member organizations can choose from a variety of Squarespace extensions that are integrated with third-party platforms like Delighted, Quickbooks, and Smart SEO.
Email marketing. Squarespace allows you to build engaging email campaigns with the same drag-and-drop editor as your website. You can also send the emails out from your website platform.
eCommerce. Squarespace offers eCommerce templates for creating an online store to sell merchandise and digital products through your association's website.
Scheduling features. Squarespace's online calendar offers scheduling and syncing features to manage appointments.
Squarespace Pricing
Squarespace's pricing plans range from $26 per month for a business website to $35 for a Commerce website and $54 for advanced Commerce features.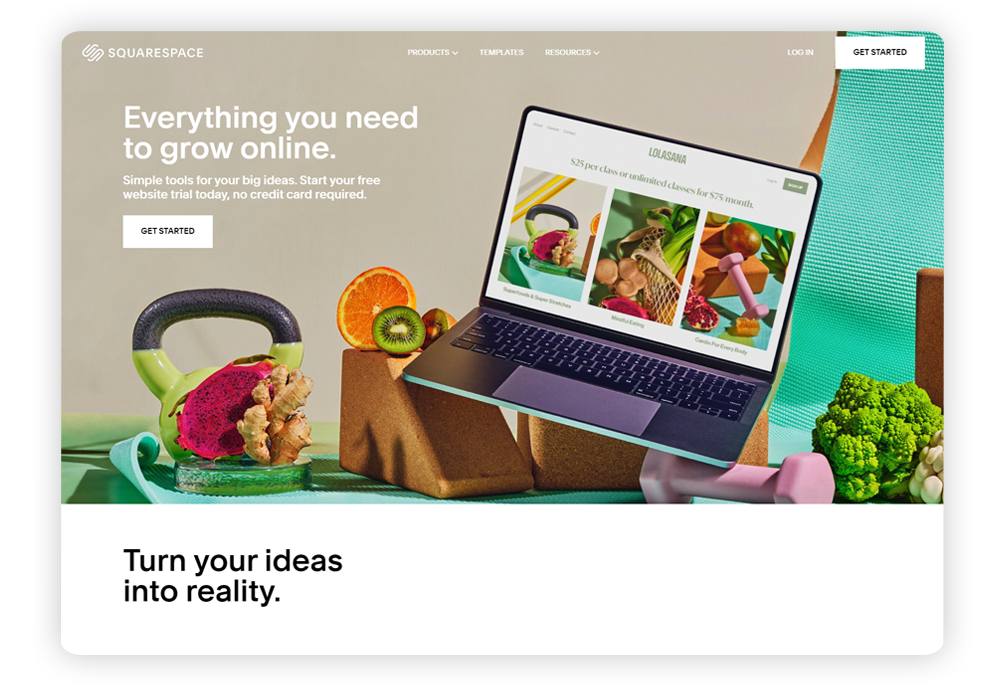 ---

15. The Top Membership Platform for Startups: Wix
Overview of Wix
Wix is a powerful website-building tool for organizations on a budget. The website builder has tons of attractive website themes and templates to get your membership website up and running quickly. Wix is a popular platform among small businesses and consulting professionals because it has affordable basic plans with simple drag-and-drop editing features to design an effective website in both desktop and mobile view.
The Wix App Market offers a wide range of applications to build out functionality for your startup website. Choose from features like eCommerce, events, pop-ups, and more to help your site cut through the noise. Their suite of 250+ applications makes it easy to connect with members and deliver the exact experience you want.
Why is Wix one of the top membership website builders?
Wix is a great option for startup associations because it doesn't require any coding expertise to design a professional-looking website. The front-end editing tools allow users to easily add text, images, videos, blogs, galleries, and more. Wix's membership website builder also comes with web analytics and email capabilities.
While drag-and-drop editing makes adding content easy, Wix doesn't have any restrictions for where you can put blocks, so be aware that it is easy to overcrowd your membership site. Hiring a web designer to create the initial design will help ensure your website is user-friendly and communicates effectively.
Best Membership Site Software Features
When you invest in Wix's membership website builder, you'll gain access to a suite of helpful tools, including:
Appointment scheduling. Wix's calendar feature allows users to book appointments and receive appointment reminders through text or email.
Social media integration. Social media is an important communication tool to engage with members and grow your online presence. Wix allows you to link to your social media profiles and embed live feeds.
Mobile editing. Wix has a mobile application to view website metrics or make content updates on-the-go.
Members area. Build a members-only area for visitors to register an account and gain access to exclusive pages and services.
Wix Pricing
Wix's business plans range from $14 to $20 per month.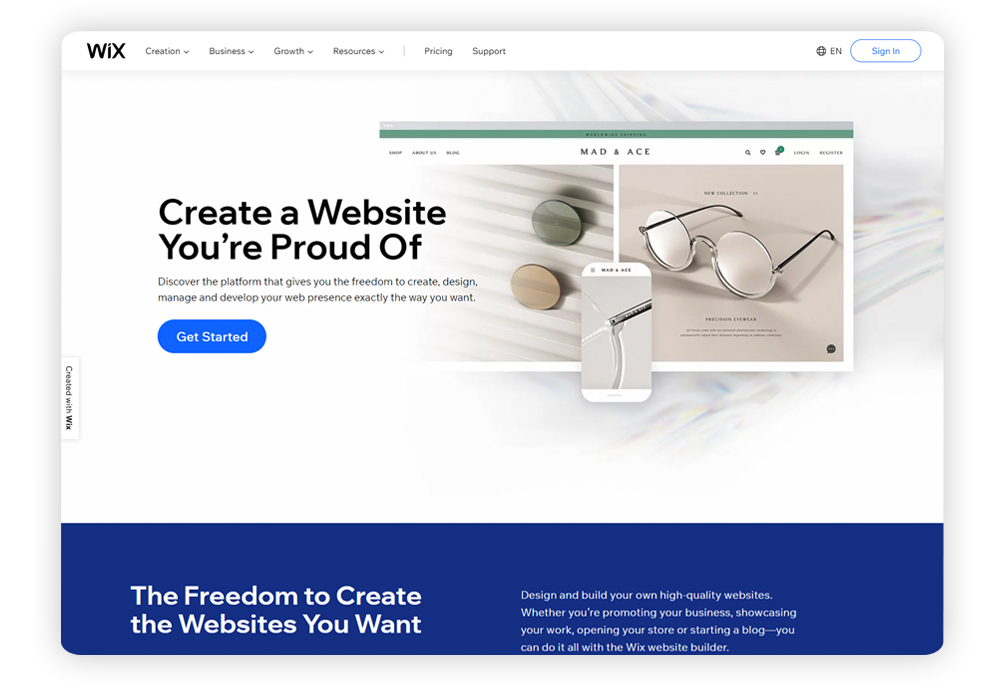 ---
The Gist
You've perused your association's membership website builder choices with this guide, but it's not time to quit your research just yet! There are so many other functions and considerations to help you maximize the use of your website.
Check out the resources below for more information about these opportunities and more: