The Top 19 Nonprofit Event Software You Should Know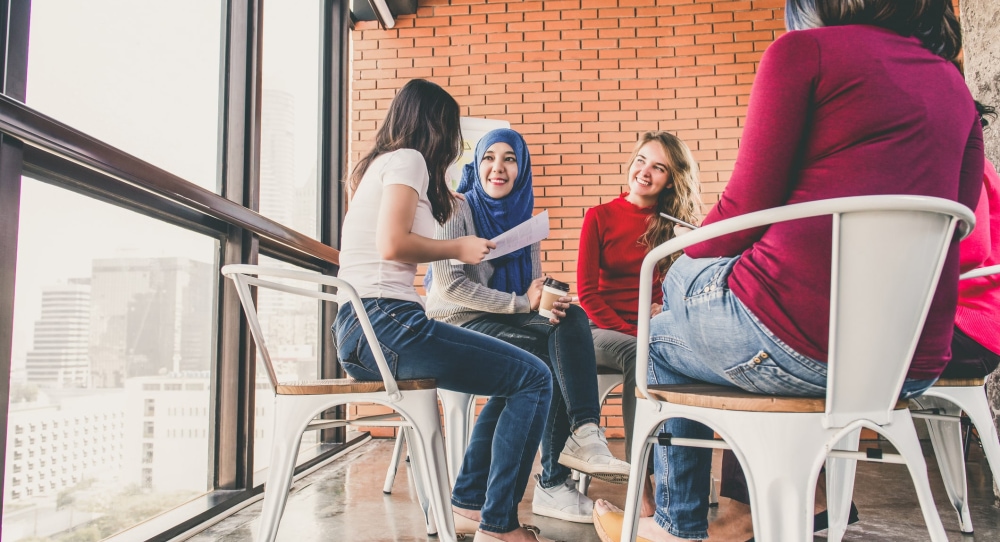 Events account for a large portion of many nonprofits' fundraising revenue. When planned thoroughly and effectively, they can secure invaluable support for your cause, but there are countless details to keep up with.
Whether you're hosting a major charity auction, a community-wide 5K, or a small-scale networking dinner, dedicated nonprofit event software will take care of the backend processes so you can focus on engaging attendees.
There's a variety of platforms to choose from, each with its own specializations. Nonprofit event software can help with everything from event registration and donation processing to donor screening and corporate philanthropy. It's just a matter of locating the right platform to suit your needs.
To help, we've narrowed it down to the top 19 fundraising event software options for today's forward-thinking nonprofits. We've done all the research, so you don't have to. Here are the platforms we'll walk through:
By the time we're finished, you'll have everything you need to make an informed decision and start planning your next event. No matter which solution(s) you choose, you'll be equipped to engage your supporters and boost your fundraising potential. Let's kick things off with our top choice: Morweb.
---
Morweb | Best Nonprofit Event Management Software for Custom Event Pages
Nonprofit Event Software Overview
Designed specifically for nonprofits and associations, Morweb is a content management system (CMS) that empowers organizations to develop a strong digital presence and boost fundraising success. Our platform enables organizations to build a professional site without the need for help from an experienced coder. With plenty of modules to choose from, you can seamlessly create event pages and spread the word about your various offerings and programs.
Morweb comes with built-in functionality to drive event registrations, accept online donations, and grow your contact lists without the need for multiple systems or IT support. Not to mention, we offer dozens of optimized themes to help launch your web design and boost awareness for your events and other offerings.
Why We Love This Fundraising Event Software
Morweb provides everything you need to build a powerful digital presence and offer an unforgettable supporter experience. Here's an idea of what you'll gain access to:
Custom event pages. Drive registrations by creating fully branded event pages with customizable details and your own images. New events will automatically rotate on your homepage and old events will roll into your past events page.
Social sharing. Instantly add social media like and share buttons to any page or blog post, including your events page. Between Facebook, Pinterest, Twitter, Linkedin, and Instagram, you'll be able to easily spread the word about your events.
Responsive website design. Connect with modern donors and make your entire website accessible on mobile devices. Supporters can learn about your nonprofit and register for your events from their favorite devices.
Our platform's functionality extends beyond events with other helpful features like search engine optimization (SEO) tools, customizable donation pages, an accessibility widget, and much more. Get your brand out there and start growing your audience.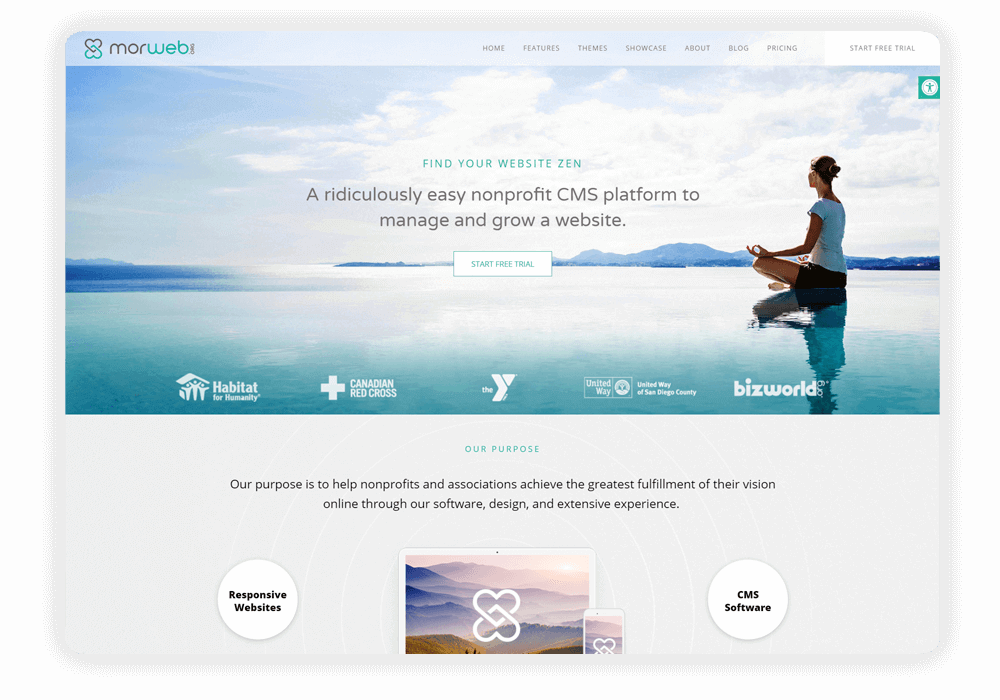 Is Online Registration Included?
Yes, Morweb offers advanced event registration and ticketing to make your event planning as seamless as possible.
Nonprofit Event Software Pricing
Morweb offers three pricing tiers. Our platform starts at just $99 per month for all the essential tools for smaller organizations. Our second pricing tier is $149 per month for growing organizations, and our final package is $199 per month with powerful tools to manage sophisticated nonprofit sites.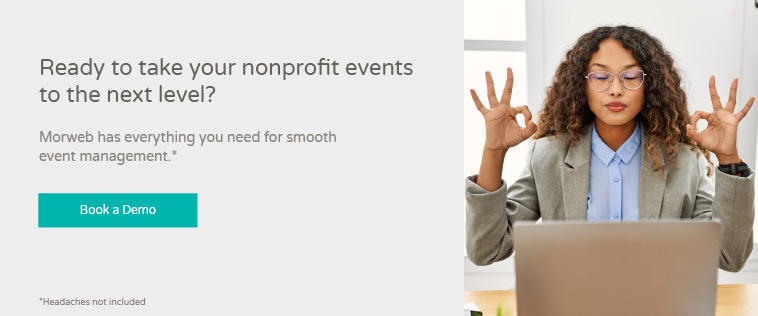 ---
Regpack | Top Nonprofit Event Registration Software
Nonprofit Event Software Overview
Streamline your event registration process with Regpack, a specialized solution for boosting attendance. Trusted by more than 7,000 organizations worldwide, Regpack is perfect for virtual and in-person events and makes it easy to accept payments online. The platform boasts a 31% increase in completed registrations and 25% fewer cancellations when compared to their clients' past vendors. Thanks to its flexibility, you can create registration forms for all types of events from galas and conferences to 5Ks.
Why We Love This Fundraising Event Software
Regpack makes the event registration process as intuitive as possible so you can refocus your time and energy on planning a standout event. Here are a few of Regpack's core event features:
Conditional logic software. Individualize every event registration process. The platform allows you to make certain questions appear to attendees based on their answers to previous questions so you can ask each supporter for the right information.
A centralized database. Gain a holistic view of your supporters by storing the information they share in a central location. That way, you can form relationships that outlast the event itself.
Automatic discounts and dynamic pricing. Take complete charge of your registration pricing and automate discounts for attendees based on any criteria you set.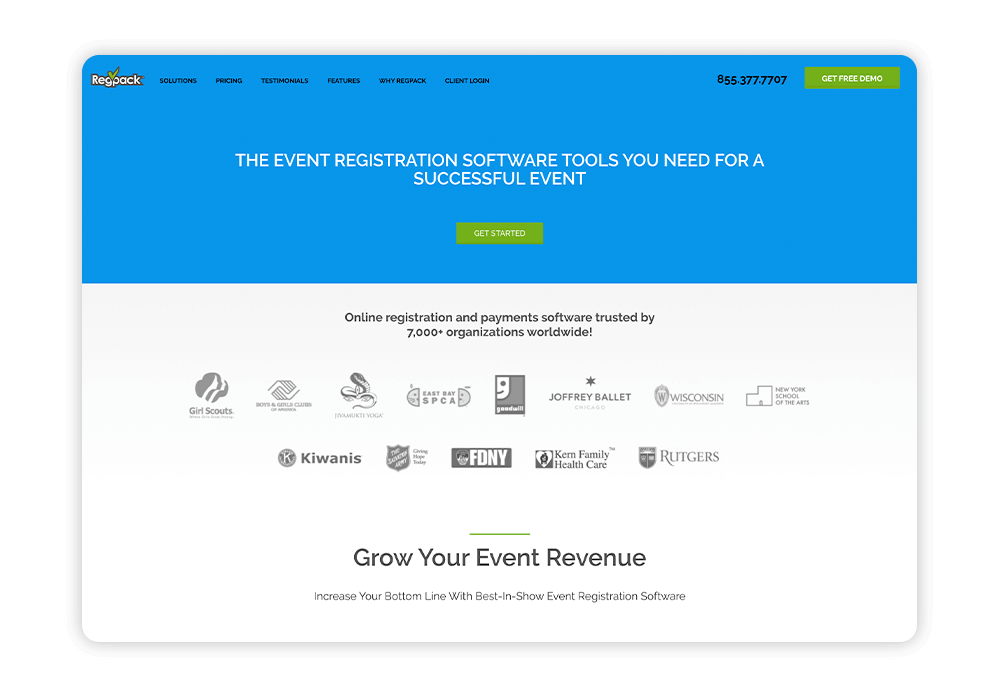 Is Online Registration Included?
Yes, Regpack enables you to automate your online registration. Easily create forms with customized questions to capture all essential information.
Nonprofit Event Software Pricing
Regpack's pricing starts at $125 per month per admin, plus a 2.1% payment processing fee.
---
Fonteva | Best Fundraising Event Software for Salesforce Data Management
Nonprofit Event Software Overview
Designed specifically for nonprofits that use Salesforce, Fonteva's nonprofit event software is a specialized, robust solution that enables nonprofits to manage any type of event — in-person or virtual. The platform is 100% native to Salesforce, no integration necessary. There's no need to worry about disorganized or duplicated information when all data flows seamlessly into your CRM. Manage the entire lifecycle of your events and gain access to customer demographics and intuitive reports without ever leaving your CRM.
Why We Love This Fundraising Event Software
Here are some of the features that make Fonteva stand out:
Complete event management. Streamline all aspects of your event. Keep track of sponsors, venues, exhibitors, sessions, speakers, and registrations, so everything is ready to go when your event arrives.
Agenda builder. Plan your event from start to finish so your team can create an unforgettable experience. The sleek agenda builder makes it easy for attendees to register for specific sessions and be automatically added to a waitlist for fully booked sessions.
Mobile events app. Extend your events to mobile users and make your brand shine through on your event app. You can stay connected through mobile attendees with real-time updates and push notifications.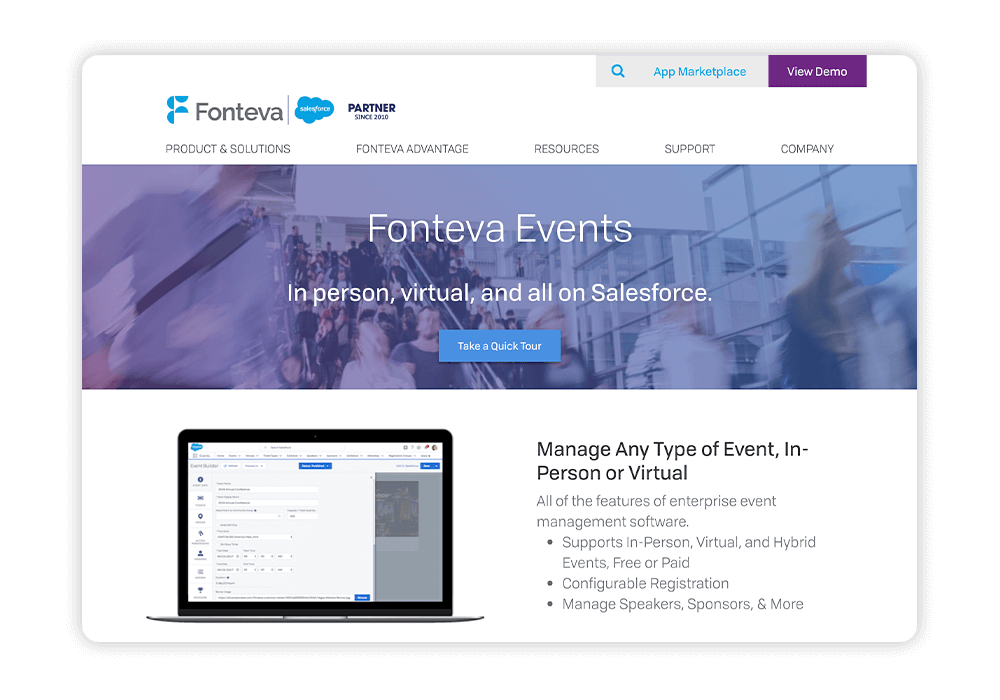 Is Online Registration Included?
Yes! Customize advanced registration forms for each of your events and enable a flexible pricing engine with more than 100 payment gateways.
Nonprofit Event Software Pricing
Fonteva Events lets you manage all events for a single annual fee. Plus, you'll receive three free upgrades per year. Contact Fonteva's team to explore pricing details.
---
Handbid | Best Nonprofit Event Software for Mobile Bidding
Nonprofit Event Software Overview
Handbid specializes in auction software designed specifically for nonprofits. They provide everything you need to plan a mobile-friendly charity auction from start to finish, so you can focus on creating a lucrative and engaging event that your supporters won't forget. They place a heavy focus on online access, so bidders all around the world can join in on the fun. Plus, they even offer crowdfunding and peer-to-peer tools that you can combine with your events to expand your fundraising potential even further.
Why We Love This Fundraising Event Software
Never run a subpar auction with Handbid on your side. This nonprofit event software streamlines auction management so you can focus on procuring standout items and driving bids. Handbid gives you everything you need to centralize and streamline auction planning, including:
Mobile bidding. Widen your audience with Handbid's mobile bidding app, which offers an experience that's as seamless as the desktop interface. Bidders can easily browse the catalog, bid on items, and enable push notifications to know the moment they've been outbid.
Live streaming. Stay connected with remote attendees using Handbid's native live streaming tools. Stream directly to bidders through the bidding app or site and promote items directly under the stream, perfect for inciting bidding wars.
Gamification. Nothing drives participation quite like some friendly competition. Use leaderboards to showcase top bidders, a live thermometer to showcase donations, and a countdown timer with winning bids, purchases, and donations.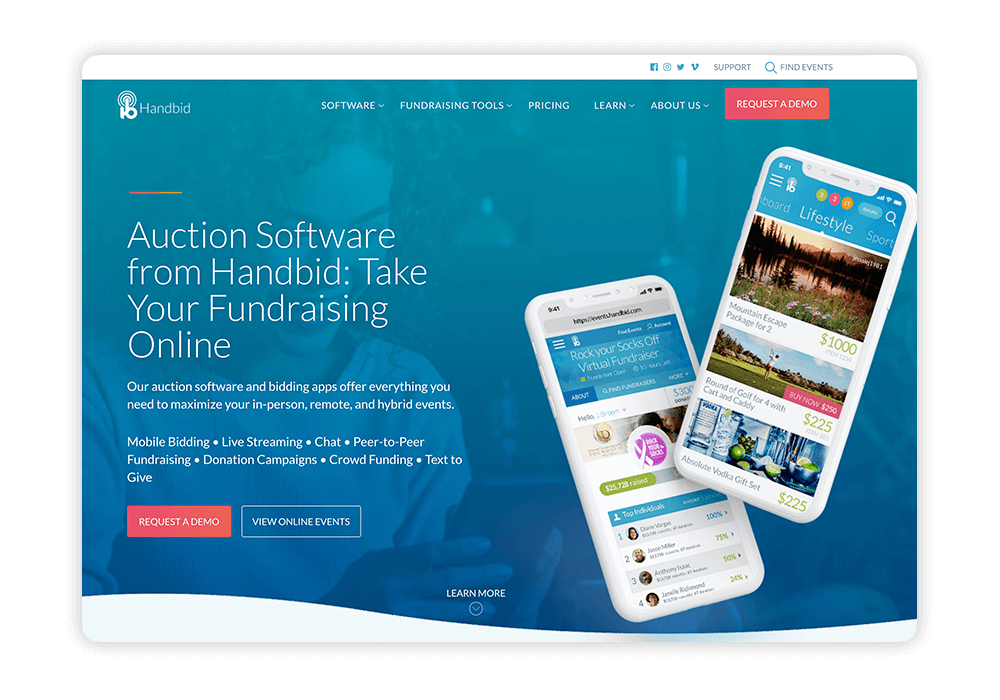 Is Online Registration Included?
Yes, Handbid makes it easy to add bidders to your guest list and keep up with who attends.
Nonprofit Event Software Pricing
Handbid offers five pricing packages, starting at $696 per year. They also offer add-ons so that you can customize your solution.
---
Snowball | Top Fundraising Event Software for Text-to-Give
Nonprofit Event Software Overview
Supercharge your fundraising events with Snowball's nonprofit event software. Designed with the user experience in mind, this platform aims to streamline the donation process and make giving as seamless as possible. It has everything your nonprofit needs to connect with donors and take your event to the next level, whether it's in-person or virtual.
Why We Love This Fundraising Event Software
Snowball gives you plenty of fundraising tools in one spot so you can do more for your cause. This fundraising event software prioritizes ease-of-use and was designed with speed, simplicity, and affordability in mind. Here are a few tools to test out at your next event:
Text-to-give tools. Solicit funds from donors at your event, even if they're attending virtually. Snowball will give your organization a number and unlimited keywords. All supporters have to do is text a predetermined keyword to your dedicated mobile giving number. Even if there's a typo, the platform will deliver the donation to your organization. So long as they have their phones, they can give to your cause.
Intuitive CRM. Stay connected with attendees and volunteers after the event and kick off lasting relationships by storing their details in a central database. Filter, track, and export any event data. Your team can keep up with key details like contact information, online and offline donation amounts, and custom notes.
Guestlist management. Accurately track who's registered, gather guest information, and put a cap on the number of participants based on occupancy restrictions.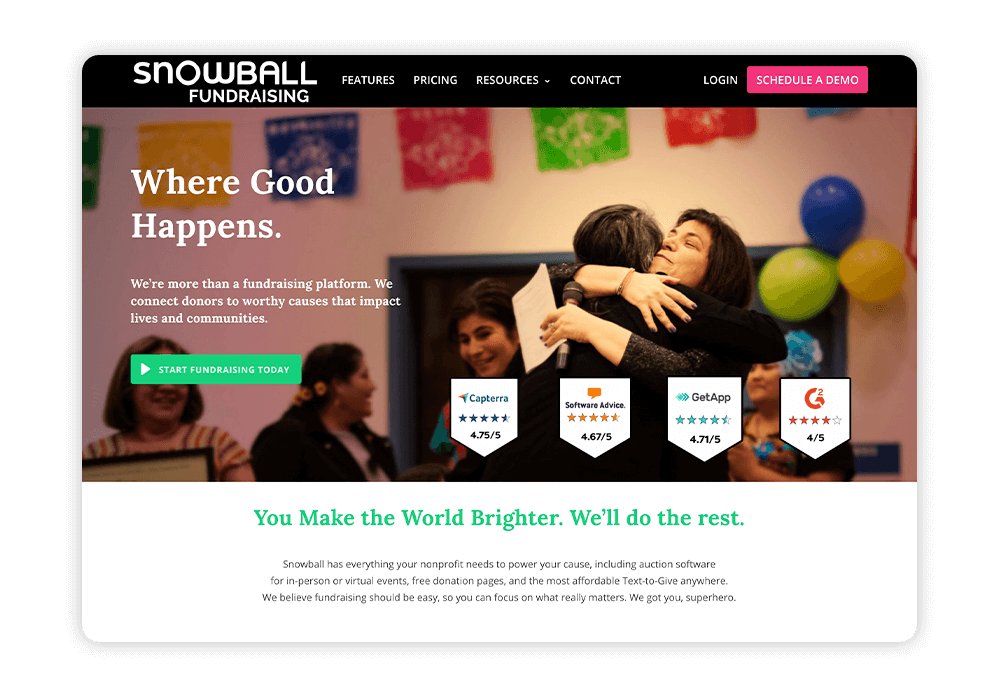 Is Online Registration Included?
Yes, Snowball offers your supporters the flexibility of registering in advance or at your event. You can even sell tickets via text-to-give.
Nonprofit Event Software Pricing
Snowball has four pricing plans. Their Essential plan, which offers unlimited event registrations, is free with a payment processing fee of 2.9% + $0.30.
---
Double the Donation | Best Nonprofit Event Software for Corporate Giving
Nonprofit Event Software Overview
What better way is there to speed to your next event's fundraising goals than by encouraging donors to submit matching gift requests to their employers? While not strictly nonprofit event software, Double the Donation allows you to multiply your donors' contributions, setting your event up for success. Add the tool to your events page, where donors can easily search for their employers. The powerful search tool will locate the appropriate eligibility guidelines and forms for each donor and can be added directly to your events page. From there, eligible donors submit the request, and your team can effortlessly multiply the amount of money your event brings in.
Why We Love This Fundraising Event Software
Nearly 26 million individuals work for companies with matching gift programs, yet an estimated $4-$7 billion in matching gift funds goes unclaimed each year, largely due to a lack of knowledge of how the process works. Double the Donation aims to close this gap with its intuitive corporate giving software. Here are just a few benefits of employing this fundraising event software:
Simple setup. It only takes a few minutes to add the searchable database to your website. Just add a few lines of code to any page, including donation and event pages, and donors can start searching for their employers.
Customization options. The plugin is visually appealing and fully functional right out of the box. However, you can brand the tool to your organization using CSS for advanced customization options.
Information on more than 23,000 companies. Double the Donation has information on a wide array of companies' matching gift programs. Their database is the most comprehensive source of matching gift forms and instructions, so you can locate as many opportunities as possible.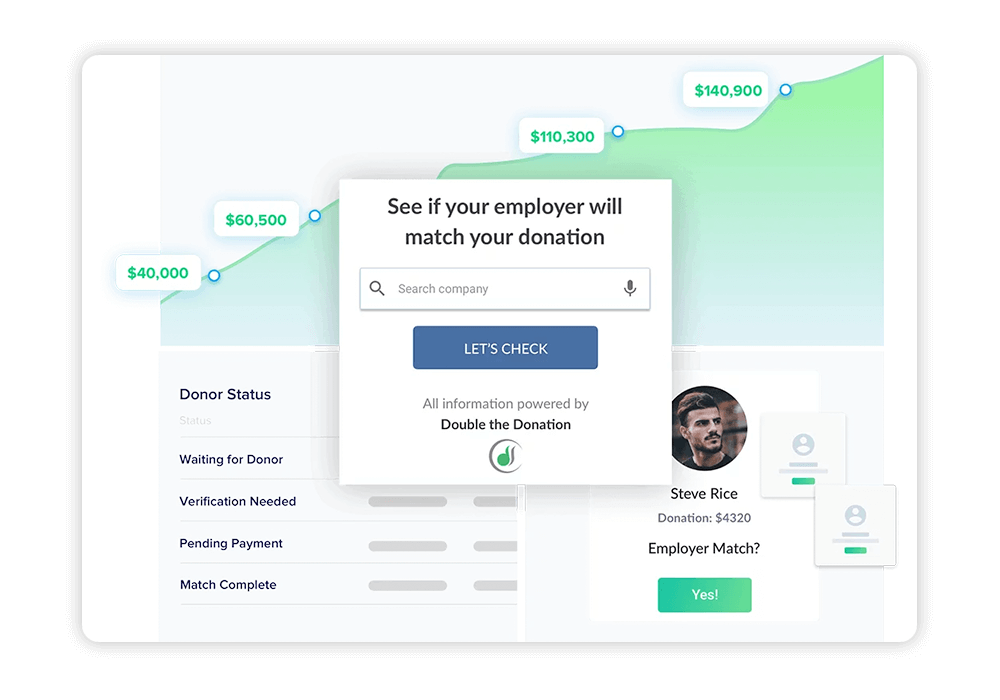 Is Online Registration Included?
No, online registration is not included with Double the Donation.
Nonprofit Event Software Pricing
Double the Donation has two pricing plans. The Premium plan is $499 per year and is perfect for smaller organizations that raise $100,000 in annual donations. 360MatchPro is their advanced solution that starts at $3,000 per year and is perfect for nonprofits that already raise more than $25,000 in matching gifts per year.
---
Pathable | Best Nonprofit Event Management Software for Custom Event Apps
Nonprofit Event Software Overview
Pathable is a leading provider of custom event apps and powers all types of virtual, hybrid, and in-person events. Trusted by top event planners since 2008, Pathable enables organizations to transform the event experience with custom apps that give attendees and exhibitors everything they need in the palms of their hands. The powerful nonprofit event software extends beyond virtual events to offer an interactive experience for hybrid and in-person events, too.
Why We Love This Fundraising Event Software
Pathable makes it easy to create a standout event app, complete with gamification, booking tools, and more. Whether you're hosting a major networking conference or a small-scale gathering, gain access to powerful features like:
Networking tools. Attendees can make real connections through messages, meeting schedules, and one-on-one or small group video conversations directly on the Pathable platform. They'll even have access to a searchable attendee directory and speaker profiles.
Interactive maps. If you're hosting an in-person or hybrid event, an interactive trade show flow map will make it easy for guests to find the exhibitors they want to connect with the most.
Personalized agenda. Pathable makes it incredibly easy to plan your event and stay on track. With personalized agendas, you can better manage a complex conference with keynotes, breakout sessions, and meals or a simple, one-track event.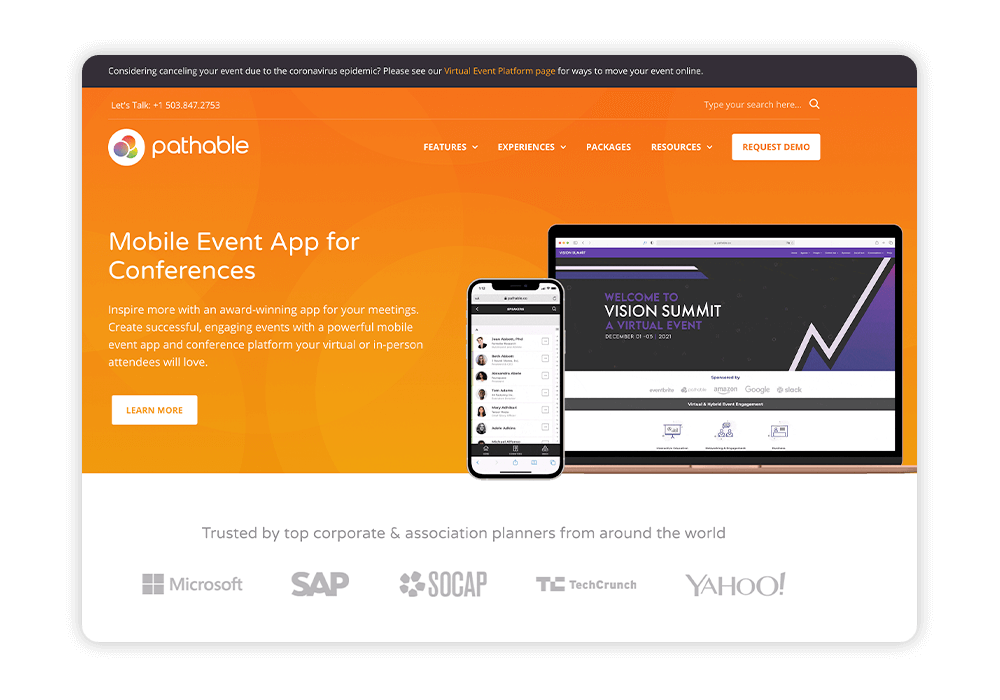 Is Online Registration Included?
No, you'll need to integrate your ticketing and registration software with Pathable to ensure that guest details flow into your app.
Nonprofit Event Software Pricing
Pathable has three pricing tiers, based on the number of attendees. The cheapest plan starts at $15,000 for fewer than 500 attendees.
---
OneCause | Top Nonprofit Event Software for Charity Auctions
Nonprofit Event Software Overview
OneCause is well-known for its robust charity auction software. With this fundraising event software on your side, your bidders will experience quick registration and check-in, unparalleled competitive bidding with outbid notifications, streamlined checkout, and more. Plus, OneCause offers more general event management software that makes it easy to capture registrations, promote your event, provide a seamless guest experience, and recognize sponsors at any events you plan.
Why We Love This Fundraising Event Software
OneCause's versatile event fundraising software is designed to ease the administrative burden and save time for any type of event. If you're looking to host an auction in particular, here are some of the features you'll benefit from:
Item management. OneCause makes it easy to generate solicitation letters and track procurement status. For high-value prizes, you can easily bundle multiple items into packages. Then, group items by category and customize starting bids and raises.
Donor management. Inspire donors to give beyond their bids with donation appeals. Generate solicitations and quickly view all contributions. Then, spark an ongoing relationship with custom post-event donor thank you's.
Streamlined checkout. Cut down on lines and make it easy for bidders to check out after winning their items. Your team will be able to swipe credit cards, automatically email receipts, split bills, and gain instant access to transactions.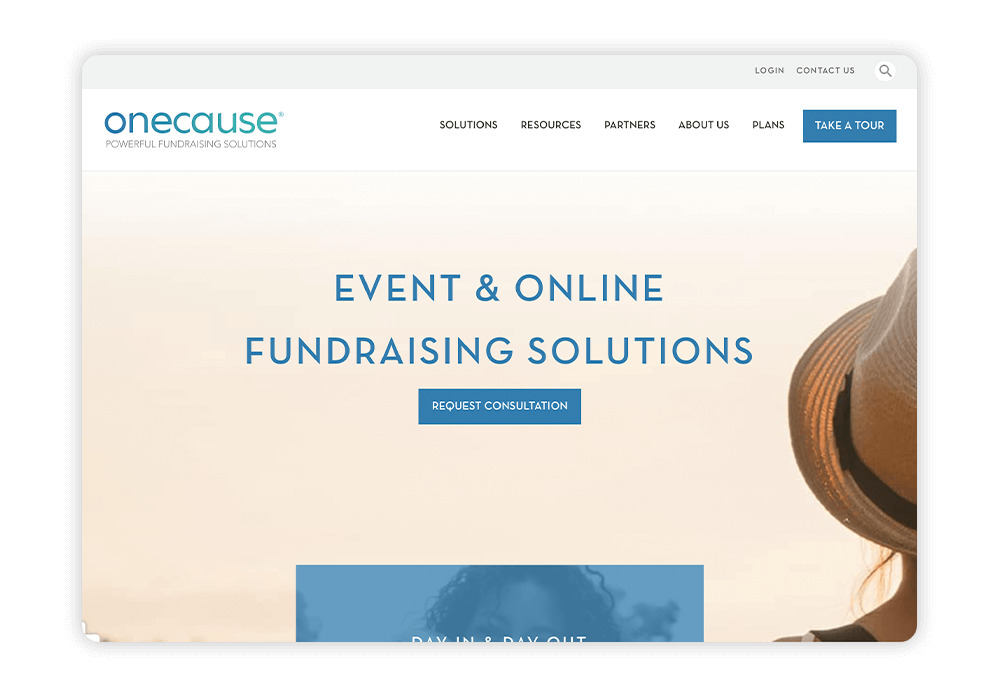 Is Online Registration Included?
Yes, OneCause offers secure online registration for your events.
Nonprofit Event Software Pricing
Request a quote for OneCause's software.
---
InitLive | Best Fundraising Event Software for Staff Management
Nonprofit Event Software Overview
When you want to host a large event, you rely on volunteers and staff to help make your vision a reality. InitLive is a premier volunteer and staff management platform designed exclusively for events, so you can streamline event staff management operations. It helps you coordinate a team of outstanding workers from recruitment to the event itself and after. You can register volunteers, schedule their shifts, and communicate with them at any point, resulting in a more organized event for attendees and a memorable experience for everyone.
Why We Love This Fundraising Event Software
Too often, event coordinators focus primarily on attendees (rightfully so) and don't put enough emphasis on the event staff experience. InitLive puts your event staff center stage by streamlining communications. Here's what you can expect by entrusting this powerful nonprofit event software:
Recruitment features. Build the ideal team for your event through promotional tools and a customizable registration form. Simplify the sign-up process with customizable fields that empower you to capture everyone's skills.
Scheduling tools. Create a schedule based on each event staff member's availability, either from the web interface or mobile app. Then, match individuals to the best shifts based on qualifications, roles, and availability.
Mobile app. Manage your event team from anywhere using InitLive's mobile app. You can quickly check staff and volunteers in as they arrive and communicate directly with them to ensure everything stays on track.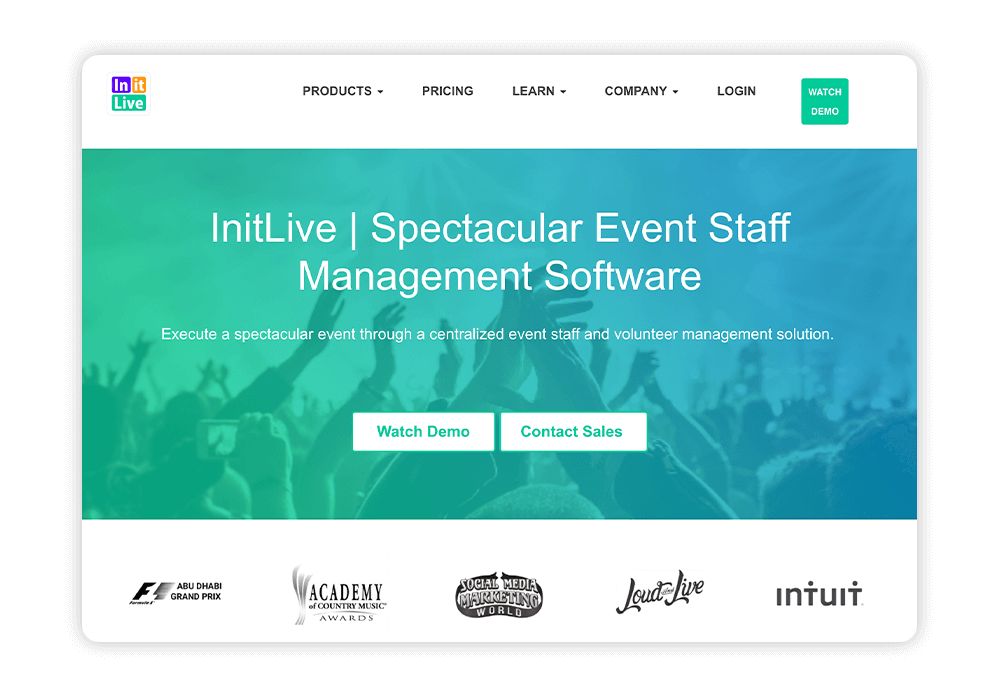 Is Online Registration Included?
While InitLive doesn't offer guest registration, it does include intuitive event and shift sign-up tools for staff and volunteers.
Nonprofit Event Software Pricing
InitLive's pricing varies based on the number of volunteers you have. The solution starts at $48 per 100 volunteers/staff members per event. You can receive up to a 55% discount when you add staff and multiple events.
---
Smartwaiver | Best Fundraising Event Software for Online Waivers
Nonprofit Event Software Overview
In case something goes awry at your event, Smartwaiver has you covered with their digital waiver software. With a digital waiver, participants can sign whenever it's most convenient, so they can come to your event ready to go. Fully customize your form to capture the right details and make it incredibly easy for your participants to find it. Online, you can embed the waiver into your site, email the link to participants, and add a customized web button that links to the form. At the event itself, turn your tablet into a dedicated waiver Kiosk with the Smartwaiver Kiosk app or a QR code that participants can scan.
Why We Love This Fundraising Event Software
Smartwaiver makes it easier than ever to protect your organization from legal liability. Easily capture the right data, signatures, and photos to make sure signers are who they say they are. Here's how Smartwaiver helps you create accessible digital waivers:
Custom questions. Create as many questions as you want with dropdowns, yes/no answers, and checkboxes. You can also set notifications that trigger and flag participants to your team.
Intuitive editor. Brand the form to your organization by customizing the colors, logos, and fonts. You can save your design as a template to help jumpstart any future waivers.
Multi-language support. Don't exclude people from attending your event by only offering your form in English. Smartwaiver supports multiple languages including French, Spanish, and Dutch.

Is Online Registration Included?
Yes, Smartwaiver integrates with different online registration software.
Nonprofit Event Software Pricing
Smartwaiver's pricing starts at $15 per month for up to 100 new signed waivers per month. They also offer a 30-day free trial, so you can give their platform a test run.
---
Grassroots Unwired | Top Nonprofit Event Software for Event Day Logistics
Nonprofit Event Software Overview
Grassroots Unwired is primarily known for its groundbreaking advocacy and canvassing solutions but has recently expanded to the event management sphere. Its 4EventDay mobile platform is designed to streamline all the complicated day-of logistics for events. It helps simplify registration, quicken check-in, manage data, and process payments for donations and event merchandise — resulting in a better all-around experience.
Why We Love This Fundraising Event Software
Custom-built to address the needs of today's event organizers, 4EventDay is a truly mobile solution that works on a range of devices and supports offline use. That way, you can access participant information from anywhere. Make sure the app fully represents your organization with your logos and colors, helping your brand shine through. Here are some of 4EventDay's other top features that you can look forward to:
Seamless check-in. Getting everyone checked in is incredibly easy with the mobile app. Scan users' barcodes to keep the line moving, and if you're hosting a race or walkathon, you can instantly assign bib numbers as participants arrive.
Extra fundraising tools. Easily collect donations and sell merchandise to spectators on the day of the event thanks to the integrated mobile payment solution. You'll effortlessly increase your fundraising potential when you can accept online gifts, rather than relying on cash and checks.
Integrations with leading software. The solution integrates with other leading software (like TeamRaiser, Rallybound, and Donordrive) and can sync in real-time with your CRM so you'll always have accurate data.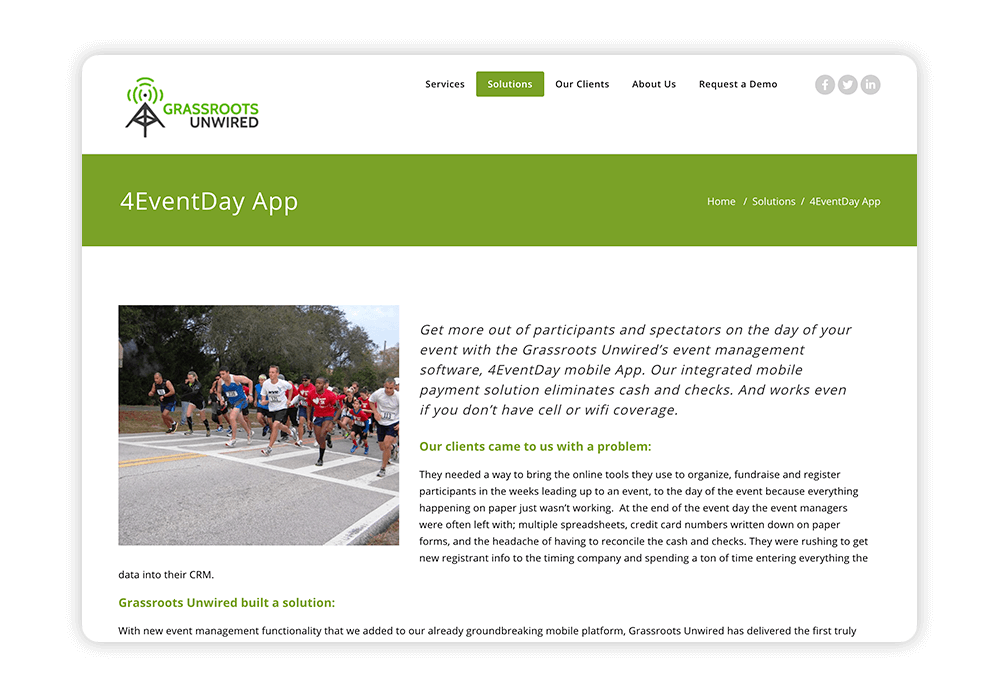 Is Online Registration Included?
Yes, Grassroots Unwired's 4EventDay app offers registration.
Nonprofit Event Software Pricing
Request a demo from Grassroots Unwired to get a custom quote.
---
Bonfire | Best Nonprofit Event Software for Event Merchandise
Nonprofit Event Software Overview
From 5Ks to large conferences, there's no better way to commemorate an event than with branded merchandise. Bonfire empowers nonprofits everywhere to create all types of merchandise, including t-shirts, mugs, hats, and more. With no platform fees or required inventory, it's completely risk-free. Design your merchandise the way you want with intuitive design tools and benefit from invaluable promotion long after your event ends.
Why We Love This Fundraising Event Software
Commemorating your events has never been easier thanks to Bonfire. The platform makes it incredibly easy to design and customize apparel and other event merch, helping your brand shine through on quality products. Here are some of the benefits of using Bonfire for your next event's merchandise:
An extensive catalog. Choose from all the products you need, whether it's t-shirts, hoodies, tote bags, mugs, water bottles, hats, or even onesies. For apparel, Bonfire offers all different sizes, styles, colors, fits, and fabrics, so every supporter can get products that match their style.
Intuitive editing tools. Start from scratch, upload your own artwork, or kickstart your design with Bonfire's library of thousands of free fonts and graphics. If you need some extra guidance, their team is filled with design experts who can help.
Peer-to-peer fundraising tools. Hosting a peer-to-peer campaign in connection with your event? Bonfire offers a new way to connect with your community. Your supporters can launch apparel-based fundraisers on your behalf, and team captains can design the products.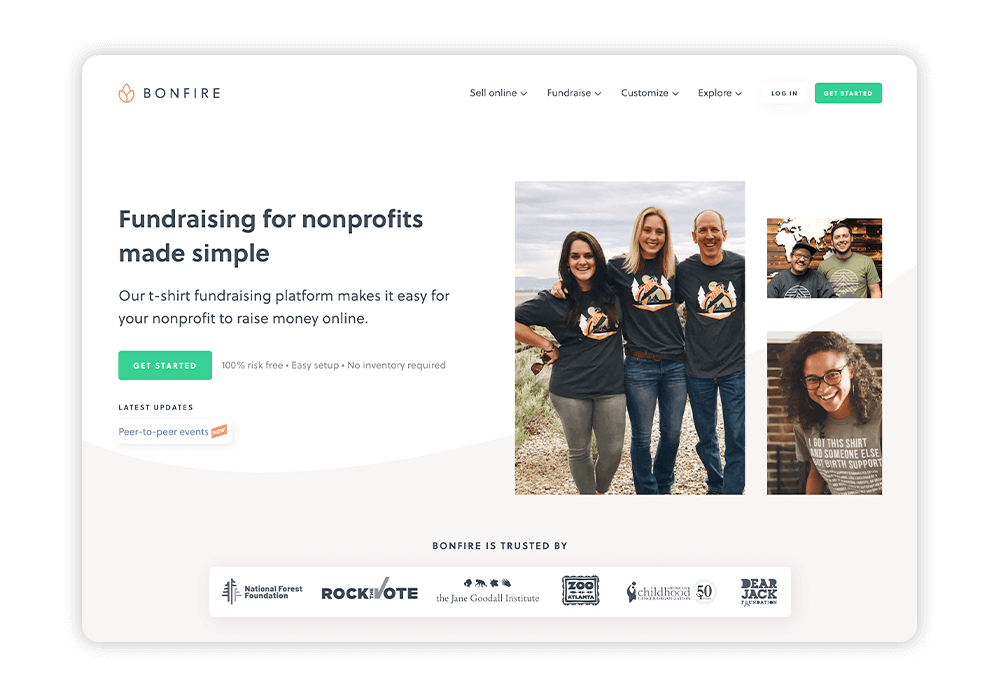 Is Online Registration Included?
No, Bonfire does not offer event registration.
Nonprofit Event Software Pricing
You don't pay anything in inventory or startup costs to launch your campaign. Just set your prices to cover the costs of the products and still earn your team revenue. Verified nonprofits even receive a reduced processing fee from 8% to 3.5%, cutting down on overhead costs significantly.
---
Doubleknot | Best Nonprofit Event Software for Cultural Organization Events
Nonprofit Event Software Overview
Doubleknot is a platform that's built exclusively for museums, zoos, aquariums, and other cultural organizations. The all-in-one software comes equipped with everything you need to manage admissions, programs, memberships, constituents, sales, and events. There's no need to invest in multiple solutions when all your daily needs are handled with one system.
Why We Love This Fundraising Event Software
With Doubleknot, you can host any type of event for your cultural organization, including special events, recurring events, camps, conferences, or recreational programs. Your team can promote the event, deliver it seamlessly, and collect all the data you need without overwhelming attendees. Here are a few of Doubleknot's top event features:
Dynamic pricing. Offer special pricing and promotions like early registration discounts, member discounts, and coupon codes.
Capacity and waitlist management. Limit overall capacity, capacity by registrant type (e.g. members and nonmembers), and the number of registrants per registration. Automatically waitlist people when capacity is full and add them to the guestlist as space becomes available.
Streamlined check-in. Reduce wait times with Doubleknot's mobile check-in apps, which allow staff to scan tickets, update registrations, and collect balances directly from their iPhones or iPad. Attendees can also choose to register online beforehand.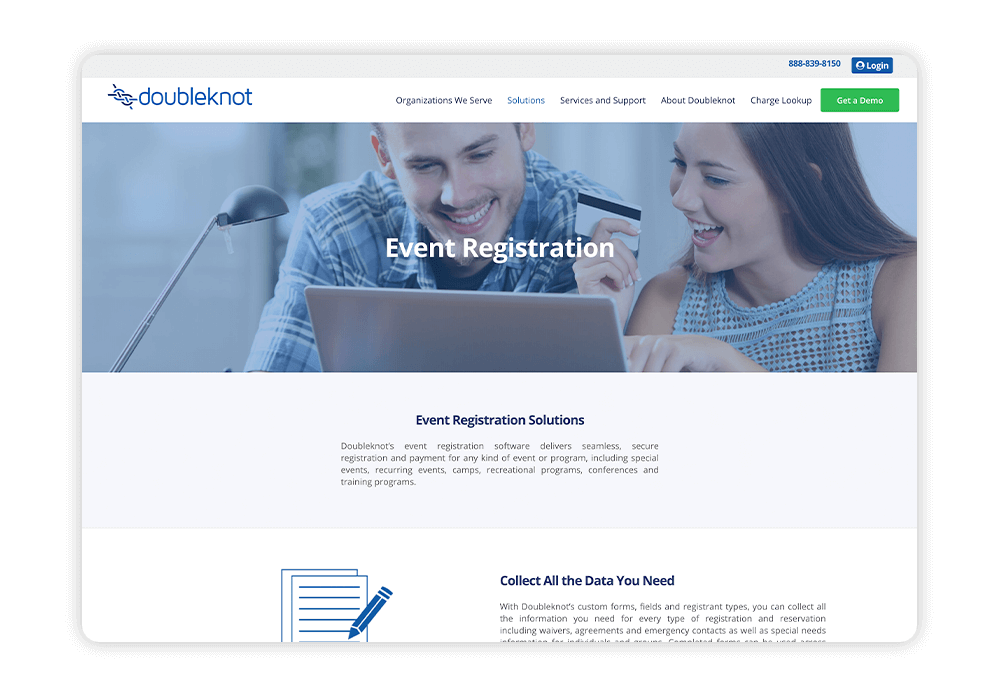 Is Online Registration Included?
Yes, Doubleknot offers event registration software that delivers seamless, secure registration for any kind of event.
Nonprofit Event Software Pricing
Request a demo from Doubleknot for pricing information.
---
Salsa | Top Fundraising Event Software for Event Marketing
Nonprofit Event Software Overview
Salsa Labs offers all the fundraising tools necessary to manage your event. Their fundraising solution, Salsa Engage, allows you to seamlessly integrate your event management with all your fundraising and marketing efforts. Manage donors, fundraising, advocacy, events, registrations, and marketing all on one platform. Then, easily promote your event before your event and stay in contact with guests after the fact across various platforms.
Why We Love This Fundraising Event Software
Trusted by more than 10,000 nonprofit users, Salsa empowers some of the most well-known organizations to connect with valuable supporters. These are some of the features you can look forward to leveraging:
Marketing. Promote your event and cause before, during, and after the event with plenty of marketing tools. Design eye-catching emails with engaging messages and graphics, broadcast messages via text, and post directly to social media.
Data management. Sync attendee and event data directly with Salsa CRM to compare and edit attendance and donor lists. That way, you can analyze your event performance and stay connected with supporters even after your event wraps up.
Peer-to-peer fundraising. If you're coordinating a peer-to-peer campaign with your event, try out Salsa's peer-to-peer fundraising tools. Build beautiful team pages and communicate with your team captains and participants.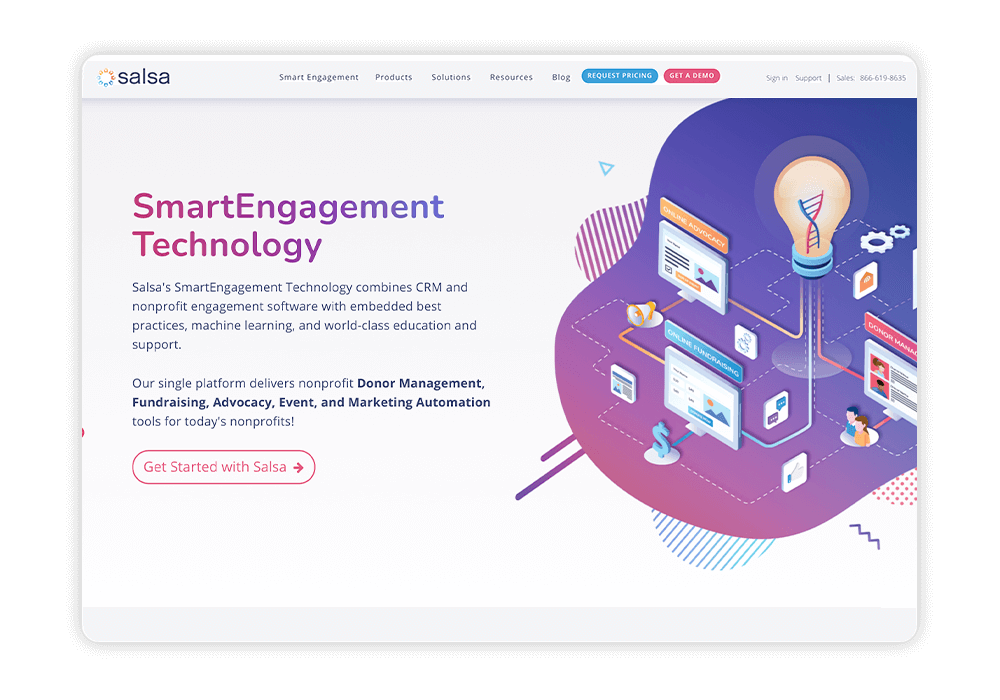 Is Online Registration Included?
Yes, Salsa offers online event registration. Create custom registration forms using pre-built templates and user-friendly drag-and-drop tools.
Nonprofit Event Software Pricing
Salsa's pricing is based on your organization's unique needs. Request a custom quote from Salsa.
---
Donately | Best Nonprofit Event Software for Online Fundraising
Nonprofit Event Software Overview
Whether you're a seasoned professional or new to the nonprofit fundraising landscape, supercharge your online fundraising with Donately. Designed exclusively for nonprofits and churches, Donately makes it simple for your team to garner support, offer a straightforward donor experience, and raise money for your next event. Organizations can crowdfund leading up to the event and build responsive donation forms that make it easy to call on donors to give during the event, just like Morweb.
Why We Love This Fundraising Event Software
Donately's incredibly easy-to-use tools can transform anyone into a fundraising superhero. Not to mention, they integrate with many of your favorite platforms, including some of the other fundraising event software providers on this list. You'll never miss out on leveraging the donor data you gather for your event. Here are some of Donately's leading features that will take your fundraising event to the next level:
Text messaging. Use Donately's texting feature to broadcast messages to groups of supporters, or leverage the text-to-donate feature to drive donations during your event.
Crowdfunding and peer-to-peer campaigns. Set up a crowdfunding page to secure revenue for your cause, or call on your supporters to fundraise on your behalf leading up to the event.
Robust reporting. Gain valuable insights and a 360-degree view of your fundraising using the intuitive dashboard. At a glance, you'll know your most active donors, popular donation amounts, popular days of the week to give, and the effectiveness of your campaigns.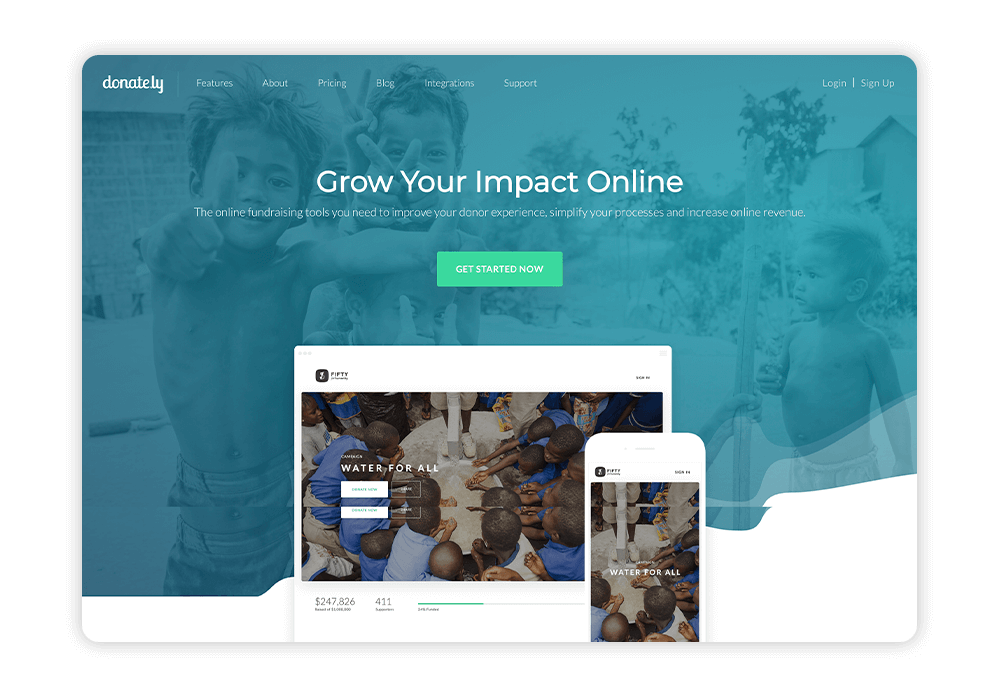 Is Online Registration Included?
No, Donately does not offer online registration.
Nonprofit Event Software Pricing
Donately's pricing starts at $0/month with a 4% platform fee, which is great for small organizations. They offer two additional pricing tiers to accommodate mid-sized and enterprise-level organizations.
---
Soapbox Engage | Best Fundraising Event Software for Salesforce Users
Nonprofit Event Software Overview
Trusted by more than 500 organizations, Soapbox Engage empowers modern nonprofits to harness the power of Salesforce. Soapbox Engage is fully integrated with Salesforce, and its apps cover everything from fundraising events to advocacy, giving you all the tools you need to make strategic progress toward your goals. The specialized events app, Soapbox Engage Events, enables organizations to create an unlimited number of events with advanced registration and ticketing without complicated configuration steps.
Why We Love This Fundraising Event Software
Salesforce is the #1 most trusted CRM in the world. It can be powerful when leveraged effectively, but it can also be challenging for nonprofits to build an effective toolkit that's still affordable. Soapbox Engage's robust online event management makes it easy for organizations to tackle this challenge with powerful, affordable features that are fully integrated with Salesforce, including:
Advanced ticketing. Offer dynamic pricing with different tiers and discounts. Set capacities as well as sales start and end dates to drive a bit of urgency. Easily create custom fields and event details, and have all the data you gather flow directly into Salesforce.
Marketing reports. Track the success of your marketing campaigns for your events. Figure out which channels are generating the most registrations using tracking URLs and focus on the right areas to refine your marketing tactics.
Payment processing. Choose between popular and trusted payment processors like Stripe, PayPal, iATS Payments, and many more. You can also allow attendees to register now and then pay later by cash or check.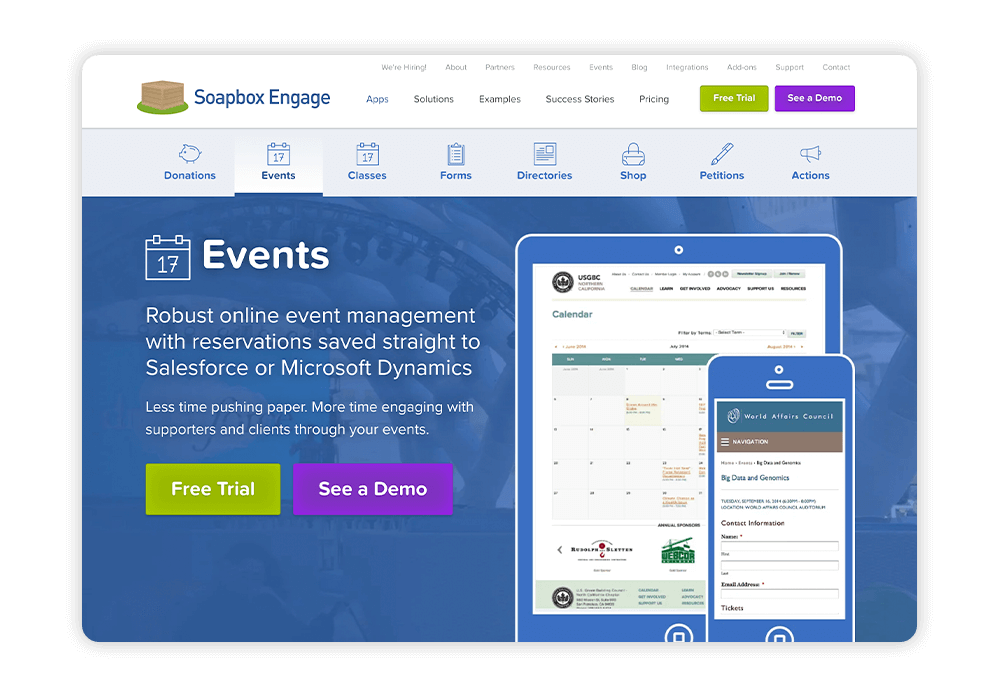 Is Online Registration Included?
Yes, the app enables you to create unlimited event registration pages that are saved straight to Salesforce.
Nonprofit Event Software Pricing
Soapbox Engage offers special pricing for nonprofits, starting at $49 per month per app.
---
NonProfitEasy | Top Nonprofit Event Software for Managing Guest Data
Nonprofit Event Software Overview
As a popular nonprofit technology company, Lumaverse is well-trusted in the nonprofit community thanks to its network of tools. Created by nonprofits, for nonprofits, Lumaverse offers NonProfitEasy, which enables organizations to quickly and seamlessly create events, send standout invitations, manage registrations, and accept generous donations. The CRM platform is feature-rich and scalable, so your event management tools will build with you.
Why We Love This Fundraising Event Software
NonProfitEasy streamlines event planning every step of the way, from the initial planning to follow-up. They go beyond traditional event management tools to provide you with a fundraising and communications platform that you can use every day. However, it does still offer the traditional event tools you're used to (including registration forms, waitlisting, and automatic reminders). Here are some of the other top features you can expect from Lumaverse's nonprofit event software:
Communication tools. Gain access to everything you need to promote your event and get registrants excited to attend. Send unlimited e-blasts, emails, automatic donation acknowledgments, and ticket receipts. Fully tailor them based on any data you gather from registration forms.
Volunteer management. Create a seamless volunteer experience with Lumaverse's built-in volunteer solution. Enable them to sign up for shifts using intuitive sign-up forms and shift management. Then, make sure they follow through on their commitments with attendance tracking and reporting.
Reporting. Leverage 200+ pre-built reports, or build your own report if you can't find the right one. Gain a more holistic understanding of your members, donors, volunteers, and fundraising.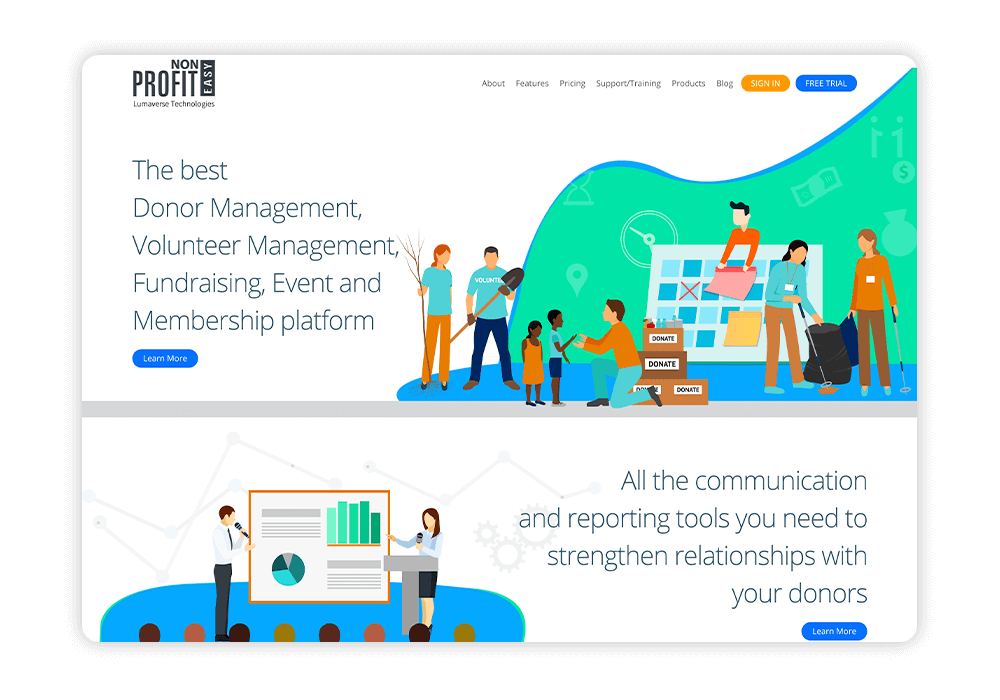 Is Online Registration Included?
Yes, you can create a seamless registration process where you assign sponsors, add venue directions to the event description, and sell additional items alongside registration.
Nonprofit Event Software Pricing
NonProfitEasy's event management software starts at $100/month for nonprofits for $65/month for K-12 schools.
---
ePly | Best Fundraising Event Software for Virtual and Hybrid Events
Nonprofit Event Software Overview
Whether you're hosting a fully in-person, virtual, or hybrid event, ePly will enable you to create an unforgettable attendee experience. Backed by tools that put the guest experience center stage, you'll have everything you need to create small, single-session events or major, multi-session conferences — even if you can't physically meet in person. You can replicate the in-person experience and open up the door to a number of benefits, from convenience for attendees to reduced costs for your nonprofit.
Why We Love This Fundraising Event Software
Expanding to the virtual world enables you to expand your audience and generate higher attendance numbers. While shifting everything to the digital space seems like a hefty task, ePly makes the transition seamless. Here are some of the features you can leverage:
Single or multi-session experiences. The Virtual Venue feature is designed to support concurrent or multiple sessions and the Zoom integration is designed to support single sessions. This way, you can hold conferences with workshops and speaker panels or a single-session video stream for webinars, training, and more.
Data security. This event management software handles attendee data with SSL encryption and houses information in state-of-the-art data centers.
Attendee personalization. Personalize the attendee experience with custom event badges, photo IDs, and certificates. Fully customize each with different font styles and include images from within ePly's registration tools.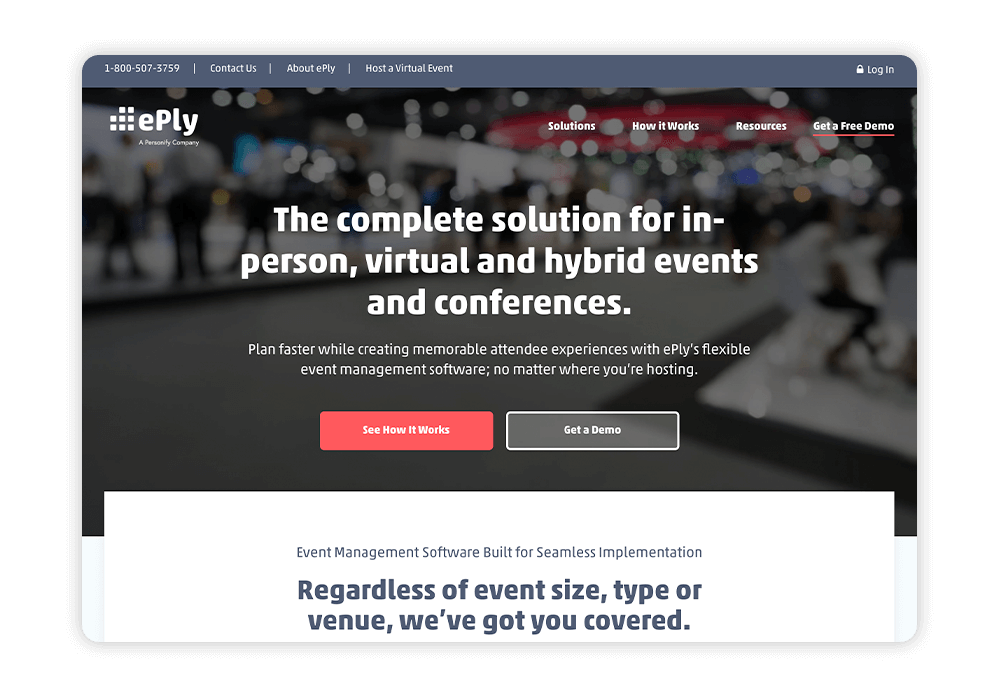 Is Online Registration Included?
Yes, ePly offers event registration, including custom form builders, payment processing, and ticketing options.
Nonprofit Event Software Pricing
The pricing for ePly's fundraising event software depends on the number of registrants and which products you'll use. The cheapest option starts at $500 per site, annually.
---
DonorPerfect | Best Nonprofit Event Software for Managing Invitations
Nonprofit Event Software Overview
DonorPerfect enables nonprofits to save time, raise money, and inspire generosity. Today, more than 50,000 nonprofit professionals trust DonorPerfect with their fundraising and event management needs. Fully plan your event, register guests, and track success after everything's wrapped up, so you can keep refining your events each time you host one.
Why We Love This Fundraising Event Software
DonorPerfect makes it easy to organize and coordinate your efforts, streamline administrative tasks, and gain insight into your event's performance. Here are a few of the features that will help you accomplish this:
Registration management. Easily manage RSVPs, guests, meal preferences, and payments. Then, use the data you gather to generate segmented mailing lists, arrange tables, and create name tags.
Financial calculations. Stay on top of your return on investment with DonorPerfect's built-in calculations. Track expenses, income, and attendee data among other metrics.
Event summaries. Know where your event excelled and which parts may need a bit more attention next time with detailed event summaries. Get your expense report, RSVP status report, guest summary report, and more with just a click.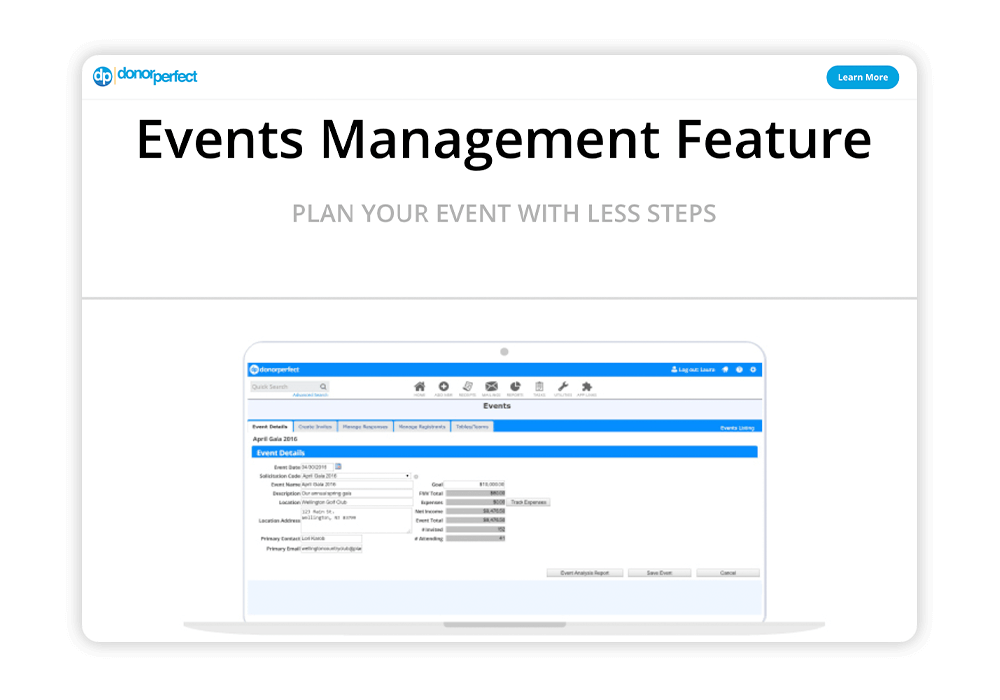 Is Online Registration Included?
Yes, guests can register online with DonorPerfect's integrated forms.
Nonprofit Event Software Pricing
DonorPerfect offers several pricing tiers, depending on the number of constituents. Packages range from $99 per month to $799 per month.
---
The Gist
The nonprofit event management software you select can make or break your event. The options we've covered each offer slightly different benefits to your nonprofit and will give you a solid foundation for your next event. It's up to your event planning team to select the right choices in order to launch a memorable event.
With plenty of digital tools to make your brand stand out, Morweb can take your event to the next level. We work with nonprofits and associations every day to help them achieve the fulfillment of their online vision. Backed by our state-of-the-art tools and experience, you can drive awareness for your event and create a standout experience your guests won't soon forget.
If you're looking to learn more about events and digital marketing, dig into these resources to keep expanding your knowledge: