Top 10 Nonprofit Payment Processors: Accept Donations Online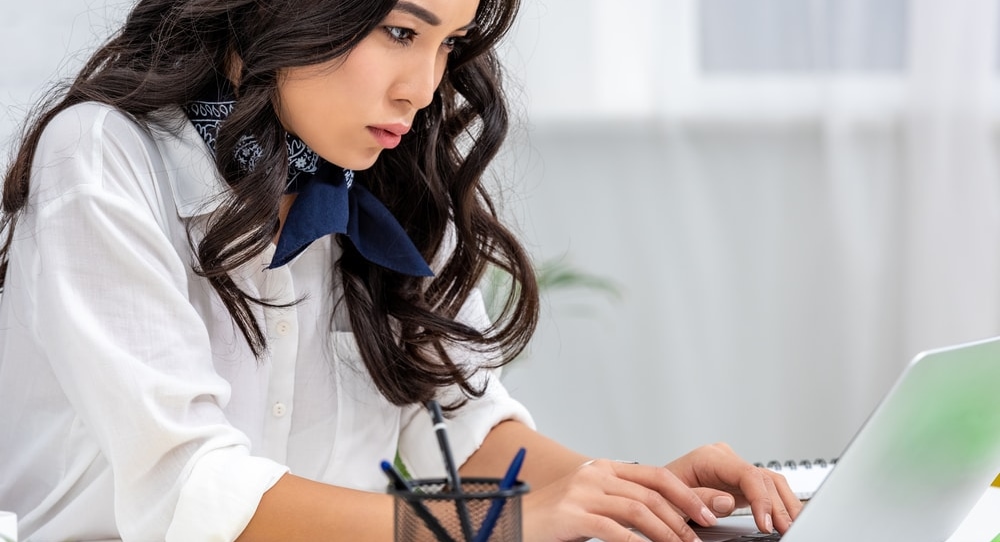 What do you know about nonprofit payment processors?
Your answer may be, "Honestly, not much, other than knowing they help nonprofits collect donations online." If this is all you know about payment processors, you're certainly not alone! Though nonprofit payment processors are essential tools for strengthening your organization's online presence and powering your operations, their technical nature can make them confusing to understand and shop for.
But that doesn't mean you should simply flip a coin to pick your organization's payment processor. In fact, choosing a nonprofit payment processor will be one of the most important steps you take in building or revamping your organization's website, and will require thorough research to get right. That's where this guide comes in, designed to teach you the basics of payment processors and give you our top recommended providers.
In it, we'll cover the following:
If you're ready to take control of how your organization accepts every kind of payment from donations to membership dues, and provide donors with a safe, secure, and easy donation process, this is the article for you. Let's jump in!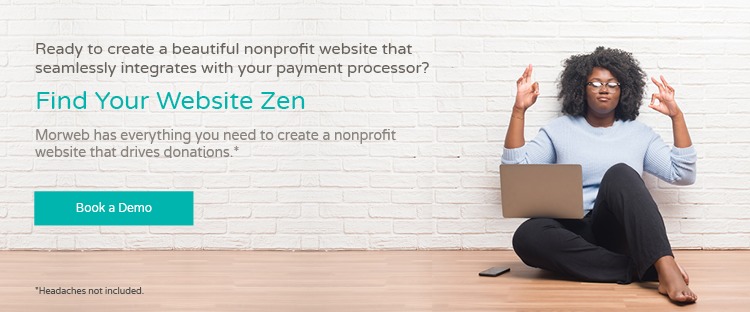 Nonprofit Payment Processors: The Basics
Before you can pick a payment processor for your nonprofit, it's worth learning what this tool actually does. Read on to gain an understanding of the basics.
What is a nonprofit payment processor?
A nonprofit payment processor is the backend tool that takes funds from your donors' bank accounts and deposits them in your nonprofit's bank account. In other words, when a supporter uses your website to submit a donation, pay membership fees, register for an event, or buy merchandise from your online store, a payment processor helps your organization actually collect that money.
For example, say a donor uses their debit or credit card to make a payment on your website. They enter their payment information, and then their card information is sent through the payment gateway to be validated by the card association. As long as the card's information is legitimate, the transaction will be processed by your payment provider. The process is even easier for ACH (automated clearing house) payments, as there's no card association involved.
An application program interface (API) integration between your content management system (CMS) and payment processor allows your organization to accept online payments directly through your nonprofit's website. API integration will help you avoid sending your supporters to a third-party platform to make their donation or purchase, eliminating worries about the safety of their personal or financial information and keeping your supporters on your website longer.
Note that some organizations will have less control over their payment processing than others. For example, nonprofits using a less comprehensive CMS will likely have to purchase a separate fundraising platform and aren't likely to be able to choose their payment processor. But, for nonprofits using a CMS that allows you to create your own payment forms, choosing and integrating a payment processor will be an important part of creating a robust online giving tool.
What types of payment processors are there to choose from?
According to Re:Charity's guide to donation processors for nonprofits, there are two types of payment processors — aggregators and dedicated payment processors.
Aggregators are tools that use the same merchant account for all of the organizations they serve. They're easy and cheap to use, but because they host multiple organizations on one account, security can be easily compromised. Plus, many of them have caps on deposits.
On the other hand, dedicated payment processors create personalized merchant accounts for each individual organization, meaning your data and transactions will be more secure. This type of payment processor takes a little more work to get set up but is well worth it for the added security.
What features should I look for in a nonprofit payment processor?
It goes without saying that some nonprofit payment processors will be better equipped to meet your organization's needs than others. Though you'll need to take your nonprofit's unique characteristics into account when shopping for a solution, here are four universal "must-have" features to look for:
CMS Integration: Ensure that the payment processor you invest in seamlessly integrates with your organization's CMS. This will make the online donation process easy and intuitive for your supporters, as they'll be able to complete their gifts directly on your website.
PCI Compliance: When a payment processor is Payment Card Industry (PCI) compliant, you can be sure that your supporters' personal and financial data is safe when they give to your nonprofit.
Tokenization and encryption. Both of these processors keep donor data safe from attackers. Tokenization and encryption turn important data into symbols and codes that can only be read by payment processors so that transactions stay secure.
Fraud protection. Your chosen nonprofit payment processor should offer fraud protection measures, like Bank Identification Number (BIN) blocking and card verification codes, to keep your supporters safe.
Note that most of these essential features focus on one thing — security. Keeping your donors' data secure will ensure that your organization's reputation remains intact, enabling you to retain supporters and keep moving your mission forward. In addition to these features, make sure to look for a processor that is affordable and that provides top-notch customer support.
---

Nonprofit Payment Processors: 10 Top Providers
Now that you know what a nonprofit payment processor is and what to look for as you shop, it's time to do some thorough research on different providers. Here are our top 10 recommendations!

1. Stripe
Stripe is Morweb's preferred payment processor. Stripe accepts all major credit cards and over 135 different currencies. Through API integration with your nonprofit CMS, donors can simply enter their credit card information on your website's donation form and their payment information will automatically be passed along to Stripe for processing.
Strengths
Stripe has best-in-class API integration to connect to your nonprofit website and offers your donors the utmost flexibility in payment options.
Stripe accepts more payment types than other providers.
Weaknesses
Stripe's transaction fees are in the higher range for nonprofit payment processors.
While American organizations processing more than $100,000 per month may be eligible for a volume discount, Stripe is not ideal for high-volume organizations.
Morweb Integration
As a leading nonprofit CMS, the Morweb platform is equipped to integrate with a wide variety of payment processors to accept online donations directly through our built-in payment forms.
Morweb partners with Stripe to allow for advanced integration with our CMS platform. Stripe is our preferred payment processor for all of Morweb's nonprofit website modules, including donations, event ticketing, and eCommerce.
Nonprofit websites built on the Morweb platform that use Stripe as their payment processor will gain access to a Stripe reporting dashboard in the backend of their website. With this feature, they can see all of their website and payment data in one simplified interface.
To learn more about Morweb's integration with Stripe and to get started setting it up, visit this page.
Cards Accepted
American Express, Visa, Mastercard, Discover, JCB, Diners Club International, UnionPay, and ACH transactions
Currencies
Supports over 135 different currencies
Transaction Fees
2.9% + $0.30 for Visa, MasterCard, Discover, and American Express

2. Donorbox
While Donorbox isn't a payment processor itself, it is a powerful recurring donation platform for nonprofit organizations. It offers a variety of features such as donation pages, donate buttons, donor management, automatic donation receipts, goal meters, crowdfunding, and more.
Strengths
Donorbox is well known for its powerful and seamless recurring donation system. Nonprofits can accept weekly, monthly, quarterly, and annual donations easily. With donation pages, embeddable donation forms, and donation buttons, nonprofits can also easily customize and brand their donation tools.
Its crowdfunding and text-to-give features enable nonprofits to accept donations directly from donors' mobile phones. Its sophisticated donor management system, fast checkout, and ability to integrate with third-party applications make it one of the favorites amongst nonprofits for online donations.
Weaknesses
Donorbox users can only use Stripe or Paypal as their payment processors. Note that both Stripe and PayPal have a discount for registered nonprofits.
Support occurs via email communication.
Cards Accepted
Debit Cards, Credit Cards, Google Pay, Apple Pay, PayPal, and low-fee ACH and Single Euro Payments Area (SEPA) bank transfers
Currencies
Supports over 20 popular currencies
Transaction Fees
1.5% Donorbox fee + 2.9% + 30¢ (For Stripe) or 2.2% + 30¢ (For PayPal) or 0.8% + (capped at $5) (For ACH Bank Payments)

3. iATS Payments
iATS Payments is a payment processor specifically for nonprofits. For over 20 years, iATS Payments has allowed nonprofits to collect online donations securely and efficiently.
Strengths
A major strength of this payment processor is that it can integrate with a variety of other fundraising platforms including top customer relationship management (CRM) software and text-to-give providers. This is beneficial if your nonprofit uses other fundraising software because all of your data will be synced in one place.
Weaknesses
iATS Payments doesn't accept some of the more obscure credit cards. If you have many international donors, you may need a payment processor that can handle more credit card types.
Cards Accepted
Visa, Mastercard, American Express, Discover, and ACH transactions
Currencies
CAD, USD, GBP, EUR, CHF; gateway services to an additional 180 currencies
Transaction Fees
Depends on the card type

4. PayPal
PayPal is an excellent nonprofit payment processor because it is so well-known. If your donors are located in North America, chances are they already have a PayPal account. This makes the donation process straightforward because your donors can simply enter their password instead of typing in their credit card details.
Strengths
PayPal's strong brand recognition helps build trust with donors because they can feel assured that their payments are secure and they can make gifts in a way that is familiar to them.
It's easy for nonprofits to set up a PayPal account and there are no cancellation or withdrawal fees.
501(c)3 organizations can qualify for reduced PayPal charity rates. Organizations with higher sales volumes (beyond $250,000 per month) can get more favorable fees.
Weaknesses
Nonprofit websites using PayPal for their donation page will redirect donors to PayPal's checkout to complete their transactions. This adds a step to the giving process and makes it less efficient for supporters.
Donors who don't have a PayPal account will have to register, which can lead to a lengthy donation process. Nonprofits looking to eliminate the account setup process can integrate their website platform with PayPal Pro to accept donations directly through their website.
Cards Accepted
Visa, Mastercard, American Express, Discover, JCB, Diners Club International, and EnRoute
Currencies
Supports 25 currencies
PayPal Charity Transaction Fees
1.99% + fixed fee based on currency received
PayPal Pro Transaction Fees
2.9% + $0.30 per transaction

5. WePay
WePay offers quick and easy integrated payments. The payment processing is handled by Chase, a top financial institution in the United States.
Strengths
WePay is specifically designed to integrate with leading software platforms like your nonprofit CMS for a seamless online donation process.
Your WePay account gives your organization transaction-level reporting to see in-depth data about how money is moving through the platform. Every transaction is backed by WePay's risk management technology for stopping fraud and identity theft.
Weaknesses
Currently, WePay only supports users in the U.S., Canada, and the UK. If your nonprofit is international and receives donations in many different currencies, you may need a payment processor that is equipped to handle these types of donations.
Cards Accepted
Visa, Mastercard, American Express, Discover, and ACH transactions
Currencies
USD, CAD, GBP
Transaction Fees
2.9% + $0.30 per transaction, 1% + $0.30 for ACH transactions

6. TransNational Payments
TransNational Payments allows you to accept online and recurring payments easily and securely. TransNational is a merchant service provider, so all payments are processed through their account.
Strengths
TransNational Payments has specific functionality to accommodate nonprofits and associations. It enables organizations to accept payments online and to track them all with sophisticated reporting capabilities.
Through API integration with your nonprofit CMS, your donors' payment information will automatically be transferred to TransNational Payments for secure payment processing.
Weaknesses
TransNational Payments charges an annual fee on a three-year contract basis. There is an early termination fee of up to $500 if you decide to end your contract before the three years.
Cards Accepted
Visa, MasterCard, American Express, Discover, Diners Club International, JCB, BC, and UnionPay
Currencies
Unlisted
Transaction Fees
Annual fee up to $95 per year for 3 years

7. Fundly
Fundly is primarily a crowdfunding platform with built-in payment processing. Fundly offers a variety of tools to help nonprofits maximize online donations.
Strengths
Fundly can help your nonprofit set up a crowdfunding campaign to easily pull in support.
The Fundly platform also offers sophisticated reporting for tracking interactions, giving history, and event participation.
Weaknesses
Fundly operates differently from other payment processors in that you must choose a merchant account to handle the payment processing.
Nonprofits using the Fundly platform can choose to process transactions through WePay or Stripe. This adds payment processing fees on top of platform transaction fees.
Cards Accepted
American Express, Visa, Mastercard, and Discover
Currencies
CAD, USD, AUD, GBP, CFP, and MXN
Transaction Fees
Fundly platform fee 4.9% + credit card processing fee 2.9% + $.30/transaction

8. Moneris
Moneris is Canada's top payment processor, founded by RBC and BMO Bank of Montreal. Moneris supports payment processing for a wide variety of industries, including nonprofits.
Strengths
Moneris is heavily focused on innovation and technology, making it one of the leading payment processors in North America and #1 in Canada.
Weaknesses
Moneris operates on a three-year contract basis with a penalty of up to $300 for early termination.
Cards Accepted
Visa, Mastercard, American Express, Discover, Diners Club International, JCP, Interac, UnionPay, Apple Pay, and Google Pay
Currencies
Supports over 90 currencies
Transaction Fees
2.65% fee per transaction

9. Authorize.net
Authorize.net is a wholly-owned subsidiary of Visa. Operating since 1996, Authorize.net is a leading provider of payment gateway services, managing the submission of transactions and processing networks on behalf of merchant customers.
Strengths
Authorize.net is a simplified payment solution with advanced fraud protection, recurring payments, digital invoice features, and simple checkout.
The payment platform offers an additional account updater to keep card data updated in your Customer Information Manager (CIM) profiles and Automated Recurring Billing (ARB) subscriptions.
Weaknesses
Authorize.net is slightly more expensive than other nonprofit payment processors, with a monthly fee on top of transaction fees.
Cards Accepted
Visa, Mastercard, American Express, JCB, Discover, PayPal, Apple Pay
Currencies
CAD, AUD, USD, EUR, GBP
Transaction Fees
$25 monthly and 2.9% + $0.30 per transaction

10. Braintree
Braintree is a PayPal company that offers the utmost flexibility in payment options for your organization's donors.
Strengths
Braintree offers the most payment options for users, including PayPal, Venmo, Apple Pay, Android Pay, as well as major credit cards.
It offers reporting features specifically for nonprofits to help your organization track transaction history and stay on top of donations. Braintree's reporting module also gives your team access to disputes, settlements, and real-time notifications.
Weaknesses
Braintree is not nonprofit specific, but it can integrate with your website platform to process on-site donations.
Cards Accepted
Visa, Mastercard, American Express, Maestro, JCB, Discover, Diners Club International, Unionpay, Venmo, Apple Pay, Samsung Pay, PayPal, Masterpass, and more
Currencies
CAD, USD, AUD, GBP, RMB, HKD, NZD, MYR
Transaction Fees
2.59% + $.49 per transaction
---
The Gist
Choosing the right nonprofit payment processor is a crucial first step in providing your supporters with a great donation experience. Now that you know what a nonprofit payment processor does and the different types and features to look for, you and your team can begin narrowing down these top providers and deciding on the processor that will most effectively help you move your mission forward.
After you've picked your payment processor, you'll want to optimize other aspects of the donation process. Check out these additional resources that can help: