Healthcare Website Design: 4 Best Practices & Top Examples
When a child complains about severe tooth pain, one of the first things a parent will do is look up the number of their local pediatric dentist to schedule an appointment. If a group of college roommates goes skateboarding together and one of them has an accident and breaks their arm, the other roommates turn to the internet to find the nearest emergency room. Or, if a person wants to visit their loved one receiving cancer treatments at their local hospital, they might look up visiting hours, COVID-19 rules and restrictions, and other information relevant to their visit.
Each of these scenarios illustrates the need for healthcare organizations everywhere—from hospitals to family health centers—to provide clear information about their hours, services, and policies online. And by far, the best tool for healthcare organizations to get this information to the public is a well-designed website.
For busy healthcare professionals, creating a great website for your clinic or office may sound like a challenge. After all, your expertise likely lies in patient care or administration, not web design or coding.
The good news is that designing your website doesn't have to be complicated to be effective. And with the right tools and best practices (and a little inspiration!), you can create a website that is both informative and beautiful.
To help you get started, we've created this guide to healthcare website design, which will set you up for success. We'll cover:
If you're ready to create a website that will be an asset to serving your patients, this is the guide for you. Let's jump in.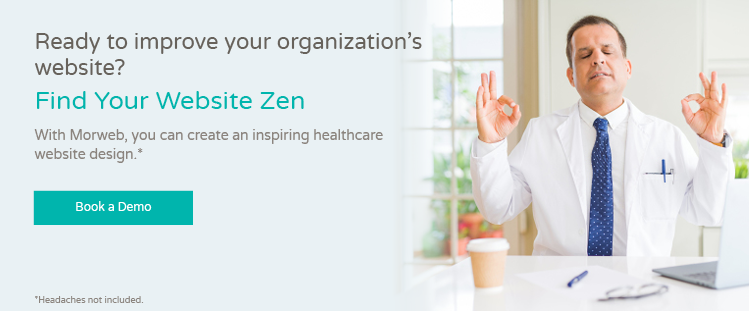 4 Best Practices for Healthcare Website Design
If you want to build a healthcare website that stands out, you'll need to leverage some tried-and-true best practices. Here are four that are easy for beginners to implement and can make your website stand out!
1. Choose a CMS built for healthcare organizations.
How do you create a healthcare website? You use a website-building tool—also known as a content management system (CMS)—to create your website and publish content. There are a number of CMS options out there to choose from, such as the generic options you've likely heard of (WordPress, Drupal, Squarespace). However, the reality is that these website builders can be tricky to use, often require technical expertise, and may not have the features you need to provide the best resources possible to your patients.
Instead, look for a CMS built for healthcare organizations like Morweb. Morweb's platform is built with your healthcare organization's specific needs in mind, whether you want to create private patient portals, promote job listings, start a blog, or showcase your services. Plus, Morweb is easy to use. With Morweb's CMS built for healthcare website design, you can:
Easily make changes to live pages using front-end editing tools.
Size, shape, and place images where you want them.
Create dynamic page layouts with widgets and templates.
Publish and share new content using your blog.
Collect donations directly on your website.
Use your website to manage events.
So, instead of relying on software that will require you to use dozens of plugins and get a crash course in coding in order to get the website you want, choose a tool like Morweb that can make the job of designing your website easy from the start.
2. Assess what resources your patients need from your website and work to provide them.
Once you've selected the CMS for building your website, you need to determine the content and resources you'll add to your website. Ask yourself, "What should my organization's website include?" The answer to this question will be different for every organization.
For example, a family doctor's office might not need a donation tool on their website, whereas a nonprofit organization will rely heavily on their donation page. Or, an orthodontist looking to better engage their clientele might want to post blogs and videos about how to clean braces and what foods are and aren't appropriate for eating with braces.
In other words, you'll first need to step into your audience's shoes to determine what resources to provide on your website. Work with the other professionals at your organization to determine what your patients need to have access to when they use your website, what questions they want answered, and even what resources you can provide that will help you provide better care.
Once you know what your audience needs, you can start to add those resources to your website. Here are some common resources that healthcare organizations provide to their patients or clients:
Contact information for and directions to different medical facilities
Patient portals for scheduling appointments, paying bills, or requesting prescription refills
An "About Us" page featuring your organization's practitioners and their bios
A "Services" page outlining what your organization offers to its patients or clientele
As you build out these various resources, make a plan to update them often. An outdated website can negatively affect how your patients or clientele view your practitioners and services.
3. Ensure your website has intuitive navigation.
No matter which resources you provide on your website, your audience should have an easy time accessing those resources. This means ensuring your website is easy to use and navigate. Here are some ways to offer a user-friendly browsing experience:
Keep the website sleek and minimalistic. If there are too many elements competing for your audience's attention—meaning buttons, images, links, blocks of text, etc.—it can be difficult for your audience to know what resources are most important, or to find the information they're looking for. Keep your website simple and sleek, opting for a minimalistic design. You can do this by leaving white space between each element on your web pages and using only the most important aspects of your brand colors and imagery. This will help prevent your audience from being overwhelmed by your website, enabling them to get to important resources and information faster.
Add a navigation bar with only a few options. A navigation bar serves as a map for your website, giving your audience an idea of what resources are available and allowing them to access what they need quickly. We recommend taking a top-down approach to your navigation bar's organization, listing out your most important resources first. For example, you might feature a page about COVID-19 testing or your basic contact information more prominently on your navigation menu than your blog.
Include a search bar. Sometimes a website visitor knows the exact resource or information they're looking for and doesn't want to comb through your website to find it. That's where a search bar comes in. With a search bar, website visitors can easily type in keywords like "services" or "contact info" to get the tools and information they need.
As you're refining your website's navigation experience, ask volunteers at your organization to take your website for a spin and provide feedback. Even this type of informal feedback can give you insight into what needs to be improved to make your website a better tool for those you serve.
4. Add an accessibility widget to your website.
Optimizing your website for accessibility ensures that all people, regardless of ability, can easily navigate and use your website. This is especially important for healthcare websites, which sometimes provide information in life-or-death situations.
How can you anticipate the needs of differently-abled people who need to use your website? Some may be hard of hearing or have visual impairments. Others may navigate your website using screen readers.
First, you should review the Web Content Accessibility Guidelines (WCAG). Then, using your CMS, add an accessibility widget to your website. With an accessibility widget, you can put the power back in the hands of your website visitors. An accessibility widget allows them to:
Change website font size and style
Highlight links on your web pages
Change website coloring to greyscale
Each of these capabilities can make your content easier to read and your tools easier to use. Adding an accessibility widget to make this possible is an act of generosity that will help you build a rapport with the people who seek out your services and expertise.
---
Now that you have knowledge of some best practices for healthcare website design, you're likely ready to begin designing. But before you do, review some of the best healthcare website designs out there to get inspired by what you can do with your newfound knowledge and tools!

Healthcare Website Design Inspiration: 10 Websites To Emulate
In this section, we'll show you some of our favorite top-tier healthcare websites, walk you through what makes them stand out, and what you can learn from them that will benefit your own organization's website.
---
1. Friends of Family Health Center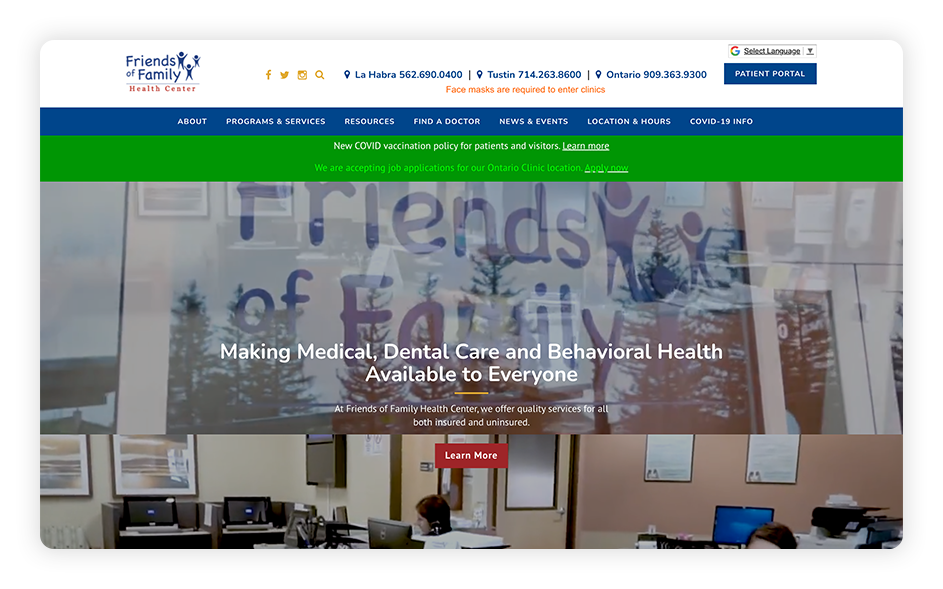 Why This Healthcare Website Design Stands Out
The Friends of Family Health Center's homepage immediately captures your attention with an engaging video banner showcasing the facilities and the people that work there. The health center's mission is displayed front and center and the navigation is intuitive. But the branding is what really stands out on the site. It is clean and crisp, with the fonts and colors complementing the logo's design.
What Your Organization Can Emulate From This Healthcare Website
Friends of Family Health Center's website is a perfect example of user-centric website design. The entire web experience has been clearly mapped out to guide users through the content. Choosing a website theme with clean navigation will help you organize your content to make it more engaging for users. Furthermore, customizing your web design's branding will go a long way toward making your site more credible. The Friends of Family Health Center used one of Morweb's healthcare themes and customized the branding and functionality to best serve their clients.
2. United Medical Centers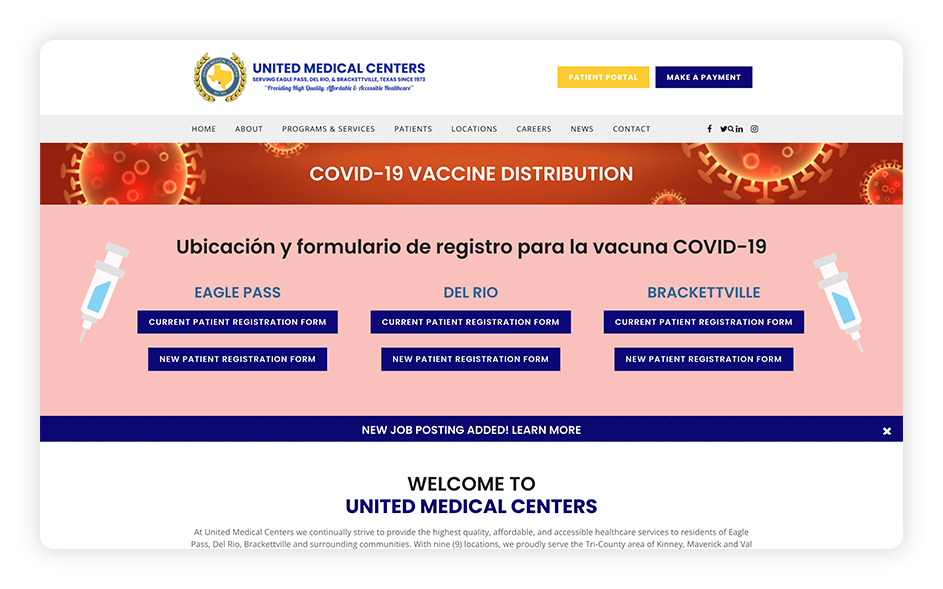 Why This Healthcare Website Design Stands Out
The United Medical Centers' website is both informative and intuitive to use. There are clear navigation paths for current and new clients. For example, current clients can log into their patient portal to request a prescription refill, while new clients can read through numerous resources and services pages.
This medical center organization has multiple locations throughout Texas, which are showcased with an interactive map on the homepage and location page.
What Your Organization Can Emulate From This Healthcare Website
United Medical Centers' client-first approach is evident throughout their website. This healthcare organization highlights its patient portal in a button outside of the navigation menu so that it's easily accessible from any page. Your own organization can do the same thing by linking to your most important pages using a button and making sure that button is mobile-responsive.
Morweb's map module is a great addition to healthcare websites with multiple locations. Users can easily click through each health center and find the location nearest them. Choosing a CMS with built-in healthcare features like this simplifies the web development process and allows you to keep visitors on your site without having to redirect them to third-party platforms.
3. West Coast Endodontics and Sedation Centre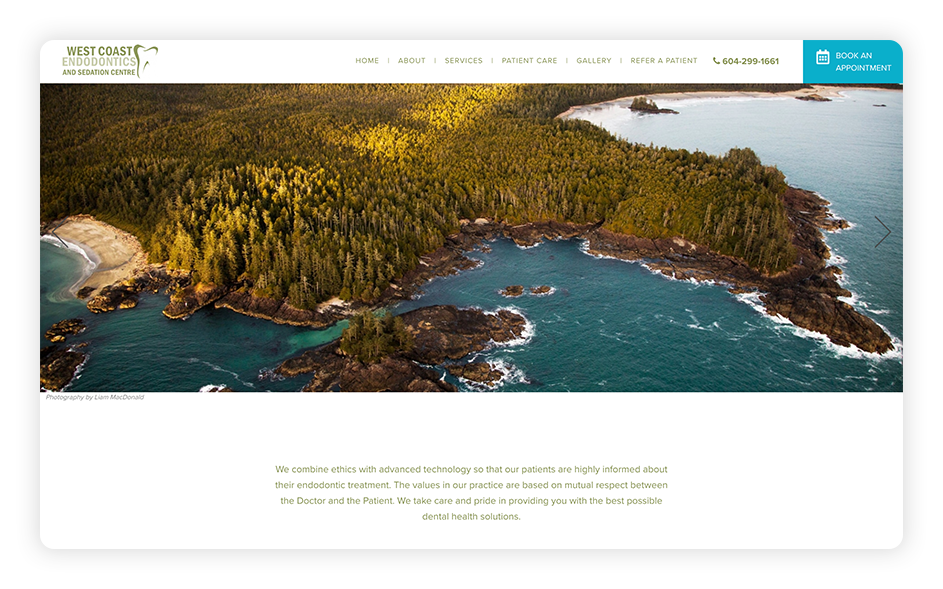 Why This Healthcare Website Design Stands Out
West Coast Endodontics and Sedation Centre is a dental health organization with a clean, minimalistic website design. The website's use of white space helps break up the text and images in a way that's easy to follow. The stunning banner images speak to the organization's clients, who are based in Burnaby, British Columbia. One unique design element is the page titles that are cut into the banner images with thick, white type. The style of typography and color palette adds to the organization's branding.
The website layout features a simple navigation menu with a bright call-to-action button in the header, encouraging site visitors to book an appointment online. From the moment you land on the site, there is a clear path to becoming a client.
What Your Organization Can Emulate From This Healthcare Website
West Coast Endodontic's website was built on Morweb CMS using a custom healthcare theme. The dental organization took a page out of the nonprofit playbook by highlighting its most important page in the navigation menu with a large, brightly-colored button. Your own organization can learn from this site's layout about how to present information in a readable format by incorporating white space and engaging imagery.
4. Wayne County Hospital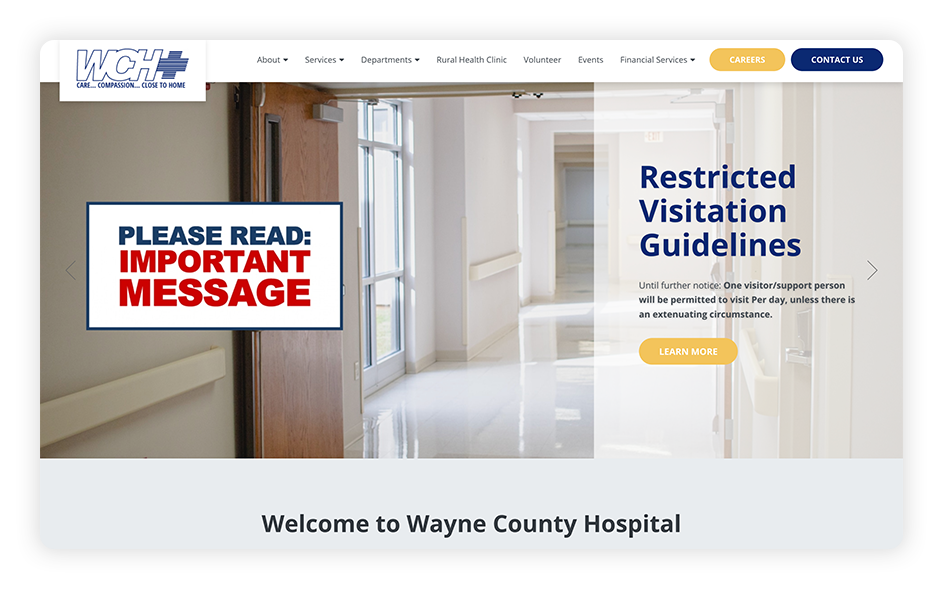 Why This Healthcare Website Design Stands Out
Wayne County Hospital has a simple, yet effective website layout. The navigation menu and featured content on the homepage guide new site visitors through the hospital's COVID-19 policies, various services, and engagement opportunities. The hospital used its own photography rather than stock photos, which gives the website a more genuine feel. The careers page is highlighted in the navigation menu and the footer offers quick links to important pages, making the site accessible.
What Your Organization Can Emulate From This Healthcare Website
Wayne County Hospital's website excels in web accessibility. The simple navigation and clean layout make the site easy to use and find information. Your clinic can emulate this website by using a similar healthcare website theme and customizing it for your organization.
5. The Haven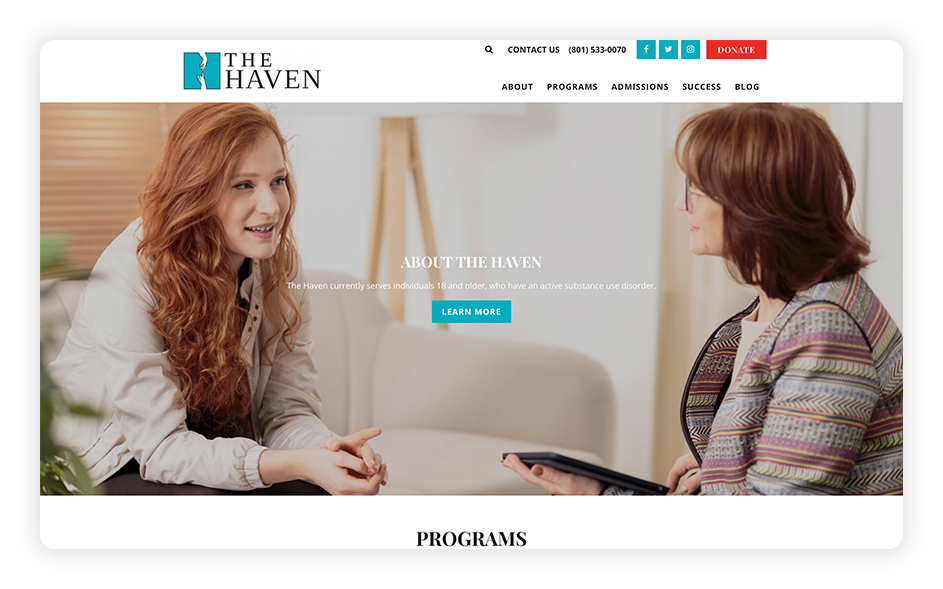 Why This Healthcare Website Design Stands Out
The Haven is an addictions treatment center and sober living home. The Haven makes use of image galleries, featured blog posts, testimonial sliders, and a blog roll on the homepage to guide site visitors through their offerings. All of the graphic elements and mouse-over effects fit together seamlessly to tell the story of the center and its patients. The center's on-site donation page matches the website's branding and simplifies the donation process with minimal fields and suggested donation amounts.
What Your Organization Can Emulate From This Healthcare Website
The team at The Haven had a clear vision for their site's branding and the message they wanted to convey. Their use of imagery is consistent and visually appealing. Having a clear vision for your brand from the start is essential for building a strong healthcare website. The addiction center's choice to host their donation form through their website helps maintain trust and keep donors on their site longer. The organization integrated its Morweb donation form with a secure payment processor for nonprofits.
6. Heritage Hospice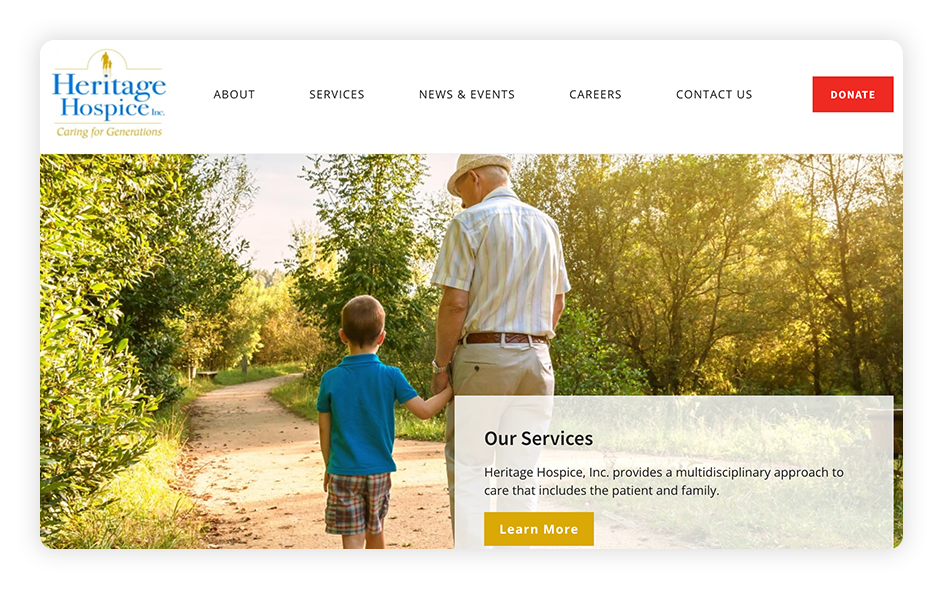 Why This Healthcare Website Design Stands Out
Heritage Hospice uses bright colors and joyful imagery, creating a friendly atmosphere for website visitors. The overall web design is inviting and the layout is easy to follow with a balance of text and images.
Heritage Hospice's website includes an online donation feature, which is highlighted at the top of the navigation menu with a red button. The donation page has a user-friendly design with suggested donation amounts, donation dedications, and a recurring donation option. The News and Events page follows a blog format so it is easy for the hospice center to post frequent updates.
What Your Organization Can Emulate From This Healthcare Website
Heritage Hospice's website is visually appealing on all fronts. They have a beautiful mix of content and imagery to best communicate their message. While they chose to use stock photos over their own photography, they selected images that fit their brand and convey a positive message. Your clinic should also choose photos that are cohesive and work together to tell your organization's story.
7. Northwest Connecticut Public Safety Communication Center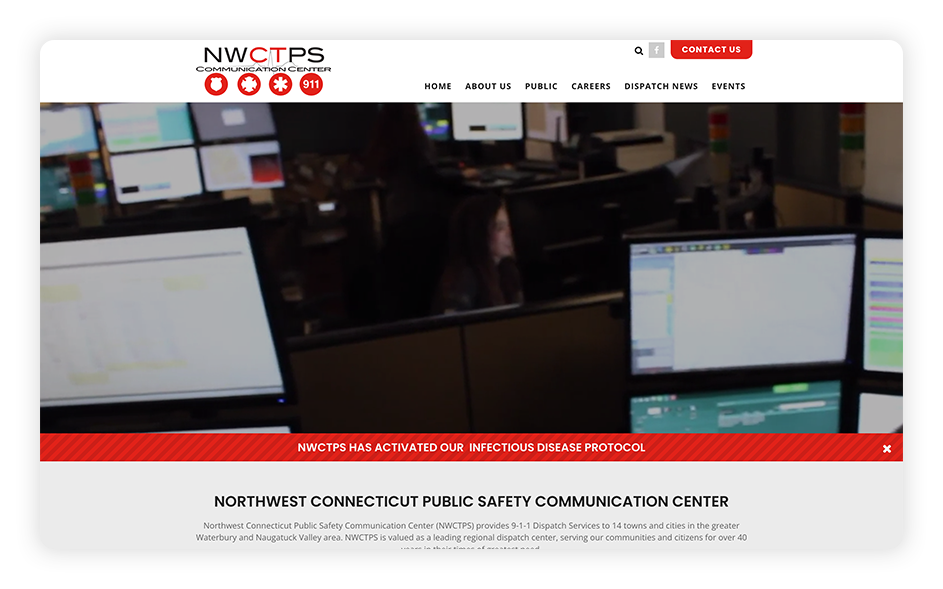 Why This Healthcare Website Design Stands Out
The Northwest Connecticut Public Safety Communication Center has one of the best-designed emergency services websites out there. The video banner immediately captures visitors' attention, and responsive elements further down the homepage bring the site to life, such as their live counter for emergency services and the interactive map of the communities this organization serves.
The alert banner at the top is a nice touch for a public health and safety website because it allows the organization to easily communicate urgent information to site visitors.
What Your Organization Can Emulate From This Healthcare Website
The communication center's stunning photography and videos provide a great lesson for other healthcare organizations. Rather than using generic stock photography, the website features real emergency responders working within their community.
The Northwest Connecticut Public Safety Communication Center designed their website based on a Morweb healthcare theme. By choosing an easily-editable CMS, the communication center is able to make immediate updates without needing to contact a developer.
8. Hospice of Hope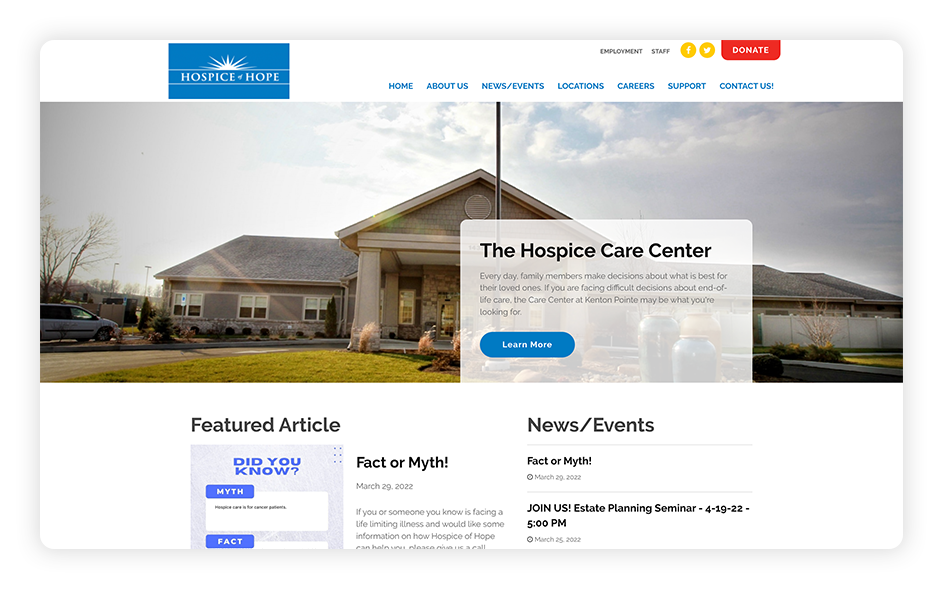 Why This Healthcare Website Design Stands Out
Hospice of Hope's content is presented in a straightforward yet engaging format with strong branding and imagery. Their homepage features their top news and events, custom iconography, and a live social media feed to convey their organization's benefits and the stories of the people they serve.
What Your Organization Can Emulate From This Healthcare Website
Hospice of Hope has a strong website layout that's easy for visitors to navigate. The hospice customized a Morweb healthcare theme to match their brand colors and equipped their site with important functionality including a blog engine and online donation form. The donation page has a minimalistic design with a beautiful header image and simple form fields.
9. Good Shepherd Community Care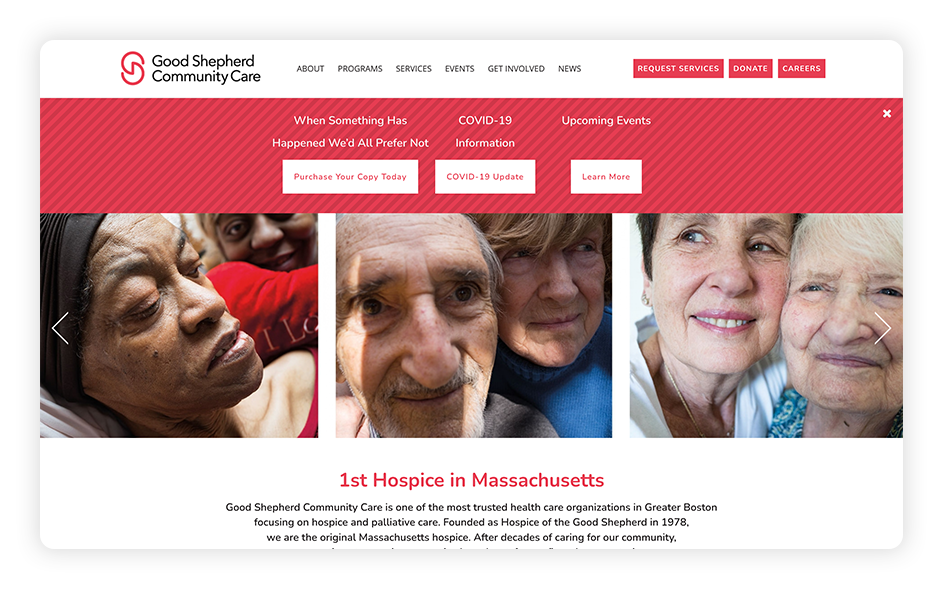 Why This Healthcare Website Design Stands Out
Good Shepherd Community Care's website has a beautifully understated design. The care center's website has tons of subtle design elements that bring their content to life. The homepage features an interactive map, live counter, featured articles and a social media live feed to encourage site visitors to explore the site and get involved.
One of the best aspects of this healthcare website is the navigation menu. Good Shepherd highlights their important pages in the form of buttons. Their contact information is easy to find in both the utility menu and footer so it is easily accessible from every page. The top menu also includes a web accessibility widget and Google Translate option that allows site visitors to adjust the page viewing settings to their unique needs.
What Your Organization Can Emulate From This Healthcare Website
Good Shepherd Community Care does a great job of breaking up their content and incorporating their own photos. The layout is readable and the branding is clean and crisp with purposeful use of color and white space. The addition of web accessibility features is great for an organization that serves an older audience who may have visual impairments. The care center's website was built on the Morweb platform, which specializes in web accessibility for nonprofit organizations.
10. Kenton Pointe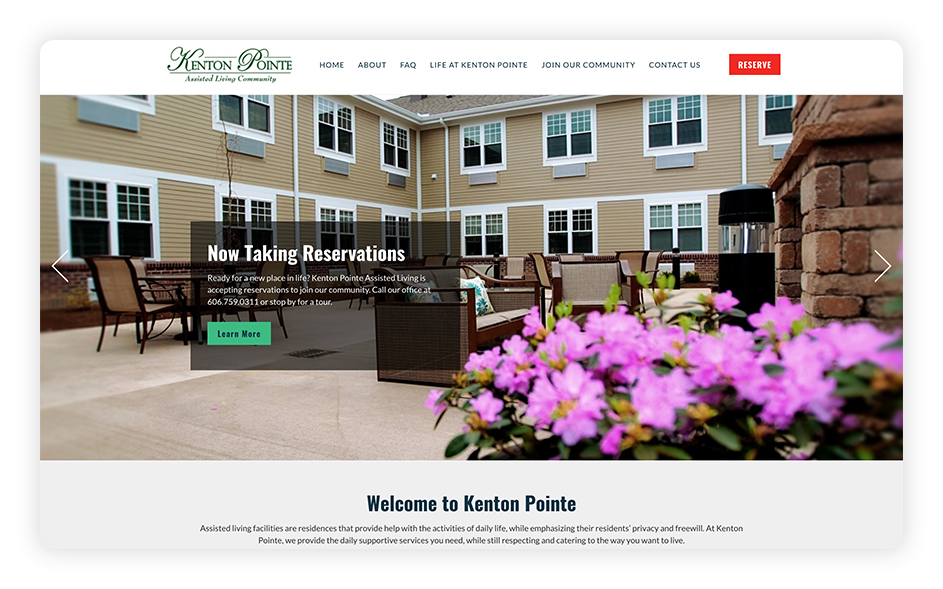 Why This Healthcare Website Design Stands Out
Kenton Pointe is a luxury assisted living facility located in Kentucky. The organization's site effectively communicates the benefits of the facility and showcases what it is like to live there. The homepage highlights the news and event pages, which offer multiple ways to get involved. It also features a social media live feed to show that this organization is active online.
What Your Organization Can Emulate From This Healthcare Website
Kenton Pointe's website design stays true to their brand and features real photography of the facility and clients. The organization built its website using one of Morweb's healthcare themes by customizing the brand colors and content. Other clinics can learn from the beauty of simplicity in their site design.
---
The Gist
Your healthcare organization's website can play a central role in helping you to connect with and retain patients, clientele, and supporters. And with the right tools and best practices on your side, you create an easy-to-use, beautiful-looking website that helps your organization to better serve your community.
Are you interested in learning more about web design and making your organization's website the best it can be? Check out these additional resources: