How to Connect With Your Nonprofit's Donors Virtually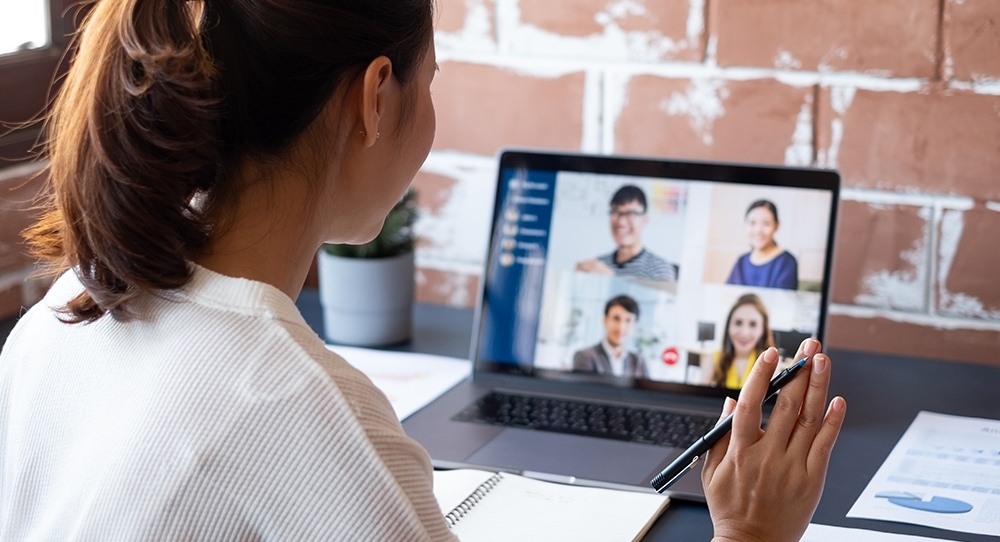 Nonprofit technology is always advancing, bringing new opportunities to connect with your donors online. While face-to-face meetings can go a long way toward building donor relationships, you will likely interact with the majority of your donors primarily through virtual means. Plus, with the right strategies, these online-based connections can be just as strong as those based on in-person activities.
Of course, some methods of online interaction are more effective than others. Every time a donor visits your website, interacts with your social media posts, or reads one of your emails, they are interacting with your nonprofit.
To help your nonprofit take a deliberate effort to build connections virtually, this guide will explore four powerful ways to build memorable donor relationships.
Send eCards.
Direct mail cards and letters can be meaningful but are generally slow and can be expensive for small nonprofits. eCards are a technology-driven solution that allows you to connect with your supporters instantly and deliver cards that can be just as engaging as their physical counterparts.
Nonprofits interested in eCards can either partner with an eCard service or invest in a software solution to manage eCards themselves. eCardWidget's guide to charity eCards outlines a few features eCard software can offer:
eCard pages. Create a page on your website that specifically promotes eCards. This can be useful for nonprofits interested in running an eCard fundraiser in addition to using them for donor appreciation.
Improved shareability. eCard software can connect with social media, email, and text, allowing you and your supporters to deliver eCards through whichever online channel they prefer.
Scheduling. Design your eCards now and decide when you want to send them out later. For example, you might create eCards in October before the year-end giving season kicks into high gear, then schedule to send your eCards out in December.
Tracking and analytics. Take note of who you're sending eCards to and whether they're opening them. Use this to identify donors who are receptive to eCards and record it in their donor profile for future reference.
Whether you should invest in eCard software depends on your specific needs. If you plan to launch eCard-based fundraisers or send eCards to hundreds of donors at a time, a software solution is likely the right answer.
Create compelling online content.
Donors will naturally engage with you if you have valuable online content to offer them. Regularly producing new and interesting content that's relevant to your mission can also help you improve donor retention, as supporters will have a reason to stay in touch with your nonprofit long-term to see what you create next.
Your content will depend on your nonprofit's focus, as well as the strengths of your creative team. For example, if you have staff members with strong writing and online research skills, you might focus on creating news-based content, or if you have a graphic designer, you might regularly create new art or infographics that represent your mission.
A few popular types of online content nonprofits can create include:
Blog posts. Blog content can vary widely from updates on your mission and interest stories about beneficiaries to hiring updates, donor spotlights, or even research reports. Maintaining a blog can also help improve your website's search engine rankings. Routinely updating your website with new and valuable content signals to search engines that you are an active, dynamic organization, causing your posts to rank more highly for relevant keywords.
Online courses. Teach your supporters new skills, earn extra revenue, and give them a reason to continually visit your website. These courses can be live-streamed sessions between an instructor and virtual attendees, or you can record your courses, then sell access to your content archive.
Videos. Online content favors video, and short, compelling videos are easily shareable. Create a video blog, work with your graphic designers to create animated videos, or make short presentations about various concepts that are relevant to your nonprofit. Then, post your videos to social media, embed them in blog posts, or even email personalized thank-you videos directly to donors.
Content creation can be a time-consuming process. Get creative with how you can maximize engagement through each piece of content. For example, you might write a blog post, promote it via your newsletter, and feature different snippets of it on various social media platforms to entice different audiences.
Launch a virtual peer-to-peer campaign.
Peer-to-peer campaigns allow your nonprofit to connect with your supporters' networks, increasing your audience. With a virtual peer-to-peer campaign, you can combine the benefits of peer-to-peer campaigns with the reach of social media to connect with even more donors.
For donors who participate as peer-to-peer fundraisers, the experience of talking about your nonprofit with their friends, family, and followers will reinforce their commitment to your cause. OneCause's peer-to-peer fundraising best practices guide recommends a few strategies you can leverage to launch an effective online campaign where participants feel supported:
Recruit and train your participants. Put out a general request for peer-to-peer participants, but reaching out to specific donors can increase your number of fundraisers while also validating their connection to your nonprofit. Get in touch with donors who have a significant engagement history and a relatively large social media following. Then, host onboarding meetings to go over the basics of a peer-to-peer campaign and answer any questions.
Maintain cohesive branding. Ensure your peer-to-peer fundraisers create a consistent message in-line with your nonprofit's brand by distributing your brand guide during onboarding. Additionally, share brand assets that peer-to-peer fundraisers can use in their messages. These might include your logo and key visuals, as well as a list of powerful statistics or compelling talking points.
Take a multi-channel approach. Not all of your donors use the same social media platforms, and you can expand your reach by connecting with donors who use a variety of communication channels. Recruit donors who are savvy with Facebook, Instagram, and TikTok, as well as those who participate in social email lists or have experience with SMS-based campaigns.
After your peer-to-peer campaign thank donors, as well as all of your participants. Solidify the connection participating in your campaign helped build by sending handwritten thank-you cards, beautiful eCards, and small gifts, like t-shirts and hats, in the mail. You can also even host an online appreciation event.
Host virtual events.
Supporters attend events for a variety of reasons, and virtual events can engage donors who may be unable or uninterested in attending in-person gatherings.
Virtual events are most engaging when they provide supporters with opportunities to get involved and socialize, just as they would at an in-person event. For example, have volunteers act as chat moderators to encourage attendees to talk with one another by answering questions, ensuring conversation remains polite, and even prompting attendees with questions.
For the event itself, present content that is equally engaging as it would be in-person. For example, you might invite experts in your field to speak or have a presenter who is comfortable interacting with an online audience. Some nonprofits have even begun experimenting with VR technology to make their events truly immersive.
---
Every interaction with your supporters can be a valuable one, including those that take place online. Build connections with donors and stay in constant contact by sharing valuable online content and inviting them to interact with you virtually.