5 Ways to Engage Your Fraternity and Sorority Members Online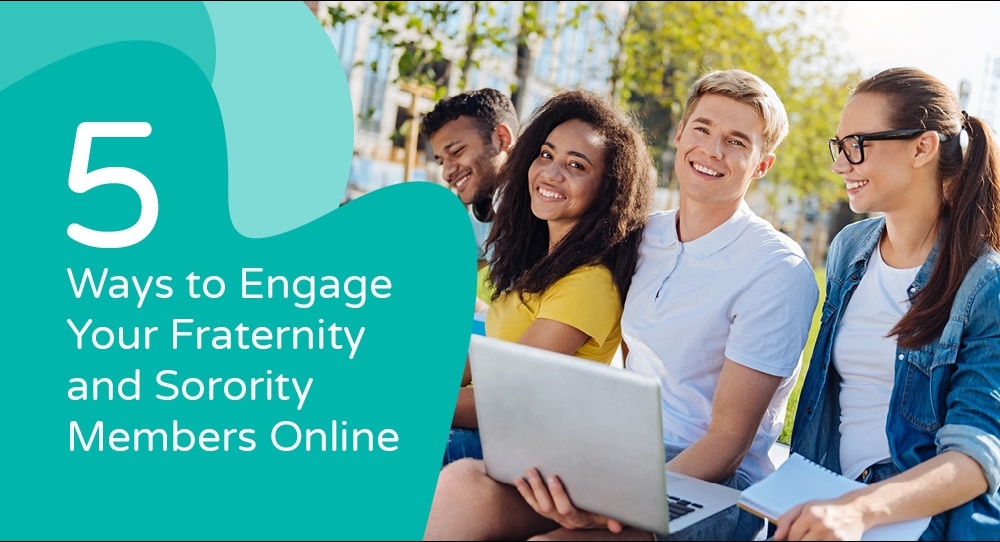 If you're in a fraternity or sorority, you know the importance of your brotherhood or sisterhood. And, you also know that it's important to keep that brotherhood or sisterhood strong. One of the best ways to do so is to adhere to communication best practices to keep the connection strong between you and your fellow members.
As an effective chapter leader, it's your job to facilitate communication efforts. Lucky for you, the internet has made it increasingly easier to connect than ever before. You should leverage the vast potential of the internet by offering a myriad of communication opportunities to your members. This will add value to their membership with your chapter and increase the likelihood of continued engagement, even after graduation.
There are many strategies your chapter should consider trying out to better connect with your members online. Whether it's making a cross-generational Facebook group or launching a digital day-of-giving, there's always something you can do to ensure that your members stay tuned in and engaged with your chapter.
If you're unsure where to begin making your online footprint, there's no need to worry. We'll cover five tips to increase your member engagement and satisfaction:
Ready to get tech-savvy? Let's dive into how you'll boost your member participation through online outreach.
Tip #1: Offer useful resources on your chapter's website.
Your most powerful outreach tool is your website. If designed effectively, this is where your members will get the most information about your organization. So, you should prioritize a user-friendly web design that offers an optimized experience for every visitor.
Web design is a complex process with many technical angles, such as graphic design and coding. If you don't have prior experience creating a web design that's clear and converts casual visitors into dedicated supporters, you're not alone. To start, consider using an easy-to-use school website builder. This software provides the digital infrastructure to accommodate a variety of needs, such as:
A blog page. One of the best ways to reach more people in your community is to feature high-quality educational content. Blogs are highly digestible and shareable bites of content that establish your organization as a reputable thought leader in your niche. It's also a great place to share current events such as recruitment updates and other news from your chapter, such as upcoming fundraising initiatives. Plus, if you're trying to reach a new audience on the search engine results page, high-quality content is great for search engine optimization (SEO) purposes.
A dues and rent payment tool. An online payment tool for dues and rent is more convenient for both parties than submitting a check or cash. Also, it provides the option to collect automatic payments, decreasing the risk of late payments. This feature can be expanded to include a maintenance request page and other direct communications with chapter house management. This is a huge asset for both current student members and leadership. To make this easy for your members to access, include a direct link to your dues collection service or payment login on your website!
An image gallery. A fraternity or sorority is an organization founded on togetherness and cooperation, and your website should reflect this. Take this opportunity to show off your chapter members by including photos of your events and activities. This image shows sorority sisters having fun together in the community. Choose images that evoke a sense of your organization's identity and purpose. Website visitors will love learning more about you by perusing your gallery!
Web design is a crucial part of your organization's online presence and can do wonders for your outreach efforts. Don't be afraid to experiment with your web builder and try something new!
Tip #2: Use a management solution that offers a mobile app.
Your website shouldn't be your only foray into online chapter management. Meet your members where they are by using a mobile-friendly fraternity and sorority management platform. This solution offers real-time connectivity with members if they're away from a computer.
However, your organization should be careful with the apps that you consider for your online management software. Due to mobile app stores' free market, there's free reign for low-quality apps to get mixed in with the ones you really want. You should look for apps that are specifically made with fraternities and sororities in mind because they prioritize your chapter's needs, like OmegaOne by OmegaFi.
An online communication strategy would be incomplete without a mobile approach. This is especially important for the younger generation of current chapter members because they're more likely to interact with mobile-friendly platforms. They'll certainly thank you for the additional flexibility!
Tip #3: Hone your chapter's social media presence.
It's likely that your current chapter members are active on social media and are already showing parts of your organization on their personal pages. Your organization should capitalize on this to bolster your online presence on your own social media. If you don't already have a social media strategy in mind, here are some guidelines on where to start.
Streamline your strategy for efficiency. Don't try to do it all! You should aim to have higher-quality content on a few platforms rather than spreading yourself too thin across many platforms. Do some research to figure out which platforms your members are most active on. The most popular social media platforms for college-aged adults are Twitter, TikTok, Facebook, and Instagram. Optimize your content based on these platforms' unique parameters to ensure your posts will perform well.
Integrate your website with social media. Wherever possible, include calls-to-action prompting your website visitors to click through to your social media platforms. A great way to do this is to include social media sharing buttons in your blog posts so that users can directly share the content onto their feed. This makes it more likely that more brothers or sisters will see what your chapter is up to and engage with your content.
Be active in comments and direct messages. The central purpose of social media is to have consistent dialogue with your followers. Take opportunities to respond to comments and direct messages so you can keep conversations going. This will make your members feel valued and involved in your chapter.
Social media can be a hefty undertaking, but don't give up! As long as you go in with a plan, you're likely to see a worthwhile return on your time investment.
Tip #4: Set up an online merchandise store.
Fraternities and sororities are recognizable by their unique and organization-specific letters. Your members identify with and value these symbols, which tie them to their brothers and sisters. You can leverage this emotional connection by selling branded merchandise for your chapter online.
As you design your merchandise, think about which communities you'd like to target and appeal to them with specific merchandise. For example, you can create an "X Mom" shirt for parents of members. Furthermore, try to diversify your products beyond the traditional offerings, such as t-shirts and hats. This will help you ensure that you're offering merchandise that will appeal to a wide swath of your members and their loved ones.
This type of fundraiser is a crowd favorite, and for good reason. According to Pennington & Company, online donation pages such as fundraising sites and stores are easy-to-use and more likely to attract buyers. Your members can simultaneously donate to the future of the organization they care so deeply about while repping your chapter in style!
Tip #5: Host virtual or hybrid events.
Events with virtual or hybrid components have skyrocketed in popularity in recent years. With greater flexibility to attend from home and skip the expensive venues, it's easy to see why. Your chapter can interact with alumni, current student members, and potential members through virtual or hybrid events. The possibilities are endless, but here are a few to get you inspired:
Fundraising events are accessible online as well as in person. In fact, they can be even more profitable because they meet the donor where they are: at home. Your chapter can host a virtual silent auction, gala, viewing party, telethon, class, and many more. You can charge a small admission fee to get access to the virtual meeting place which will go towards your fundraising goal.
Community building events are ideal for revitalizing interest in your chapter, especially with alumni. These can be more academic, such as a roundtable discussion or panel, or they can be more casual. You can market this as a networking event for brothers and sisters to connect and bond over their experiences with your chapter.
Volunteering events are ideal to help current members achieve their chapter-specific service requirements. Organizations such as the United Nations, the Smithsonian, Crisis Text Line, Project Gutenberg, and iMentor provide valuable volunteer opportunities for your members to get involved online.
Your chapter can continue providing real value for your members, even in this increasingly digital age. Take advantage of these useful events to make a real difference in the lives of your members and the communities they're a part of.
Next Steps
We know your job as a chapter leader is a huge responsibility that requires lots of work. Make it easier on yourself and your members by letting online platforms streamline the communication process for you. Remember, your members want to get in touch with you, so it's just up to you to provide the infrastructure to do so. Your first step is to start researching which platforms fit well with your needs and financial resources and then develop a strategy to tackle your outreach goals. Before you know it, your members will feel more like family than ever before.