5 Tips to Make Your School's Website Design Stand Out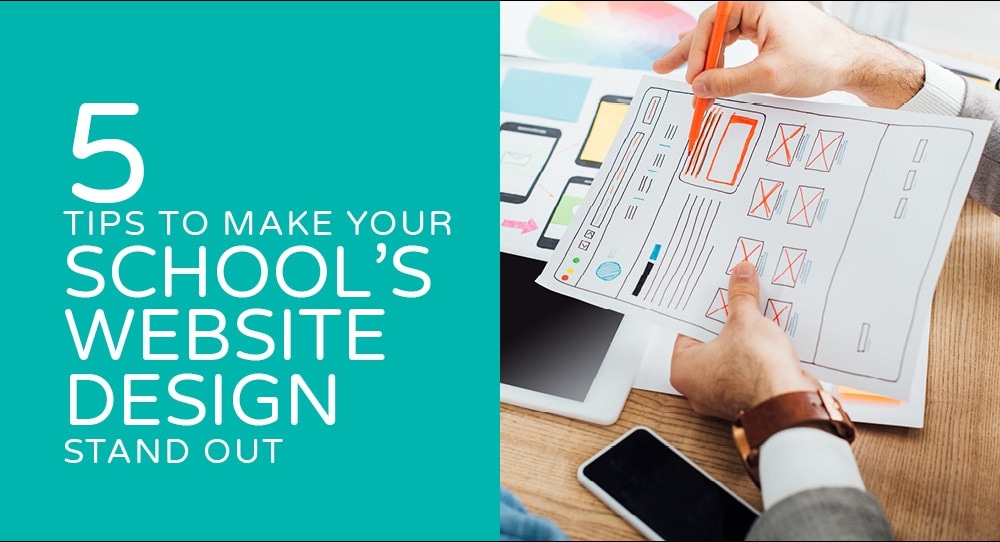 Nonprofits often invest in website design to help raise more money for their causes and connect with their supporters. Like nonprofits, schools can use website design techniques to strengthen communities and raise money for educational opportunities.
With the shift to online and hybrid learning over the last few years, school websites are crucial to education. Without them, parents, teachers, and students would be left in the dark about coursework and extracurriculars.
Investing in your school website can make all the difference when it comes to fostering a school community that engages in school events, festivities, and online fundraisers.
When you make your school website informational and easy to navigate you'll be improving your school's entire network. In this post, we'll share five tips for how you can improve your school website design:
These school website design tips will explain how to ease communication barriers with students and parents through features like school directories, easy event updates, fundraiser details, and community activities. Let's get started!
1. Use a school website builder
It doesn't get better than using a website builder made especially for schools. Using built-in templates and designs that people already spent time researching and optimizing for school audiences, can save you time and money.
When you invest fully in the first iteration of your website, it's more likely to work better and serve your audience better for longer. As much as a website's color is important, the layout and functionality of your website are what guide viewers through your most important pages.
Be sure to assess what tools any website building platforms or experts have access to when researching your options. It's important that your website builder has experience working with schools to ensure they can build a high-functioning website.
When researching school website builder platforms, here are some features to inquire about:
School-based site templates
Logo creation
Page templates
Quality customer service
It can be difficult knowing where to start so consider looking for a website builder that has experience working with schools, but hiring a professional can make sure you're website is up to par.
2. Honor community sponsors
Honor your sponsors by including their logo, name, and maybe even a short description of how they work with you. You can include this in a section near the footer or even on your homepage under your mission statement. For schools that have different sponsorship levels, consider placing the highest donor in the most prominent position, or scale the size of the logos based on donation amounts.
Community sponsors or corporate partners likely donate because they want to support your school's educational environment and see your students thrive. Honoring community sponsors is commonly found on higher education websites, showing that this feature can have similarly great effects on your grade school website as well. Your school website is the perfect low-cost way to highlight your community sponsors to show how much you value their partnership.
Your sponsors will appreciate having a place on your website where your community can see and learn about your partnerships. If you have a donor wall or physical plaques in your school honoring sponsors, consider featuring images of them on your website.
3. Create fundraising event pages
Similar to nonprofits, your school likely has several fundraising initiatives and general events on the calendar.
Create a section of your website to host your fundraising events and ongoing projects, so donors can always find ways to contribute to your school. While nonprofit websites may have separate pages for each event or project, you may want to organize your events on the same page to simplify the process for your audience. Plus, you can organize the events by date, so donors can easily identify which ones fit into their schedules.
Be sure to include a note on your fundraising pages informing parents and donors about matching gift eligibility. According to Double the Donation's guide to matching gifts, 78% of match-eligible donors are unaware that their employer can match their donations. Encourage your parents and supporters to research their match eligibility to enhance their contribution's impact on your school.
4. Add a directory
Creating a schoolwide directory can help keep your community connected by keeping lines of communication open and available. Link the directory somewhere easily accessible like your navigation bar or footer. Categorize your directory by teachers, PTA members, and administrators to make it easy to navigate.
A teacher directory can also inspire donors by showing the people who work so hard to make your school a thriving educational environment. Include photos, school email, and school phone number in your teacher bios. For easy navigation, be sure to include what grade level and courses for each teacher.
Add a category for your PTA board and members to help maintain a communicative group. Because your PTA is likely an extensive portion of your school's fundraising efforts, consider building a separate PTA page for your members to update events, past fundraiser statistics, or post role descriptions for upcoming fundraisers. If your PTA has its own membership website, be sure to include an accessible link for it on your school site.
5. Create a school blog
Although school websites are traditionally for more informational purposes, try creating a school blog for the entire community to submit entries. This can motivate individuals to get involved and help deliver important information in a more intriguing format.
Here are some topics to include in your school's blog:
Updates about new equipment or facilities that have been gifted to your school can encourage readers to lend their own support.
Upcoming events are important to include in your school's website. Establishing a place for event information on the blog makes it easier to find this information.
Winning sports teams can get students excited about extracurriculars and increase attendance at sports events.
Fundraising initiatives usually require a good amount of information and coordination. Creating a category for this on your website makes it simple for donors to research your school's current and upcoming fundraising goals.
Student success highlights the hard work your staff and students put into their education. This could motivate students to submit work they're proud of to receive recognition.
School blogs are the perfect place to highlight your ongoing and upcoming activities across all grades and extracurriculars. You can also promote your school fundraisers and encourage students and parents with ideas of how to ask their networks to give. Read more on Read-A-Thon's fundraising guide to learn how to incorporate school fundraisers into your calendar.
Remember to keep your school website organized and easy to navigate. This should always be at the top of mind to ensure your website design features enhance your community's web experience and don't overwhelm them. Look for a website builder that can work with your vision to create a useful and aesthetic website to bring your school's community closer together.