Top 9 Nonprofit Website Templates for All Organizations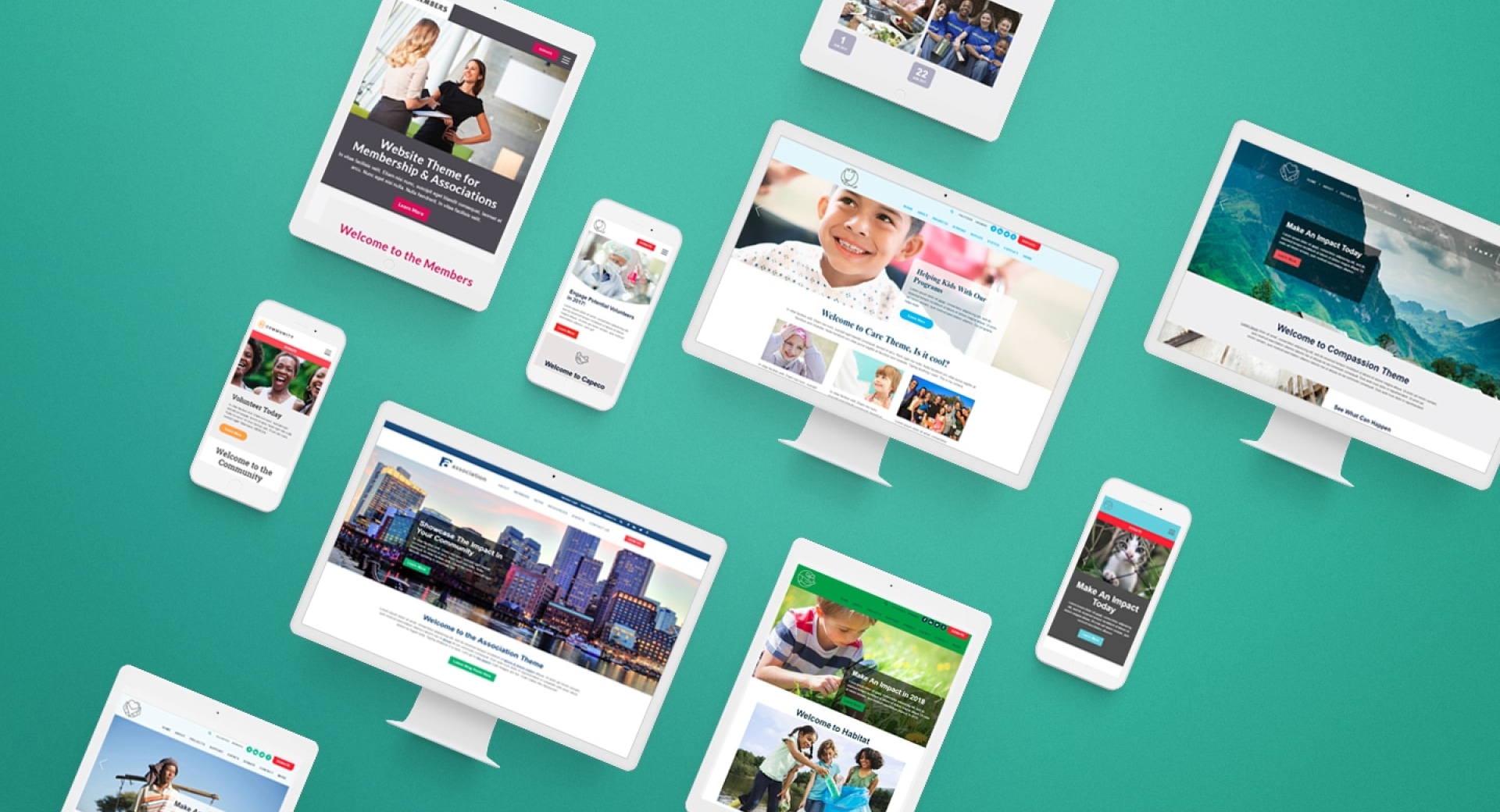 These days, your nonprofit's website isn't just a supplementary resource for supporters. Rather, it's often the primary place your community will engage with your cause, whether that's by donating, registering for events, or reading your latest blog posts.
That being said, web design is often left as an afterthought for nonprofit organizations. Maybe this is because your team feels they don't have enough coding expertise, or perhaps because hiring a web developer is outside the reach of your budget.
However, it's time your nonprofit took a second look at its web design strategy and considered trying out a really useful resource: nonprofit website templates.

Nonprofit website templates do the hard work of web design for you. Instead of having to code an entire site from scratch, your team can simply pick the template that looks right for your cause and customize it to perfectly align with your nonprofit's web design vision.
For example, if you wanted to embed a plugin to the backend of your site, the nonprofit website template should easily allow for this customization. This customization is helpful when you want to raise your fundraising revenue. With an easily customizable backend site, you can improve your online donation page with an embedded corporate matching gift and volunteer grant database plugin.
Think a nonprofit website template sounds right for your cause's online home? Check out some of these top templates to get inspired:

Designing, implementing, and maintaining a stellar nonprofit website doesn't need to be out of reach for your team. Let's dive into these standout nonprofit website templates to see what resources are out there!


---

1. Members — Best Website Template for Community Associations

Website Template Overview
Community associations need a warm and inviting home for their members online, and Members is one of the best nonprofit website templates for the job.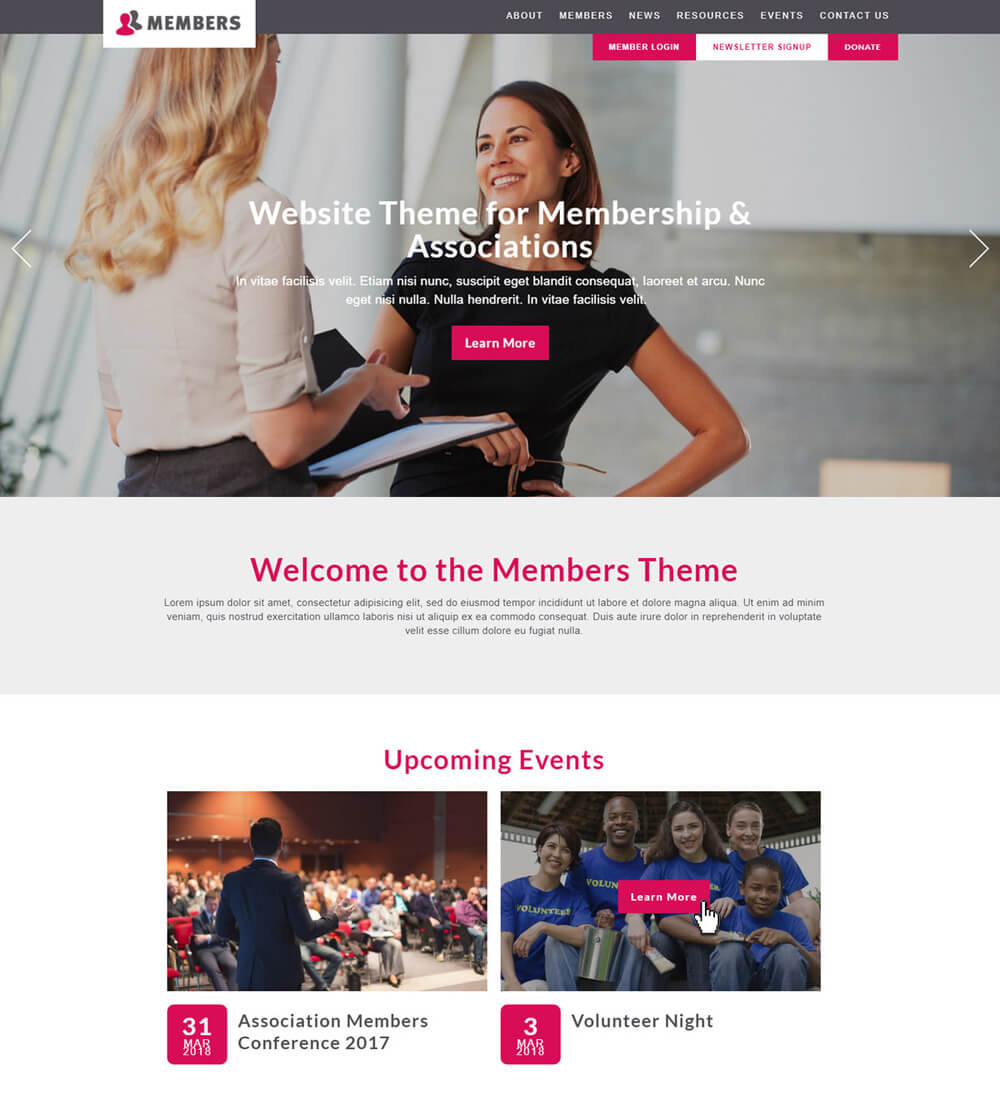 Whether your community association serves the homeless, provides after-school tutoring to at-risk youth, or oversees community development projects, Members can bring your organization's mission to life with its friendly web design.
Since most community associations are smaller organizations focused on local projects, Members puts your constituency first in its focus on visual elements.

By featuring rotating banner images, Members immediately draws attention to your community association's diverse staff and supporters. Even further, Members keeps users interested by calling attention to your ongoing projects right at the top of the page.
This way, as soon as users arrive on your site, they'll be greeted with all of the tools they need to get engaged with your cause.
What Web Design Skills Do You Need?
Luckily, Members is one of the most intuitive nonprofit website templates on our list.
Offered through Morweb's nonprofit CMS, your community association doesn't need any web design experience to get started designing your Members website. This template stands out because:
It requires no coding expertise. Members

is a great fit for community organizations because you don't need to have coding experience to customize this template design. Additionally, if you did want to customize your code, you can still easily embed a plugin!

You can drag and drop elements.

This template is really simple to tailor to your web design vision. Just add, drag, and drop elements wherever you need them on your site.

It can be branded to your cause. Make your Members website perfectly match your community association by including your logo and branded colors throughout the site.

Members is a great fit for community associations of all shapes and sizes. You can even test drive this nonprofit website template before you make a commitment.
---

2. Paws —Best Website Template for Animal Welfare

Website Template Overview
For humane societies looking to breathe life into their online presence, there's no better nonprofit website template than Paws.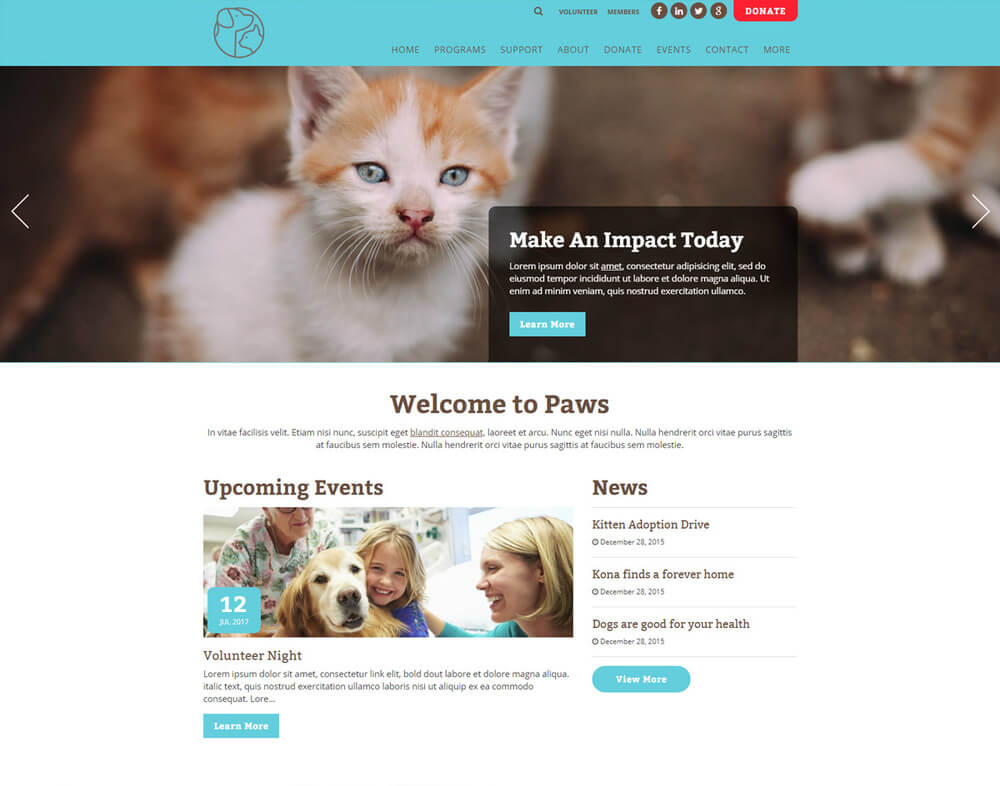 Paws is a template expertly designed for organizations that put animals first, from regional animal shelters to animal rights advocacy groups. Organizations that stand up for animals need to be outspoken in order to call attention to the needs of our furry friends, and Paws makes doing so truly intuitive.
With Paws, you can elicit empathy from your website's visitors by adding large, high-definition images of the animals your organization serves right in the middle of your homepage.

Paws suggests that nonprofits structure their site around calls-to-action that compel visitors to engage with your cause. By doing so, your website's visitors immediately feel like they're part of your organization's mission to serve animals and will be inspired to keep engaging with your cause online.
What Web Design Skills Do You Need?
Much like Members, Morweb's Paws nonprofit website template makes web design an easy task.
Your animal welfare organization will be able to perfectly create your ideal website with all of the skills you already have (no coding required). Using drag and drop elements and customization tools, you can get your website up and running in no time.
Even better? You can check out Paws in action by playing around with this free trial template.


---

3. Restore — Best Website Template for Environmental Nonprofits


Website Template Overview
Let's be honest: it's not always easy to get people excited about the environment. But with Restore, it's never been simpler to inspire supporters to give back to your environmental advocacy cause.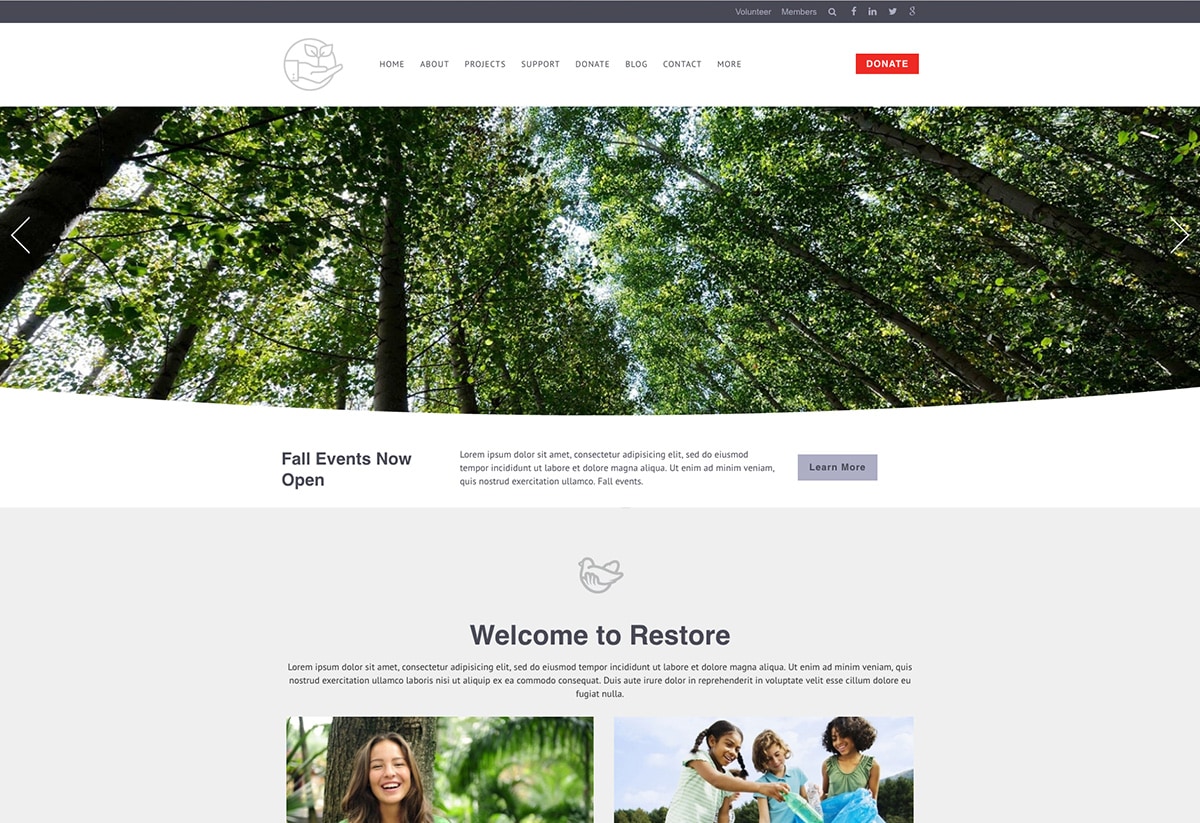 When nonprofits like yours choose Restore, they're empowered to drive individuals to work with your cause in its mission to support the environment. This nonprofit website builder includes call-to-action elements in the top banner to immediately draw attention to your organization's work.
Not only that, but Restore features an easily-navigable running header menu to direct traffic to your website's core pages, including your giving page.

In the middle of the homepage, your nonprofit can include your calendar of upcoming events to ensure that all of your visitors know what engagement opportunities are coming up. Environmental organizations tend to be very event-focused, so this element can be especially impactful.
Ultimately, Restore makes it simple for your nonprofit to connect with site visitors in a way that appeals to their interests and offers them the engagement opportunities they're looking for.
What Web Design Skills Do You Need?
Nonprofits love Morweb's Restore template because it's another user-friendly nonprofit website template that anyone can master.
Your organization can make Restore your own without any coding experience. Even better, you'll have access to all of the same customizable elements that you can find in Paws and Members, meaning there's nothing in the way of your team making Restore completely your own.
Your organization can play around with Restore's intuitive interface by testing out this demo template.


---

4. Progress — Best Website Template for Health Organizations

Website Template Overview
Your nonprofit organization is dedicated to laying the groundwork for positive health outcomes in your community.


Whether your health organization supports a small local clinic or represents individuals across the nation, you'll need a website template designed for causes just like yours. Look no further than Progress.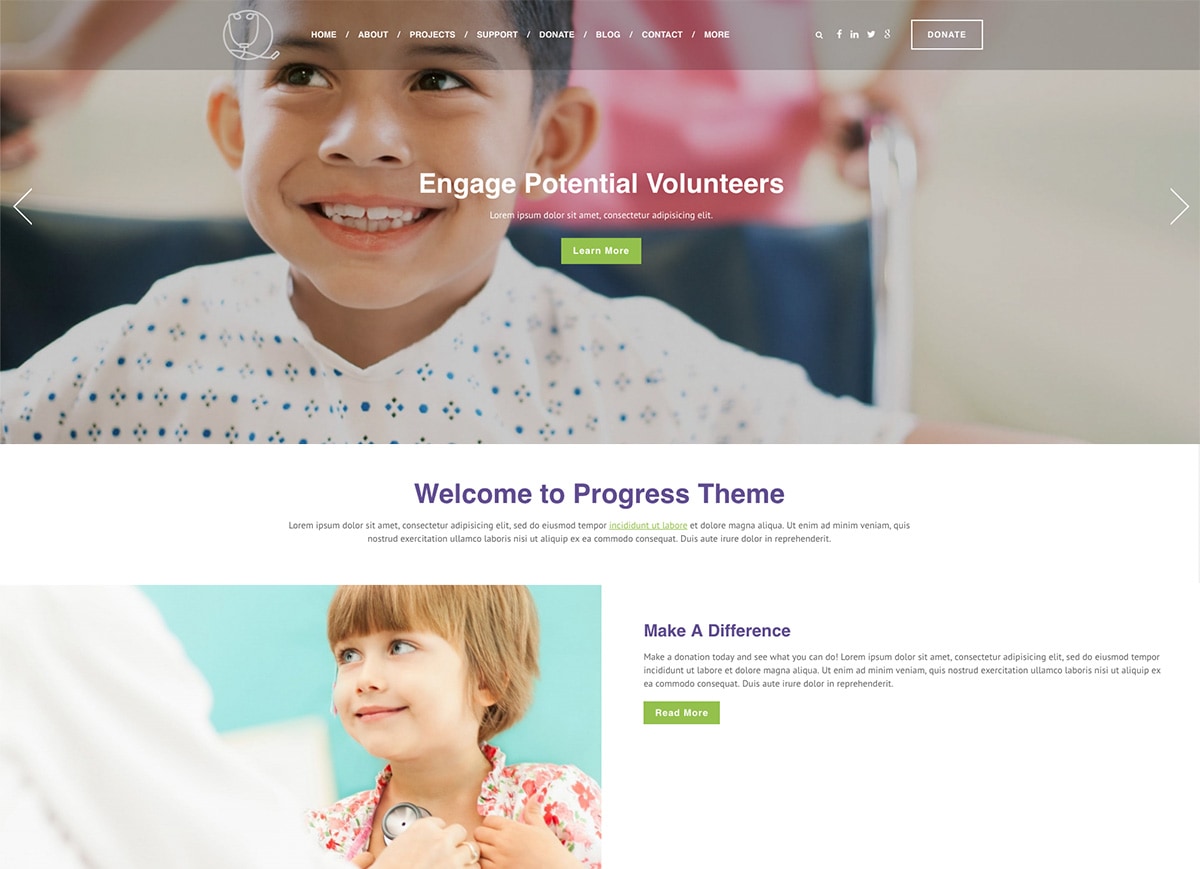 Progress is a website template crafted precisely for health-driven nonprofit organizations and offers your team all the features you could ever need to connect with constituents online and drive engagement.

Like the previous few entries on this list, Progress places your constituency first with a focus on including high-quality images right at the top of the page in an image slider element.
Progress goes even further to put your community first by offering private, password-protected pages for your team to host confidential information.
Confidentiality concerning health information is so important in this sector, so you'll want to trust that your website has the capabilities to protect your community's privacy.
What Web Design Skills Do You Need?
Much of your health organization's staff have professional histories in the healthcare industry as doctors, nurses, administrators, and more.
What's less common is to find individuals at health-focused nonprofits who have extensive experience with web design. Don't worry, though! Morweb's Progress theme is another nonprofit website template that your team can get up and running without having to be a coding expert.
Your team can check out all that Progress has to offer by clicking through to this free trial demo.
---


5. Harmony — Best Website Template for International Nonprofits

Website Template Overview
As a member of an international nonprofit organization, it's no secret that it can be difficult to build and maintain a strong community that spans countries and continents.


That's why templates like Harmony can make such a difference in the way your constituents connect with one another. Channeling empathy for your beneficiaries is at the heart of your mission, so your website should be designed to shine a spotlight on the communities you serve.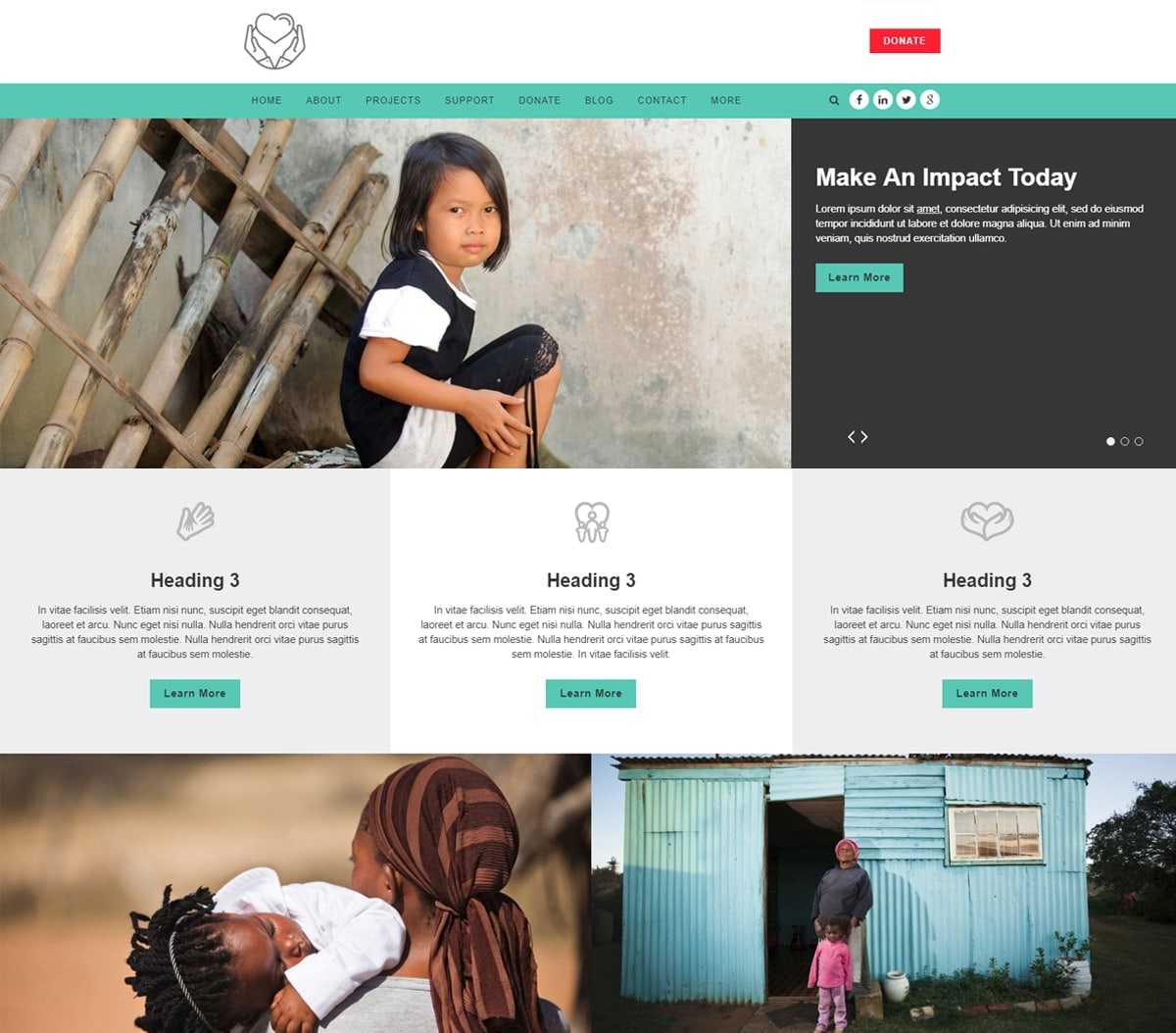 Harmony has all the essential web design features your nonprofit needs: a user-friendly interface, high-definition photo galleries, and live editing.


This template also offers member directories to help make connections between your members and those across the world.


Having an easy-access member directory can do wonders for your international nonprofit's engagement efforts. Supporters can search friends, family, colleagues, and even new partners in your mission to make connections within your community.


Member directories help your constituents form stronger ties, and with a community spread out as far as yours, you'll need all the tools you can find to help build relationships.
What Web Design Skills Do You Need?
With staff and supporters located across the globe, your international nonprofit will need to choose a website template that anyone can master.


Morweb's Harmony theme is a stand-out nonprofit website template not only for its focus on building connections in your community, but also for its user-friendly interface. Like the other Morweb entries, you'll have full access to all the web design tools you need (without needing to code).


Take a look at this free demo of Harmony to try out this international nonprofit website template.
---

6. UniAlumni — Best Website Template for University Alumni

Website Template Overview
For universities, one of the toughest challenges you face is finding innovative and effective ways to engage your alumni, especially online.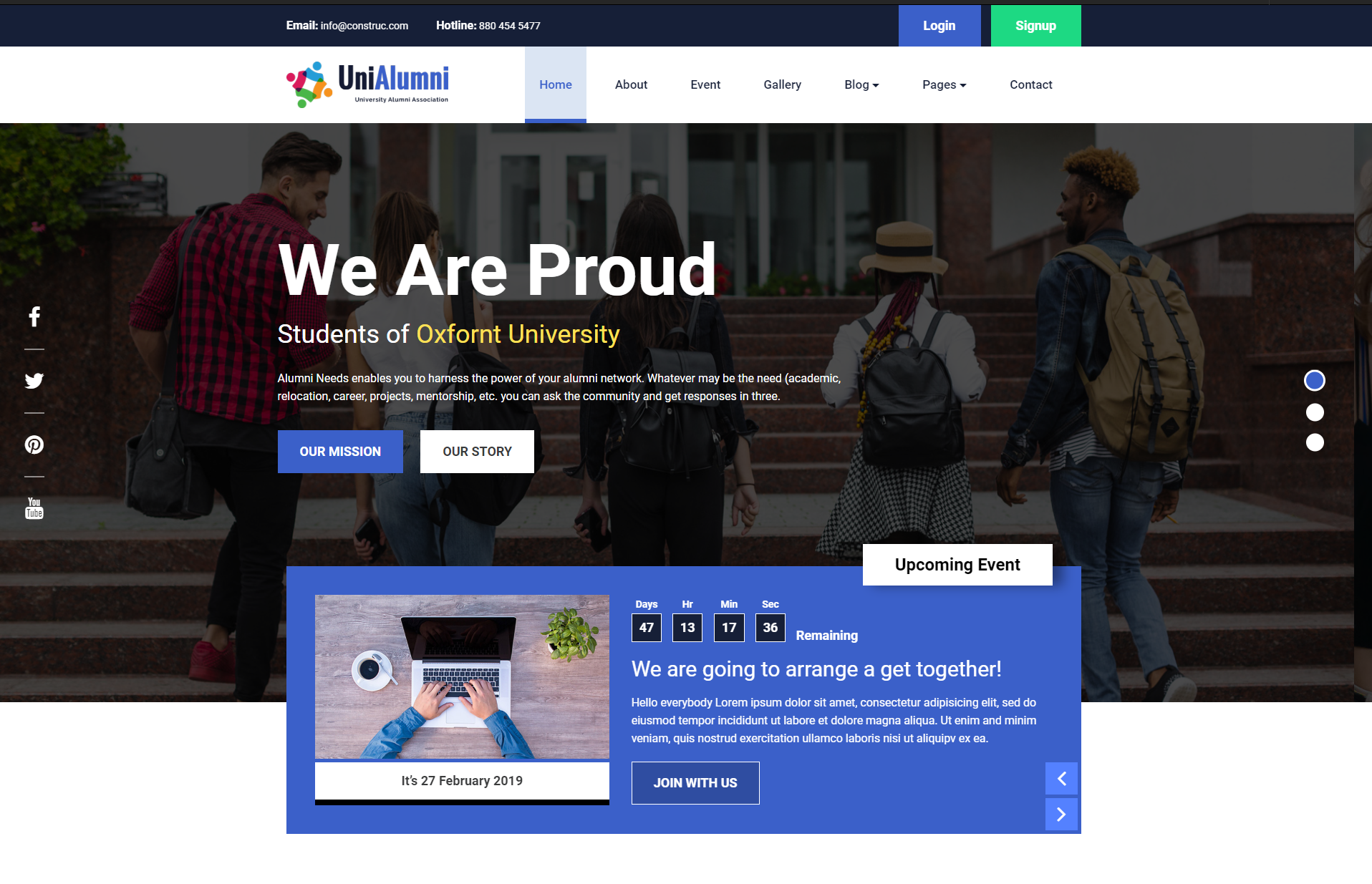 Take a look at UniAlumni for your university's alumni fundraising needs. Not only is this nonprofit website template designed precisely for alumni engagement, but it's also created to directly address university fundraising needs.
Instead of trying to make a generic website template work for your school, consider trying a tailored solution like UniAlumni.


Near the top of the homepage, UniAlumni allows your team to add an event countdown element that updates in real-time. Live elements like this help get your visitors excited to stay engaged with your school and can be especially useful for advertising alumni get-togethers.
UniAlumni is highly customizable and can be branded to match your university seamlessly.
What Web Design Skills Do You Need?
Although UniAlumni is designed with customization in mind, there's still more of a learning curve to mastering this particular website template than earlier entries on our list.
Since UniAlumni is a WordPress website template, your team will need to have some experience working within this content management system. This means that unless your staff has a WordPress expert on hand, it might be difficult to make the most of this particular template.
You can preview UniAlumni by clicking through to this interactive website template.
---

7. Fullscreen — Best Website Template for Arts & Culture

Website Template Overview
For nonprofit organizations that put arts and culture at the front of their mission, having a visually-elegant website is typically at the top of their web design priority list.


Fullscreen is a top nonprofit website template for arts and cultural organizations like museums, community arts funds, and youth organizations. This stylish template puts visuals first and makes it easy to share your latest work with visitors.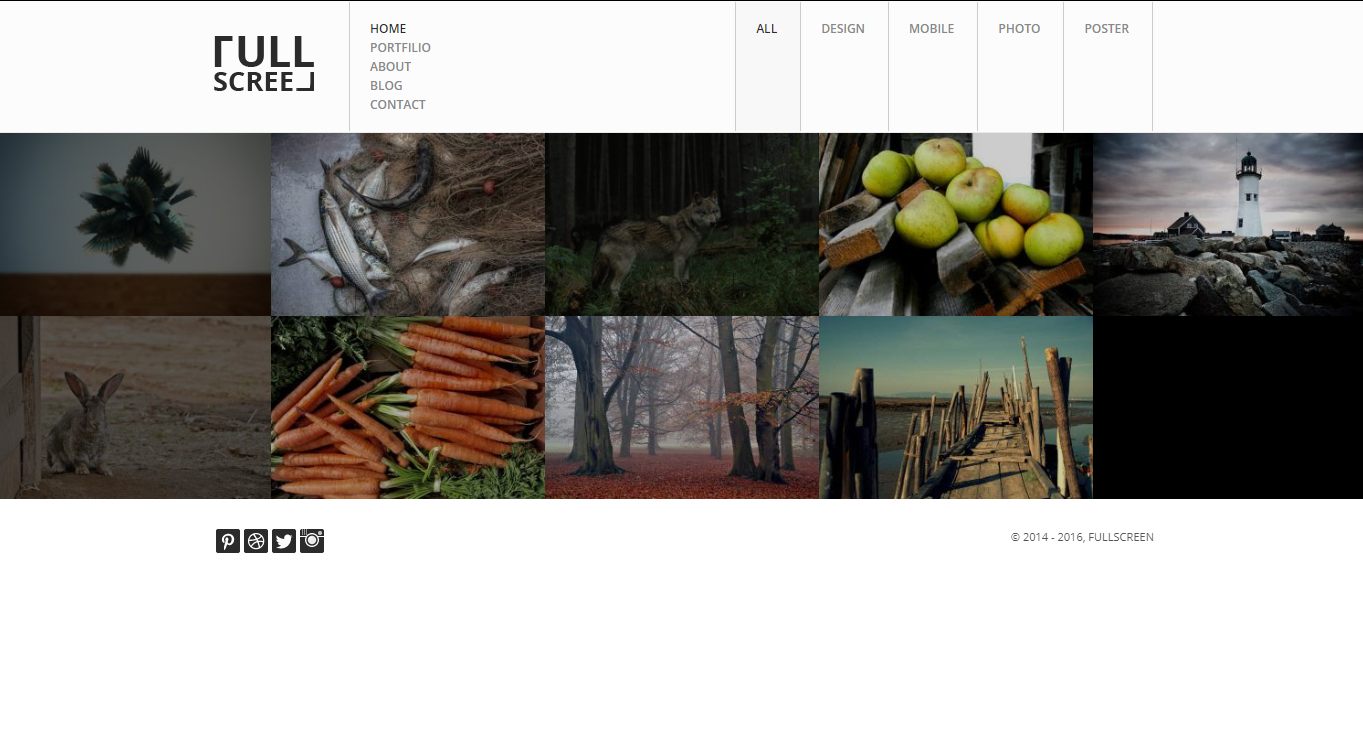 This nonprofit website template empowers organizations like yours to easily upload and arrange artwork within a minimalist, streamlined layout.

With this template, your nonprofit can help users focus on the work your organization produces or shares, all while connecting them with the information they want to learn in order to get involved or give back to your cause.
Fullscreen is a great nonprofit website template for arts and cultural organizations because it takes the artistic sensibilities of your community seriously.
What Web Design Skills Do You Need?
Like UniAlumni, Fullscreen is a bit more complicated to use than the first few entries on this list.
Fullscreen runs on Drupal, another content management system. While this system offers lots of customizable options, Drupal has a bit of a learning curve and isn't recommended for organizations without coding experience.
If your team wants to take a look at Fullscreen in action, try this website template demo.
---

8. Churhius — Best Website Template for Churches

Website Template Overview
Churches and faith-based groups are quite distinct from other nonprofit organizations, and this especially shows when it comes to web design.
Churhius was created to respond to the web design needs of church organizations. Like typical nonprofits, churches need a web design solution that makes creating an engaging, visually-appealing website an easy task.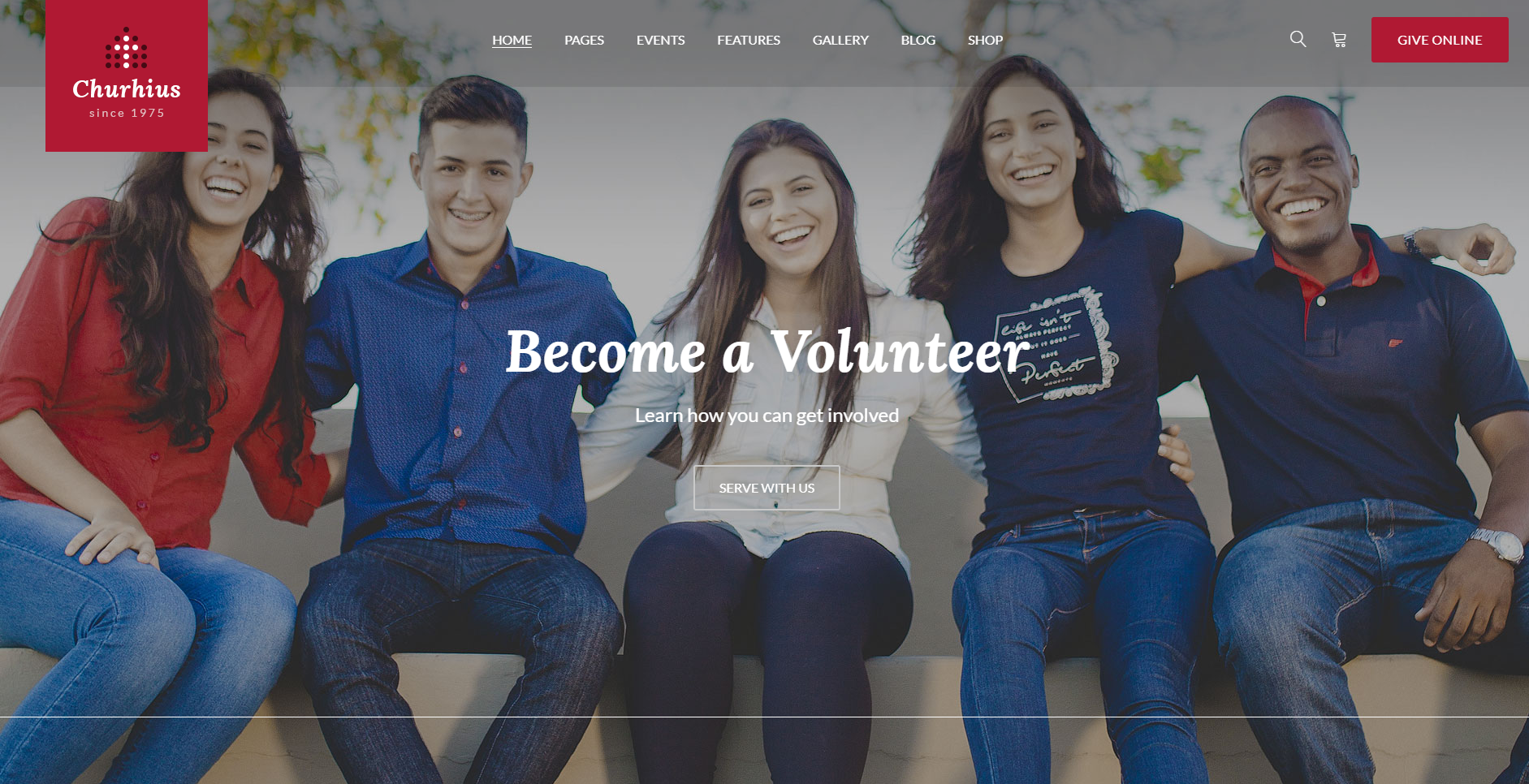 With Churhius, church organizations can create a totally customized website to drive attendance and tithing among their congregation.

On the site's homepage, your team can feature compelling visuals of your community on missions trips, volunteering, or in fellowship. Add high definition images to your rotating banner and embed videos that show your community in action.
Churhius gives congregations like yours all the visual and design tools they need to see their web design visions into reality.
What Web Design Skills Do You Need?
If your church opts to partner with Churhius to design your website, you'll need to bring a bit of experience to the table.
Churhius runs on HTML, meaning that your congregation's website needs to be built using HTML instead of another markup language like CSS or JavaScript. While HTML is one of the most widely practiced markup languages, your church may have a hard time finding a dedicated HTML expert among your congregation to see your vision through.
Visit this preview page to demo Churhius before you make your website template choice.
---

9. Content King — Best Website Template for Nonprofit News

Website Template Overview
Perhaps you're a nonprofit advocacy group or industry association that wants to build a site specifically designed to keep people up to date with nonprofit news.
Content King is a great website template for building a site that's expressly designed to present news and blog updates. With Content King, your team can set up blogrolls, feature posts on your front page, and stream news from all of the top news sites on the web.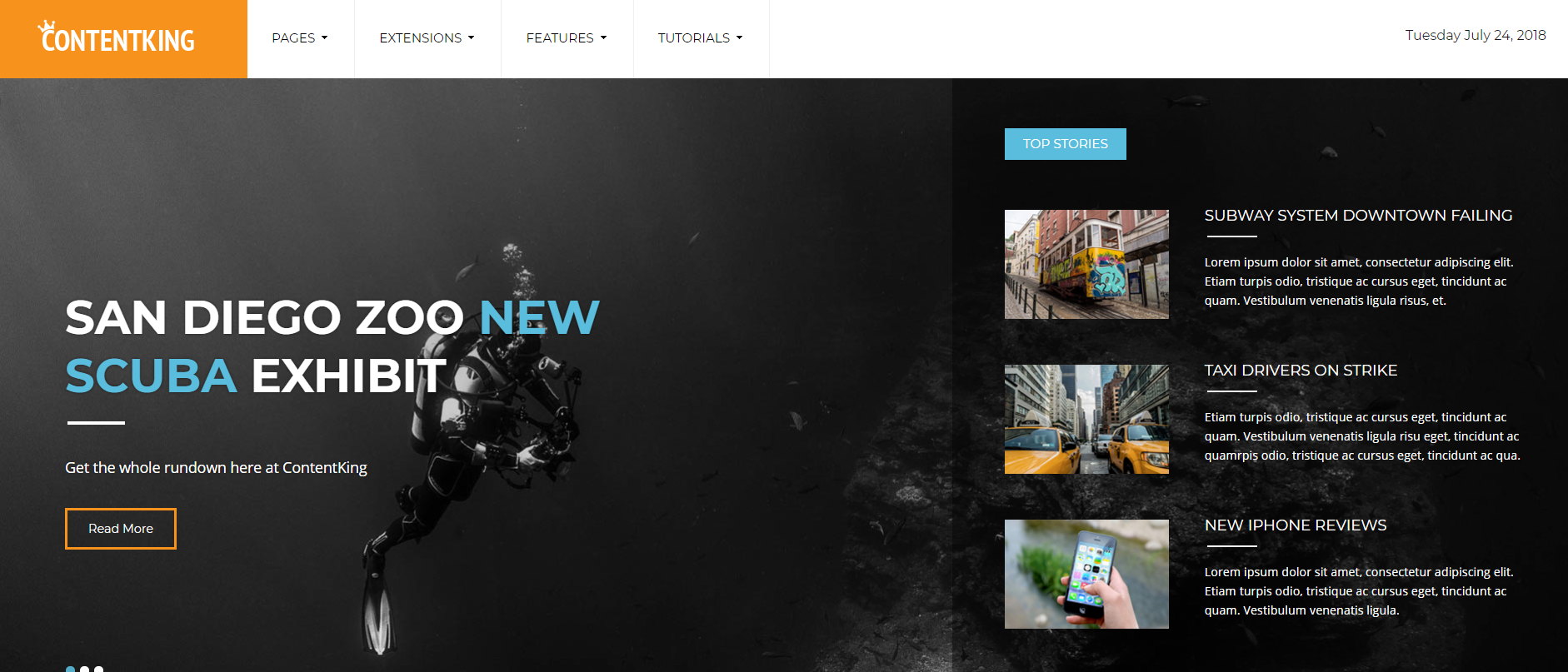 This website template takes an engaging, internet-focused approach to sharing viral news content that's relevant to your sector of the nonprofit world.

With Content King, you have total freedom over how you structure your nonprofit news site. You can create live modules that feature useful tools like weather apps and social media updates. Even further, this template features comment streams to keep the conversation going at the end of your articles.
Not only is Content King a dynamic website template, but it also offers your team a host of useful tools to create a completely customized nonprofit news site.
What Web Design Skills Do You Need?
Content King runs on Joomla, a content management system like Drupal and WordPress.
Since Joomla is somewhat complicated to use, your team may find it challenging to get someone on your staff to manage your site. Content King itself can be tough to master, so this could cause strategic issues behind the scenes that prevent your nonprofit news site from getting up and running.
You can check out a preview version of Content King here.
---
The Gist
Designing your nonprofit's website doesn't need to be a challenge for your team. With the right nonprofit website template, your organization can get a beautiful, engaging website up and running in no time.
Looking to learn more about finding the right nonprofit CMS tools to design your website? Check out these additional resources to guide your search: