Year-End Giving: 6 Tech Tips for the Holiday Season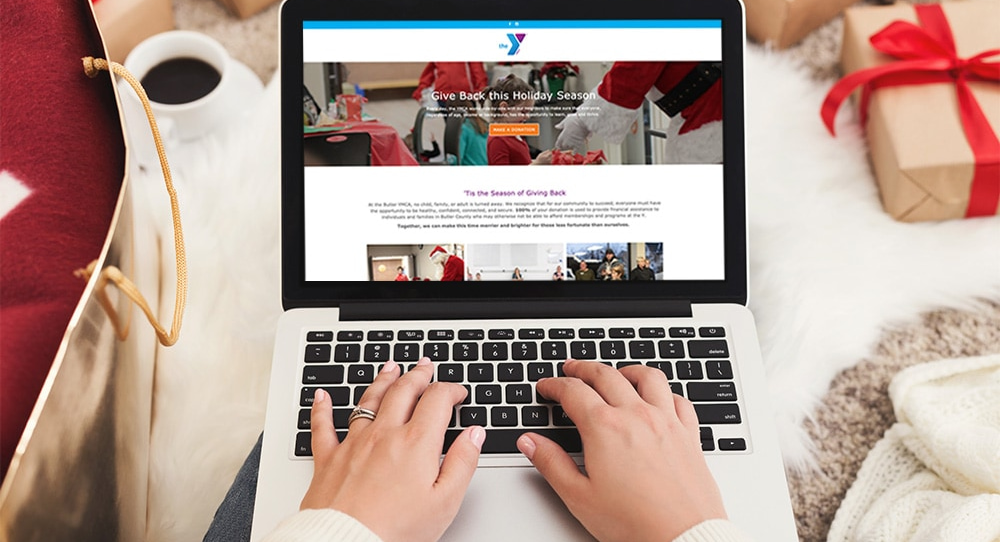 As the holiday season begins to ramp up, it's time to review your nonprofit's fundraising strategy to bring in those end-of-year donations. Studies show that 12% of all giving occurs in the last three days of the year. Before delving into your year-end giving campaign, let's review your organization's technology to make sure you are set up for success. Read through our top tech tips to help you maximize your donations this holiday season.
---

1. Ensure that your website is ready to support your year-end giving campaigns.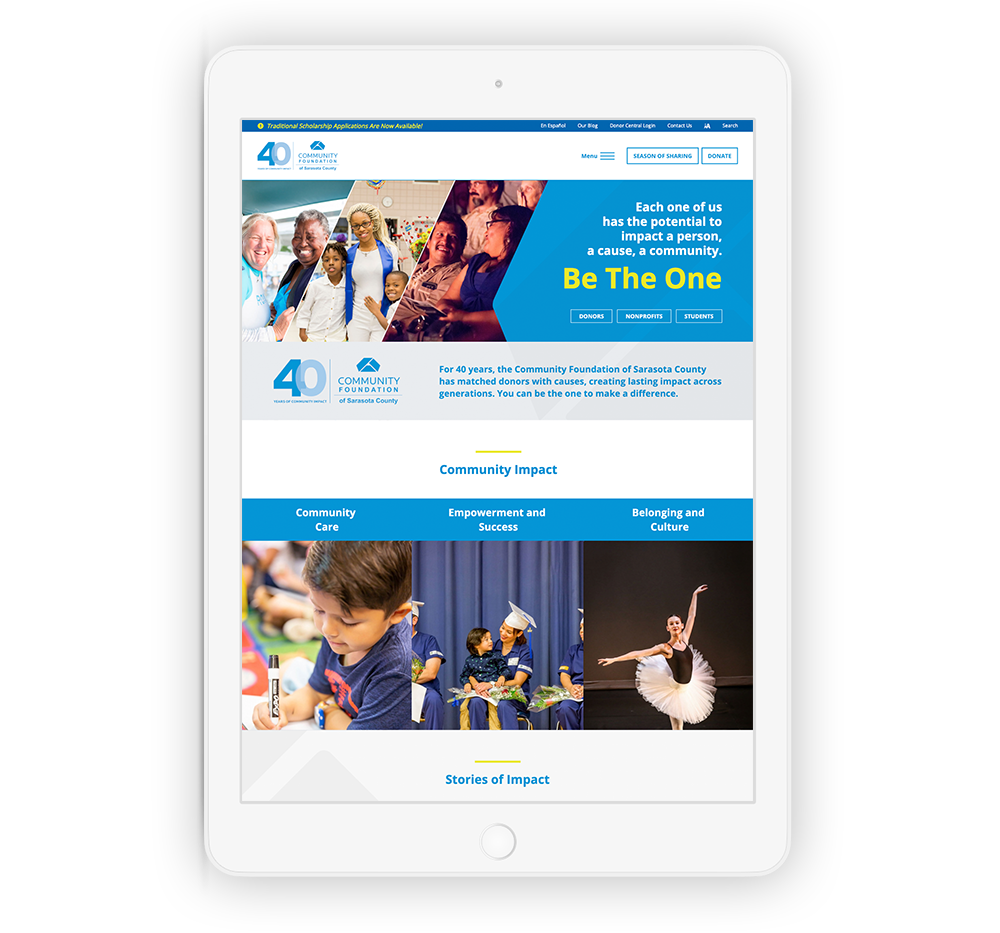 Your organization's website is one of your most powerful fundraising tools. Before launching any online giving campaigns, you'll want to check that your website is ready to support your fundraising efforts. Are all your links working? Are your campaigns, news pages, and calendars up to date? Is your "donate" button front and center on every page of your website?
Make sure the information on your website is all up-to-date and your website design helps guide site visitors to your donation page. You can boost the visibility of your donation page by including a button in your navigation menu and linking to it in call-to-actions (CTAs) throughout your web pages. With the right nonprofit website theme, adding these donation CTAs will be as easy as click-and-drag.
---

2. Automate your year-end appeal strategy.
Make use of automation technology to create a multichannel year-end appeal. Automate and schedule your email campaigns and social media posts to urge supporters to give during the holiday season. This will allow you to create a cohesive year-end giving campaign and appropriately space out your messages.
Social media automation platforms are especially helpful during the holiday season if you are away on vacation because you can create a queue of posts and continue building your online presence.
---

3. Optimize your year-end giving campaign landing pages.
The next step to preparing your nonprofit website for the holiday giving season is to optimize your donation landing pages. Your year-end giving landing pages should make donating to your campaign as quick and straightforward as possible.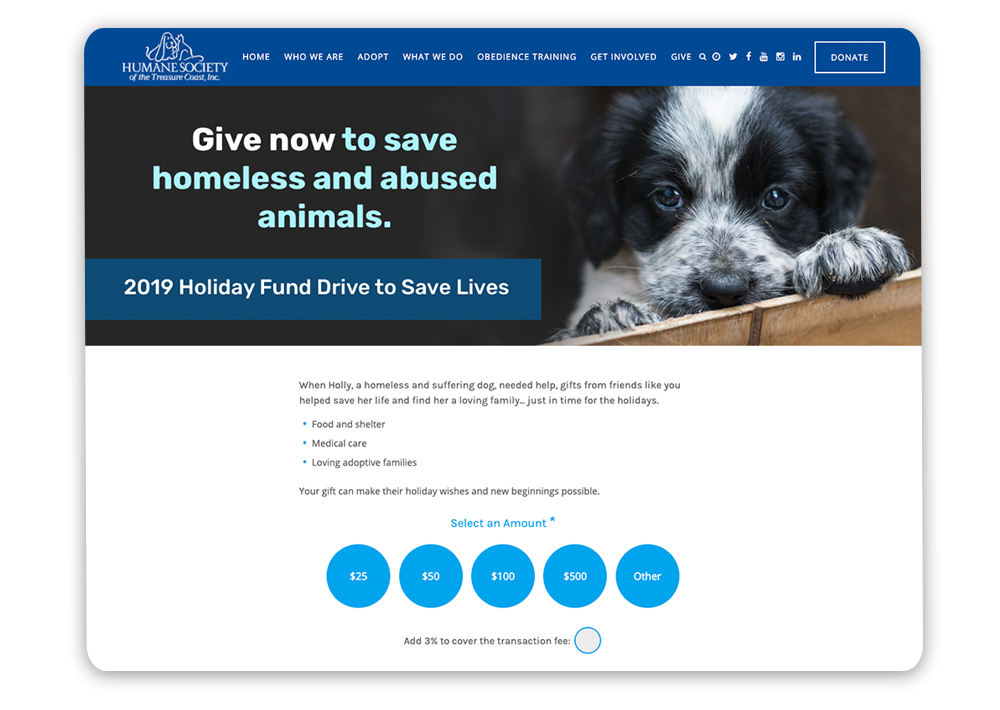 As you review your year-end campaign landing pages, keep in mind the following best practices for your donation form:
Uncluttered: Your donation form should be clean with a minimal number of fields to help guide donors through the online giving process. Too many images or unnecessary fields may distract donors away from completing their transaction.
Secure: Make sure your donation form is PCI Compliant and your website has an SSL certificate to indicate to donors that it is safe to enter their personal information on your site. On-site donation forms are preferable to externally hosted forms which is why it is important to use a content management system (CMS) with donation functionality.
Offer suggested donation amounts: Suggested giving amounts help donors decide how much to give and can encourage higher donation amounts. Bonus: Include a description of what each amount will fund to show how their contribution will help make a difference.
Mobile optimized: Your website should make online giving easy no matter what device your donor is using. Check your website on a smartphone and tablet to make sure your content is optimized for every screen size.
---

4. Segment your year-end appeals by previous engagement styles.
Segmenting your users will help you customize your appeal based on their previous engagement with your organization. New supporters who are less familiar with your nonprofit would benefit from a more general, awareness appeal. Regular supporters will be more responsive to targeted appeals.
Use the information in your customer relationship management (CRM) platform or online forms to reach out to your supporters in the ways that they prefer; over the phone, via text, email, or direct mail. Include information about their previous engagement with your organization to create a deeper connection.
---

5. Keep your nonprofit's story front and center in your year-end giving campaign.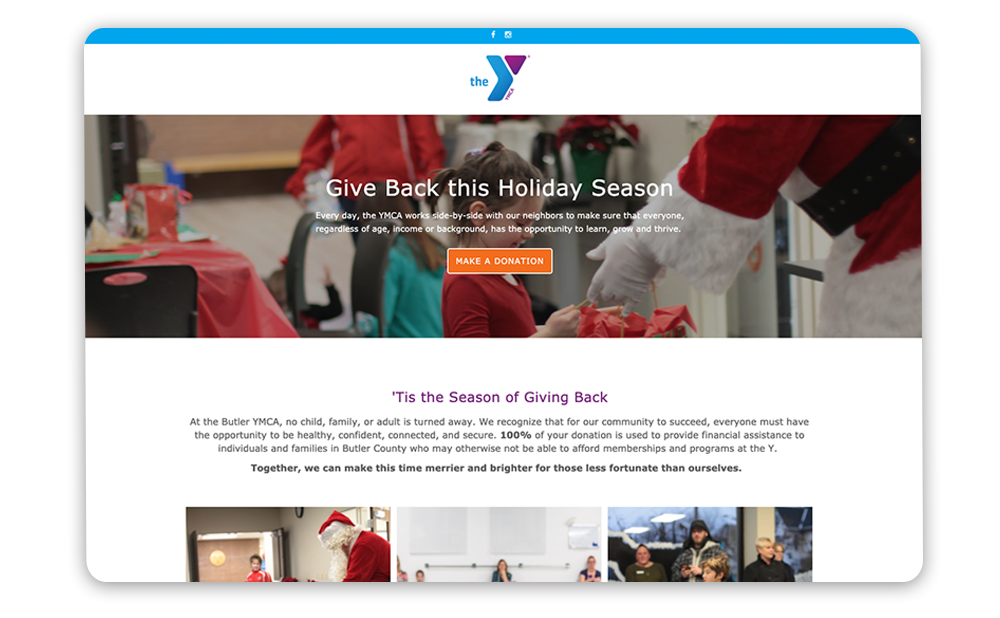 Make sure that all of your fundraising outreach efforts - website, social media, email, direct campaign - tell the same story of what your nonprofit did this year and what you're planning on doing next year. Be sure to highlight your organization's mission on your homepage and include a small blurb on your year-end giving campaign landing page for those who are new to your cause.
Include photos or a short video to show real beneficiaries and how your organization is making a positive difference in their lives. Consider using an image gallery or slider to show multiple photos at once while minimizing the amount of clutter on your page.
---

6. Automate the thank-you process in your year-end giving campaign.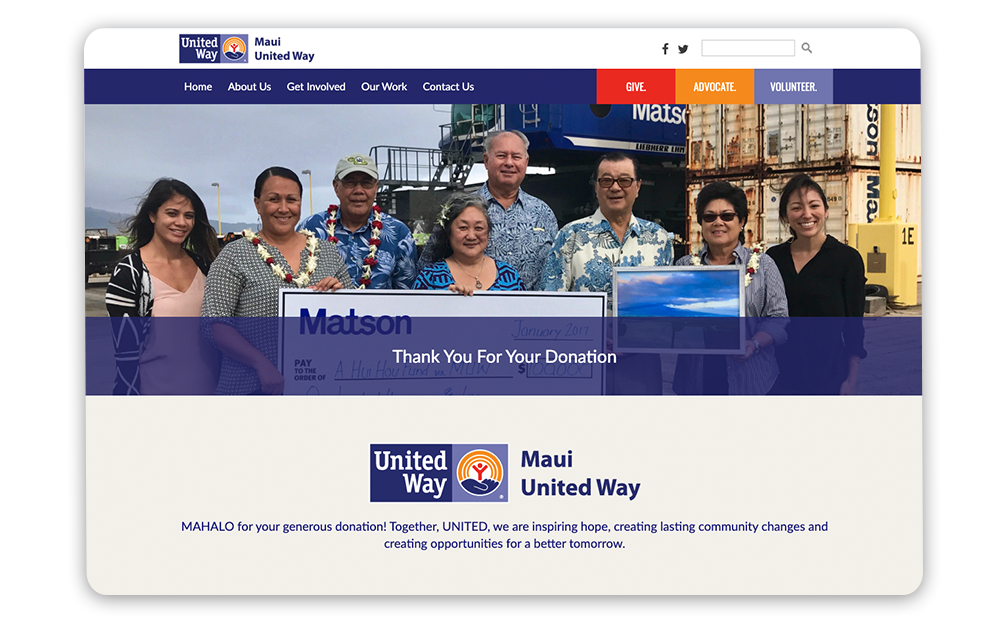 Send online donors to a thank-you page after they donate, and follow up immediately with an email. This will let donors know that their gift was successfully received and make them feel appreciated.
Automating the thank-you process will save you administrative time and ensure donors receive their donation receipt in a timely manner. Choosing a nonprofit CMS with built-in email confirmations will make it easy to create a custom thank-you message and allow you to send an automatic donation receipt upon completion of your donation form.
Morweb's donation forms give you the option to redirect donors to a thank-you page and send automatic email confirmations with a personalized message and donation receipt. Check out this article for more tips to create a great fundraising page.
---

Bonus: 5 Year-End Fundraising Ideas for Your Nonprofit
Looking for some unique year-end fundraising ideas? Try these 5 campaign ideas to bring in additional donations this holiday season.
1. Peer-to-peer fundraising campaigns
Encourage your loyal supporters to help fundraise for your organization through a peer-to-peer campaign. Allow interested supporters to register through an online form on your website and offer online resources to help them with their fundraising efforts.
2. Find a corporate sponsor to match gifts
Matching gifts are a great way to double your donations and promote your cause through corporate sponsors. Reach out to previous sponsors and other local businesses for an additional boost with your fundraising efforts. Be sure to thank your sponsors online and display their logo on your website.
3. Host a holiday cookie competition
Friendly contests like a cookie decorating competition will encourage your supporters to get involved with your cause in a different way than they're used to. Hosting an event for the competition will give your organization the chance to engage with supporters in person or you can use social media to get supporters to share photos of their cookies online with a unique hashtag.
4. Promote matching gifts to everyone who has donated this year
Donors who have given to your organization in the past are proven to be highly engaged supporters. If your supporters work for a company with a matching gift program, make sure they are aware so they can take advantage. Reach out to these supporters through their preferred communication method to promote matching gifts.
5. Wrap gifts in exchange for donations
Gift wrapping is a simple and effective way to bring in additional donations this holiday season. Lots of people will be happy to spend a few dollars on wrapping if they know it is for a good cause. Use your website's online forms and emailers to recruit volunteers for gift-wrapping.
---
Your organization's seasonal giving campaign is your chance to bring in additional funds before the end of the year. Using a nonprofit CMS to support your fundraising efforts and automation technology for social media and email marketing will help you appeal to even more donors this holiday season. For help with optimizing your organization's website for year-end fundraising, send us a message.