NGO Website Development: How to Make Your Site a Success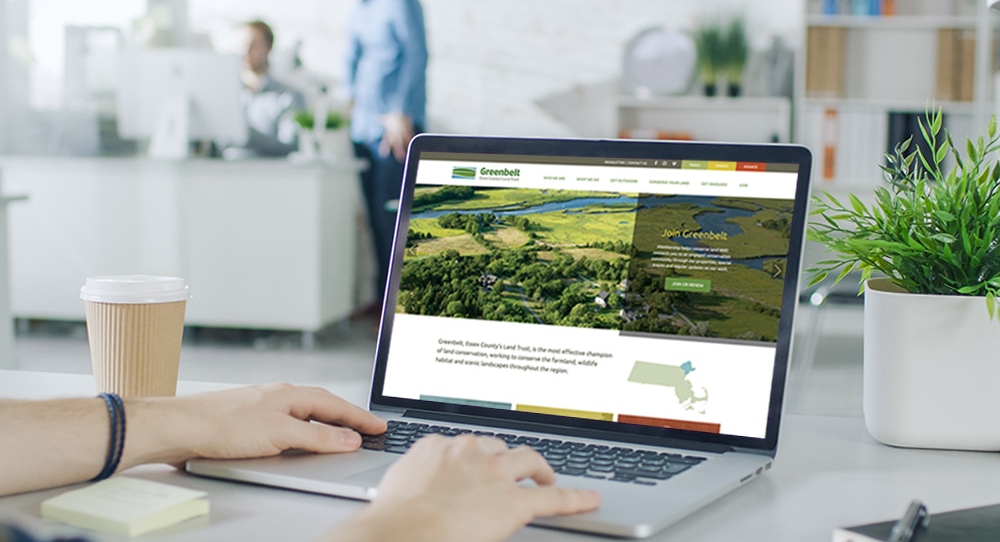 Investing time and money into a website is a simple decision for non-governmental organizations (NGOs) around the globe. An effectively-designed NGO website is great for collecting donations, engaging supporters, and increasing awareness for any cause. Especially since most NGOs have limited budgets, a strong online presence is a cost-effective and efficient way to spread your mission.
When getting started with your digital marketing strategy, you may ask yourself if and why your NGO needs a website. Let's take a look at the answer to this question and cover some best practices for getting started.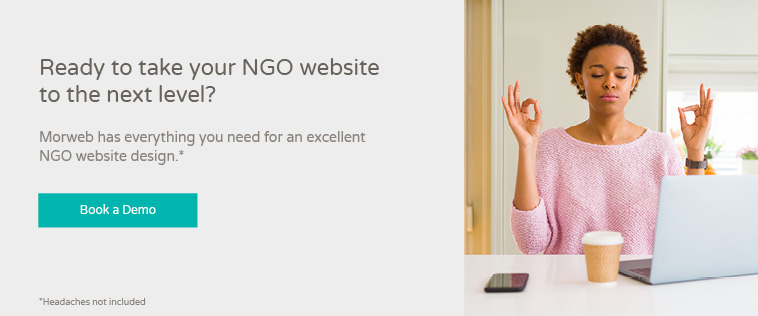 Does my NGO need a website and why?
All organizations can benefit from having a website. The difference between a well-designed website and poor web design can make or break your online fundraising strategy.
A website increases the legitimacy of your organization and solidifies your professionalism when soliciting support. It helps convey the role your NGO plays so that potential members and partners better understand your cause, which is especially important when you're seeking grants, tenders, or donations. At the very least, an NGO website can provide users with updated contact details and an address for your organization.
A well-designed NGO website is also great for improving communications and spreading your reach beyond local advocates. Whenever anyone asks about your mission, you'll be able to simply direct them to your NGO website, helping you efficiently build new relationships. Just make sure to provide content targeted at both current and potential supporters, including reports, program updates, and any other important information.
There's a number of benefits that come with developing a website for your organization. Now, let's take a look at a few questions and key points you should consider when creating your own:
Ready to develop a well-designed NGO website that effectively conveys your mission? Let's get started!
---

How can I make an NGO website?
Thanks to modern technology, creating a website is becoming easier and easier. You no longer need a developer to set up a basic website because there are a number of easy-to-use website builders that simplify the process. By getting your NGO website up and running in a timely manner, you'll increase visibility and further your mission.
Before launching your site, you'll need to complete several steps:
1. Evaluate your organization's goals.
First, identify your intended audience and the goals you wish to reach with your NGO website.
Pick the design elements that are most relevant to your organization and its goals. For instance, if your organization's online objective is to secure donations, your website should clearly explain your need for funding and how the donations will be spent. On the other hand, if your website's purpose is to connect with people who need help—families who can't afford food, for instance—it's important to include instructions for applying for federal food aid or to post a map indicating local food banks.
Depending on your focus, figure out how to integrate and apply these elements to your organization's web design. This way, you know exactly which pages and information to include as well as which elements to emphasize when creating your layout.
2. Select a Website Builder.
Now it's time for the most important step: choosing a content management system (CMS).
Don't just settle for any CMS. Rather, do your research and compare your options. That way, you'll invest in one that suits your organization and offers the features you need, such as form builders and event ticketing. Above all else, it should be functional and easy-to-use.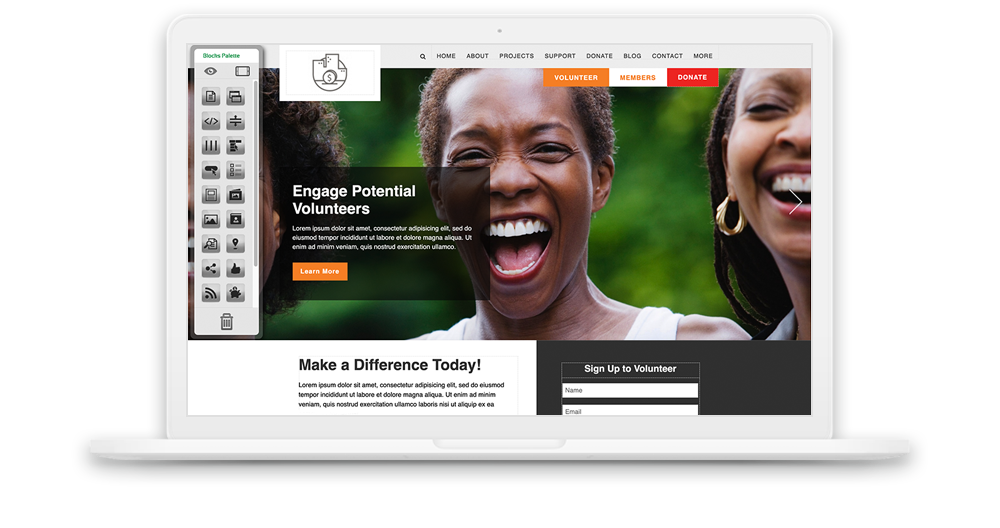 If your website builder offers templates, select one to simplify the design stage and get your website up and running with ease. You'll find that some have pre-set designs, while others provide you with more creative flexibility, such as the ability to choose from different gallery sliders and menu styles. Once you've chosen a good fit, start designing! For some inspiration, check out our tips for creating a beautiful nonprofit website design.
3. Test it Out.
After uploading all your content and refining your design, take your new NGO website for a test run!
Ensure that all the links work and that navigation is smooth and straightforward. Imagine navigating your site from your visitor's perspective and ensure they can find everything they might need without hassle, including your donation form, login page, services page, and so on. If everything runs smoothly, push it live and start sharing your new NGO website with your constituents.
That's it! With a bit of perseverance, you'll design an effective NGO website that expands your reach and creates a powerful online presence.
If you've never experimented in web design before, don't be deterred. NGO website development is simple with the right website builder! Morweb offers an easy-to-use CMS for nonprofits and NGOs of all sizes—no technical knowledge necessary! We work to help organizations achieve the greatest fulfillment of their vision online, so they can build meaningful connections with users and grow their impact. Try our free demo to see if Morweb fulfills your NGO web development needs.
---

Key Features for Your NGO Website
An effective website looks different for every NGO, which can make it difficult to choose the right design that properly conveys your mission. To help, there are several customizable templates that work to meet the unique needs of every NGO. Choose one, and then, adjust it to represent your organization's mission and goals.
No matter your needs, there are quite a few features every NGO should consider during the design process, including:
Donation Form. Built-in donation forms are proven to drive more donations than externally linking forms. Make sure your CMS comes with an intuitive form builder and payment integration for collecting donations online.
Private Pages. Members-only areas serve as a great incentive for joining your organization. Prioritize the member experience by featuring a forum, high-quality resources, and members-only events. Make sure your CMS allows you to manage user permissions so that you can privatize these web pages.
Event Registrations. Uniting members certainly requires a lot of digital work, but physically bringing everyone together is just as essential. Special events and other get-togethers are a great way to accomplish this. Ensure your CMS accepts online registrations and ticket purchases to quicken the process.
Member Registration Forms. Boosting registration numbers is a vital component of your NGO. Feature a registration form that's simple and not overloaded with information. Keep them focused by capturing any essential information and eliminating excess fields. Otherwise, you risk losing prospects' interest.
Interactive Member Map. An interactive map is a great engagement tool. Sort and categorize members into a member directory and map so that members can easily search for others to connect with. Make sure it's mobile-friendly, too, so that users can access it whenever they need it!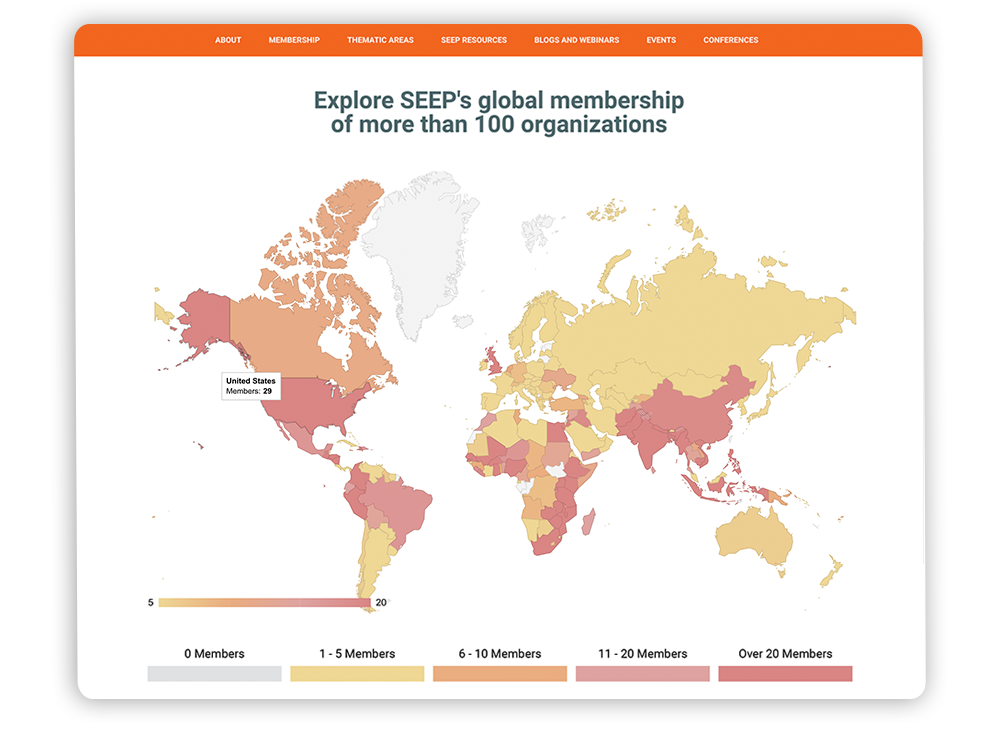 By offering intuitive features to your members and other supporters, you'll create a beautiful website that's sure to capture attention. Be sure to adjust your approach and include features that your readers will find useful. After all, you know your audience better than anyone else!
---

What should my NGO website contain?
Determining what to include on your website can be a difficult decision. While it ultimately depends on your NGO and its goals, there are a few common pages any NGO should include.
An Events Page
As an NGO practitioner, you may be accustomed to raising funds through membership dues, proposal writing, corporate partnerships, and direct calls. However, special events can take your fundraising strategy to the next level. By making an easily-accessible events page, members and donors will know exactly how they can stay involved with your NGO.
Careful alignment of the event and your cause will create a deeper impact among participants and deliver a lasting impression for your NGO. For instance, if your NGO is focused on cancer awareness, you may consider hosting a health awareness marathon and directing the funds to assist with the identification and treatment of cancer patients. Special events like this help to raise awareness for your cause, allow supporters to engage with your NGO, and boost funds. Plus, they may help you connect with people who you wouldn't have otherwise reached.
To create your event page, ensure your CMS offers registration and ticketing capabilities. Make sure that it also allows you to feature a header image, a date and time, description, and a registration button, too. These design elements make your events page much more engaging than a generic calendar. Remember to add your events page to the navigation menu, so users know exactly where it is the moment they land on your homepage.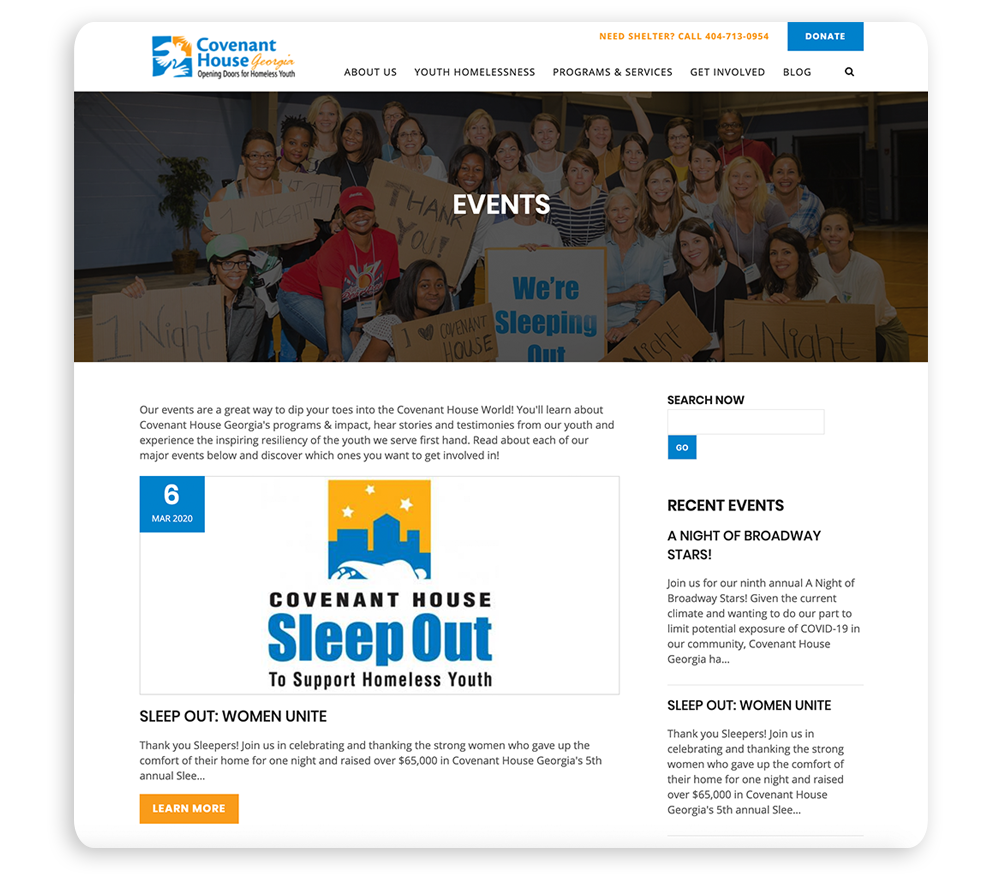 A Members-Only Area
As an NGO, a substantial portion of your revenue likely comes from your membership program. Because of this, you'll want to prioritize the member experience. Featuring a members-only area is a great way to do this so that you can easily attract and retain valuable members!
As previously touched on, consider featuring exclusive content such as educational articles or even webinars. Also consider adding a discussion forum, where members can interact with one another. By adding this to your NGO website, you'll enable members to discuss recent events, industry trends, and their personal experiences. Plus, your team will have an accessible outlet for quickly announcing updates and answering questions members have.
By starting a conversation with your members online, you'll establish an immediate sense of community. This can directly boost member satisfaction and retention, and soon enough, the word will spread about the positive culture your NGO has instilled.
An Updated Blog
Fuel your NGO's growth by putting industry knowledge at readers' fingertips. A blog is a great way to accomplish this. It provides you with an outlet to share educational content and powerful stories that evoke emotion in readers. Determine what goal you'd like your blog to accomplish. Then, develop content that communicates your vision and will push you along that path.
For instance, if your goal is to persuade public officials to make a policy change, you should focus on addressing specific policies and starting a conversation amongst readers. Whether you're featuring industry knowledge or updates on your NGO, take extra time developing valuable posts. You'll bring in more members and keep them involved with high-value content.
Social Sharing Options
Your online engagement strategy may start with your NGO website, but it certainly doesn't end there. In order to fully extend your reach, you need to expand your efforts to social media by featuring social sharing buttons on your website.
Links to your social media accounts enable you to connect with prospects and donors through other online channels. When visitors feel compelled to share your insightful blog posts or exciting events online, social sharing options enable them to do so. By making it convenient for them, supporters will be much more likely to pass along your message to their friends and families on their favorite platforms.
A Donation Page
Funds are essential to continue striving toward your mission. While membership dues might make up the majority of your funds, donations can produce additional revenue for your NGO. Because of this, you'll want to feature a well-designed donation page instead of solely relying on direct mail and in-person donations.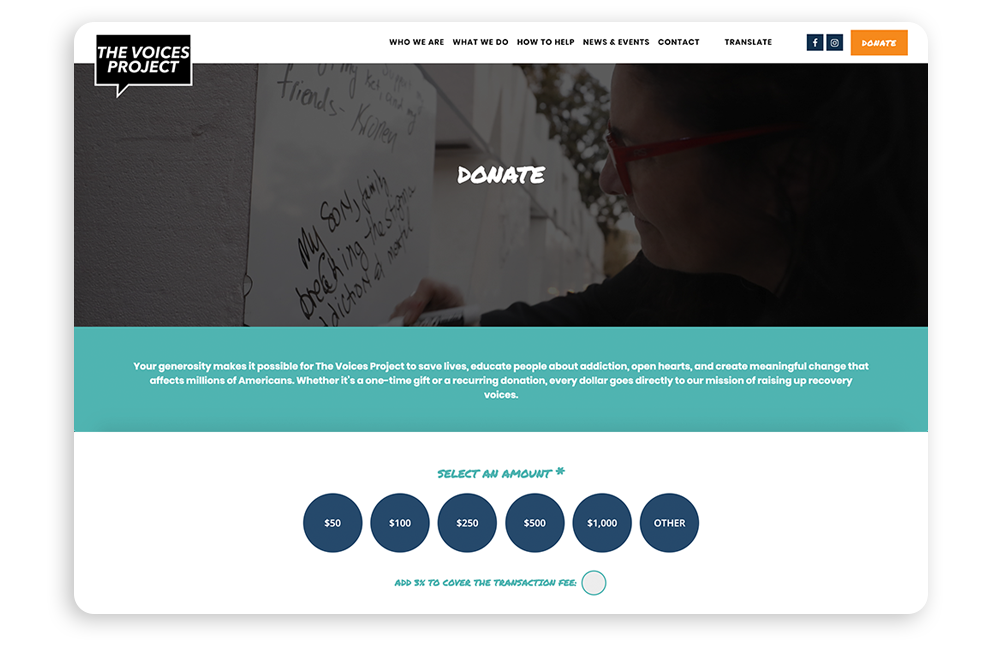 Make sure to follow best practices when designing your donation page, such as limiting the number of required fields, so prospects will be motivated to complete the process. After all, once someone feels motivated to donate, you don't want anything to slow them down.
---

NGO Website Design Best Practices
With approximately 10 million NGOs around the world, it's important to make yours stand out. A poorly-designed or poorly-structured website will turn users away, making you miss out on crucial support that you could have otherwise secured.
To avoid a negative user experience, let's dive into a few best practices for effective NGO web development.
Feature a Mobile Responsive Design
These days, most users browse the web on their mobile devices. In fact, 1 in 4 supporters use a mobile device to discover nonprofits that they were previously unaware of, according to Nonprofits Source. In other words, if you're not using a mobile responsive design, you're likely missing out on a considerable amount of supporters.
In short, mobile responsiveness means the content on your website will adjust to fit any screen size. Whether users are visiting your site on a desktop, tablet, or smartphone, they should be able to view your pages without zooming in and out. Otherwise, navigating your NGO website will be difficult for mobile users, ultimately leading to frustration and causing them to leave your site altogether.
To easily optimize content for all devices, make sure your CMS features automatic mobile responsiveness so your team doesn't have to adjust each element manually.
Use White Space
Overloading your pages with text and images can distract users' attention away from your core messaging. To help make your content easy to digest, incorporate white space.
White space is a useful tool that' breaks up text and makes your web pages more visually appealing. It enables you to limit distractions and emphasize important information. For the most effective design, you'll need to strike the perfect balance between content and the space between it.
To help you navigate this process, Morweb offers customizable templates that feature an effective balance of content and space. Not only will these speed up the design process, but they'll ensure you're using white space effectively.
Include Engaging Imagery
Motivate users to support your cause by featuring compelling images and videos. Powerful visuals bring prospects to your NGO website and keep them engaged as they navigate from page to page.
However, you'll need to go above and beyond generic stock photos by instead featuring your own, high-quality images. These could include staff members, advocates, and those who are directly impacted by your work. Using this type of imagery enables you to better illustrate the importance of your mission and ultimately build strong, emotional connections with potential members.
Follow Web Accessibility Guidelines
When it comes to NGO website development, you want as many people as possible to view and interact with your website. To accomplish this, you'll need to adhere to web content accessibility guidelines (WCAG) so that people with disabilities or impairments can still interact with your NGO website. Start by implementing the following best practices in your design:
High contrast colors. High contrast colors make it easier for visually-impaired users to see and read your content. The WCAG 2.1 guidelines require a minimum contrast ratio of 4.5:1, so be sure to test your contrast colors for all text and graphics.
Alternatives for videos. Visitors with hearing or visual impairments may struggle to view and understand your videos without some extra help. Provide a written transcript or feature captions in the video for those with hearing impairments. Then, consider adding an audio description to describe visual-only elements to those who are visually impaired.
Headers for content. Clearly titling your content makes it easier for users with visual disabilities and those using screen reader technology to jump to different sections to find the information they need. A good CMS with front-end editing capabilities will allow you to do this without having to code it yourself.
Many accessibility guidelines require the assistance of a professional web developer. However, there are several steps you can take on your own, so long as you've invested in the right non-technical CMS. There are several other tips you should follow, but these should serve as a good starting point. Visit our web accessibility guide to get NGO website design ideas and learn more about making your website accessible to all users.
Optimize for Search Engines
When people search for your NGO, how easily can they find your website? Are your blog posts ranking for the search terms you want them to? If not, it's time to work on your search engine optimization.
Search engine optimization, or SEO, involves optimizing your NGO website's content to help it prominently rank on popular search engines like Google. To improve your visibility on search engines, make sure your CMS offers built-in SEO tools. Specifically, keep an eye out for meta titles, meta descriptions, and customizable URLs. This way, you can rank higher and drive more traffic to your NGO website.
---

Examples of Top NGO Websites
Now that you're familiar with effective NGO web development practices, you may need some examples to get the creativity flowing. Let's take a look at these practices in action with some well-designed NGO websites.
Best NGO Website Design #1: Greenbelt
Greenbelt uses a design that captures users' attention from the moment they land on the homepage. They feature enough information to pique interest but not so much that it's overwhelming. Their original images convey their core purpose and draw the user in to learn more. Within their navigation, their most significant pages stand out in colorful buttons, so users know exactly where to head to find out more and get involved. Take a look at their beautifully-designed NGO website: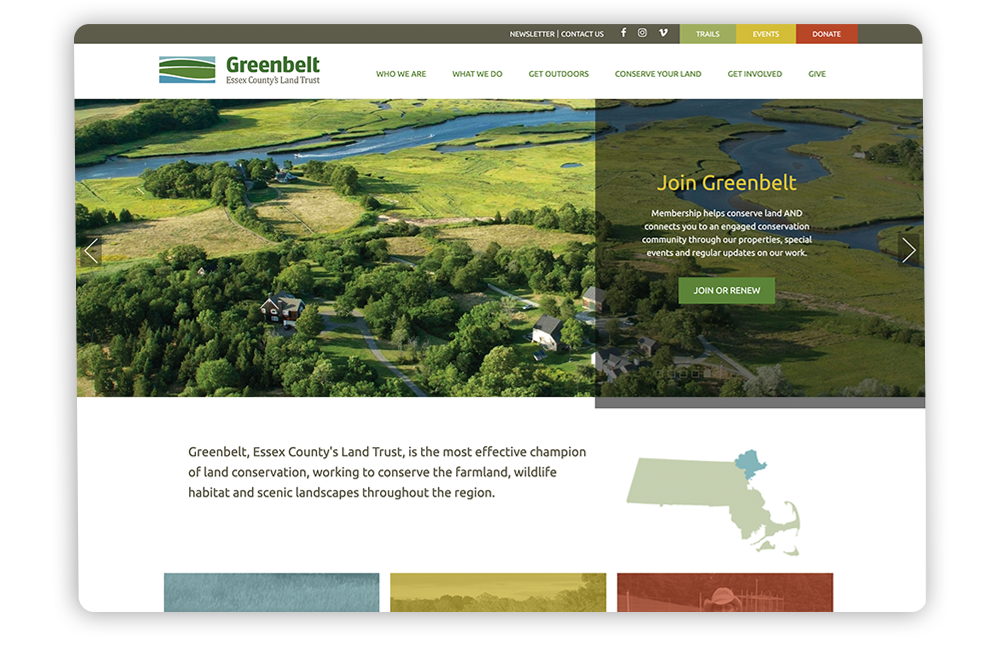 Best NGO Website Design #2: Limb Kind Foundation
Limb Kind Foundation takes a unique approach to NGO web design by featuring a simplistic layout. The main focus of their homepage is powerful imagery of their work in action and encourages readers to click through to learn more. Plus, they keep accessibility guidelines in mind by using high contrast colors so that everyone can easily navigate their site. Explore their effective NGO web design: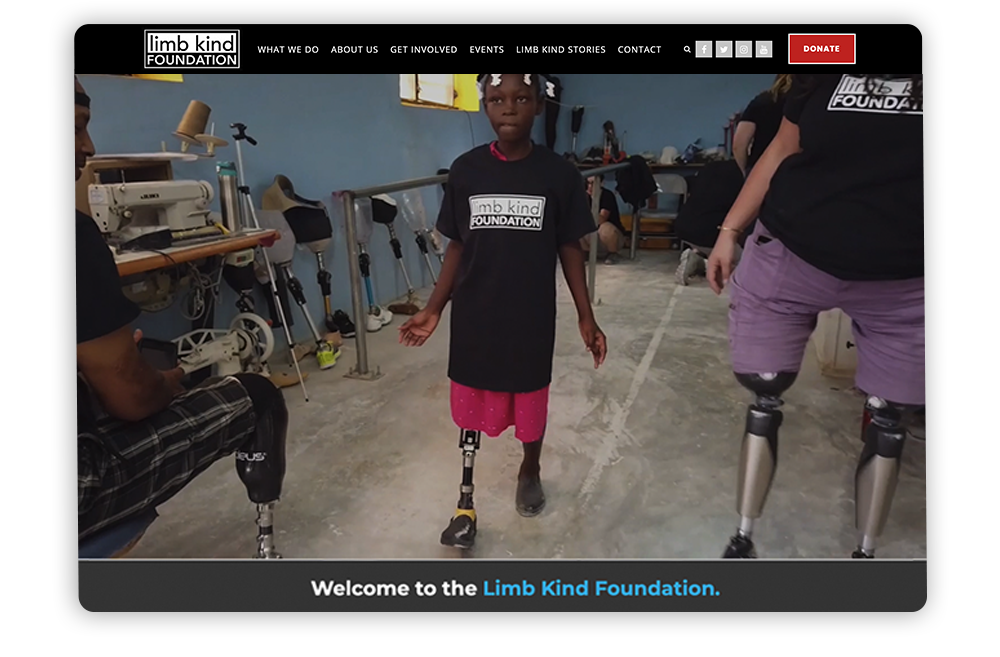 Best NGO Website Design #3: The Hudson Guild
The Hudson Guild features powerful imagery that captivates visitors and encourages them to continue exploring the website. Using original images and videos, they effectively convey their mission in a way that evokes emotion. They draw the reader in even more by balancing it out with white space to really make important elements stand out. Take a look at the powerful imagery the Hudson Guild uses to encourage users to keep exploring: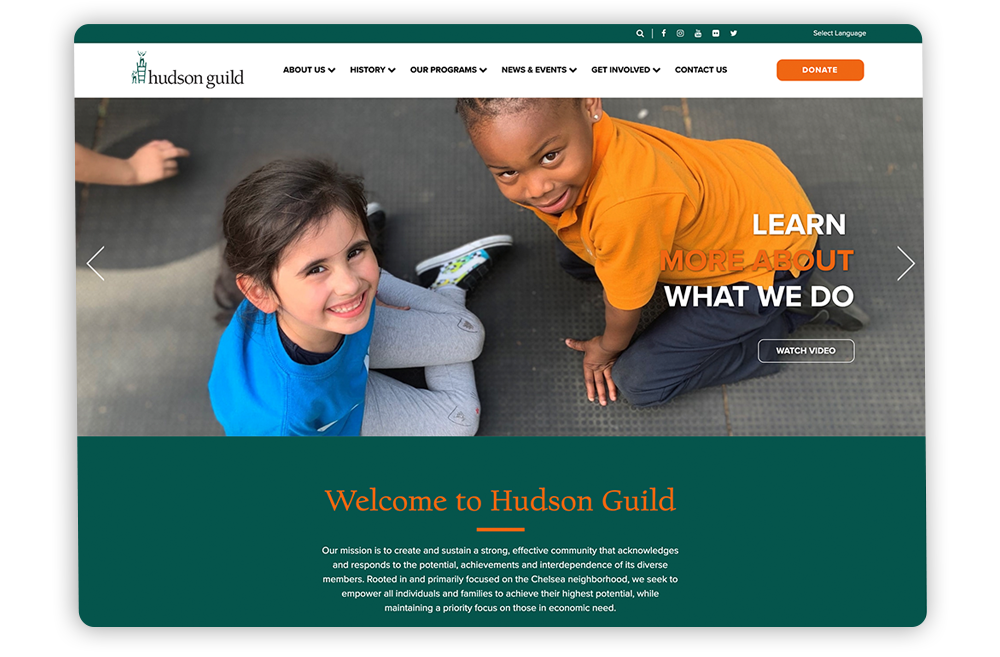 ---

The Gist
By creating the best possible NGO website, you can put your organization on the map and generate more buzz around your mission. The design process doesn't have to be complicated. Simply implement the best practices discussed in this article. So long as you're armed with a powerful website builder, you'll set your team up to create a beautiful and content-rich NGO website.
If you're looking for additional information on NGO website development, explore the helpful resources below:
Improving your digital presence is easily achievable by leveraging the tips covered in this post, but to maximize your potential, you'll need a powerful CMS on your side. With Morweb, designing a beautiful NGO website is possible for everyone. We know exactly what it takes for organizations just like yours to be successful online, so reach out to our team to discuss your unique needs.