Web Accessibility: What Nonprofits Need to Know About ADA Compliance Online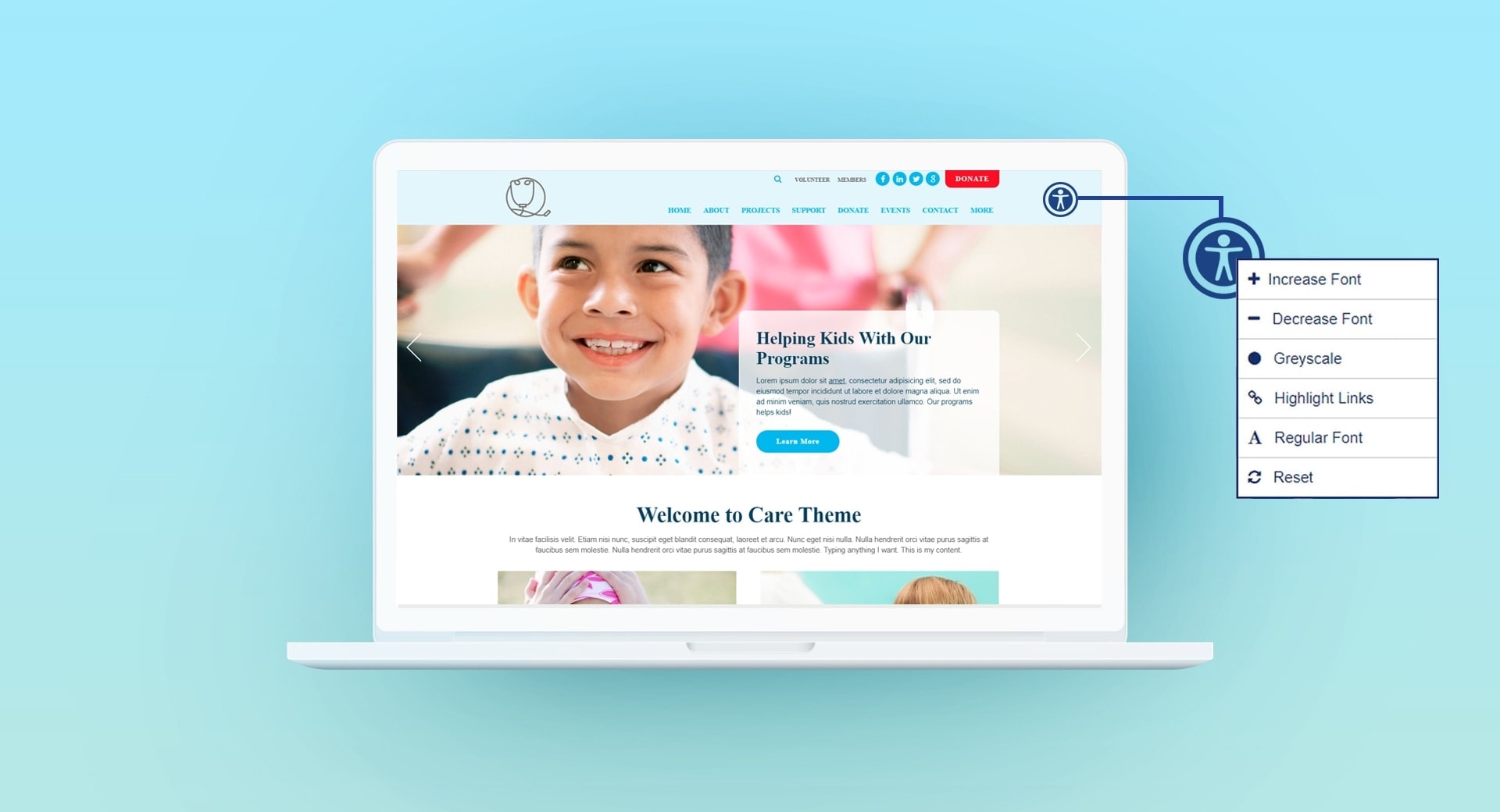 [Updated January 2021]
ADA Compliance and Website Accessibility
The American Disabilities Act (ADA) became law in 1990, prohibiting discrimination against individuals with disabilities in all areas of public life. The ADA's relationship with website accessibility has been complicated, to say the least. While it doesn't explicitly address online compliance, some courts have ruled that commercial websites are places of "public accommodation" and thus subject to ADA rules. Other courts, however, have ruled that the ADA doesn't extend online. Many states have created their own accessibility laws to address website accessibility.
Because it is not clear if ADA regulations apply to public websites yet, it is up to the organization itself to choose to implement website accessibility or not. The amount of accessibility-related lawsuits filed against websites have grown in recent years with increasingly more courts ruling in favor of the plaintiff.
Any organization that provides a public service should err on the side of caution by having a fully accessible website. Particularly nonprofits and associations that serve the public, inclusivity should be at the forefront of organizational strategy.
Website Accessibility for Nonprofits
On June 5, 2018 the World Wide Web Consortium (W3C) released their Web Content Accessibility Guidelines (WCAG) 2.1. These guidelines are part of a broader movement called the Web Accessibility Initiative (WAI). The Web Accessibility Initiative has the mandate to enable people with diverse abilities to participate equally on the Web.
The Web Accessibility Initiative has the mandate to enable people with diverse abilities to participate equally on the Web.

Websites, applications, and technologies designed without accessibility features create barriers that exclude people from using the web.
The WAI brings together people from industry, disability organizations, government, and research labs to develop guidelines and resources to make the web accessible to people with auditory, cognitive, neurological, physical, speech, and visual disabilities.
The Web Content Accessibility Guidelines (WCAG) outline three levels of compliance; Level A, AA, and AAA. Success criteria for each level are defined in the WCAG 2.1 Guidelines. Conformance claims are optional but if you would like to file an accessibility claim for your website, follow these directions.
Under each principle, the WCAG 2.1 outlines guidelines to create an accessible website. While this might seem overwhelming at first, don't panic. You probably already meet most of these criteria already.
The simplest Level A guidelines that you can implement immediately include:
1.1.1 Non-text Content: All non-text content has a text alternative.
1.2.1 Audio-only and Video-only (Prerecorded): Media alternatives are available for any audio-only or video-only content.
1.2.2 Captions (Prerecorded): Captions are provided for all video content.
1.3.1 Info and Relationships: Information, structure, and relationships can be easily determined or are available in text.
1.3.2 Meaningful Sequence: When the sequence of content affects meaning, a correct reading sequence can be determined.
1.3.3 Sensory Characteristics: Instructions and content do not rely solely on sensory characteristics such as shape, size, visual location, orientation, or sound.
1.4.1 Use of Color: Color is not used as the only visual means of conveying information, indicating an action, prompting a response, or distinguishing a visual element.
1.4.2 Audio Control: If any audio plays automatically for more than 3 seconds, a mechanism is available to pause or stop the audio or control the volume.
1.4.7 Low or No Background Audio: For audio content with speech in the foreground, there are no background sounds, background audio can be turned off, or background sounds are at least 20 decibels lower than the foreground speech.
2.3.1 Three Flashes or Below Threshold: Web pages do not contain anything that flashes more than three times in a second, or the flash is below the general flash and red flash thresholds.
2.4.2 Page Titled: Web pages have titles that describe topic or purpose.
2.4.3 Focus Order: It is easy to determine the correct focus order of content
2.4.4 Link Purpose (In Context): The purpose of each link can be determined.
3.1.1 Language of Page: The default language can be determined.
3.2.1 On Focus: When any component receives focus, it does not change its context.
3.3.2 Labels or Instructions: Labels or instructions are provided when content requires user input.
The more challenging guidelines will require the help of your developer. These include:
1.4.3 Contrast (Minimum): Text and images of text have a contrast ratio of at least 4.5:1.
1.4.4 Resize text: Website can handle text scaling up to 200%.
2.1.1 Keyboard: Website must be fully navigable through keyboard only.
2.2.1 Timing Adjustable: Any content with time limits offers users the option to turn off, adjust, or extend the limit.
2.2.2 Pause, Stop, Hide: There is an option to pause, stop or hide any moving, blinking, scrolling, or auto-updating information.
3.2.2 On Input: Changing the setting of any user interface component does not automatically cause a change of context unless the user has been advised in advance.
3.3.1 Error Identification: If an input error is automatically detected, the item that is in error is identified and the error is described to the user in text.
4.1.1 Parsing: In content implemented using markup languages, elements have complete start and end tags, elements are nested according to their specifications, elements do not contain duplicate attributes, and any IDs are unique, except where the specifications allow these features.
4.1.2 Name, Role, Value: For all user interface components, the name and role can be determined and the value can be set.

Not sure how your website measures up to the WCAG 2.1 Guidelines? Use this FREE online tool to check your website accessibility today.


---
Morweb Website Accessibility Features
If your website is hosted with us at Morweb or you are looking to switch to our nonprofit CMS, we can add an accessibility widget to make your website more accessible. Our widget will allow visitors to easily adjust settings on your website to meet their unique needs.



Morweb's website accessibility widget offers the following functionality:
Increase/decrease font size
Convert colors to greyscale
Highlight links
Change font type to regular non-serif
Follow Morweb's tips to maximize accessibility for your nonprofit website:
With Morweb, it is easy to stay ADA compliant as you add new content with our live editor. The Morweb platform offers so many options for customization that it is easy to make adjustments to meet the WCAG 2.1 guidelines. Follow these 10 tips for accessibility:
Title each page and include clear descriptions
Use a neutral or white background color
Choose a font that is easy to read
Use high contrast colours for text and images - test your contrast ratio with this free tool
Avoid background audio or autoplay videos
Add alternative text for all images
Indicate link purpose using link text or alternative text
Use different sized headings and paragraph text to convey a correct reading sequence
Offer media alternatives for audio or video content such as a transcript or captions
Include labels or instructions whenever necessary
Add important links from your main menu in your footer to offer multiple ways to access them
Ready to bring your nonprofit website up to ADA compliance? Get in touch with the Morweb team today.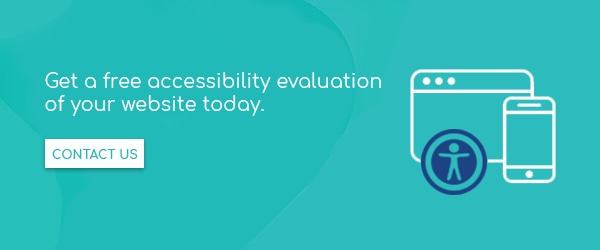 ---
Related articles: