SEO for Nonprofits: 6 Simple Ways to Optimize Your Website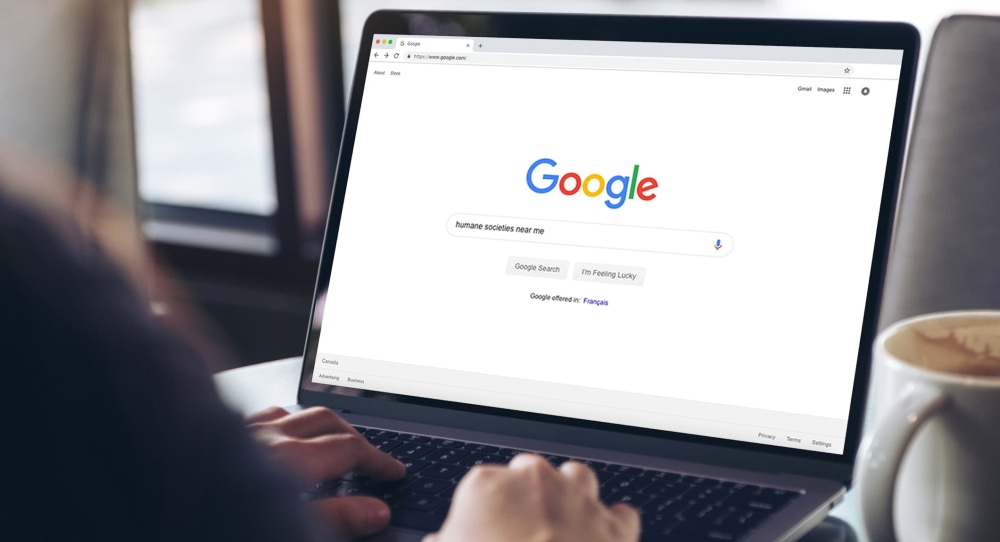 Any modern nonprofit knows the importance of a strong web presence. Your website helps your organization convey its mission, promote upcoming events, collect online donations, and communicate with the broader community.
However, one area that many nonprofits struggle with is how to drive more traffic to their website. Search engine optimization or SEO is one of the most effective strategies to boost the visibility of your nonprofit website and grow your traffic.
To help you get started, we've outlined 6 simple ways to implement SEO on your nonprofit website. But first, what is SEO?
What is SEO?
Simply put, search engine optimization (SEO) determines the rank of your web pages in search engine results for specific keywords. Search engines like Google, Yahoo and Bing will crawl and index content on web pages to try to match a user's search results with the most relevant content.
Your website is ranked based on a quality score assigned by the search engine. Factors that influence your search engine rankings are:
Page content
Expected click-through
Landing page quality
Page load speed
Search engines prefer websites that are user-friendly, responsive, quick to load and that contain useful content. Spammy links or mashing keywords into your content can negatively affect your rankings.
Morweb has built-in SEO features to help nonprofits rank well in search engines and drive more traffic to your website. Each web page on the Morweb platform has an SEO tab where you can input a custom URL, meta title, meta description, and meta keywords.
Our nonprofit website themes have a clean, user-friendly design with automatic responsiveness for mobile phones, tablets or desktop computers. All of these features combined help your nonprofit website rank higher for your target audience.
---
Why is SEO important?
SEO is important for nonprofits and businesses alike as higher ranking web pages have an increased likelihood of being clicked on. Research shows that the majority of users only click on the top five search engine page results (SERPs).
Optimizing your nonprofit website's content will help you rank higher in search engine results which will drive more organic traffic to your website resulting in more donations, event registrations, volunteer sign-ups or whatever your desired conversions may be. The goal of SEO is to reach your target audience by providing the most relevant content and the best possible user experience.
SEO is also beneficial for users because it improves the quality of websites overall as they compete for the top spot in search results. Businesses and nonprofits must prioritize user design, great content, and functionality if they want to make the first page.


---
How do I implement SEO on my nonprofit website?
1. Keyword Research
The first step to implementing SEO on your nonprofit website is to do keyword research. The simplest way to find keywords that are relevant to your organization is to simply do a Google search and scroll to the bottom to see related search suggestions.
Online tools like SEMrush or Google's Keyword Planner can further give you ideas for keywords relating to your nonprofit's industry or core focus area. For example, using Google's Keyword Planner, a humane society could find relating keywords like 'adopt a pet' and 'animal shelter' and see the search volume for these search terms.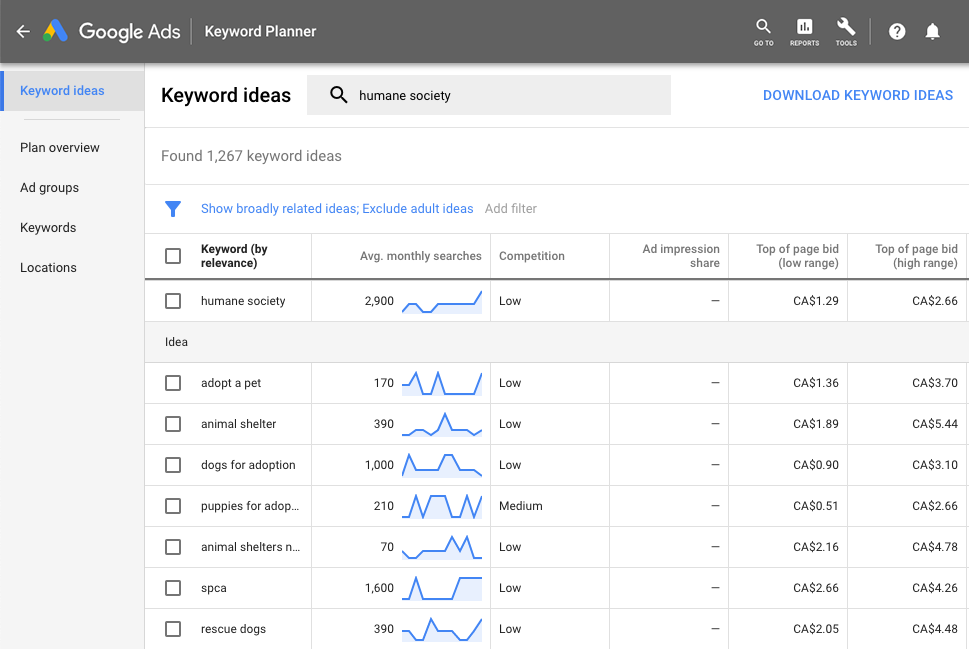 Once you have analyzed relevant keywords for your nonprofit, compile a list of 5-20 top keywords that you want to target in your website.
---
2. Content
Once you have a list of top keywords for your nonprofit, the next step is to create a content strategy for your website. Start by completing an audit of your current website content. From there, you can identify opportunities to incorporate your top keywords on relevant pages.
Readability should remain a top priority for your content, don't try to mash keywords together in the hopes of getting a better ranking. Search engine crawlers are very sophisticated and can easily interpret the meaning and context behind your content. They will penalize web pages that provide a poor experience for the reader.
When working with a nonprofit web design agency like Morweb, we will help your organization to develop a content strategy for your website. Our team of web design experts will reorganize and optimize your nonprofit's website content in a way that will maximize your search engine ranking potential.
---
3. Meta Tags
The first step to implementing SEO on your nonprofit website is to create your meta tags. Meta tags are HTML elements that provide information about a web page for search engines and users to know what that page is about. You will want to go through each page and review the meta title and description to ensure they accurately describe your content and incorporate your top keywords.
Morweb's content management system allows you to edit your meta tags so you can tailor your title, description, and keywords for each web page and blog post easily.

Meta Title
The meta title tells users what the web page is about. You will want it to be clear about what content users will find on your page. Don't try to stuff unneeded keywords into the title or make it extremely lengthy. Stick to one or two of your best keywords and limit the length to under 60 characters to get your title to display correctly in search engine results.
Meta Description
The description should be concise and relevant to the page's content. To display correctly, keep your description under 160 characters. Don't try to summarize your entire website in each description, tailor your meta description to each web page while including page-specific keywords.
Meta Keywords
Meta keywords have largely become irrelevant since 2009. They date back to 1995 where you could add a meta tag on a web page indicating the keywords for that page. These keywords were invisible to the user but visible for search engines to use in ranking page content. However, they quickly proved to be unreliable as website managers included irrelevant keywords in the hopes of boosting their SERPs for specific industry terms. So while many content management systems (CMS) will still include a field to add meta keywords, it is not necessary to use.
---
4. Customized URLs
Your website URLs are a simple and effective way to target your content to the right audience. By tailoring your URLs to include your top keywords, you can tell search engines what your page is about and generate more traffic for that term. Users and search engines prefer URLs that are descriptive and concise, long URLs look messy.

Most content management systems will take the name of the page and automatically generate a URL. Morweb allows you to customize your URL for each web page and blog post so you can maximize your SEO potential.
---
5. Inbound Linking
An inbound link AKA backlink is a hyperlink to your website from other websites. Websites that receive many inbound links from other high ranking websites are viewed as an authority on a topic earning them higher search engine rankings.
Another benefit of inbound linking is the referral traffic you will receive. If someone posts a link to your content on their website, visitors on that website might click on the link and send more traffic to you. Good inbound linking comes from an authoritative website and uses proper anchor text. Anchor text is the words or phrase that are hyperlinked in the content.
Nonprofits can take advantage of inbound linking by coordinating with partners or developing relationships with other organizations. The easiest way to get started is to find blog posts from your current network that align with your content strategy. Reach out to ask for a link and offer them a link in return in one of your posts. Never purchase inbound links.
---
6. Google Reviews for SEO
Google factors your ratings and the amount of reviews into your search engine rankings. Nonprofits with high ratings and many reviews will rank higher than their counterparts.
If you don't have a Google business listing yet, go to google.com/business to claim your organization.
Fill out your profile by adding your logo and your products or services offered. Include basic information such as store hours, business category, organization description and a link to your website.
Once you are set up, you can start asking for reviews from your members, volunteers, partners and associates. The best strategy is to build them up gradually over time. Google will flag mass amounts of reviews in a short period. Leverage your current channels such as email or social media to request reviews. You can get creative and even offer incentives or contests to gain reviews.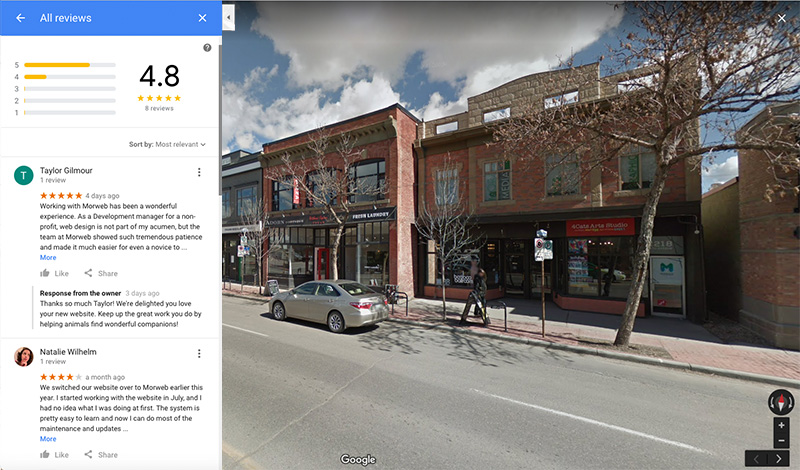 Rankings aren't just important for SEO, they also influence consumer behavior. 85% of consumers trust online reviews as much as personal recommendations. Positive reviews are a great way to build credibility for your nonprofit or association and help gain more supporters or donors. At Morweb, we proudly display our reviews on Google, Facebook, Capterra and G2 Crowd.
---
The Gist
SEO is important for your nonprofit website's visibility in search engine results. You can improve your search ranking by tailoring your meta titles and descriptions for each page and using relevant keywords.
It is important to write content that is useful and relevant to your target audience. Search engines are very sophisticated and can interpret your web content to rank it by relevance. You can further improve SEO through inbound linking with partner organizations. By having other websites linking to your website, your web content will be seen as more credible by search engines.
Lastly, Google Reviews are essential for visibility in search page results. Once you 'claim your business' you can request reviews from those who have used your nonprofit's services.
---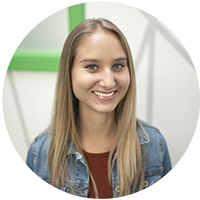 Thank you for reading! I hope you find this article helpful for your organization. If you have any questions or need help with your nonprofit's SEO strategy, please send us a message.
Candace Bozek, Content Marketing Specialist