Nonprofit Writing: How to Communicate Your Vision Online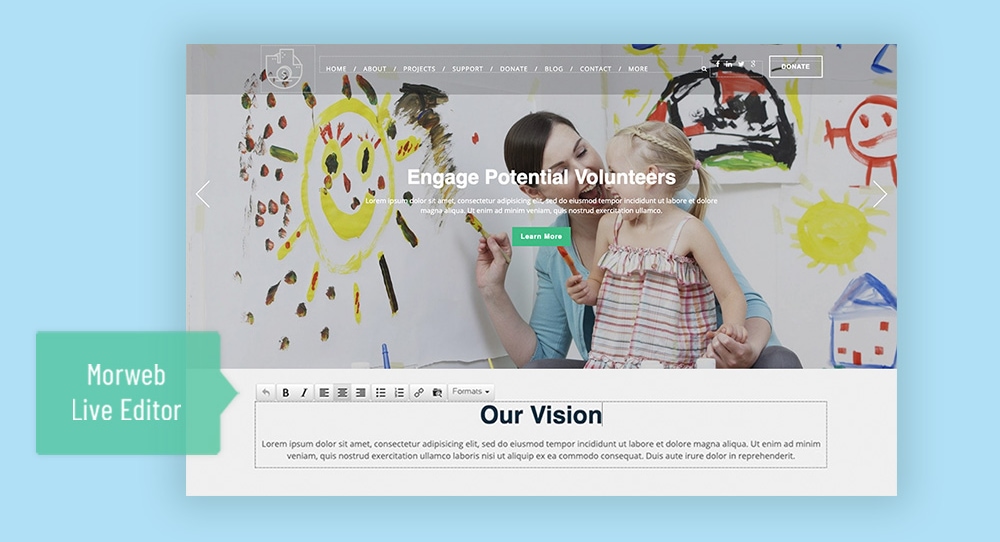 There's no question that the design of your website is important to the success of your nonprofit. However, your written content is something that shouldn't be overlooked. If the design is beautiful but the text is uninspired, you might not be communicating your underlying message as effectively as possible.
One of the most important roles of your nonprofit website is to communicate your vision and mission to the world. In turn, this will encourage individuals to get involved with your cause and donate to your organization. To help you get started, we'll introduce seven nonprofit writing best practices to better communicate your vision online.
The last piece of the puzzle is to present your content in a way that is easily digestible for your readers. This requires a good content management system (CMS) that makes it easy for non-technical users (like nonprofits) to make edits and updates to their website. Choosing a CMS that is catered towards nonprofits will make implementing the following best practices very straightforward.
---

1. Nonprofit writing tip: Know your audience.
Before you can write content for your nonprofit's website, you need to know who exactly who you're writing it for. Writing with your audience in mind will help you connect with your readers on a deeper level.
This will require some research to determine your organization's donor personas. You'll want to create a profile of your ideal donor: who they are, where they work, how they invest their time and money, etc.
If your organization already has plenty of data on your donors, it will be a simple matter of analyzing your data points and summarizing them into audience personas. If you don't have very much data yet, you may want to look at your Google Analytics to get an idea of the location, age, gender, and interests of your site visitors.
Once you have compiled your donor personas, you'll be able to speak directly to their affinities and interests in your copy. Your readers will be more engaged in your content if they feel like it is written for them.
---

2. Nonprofit writing tip: Tell your story effectively.
Your nonprofit's story is your unique appeal and it's what makes people want to support your organization. An effective nonprofit story will answer any questions your audience may have, including:
How your organization got started
What cause/s you are supporting
Who the beneficiaries of your organization are
How to support your organization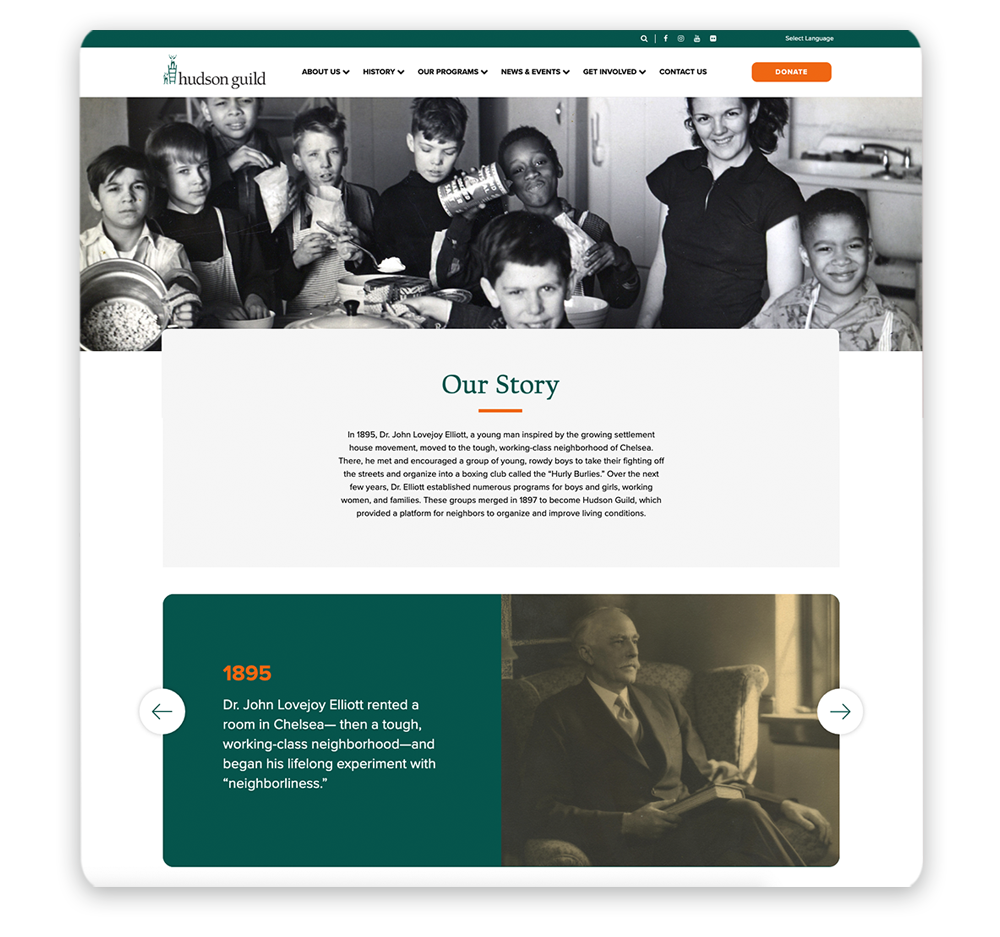 The key to effective storytelling is to appeal to your readers' emotions by presenting real conflict and calling on your audience to take action. Pull at your reader's heartstrings to explain why your cause is important and how they can help.
This last part is important. Once you've explained your story, you'll want to let your know audience how they can support your cause, whether that's by attending events, volunteering, or donating to your organization. Don't forget to provide links to learn more about each opportunity for support.
---

3. Nonprofit writing tip: Present your content professionally.
Once you're confident in the quality of your content, it's time to focus on how it looks. The way in which you present your copy will determine whether or not your audience will read it and how well they understand your messaging.
Long paragraphs with little white space can be very overwhelming for your readers and may cause them to skip the page altogether. Make your copy easily skimmable by keeping the following nonprofit writing tips in mind:
Choose fonts that are easy to read. Stick to a maximum of two fonts for your website. A mix of serif and non-serif fonts can be a nice way to break up your text.
Add headers to each section. Help your readers jump to different sections of your page by titling each section with header tags. This is also a good practice to boost SEO and web accessibility.
Write short paragraphs. Large paragraphs on a screen can be hard to read. Minimizing each paragraph to one to three sentences will make your content easier to digest.
Strategically use white space. White space can be a useful tool to break up your content and make your page more visually appealing. Try to find a good balance between content on your page and the space between it.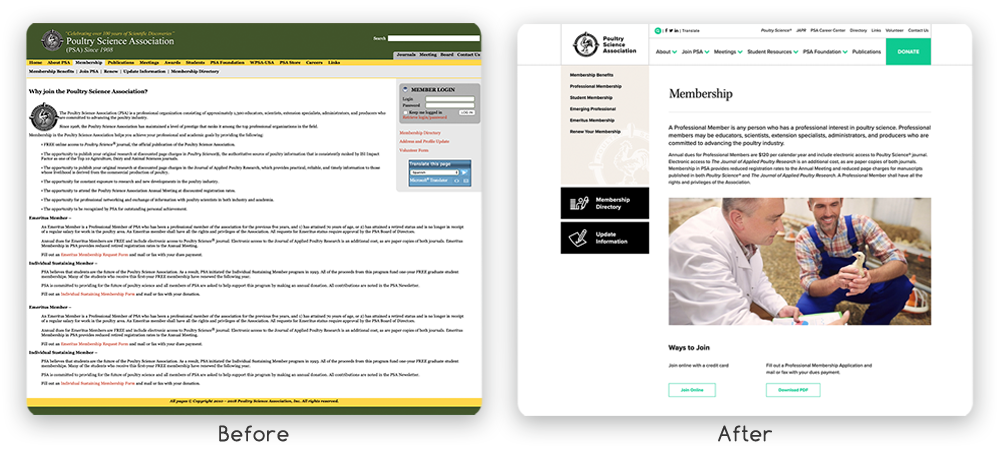 Don't forget to check your content on multiple devices. When adding content to your website, make sure that it is also optimized for tablet and mobile devices. If you're using a CMS platform that is mobile-responsive, the layout will automatically adjust to fit the user's screen size.
---

4. Nonprofit writing tip: Be transparent.
Being transparent is not only beneficial for your donors, but it can also lead to an increase in donations for your organization. In fact, nonprofits who received a GuideStar Seal of Transparency averaged 53% more contributions the following year compared to organizations that did not receive the seal.
Transparency means being upfront about how donations are used and what kind of impact they will make. This increases trust with your donors, as they can feel confident that their contributions will be used for what they were intended.
There are several ways in which you can improve transparency on your nonprofit's website, such as:
Disclosing how donations are used on your donation form
Providing financial documents such as audited financials, tax returns, and your IRS Form 990
Receiving ratings from third parties (e.g., GuideStar, Charity Navigator, or BBB Wise Giving Alliance)
Sharing testimonials from your beneficiaries
Posting frequent updates about current projects and initiatives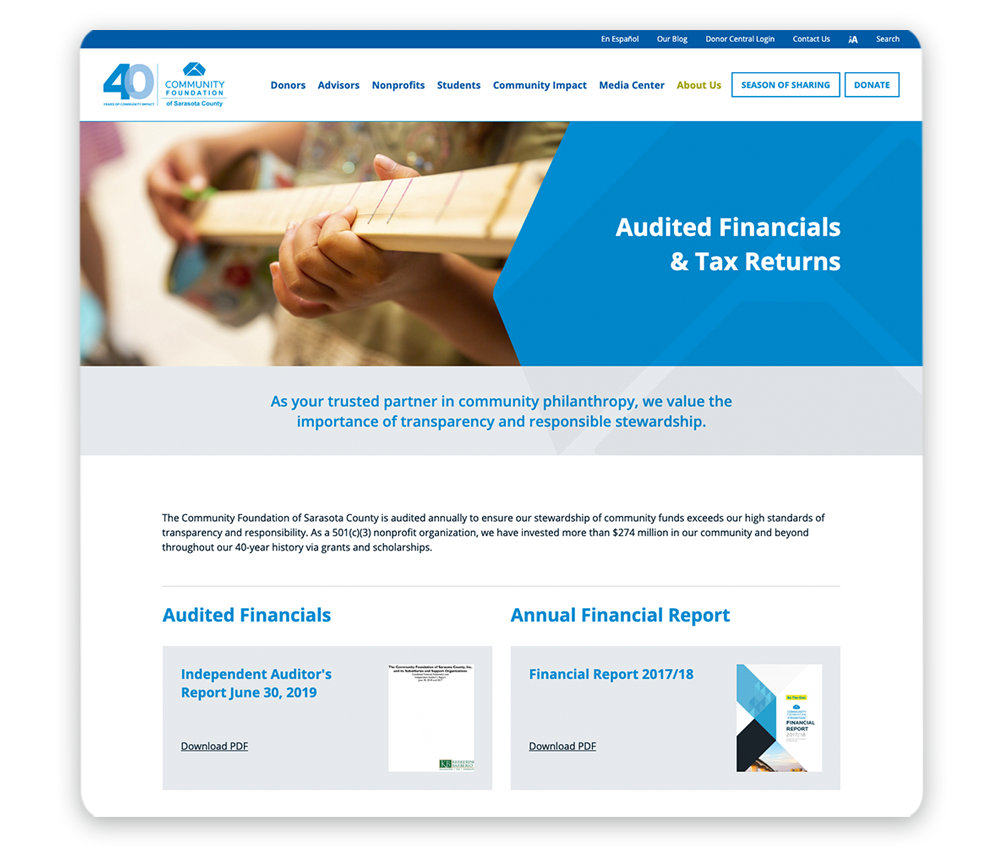 When it comes to making a donation, there is no question: trust matters. Being transparent with your donors increases trust, thereby increasing the likelihood of a completed donation.
---

5. Nonprofit writing tip: Supplement your copy with visuals.
Supplementing your copy with visuals is a great way to break up your text and hold your audience's interest. The strategic use of imagery will not only improve the look of your website but also your messaging.
As a simple rule of thumb, visuals should only be used where they will improve the understanding of your content. Overdoing it will only serve as a distraction to your site visitors and make your page look cluttered. Keeping with a minimalistic tone, using plenty of white space, and adding photos and videos will create a more engaging web experience for your audience.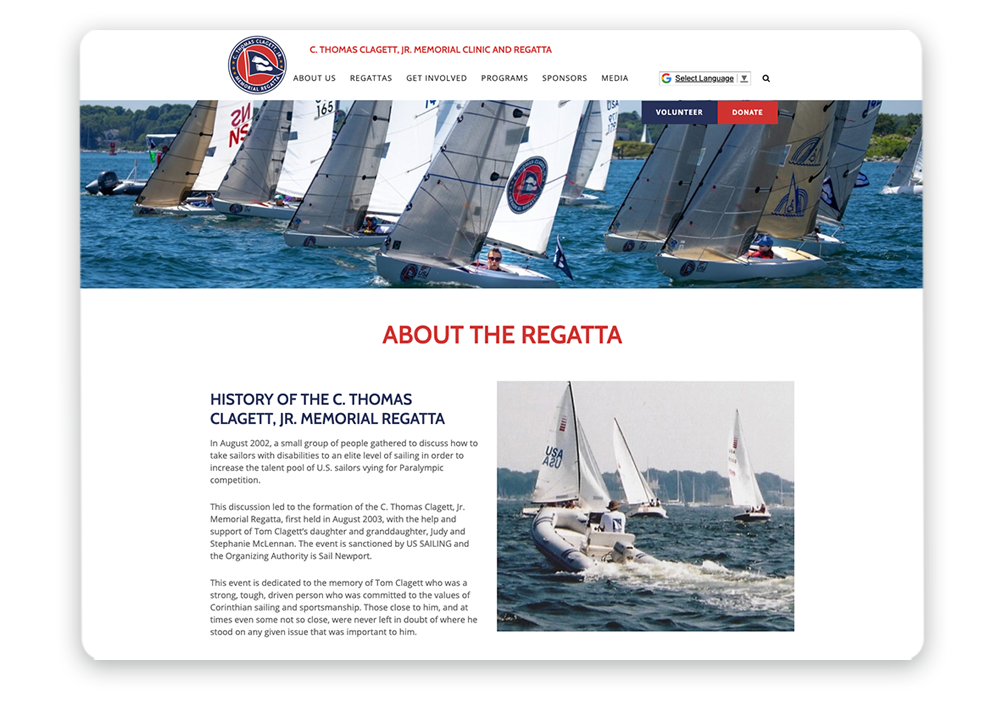 Visuals can take the form of images, videos, or even galleries. These capabilities depend on your CMS and may vary from platform to platform. For example, Morweb offers multiple gallery types such as sliders, image grids, or photo collages. You can also add a video by embedding it from Youtube or choosing to host it through the platform itself.
For some inspiration on how to lay out your images, check out these best-designed nonprofit websites.
---

6. Nonprofit writing tip: Focus on your voice.
When writing as your organization, it is important to keep a consistent tone across all of your content. If you don't already have a set of brand guidelines, it may be beneficial to create an outline for how you would like your voice to come across in your nonprofit writing. Your brand guidelines should outline:
Who you are. Who do you consider part of your organization? Are you speaking for the founders and staff or does that include your supporters, members, and donors as well? Make sure it is clear in your messaging who "we" refers to.
Tone of voice. Is your organization bubbly and energetic or more conservative in tone? Choose a tone that best communicates your message and stick to it.
Brand personality. What characteristics best describe your organization? You'll want to write in a way that encompasses those characteristics such as compassionate, sophisticated, or witty. Above all, you'll want to come across as relatable and authentic in your writing.
Studies have found that certain words can increase donations for nonprofits. For example, using "you" vs. "us" language shifts the focus towards your donors and how they can help make a difference. Additionally, words that create a sense of urgency such as "today" and "quick" encourages site visitors to take immediate action whether that's signing up for an event or donating to your cause.
---

7. Nonprofit writing tip: Incorporate SEO best practices.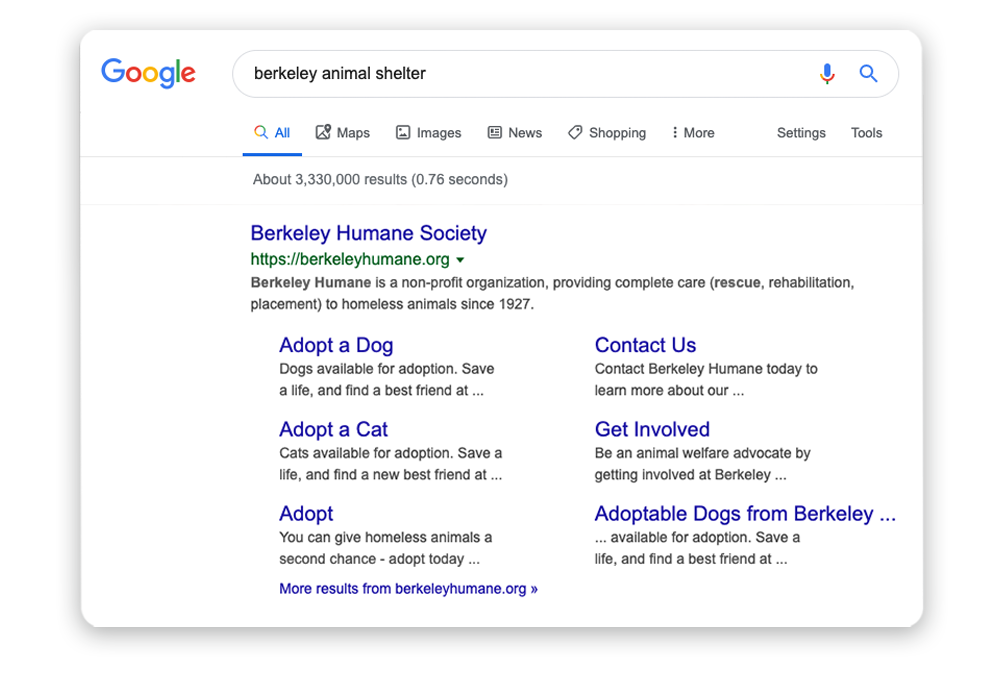 Search engine optimization, or SEO, determines how well your content ranks on search engines like Google or Bing. Oftentimes, it is left as an afterthought; however, forward-thinking organizations know how to incorporate it into their content strategy.
The first step to creating an SEO strategy for your content is to do some keyword research. You'll want to determine what keywords you want to rank for as they relate to your organization. You can use online tools like Google's Keyword Planner or SEMRush to do some preliminary research.
Once you have a list of 10-15 keywords you want to target, be sure to use them throughout your website copy to rank for those terms. Don't overdo it; your main focus should still be your readers. Search engines are sophisticated enough to be able to figure out what your content is about.
The next step to implementing SEO on your nonprofit website is to update your metadata. Metadata is added through the backend of your site to indicate to users and search engines what your web pages are about.
A good CMS will make adding your metadata simple. Morweb allows you to add a meta title and meta description for pages and blog posts in addition to editing your URLs. This is an important feature that can significantly improve your search engine rankings. Incorporating your keywords into your URLs can boost your rankings for those terms. If you are looking for a nonprofit CMS or considering switching platforms, SEO tools are an essential feature to look for.
---
The Gist
The written content on your website is equally as important as the design. Your nonprofit writing can impact the donations you receive as well as the traffic to your website. Maximize the impact you can make by writing in a way that resonates with your audience. Choosing a nonprofit CMS like Morweb will enable you to professionally present your content to effectively communicate your vision online.