How to Build Your Dream Website with a Nonprofit Web Design Agency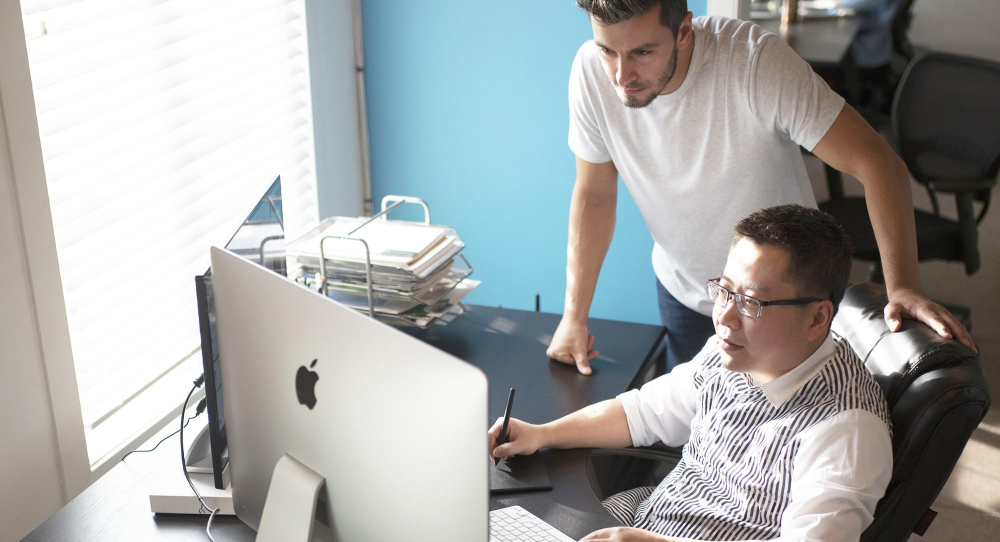 Designing your nonprofit's dream website requires plenty of teamwork with your web design agency. Whether your goals are to collect donations, grow your membership, recruit volunteers, improve your website's mobile experience or simply refresh the look, it is a team effort. Choose a nonprofit web design agency that you feel confident working with and who you can rely on for future support. You can do your part by doing your research beforehand and coming prepared.
Follow these 6 steps to work with a nonprofit web design agency to build your dream website:
---
1. Outline your website objectives
The first step to designing your nonprofit's website is to set your objectives. These objectives will determine the content and layout of your site. Start by defining your primary goal and any secondary goals that you want to achieve with your nonprofit website. Keep in mind who your target audience is and what content is most important to them.
For a website redesign, start by outlining your current website's pages into a sitemap. There are several online tools you can use like XML Sitemaps which will crawl your website and create a sitemap for you to download. Next, create a site plan document to identify content to add, edit, or remove. You may also want to merge pages with very little content under another category.
It is helpful to color code your site plan and assign priority levels for which content you need immediately and what can be added post-launch. Once you have created your new site plan, cross-reference it with your objectives to make sure they coincide.
If you don't yet have a website, look at your organization's vision and mission to set objectives for your new website. Then you can look at other marketing materials you may have such as print materials, strategy documents, or social media posts to determine content for your website. Look for examples of similar nonprofit websites to see which pages they include in their sitemap and tailor yours to meet your objectives.
---
2. Find web design inspiration
The next step is to find examples of nonprofit website designs that you like. Take note of the design, user interface, and features of your favorite websites. You can take inspiration from these best designed nonprofit websites or look at portfolios of top designers on Pinterest, Dribbble, and Behance.
Next, create a wish-list of website features you will need immediately and features you may want to add later on. Depending on whether your organization is donation- or membership-focused you may require different features to meet your objectives.
For associations, the following features should be a priority:
Membership registration forms
Members directory & map
Private pages and forums
Events registration
Blog engine
Newsletter sign-up
eCommerce capabilities
CRM integrations
For nonprofits, the following features should be among your top considerations:
Donation pages
Volunteer sign-up
Events registration
Blog engine
Social media integrations
Intranet portal
Testimonials
Image and video galleries
Accessibility features
Your new content management system (CMS) should have capabilities for your required features, preferably offering optional add-ons for increased functionality in the future.
---
3. Choose a nonprofit web design agency
Now that you've decided which features you need and have a good idea of web designs that you like, it's time to look at nonprofit web design agencies. You can check out Double the Donation's list of top nonprofit website design companies for some ideas (Morweb is among the top listed!).
Most nonprofit web design agencies have their preferred CMS and some have proprietary platforms that they have created themselves. Be sure to request a free demo so you can get to know the technology they use and make sure you will be comfortable using it long-term. Morweb offers free trials of our nonprofit CMS to all potential new clients so they can get familiar with the interface and learn more about the features we offer.
Look for a web design agency that is experienced with nonprofit websites. You can check out our tips for choosing a design firm for a checklist of qualities to look for. Be sure to look at their portfolio to get an idea of their clients and past projects. Always check online reviews before making a decision. Look at platforms like Google, Facebook, Yelp, G2 Crowd and Capterra. You can also check out leadership profiles from the agency on LinkedIn.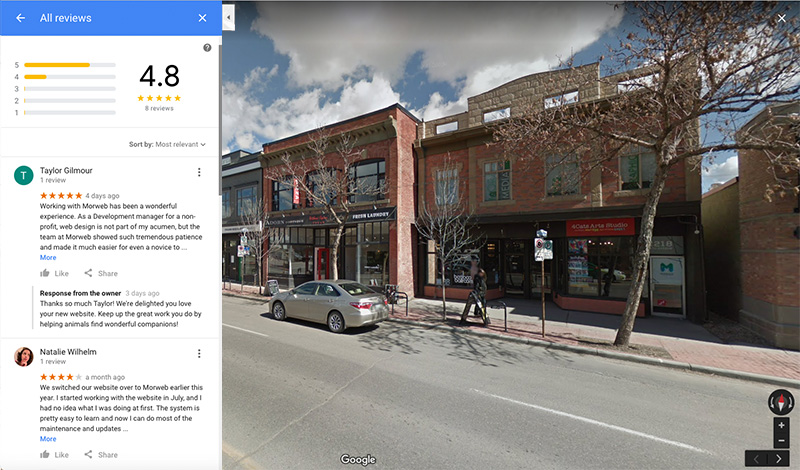 Morweb has over a decade of experience designing websites for nonprofits and associations. We have designed over 1,500 responsive websites for organizations ranging from small charities to National associations. We proudly showcase past web design projects on our website and social media.
---
4. Set project milestones
Once you have selected your nonprofit web design agency, you will want to meet with them to set project milestones for your website. If the agency is located in a different province or state, you can set up an online meeting with tools like UberConference.
Come prepared to the meeting with your objectives, sitemap, examples of your favorite website designs, and your wish-list for website features. Together, you and the web design agency can set milestones and create a timeline for your website project. Many larger nonprofits have stringent approval processes, so ensure that you leave sufficient time in your timeline to go through these approvals.
A great nonprofit web design agency will be concerned with more than just the design. They will ask questions about your cause and help you create a growth strategy for your website. At Morweb, we will set up an initial "discovery meeting" with each of our new clients. In this meeting, we will go through our discovery documents to get to know the organization, learn more about their cause, go through the site plan, and develop a content strategy for their website.
---
5. Transfer web content
At this stage, you'll want to refine your content and reorganize it in a way that fits your content strategy. After selecting your content for your new website, go over it with a fine-tooth comb to ensure it is fit for your new website. Keep in mind who your target audience is and write in a way that will resonate with them.
Next, you can focus on the design of your website. One of the first things you will want to share with the nonprofit web design agency is your brand standards so they can customize your website according to these guidelines. Morweb's themes can be customized to meet even the most strict brand standards such as logo placement, font, brand colors and more. We have over 40 premium website themes that we have created specifically for nonprofits based on industry and cause. The first step in our web design process is to customize the layout according to the organization's brand standards. Next, we focus on functionality and adding in the content.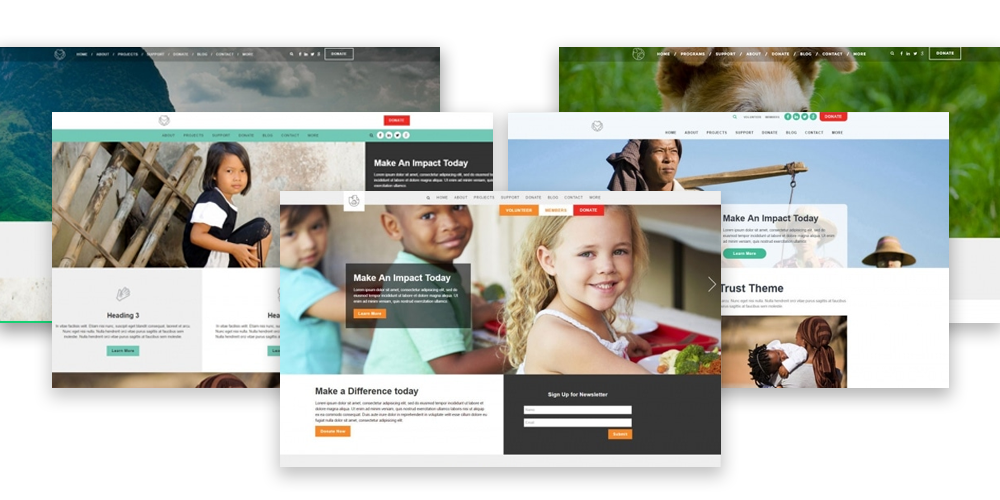 Each web design agency has different methods for transferring content to a new CMS. If you have many blog posts that you have accumulated over the years, you should check if you are able to export them from your current website platform or if you have backups to transfer them to your new CMS. Morweb makes it easy to transfer content to our platform. We have internal migration tools to transfer your text, images, videos, blog posts and any other content to your new website. When we do our migration, we don't just regurgitate your content, we evolve it. Our team will review each piece and make adjustments according to the agreed-upon content strategy.
The web design agency is responsible for testing the functionality but it couldn't hurt for you to do some tests as well. Make sure you look at your website on your phone and tablet to make sure it looks good on different screen sizes. Morweb does responsive testing for all of our client websites as a standard practice.
Once you are completely happy with the design, have all the right functionality and your content is error-free, it is time to launch! Morweb has a checklist that we always go through before launching a website.
Morweb Website Launch Checklist:
Link check - ensure all links on pages go to the right place
Social media link check
Link check for 404 errors
Meta titles and descriptions
Google Analytics code
SSL code implemented
https redirect
Cross-browser check - test on mobile device(s)
Load time check
---
6. Training and support
Just because your new website is now live doesn't mean your work is done yet. Growing your online presence requires continuous maintenance and updating your website. Make sure you and your team are fully comfortable using your new CMS platform and able to keep your website up-to-date with your growing organization.
During the post-launch period, our team will schedule training sessions with our client's staff to make sure they all know how to use the Morweb platform and are able to regularly update content. We will go through the website strategy to educate their team on how their website ties into their larger organizational goals.
Support is something you will want to negotiate in your contract with the web design agency. You don't want to be left high and dry once your website is launched! As part of our nonprofit web design package, Morweb offers ongoing support. Our support team is available by live chat, phone or email to help with maintaining and growing your nonprofit website.
---
The Gist
Building a new website for your nonprofit requires a lot of teamwork so it is important to choose the right web design agency. You can do your part by setting objectives for your website, reviewing your content, and researching website designs and features. Once you have completed your research and selected the right nonprofit web design agency, you should meet with them to set milestones. From there, you can focus on transferring your website content to your new CMS. The final step is training and support. You'll want to make sure your team is trained to use your website platform and that you have support from your web design agency if you need any help along the way.
By following these 6 steps, you will be able to bring your website's vision to life with the help of the right nonprofit web design agency. Want to learn more about Morweb for your nonprofit web design needs? Book a free demo with us today!