Nonprofit CMS: Choosing the Right Tool for Your Organization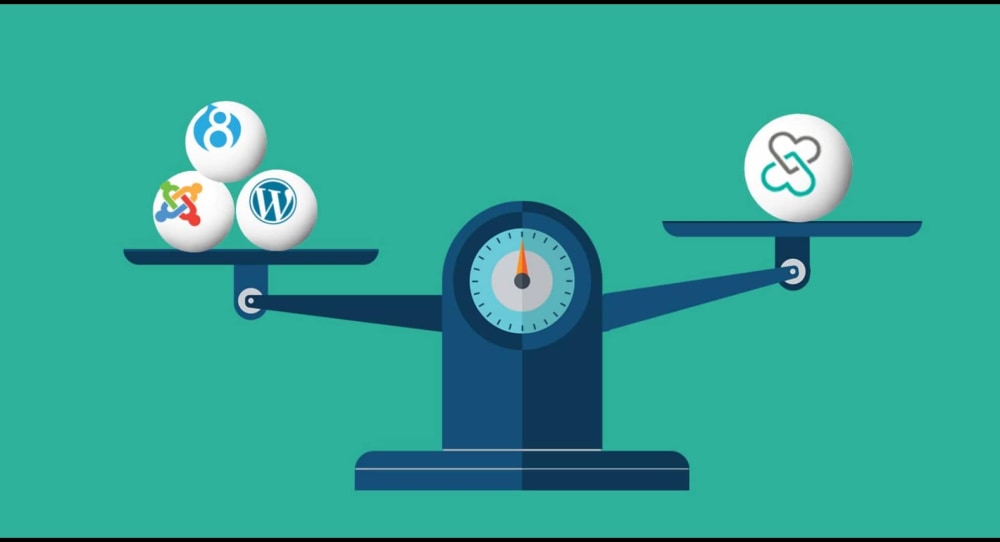 In order for your nonprofit to operate efficiently, you need a well-designed website. A strong digital presence can help your nonprofit expand its reach, attract new supporters, and boost its revenue. But before you can start designing your website, you need to pick a content management system (CMS).
The right CMS can make website development a breeze for anyone, even if you don't have any technical expertise! A CMS is a website builder that allows you to easily create, input, and edit content—no coding required. Without a CMS, you might run into obstacles that make the website development process much more complicated than it needs to be.
With so many CMS platforms out there, it can be difficult to pick one that's best suited for your organization. While there are many generic CMS's, you'll need one with nonprofit-specific features, like built-in sign-up forms, customizable donation pages, automatic mobile optimization, and more.
In this article, we'll go over everything you need to know about CMS platforms and how to choose the right one for your nonprofit. Specifically, we'll address:
You've already done the hard work in creating your nonprofit. Now, you need a beautiful website that will help your nonprofit reach more people and achieve its goals. A user-friendly CMS can make that possible. Let's begin!

What is a Nonprofit CMS?
A nonprofit content management system (CMS) is often called a website builder because it does exactly this job. Instead of designing a website from the ground up—which can involve countless hours of coding and headaches—a website builder streamlines the entire web development process.
In more technical terms, a content management system is a software application that allows users to manage digital content in a user-friendly interface. Essentially, your only job will be brainstorming your website design (think color scheme, page layout, etc.) and the content you want to feature. A website builder will take care of the technical backend.
When it comes to a CMS that's specific to nonprofits, this means that the CMS has all the features a standard nonprofit website will need. Your site will likely act as a hub for new and current supporters where they can easily sign up for events, donate, learn about your nonprofit, access important resources, and more.
While a generic CMS might help you build some of these features, a nonprofit CMS provides an all-in-one development experience so you can easily design a functional and effective nonprofit website—with all the features you need.

What Features Should You Look for in a Nonprofit CMS?
Usability
Your nonprofit CMS should make the website development process easier, not more complicated. After all, you're investing money in a tool that should streamline the process as much as possible. If you don't have web development or coding experience, you're going to want a CMS that takes care of the technical backend and gives you and your team a smooth user experience.
This means that adding, editing, and managing content should be simple. A user-friendly nonprofit CMS will offer drag and drop functionality (or click and edit) so you can easily bring your website design ideas to life.
Some CMS's are more complex than others and will involve an in-depth set-up process. For example, a hosted CMS is a type of CMS that you will have to install on your own server, which takes time and requires technical know-how.
On the other hand, an SaaS (Software as a Service) CMS is hosted directly by the company. This means that when you invest in an SaaS CMS, the company actively manages the software, so you won't run into any technical issues and can design your website stress-free. This is the perfect software for people that want to simplify the web development process as much as possible.
Customization
Your website is an effective tool for boosting your branding strategy and therefore needs a little more work than the usual cookie-cutter website templates that many CMS's offer. Since your website needs a personal touch, you'll want a CMS that allows you to easily build a website with custom elements.
Your CMS should make it easy to add and customize the following elements:
Font
Color Scheme
Page Layout
Page Theme(s)
Logo
While you can use a website template to start, it's important to edit these features so your website feels true to your nonprofit and helps strengthen your online presence. The ideal CMS will allow you to adjust elements like font and color scheme with ease by using drag and drop functionality or a WYSIWYG (what you see is what you get) editor.
Security
Your website is likely going to process personal information, like donors' billing information, contacts, and more. It's therefore very important to pick a secure CMS so your website is safe from cybersecurity attacks. This way, you won't have to worry about data leaks and your donors will feel confident filling out your online donation page.
While there are many popular open source CMS's like Wordpress and Drupal, these platforms are more susceptible to hackers. In general, it's best to avoid open-source platforms because the source code is accessible by anyone, meaning it's very easy for someone to access your website's private information.
For example, over 455 million websites are powered by Wordpress, making it an obvious target for hackers. A study in 2022 found that 41% of WordPress attacks are caused by a vulnerability on the WordPress hosting platform.
While open source platforms like WordPress and Drupal have regular security patches, they rely on the user to run the updates. Problems arise when users aren't constantly updating their website and become targets for the latest hacking methods.
A more secure CMS is a proprietary platform. Proprietary platforms are maintained and owned by a single company, so the source code (and your private data) will not be released to the public. Plus, a secure platform like Morweb automatically rolls out security patches so users don't have to worry about staying up to date.
Support
If you're a novice to website design, chances are you're going to run into some questions, especially as you begin to familiarize yourself with how your CMS works. You'll need a CMS that offers customer support—ideally on a regular basis and at any hour of the day so you can get the answers you need when you need them.
Keep this in mind as you decide whether you want to use an open-source CMS or a proprietary CMS. An open-source CMS typically relies on support from online forums or third-party service providers, so you'll be less likely to get an accurate answer and will have to figure out any questions you have on your own. Alternatively, you might have to pay additional fees for support. In contrast, a proprietary CMS usually includes customer support, though the communication modes and hours that it is offered will vary by company.
Open source platforms may initially seem like a good choice because they offer little to no start-up fees. However, you may find that you'll face hidden costs when it comes to working with a third-party service provider for your support needs. Therefore, it can be more cost-effective to invest in a proprietary platform that offers the services you need as part of your CMS bundle.
Mobile-Responsiveness
To expand your reach and boost accessibility, your website needs to be optimized for mobile devices. The right CMS will automatically incorporate these important mobile-friendly features:
Able to format to any size screen. Whether a user is viewing your website on a wide computer screen or a mobile device as small as their hand, your site should look flawless.
Appropriately sized text and images. Mobile users should be able to easily read and engage with your website. If elements appear too large or too small, your audience will be more likely to click away. Maintain their interest with legible content on any device.
Clickable buttons and accessible prompts. This is especially important when it comes to your website's donation page. If your website is mobile-friendly, you'll be able to reach new donors and pull in more support. In fact, according to 360MatchPro, donation pages that are mobile friendly yield 34% more donations.
Your CMS should automatically adjust your website display to any device. This way, people can conveniently connect with your organization right from the palm of their hand!
Integrations
If you choose a CMS that doesn't provide everything you need under one roof, you'll need to add external applications known as plug-ins. These plug-ins need to easily integrate with your software so all of your data is connected.
For example, let's say you select a CMS that does not have a built-in form builder. You'll need to check if your CMS has an available plug-in for this feature, and if so, whether it can integrate smoothly with the rest of your software. This is common for open-source platforms, which require more of your time (and more technical expertise) to add and integrate the features you need.
Reporting and Analytics
To get a good idea of how much organic and inorganic traffic you're bringing to your website, you'll need a nonprofit CMS that has data reporting capabilities. This information will help you determine where your website needs work once it's up and running.
For example, a CMS with built-in data analytics can let you know how many people are organically finding your website's donation page in Google's search results, how long people stay on your page, and other relevant reports.
Down the road, these data reports can help you strengthen your website so it appears higher in Google's search engine results, helping you attract more support.
Premium Widgets and Layouts
As you're uploading and arranging your content, you'll need widgets that take your website to the next level. A CMS with built-in widgets can make your website more engaging and user-friendly. The right CMS for your nonprofit will have helpful widgets such as a:
FAQ Accordion. New supporters will have plenty of questions once they arrive on your website. Anticipate their inquiries and display answers in an intriguing way with an FAQ accordion.
Accessibility Widget. When your website is accessible, more people can engage with your content, leading to increased support and revenue. Your CMS's accessibility widget should allow users to increase the text size, change site colors to greyscale, highlight links, and more. Plus, an ideal CMS will automatically optimize your website so it's WCAG (Web Content Accessibility Guidelines) compliant. As a result, Google will bump your website higher up in its search results, so more people can find your nonprofit's website.
Embed Widget. This widget allows you to easily embed forms, videos, podcasts, and any other helpful external content directly in your website. This way, your supporters won't have to navigate away from your website to find these elements.
Image Carousels. With an image carousel, you can show off photos of your nonprofit in a visually appealing way. Users won't have to click through a slideshow to see your organization in action; instead, a carousel widget automatically moves to the next photo every few seconds, giving your audience a better understanding of the great work your nonprofit is doing.
In addition to widgets, your nonprofit CMS should have a variety of layouts that you can plug into your site. This makes the web design process easier since you won't have to worry too much about how to arrange your content—your CMS will take care of it all for you! You should also be able to customize your own layout so it's unique to your nonprofit and helps get your brand out there.
Search Engine Optimization (SEO)
A great CMS will have built-in SEO features to help your nonprofit rank higher on search engine results pages and expand its reach. You're already putting a lot of effort into making a beautifully-designed website, and SEO optimization will give it the extra push it needs so people can see it.
Search engines rank websites with high-quality content, fast page load speed, and accessibility features. It can be difficult and time-consuming to check if every page on your website is optimized, so choose a CMS that will help you easily apply SEO tools and strategies like meta descriptions, meta titles, image alt text, and more.

Which CMS Should You Choose for Your Nonprofit Web Design?
Now that you have a good understanding of the features your nonprofit CMS should have, let's look at a few popular website builders. While many of these names may be recognizable, you probably haven't zeroed in on their features and whether they're user-friendly. We'll go over the ins and outs of four popular platforms so you can pick the CMS that's best suited for your nonprofit.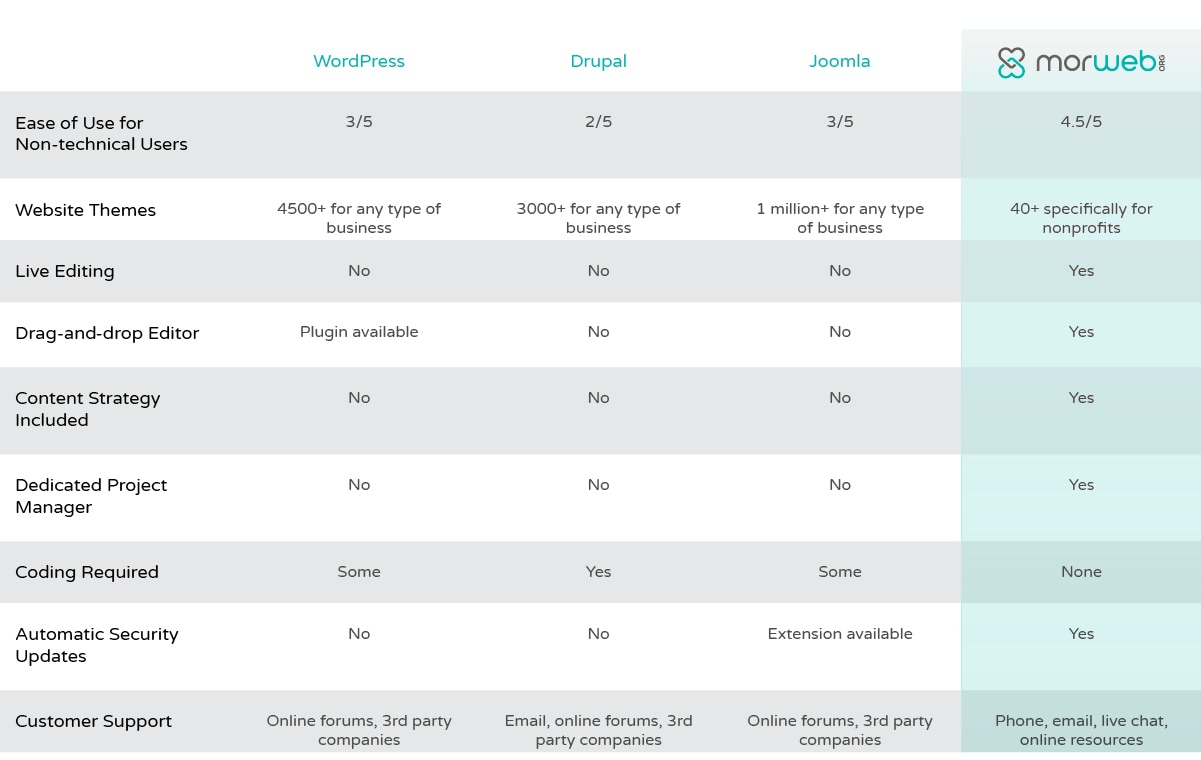 Morweb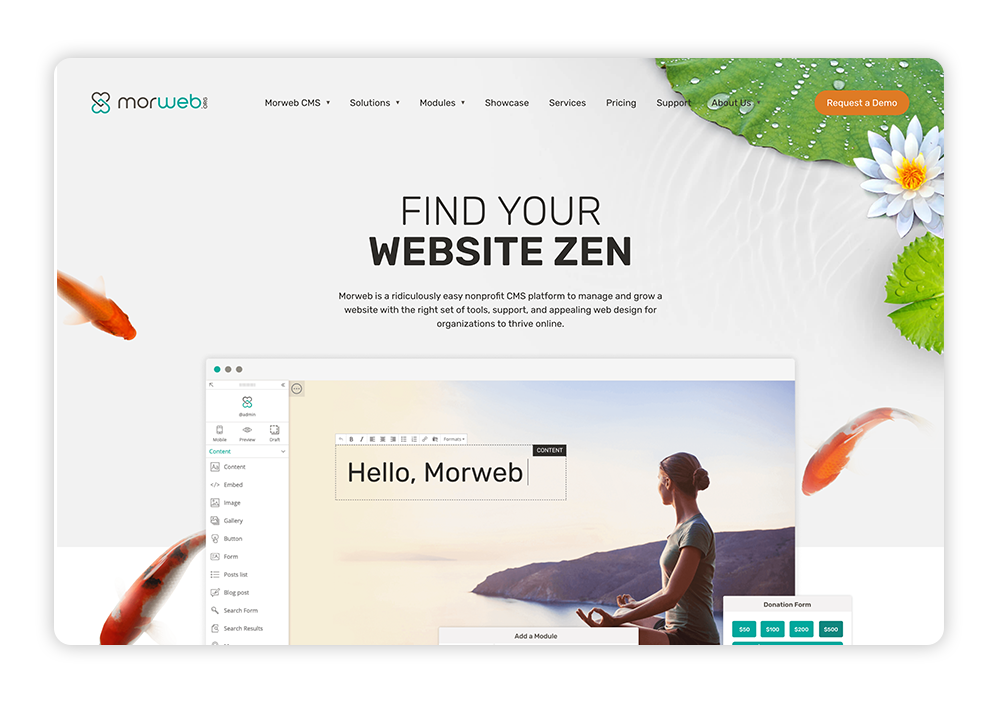 Morweb provides an all-in-one website design solution for nonprofits. With so many generic CMS's out there that lack important features every nonprofit website should have, Morweb was created to uniquely address nonprofits' needs. Morweb is a secure, user-friendly CMS that lets you build your nonprofit's website all under one roof—no plugins or coding required!
Morweb allows nonprofits to easily click and edit (or drag and drop) content, customize pages so they're unique to your organization, develop engaging blogs, add built-in event registration and application forms, and more. Plus, Morweb has its own accessibility widget to make your website user-friendly and engaging for everyone.
To get started with this platform, you'll have to pay a monthly subscription fee. When you factor in all of the great features that accompany this all-in-one software—the 24/7 customer support, constant site maintenance performed by Morweb, protection from cybersecurity threats, and more—you end up saving a lot of time and money in the long run. Overall, Morweb offers everything your organization needs to design the perfect nonprofit website.
WordPress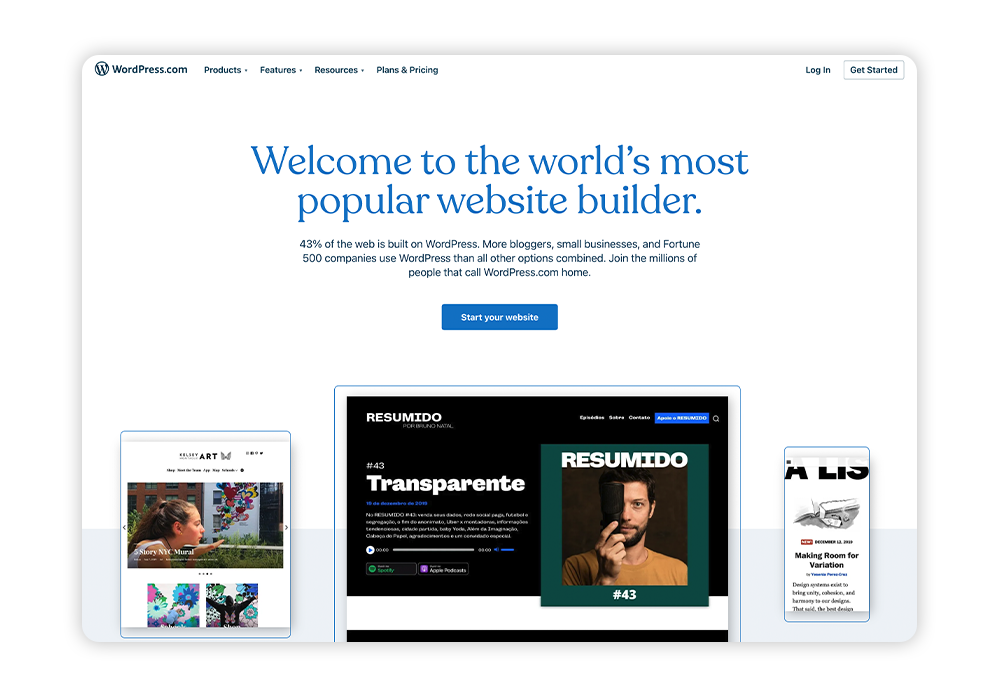 WordPress is an open source platform that has thousands of integrations and plug-ins. For example, WordPress offers users access to SEO toolkits, conversion rate optimization software, and social media sharing buttons. This platform also has nearly 10,000 themes so you can find the perfect one for your nonprofit.
While WordPress is free, you will end up incurring more costs to set up the software and purchase plugins and integrations. Plus, this platform is open source, meaning that its source code is available to the public. As a result, a website built with WordPress is more susceptible to data leaks. If you're planning to host a donation page or contact information form on your nonprofit website, your supporters' private information will be much less secure with WordPress's software.
Overall, WordPress is a good choice if you have previous web development experience and are not planning to hold private information on your nonprofit website like donors' billing information. Its blogging and SEO features can help boost your nonprofit's digital presence and help you reach even more people.
Drupal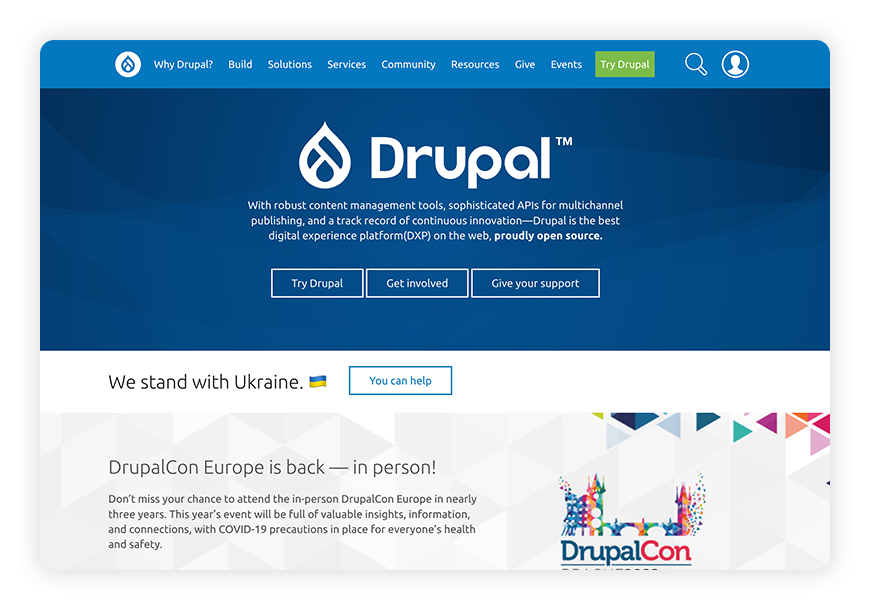 Drupal is a free and open source software that powers over a million websites worldwide. Since its inception in 2001, it has gone through several updates to create a platform that is flexible and scalable. Drupal has a strong community of over one million members that you can reach out to for support when developing your nonprofit website. Plus, its automatic mobile optimization makes your website accessible to anyone on any device.
Although Drupal has thousands of plug-ins at your disposal, they are not user-friendly and most do not come free. If you don't have coding or technical expertise, you'll need to hire a web developer to add these features and make sure they integrate across your site.
Because Drupal is open source, it has had several data leaks in the past. In fact, Drupal experienced a significant data breach that nearly exposed a million website's private data. Hacking is fairly common with Drupal's websites, despite the company's efforts to provide security updates which are up to the user to implement.
If you use Drupal, be mindful of these potential security risks and any additional investments you'll have to make to add plug-ins, install Drupal's software, and get support from a professional web developer to navigate its complex interface.
Joomla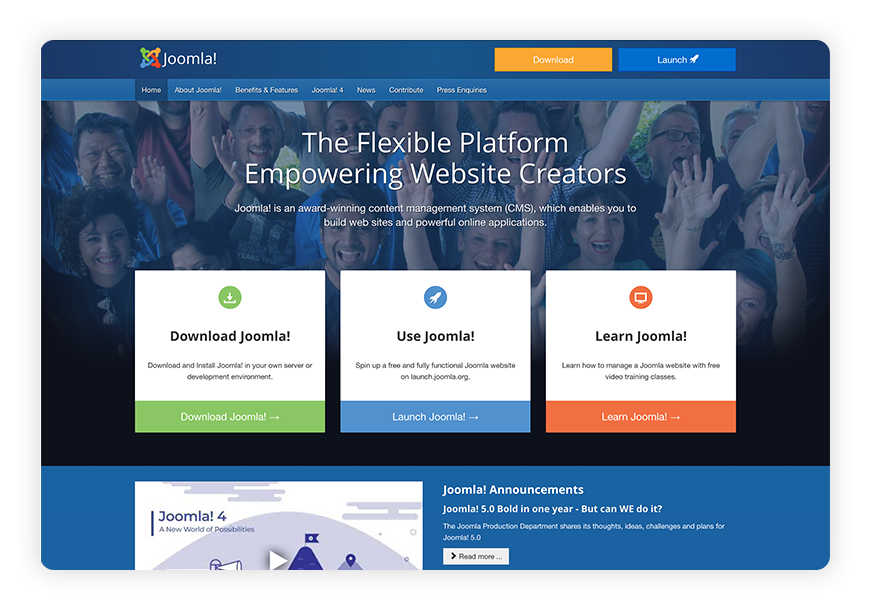 Joomla is a community-driven platform that uses open source data like WordPress and Drupal. It offers thousands of themes and plug-ins so you can enhance your website. If you're planning to sell items on your website to boost your nonprofit's fundraising efforts, Joomla has plenty of extensions for e-commerce to streamline content management and digital sales.
Joomla is similar to WordPress but is less user-friendly and often requires coding to get the plug-ins you need and integrate them with your website. Despite the many website templates it offers, your nonprofit will not be able to customize the templates without costly add-ons. You'll have to use a generic, cookie-cutter template that several other organizations may be using, which will prevent supporters from connecting with your nonprofit.
If you need support on Joomla's platform, you can access online forums and third party companies, but this will likely be less helpful than getting direct and personalized customer support. Alternatively, you can invest in a web development service, which will end up costing your nonprofit more in the long run as opposed to investing in a proprietary, all-in-one platform like Morweb.

How to Choose the Right Nonprofit CMS for Your Organization
With so many CMS's out there, it can be difficult to choose one that's best suited for your nonprofit. Luckily, we've laid out some tips so you can pick the best nonprofit CMS to develop a strong online presence.
Think about your team's web design experience and capabilities.
Many open source platforms, like WordPress, Drupal, and Joomla, require technical expertise—including coding—to effectively build your website. If your team does not have any previous web development experience, it is best to choose a proprietary platform like Morweb that is secure, trustworthy, and gives you access to everything you need under one roof.
Ensure the CMS has all of the features needed to accomplish what you want your website to do.
Nonprofit websites need a lot of features to engage audiences and attract more support, like custom donation pages, mobile optimization, event landing pages, built-in forms, and more. Carefully consider the features each CMS offers and whether it can help you confidently develop an intuitive, user-friendly website.
Keep your budget in mind when reviewing solutions.
Although open source platforms are typically free, they can end up costing you more because of the additional plug-ins and integrations you'll have to purchase. In addition, you'll likely need to hire external developers for help if you don't have coding or technical experience.
When you use a website builder like Morweb, you only have to pay a monthly subscription fee because everything you need will already be built into the platform—saving you money, time, and headaches!
The Gist
Developing a beautiful website can easily become a complicated process, but it doesn't have to be. You need a nonprofit CMS that will streamline the design process so you can get your website up and running in no time.
While it may be tempting to use an open source platform like Wordpress, Drupal, or Joomla, don't let their cost-free tagline fool you. These platforms will end up costing you a lot in plug-ins and can even cost you your nonprofit's reputation if a data leak occurs.
It's ultimately better to invest in a platform that is customized to your nonprofit's needs and is completely secure.
Unlike open source platforms, Morweb will protect your website from cybersecurity attacks and make the website development process as easy as possible—no coding necessary! Use our robust functionality and all-in-one solution software to take your website to the next level. With Morweb, you'll be able to expand your nonprofit's reach and boost revenue in no time.
Looking for more information about choosing the best CMS for your nonprofit organization? Check out these additional resources to guide your research: