The Best Nonprofit CMS | 5 Essential Features to Look For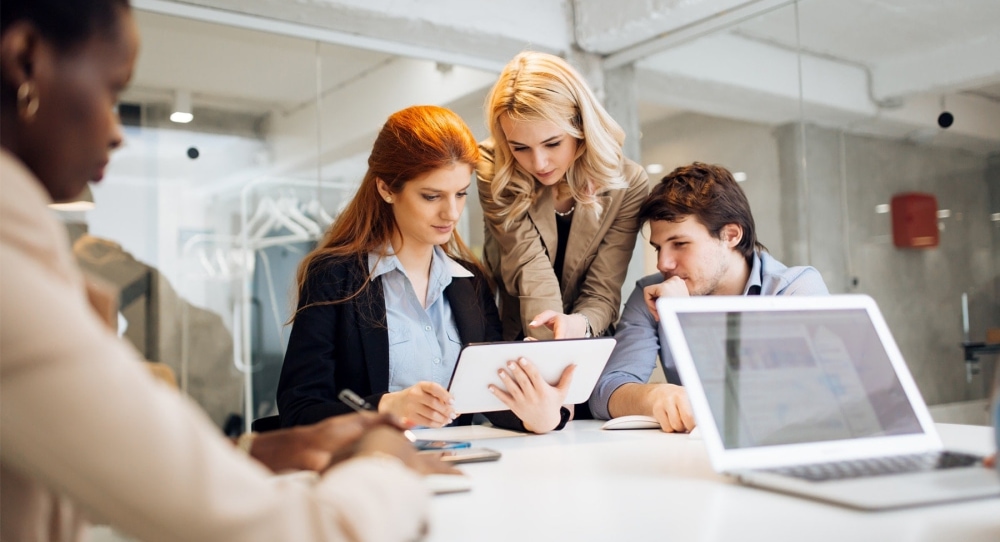 Whether they're engaging with your social media posts, making online donations, or simply looking to learn more about your mission, more and more of your supporters are interacting with your cause online.
In particular, supporters turn to your nonprofit's main website when they want to get involved with your cause.
Your nonprofit's website has the potential to boost the impact of your engagement, fundraising, and marketing efforts. With this in mind, it's time to find the right content management system (CMS) to help your team design, implement, and maintain a stand-out online presence.
Is your team ready to find the right content management system for your cause? Take a look at our top nonprofit CMS features your next platform needs to have:
With a comprehensive nonprofit CMS designed just for organizations like yours, your team will never feel like you're in the dark when it comes to nonprofit web design.
Excited to find out what nonprofit CMS embodies all of our favorite features and more? Jump to the last section to find out why Morweb CMS is the best platform for nonprofit web design.


---

1. Top Nonprofit CMS Feature: Customizable Layout Design
For most nonprofit organizations, one of the biggest roadblocks between your team and an effective website is figuring out how to make your vision a reality.
The vast majority of nonprofit professionals aren't web design experts, and it can be really expensive to hire a designer to build your website from the ground up.
Even then, without the right knowledge base and design tools, it can still be a challenge to maintain and update the site after it goes live.
Luckily, the best nonprofit CMS platforms offer intuitive layout design features to make creating and maintaining your nonprofit's website a breeze. Check out these essential design features your nonprofit CMS should have:
Drag-and-drop templates.

Instead of needing to carefully code each element of your site, pick a nonprofit CMS that offers drag-and-drop templates. These allow your team to pick from a set of pre-designed elements and easily experiment with your design.
Live editing tools.

One of the worst feelings when designing your nonprofit's website is realizing what you've created on the back end of your CMS looks nothing like the live page. Find a CMS with inline live editing tools so you can see your hard work come to life in real-time.
Mobile-responsive design.

Isn't it frustrating

when you try to access a site on your smartphone and it's completely unusable? Ensure your nonprofit's website is accessible to all users by choosing a CMS that offers

mobile-responsive design features

.
Embedded plug-ins. With a customizable layout, you can easily embed plug-ins into your backend code that can elevate your website and donation page. For example, to raise fundraising revenue, many successful nonprofits will embed a corporate matching gift and volunteer grant database into their online donation page. This is a great way to both increase donations as well as support corporate social responsibility. Allow donors to search if their employers' are eligible after they've made a donation, all within your embedded database plugin.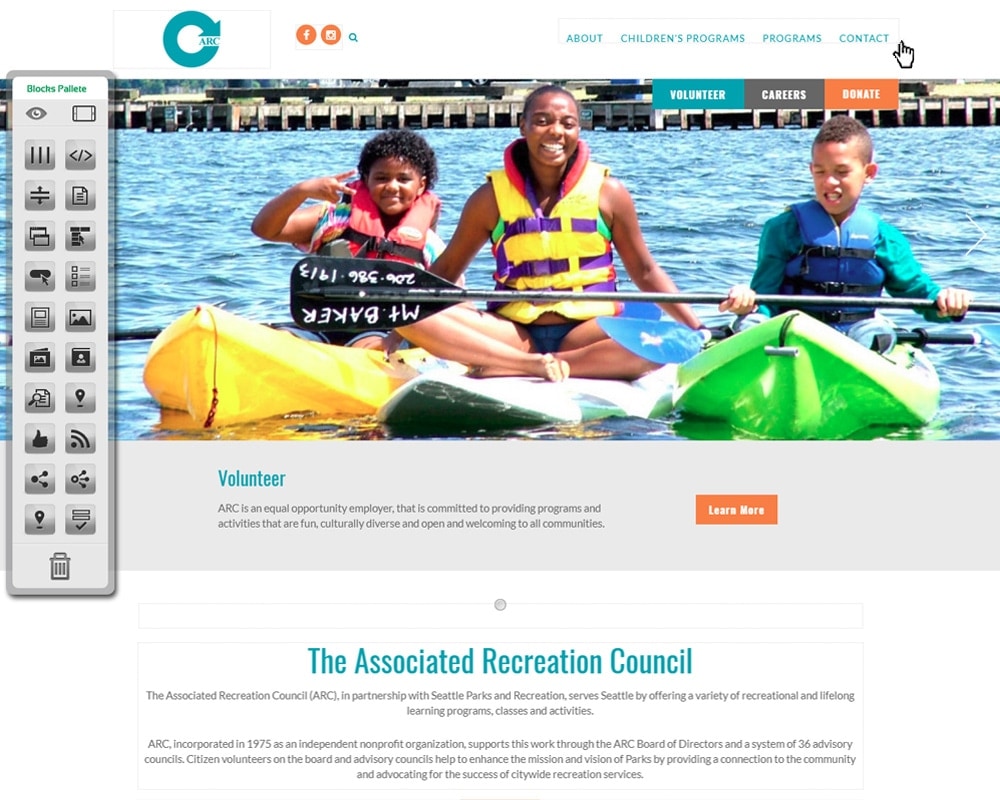 Must-Have CMS Feature for Nonprofits: User-Friendly Setup
For most nonprofits, the implementation phase of the web design process can be seriously daunting.
Without an intuitive CMS in place, nonprofit professionals can easily get lost trying to make their web design vision a reality.
Find a partner that offers design consultation before, during, and after implementation. Your consulting partner will help your team to determine what layouts will work best for your needs, what modules are a must-have, and how to drive the kind of engagement you need through your website.
Further, your nonprofit CMS needs to give your team essential tools to maintain and update your site without having to write new code. Most nonprofit professionals don't know any coding languages, so pick a CMS that offers accessible design features you can actually use.
---

2. Top Nonprofit CMS Feature: Powerful Blogging Tools
One of the cornerstone elements of a nonprofit's website is their blog.
Nonprofit blogs offer an essential platform for your team to keep supporters updated on your cause and engage with your community. Not only that, but your blog can help drive supporters into action by inspiring them to donate, volunteer, and introduce others to your cause.
Choose a nonprofit CMS that gives your team the blogging tools it needs to maintain a powerful presence online. Take a look at these key blogging features your CMS should offer:
Intuitive blog editor.

Easily draft, format, and edit your blog posts through your CMS platform's blog editing interface. Find a solution that gives your team total control over the design of your posts so you can perfectly tailor them to your readership.
Blog post scheduling.

Plan your editorial calendar in advance by using a nonprofit CMS that offers scheduled posts. Your team can edit and review posts long before they go live and time your publication dates

just right

to drive engagement.
Live post preview.

Just like the other pages of your website, you'll want to be able to see what your blog posts will look like when they're published before you make them public. Find a solution that offers a post preview mode in addition to a drafting view.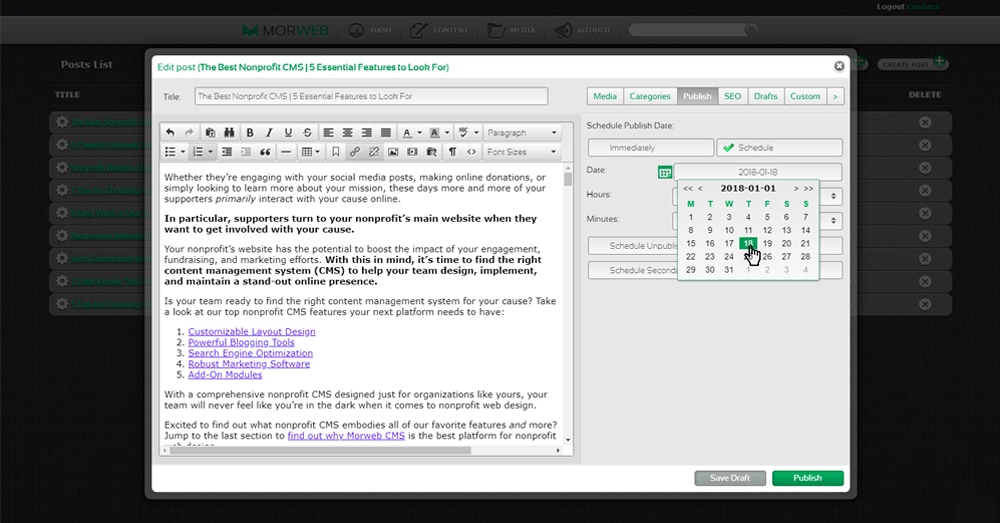 Must-Have CMS Feature for Nonprofits: Social Sharing Widgets
One of the reasons why nonprofits like yours love to keep an active blog presence is that your posts can be a great introduction to your cause for new supporters.
When your community likes and shares your blog posts on social sites, they open up your nonprofit's audience to a whole new set of inspired individuals.
Pick a nonprofit CMS that prioritizes social sharing by offering Facebook, Twitter, Google, and LinkedIn sharing widgets on every blog post.
At the end of every post, be sure to encourage your readers to share the content with their friends, family, and colleagues online to boost engagement with your cause.


---

3. Top Nonprofit CMS Feature: Search Engine Optimization
Boosting awareness of your cause is the name of the game when it comes to your nonprofit's website.
This means your website needs to be optimized for search engines, i.e. easily accessed when a supporter enters your name, or other related search terms, into Google.
There are many ways you can improve your nonprofit website to make sure it follows search engine optimization (SEO) best practices.
But, if your team is new to web design, you're probably not experts in SEO. Pick a nonprofit CMS that helps your team perfect its SEO strategy with tools like:
Meta title editors.

Your meta title is the title search engines like Google display to users when they come across your site in search results. Choose a CMS that helps you easily edit your meta title to boost click-through rates and meet SEO standards.
Custom meta descriptions.

A page's meta description gives searchers a snippet of what the page is talking about, which can help drive engagement. Find a CMS that lets you easily edit your meta description and customize it to your community.
Targeted meta keywords. Meta keywords show search engines what your pages are talking about, and this can help boost their ranking in search results for similar subjects. Pick a nonprofit CMS that offers simple meta keyword editing to boost your SEO.




Must-Have CMS Feature for Nonprofits: Customized URLs
Your website's URLs can tell search engines a lot about your community and its ideal audience.
With a nonprofit CMS that lets you set custom URLs, your team can help your content reach the right people online while increasing the chance that they'll click through to your site.
Long, difficult-to-read URLs are a big turnoff to web users. Additionally, search engines want to see your "target keywords" in the URLs of your site to know what your web page is all about.
Pick a CMS that takes SEO seriously by offering features like URL customization. This way, you'll have the tools on hand to grow your impact and get noticed online.
---

4. Top Nonprofit CMS Feature: Robust Marketing Software
Since your nonprofit's website is the go-to place for supporters to interact with your cause online, that makes it your most powerful marketing resource.
Your next nonprofit CMS should offer features that make aligning your marketing strategy with your website an intuitive process.
Pick a platform that makes it easier to spread the word about your cause, engage supporters who land on your site, and learn from community members as they interact with your cause online.
It's not enough for your nonprofit to have a marketing solution alongside your CMS. Boost the impact of your marketing strategy by choosing a CMS that offers:
Event management tools.

Marketing your nonprofit's events calendar can be tough, so be sure to pick a CMS that makes it simple to design event registration pages and update supporters on your events calendar.
Exportable supporter data.

Learn from the supporters that engage with your cause on your website by capturing key data. Partner with a nonprofit CMS that makes this information easily exportable to your constituent relationship management software (CRM) of choice.
Social media integration. Second only to your nonprofit's actual website, many of your supporters will engage with your cause on social media. Drive traffic from your website to your social pages with social media integrations like embedded live feeds.



Must-Have CMS Feature for Nonprofits: Form Builders
One effective way to gather essential supporter data and encourage future engagement is to include forms on your nonprofit's website.
Pick a CMS platform that empowers your team with intuitive form building tools to create inspiring event registration forms, volunteer sign-ups, and email list opt-ins.
Remember: you want your supporters to return to your website again and again, and the best way to achieve this is by collecting their contact information.
This way, your team can stay in touch with your community, offer them tailored engagement opportunities, and optimize your marketing outreach across the board.
---

5. Top Nonprofit CMS Feature: Add-On Modules
Your website should be just as unique as your nonprofit is, so be sure to find a CMS platform that offers add-on modules to customize your site.
While the other features on this list cover the essential components of a robust nonprofit CMS, your team will need to have the ability to add more targeted features to your site.
Whether these modules help support your fundraising efforts, drive engagement, or improve your site's user experience, they'll all work together to enhance the functionality of your web presence.
This way, your nonprofit's website will be well equipped to serve your community. Consider some of these key module features your next CMS should provide:
Online stores.

Add another revenue stream for your nonprofit by hosting an online store on your website. Find a CMS solution that offers digital storefront functionality and start selling items like branded merchandise, event tickets, and more.
Member directories.

One of the best ways to boost engagement among your supporters is to add a member directory module to your website. This will help supporters stay connected with each other and really feel like a community.
Private pages. If your team needs to manage access to certain pages among your membership, pick a nonprofit CMS that offers password-protected privacy tools. You'll never need to worry about keeping sensitive information safe again!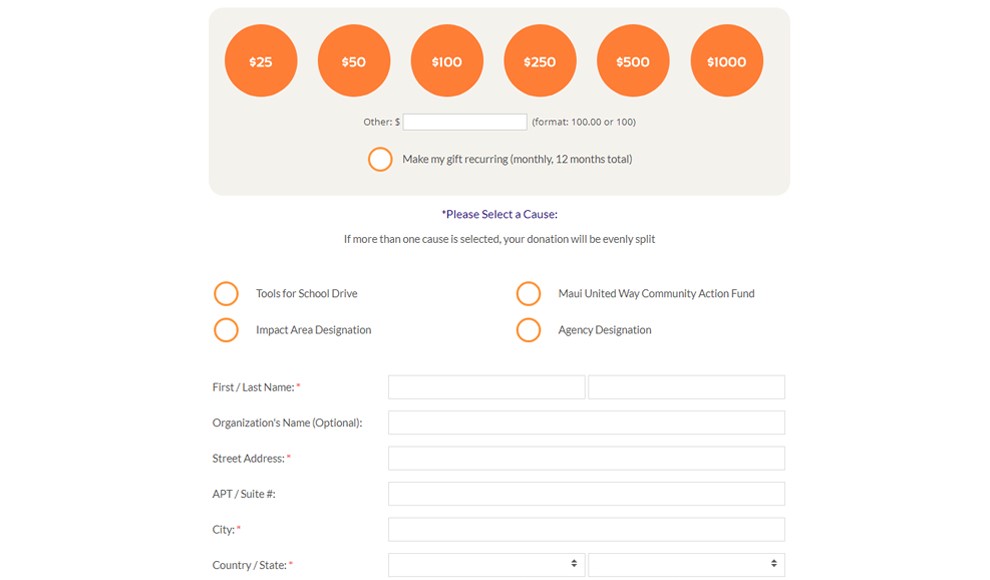 Must-Have CMS Feature for Nonprofits: Online Fundraising
Fundraising is at the heart of how your nonprofit supports its mission, so why should you have to send supporters to another site when they're inspired to donate?
Choose a nonprofit CMS that offers fundraising tools to your team. Your CMS should integrate with your favorite fundraising software, including top fundraising sites like Fundly.
Not only will this make raising money easier for your nonprofit, but it will also keep your supporters on your website for longer.
When supporters can stay engaged on your site, they're more likely to remain active in your community over time.


---
The Best Nonprofit CMS: Morweb
There's really only one CMS designed for nonprofits that offers all of the essential features we've reviewed so far, and that's Morweb.
At Morweb, our goal is to help nonprofits and associations fulfill their online visions without having to be technical web design experts.
Using Morweb's intuitive CMS, nonprofits of all sizes, missions, and experience levels can create engaging, inspiring, and (above all) functional websites for their communities.
Partnering with Morweb isn't just a time saver for your staff, though. From implementation to site maintenance, Morweb's team will be available to help make your nonprofit's web design dream a reality.
---
The Gist
Designing a website to fit your cause has never been easier. Now that you've learned about these essential features and discovered why Morweb is the best nonprofit CMS on the market, your team is ready to build the website you've always envisioned.
Looking to learn more about nonprofit CMS features and web design best practices? Check out these additional resources to help guide your research: