Network for Good vs. Morweb: How to Choose the Best Online Fundraising Platform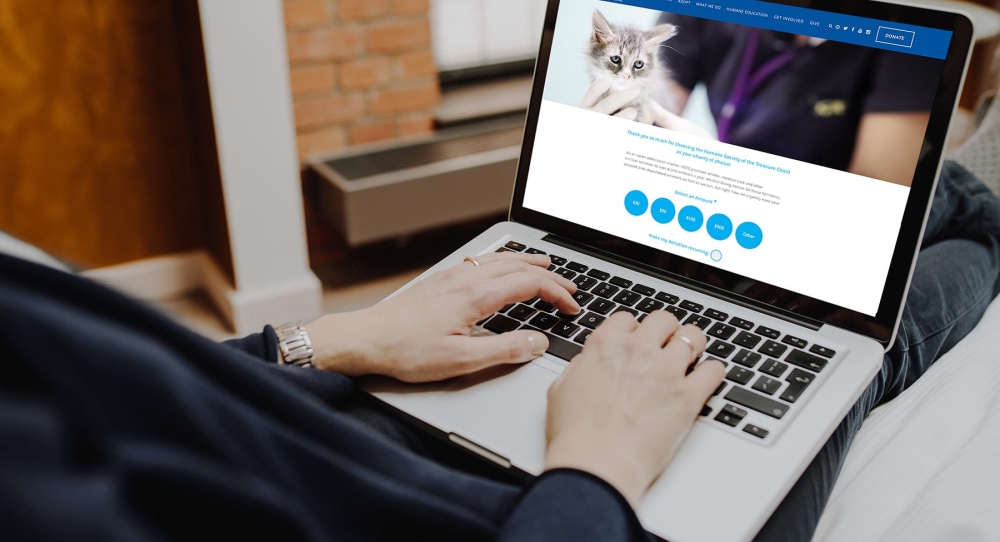 Externally Hosted vs. Self Hosted Fundraising Pages
Network for Good
Network for Good is a fundraising and donor management software that has gained popularity among nonprofits for its simple interface and straightforward reporting.
Their software has often been a go-to tool for organizations who require added functionality for their websites such as online donation forms, event ticketing, and donor management.
Nonprofit organizations whose websites do not offer self-hosted fundraising pages can turn to Network for Good to host web pages for them. While these type of third-party hosted pages have been a popular solution for many nonprofits looking to accept online payments, self-hosted pages have significant advantages.
A self-hosted fundraising page is a page on your website that contains a form to accept online payments. Instead of sending potential donors offsite to an externally hosted page, all transactions are completed through your website.
Morweb
Morweb is an example of a self-hosted solution to online fundraising. Our nonprofit website platform enables nonprofits to create attractive donation and events pages and collect payment directly through their websites.
The greatest benefit of Morweb's self-hosted fundraising pages is that donors are never redirected to a third-party site. Donors can complete an online form right on the nonprofit's website and payment will automatically be pushed to a payment provider such as Stripe.
This keeps visitors on your website longer and helps them feel more at ease giving online.
---
Online Donation Pages
Network for Good
Network for Good's fundraising pages offer a simple solution for nonprofits looking for a way to accept online donations externally from their website. Using Network for Good's preset templates, you can style your donation page to match your website by inputting your organization's logo and brand colors.
Network for Good's donation page templates contain fields to input a description of the cause, a call-to-action, and images and videos. They will provide a customized URL containing your nonprofit's name typically in the form of 'https://nonprofit-name.networkforgood.com' to link on your website through a 'Donate' button.
All payments made through the donation form are handled by Network for Good.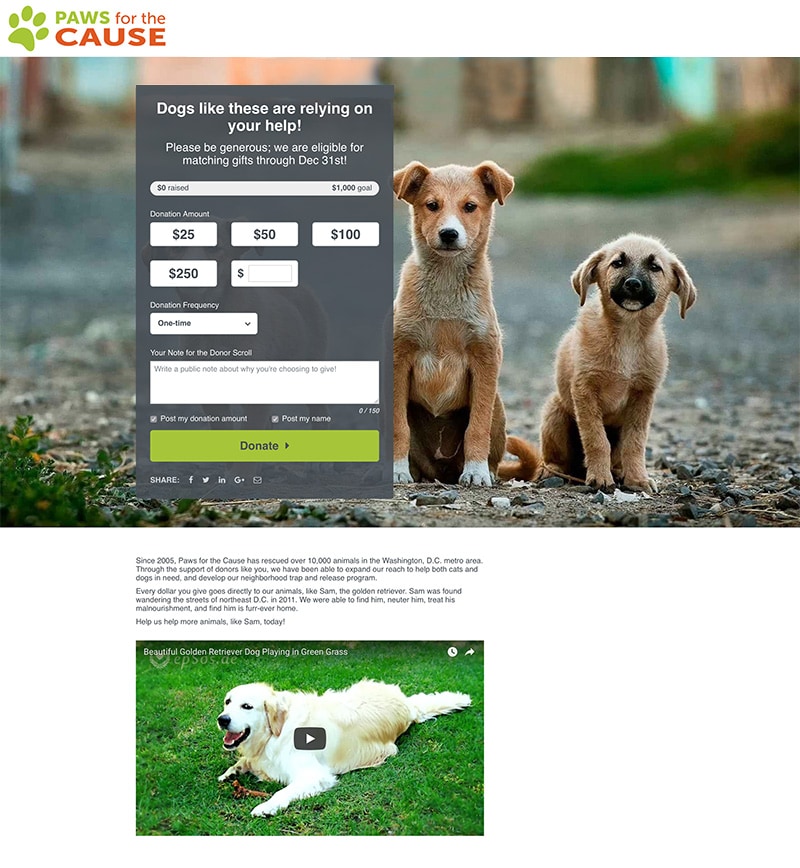 Network for Good processes all donations collected through their fundraising pages and redistributes the funds to the nonprofit organization while charging the donor a transaction fee.
The platform offers donors the option to pay by credit card or through Paypal, however, the transaction shows as a donation to Network for Good, not the actual nonprofit which can make bookkeeping tricky.
In addition to charging donor transaction fees, Network for Good charges a monthly fee to the nonprofit ranging from $100-$400 for the use of their platform.
Morweb
Morweb is a website platform and fundraising software wrapped into one. Using our page templates, you can customize your donation page by adding images, videos, text, and setting donation options such as preset amounts, recurring gifts, tribute gifts or anonymous donations.
Morweb's pricing packages range from $99 to $199 a month which includes access to our CMS software, a responsive website theme, secure hosting, website features and modules, as well as support.
With Network for Good's donation pages, you must use their editor and try to style it to match your nonprofit's website as closely as possible. Donation pages created through Morweb will automatically match because they are created through the same platform as the rest of your website.
With Morweb, you aren't limited by preset templates. Our drag-and-drop editor gives you numerous options for customization plus the support of a developer if you have any unique requirements for your donation page.
The greatest benefit of Morweb's self-hosted donation pages is that once a donor has completed their transaction, they can easily click to another page on your website through the navigation bar. This increases the time a user spends on your website and the amount of content they consume.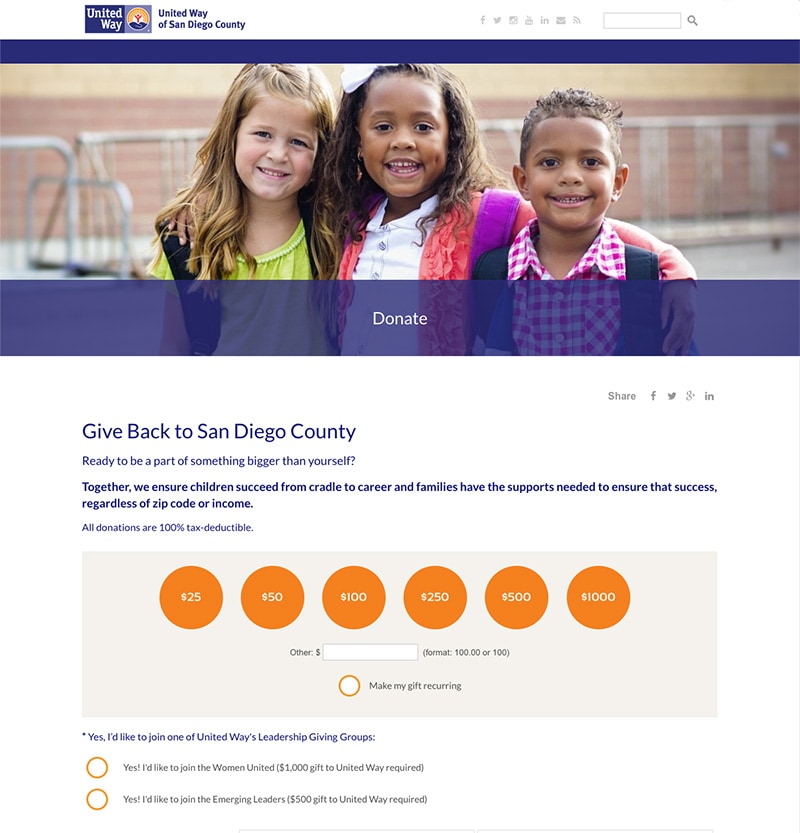 Donation pages hosted through your website raise 6X more money than externally hosted pages.
Morweb's self-hosted donation pages offer a major advantage over Network for Good's externally hosted pages because they maintain the same URL as the rest of your website.
Research has shown that linking to third-party sites may confuse users causing them to abandon their donation. If the URL of the payment page is different from your website, donors may feel less secure entering their credit card information for fear of falling victim to a phishing scam.
Self-hosted donation forms maintain trust with the user and increase the chances of a completed transaction. In fact, donation pages hosted through your website have been found to raise 6X more money than externally hosted pages.
---
Events Management
Network for Good
Events pages are essential for nonprofits as they allow website visitors to learn about upcoming events and register or purchase tickets to attend.
Organization's whose websites do not offer eCommerce functionality for event ticketing can use Network for Good's events pages and link to them from their website. Nonprofits can use their preset events page templates to input an event title and description, images, ticket pricing and style it to match their organization's website and branding.
Much like their donation pages, Network for Good handles the payment processing for event tickets.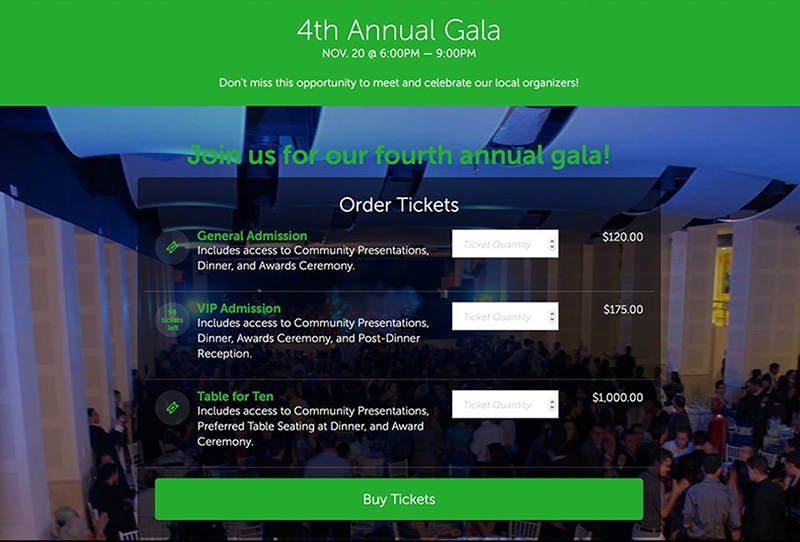 Morweb
Morweb offers a large variety of essential add-on modules specifically for nonprofits such as blogging, private pages, online directories and events management.
Our events module allows users to register and purchase tickets for events and fundraisers directly through your website. Morweb has event templates that make it easy to add a title, description, images and videos, location information, and ticket prices. If the event is free, users can simply register to reserve a spot.
All events will automatically generate in a preview on your events page allowing visitors to click to 'Learn More' about the event or purchase tickets. We also offer the option to feature upcoming events directly on your organization's homepage to drive more registrations.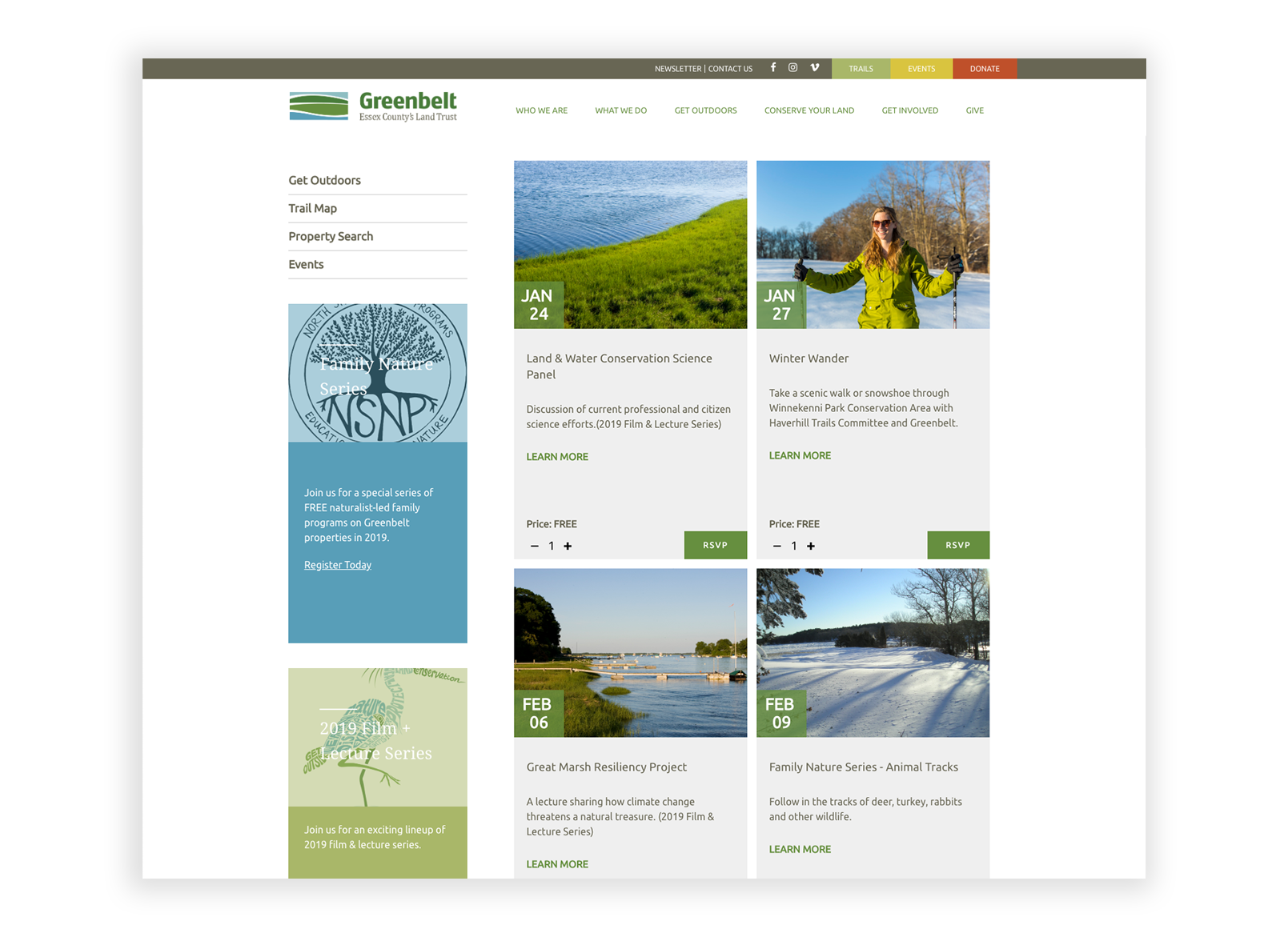 ---
Donor Management
Network for Good
Donor management is another service offered through Network for Good. Their straightforward reporting and donor profiles have appealed to nonprofits who want more metrics from their fundraising campaigns.
Through their online dashboard, nonprofits can see how each fundraising campaign performs and gain insights into their donors based on their giving history.
Morweb
The Morweb platform offers straightforward reporting and metrics. Morweb's reporting features allow organizations to export individual CSV's of each donation form and event registration, giving you accurate data whenever you need it.
Additional reporting options are available to customize CSV reports to include data that is most important to you. Morweb's dashboard offers real-time website analytics in attractive, easy-to-read graphs which can be further customized to display donor and event registration metrics.
Morweb doesn't store the donor's payment information for data security reasons but will keep a record of their name, contact information, and donation amount. For those who require more in-depth donor metrics, we can integrate with popular customer relationship management (CRM) platforms like Salesforce and Fundly.
---
Customer Service
When it comes to customer service, we recommend you do your research before selecting an online fundraising platform. Be sure to look at user reviews on Google, Facebook, Yelp, Capterra and G2 Crowd.
One aspect that makes Morweb unique to other platforms is our live support. We offer three ways to get support; by email, phone or live chat. Our clients have access to speak to a project coordinator or web developer without having to first go through a customer service agent.
Morweb's commitment to great customer service is reflected in our Google and Facebook reviews.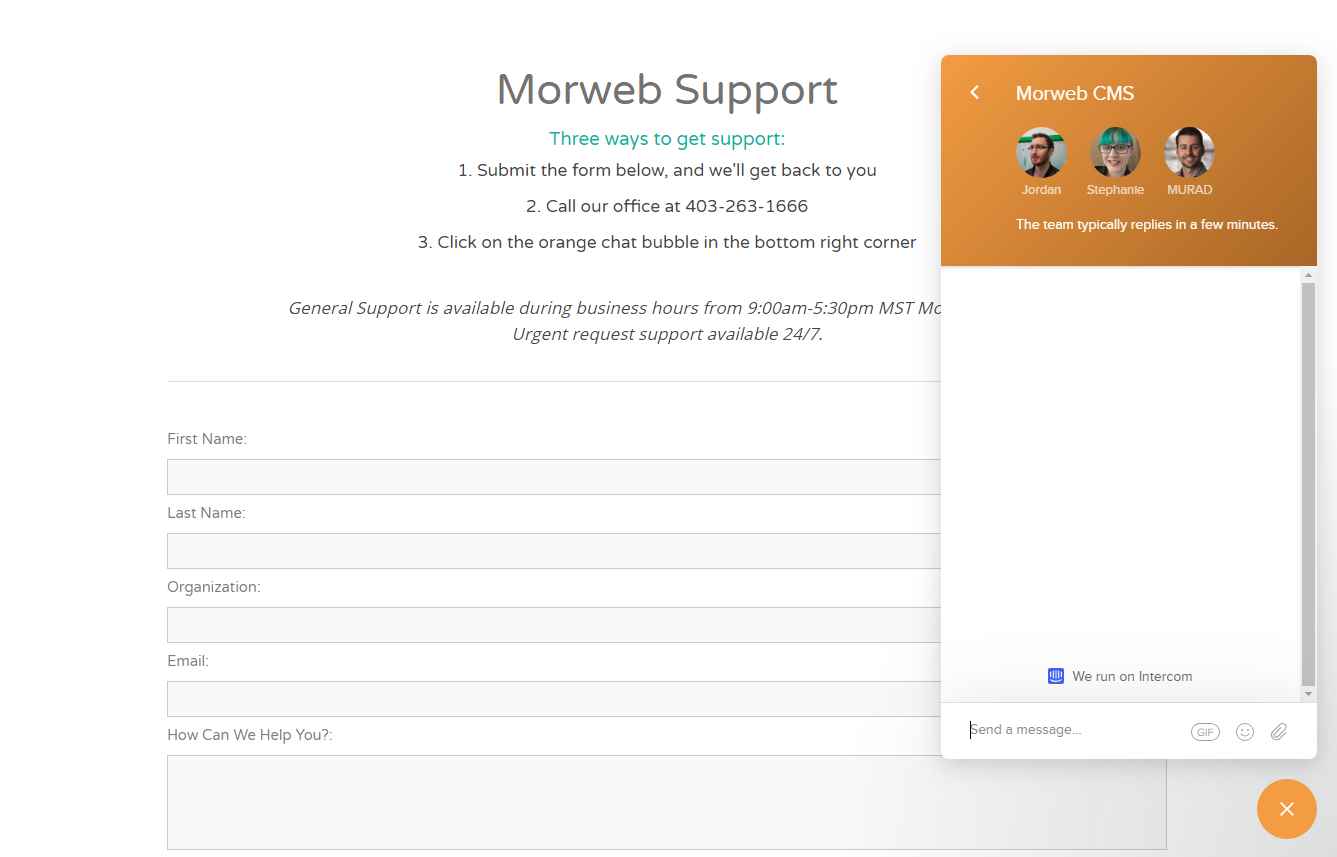 Network for Good
Part of Network for Good's additional service offerings is their personal fundraising coaches. Nonprofits can get one-on-one attention to learn how to scale their fundraising efforts and increase donations.
Morweb
Morweb also offers strategy development and mentoring which is included in all of our pricing packages at no additional cost.
However, Morweb goes far beyond just fundraising. Our team will ensure that your organization has a strong online presence by helping you develop a content strategy, navigation structure, fundraising strategy, and growth plan that is aligned with your organization's objectives.
---
The Gist
Nonprofits searching for the best online fundraising platform would be wise to look for an all-inclusive solution that is capable of growing with your organization.
Before making your selection, be sure to consider the benefits of self-hosted vs. externally hosted pages for collecting online payments.
Self-hosted donation pages are seen as more trustworthy and have been proven to bring in more donations.
It is beneficial to outline your requirements for reporting and donor metrics to see if you are able to manage it all through your website platform or if you will require the additional functionality of a CRM platform.
Finally, do your research by looking at user reviews online to determine which platform will offer the best ongoing support for your growing organization.