Fundly-Morweb Integration for Your Nonprofit Website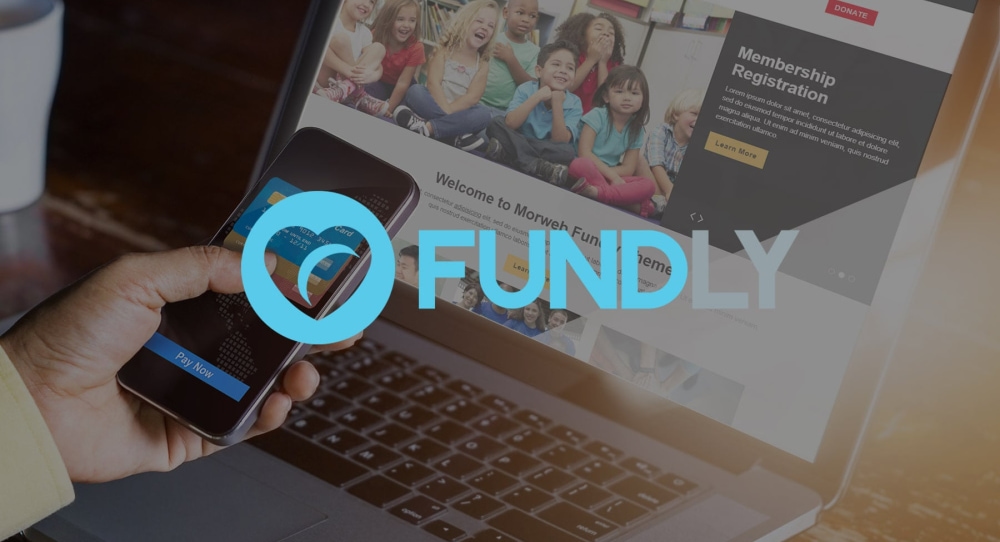 Fundly is a feature-rich online fundraising platform that allows individuals and organizations to raise money for the people, places, and causes they care about. With its user-friendly interface, nonprofits and associations can easily manage all aspects of their digital marketing campaigns.
Morweb CMS is fully integrated with Fundly CRM. We've done this using best-in-class integration principles directly with Fundly's application program interface (API). The result provides nonprofits with a seamless integration without compromise to the design aesthetics or functionality of their website. This unique integration between content management system (CMS) and customer relationship management (CRM) system is a game changer in the industry.
With the integration, nonprofits get real-time data transfer between their Morweb website and Fundly CRM with the utmost flexibility in customizing pages via Morweb's Live Editor. You can design your Morweb form and customize it to match to your website and it will automatically pull your Fundly information while pushing form entries to your CRM database.
Morweb offers four options for Fundly integration:
Integrating Fundly forms with your organization's website is as easy as click-and-drag. Using Morweb's visual editor, you can select the Fundly widget and drag it to any main content area on your page to create an integrated form.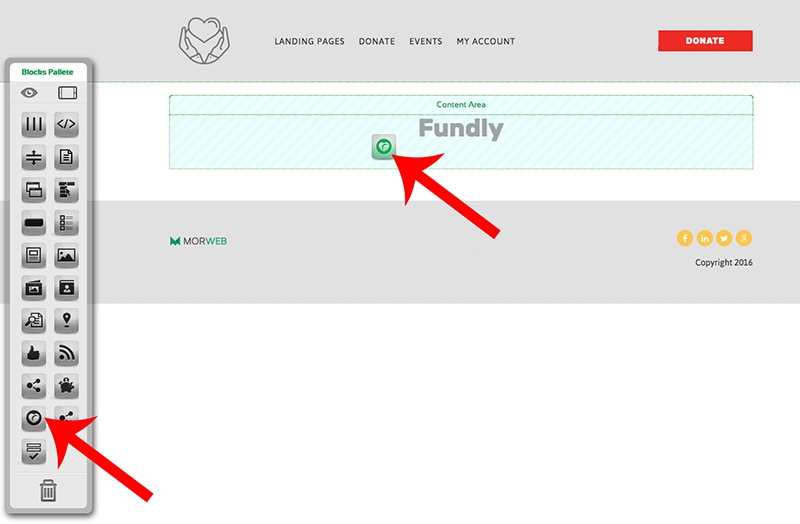 Once you have selected the location of your Fundly form, a pop-up editor will appear prompting you to select what type of form you would like to create (Donation, Newsletter or Events).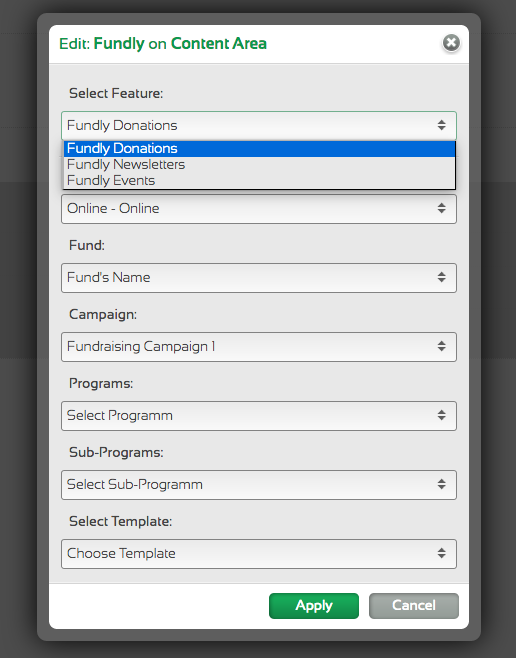 From here, you can create custom fields and customize the design of your Morweb form.
---
1. Fundly Donations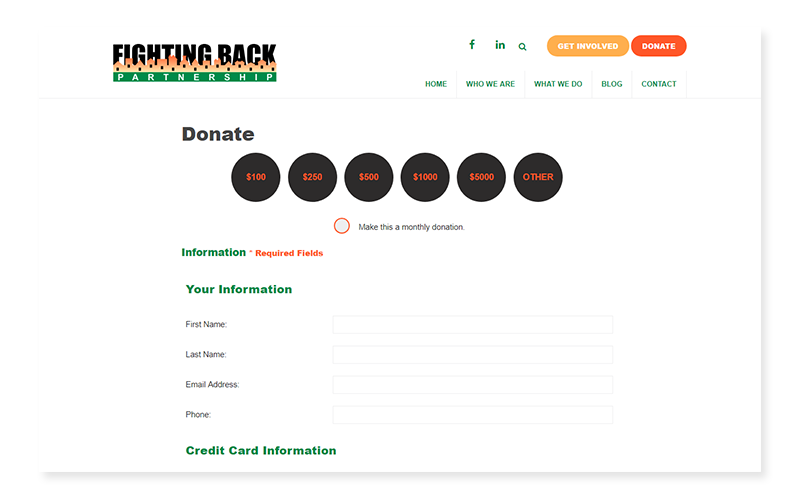 Integrating your donation forms allows donors to give to your cause through your website without being redirected to a third party site. This adds credibility to your website and helps users feel more at ease when they donate online to your cause.
Morweb offers the following functionality for Fundly donation forms:
Guest checkout
Captcha
Dedication donations
Gift designations
Gift memo field
Donor communication preference options
Internal notifications for donations
Recurring frequencies
Fundraising templates
Multiple donation form templates
Styled to match website
You can further promote your donation page by adding eye-catching call-to-action buttons on your navigation menu, linking them to your donation form from every web page.
Morweb's donation forms are user-friendly and engaging for potential donors. Your donors can select an amount to give and choose from options to make it a recurring donation, dedicate the donation, designate their gift, or make their donation anonymous.
These powerful features increase the likelihood that visitors will donate to your cause and stay engaged through automatic donations each month.
You can customize your donation forms by changing the button style, preset amounts, and adding custom fields to your form using Morweb's intuitive drag-and-drop editor. We've made it easy for you to customize your donation form to match your organization's branding seamlessly.
---
2. Fundly Newsletter Sign-Up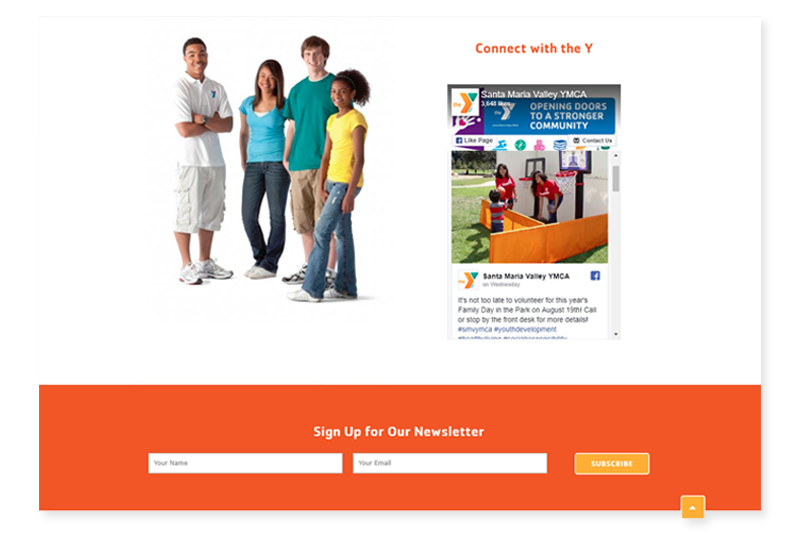 Integrating your newsletter forms with your Morweb website will help you gain more email subscribers by featuring the sign-up form front and center. Your website visitors don't have to navigate to a third party site or go to your contact page to sign up for your newsletter updates. They can simply enter their name and email to automatically subscribe.
Morweb offers the following functionality for your Fundly newsletter forms:
Allows users to select newsletter categories
Option to hide newsletter category selection
Styled to match website
Morweb gives you the option to put your sign-up form on any web page including your homepage or in your footer so that it automatically shows on every page.
Any new contact entered into your website's sign-up form will automatically send to your Fundly database so you can include them in your email marketing campaigns. This push and pull of contact information eliminates the need for manual dual entry and you can rest assured knowing your subscriber list is always current.
---
3. Fundly Events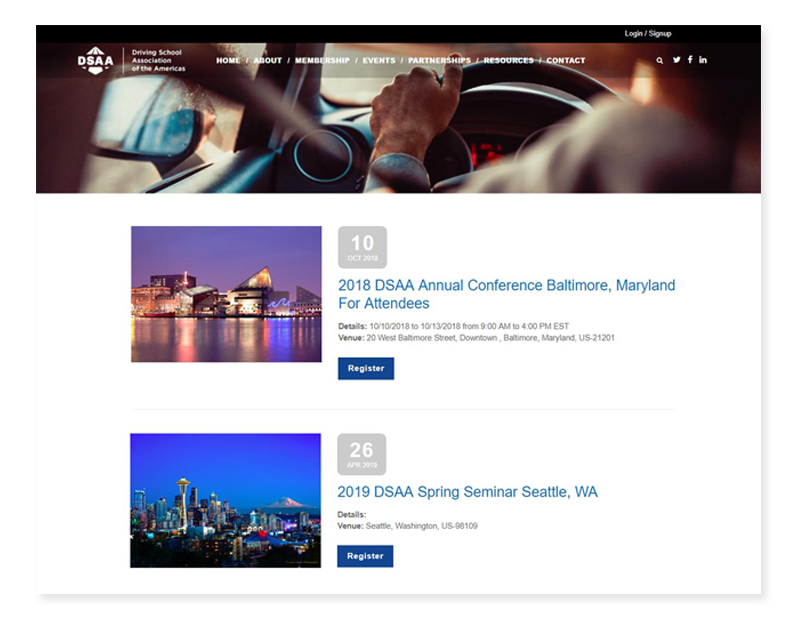 Events are a great way to raise money for your cause and engage with your constituents in person.
Morweb offers the following functionality for Fundly event forms:
Event page listings
Upcoming events for homepage
Guest checkout
Upsell ticket features
Custom attendee forms
Multiple templates
Members-only registration levels
Fundly's event management features provide ticketing, online registration, and participant fundraising. With the Fundly to Morweb integration, you simply update your events in Fundly, and they will instantly update on your website and conform to your customized Morweb event template. Visitors can register for your events right on your website without being redirected to another site and all the data gets automatically passed to your organization's Fundly account, keeping all data up-to-date.
Morweb's events module is so easy to customize. You can choose from five preset templates and list your events sequentially, in columns, or with featured posts on the side. The best part is that you don't need to be tech-savvy to create an event. You simply add your content, images, ticket price, and any other event registration details in Fundly and they will automatically generate on your website.
You can also highlight your upcoming events by featuring them on your website's homepage. Your featured events will automatically generate by date and update as you make changes in Fundly.
---
4. Fundly Account Single-Sign-On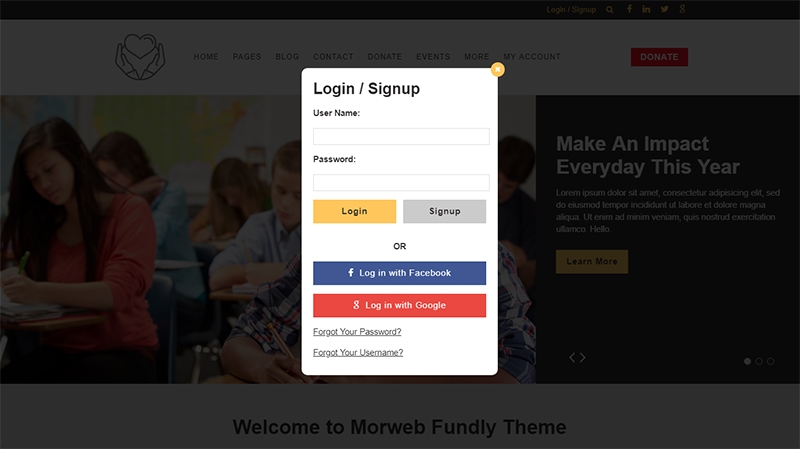 With Morweb's single sign-on (SSO) feature, your donors can sign in to their Fundly account directly from your website by clicking a button in your website's navigation bar.
Single sign-on capabilities are great for encouraging repeat donations because it allows your website to remember the donor's login credentials making it easy for them to give again and again. When someone gives to your cause through your website, they will have to option to select a guest checkout, or Fundly will find their account details or create a new account if they don't already have one. The next time they return to your website, they can easily sign in again with their username or through Google or Facebook.
This Morweb feature gives donors more control over their personal data. They can update their contact information, manage recurring donations, see past transactions and even download tickets to your organization's events from their Fundly account.
This is a great feature for nonprofits and associations because it allows them to track useful metrics about their donors such as donation amount, frequency, member engagement, and event registrations. This data is valuable for identifying top supporters and finding areas to improve marketing and fundraising strategies.
---
The Gist

Potential donors are more likely to donate to your cause when the process is simple and the website appears trustworthy. By customizing your forms to match your website, you create a sense of credibility and cohesiveness. The Morweb-Fundly form integration keeps donors on your website without redirecting them to a third-party site.
Connecting your Fundly account to your Morweb website reduces your nonprofit's administrative tasks by eliminating the need to manually update information in two locations. The Morweb-Fundly integration streamlines the online donation process, newsletter sign-up, and event registration on your website. It also enables donors to manage their personal information and Fundly preferences directly from your website through single sign-on.
Morweb's Fundly integration makes it easy for your organization's administrators to manage event registrations and newsletter sign-ups by synching user data to your Fundly CRM. It also empowers your website users to manage their contact information, donations, event registrations, and transactions through your website.
By integrating your Fundly forms with your Morweb website, you will improve your visitors' experience and make it easier for your staff to keep your nonprofit's user data up-to-date.
---
Want to learn more about nonprofit web design and API integration? Check out these resources to guide your research: