The Best Nonprofit CMS: WordPress vs. Drupal vs. Joomla vs. Morweb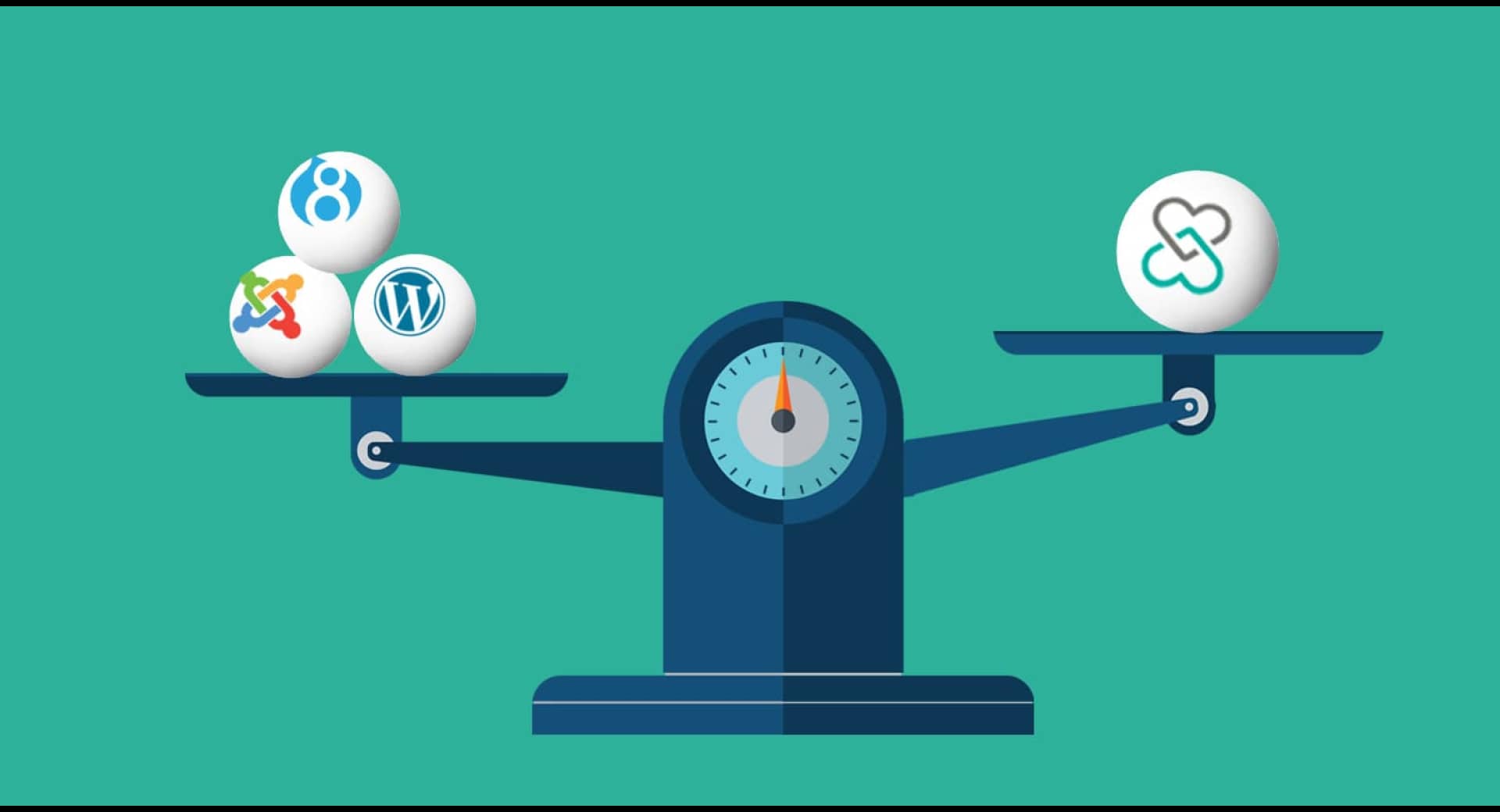 When forming a nonprofit organization, one of the first decisions you have to make is which content management system (CMS) to use for your website.
Open source platforms like WordPress, Joomla and Drupal are often chosen as a default for nonprofit web design because they are well-known, provide robust functionality and many designers are familiar with using them. However, before committing to one of these CMS platforms, first ask yourself; is this the best longterm solution to continuously manage and update my nonprofit website?
In this post, we will give a side-by-side comparison of Morweb and other popular website builders so that you can make an educated decision on what's best for your nonprofit's website.
Open source CMS refers to a content management system with source code that is freely available to download, making them accessible to anyone. The challenge with these open source platforms is the usability for non-technical users, ease of customization, ongoing maintenance for security and lack of customer support.
See how Morweb measures up when compared to popular open source CMS platforms: WordPress, Drupal, and Joomla.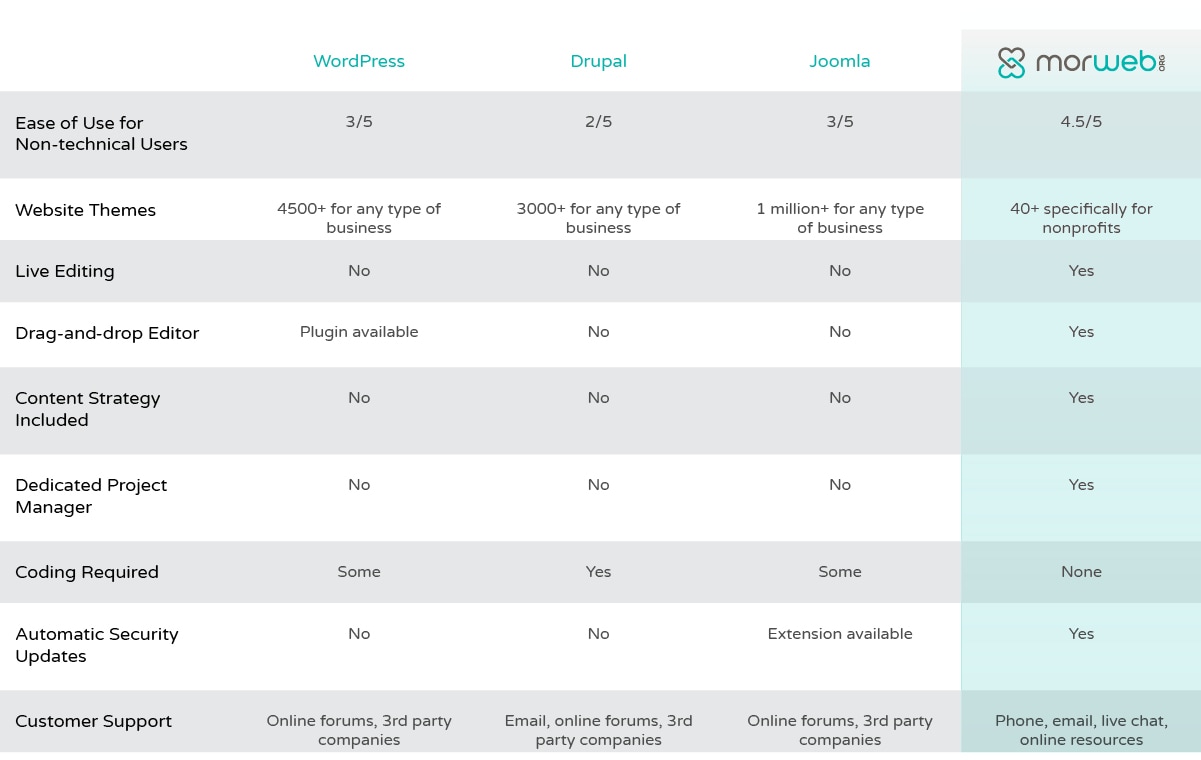 Can't see this image on mobile? Click here to view.
---

Usability
For years, WordPress has been a go-to tool for web developers, designers, and content writers. Naturally, they recommend WordPress to their nonprofit clients. However, when organizations are first presented with WordPress without previous experience or a decent technical background, there is almost always a great deal of confusion.
Once a couple of plugins are added (which is almost always the case) the user interface quickly becomes overwhelming because each plugin has been independently developed and comes with its own user manual and/or interface.
The same can be said for platforms like Drupal and Joomla. These open source platforms are difficult for non-technical users to master and often require the help of a developer.
Morweb was created by an award-winning digital design agency that has worked with businesses and nonprofits on a daily basis since 2004.
From the very beginning, our website platform was designed with a strict focus that non-technical users can "jump right in." By having a simple interface and drag-and-drop editor, anyone can make changes in real-time and view their site exactly as it would appear on a computer, mobile, or tablet.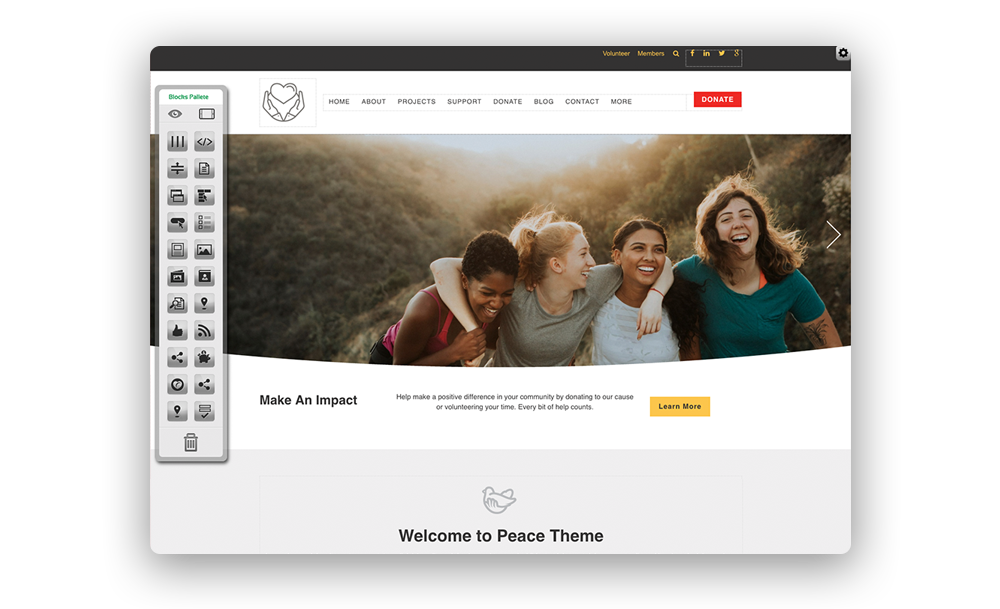 With Morweb, not only do you get easy editing for your content, but you can also make more significant changes such as editing the navigation menu, creating custom forms, adding a gallery, events feature, or interactive map, and even embedding social media feeds without the need to contact a web developer.
Nonprofits are most successful when they have control to make quick and easy changes as their nonprofit evolves. The faster they can get updates on their site, the more engaged their users will be.
---

Customization
While open source platforms like WordPress, Drupal and Joomla offer thousands of themes to choose from, if you sway from the template design or need to add a custom feature, you'll often hear "it just doesn't do that" from your web developer.
Open source website themes often have quite rigid layouts. That is why they offer so many different themes. Instead of customizing one layout to meet your specific needs, you must choose a ready-made design and stick with it.
Open source platforms often rely on add-on modules for customizations. Each theme comes with basic design features but the functionality comes from these plugins. Adding plugins or modules to your nonprofit website varies in difficulty depending on the platform.
It also depends on who developed them. WordPress plugins are all developed by third-parties so they vary greatly in quality and usability. Be sure to do your research and check online reviews before you add a plugin to your nonprofit website. Also check that the plugin developer is actively performing maintenance along with WordPress, otherwise, the plugin can become a security vulnerability.
Morweb themes give users more freedom to customize. Our templates offer a basic framework for the design and our drag-and-drop elements let you make it your own. Your nonprofit staff and volunteers can easily adjust the design or add new content such as text, images, videos, buttons, forms, maps, and more.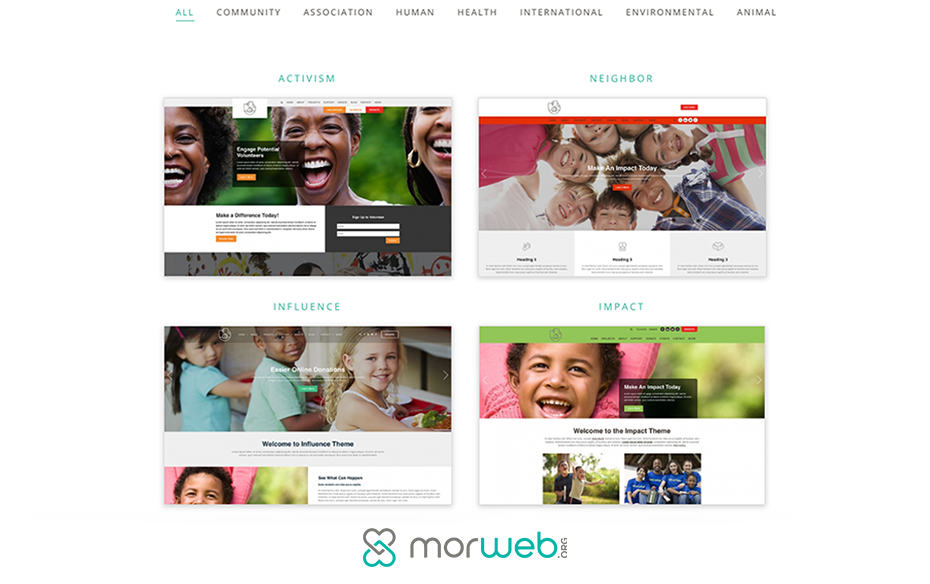 Each nonprofit website theme can adhere to even the most strict brand standards of national organizations. You can customize your Morweb website to match your organization's logo, brand colors, font or any other brand requirements.
Morweb has designed over forty customizable website themes specifically for nonprofits and associations. Our themes are packed with all the essential features organizations need for a successful website based on our experience working with 1,500+ nonprofits.
Our website features, page layouts, and graphic elements all work together to help nonprofits communicate their vision effectively.
Our years of experience have helped us develop an effective web design strategy for nonprofits, which is designing websites that are 'Emotional, Engaging and Sharable'.
Morweb's website features, page layouts, and graphic elements all work together to help nonprofits communicate their vision effectively. Ultimately, this helps nonprofits achieve their bottom-line objectives whether that's growing online donations, recruiting more volunteers or throwing amazing events.
Morweb offers powerful website modules to help grow your nonprofit and further your cause. Our modules are all developed in-house so you don't have to rely on user ratings to determine the quality.
All of our website themes come with Morweb's blog engine, donation forms, interactive maps, social media feeds and sharing widgets.
You can further increase functionality by adding a shopping cart, events manager, Intranet portal, member directory, website accessibility widget, geo-targeting and more.
Our team of developers is constantly rolling out new features so you can get added functionality for your nonprofit website. If you have a request for specific functionality, our team can develop a custom module for your nonprofit organization.
---

Security
There are plenty of hackers and developers that know how to target open source platforms because the source code is public for all. Platforms like WordPress come with built-in security, but because of their popularity and wide range of poorly written third-party plugins, it is open to many vulnerabilities on the web.
When it comes to choosing a nonprofit CMS, popularity may work against you. With over 30% of all websites being powered by WordPress, the platform makes for an obvious target for hackers. Simply Google "how to hack WordPress" and you will find several Youtube videos to show you how in as little as 4 minutes. A 2017 study by WP White Security found that 73% of the most popular WordPress installations are vulnerable to hacking threats.
While open source platforms like WordPress and Drupal have regular security patches, they rely on the user to run the updates. Problems arise when users aren't constantly updating their website and become targets for the latest hacking methods.
This was the case with Drupal; they recently released a security patch after 900 sites were infected with crypto-mining software. Even three months after the hacking, over 115,000 users still haven't run the update and remain vulnerable.
Morweb doesn't push updates to our clients; our security patches are automatically rolled out across all of our websites as they are released. You don't have to worry about constantly running security updates for your nonprofit website with our platform. Morweb is a hosted solution meaning we are continuously implementing the latest security patches, and our full-time technicians regularly monitor our secure data centers.
All websites hosted on Morweb are encrypted using an SSL (secure sockets layer) certificate and powered by state-of-the-art hosting infrastructure. With free daily back-ups and version control, your data will always be protected.
---

Support
Open source platforms like WordPress, Drupal, and Joomla rely on online forums and third-party companies for user support.
If you require immediate assistance or are unable to find a satisfactory solution online, you can contact a customer service representative but may have to wait in a long queue.
If you are experiencing an issue with a particular plugin on an open source platform, your regular web designer won't be able to provide support because they only installed it, not developed it. You will have to contact the plugin developer directly which can be a very time-consuming and frustrating process because most of them are independently developed by individuals in all different time zones around the world.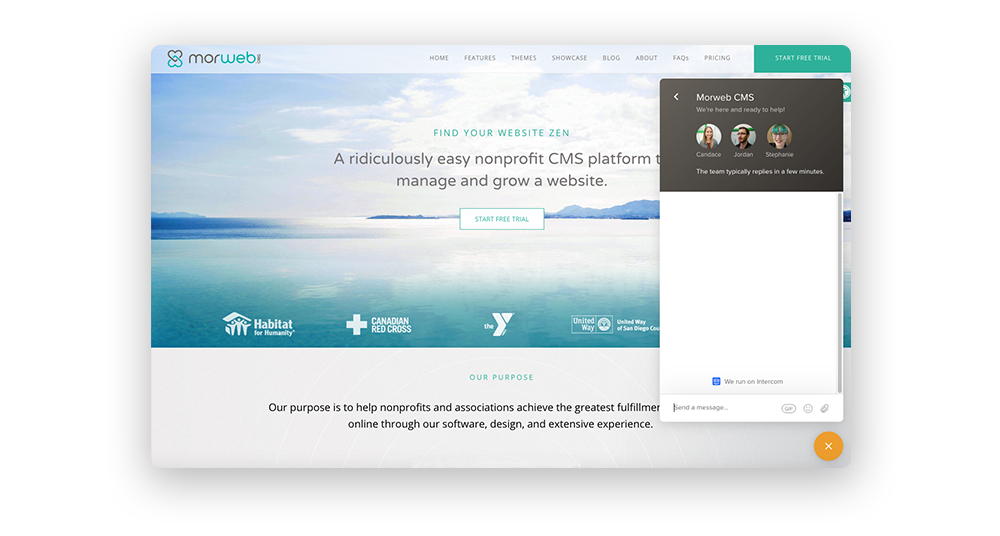 Morweb offers live chat, phone and email support in addition to online support documents. You can always call the office to speak directly with a project manager, designer, or developer if you are experiencing any issues with your website.
We manage all of our widgets and modules in-house so you will never have to contact outside developers.
---
The Gist
So while it is initially tempting to go with an open-source platform for your nonprofit website, in the long run, you may want to go with a CMS that is more user-friendly, customizable, secure, and offers live support.

The benefits of open source CMS's are outweighed by the risk of security breaches and the need for customization.
An open source CMS might satisfy your nonprofit's immediate website needs but Morweb will take your nonprofit's web presence to the next level. Our powerful add-on modules and robust functionality will help you better connect with your supporters online and grow with your organization.
---
Looking for more information about choosing the best CMS for your nonprofit organization? Check out these additional resources to guide your research: