Membership Management Software: Find the Right One for You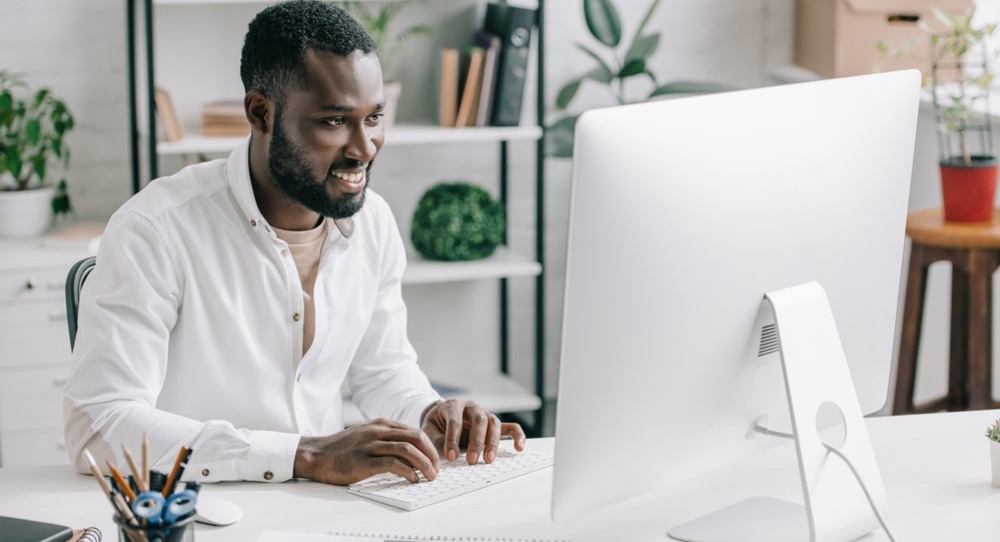 In today's demanding online space, organizations are forced to battle for members' attention to retain support. From offering the right programs to communicating efficiently, selecting the right membership management software is imperative to your association's success.
Sufficient functionality is vital for any organization that wants to focus on member acquisition and retention, and many membership coordinators across the sector agree. When asked which single technology investment would have the highest impact, 26% of associations and membership organizations indicated they would upgrade their membership management software, according to Capterra's membership software eBook.
For these organizations, membership software is at the heart of the services and benefits they offer to members. Without a dedicated system (or with the wrong one), you risk losing track of members, missing out on donations, and mismanaging event and volunteer opportunities.
With so many membership apps and tools out there, finding the right one that fits your needs can make a huge difference for your organization. While there are dozens of options out there, we've narrowed it down to nine leading solutions and placed them into two categories. Here's what we'll cover:
At Morweb, we're committed to helping organizations stand out online, and a major part of that is starting with the right software. That's why we've created this ultimate buyers' guide — to help you find the right membership management software for your organization and its unique needs. Before jumping into our recommendations, let's kick things off with the basics.
---

Membership Management FAQs
Whether you're a first-time buyer or are looking to switch systems, reviewing a few common questions can be beneficial before you rifle through various options. That way, you can head into your search with full confidence in your ability to find the right solution.
How do you organize membership information?
Storing, organizing, and updating member information by hand can be time-consuming and increasingly challenging as your supporter base grows. Use your member database to centralize all member data, including contact details, dues information, content downloads, event attendance, and full engagement history. Depending on your solution's functionality, your software may give you access to filter and segmentation tools to further organize your members into meaningful groups.
What is membership management software?
Membership management software is a dedicated system that provides associations, clubs, and other member-based organizations with the functionality they need to manage their membership programs and increase member engagement. This software organizes member contact details and interactions, manages dues, and helps facilitate your staff's interactions with members all in one location.
Functionality varies greatly from platform to platform. While some are built with basic features specifically for small organizations, other solutions are more robust with more technical capabilities to support things such as event registration, education opportunities, content management, and the ability to collect donations.
---

Morweb: The #1 Membership Management Software
Taking into consideration all the necessary features, one membership management platform stands out compared to the rest: Morweb. Our platform is designed for mission-driven organizations that are member-based, making it easy to grow your membership offerings.
What is Morweb?
Morweb features everything you need to stand out online and forge deeper relationships with members. The platform's base function is its content management system (CMS), and with plenty of modules to choose from, you can easily transform it into a powerful membership management system that meets your exact specifications.
Our platform provides you with everything you need to acquire new supporters, retain members, collect donations, and stand out from the competition online.
Morweb is the easiest way to grow and manage your membership program. Get to know your members, deliver exceptional content, line up engaging events, and much more — all within one centralized platform.
Our goal is to help nonprofits and associations achieve the greatest fulfillment of their vision online through our software, design, and unparalleled experience.
What really sets Morweb apart is our agency background. We have a comprehensive and deeply informed approach to content strategy, and our team will be there every step of the way to help you improve your online presence and grow awareness for your cause.
Morweb's key membership features
We've built out our platform to include all of the essential features associations and other member-based organizations need to grow their member bases. The platform's top membership management features include:
Content management. Create a mobile-friendly, accessible membership website that captures your message and resonates with visitors. From informative videos to downloadable resources, you'll be able to deliver valuable content to your members. Start from scratch or jumpstart your design with dozens of templates designed for associations.
Member directory and map. Easily add, edit, and categorize members into a member directory (and on an interactive Google map). With powerful search and filter options, users can get in touch with other members to quickly connect.
Intranet and private pages. Create password-protected pages where members can share internal information, participate in forums, register for private events, and even post job openings. Various authorization options are available to fit your needs.
Event ticketing and registration. Manage event pages that provide everything your members need to know, including the date, description, and images. Allow members to register and buy tickets directly from your website.
Fundraising capabilities. Raise additional revenue using our standout donation forms that work seamlessly across any device.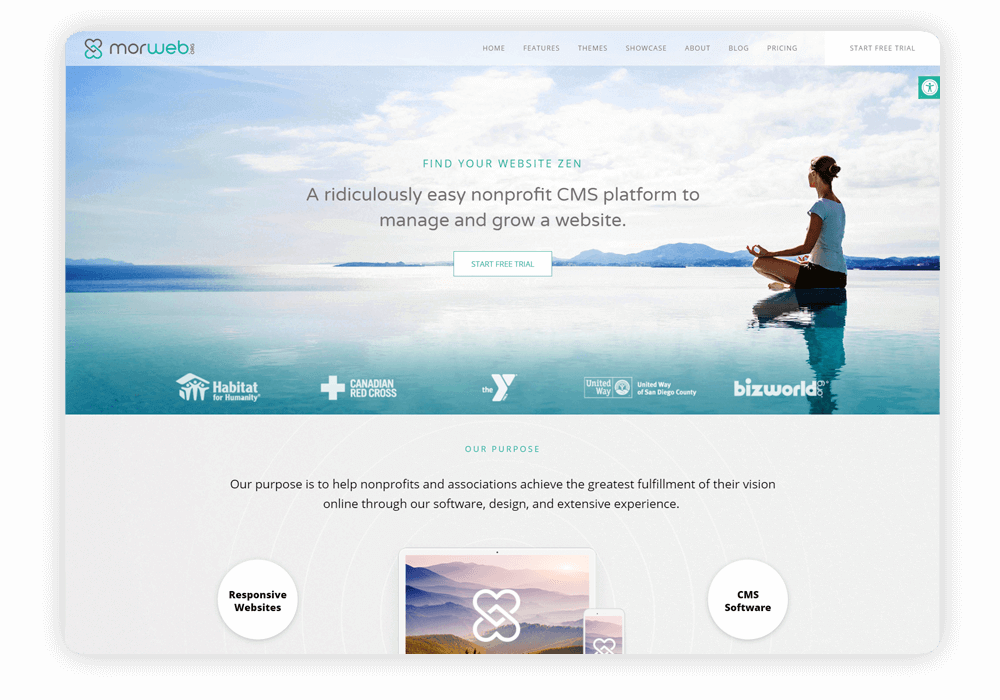 Morweb pricing
All these incredible features come at an even more incredible price. Our membership management software starts at just $99 a month, which is reasonable in the market, especially considering its functionality. Even better, start a free trial before you buy.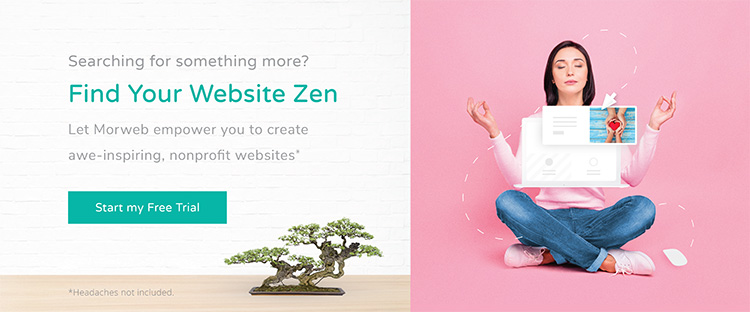 ---

Other Great Membership Software Options
Fonteva - Membership Software for Salesforce Users
What is Fonteva?
Fonteva is association management software that's powered by Salesforce, the world's most-used CRM. Built for medium to large associations with 10+ staff users, Fonteva combines Salesforce with the features member-based organizations need to nurture relationships and grow awareness for their cause.
Fonteva's optimized solutions can help you keep up with members, customize their experience, and subsequently enhance retention rates. Like Morweb, there's no coding necessary to configure your software to meet your needs.
The cloud-based solution presents your organization with software that's always up to date thanks to their service team. Your team can focus less on maintenance and more on building your online community.
Fonteva's key membership features
Fonteva offers plenty of membership management tools that your organization can use to grow its membership base:
Member CRM. Gain a 360-degree view of your members and understand who's at risk of lapsing with engagement scoring.
Member portal. Use the customizable form publisher and themes to create public or private microsites, as well as online directories for your chapters, committees, and business groups.
Event management. Create events with customizable registration features. Manage and track attendees, speakers, sponsorships, vendors, and venues. You can also provide an engaging mobile experience with microsites and a mobile app launcher.
Reporting. View real-time analytics in easy-to-understand dashboards. Set and measure KPIs, every member interaction, and more. You can schedule and automate these reports using the drag-and-drop interface.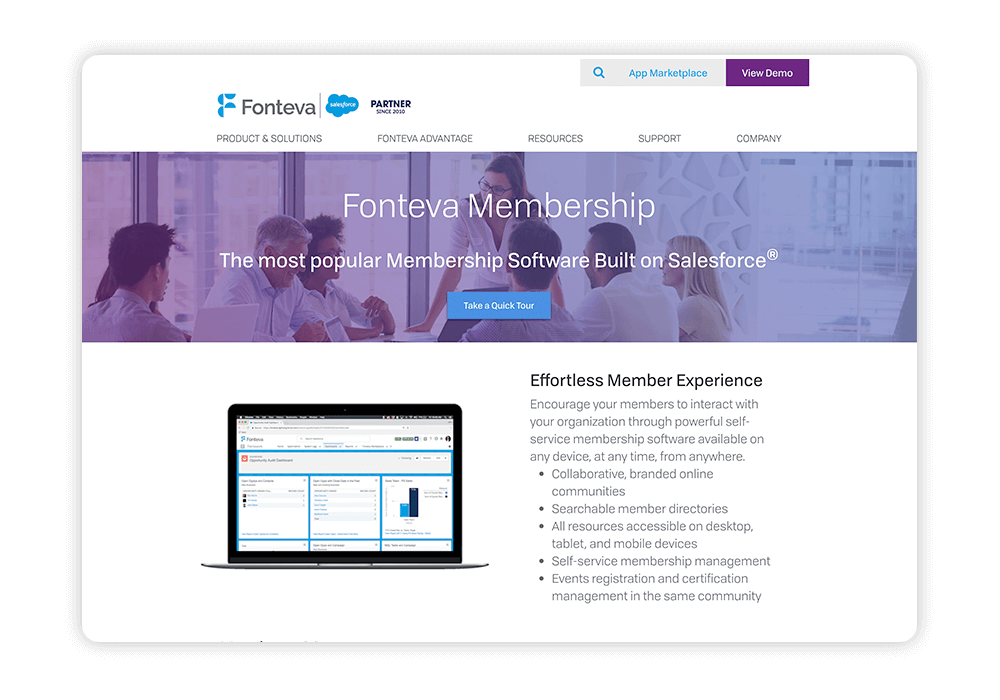 Fonteva pricing
Contact Fonteva's team for a personalized quote for their membership management software.
---
Regpack - Membership Software for Event Planners
What is Regpack?
Trusted by more than 7,000 organizations, Regpack combines membership management and renewals into one solution. Organizations turn to this membership software due to its integration capabilities in addition to its form-building capabilities and recurring billing functionality.
The vast integration network empowers organizations to seamlessly embed Regpack's forms and processes to their current websites. Design forms using their template options to collect one-time event registrations, boost enrollment, and increase online course registration.
Like Morweb, Regpack works well on any mobile device or tablet, allowing members to register wherever they are — no paperwork necessary.
Regpack's key membership features
This flexible membership management software solution provides helpful features to streamline everyday tasks, including:
Automated membership renewals. Set up recurring billing so members never forget to pay their dues. Integrate Regpack's payment processor with your organization's membership website, allowing members to submit their payment information without leaving your site. Regpack will automatically send receipts, payment confirmations, and payment failure notifications to both members and your team to streamline transactions.
Customized forms. Streamline the member application process, allowing members to join using user-friendly online forms. Create custom sign-up forms to construct a unique enrollment process for each of your membership tiers. Regpack is especially useful for online course registration, which is great for when you offer classes, webinars, and other learning opportunities.
Member communication. Go beyond payment messages by setting up other automated emails. Whether you want to send custom emails to individual members or one-time emails to a specific group of members, you have what you need to communicate effectively with members.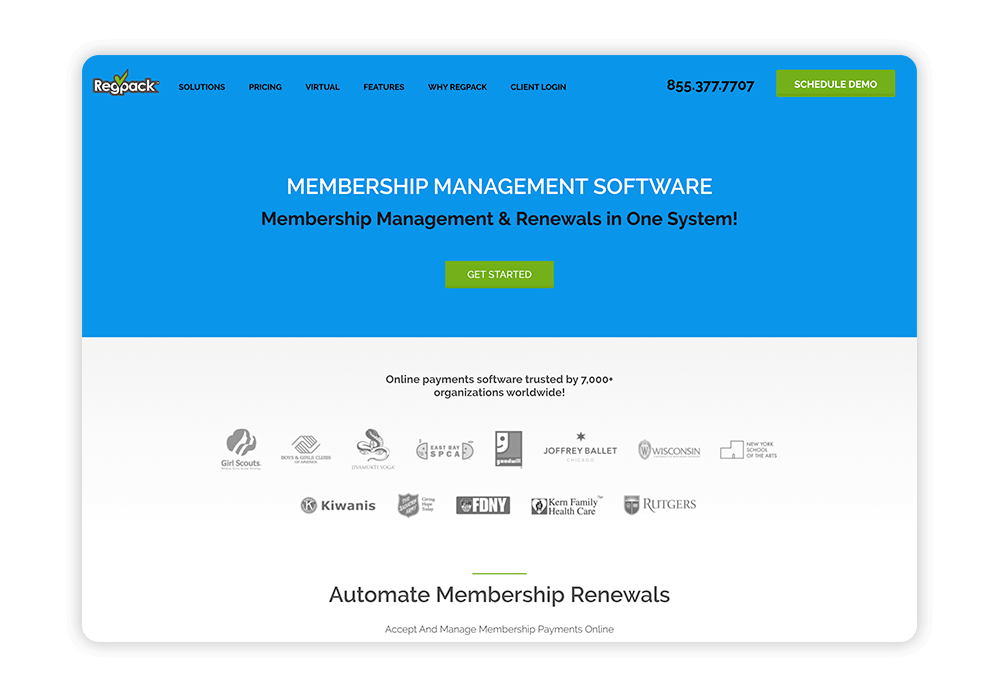 Regpack pricing
Regpack's membership management software starts at $125 per month, per admin. Payment processing starts at 2.1% per transaction.Learn more by visiting Regpack's pricing page.
---
OmegaFi - Membership Management Software for Greek Organizations
What is OmegaFi?
OmegaFi offers membership management features rolled into a financial management and communication platform. It was developed with fraternities and sororities in mind, providing Greek organizations with everything they need to maintain strong relationships throughout the chapter and keep everything running smoothly.
Your organization's leaders can keep tabs on each member's relevant financial information and personal details, so they can jump in if necessary. Plus, the communication tools (including the mobile app) make it easy for chapter officers to plan meetings, host events, send reminders, and maintain relations with alumni members.
OmegaFi's key membership features
OmegaFi offers extensive tools, providing a one-stop shop for Greek organizations. A few of its core membership features include:
Financial management. Review members' dues, charges, and payment history. Members can update billing information and pay their charges without using a third-party platform. You'll also have access to online fundraising tools, and chapter officers can use the budgeting tools to keep track of finances throughout the semester, allowing them to reallocate funds as needed.
Member communication. Chapter officers can easily send emails and texts en masse to chapter members. You'll also have access to a personalized wall where everyone can post announcements, share ideas, see upcoming events, and stay connected between chapter meetings.
Recruitment. Track and analyze all your chapter's recruitment data. Organize potential new members (PNM), adding tags to indicate the best candidates. This could be something positive like marking someone as a 'legacy' or something negative like a 'grade risk.' Gain access to other recruitment tools like the slideshow creator, which will pull from your PNM database to create a slideshow of potential members and make voting a breeze.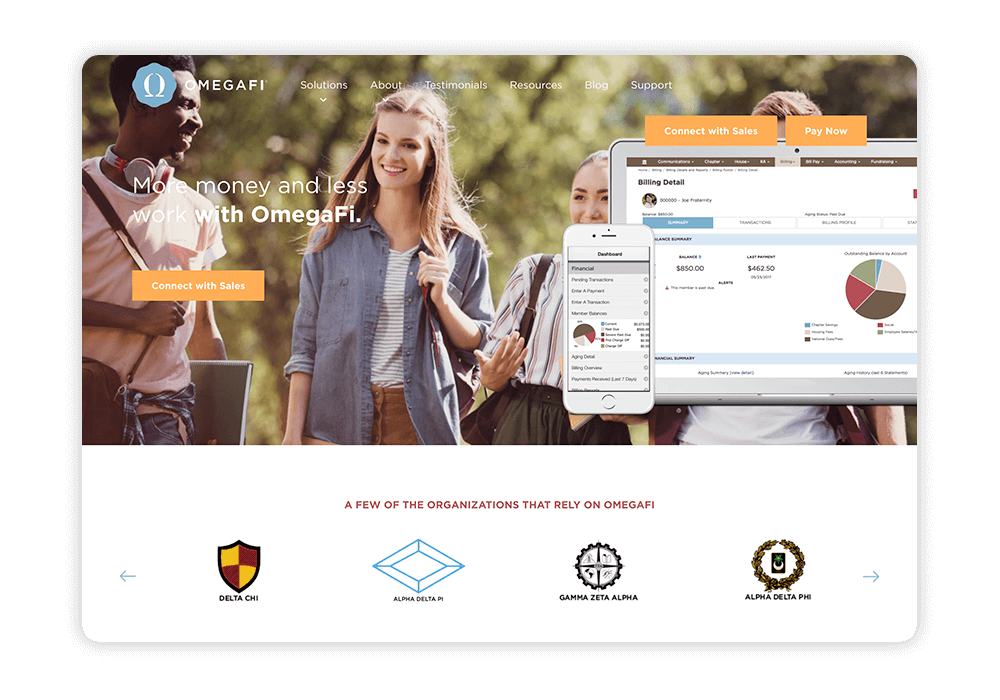 OmegaFi pricing
Pricing varies based on the organization and the features you need. Contact the OmegaFi team to get a custom quote.
---
Boardable - Membership Management for Boards
What is Boardable?
Boardable is membership management software that makes it incredibly easy to coordinate board meetings, stay connected when apart, and promote organizational progress. This solution was built exclusively for boards at mission-based organizations and corporations, providing everything you need to develop a collaborative and motivated board.
Designed with functionality and user experience in mind, Boardable enables you to centralize communications and streamline operations with features like document sharing, a task manager, voting tools, a virtual meeting platform, and more.
Thanks to Boardable's online communication portal and mobile app, your staff, committee, and board members can collaborate at a moment's notice. By empowering your board and maximizing productivity with this board membership management platform, your board leadership will spend less time managing and more time governing.
Boardable's key membership features
Boardable equips boards with everything they need to succeed. Try out features like:
Meetings center. Find the perfect time to meet in just minutes using automated meeting scheduling. Everyone can view their dashboards with upcoming meetings and click through to see the agenda, scheduled polls, and unresolved tasks. Boardable even comes with its own virtual meeting platform with video conferencing technology.
Virtual voting. Boardable simplifies voting, so you can develop active and contributing board members. Highlight decision-making items between meetings, or vote during the meeting itself. Easily enable anonymous voting for any sensitive decisions. Whether in-person or apart, everyone can participate.
Task manager. Boost every board member's productivity and accountability by assigning tasks. Individual users can see their tasks and due dates from their dashboard, making next steps scannable within seconds. Admins can view everyone's tasks and follow up on priorities.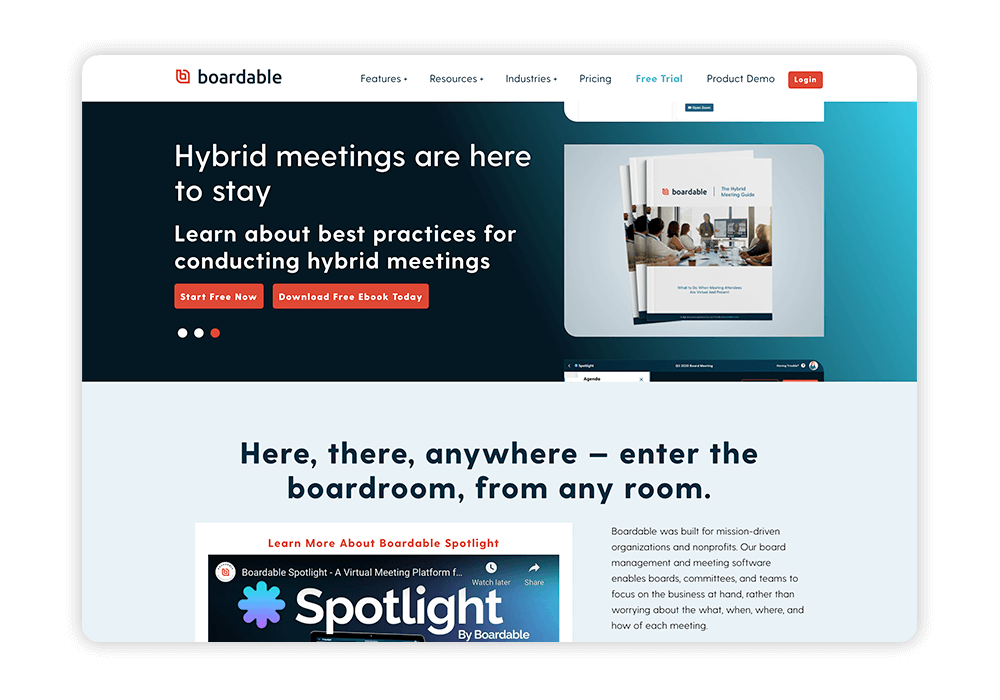 Boardable pricing
Boardable's membership management software is an affordable solution, with pricing plans starting at just $49 per month. They also offer a 30-day free trial, so your board can test the platform before buying.
---
Doubleknot - Membership Management for Zoos and Museums
What is Doubleknot?
There's a lot that goes into managing a cultural organization, and that's where Doubleknot comes in. Doubleknot offers everything your zoo or museum needs from sales to program management. As part of its robust functionality, Doubleknot also offers dedicated membership management software.
Whether you're managing 10 members or 10,000 members, this solution makes it easy to keep members organized and engaged. Recruit, recognize, and retain members at every touchpoint. Using the optional integration with the Doubleknot CRM means you can funnel every member interaction and payment into an organized database, giving you a holistic view of your donors.
Doubleknot's key membership features
Doubleknot offers everything your team needs to enhance your cultural organization's membership program, including:
Simplified membership sales. Doubleknot makes it easy to sell memberships at every touchpoint. Show visitors how much they would save if they were members, and automatically apply new member benefits when they sign up.
Renewal management. Boost member satisfaction when staff greets members by name. If a membership is in the renewal period or expired, staff can be prompted to follow up on the spot.
Member benefits. Museums and zoos often offer perks to entice regular visitors to convert into long-term members. Doubleknot enables you to offer discounts on purchases, free guest passes, priority registration, and members-only events.
Donations. The most engaged members and visitors will be inspired to give even more to your organization. Doubleknot makes it easy to recognize potential donors among your members and casual visitors. Donations can easily be made using its point-of-sale software.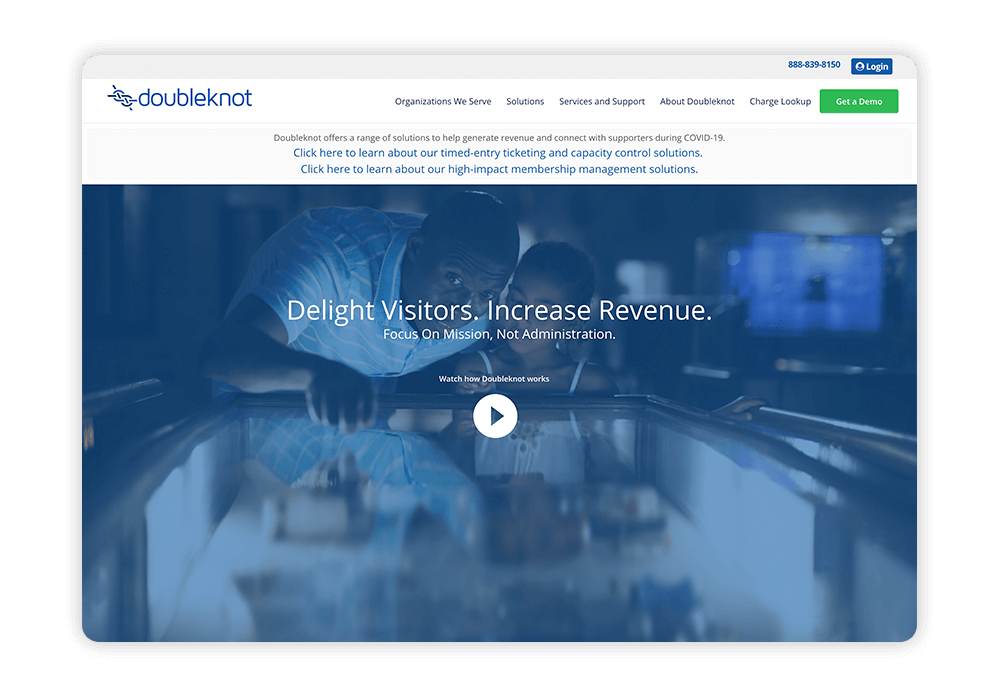 Doubleknot pricing
Contact sales@doubleknot.com for a quote.
---
CommunityPass - Membership Software for Recreation Centers
What is CommunityPass?
CommunityPass is a well-known, cloud-based recreation membership management software that emphasizes community-building. Their word-class software serves markets like parks and recreation, aquatics and pools, sports leagues, and schools. Since they've been in the space since 2002, the team behind CommunityPass has had plenty of time to optimize their solution based on firsthand experience and feedback.
Organizations that depend on CommunityPass can create and maintain systems for everything a member would need, like key cards, guest passes, check-in and -out processes, and class/program sign-ups. Through a wide collection of scheduling features, member management options, and administrative tools, CommunityPass empowers you to maintain relationships with those in your community.
You don't have to be an IT whiz to use CommunityPass either. This membership management software is designed to be non-technical and incredibly user-friendly, so you can spend less time navigating your tech and more time engaging with your community.
CommunityPass key membership features
From program managers to finance directors, everyone on your team will gain access to the tools that result in an outstanding membership experience, including:
Online registration. Eliminate long lines by shifting to online signups for your member program and other offerings. Collect payments via credit cards, checks, or cash. Plus, you can set eligibility requirements for each form so no one wastes any time filling out their information.
Program management. Store all program details in a central location. With extra security precautions in place, you can stay confident that your members' details are safe. CommunityPass also streamlines communications. They make it easy to send targeted messages about specific programs, notify participants of last-minute cancellations, and send renewal announcements.
Financial management. Run detailed, custom reports for your financial data. Track daily deposits and transfers, reconcile collections with registrations, and send invoices and collections notices to individuals. You can also increase revenue opportunities by managing concessions and merchandise sales and minimizing uncollected balances from individuals.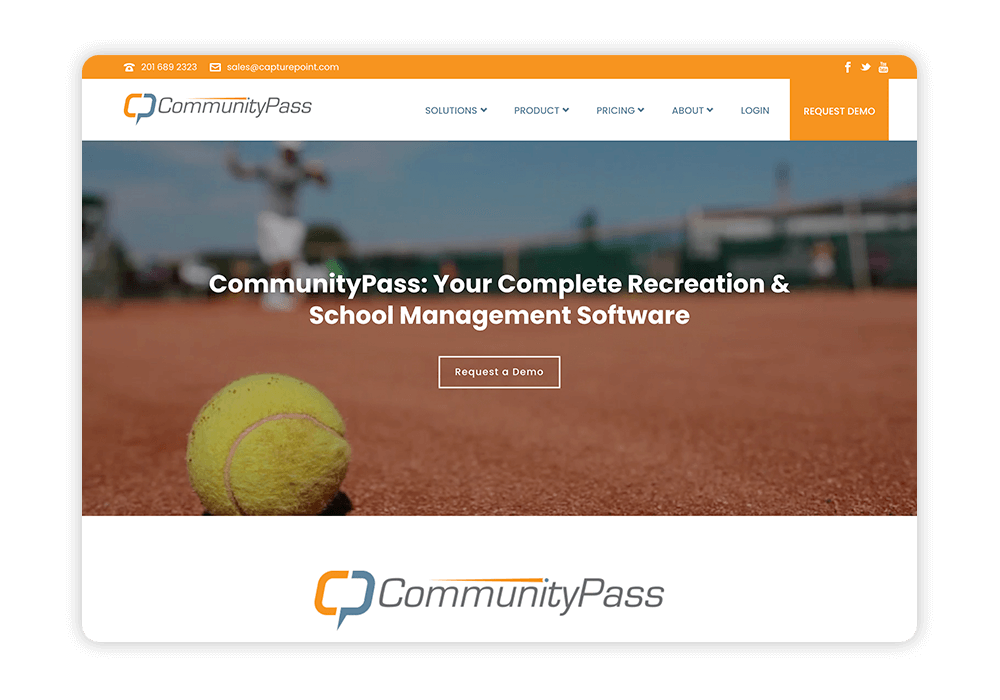 CommunityPass pricing
CommunityPass offers subscription-based recreation software packages, starting at $3,450.
---
Glue Up - Membership Software for Chambers of Commerce
What is Glue Up?
Glue Up (formerly EventBank) is a cloud-based engagement management platform designed for large Chambers of Commerce with dozens of chapters. With clients in 60+ countries, this solution integrates event management, membership management, customer relationship management, email campaigns, and payment processing — all in one convenient platform.
Glue Up makes it easy to funnel new members through the digital application process and keep them around. Information automatically syncs across the platform from the very start of the application process, so you can connect with members on a personal level no matter how large your organization is.
This platform automates the busywork so you can focus on growing your Chamber of Commerce and improving your business community. Streamline your membership management processes, maximize retention, and pamper your members with an exceptional experience.
Glue Up's key membership features
Glue Up empowers Chambers of Commerces with powerful features like:
Renewal management. Quickly alert your team to outstanding payments and set up automatic reminders to members via emails and push notifications. Members can set up recurring payments so they never miss a payment and can eliminate extra manual work.
A business directory. Like Morweb, Glue Up offers a directory, where organizers can view member information and connect with members. Use search filters to narrow down results and identify specific types of members.
Event management. Whether online or offline, your team can manage hundreds of events from initial planning to follow-up after the event. Leverage professional event templates, send invitations, run targeted campaigns, and send post-event surveys to gauge satisfaction.
Mobile apps. Your members can use the mobile app to receive messages, register for events, edit profile information, and manage their subscriptions. They can easily pay their membership dues via credit cards, wire transfers, and other digital payment gateways. Glue Up also offers a separate app for organizers.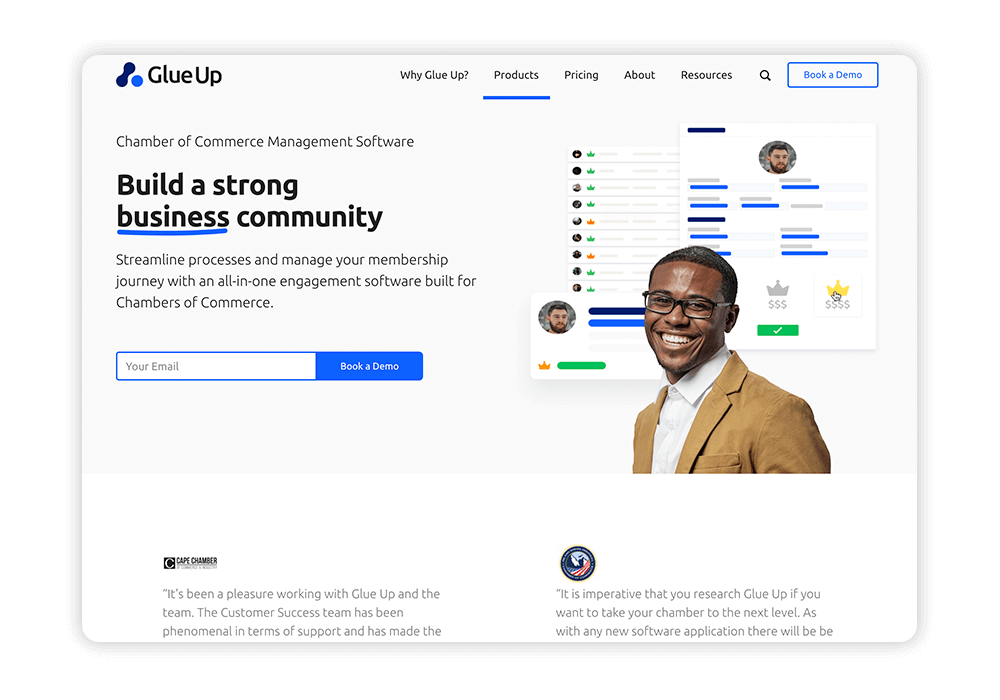 Glue Up pricing
Glue Up offers different pricing models based on the features you need. Contact their team for a quote.
---
Arbox - Membership Software for Fitness Clubs
What is Arbox?
Arbox is a cloud-based management platform that automates processes and streamlines operations for fitness clubs, yoga/pilates studios, MMA clubs, and gyms. They offer everything you need to keep your fitness organization up and running, including the tools necessary for effective membership management.
The system was designed by people from the fitness community who understand the nuances of running a fitness business, allowing them to create a targeted solution with a full suite of tools to manage sales, memberships, marketing, and billing. Arbox offers business owners a full suite of tools to drive business forward and make a name for themselves in the fitness community. Leverage the Arbox system to strengthen your fitness club's client base and provide members with a seamless and unforgettable experience.
Arbox's key membership features
Arbox offers everything you need to keep your fitness organization's operations in line:
Retention tools. Arbox offers everything you need to engage your community from daily communications to satisfaction surveys. Send automated messages to engage absent members and automatically remind members about upcoming events and classes. You can even show your appreciation by providing birthday specials and other promotions. Renewal is incredibly easy and can be completed in less than a minute.
Business management. Run your fitness center with more insight and efficiency than ever before. Centralize data collection and access this information wherever you are. You can create dozens of detailed reports within seconds to gauge your business's success. You can easily handle all payments, from memberships to merchandise sales. Plus, you can set up and stay on top of your daily and weekly class schedules.
Mobile app. Members can book or cancel a class with just a few taps, join online classes, and invite their friends to join classes and get in shape with them. They can easily renew their memberships and stay up to date on important news at your club. Plus, they can check a fitness leaderboard and log their workout results on the go. Everything they need will be in the palms of their hands.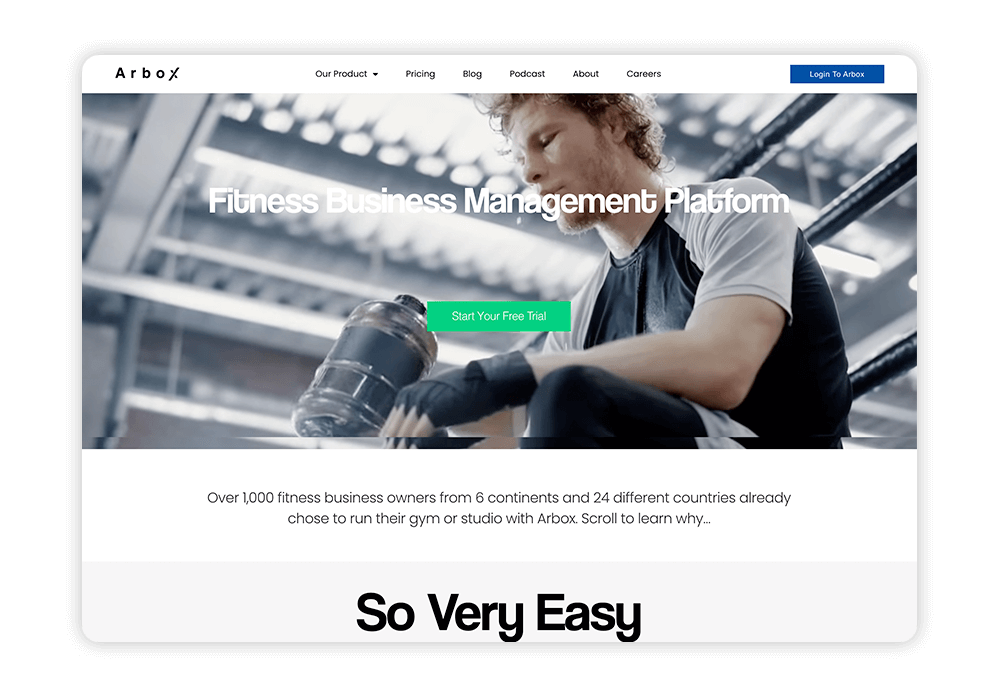 Arbox pricing
Start with this membership management software for just $79 per month, or get a free trial before you buy. Arbox's pricing model also includes more robust packages with additional features.
---
Disciple - Membership Software for Individual Influencers
What is Disciple?
Disciple isn't your typical membership management platform. Great for individual influencers, it empowers users to build their brands through a community-driven, interactive site where they engage with members. You can manage member subscriptions, events, and communications via the web or with the membership management app.
Build a branded community platform where your members can interact and engage with you. The platform includes a variety of monetization options such as membership subscriptions, exclusive content, sponsorships, and much more.
Segment your audience with public and private groups and feeds so you can deliver the right content to the right individuals. Sell courses, charge subscriptions, livestream, and more. Disciple's online membership management system makes it easy to manage your community on autopilot and deliver an exceptional member experience.
Disciple's key membership features
Disciple offers the features you need to build a tight-knit community, including:
Member profiles. Customize member profiles with specific fields to capture relevant data. Then, use this data to segment your audience by interest and demographics into unlimited private and public groups. Then you can share content that piques each group's unique interests.
Content management. Store and share all of your content in your library, and share them with your community. Disciple supports multimedia (like videos and images), PDFs, and blog posts. You can also track vital metrics to determine what content performs the best.
Member-to-member communication. Members can send private messages to other members within your community platform using the direct messaging feature. They can view each other's profiles and discover other members who share similar interests. Easily drive interaction further with comment, likes, threads, polls, and more.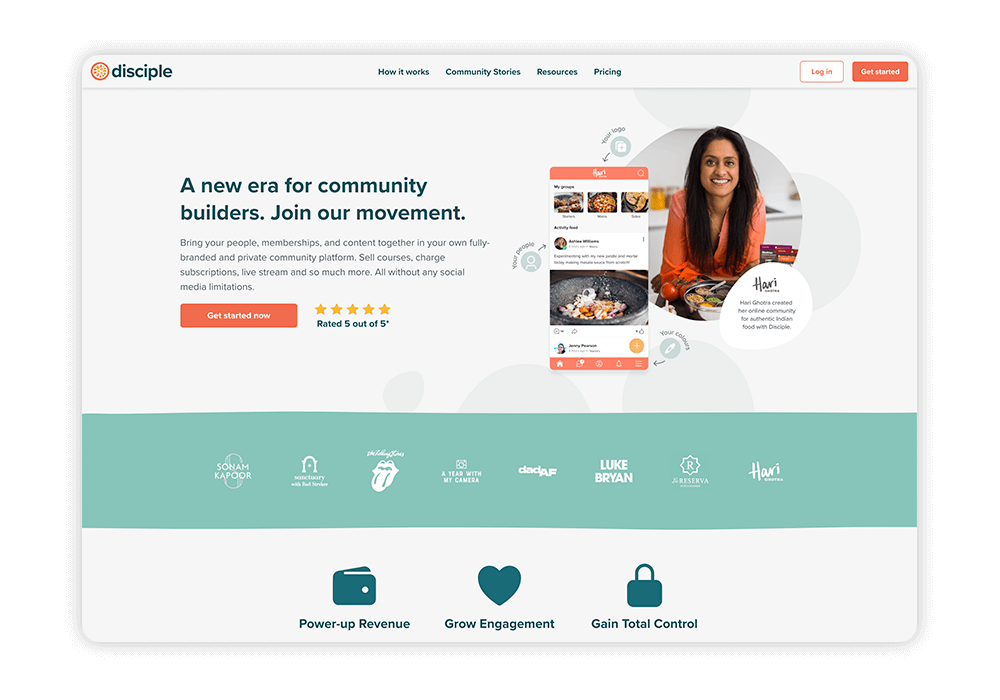 Disciple pricing
Disciple offers various pricing options. The web platform starts at $55 per month, while the mobile app starts at $549 per month.
---

The Gist
Keeping physical records and relying on traditional methods to manage members becomes increasingly impractical the more your organization grows. Membership management software can streamline these tedious tasks, allowing you to refocus your time and energy into your members.
With a vast array of priorities, organizations need access to different types of features to manage members and forge deeper relationships. A fitness center has notably different priorities than a Greek organization. Thus, they find success in different platforms and features.
One of the solutions we covered likely matches your needs, and now's the time to take action! After all, there's no time to waste when it comes to member engagement.
Looking to learn more about making your organization stand out online?