7 Awesome Tech Solutions for Your Next Charity Auction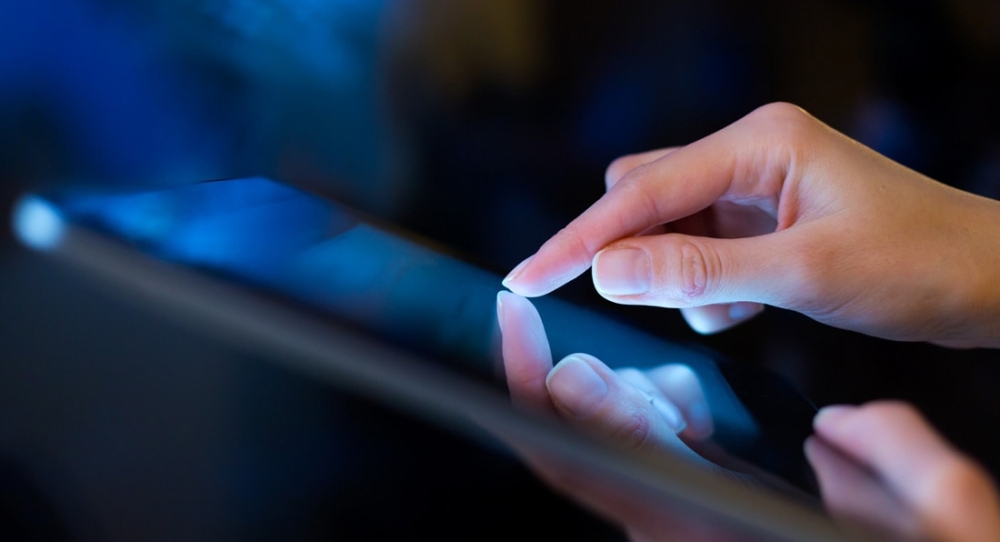 As you begin planning your nonprofit's next charity auction, ask yourself a few key questions. How successful was your last auction event? Were there any areas that could be improved or streamlined?
You should ask yourself these questions not only to identify areas where you can improve but also determine what tools and resources you could use to implement those improvements.
If you haven't already, consider taking your auction online. This is a simple and smart strategy that can attract more people to your event and your overall fundraising. So, what's the best way to do this?
The answer is simple: auction software.
With auction software, you can streamline the planning and execution processes for your entire charity auction event. We'll discuss several solutions in particular that can help you, including:
Auction software helps provide your auction guests with a positive and convenient experience. Let's take a closer look at how this can help you improve your next auction event!
---

1. Mobile Bidding
Mobile bidding offers an automated method of placing bids at your auction. Rather than writing down bids on paper sheets during a silent auction, guests can place their bids directly from their mobile phones.
Mobile bidding streamlines the entire event by allowing:
Previews of auction packages
Early bidding prior to the event
Max bidding and buy-it-now options
Instant outbid notifications to drive revenue
Fixed price item and point of sales (e.g., raffles, wine pulls, etc.)
Live donation and paddle raise functionality
This eases the auction process for you, your team, volunteers and guests. No more having to decipher unreadable handwriting, or racing to collect bid sheets, and guests don't have to continuously return to the display tables to see if they have been outbid. Even more, you can register and check out guests on their mobile phones, eliminating end-of-the-event frustrations with long checkout lines.
---

2. Streamlined Registration and Checkout
One of the most common deterrents during an auction is long lines. When guests have to wait in line to check in or register upon arrival, this can deter them from fully enjoying the event or bidding on items.
Mobile bidding software streamlines the registration and checkout process. By using mobile bidding software, you'll easily be able to:
Eliminate long lines
Accept credit cards
Instantly invoice at the end of the auction
Capture guest information
Email receipts
Split bills and add charges
If you want to further promote your auction event on your nonprofit's website, be sure you use a content management system (CMS) that lets you create a calendar of events and offers plenty of integrated event features on your website.
If your auction has an online component, use an auction software provider that will let you set up the online auction page to link to from your site for easy access to your guest information.
The key takeaway? Keep your website updated with auction event information using the right site builder so you can guide your supporters to the event registration form.
---

3. Item Procurement Tracking
Another solution your auction software can offer is item procurement tracking. Coming up with charity auction item ideas that are appealing is only half of the process. You'll also need an organized way to track the process of procuring what you find.
A quality auction software platform should include the following features to help you manage your auction items:
Generate solicitation letter
Track procurement status
Log item location
Customize starting bids and raises
Enable easy item packaging
By keeping track of what you're getting, you'll be on your way to securing excellent items that will encourage your guests to bid! For even more details on how to procure your items, check out the OneCause guide to auction item procurement.
---

4. Ticketing and Table Management
Anyone who has planned a large fundraising event knows that ticketing and managing tables can cause many headaches. What if you had software to ease this hassle? With auction software, you can track everything you need in regards to ticketing and table management.
Your auction software should have the ability to: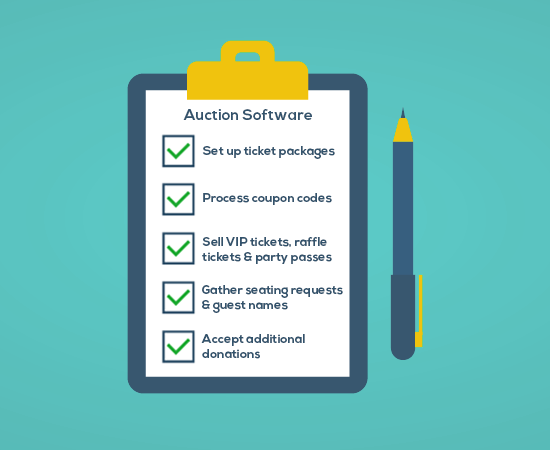 Set up ticket packages for donors and sponsors
Process coupon codes
Sell VIP tickets, raffle tickets, and party passes
Gather seating requests and guest names
Track guest dietary restrictions
Accept additional donations
When you reduce the headache associated with organizing tickets and arranging tables, you can focus on what truly matters for a successful auction: driving revenue and securing sponsors.
---

5. Fixed-Price Items and Donation Appeals
One of the advantages of using auction software includes the ability to offer more than just bidding to your guests. By moving your auction platform online, you can offer fixed-price items and make donation appeals during your event.
Fixed-price items include:
Raffle tickets
Sign-up parties
Mystery boxes
Beverage tickets
Merchandise
For example, in order to promote your cause, consider selling t-shirts as add-ons to your registration (learn more about selling t-shirts here!). When people walk around wearing your merchandise, you'll gain even more traction and promotion for your cause.
Donation appeals are also an important element of your auction fundraiser. Appeal to donors during your event and collect mobile donations. You can even create an atmosphere of competitive giving by displaying top donors on a large screen at the event (which we will discuss more in the following section).
Because it streamlines the guest experience and makes bidding fun, auction software can boost your event by bringing your event revenue streams to attendees' smartphones, making giving easy.
---

6. Live Scoreboards
Gamification encourages friendly competition and motivates donors to contribute to a cause and continue their support. The best part? You can absolutely apply this to your auction event!
Incorporate a live scoreboard into your event, which serves as an electronic billboard displaying donor names, or donation amounts, goals, top bidders, top items—all in real-time. Showcase these live scoreboards throughout your auction and programming and watch the proceeds soar.
Live scoreboards can help you:
Put the current bids on display
Highlight your donation progress
Recognize donors for their support
Foster friendly competition
People love seeing their names on the big screen, especially for supporting a good cause! Use this method to your advantage and encourage your event guests to get their names on there. The more friendly competition you foster, the more of a community you'll create around your cause.
---

7. Social Media Integrations
As you plan your charity auction, much of your focus should be on promoting the event itself. Be sure to leverage each of your social media channels so that you can direct your followers to your auction event page. Social media integrations in particular can help you do this, as you can link to your social channels from your auction software to maximize your reach.
Using social media, you can:
Share specific auction packages (with a photo and direct link to bid on the package).
Post about bidding wars.
Encourage your supporters to repost, like, pin, and tweet.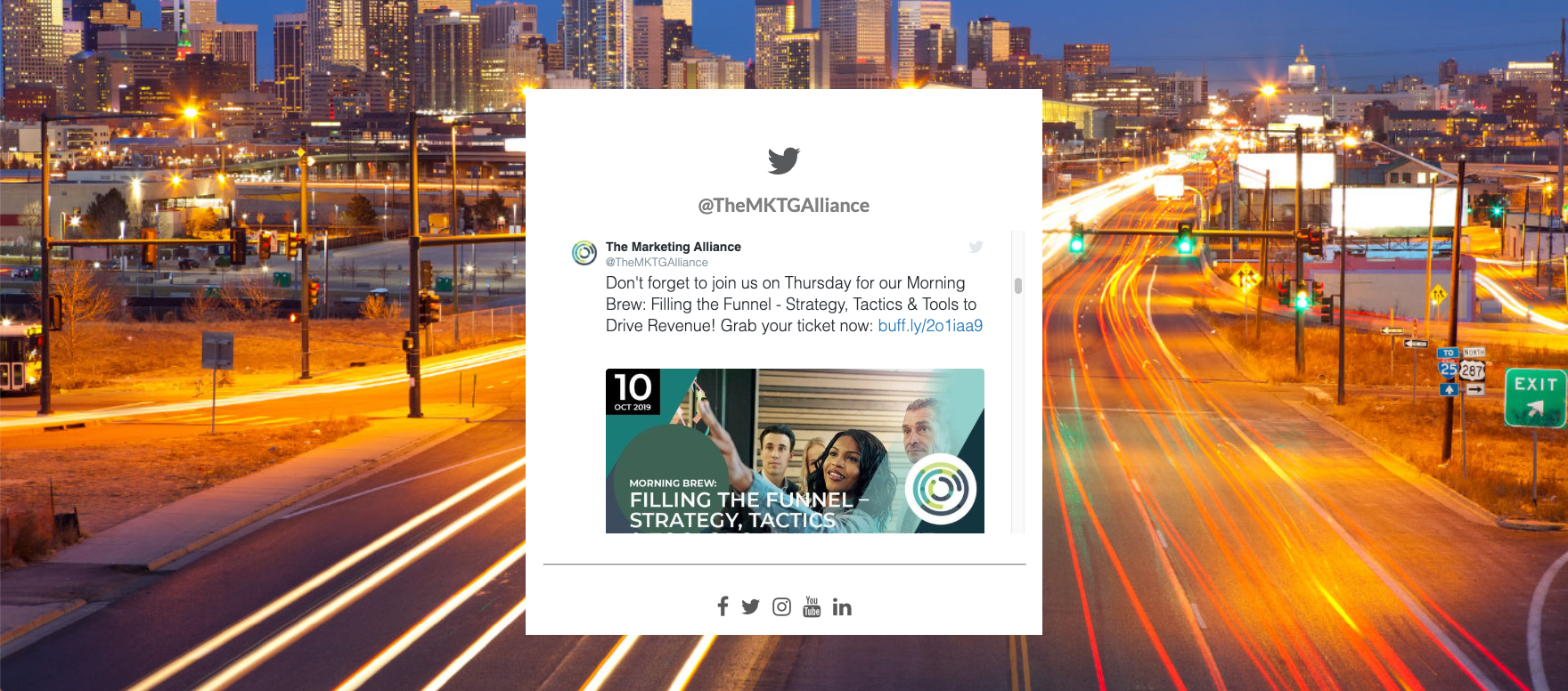 Make sure your nonprofit's website also supports social media live feeds so you can drive more traffic to your social media pages from there. You can even provide a hashtag for your event so your website visitors can see what supporters are saying about your auction through the feed. Many of your supporters are likely already on these social networks, so staying connected to them with these live feeds or links to your social media accounts is a best practice and surefire way to keep them engaged.
While social media is a strong method of promoting your event, don't overlook traditional methods of communication that can supplement your social media promotion. This includes emails, newsletters, phone calls, and direct mail. A combination of tech-based and traditional efforts is usually the most effective way to promote your fundraiser!
---
Making the investment in auction software is an excellent way to boost engagement among your guests, make their experience a positive one, and streamline your entire planning process from start to finish. By incorporating these tech solutions into the strategy for your next charity auction, you'll set your entire event up for success.
Get a jumpstart on your next charity auction by finding the right auction software for you. If you're looking for some guidance, check out the OneCause guide to silent auction software.