7 Awesome Tech Solutions for Your Next Charity Auction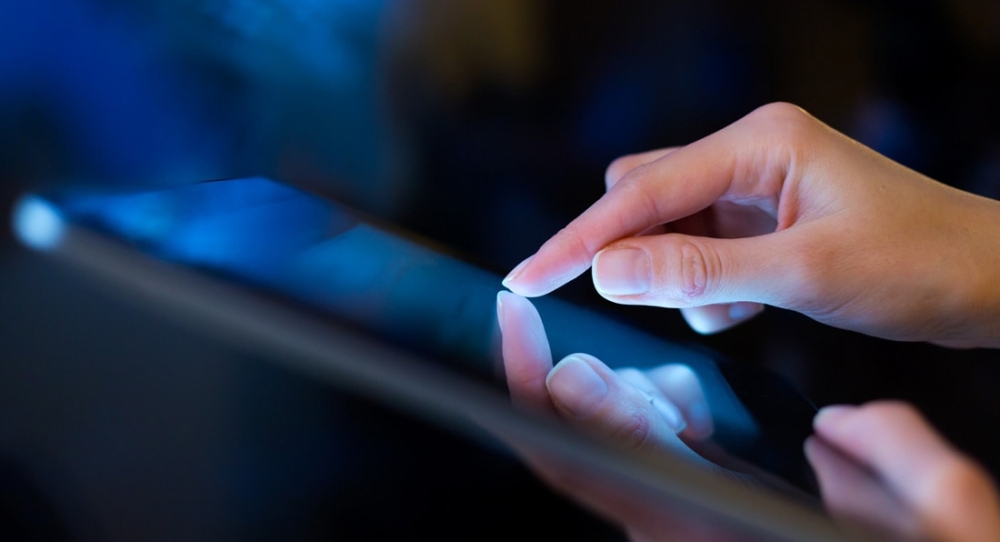 Charity auctions require ample planning. To simplify your nonprofit's efforts and ensure that your event is on track to hitting exceptional fundraising results, you'll need robust technology to power your efforts.
The right auction fundraising software will come with all the features you need to maximize success for your live, virtual, or hybrid auction. From managing event ticketing to tracking items your procurement committee secures, your fundraising software should make it as easy as possible for your organization to plan and execute its event.
Look for fundraising software with the following comprehensive tools so you can run your next charity auction with ease:
With all of these tech solutions under one roof, your nonprofit will be able to effectively manage data, improve the auction attendee experience, and gain insights into your organization's fundraising strategies and how you can improve. Let's begin.
---

1. Mobile Bidding
A mobile bidding tool can streamline the entire bidding process. Instead of requiring guests to write down bids on paper sheets, your silent auctions become much more efficient by enabling donors to bid from their phones. Their bids are automatically recorded, saving your nonprofit team time and energy that can be devoted to other areas of your event's success.
Mobile bidding streamlines your event from start to finish by allowing:
Live donation and paddle raise functionality
Instant outbid notifications to drive revenue
Fixed price item and point of sales (e.g., raffles, wine pulls, etc.)
Max bidding and buy-it-now options
You can also increase excitement over your event by offering previews of auction packages and collecting donations before the auction event takes place with early bidding features.
This dramatically streamlines the auction process for your attendees and your organization. Instead of deciphering unreadable handwriting, racing to collect bid sheets, or having guests constantly returning to the auction tables to see if they have been outbid, your nonprofit can automate the entire event experience, delighting your donors and increasing your revenue per guest.
---

2. Streamlined Registration and Checkout
One of the most common deterrents to guest engagement is long lines. When guests have to wait in line to check in or register upon arrival, this not only causes friction in their giving experience but takes them literally away from the event and your fundraising. Even worse, when it takes a long time to check out, guests leave with a negative impression of your event and even your organization.
With the help of comprehensive auction software, you can improve the entire registration and checkout process. Look for software that has these key features:
Contactless express check-in that uses QR codes to register. Donors scan in on their phones for no line to your event.
Easy-to-manage event day tools enable your volunteers to easily execute the ins and outs of your event at event time.
Supporter-driven payment & item pick-up lessen wait times and ensure donors have a positive attendee experience with self-checkout options and item pick-up timeframes.
To simplify the registration process, your organization can embed your registration form directly into an event landing page on your website. Work with a nonprofit-specific CMS so you can create a high-quality landing page and build a registration form that can be filled out by registrants in just a few moments.
Make sure you only ask guests for essential information, like name, contact information, and payment information (if applicable) to streamline the signup process.
---

3. Item Procurement Tracking
Much of your auction's success will come down to how appealing your items are to supporters. Be sure to brainstorm ideas with your procurement team, and secure items that are bound to inspire bids. Even with the best team and process, managing your auction can quickly become overwhelming without the right tools.
Use auction software with intuitive item procurement tracking tools. According to the OneCause guide to fundraising software, item procurement tracking allows you to keep an organized record of every item, with information such as the name and contact information of each item's donor, the item's starting bid and minimum raise, and the item's retail value.
A quality auction software platform should help you automate the following tasks:
Generate solicitation letters
Track procurement status of items
Log item locations
Customize starting bids and raises
Enable easy item packaging
Create a digital auction item catalog
With the right item procurement tool, you'll save so much time that you can turn your focus to securing excellent items that will inspire your guests to give.
---

4. Ticketing and Table Management
Depending on the size of your event, your nonprofit could be expecting hundreds of people at your auction. To keep who's who straight, you'll need a simple way to monitor ticketing and table assignments.
Your auction software should have the ability to:
Set up ticket packages for donors and sponsors
Process coupon codes
Sell VIP tickets, raffle tickets, and party passes
Ask guests custom questions or sign waivers at ticket purchase
Let guest self assign guests to their table
Gather seating requests and guest names
Track guest dietary restrictions
Accept additional donations
Provide real-time table management data and reports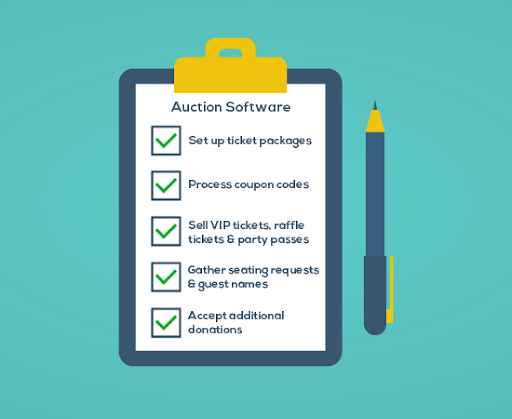 ---

5. Fixed-Price Items and Donation Appeals
One of the advantages of using auction software is the ability to open up multiple revenue streams to raise more revenue. The right software makes it easy to offer fixed-price items and make donation appeals during your event.
Fixed-price items include:
Raffle tickets
Sign-up parties
Mystery boxes
Beverage tickets
Merchandise
Buy-it-now options for other auction items
Consider selling t-shirts as add-ons to your registration. When people walk around wearing your merchandise, you'll gain even more traction and promotion for your cause.
Donation appeals are also an important element of your auction fundraiser. Appeal to donors during your event and collect mobile donations to boost your fundraising numbers. You can even create an atmosphere of competitive giving by displaying top donors on a large screen at the event.
Auction software can boost your event by bringing your event revenue streams to attendees' smartphones, making giving easy.
---

6. Live Scoreboards
Gamification encourages friendly competition and motivates donors to contribute to a cause and continue their support. To tap into your bidders' competitive spirits, incorporate a live scoreboard into your event, which serves as an electronic billboard displaying donor names, or donation amounts, goals, top bidders, top items—all in real-time. Showcase these live scoreboards throughout your in-person or virtual fundraiser and watch the proceeds soar.
Live scoreboards can help you:
Put the current bids on display
Highlight your donation progress
Recognize donors for their support
Foster friendly competition
People love seeing their names on the big screen, especially when they're supporting a good cause! Use this method to your advantage and encourage your event guests to get their names on there. The more friendly competition you foster, the more of a community you'll create around your cause.
Make sure your auction software also includes the ability for guests to be anonymous should that appeal to their giving preferences. Giving donors options for their donations, including designated funds to donate to, custom dollar amounts, and one-time or recurring donations helps your cause meet the needs of varying donor types, and increases your likelihood of converting more supporters at your auction.
---

7. Social Media Integrations
To boost the number of registrants and attendees at your auction, you'll need to carry out a strong marketing strategy. Be sure to leverage each of your social media channels so that you can direct your followers to your auction event page. Social media integrations can help you do this, as you can link to your social channels from your auction software to maximize your reach.
Using social media, you can:
Share specific auction packages (with a photo and direct link to bid on the package)
Post about bidding wars
Encourage your supporters to repost, like, pin, and tweet
Make sure your nonprofit's website also supports social media live feeds so you can drive more traffic to your social media pages from there. You can even provide a hashtag for your event so your website visitors can see what supporters are saying about your auction through the feed.
Many of your supporters are likely already on these social networks, so staying connected to them with these live feeds or links to your social media accounts is a best practice and a surefire way to keep them engaged.
While social media is a strong method of promoting your event, don't overlook other methods of communication that can supplement your social media promotion. This includes emails, newsletters, phone calls, direct mail, and blog posts on your website. A combination of tech-based and traditional efforts is usually the most effective way to promote your fundraiser.
---
Once your auction is over, don't forget to thank donors for their contributions. According to Kwala's guide to donor thank-you letters, your messages should be personalized to the recipient, reference the impact of their donation, and express gratitude for their ongoing support. Using your auction software, you can easily create reports of each donor's contributions to help with this process.
Auction software with a full suite of user-friendly tools can set your organization up for increased donor engagement and fundraising success. From streamlining the entire bidding experience with mobile bidding to amping up the competition with gamification, the right auction software will help you engage with donors and build stronger relationships. Do your research to find a software solution that has these technology solutions and more to support your fundraising efforts. Good luck!