6 Steps to Create a Professional Development Course for Association Members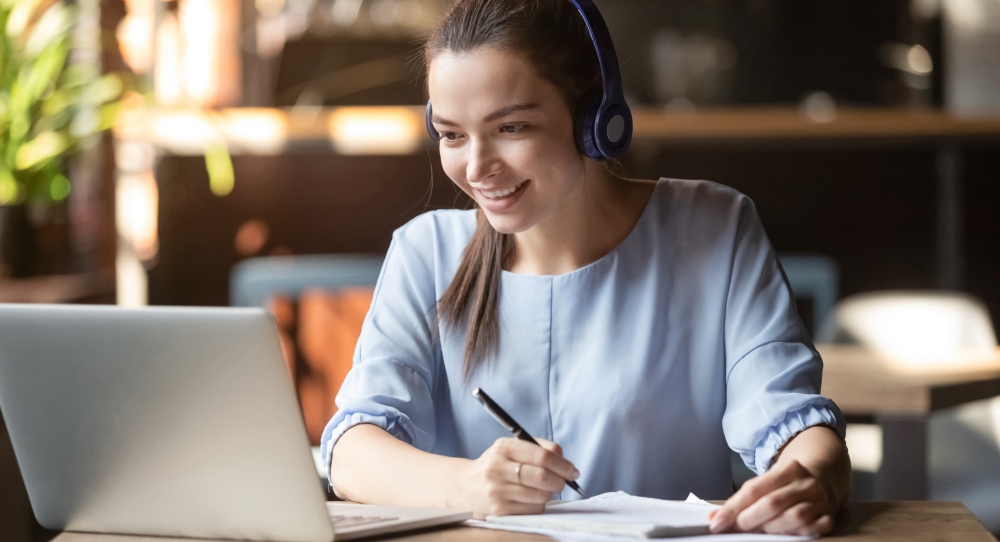 Associations offer highly valuable resources for building professional networks, maintaining industry certifications, and learning new skills. For your members, some of these opportunities will come through taking professional development courses. While these courses are essential for member engagement and satisfaction, they can be challenging to plan and execute.
To create a successful professional development course, prioritize your members' needs from start to finish by following an iterative design process. This process, also called Agile Instructional Design, is a style of course development that involves making continual improvements based on user feedback even after a course has gone live.
Skyepack's Agile Instructional Design graphic demonstrates this framework: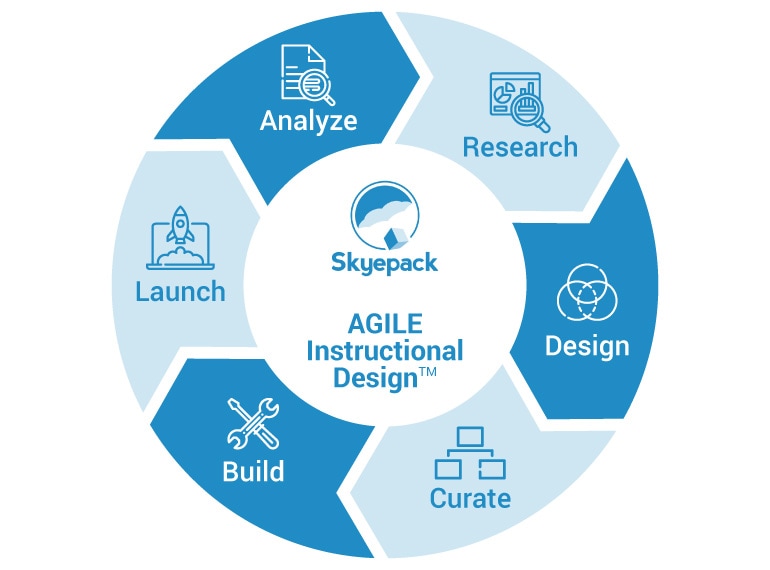 In some ways, this process is similar to building your membership website since you continue to make updates as members' needs evolve. The process is a cycle because a learner-centered course will always have room for improvement. In this guide, we'll walk through each step of creating a professional development course for your association and discuss the opportunity to partner with an instructional design team to make your course the best it can be.
Creating a Professional Development Course in 6 Steps
The process of creating a professional development course for your association can be broken down into these basic steps:
These steps may not happen in a linear order, especially if you're creating an online course for the first time. You may have to do more research or reorganize while you're building the course in your chosen platform or to update it after it launches. This general framework will put you well on your way to designing a successful course for your association.
---
1. Analyze the needs of your association and its members.
You'll first need to determine the goals your association has for your professional development course, both for your association as a whole and for individual members.
For instance, you may be trying to extend your association's online reach and stay competitive with similar organizations. If this is your goal, check out the educational content that other associations are producing and consider how you can improve upon it or provide a course that they don't.
Another common goal is to increase the value your association provides for members. Since charitable giving statistics show that associations earn 46% of revenue from membership dues, continuously providing useful content to members is essential from a financial standpoint. Offering new courses will likely encourage members to renew or move to higher membership tiers. Or you could sell access to courses separately to recoup funds not covered by dues revenue.
When creating new courses, make sure to tailor them to the educational desires and expectations of your current and prospective members as well. You can determine what course topics would be most valuable by surveying members, researching your competitors' offerings, and keeping track of current trends in your field.
Online courses have become increasingly popular in recent years due to an ever-changing work environment and learners' time constraints. When planning a course, you'll need to consider these questions:
What topics are currently covered in online courses, and what topics do members still want to learn more about?
Are there any licenses or certifications that learners could receive from completing an assessment at the end of your course, or will you just assess their learning for course development purposes?
Would learners benefit more from a long-form course or a series of microcredentials? (Skyepack defines microcredentials as focused short courses that are designed to teach one specific skill.)
Answering these questions will help you to find the specific need your course will fulfill, shaping the way in which you design your materials.
---
2. Find resources to inform your course outline.
Once you've determined what gap your courses will fill, you can begin to explore subtopics and learning sequences. Start by identifying available resources and consider how they can be used in your courses.
If your association has created any professional development courses in the past, you can use pre-existing materials as a starting point, updating and restructuring the content to fit your current needs. You may also want to look into these online resources:
Previous content created by you or your association focused on education, your mission, and professional values.
Open-source content, or information maintained by a community that is accessible through online hubs for users to edit and repurpose.
Third-party content

, although you may need to cite sources or ask permission from the outside organization who created the content if you reference it in your courses.
After you've done some research, you can start outlining your courses. List the specific goals you want each course to achieve, figure out what concepts you'll include to work toward each goal, and consider which topics will need to be covered first in order for members to understand more complex ideas later on.
---
3. Design and organize your course logically.
Similarly to your association's website, your online professional development course needs to be well-designed and intuitive in order for your members to gain maximum benefits from it.
If your members are confused while working through a professional development course, they'll likely feel frustrated and disengage from the material. To avoid some common difficulties, use these design strategies:
Make it simple to navigate. Include an easy-to-find menu that allows members to jump to different sections of the course as they're learning. Interactive features like bookmarking and highlight tools can also help members to find what they are looking for quickly.
Create a logical organization system. Each topic within the course should flow into the next in a way that feels natural. You'll also want to organize content into digestible sections so your members can conveniently pause and restart the course.
To improve engagement, you'll want to design your course as an interactive and dynamic experience. If it feels like an online textbook, members will get bored easily and may not finish the course. Using elements like short section assessments, videos, infographics, and interactive tasks can bring the material to life and improve course completion rates.
---
4. Curate informative course material.
As you dive into writing the bulk of your course content, you'll want to use a variety of sources for your material. A big chunk of your content will probably come from reputable sources on your topic or within your industry, which you'll combine and synthesize into a format that supports the course outlines you created earlier.
The digital course materials you create will be a customized solution based on your association's specific needs. For this reason, you may also choose to author some original course content. You could, for instance, take concepts from an existing source and replace their examples with ones that specifically apply to your association, or you could include sections on your organization's values or planned next steps.
---
5. Build the course in an interactive, cloud-based platform.
Once you're ready to build your course, you'll need to find a content delivery platform that provides access to various features in the creation process and is easy to navigate on the members' end as they take each course. Members will expect course materials that are more engaging than hard-copy packets or scanned PDFs, so using a dynamic online platform will create a better learning experience for them.
In particular, you'll want to look for these platform features:
Multimedia capabilities. Make sure that your platform supports engaging types of content like videos, audio clips, infographics, animations, and images.
Mobile-friendliness. Many of your members will want to access a professional development course on their smartphones or tablets. Make sure the courses function appropriately and look good on a variety of screen sizes.
Accessibility. Determine whether the platform meets web accessibility standards. All your members should be able to receive the full benefits of your courses, so the content needs to be compatible with assistive technologies.
The best option is to choose a cloud-based platform that meets all of these needs. Today's professionals appreciate the ability to access any of your digital course materials from anywhere at any time, so when you choose a platform, make sure it fulfills this need for your members.
---
6. Launch the course and share it with your members.
At this point in the process, you'll bring your hard work to fruition and share completed courses with your members. Whether you're including a professional development course in your regular membership or charging an additional fee for it, providing immediate access will allow interested members to get started as soon as they're ready.
Some members who are less experienced with technology may experience difficulty connecting to a course right away. Offer resources for troubleshooting, like setting up a contact form through your association's website or choosing a course provider that offers full tech support.
Once members have completed the course, provide the opportunity to give feedback. You can then apply their thoughts and critiques to future course designs.
You'll also want to have this feedback on hand as you update the course over time. In order to be agile in your online course design, you need to use an iterative process, or one that repeats as necessary so your course is always as relevant and valuable as it can be for your members.
---
When to Partner with an Instructional Design Team
While some associations may be able to create their professional development courses internally, many organizations can benefit from partnering with an instructional design team. Some reasons to bring in expert help may include:
Learning about and incorporating new types of courses, like microcredentials. An instructional design partner can train association professionals while creating these courses and develop a sustainable process over time.
Having a limited capacity for internal design

. If your organization is small or has few professional designers on staff, the instructional design team can recommend easy-to-use platforms and instruct professionals to use them effectively.
Getting a second opinion during the research and revision processes. Design

team members will work with you to find resources that will be beneficial for your members. The team can also identify places in the course where original content would be useful and review your ideas as you author the materials.
In other words, partnering with an instructional design team will provide you with a useful resource to tailor your course to your members' needs and desires for maximum impact.
---
The Gist
Effectively using the resources you have available to you and staying on top of trends will allow you to create the best possible professional development course for your members. But keep in mind that in light of the quick evolution happening in workplaces today, you may need to make major changes later on, or even scrap an old course and design a new one. However the course design process goes for you, always keep in mind that an instructional design team's services can help you solve problems or answer any questions that may arise.
---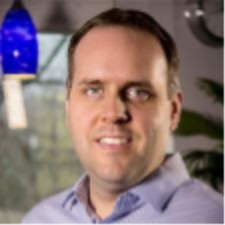 Author: Brady Kalb, CEO of Skyepack
Brady is a "reformed engineer turned entrepreneur". After engineering gigs at two Fortune 100 companies, Brady left the corporate world to pursue a business degree and seek out new challenges. Brady's passion for education stems from his desire to "always be learning" and find innovative solutions to difficult problems. Brady enjoys family outings to the park, explaining the answers of "Life, the Universe, and Everything" to his daughters, and reading just about anything (favorites are classics, popular fiction, and biographies).