Choosing the Right Nonprofit Web Design Agency: A Guide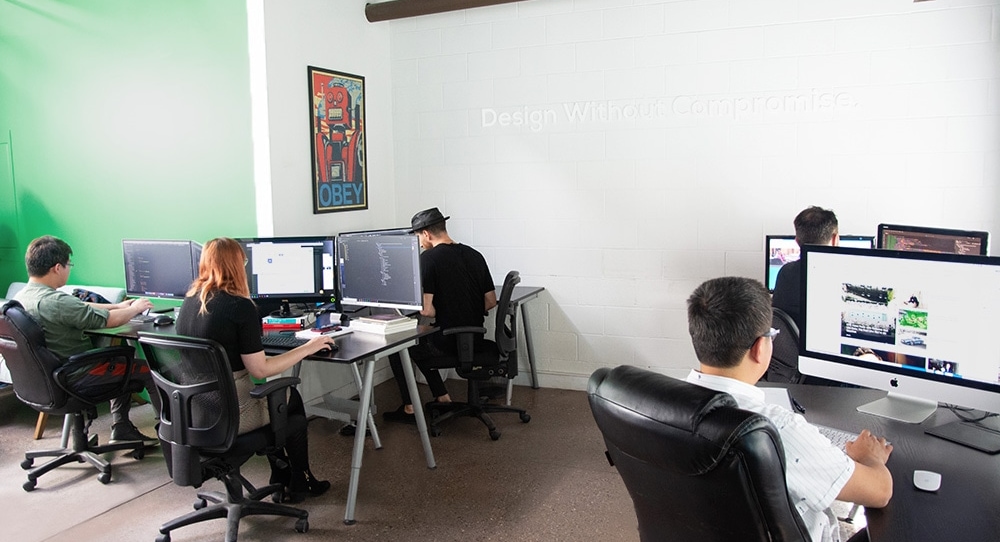 If you're new to the world of nonprofit web design, finding a web design agency for your website project can feel a bit overwhelming. Choosing the right nonprofit web design agency is a crucial step to improving your organization's digital presence. The right web design agency will understand your unique needs as a nonprofit to help you create a website that best communicates your vision to the world.
To help you get started with choosing a web design agency for nonprofits, we've created a guide outlining what steps to take. Read through each of the following sections and take notes to kickstart your nonprofit website project.
As a web design agency that has helped over 1,500 nonprofits build and grow their digital presence, we have learned what it takes to create a successful website. Let's find out if Morweb is the right nonprofit web design agency for you.
---

1. Determine who needs to be involved in choosing your nonprofit web design firm
Before you can dive into selecting a web design agency, you'll need to determine who needs to be involved in the decision-making process. When choosing who to include in this process you'll want to ask yourself who will use the site the most once it is designed.
You should include the team members who will run your website once it's done and those responsible for creating new content like adding events. These team members will have to use the website platform on a regular basis so they'll likely want to have a say in picking one that is easy to use. It is also beneficial to include someone from your marketing team so they can oversee the branding of the website.
Lastly, you'll need to find out who needs to sign off on the website design. Will you need board member or executive director approval? If so, they may want to help select the nonprofit web design firm.
---

2. Determine goals for your nonprofit website design firm
Whether you're redesigning your current website or starting from scratch, you'll likely have a few goals in mind for what you want to achieve with your nonprofit website. It is a good practice to document your goals and determine measures for success. When documenting your goals, you'll want to ask yourself the following questions;
Who is the target audience for our website?
For many nonprofits, their target audience includes supporters, donors, volunteers, staff and community members. With a clear audience in mind, your web design agency will be able to organize your website content and imagery around their needs and interests.
For example, potential supporters will want to know the purpose of your organization and the ways in which they can get involved. An experienced nonprofit web design agency will know to highlight your mission on the homepage and include calls-to-action (CTAs) to volunteer or donate. Current supporters like to see how their contributions are making a difference. Featuring success stories and volunteer highlights on your homepage will help them feel appreciated.
What are the KPIs for a successful site?
Goal setting is meaningless if you don't have a way to measure your success. When writing out your website goals, be sure to include key performance indicators (KPIs) for measuring your progress. For example, if your goal is to increase online donations by 30%, you'll need to be able to record donation amounts and compare growth.
A good nonprofit web design agency will be able to add Google Analytics to your website and help you set up conversion goals to track transactions such as form submissions or event registrations.
What features do we need for our new site?
The features you will require depend largely on your objectives for your website. For example, if fundraising is a top priority, integrated donation forms are a must-have feature. Organizations that frequently host events would benefit from event registration and ticketing capabilities. Other popular features for nonprofit websites include:
Live-site editing: Nonprofits are rarely experienced in coding so having a content management system (CMS) that allows you to make edits on the front end of your website is essential.
Intranet portal/private pages: Password-protected pages let you control who can see your content. This is great for organizations to share members-only content or sensitive information with their staff or board.
Member map: If your organization has more than one location or partner, an interactive member map can showcase your reach.
Online directories: Online directories are a great way for your organization to offer resources in the form of documents or links. Coupled with search filtering, site visitors will be able to quickly find what they need.
Web accessibility: Accessibility features are becoming increasingly important for nonprofit websites. Offering these features on your website will allow people with disabilities to easily navigate and understand your content.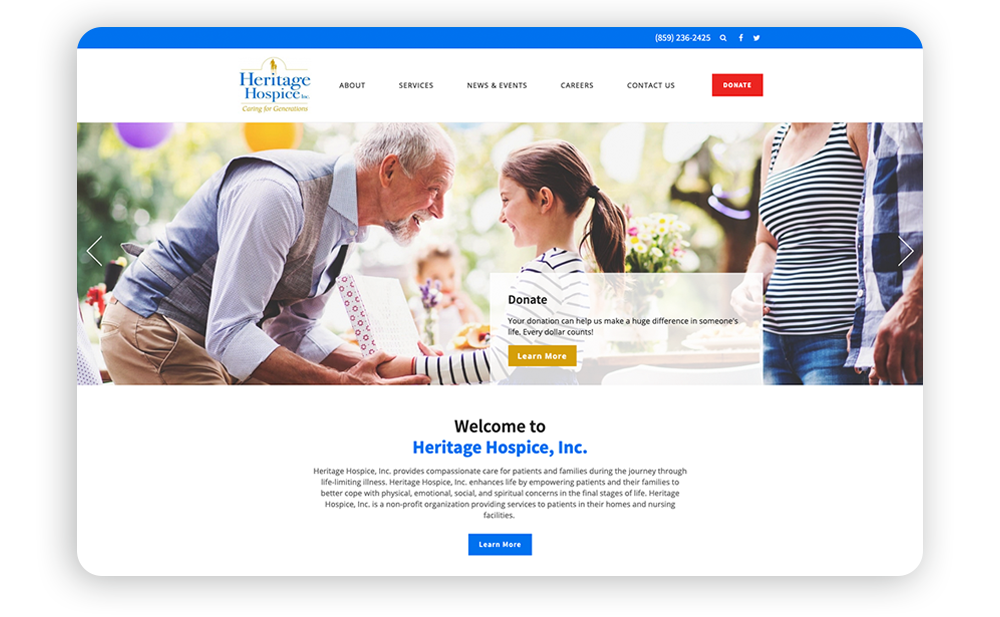 Nonprofit's goals are typically quite different from those of businesses. Choosing a web design agency that specializes in nonprofits will make it easier for them to understand your goals and create a website that will help you achieve them.
Morweb, for example, is a nonprofit web design agency that has its own CMS designed specifically for nonprofits. The Morweb platform comes with built-in website features for fundraising and growing your digital presence. Because it was designed for nonprofit use, the platform makes it easy for non-technical people like nonprofit staff and volunteers to make edits to their website's content and design.
---

3. Nail down a budget for your nonprofit web design agency
Your organization's budget will affect the complexity of your website. Having a number to give the agency will help them create an accurate proposal for the design and functionality of your site.
If you don't have a large budget to work with, you may need to narrow down your features to just the essentials and keep a list of "nice-to-haves" to add later down the road. Make sure that your chosen CMS is capable of all of your desired features so that you can grow your website in the future without having to switch platforms.
Another option is to make use of nonprofit website themes and customize them for your organization. Using a predesigned theme will cut down on the time it takes to design your website. Morweb has multiple pricing levels to fit just about any budget. With tons of nonprofit website features to choose from, you can easily add more later on as your organization grows.
Along with your budget comes deadlines which will also affect the cost of your website. If you have a tight deadline for your launch date, you may have a higher upfront cost. In this case, you may want to consider rolling out your website in phases. This will give you more time to write additional content or add more features without having to rush the design.
---

4. Create a list of nonprofit web design companies
Once you have a good idea of what you want from your website, it's time to start looking for nonprofit web design companies. Online research is a great place to start. You can check out Double the Donation's list of top nonprofit web design companies or DonorSearch's list of top nonprofit web design firms. Simple Google searches can go a long way.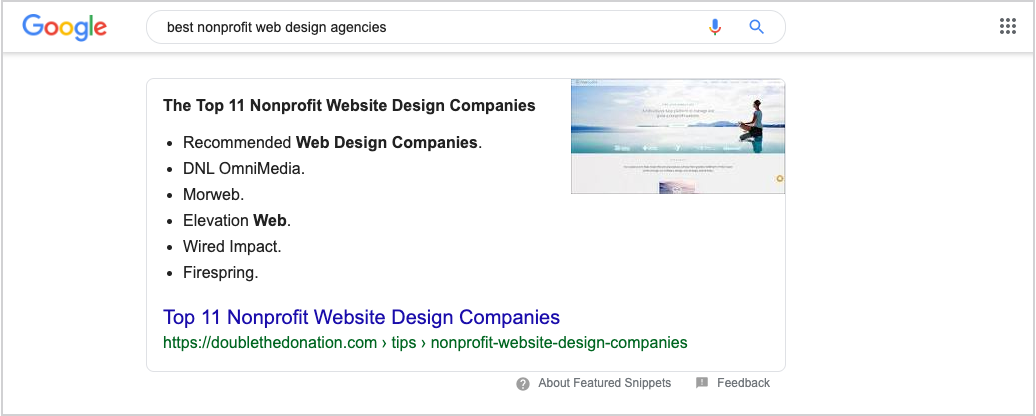 It's always good to get recommendations from peers and similar organizations to yours. If you know any nonprofits with great websites, ask them who designed it. Industry or associations can be valuable contacts to have.
You can also search up the best nonprofit websites and reach out to the organizations for a recommendation. Morweb's 10 best nonprofit websites have some great examples to learn from.
---

5. Send RFPs to your top nonprofit website design firms
Now that you've compiled a number of top web design companies, try to narrow your list down to your top three to five. Next, you'll need to send out a request for proposal (RFP) to these nonprofit website design firms.
What is an RFP?
An RFP is a document that describes your organization's project and asks for proposed solutions from qualified vendors. In this case, you'll be outlining your nonprofit's website project and asking web design agencies to propose a plan to fulfil your project needs.
How to write an RFP
The top nonprofit web design agencies may receive multiple RFPs per week so you'll want yours to stand out and get a prompt response. A phenomenal nonprofit RFP should include the following:
Organization overview
Project objectives
Project scope
Budget
Criteria for selection
Including your criteria for selection will let the design firm know what you are looking for in their proposal and what qualities you want from a nonprofit web design agency. This will help them tailor their proposal to your request and let you know if they would be a good fit for your nonprofit website project.
If your nonprofit is not experienced in writing an RFP, there are plenty of companies that specialize in writing RFPs who can do it for you. If you do choose to use the services of an RFP writer, make sure they are experienced in working with nonprofits.
---

6. Choose the best nonprofit website design agency for your project
The last step of the process is to select the nonprofit website design agency for your website project. Before making this important decision, you'll want to review the following factors:
Consider all your proposals
Compare your RFP with each agency's proposal to make sure they provided satisfactory answers to your top questions. Next, you should set up an interview with the best agencies. Whether those are in-person interviews or video calls, make sure your team gets the chance to view the project proposals and ask questions directly to the agencies.
Weigh the pros and cons
Once you have a full picture of each agency's nonprofit website proposal, you'll want to weigh the pros and cons of each of the web design agencies. Compare things like quality and price, as well as things like training, post-launch support and upkeep of your website.
Not all web design agencies offer support after the launch of your site. If your chosen agency doesn't offer these services, you may need to hire a web developer on a contract basis.
Morweb is one of the few nonprofit web design agencies that offer ongoing support for your website post-launch. The Morweb agency offers monthly plans that cover everything from website hosting, security, training, to live support. It is beneficial to have the agency that designed your site take care of the upkeep because they will already be familiar with the ins and outs of your website.
Make the decision
This comes back to your decision-makers for the project. If you are struggling to make a decision, creating a weighted scale for your selection criteria should help you narrow down the list to your final choice. It's helpful to have everyone on your team weigh-in but remember that the chosen decision-makers should make the final call.
---

7. Common issues when finding the right nonprofit website design firm
When selecting a web design firm, nonprofits can stumble onto common pitfalls. While making your final decision, be sure to avoid the following mistakes.
Prioritizing price over quality
Price vs. quality is a timeless struggle that everyone faces when making a purchase decision. Because nonprofits rely on funds from donors, they don't always have a large budget to work with. Unfortunately, it is very difficult to produce a high-quality website without the necessary funds.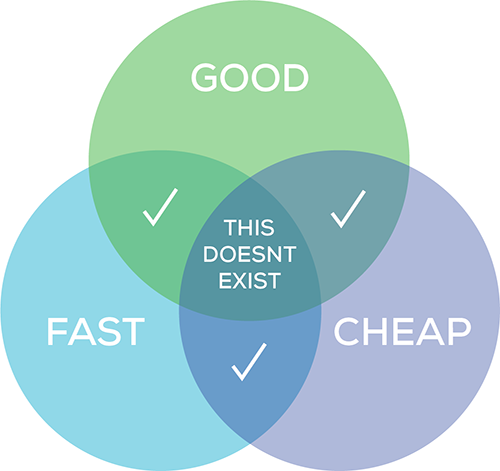 A low price tag might seem appealing at the time but if an agency's price is significantly lower than their competitors, there's likely a reason why. You don't want to be left with a nonprofit website that is lacking significant functionality, difficult to use, or not mobile-friendly. Having to redesign your website later on can be much more costly than paying a little more to get it right the first time.
When comparing nonprofit web design agencies don't simply go for what is cheapest. Look at their design portfolio and see what website features they offer to make sure they can deliver on quality as well.
Not establishing a key decision-maker from the start
Another common misstep that nonprofits make when selecting a web design agency is failing to assign key decision-makers from the start. Giving the entire team a say can muddy the decision-making process and make it difficult to select a winner. Make sure you assign roles from the beginning and decide who gets a final say so there is no confusion later on.
Choosing a designer who isn't web-centric
Having a great eye for design doesn't always translate to great website design. Web designers have to do more than creating something that looks good. They need to keep in mind the user experience and be able to design for multiple device sizes.
Some creative agencies are more suited for graphic design and illustration. When selecting an agency for your nonprofit website project, make sure they are experienced with websites, particularly nonprofit websites.
Not setting specific goals from the start
The last most common mistake that nonprofits make when selecting a web design agency is not setting goals for their website from the start. If you don't have clear objectives for your nonprofit website, the agency won't be able to design your website around that purpose.
Identifying your primary objective and any secondary objectives before starting your website project will help the agency structure your website to help you achieve those goals.
---
The Gist
Choosing the right nonprofit web design agency will determine the overall success of your website. Assigning key decision-makers, doing your research beforehand, and determining goals for your website will help the selection process go a lot smoother. Once you have a clear picture of what you want from your nonprofit website, it will be easier to narrow down your choices of web design agencies to meet your selection criteria.
Are we the right nonprofit website design firm for your organization? Let's find out. Contact us for a free demo.