How to Use Your Website to Build Strong Donor Relationships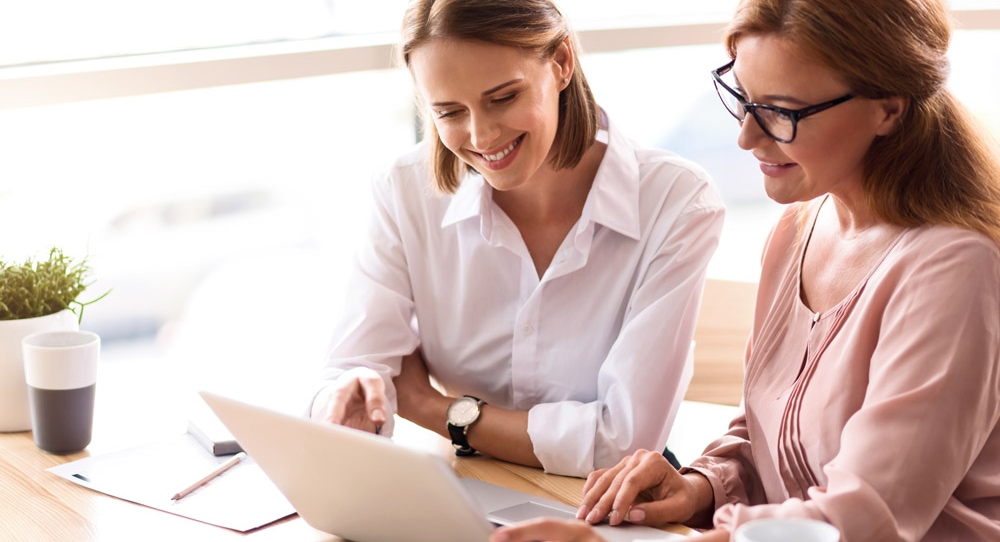 Fundraising is all about relationships with donors. Growing those relationships takes time, effort, and tools. Your nonprofit website can be a key tool in helping meet new donors and communicate with current ones.
If you're strategic, you can use your website to build strong connections with supporters and prospects through all four stages of the donor relationship.
Let's look at each of the stages of donor relationships and how you can use your website in each one.
---
Stage 1: Introduction
Every donor relationship starts with an introduction. Whether someone introduces you or you introduce yourself, you have to meet someone first before you can get to know them.
Since your website is often a first stop for people who want to know more about your nonprofit, you need to roll out the virtual welcome mat.
In this stage of the relationship, your goal is to make new friends for your nonprofit. Your message is simple: identify the problem, connect emotionally with your reader, and offer them a simple call to action.
Make sure your website is easy to navigate, answers any common questions people have about your mission, and leaves visitors with a great first impression.
In this stage, people just want the gist of who you are and what you do so they can decide if they like you and want more or if they're ready to bounce to another page. Give them a quick, punchy message on the homepage that gives them what they're looking for.
For example, Covenant House Georgia has a fabulous donor-friendly website, and they make it clear immediately what they're about: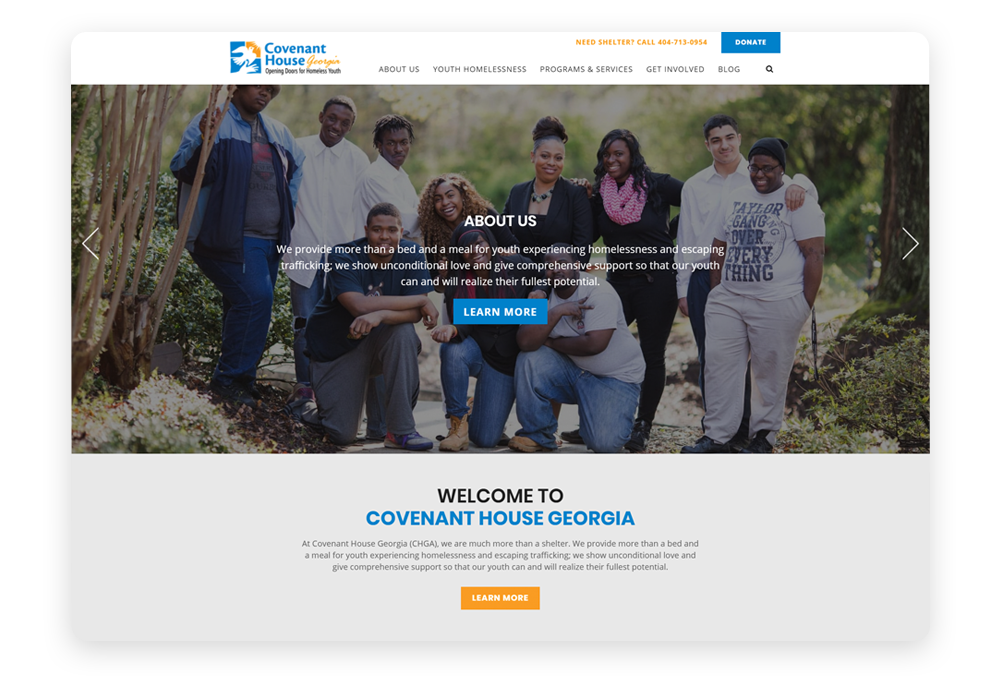 ---
Stage 2: Discovery
In this stage, the relationship starts to grow, and the focus is on educating and engaging your new friends.
That DOES NOT mean tell them every last detail about your nonprofit. Instead, tell them just enough so they understand what your nonprofit does, how you're making a difference, and why it matters. Be very careful not to overshare. It's so tempting to want to tell people EVERYTHING about your nonprofit, especially if you're trying to be transparent.
Leave out all the jargon, acronyms, and industry slang since that will alienate your reader instead of endearing them to you. Rather, put yourself in the donor's shoes – do you want to try to absorb a ton of information all at once? It's like trying to get a drink of water from a fire hose (probably not going to work out too well).
Make sure your website shares the right info and just enough of it so people can learn what THEY are interested in, not what you want them to know.
Offer an opt-in for regular updates about your work. Essentially, ask them to sign up for your donor newsletter but don't say that. No one wants another newsletter. But they might want an inside look at how you're fighting hunger in your community.
For example, Greenbelt offers "Get our updates by email!" in a pop up: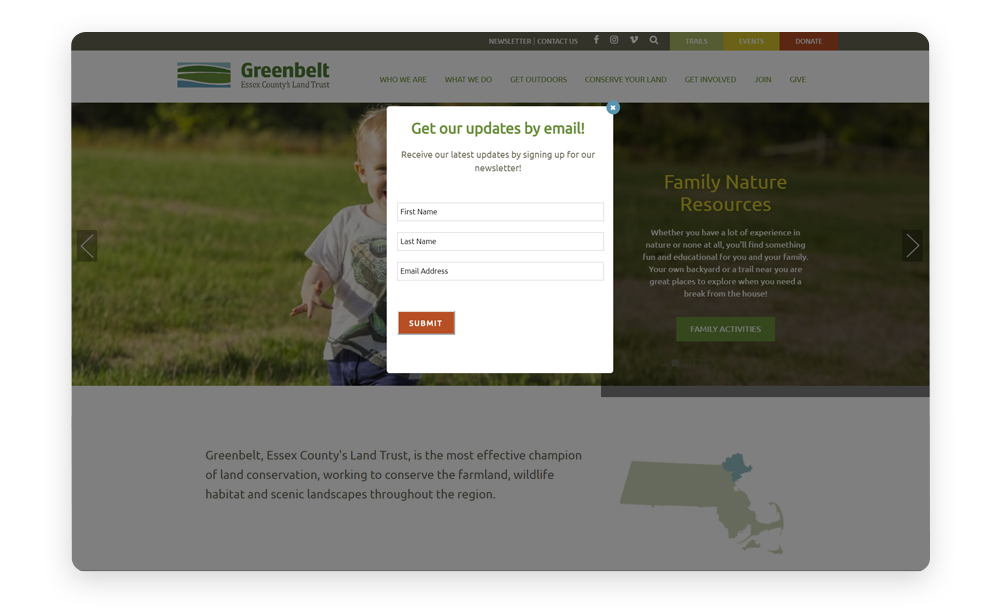 Set up an automated email sequence in your email platform so you can drip some key info out to your new friends in the days or weeks after they sign up. You can bring them up to speed slowly with stories and video that will have people leaning in to get a better look.
In this stage, you need to build trust for the relationship to grow, so be transparent on your website by sharing your latest financial reports, a list of your Board and staff, and your last annual report.
---
Stage 3: Decision
After you've educated and engaged folks, it's time to ask them to take the next step in the donor relationship and get involved. Yep, it's time to ask for money.
If you've done a good job in the first two stages, this one is easy.
Your focus in this stage is to ask the donor to do ONE THING to get more involved. When asking for money, ask them to give something meaningful, not "Give to our annual fund." Donors don't know what an annual fund is.
At this stage, donors want to know that their money will make a difference, so share what $1 will do. Notice how the Bronx Charter School for Children gives several options for donations and what each amount will provide. That Core Number helps people envision how their donation might be used.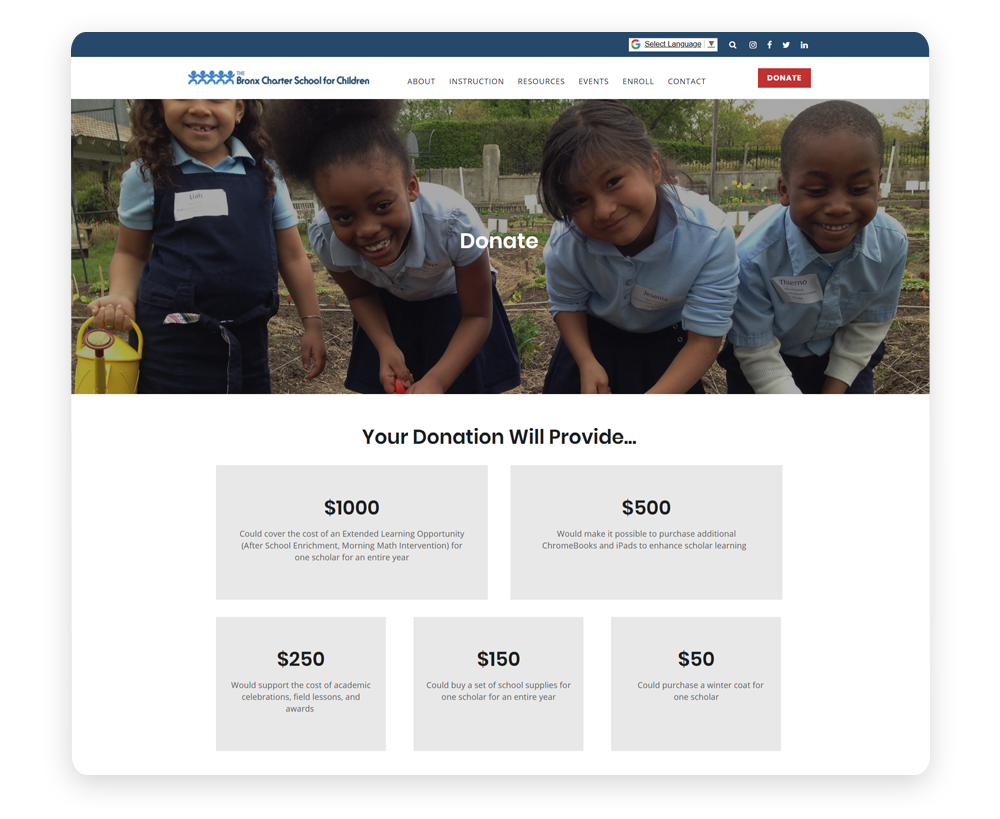 Donating on your website should be easy. Visitors should be able to give in just one or two clicks without getting lost, without creating an account, and without being forced to use a specific payment option (like PayPal only).
---
Stage 4: Stewardship
Many nonprofits think that once they get the donation, they're done.
Nope. Nuh-uh. Not even close.
In this stage, your job is to steward the donor and make them feel really good about giving. What you do after the gift will largely determine if there will be another gift.
Your focus here is to thank the donor and do it WELL. No boring thank you letters. No generic "Dear friend." You need a rich, juicy thank you that sets their heart on fire.
So, use a 'Thank You' page on your website. Immediately after entering their information and clicking "submit" (or whatever your button says), take donors to a warm, personable thank you page that tells the donor what will happen next ("you'll find a receipt in your inbox…"). Maui United Way does a great job of thanking donors with their website: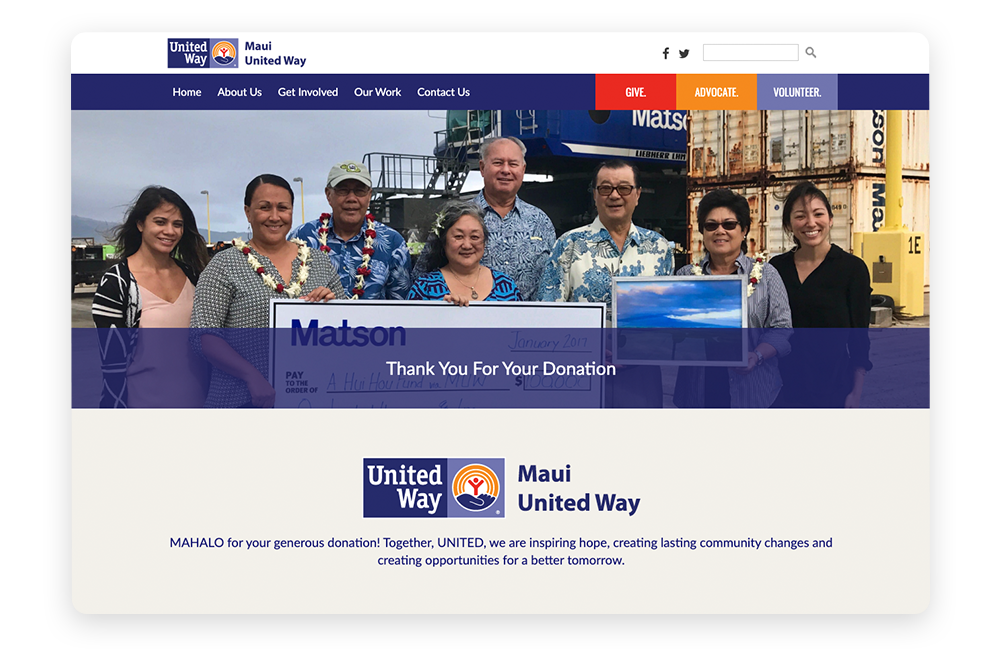 If you have a blog and have some good updates, point the donor there after they give so they can read a feel-good story right away. Follow that up with more feel-good content in your email newsletter to keep people in the loop.
At this stage, what donors want is to know they made a good decision to give, so make them the hero! Use language like "you made this possible" and "we couldn't have done this without you."
Donors are more than just an ATM or a checkbook. They have wants and needs, and the better job you do of understanding them, the more they'll support you and the more successful your nonprofit will be.
What donors want is to:
Feel appreciated
Know their donation made a difference
Receive communications that feel personal even if they're going to your whole list
Get info in short, easy-to-read formats like infographics, photos, and videos
See transparency in how you handle money
Have a choice in how often they're asked, how they're asked, and what their money is used for
Read and watch stories and updates that make them smile
Get creative and find ways to use your website and all your tools to give your donors what they want and you'll ultimately get more of what YOU want.
---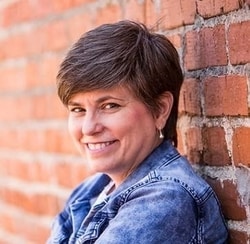 Sandy Rees is the Founder and Chief Encouragement Officer at Get Fully Funded. She shows leaders of small nonprofits how to fully fund their dream so they can make the difference they want to make in the world. She has helped dozens of small nonprofits go from "nickel-and-dime fundraising" to adding 6 figures to their bottom line. As a trainer, she shows her students how to find ideal donors, connect through authentic messaging, and build relationships that stand the test of time, so that fundraising becomes easy and predictable. Find out more at www.GetFullyFunded.com.