7 Best Practices for Designing a Humane Society Website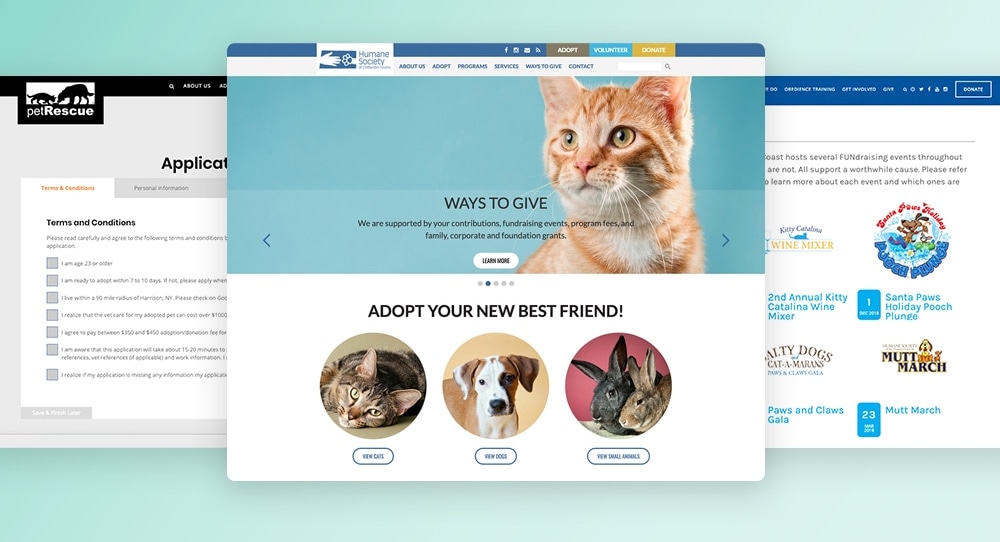 Humane societies rely on the generosity of donors and volunteers to help fund operations and care for animals until they can be adopted. A humane society's website is their most important marketing tool because it is often the first place people will look to adopt a pet, inquire about volunteer or foster opportunities, register for upcoming events or donate to their cause.
Humane societies require specific functionality from their content management system (CMS) to support these interactions on their website.
Through our extensive experience working with animal welfare organizations across North America, Morweb has devised the following best practices for designing an industry-leading humane society website:
If you are a humane society that is just starting out or you are a mature organization looking to redesign your site, read on to discover the best design practices for a humane society website.
---

1. Best humane society Best practice: Instill a powerful visual identity
Your visual identity encompasses everything from your branding, your cause, and the people that make up your organization. Humane societies understand that having an animal-centric website design is essential for connecting their cause with current and potential supporters.
A powerful visual identity will not only create a connection with your audience but also incite them to take action whether that's donating to your cause, volunteering, fostering, signing up for your newsletter or following your social media accounts.
When a new user goes to a humane society website, the first thing they expect to see is the adoptable animals. A great way to capture their attention on the homepage is through image banners. Rotating image sliders can be used to show adoptable animals, happy volunteers, the facility, and any featured promotions or upcoming events. You can further encourage action by linking these images to the corresponding pages on your site such as your donation form, volunteer sign-up or events page.
Best designed humane society websites will include strategic call-to-actions (CTAs) throughout their website inviting visitors to take a particular action. CTAs can take the form of headlines, buttons or featured images. One of the most important CTAs for humane society websites is the call to donate.
The donation page should be apparent and accessible from every web page across the entire website. The best way to ensure it is always accessible is to include a 'Donate' button in your main navigation menu.
Morweb's nonprofit CMS offers built-in functionality to effectively communicate your visual identity. We have strategically designed website themes specifically for animal-related causes.
Not only do these themes make it easy to incorporate your organization's logo and brand colors but they also include visual elements like image sliders and bright CTA buttons. Each nonprofit website theme comes with featured CTAs in the navigation menu and easily editable banner images.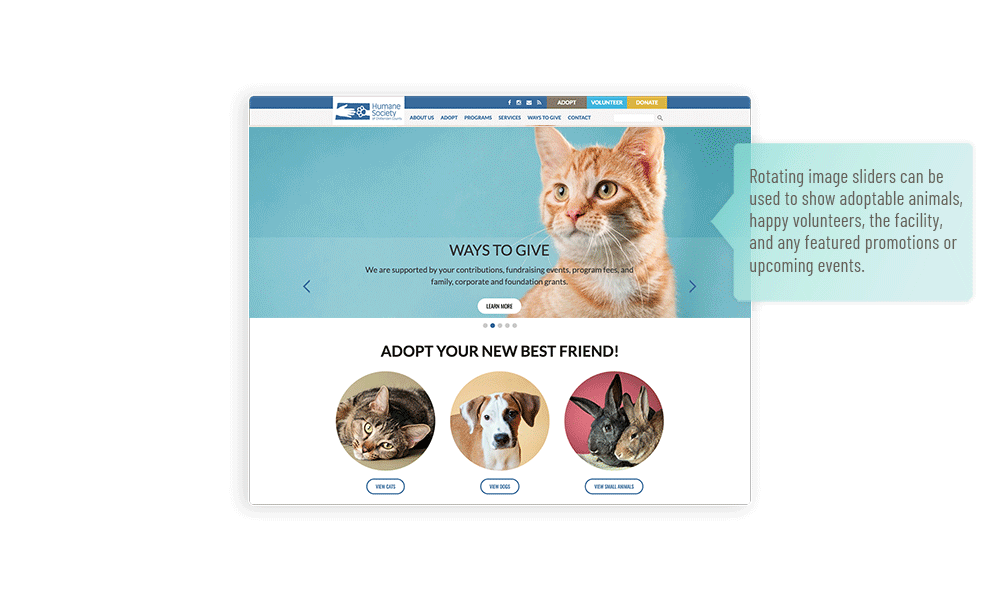 ---

2. Best humane society best practice: Display pet listings
When it comes to humane society web design, the animal listings page must be a top priority. A recent Bestfriends.org study found that the ability to search a database of pets for adoption and the ease of which users can find information is important for improving animal adoption rates.
Adoptable animals must be featured in a way that is intuitive, visually appealing, and informative to maximize their chances of finding a forever home. Powerful search and filtering is key to helping adopters find the information they need, quickly.
Best designed humane society websites will offer filtering options to search for pets by specific criteria. Some will also include icons in the pet bios to indicate whether an animal is compatible with cats, dogs, or children which can be a deciding factor for many families.
As a leader in humane society web design, Morweb's website platform offers an animal listings module with advanced search and filtering. Potential adopters can search through animal listings by custom criteria and click to view a full description of the animal. We also offer custom icon design which can be used in pet bios or featured on the homepage.
For humane societies who rely on Petfinder for their animal listings, Morweb offers API integration. Petfinder is an online database of homeless pets and pet adoption organizations. Potential adopters can search through their database, filtering by location and animal species to find their next pet pal.
Morweb's API integration allows humane societies to pull pet bios from their Petfinder account to feature on their website's animal listings page. For organization admins, this means only having to update information once because any changes made through Petfinder will automatically reflect on their website.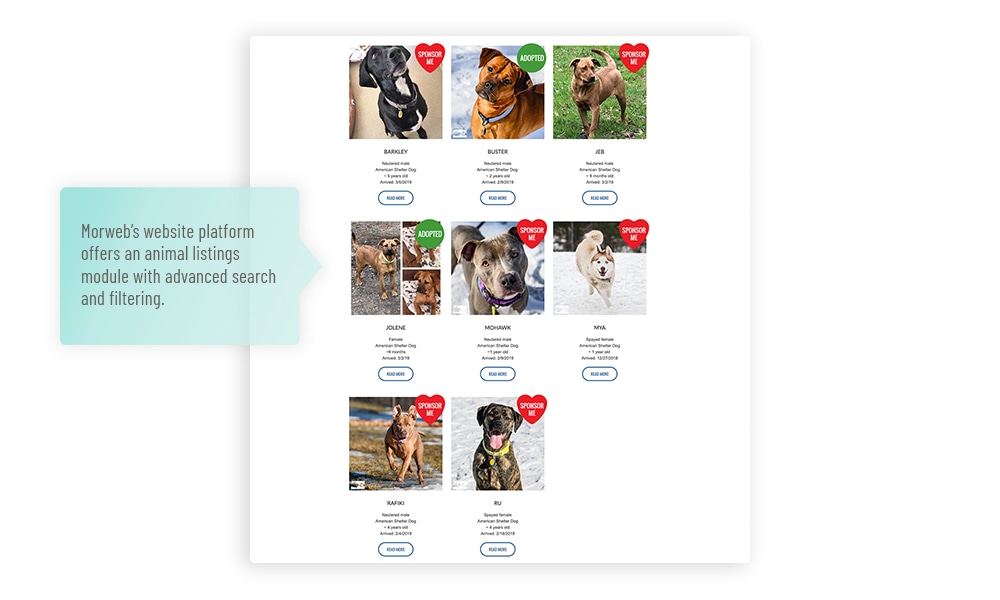 ---

3. Best humane society best practice: Streamline pet adoption applications
Among the top barriers to adoption for animal shelters and rescues is the amount of paperwork that leads to a lengthy adoption process.
Streamlining the adoption process through your website will help remove these barriers and get more animals into happy homes.
Morweb helps make the online application process as painless as possible with built-in forms. Instead of being redirected to a third-party site or having to print and scan pages, potential adopters can jump right to the adoption application once they have selected a pet. Adopters can fill out the form directly on the humane society's website and upload any supporting documents.
By housing all of the application paperwork online in a secure platform, humane societies are able to review applications faster thereby expediting the adoption process and getting animals into their forever homes faster.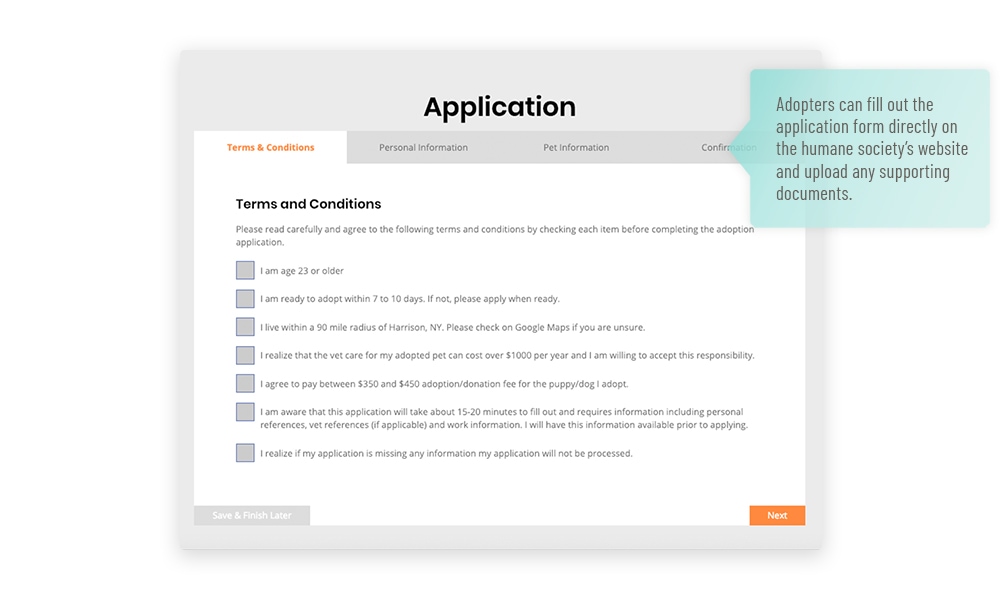 ---

4. Best humane society best practice: Offer volunteer and foster registration
Volunteers and fosters provide essential support for humane societies by caring for animals until they are adopted. Often the first place people will look to learn about opportunities for support is the organization's website.
Top humane societies know how to make use of their website as a volunteer recruitment tool. By offering online registration forms, supporters can sign-up through their website making the registration process as painless as possible.
Morweb forms were designed for maximum flexibility and customization. By having the forms built-in to the website platform, visitors can easily submit their information online without being directed to a third-party website. Morweb forms also support document uploads so potential volunteers and fosters can submit documents such as references along with their application.
By managing all documents through their website, humane societies can review applications faster and keep more accurate records of their volunteers. Website administrators can export volunteer information as a CSV at any time making reporting a breeze.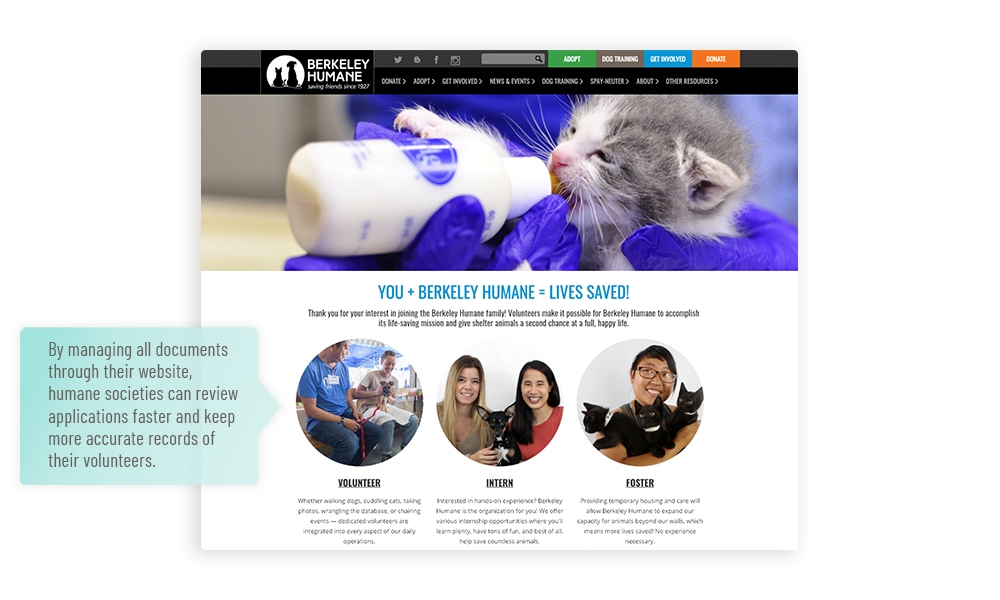 ---

5. Best humane society best practice: Add an online donation form
As with many nonprofits, online donations are often a top priority for humane societies. Donations are required to help locate and bring in homeless animals, feed and care for animals, and keep facilities in operation.
In order to maximize contributions, the online donation process must be as smooth and simple as possible.
Research has shown that self-hosted donation pages bring in more donations than those hosted on a third-party site. Accepting donations directly on your website helps maintain trust and gives the donor an overall better user experience. When users are directed away from your website to a third-party donation page, they may become confused and abandon their donation entirely. By keeping donors on your website, they are not only more likely to complete a transaction, but they are also more likely to consume more of your content.
Best designed humane society websites offer multiple options for giving such as animal sponsorships, monthly recurring, or one-time donations. Animal sponsorships should be offered in the pet bio, allowing donors to see who their contributions will be benefiting.
Morweb offers integrations with various payment processors to accept on-page donations. Our online donation forms support multiple ways to give including pet sponsorships, monthly recurring gifts or one-off donations. Each nonprofit website theme comes with call-to-action buttons like 'Donate' and 'Volunteer' that are highlighted in the navigation menu for maximum visibility. Homepage image sliders and featured donation callouts can be used to further call attention to your donation page.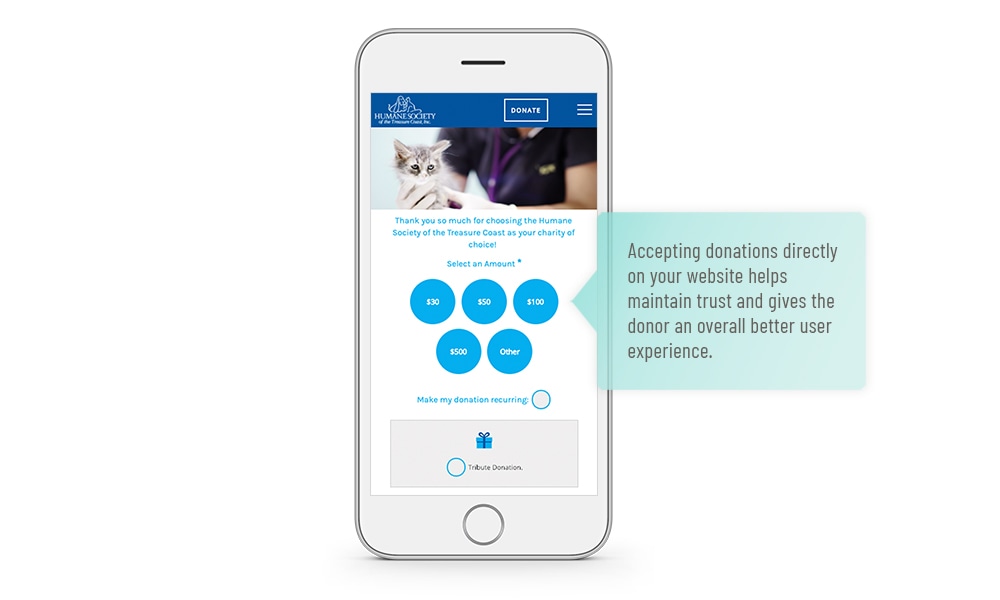 ---

6. Best humane society best practice: Feature upcoming events
Events are a great way to get the community involved in your organization's cause. Particularly for humane societies which are typically locally based, events are important for fundraising and community engagement. Many nonprofits rely on third-party sites such as Eventbrite to manage event registrations.
However, much like your donation page, accepting payment directly through your website helps maintain trust with your users and increases the chance of a completed transaction.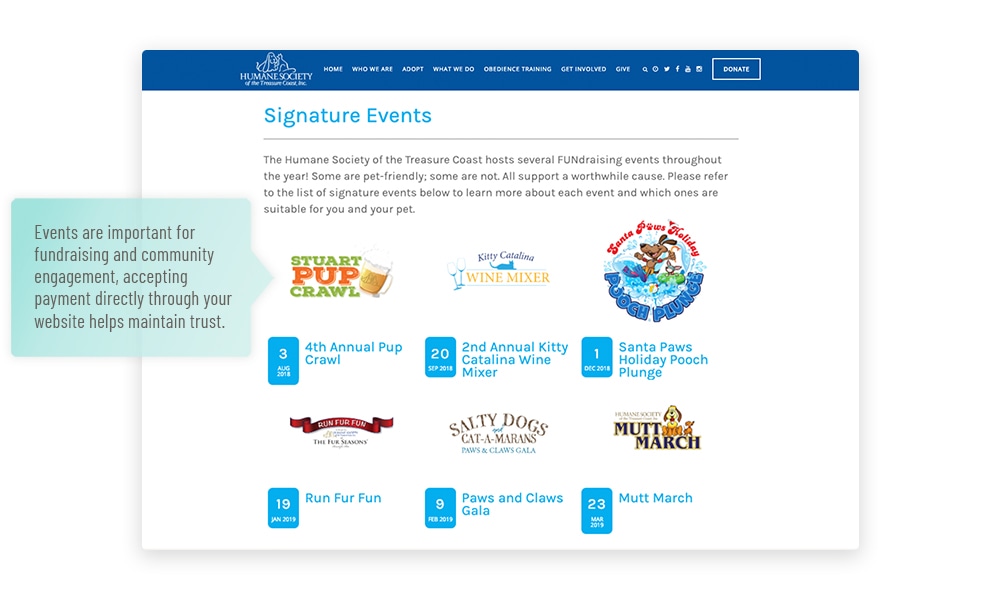 ---

7. Best humane society best practice: Integrate with social media
29% of donors say social media is the communication tool that most inspires giving. Social media is so powerful because it allows organizations to connect organically with their audience and rally more support for their cause.
Humane societies will often use social media to post photos of adoptable animals, share happy adoption stories or to appeal to the community for donations or help with their initiatives. There is a strong sense of pride associated with adopting a pet from an animal shelter which is reflected in popular hashtags like #adoptdontshop #rescueog and #adoptapet.
Most humane societies will include links to their social media accounts on their website. However, best designed humane society websites take it a step further by showing live feeds from Facebook, Instagram, or Twitter on their homepage. Live feeds help drive more traffic to your social media accounts and encourage engagement by increasing the visibility of your posts.
For humane societies who want to accept registrations or sell event tickets directly through their website, Morweb offers an events management module. This feature allows organizations to manage all aspects of event ticketing such as price, coupons, capacity and more. Event listings are generated on the events page by date allowing visitors to click to see more details or to register. Additionally, upcoming events can be featured on the homepage to further encourage participation.
Social media integration is offered as a standard feature with the Morweb platform. Organizations have the flexibility to add follow and share buttons or embed live social media feeds on their website.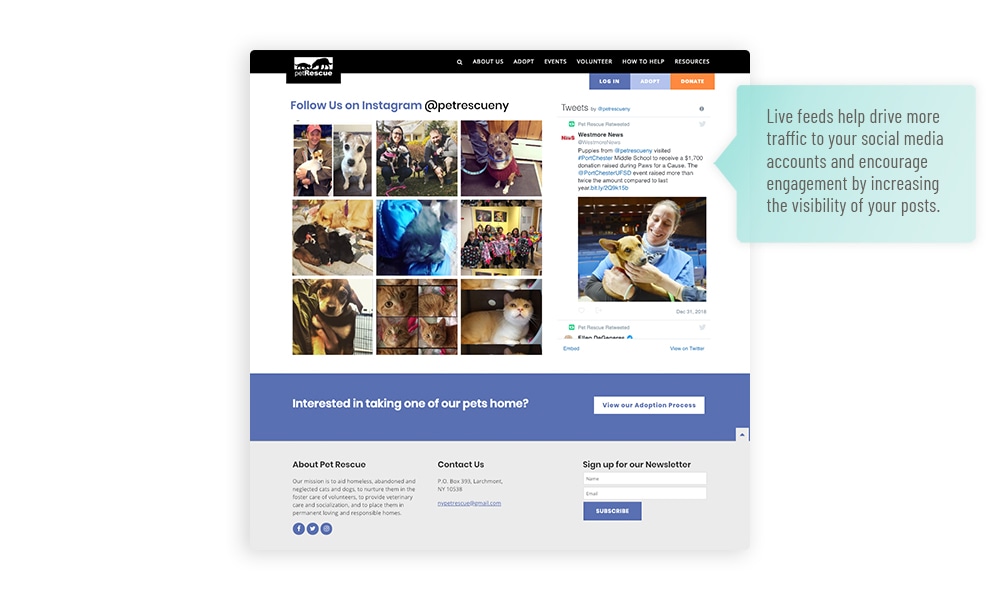 ---
Looking for some web design inspiration? Browse through these top humane society websites and see how you can apply the same best practices to your site.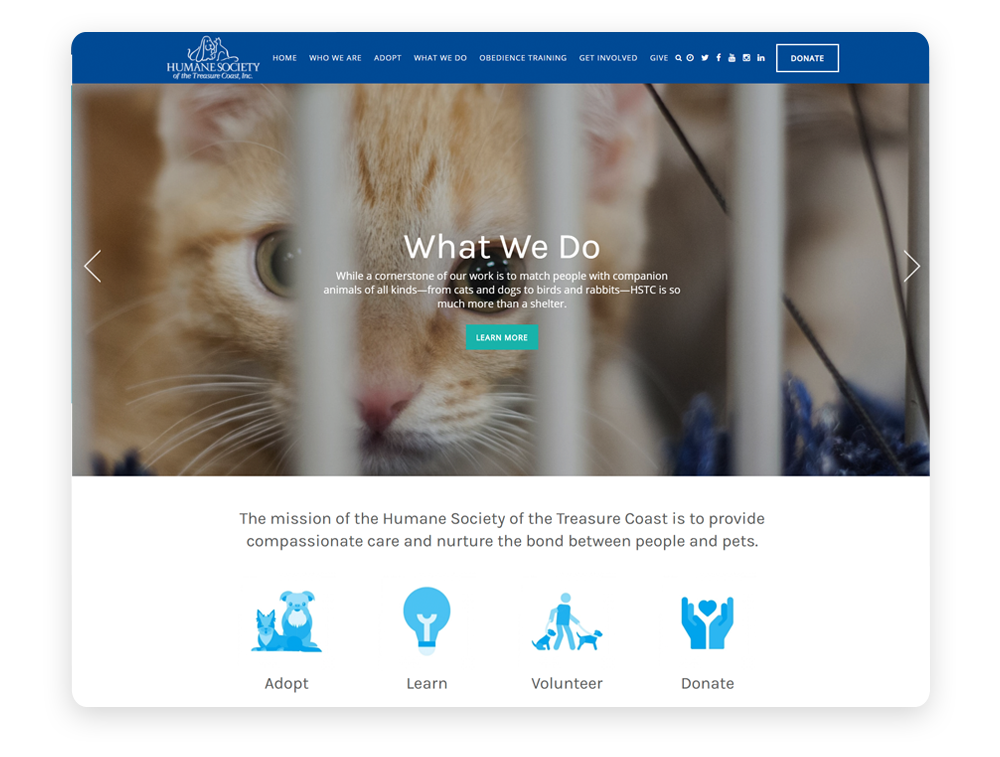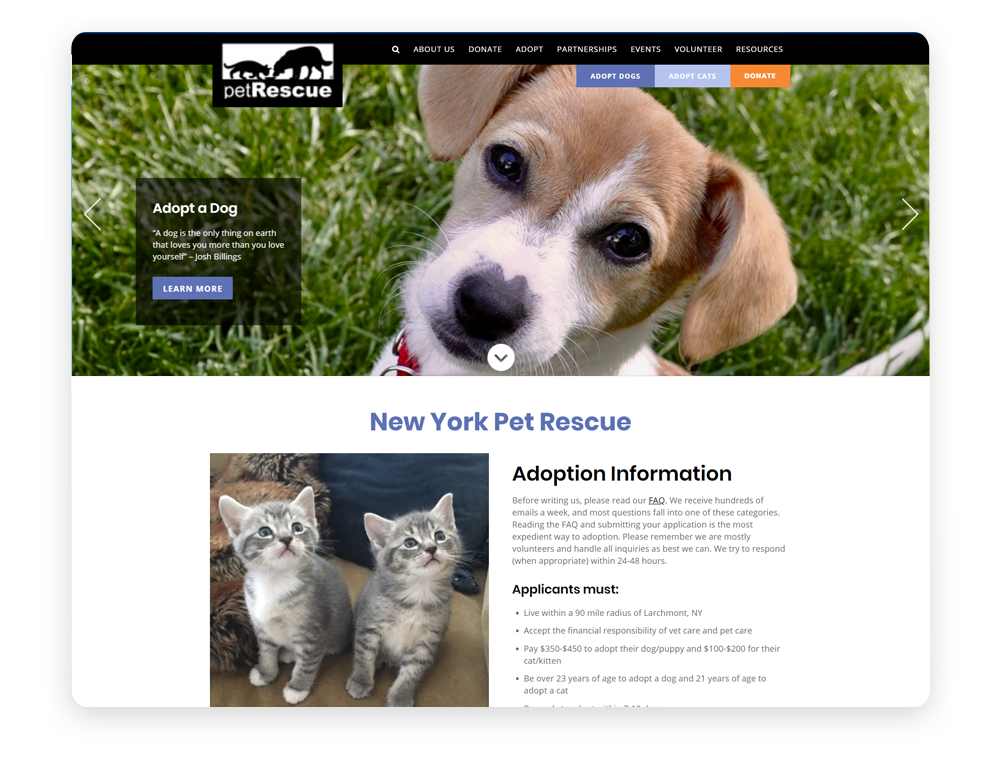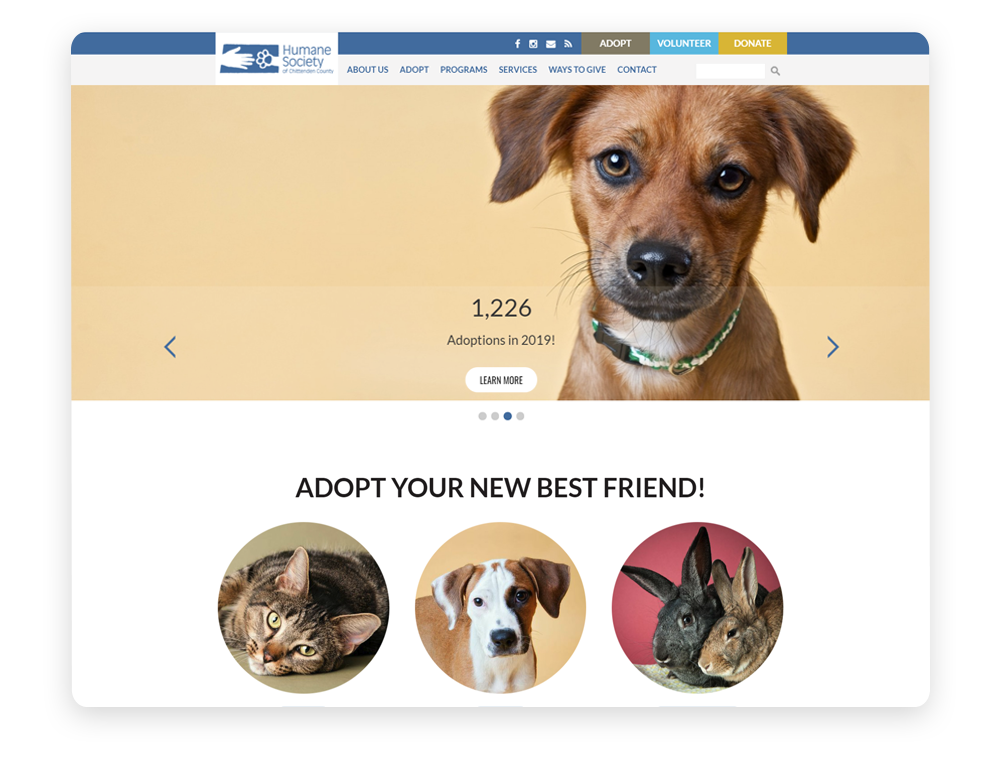 ---
The Gist
Your humane society's website is one of your most important marketing tools because it is often a primary method for communicating with your supporters and the broader community.
Best designed humane society websites incite visitors to want to take action (whether that's adopting, fostering, volunteering or donating), and make taking that action as simple as possible. Choosing a CMS platform with built-in functionality allows visitors to complete all of these actions through your website without being redirected to a third party platform.