Morweb Makeover Winner: The Voices Project Launches New Website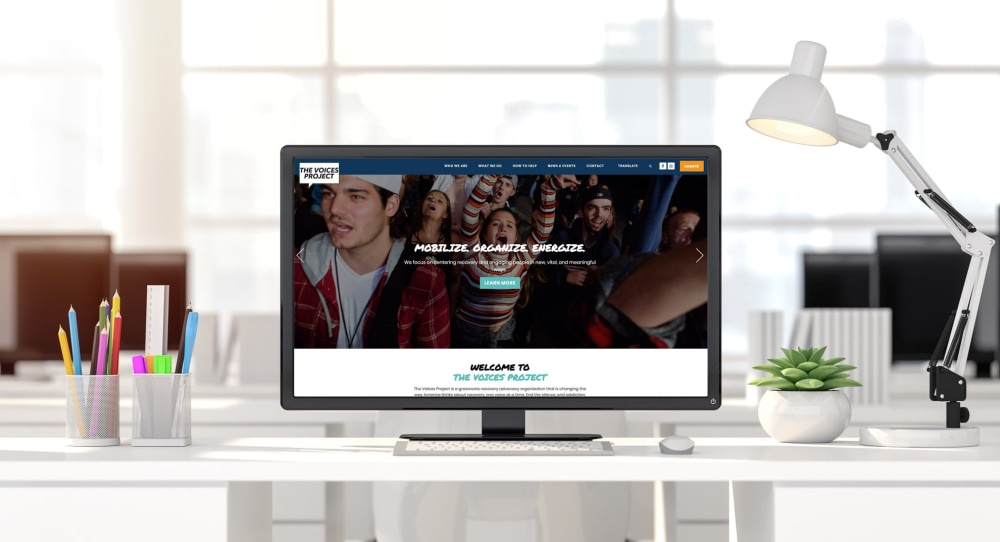 The Voices Project, winner of the Morweb Makeover - Nonprofit Website Giveaway launched its stunning new website February 3, 2020; voicesriseup.org. The organization was selected as the 2019 winner of Morweb's giveaway to receive a new website design, built-in nonprofit functionality, content strategy, one-on-one training and support, and six months free on Morweb's pricing plan.
The Voices Project is a grassroots recovery advocacy organization dedicated to raising up the voices of people whose lives are affected by addiction. The organization focuses on recovery and engaging people through outreach and voter registration. By living their recovery openly, sharing their stories and inciting policy change, The Voices Project is working to break the stigma of addiction and encourage people to seek recovery. Together, they are changing the way America thinks about recovery, one voice at a time.
The Morweb team developed a website for the Voices Project that will help us increase reach, impact and donations.
The organization entered Morweb's nonprofit website giveaway 'The Morweb Makeover' during their search for a better nonprofit website solution to manage and grow their web presence. The Voices Project was chosen by Morweb.org, earning a prize of $10,000 towards a Morweb Makeover for its website based on the organization's community impact, meaningful cause and need for a more robust nonprofit website. Previous winners of the Morweb Makeover giveaway include Berkeley Humane, an animal shelter based out of California and The United Way of the Bay Area. The nonprofit web design agency and CMS solution turned out a new website in just two months.
The Voices Project's website was completely redesigned and content revamped before being transferred to the Morweb platform. The nonprofit worked closely with Morweb.org's team to help bring their website vision to life. The web design process involved an in-depth content strategy, design mockup, and feature selection.
The Voices Project's founders are thrilled with the end result and excited to see how their new website will help them further their vision and mission:
"Receiving a grant to have a professional website created by Morweb for our nonprofit, the Voices Project, is extremely beneficial to our organization as it allows us to connect more easily with the public and share a message of hope and recovery. Thank you Morweb for helping us have a greater impact."
-Garrett Hade, Founder, The Voices Project
"The Morweb team developed a website for the Voices Project that will help us increase reach, impact and donations. We're incredibly grateful for their unmatched creativity and support."
-Ryan Hampton, Founder, The Voices Project
The Voices Project's new website combined Morweb's expertise of nonprofit web design with the organization's vision for communicating their message of hope and recovery. The end result is a visually engaging design backed by powerful functionality that a nonprofit needs to collect donations and grow their online presence.
---
The Design
The Voices Project's new web design is more mobile-friendly and interactive than their previous website. The website design was built from one of Morweb's nonprofit website themes and customized to the organization's branding with a few special touches from the web development team.
The Voices Project's homepage draws in visitors with an engaging image slider and interactive quick links to their most important pages. As you scroll further down, a live counter highlights the immensity of the addictions crisis and the organization's impact in improving recovery outcomes. Featured posts link to the organization's blog and a Facebook live feed encourages site visitors to follow them on social media. Donation call-to-action banners are sprinkled throughout the site design linking supporters to the online donation page.
Subtle animations are incorporated into the website design. Mouseover animations, hover effects, live counters, image zooms and parallax scrolling effects can be found throughout.
---
The Functionality
The organization switched their website from Firespring to Morweb.org for increased design flexibility and nonprofit functionality. Winning the Morweb Makeover gave the Voices Project the opportunity to upgrade their nonprofit website at no cost. Choosing from Morweb's popular nonprofit website features, the organization was able to strengthen the functionality of its website and offer supporters a better user experience while supporting their cause online. The Voices Project chose to take advantage of Morweb's fundraising module, blog engine, events module and social media integration.
Donation Form
Switching from Firespring's online fundraising tools to Morweb's fundraising module was pretty straightforward. Morweb's partnership with Stripe made the set-up a seamless process. Morweb's donation page template was customized to match the Voices Project's brand. The organization selected the suggested donation amounts for their donation form and chose to add recurring donations and donation dedications.
Their choice to use an on-site donation form is key to encouraging online donations. Donors generally prefer built-in donation forms because they can feel more assured that their donation is going to the right place. Externally hosted donation pages don't share the same website URL and may not have the same website branding elements which may leave potential donors feeling wary of entering their payment information. With Morweb's Stripe integration, donors can easily enter their information on the nonprofit's website and the payment will automatically be passed to the payment provider for secure processing.
Blogging
The Voices Project is very active online. They frequently post news and updates related to their organization and heartfelt stories of recovery. Morweb's blog engine was an essential feature to help them continue to grow their online presence. The blogging feature allows the nonprofit to easily post new content and add an engaging header image, categorize their posts, schedule posts, edit SEO options and even see previous draft versions of posts. The Morweb platform allows nonprofits to make edits on the front end of their website. With the blog editor, updating or adding new content is simple and previews allow you to see how your post will look before publishing it.
Events
Hosting events is a core part of the Voices Project's advocacy and community outreach initiatives. Naturally, Morweb's events module was a great fit for their website. The organization can easily add new events, manage registrations, sell tickets, add coupons, and schedule start and end dates. Their upcoming events automatically populate on their events page and allow users to click on each event to learn more and register to attend. Previously, their events were processed through Firespring's event registration feature and now they are integrated with their Stripe account through Morweb. Just like on-site donation forms encourage more donations, on-site event pages can incite more registrations as it is easier to sign up and more trusted for payment processing.
Social Media
The Voices Project got its start on Facebook. Their group amassed thousands of followers which led them to move to a website as their primary source of information. The organization is still heavily active on Facebook and Instagram so social media integration was a top priority for their new website. The Voices Project's website features Facebook and Instagram live feeds and links to their accounts in their navigation menu. Morweb's social media integration also makes it easy for site visitors to share website content such as blogs or events to their personal feeds encouraging their networks to get involved as well.
---
The Launch
The Voices Project launched its new Morweb website in February of 2020. Since then, monthly site visitors have grown 2.6X and online donations have steadily increased. Their new website is a great improvement in terms of design and comes with more powerful nonprofit features for spreading their vision online. Go to voicesriseup.org to see the organization's new website and learn more about their incredible cause.
---
About Morweb
Morweb.org is a turnkey, website design and software as a service (SaaS) solution for leading nonprofits and associations. Since 2014, Morweb.org has helped over 1,500 organizations communicate their vision effectively with tailored mobile-friendly website design and CMS software that makes website updates easy for non-technical users. It comes with powerful functionality to manage an online presence, without the need for multiple systems or IT support. The result is a great user experience that drives donations, volunteering, event participation, and other online conversions.