Case Study:

Alverno College
-
Empowering Education: The Revitalization of Alverno College's Online Presence
Morweb was chosen by Alverno College to rejuvenate their online presence and amplify their brand. The objective was multifaceted: not only to position Alverno as a forward-thinking institution that equips students for real-world challenges but also to emphasize its affordability and accessibility.
Our collaboration embarked on a comprehensive discovery phase, delving deep into the college's values and goals. We followed with a meticulous site architecture analysis, ensuring an intuitive user experience. Our custom web design ensured a fresh, contemporary look, complemented by mobile-responsive development tailored to the institution's unique needs.
Specialized modules, including a program search tool, an intranet portal, an expansive online resource library, and a dynamic mega menu, were integrated. Moreover, with a faculty exceeding 100 members, we prioritized creating a platform that facilitated effortless content updates, allowing the staff to maintain the site's vibrancy and relevance.
Schools & Higher Education
Services
User research with in-person stakeholder interviews
Site Architecture & Navigation
Website Design & Development
Content Re-imagination
Modules
Faculty Directory
File Resources Library
Intranet Module with LDAP Integration
Event Calendar
Program Listing Module
Blogging & News
A Redefined Digital Experience
Before the redesign, Alverno's website struggled with complex navigation, an inconsistent user experience, outdated design, and unclear call-to-actions.
Six months after the revamp, Alverno saw a remarkable threefold increase in admissions inquiries. This surge was attributed to the custom mega menu and the approachable website design, which made content scanning and consumption a breeze. The refreshed, conversational tone of the content, coupled with three distinct call-to-action options, provided visitors with multiple pathways to engage and inquire further, improving Alverno's conversion efficiency.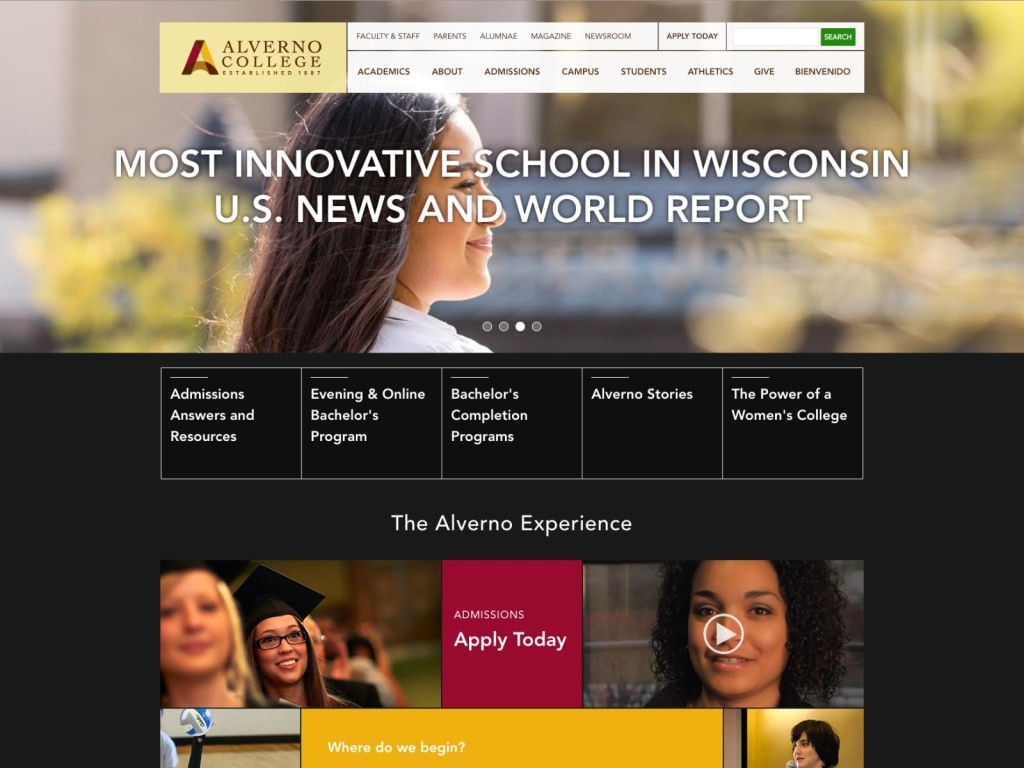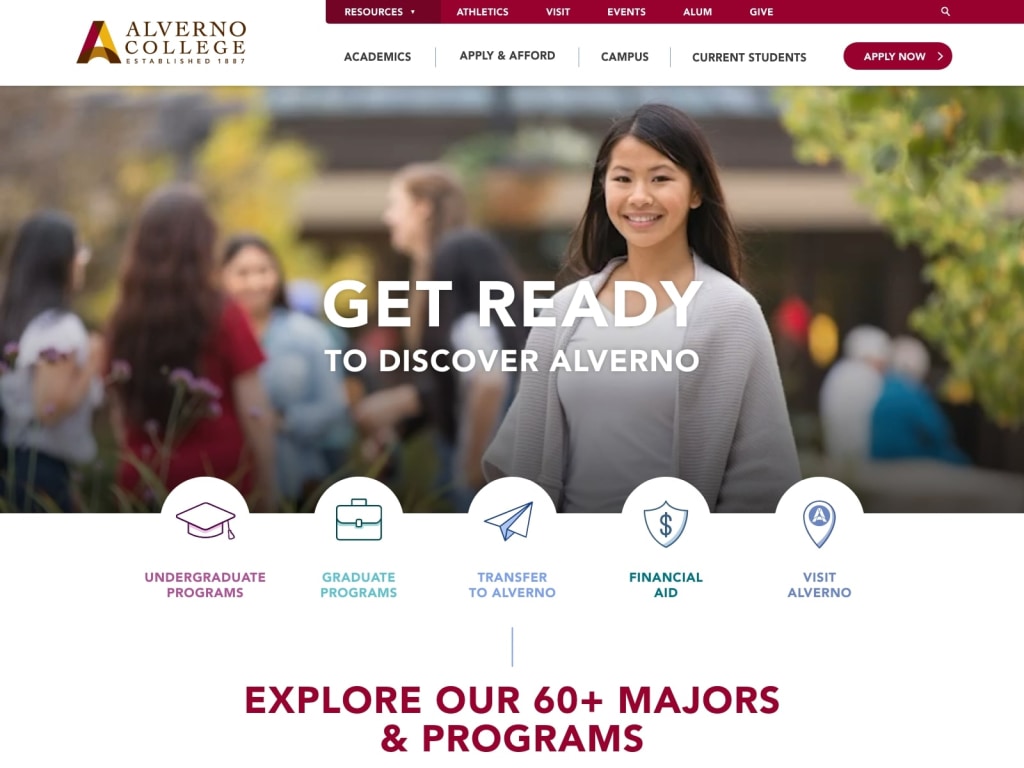 Site Architecture & Style Guide
Site architecture is the way you organize and structure your website pages. It affects how users and search engines can navigate and understand your website. A good site architecture should be logical, intuitive, and user-friendly. It should also help your website rank well on search engines by making it easy for crawlers to index and access your content.
Landing pages for college are web pages that are created to attract and convert prospective students who are interested in a specific major, program, or degree offered by the college. They are designed to provide relevant and compelling information about the college and its benefits, and to persuade the visitors to take a desired action, such as requesting more information, applying online, or scheduling a visit. Landing pages for college are different from the main website of the college because they have a single focus or purpose, and they usually have fewer links or distractions that might take the visitor away from the main offer.
Designed exclusively for authorized faculty, Alverno's intranet serves as a secure hub, housing an extensive library of over 5,000 posts, documents, and media assets. Leveraging Morweb's Resource Library Module, users can swiftly search and retrieve relevant content. Tailored specifically to Alverno's needs, this intranet not only simplifies content updates but also fosters improved communication and collaboration. Furthermore, it bolsters teaching and learning initiatives while ensuring regulatory compliance is met.
The site design and CMS at my place of employment were both in desperate need of an upgrade. After researching several competitive products we landed on MorWeb, a CMS built for small-team non-profits with the claim of being incredibly easy to use. This turned out to be absolutely true. The system could not be simpler to maintain on a day to day basis.

With MorWeb not only do you get CMS support but their team of knowledgeable marketers will help you redesign your site not just from a functional standpoint but from a design and marketing angle. The changes MorWeb made to our site on both the front and back-end tripled our online inquiries in less than six months.

Great partners, great customer service and great value. Highly recommend.