YMCA Website Design: 8 Steps to Build a Standout Website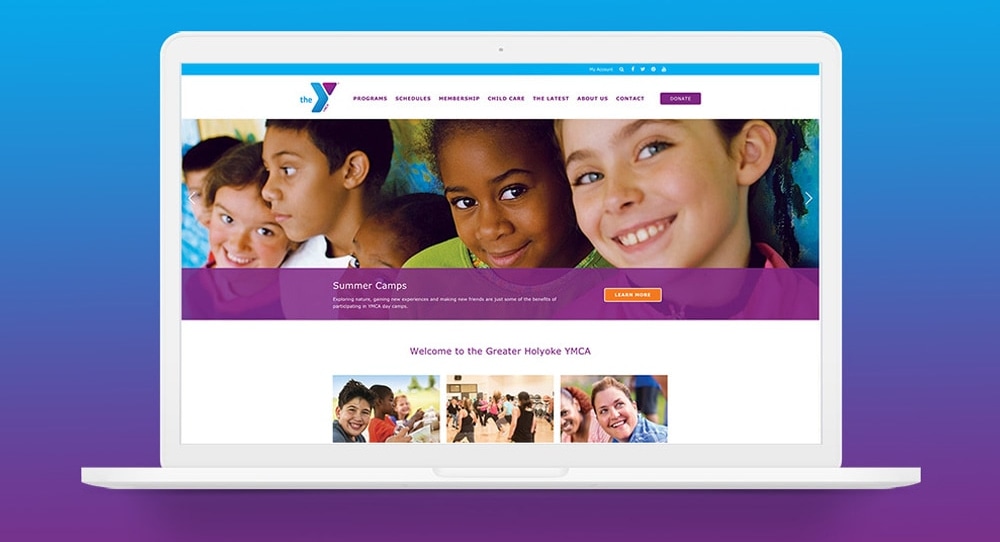 There are very few resources out there on how to design a YMCA website. That's because there is no set standard for the website platform that YMCA branches must use.
The World Alliance of YMCAs have a graphic standards guide that local branches must adhere to. This guide outlines acceptable color palettes for the logo, areas of focus, tone of voice, imagery, font, and benefit statements. How each branch location chooses to develop its website is up to them.
As a web design agency and CMS platform specializing in nonprofits and associations, we have worked with numerous YMCA branches over the years. To help you understand the web design process, we have created the following guide. Follow these tips to create a stunning YMCA website:
---
1. Choose a CMS platform
The first step to creating your YMCA website is to choose a content management system (CMS). This is the platform on which you will build your website. The most well-known CMS platforms include WordPress, Drupal, Wix, and Joomla. However, these platforms are not nonprofit-specific and may lack key functionality for an association like the Y.
Before you can make the big decision on which CMS to use for your website, you'll need to outline the functionality that you will need. The most common features required for a YMCA website includes:
Program pages
Online donation form
Membership registration
Members portal
Event pages
Career listings
Social media live feed
Testimonials
Newsletter sign-up
Contact form
Once you have a full list of your required features, you'll be able to compare CMS functionality to make a more informed decision on which platform to choose. Look for a CMS with built-in functionality so that you don't have to worry about adding third-party plugins which may be difficult to use or maintain.
Very few platforms have all of the above functionality so you may have to pick and choose which features are most important to you. Choosing a CMS geared towards nonprofits will increase your chances of getting all of the functionality you need for a YMCA website.
Morweb was designed specifically for nonprofits and associations so it comes packed with tons of essential features like online donations, event registration and ticketing, blogging, member registration, private pages, career listings, social media integration and sign-up forms. Morweb's website features are built-in to the platform so there is no need for third-party extensions or external developer support.
---
2. Select a website theme
After selecting a CMS that meets your organization's functionality needs, you'll need to pick a website theme for the design of your site. When picking your website theme, be sure to keep your website goals in mind. If your top priorities are memberships and donations, you'll want a website theme that highlights these pages in the layout. Brightly colored buttons in the navigation menu are a great way to draw attention to these pages.
Only a select few CMS platforms come with pre-designed website themes for YMCA branches. Morweb is one such platform. We have developed a few different styles of themes that can be customized according to the various YMCA color schemes. All design elements including banners, menus, headers, buttons, and icons can be styled to match the YMCA brand. The font and logo is hard coded into the website design so that inexperienced staff or volunteers can't make edits that go against brand standards.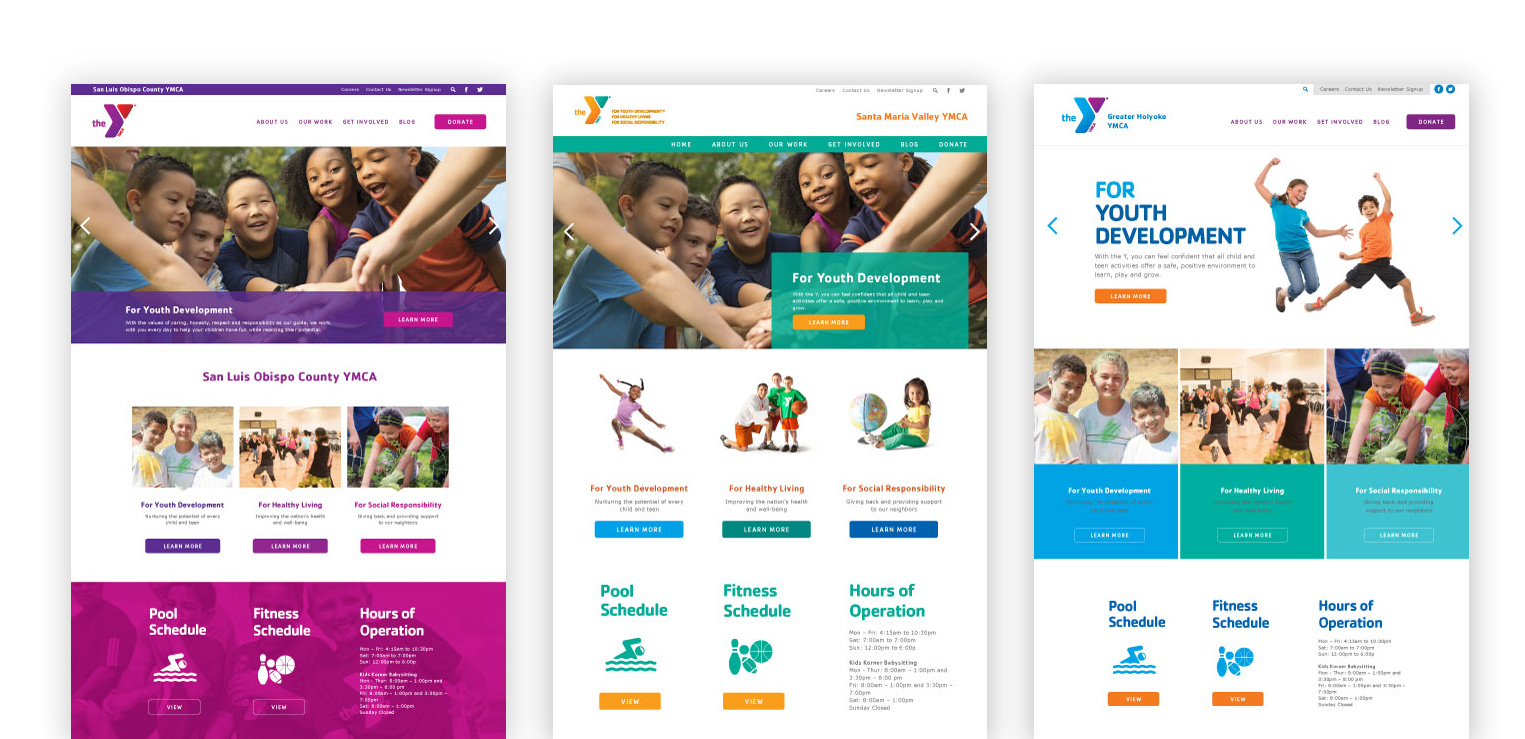 Using a website theme that has been designed specifically for YMCA branches will help simplify the web design process and maintain brand consistency.
Using a YMCA website theme will make your life a whole lot easier with the design and maintenance of your site. These website themes will have already been styled for the YMCA brand so all you have to do is choose your color scheme, upload your logo, and add your content.
---
3. Create your siteplan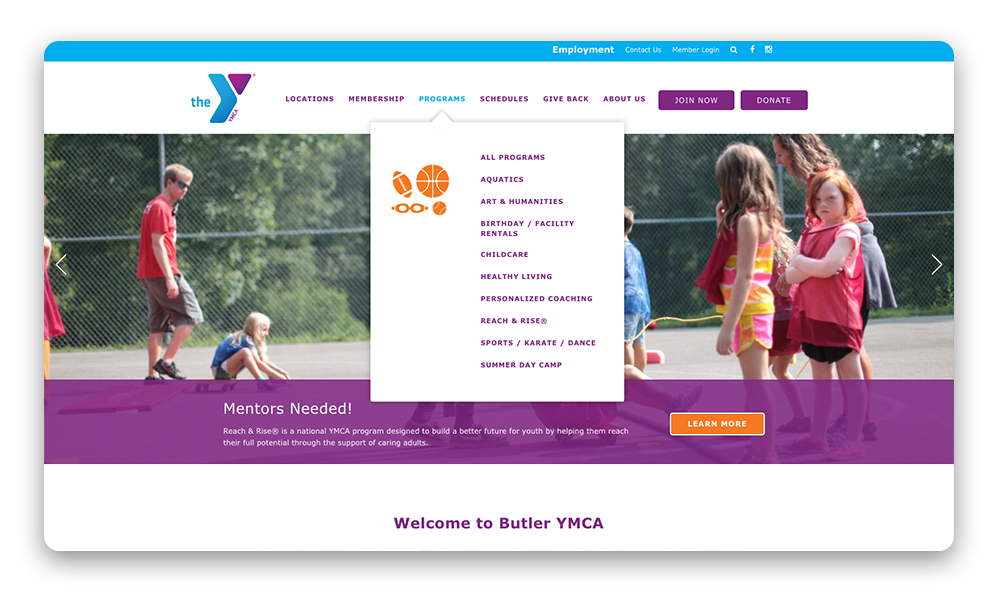 Once you have selected your CMS platform, it's time to outline the siteplan for your website. Start by outlining the main navigation menu items; these are the dropdown menus that will be displayed at the top of your website.
Next, write out the submenu items that will be housed under these pages. You'll want to keep your membership and donation page separate from other menu items so that they are easily accessible.
Most nonprofit websites will also have one to two additional menus on their homepage; a utility menu and a footer menu. The utility menu is a smaller menu displayed in the top right corner of your website above the main menu. This menu typically has one to four menu options such as Member Login, Resources or Careers. Your footer menu should include all of your most important links.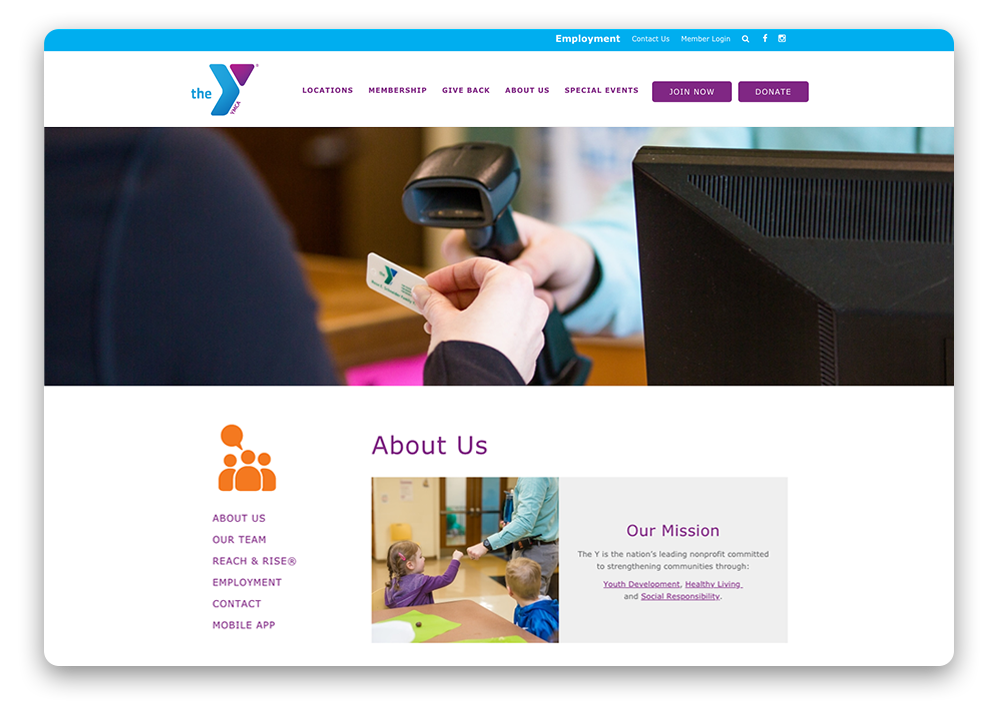 It may be beneficial to create side menus for specific page categories like programs or how to get involved. This will encourage site visitors to further explore other pages on your website relating to that category.
---
4. Add your website content
Before adding your website content to your new CMS platform, you may want to audit your content first to make sure that it communicates effectively and is optimized for search engines.
The next step is to create your main pages including the home page. Nonprofit website themes will serve as a good guide to help you decide what content to add and where. If you're using a YMCA website template, you can simply use the placeholders as a guide for adding your content.
If your CMS has a blog engine, it may be preferable to create your class page as blog posts. This way, you can list them all in a blog page format giving people the option to click on each post to learn more about a class.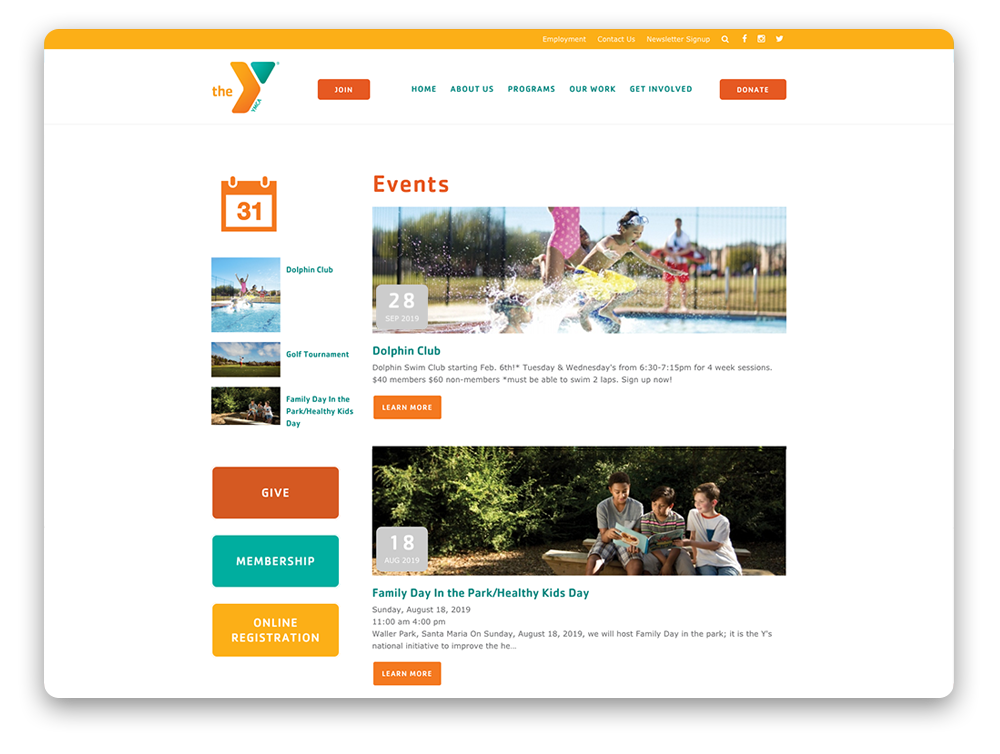 You can do the same for your event posts by creating a separate event listings page. Displaying your events in this way will make it easier for your site visitors to see what events are coming up and how to register for them.
---
5. Organize your programs
Using a blog engine for your programs will make it easier for you to add tags to categorize them. First, you'll need to decide how you want to organize them, most YMCAs will add categories for the activity/sport and age group of participants. This makes it easy for site visitors to view programs that are most relevant to them.
Depending on the functionality of your CMS, you may be able to create filter categories on your programs page to make it easier for visitors to find what they're looking for. For example, adding an age filter can help members in that age group find other activities that may suit them.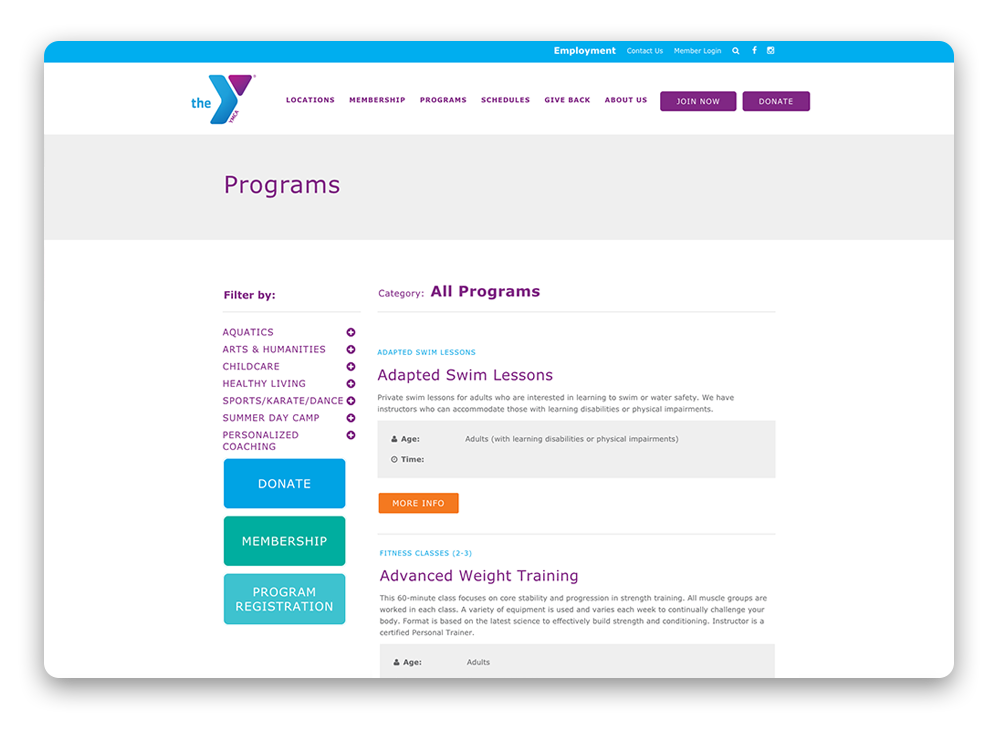 The last step is to add your categories to the Programs dropdown menu so that site visitors can easily jump to program categories from any page on your site.
---
5. Design your membership and donation pages
Memberships and donations are a top priority for most YMCA branches. As such, it is in your best interest to make these pages on your website engaging and easy to use.
Your membership page is your opportunity to communicate to site visitors why they should join your YMCA. This is your unique chance to sell them on your member benefits. To maximize your impact, you'll want to include the following:
Membership benefits
Membership rates
Payment options
Community programs
Membership categories
How to purchase a membership
An effective donation page design is branded to your organization, optimized for mobile and allows donors to complete their donations directly through your website. On-site donation pages have been proven to bring in 6X more donations than externally linking pages. For this reason, choosing a CMS with donation capabilities is imperative.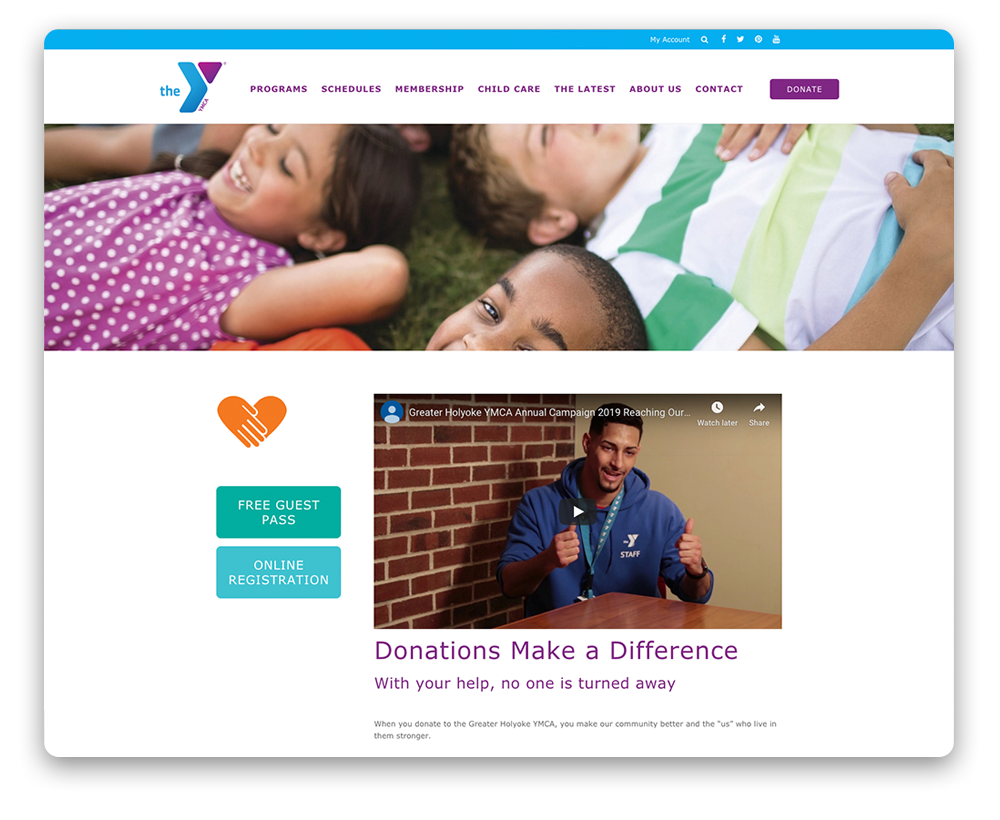 The donation form itself should be minimalistic with an engaging image, reasons to give, suggested donation amounts, and few required fields. Long donation forms are cumbersome and may cause a donor to leave before completing their gift. You want to make the donation process as simple and as enjoyable as possible. Don't forget to thank them once they have completed their gift!
---
6. Link your social media
Social media offers another channel for your current or potential supporters to engage with your organization. Posting regularly on social media helps maintain your online presence and helps keep you in mind as your content pops up in their news feeds.
Linking your social media in your website's header or footer will help your site visitors engage with your organization through these channels. You can give them a preview of your content by embedding live feeds of your Facebook, Instagram or Twitter on your homepage so they can see your new posts in real-time.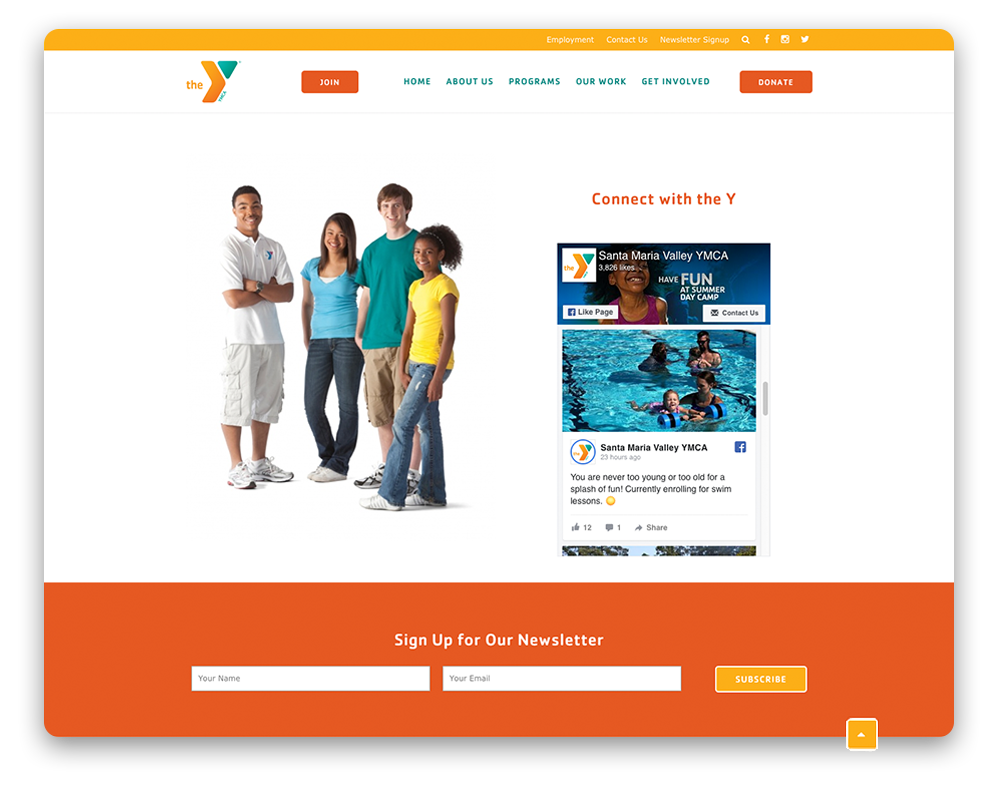 You can use social media to drive traffic to your website by adding a link in your bio and sharing content pages and blog posts. You can also notify your followers about website updates to encourage them to regularly visit your website.
---
7. Make regular updates
The last piece of the puzzle to creating a stand-out YMCA website is to keep your content updated. Members expect to be able to check the program schedule on your website so it is important that your calendar is up-to-date. Be sure to notify them of any schedule changes, maintenance or holiday closures. Choosing a user-friendly CMS will enable you to make edits and updates on your website as they come up.
Regularly adding new content to your site will not only help with your search engine rankings but also give your members and supporters a reason to return to your website.
A great way to ensure a consistent stream of website content is to use a blog engine. Blog engines like Morweb's allow you to schedule publish and unpublish dates so you can post updates during popular times or automatically unpublish events once they're passed. This also allows you to create blog content in advance and spread it out over time (instead of posting everything at once).
---
The Gist
Designing a stellar YMCA website doesn't have to be out of reach. By choosing a nonprofit-specific CMS you'll have all the functionality you need to best serve your members. Better yet, by utilizing a predesigned YMCA website theme, you'll be able to easily add your content and keep your site updated.
Want to see how other leading YMCA's did it? Scroll down to see best-designed YMCA websites built on the Morweb platform.
---
The Best YMCA Website Designs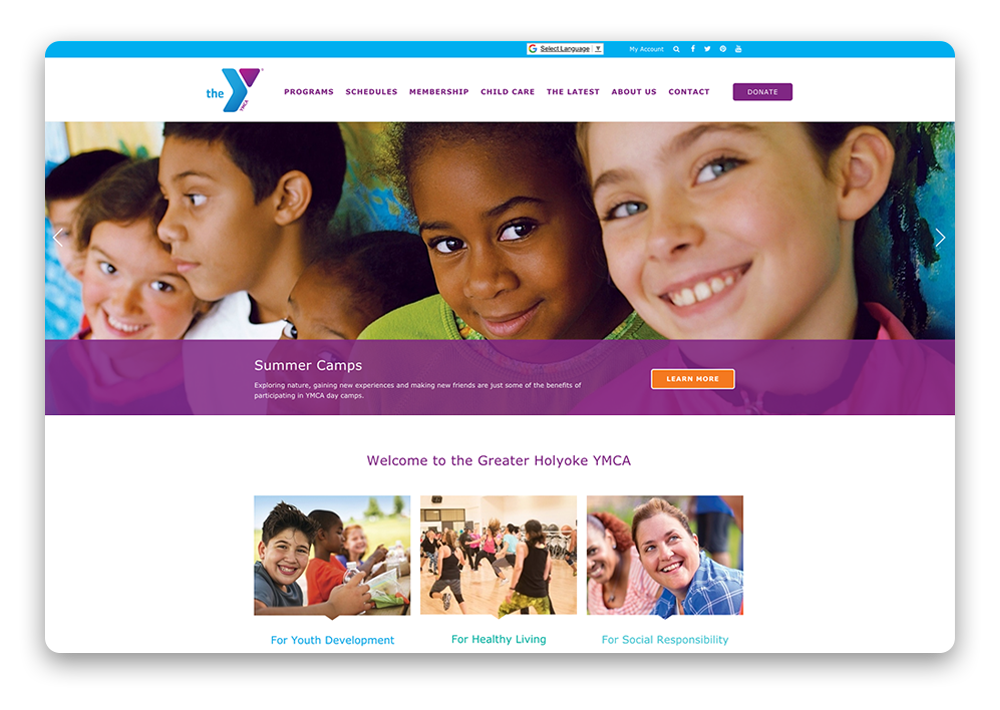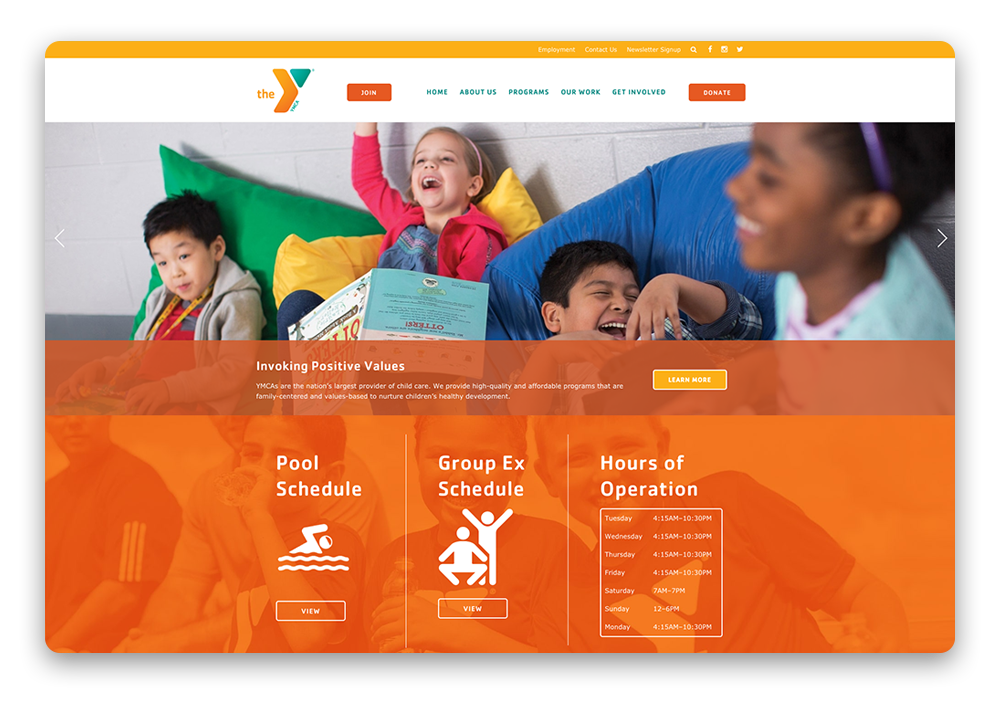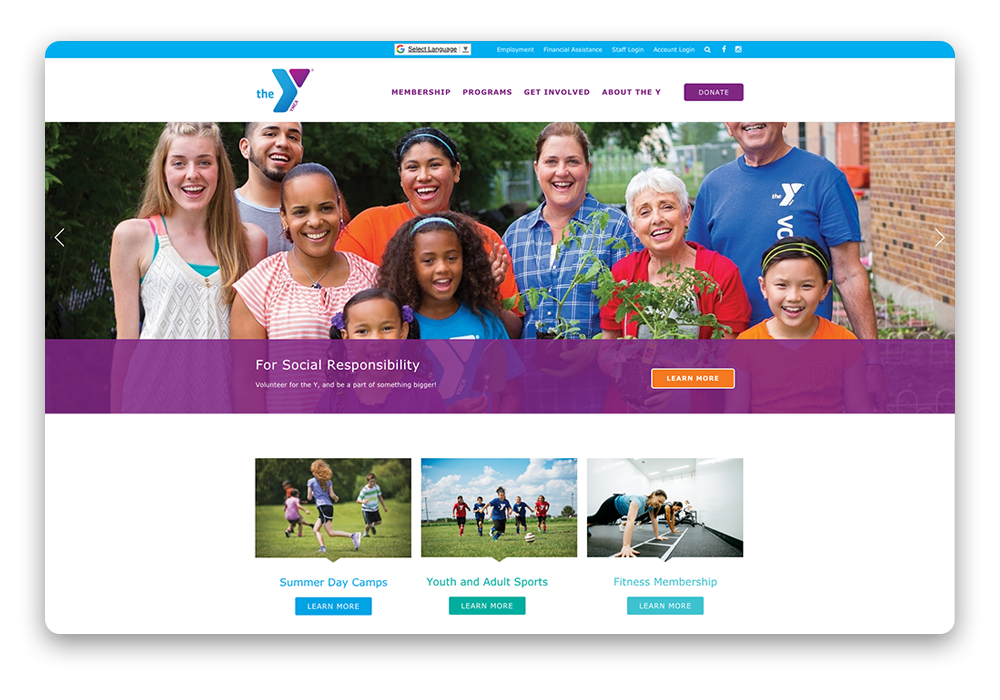 Looking for more inspiration? Check out our United Way and YMCA Website Showcase and get in touch for a free website consultation.