7 SEO Metrics to Improve Your Nonprofit Website's Google Ranking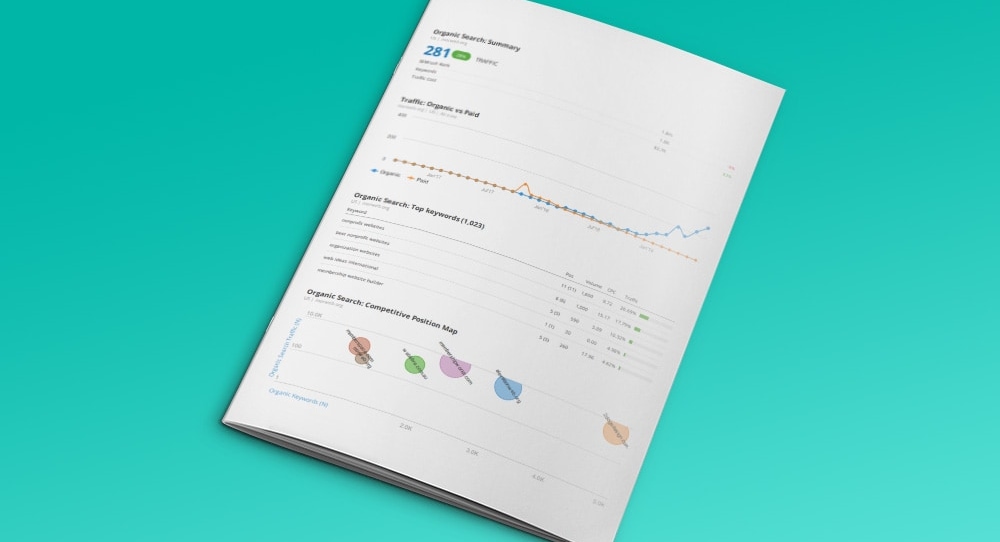 If your nonprofit has a website, you've likely heard the term "SEO". SEO or Search Engine Optimization determines your website's search engine rankings based on specific keywords.
Search engines like Google prefer websites that are user-friendly, mobile-responsive, quick to load and contain relevant content. By optimizing your nonprofit website's content for search engines, you can boost your Google rankings to attract more organic traffic and increase online donations, event registrations, member sign-ups and more.
Ready to improve your nonprofit's Google ranking? Conduct an SEO analysis of your website and include the following metrics in your report.
---
1. Monthly Organic Traffic
Organic traffic is the amount of free traffic that comes to your nonprofit's website through Google searches. If your website has low organic traffic, you may want to improve your website's content or create new content to bring in more visitors. Regular blogging is a great way to attract more organic traffic to your site because it allows you to target different keywords with fresh content.
To see your monthly organic traffic in Google Analytics, go to Acquisition > Overview

---
2. Organic Search Positions
Your website's organic search positions outline your Google rankings for specific keywords. It is helpful to track your organic search positions monthly to see how it changes over time. If you notice a drop in rankings, you may want to revise your content or create new content to better target that keyword. If you aren't ranking for a keyword that you want to target, you can create specific content for that keyword.
Online tools like SEMrush offer organic search tracking so you can see how your position changes each month and take actions to increase them.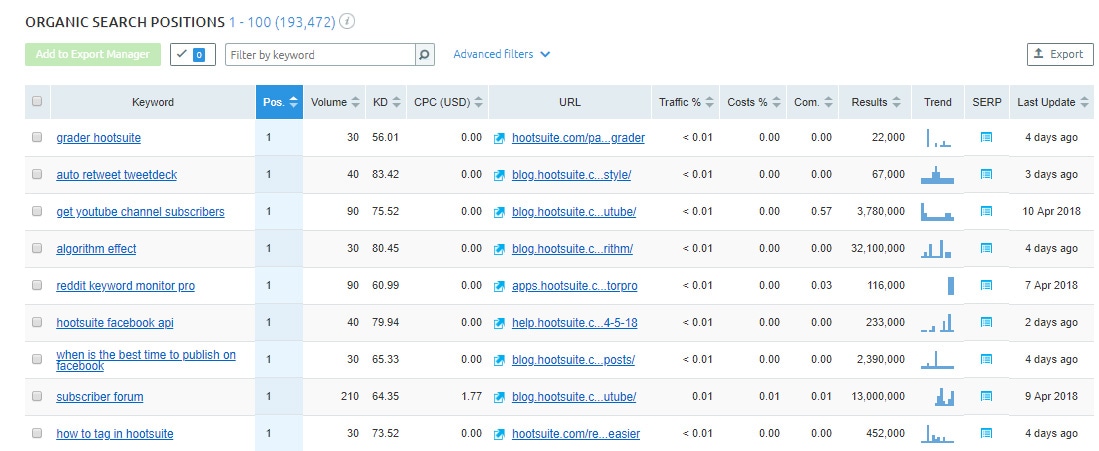 ---
3. Top Search Keywords
Your top search keywords are your website's highest ranking keywords in Google search. Research indicates that most people only click on the top 5 search results. That's why it's important to optimize your nonprofit's web content to rank on the first page.
By customizing your content to rank highly for specific keywords, you can bring in more leads through your website such as donors, volunteers, members or supporters. Online tools like Google's Keyword Planner and SEMrush can help you develop a keyword strategy by identifying the right keywords to target in your web content.
---
4. Top Referrers
Your top referrers are the top referring websites that link out to your website in their content. If you don't have many referrals, try reaching out to partner organizations or supporters to arrange a link swap. Referral links help drive more traffic to your website and can improve your SEO rankings.
You can see your top referrers in Google Analytics under Aquisition > Referrers.
---
5. Top Competitors
Your top competitors are other websites that target similar keywords to your own. A competitor analysis can be helpful for your nonprofit to see how similar organizations rank in comparison. Have a look at their top-ranking content to see how you can improve your own.

---
6. Top Landing Pages
Your top landing pages are the pages that bring in the most organic traffic. You can build upon this knowledge to improve these pages even more and further boost your search rankings. You can also use these pages as a template for creating new content that performs equally as well. Pages with 1,900 words rank best in Google.
You can find your website's top landing pages in Google Analytics under Behaviour > Site Content > Landing Pages.
---
7. Meta Title & Description Issues
Missing or duplicate meta titles and descriptions can hurt your SEO rankings. Update your meta titles & descriptions to be the right length for Google and make sure you use your top keywords to improve your rankings for those terms.
Write your meta titles and descriptions to include your top keywords for each page. Don't try to summarize your entire website in each description, tailor it to be relevant to that specific page.
Meta titles should be no longer than 60 characters and meta descriptions should be 160 characters or less.

---
The Gist
SEO is important for your nonprofit because higher search engine rankings bring in more organic website traffic resulting in more conversions. Monthly SEO reporting can help you track your nonprofit's search engine rankings and identify areas for improvement.
Want to learn more about conducting an SEO audit for your nonprofit website? Send us a message to get help with your website's SEO strategy, meta titles & descriptions, content writing or inquire about monthly reporting.